Where there were once mainly choices between carpet, tile and hardwood, today there are options abound, allowing contractors to provide just the right performance and aesthetics to meet or exceed customers' specific needs.
The last year has seen major shifts in consumer trends and the popularity of new alternatives to traditional wood flooring. "The flooring market has changed more in the last eight to twelve months than I've ever seen in my career," says Jeff Morrison, Vice President of LBM at Goodfellow Inc. In 2017, Morrison notes, homeowner interest was shifting from hardwood to laminate, but now vinyl flooring — specifically luxury vinyl flooring — is beginning to overtake laminate in many provinces. (Laminate continues to be more popular in Quebec and Atlantic Canada, he suggests.)
"The popularity of luxury vinyl has gone absolutely crazy," he says. "But this isn't sheet vinyl like what was in your grandmother's kitchen," he adds, pointing to the high-performance and top-grade appearance of today's vinyl flooring products. Although luxury vinyl was considered a very high-end option in the past, changes in production and "new recipes" have brought down its price tag, says Sven Johnson, General Manager of Flooring at Taiga Building Products Ltd. "It's now a very affordable floor for what it's there to do, which is to perform well and to be water-proof."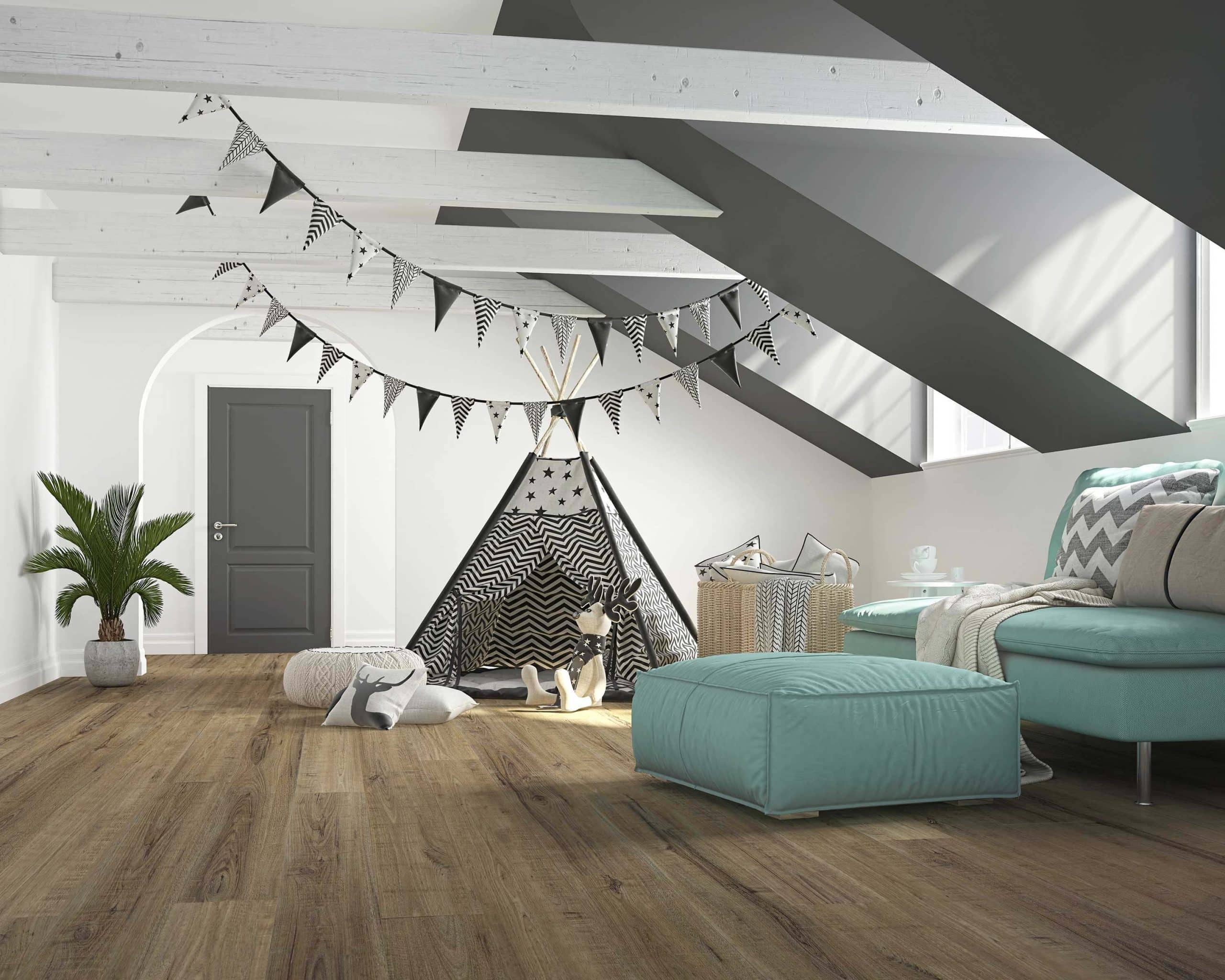 Photo courtesy of Goodfellow
The Vinyl Revolution
Morrison is calling it "the vinyl revolution" and he says it's being driven by the same desire for low-maintenance being seen elsewhere — virtually every-
where —in the home. In areas where water-resistance and resilience are a factor, such as entrances, luxury vinyl tiles or planks (LVT / LVP) can provide the necessary performance while offering flexibility and beauty. "It's built more for life," Morrison says. "I always say, 'life happens' and it's a hell of a lot better if life happens on a vinyl floor."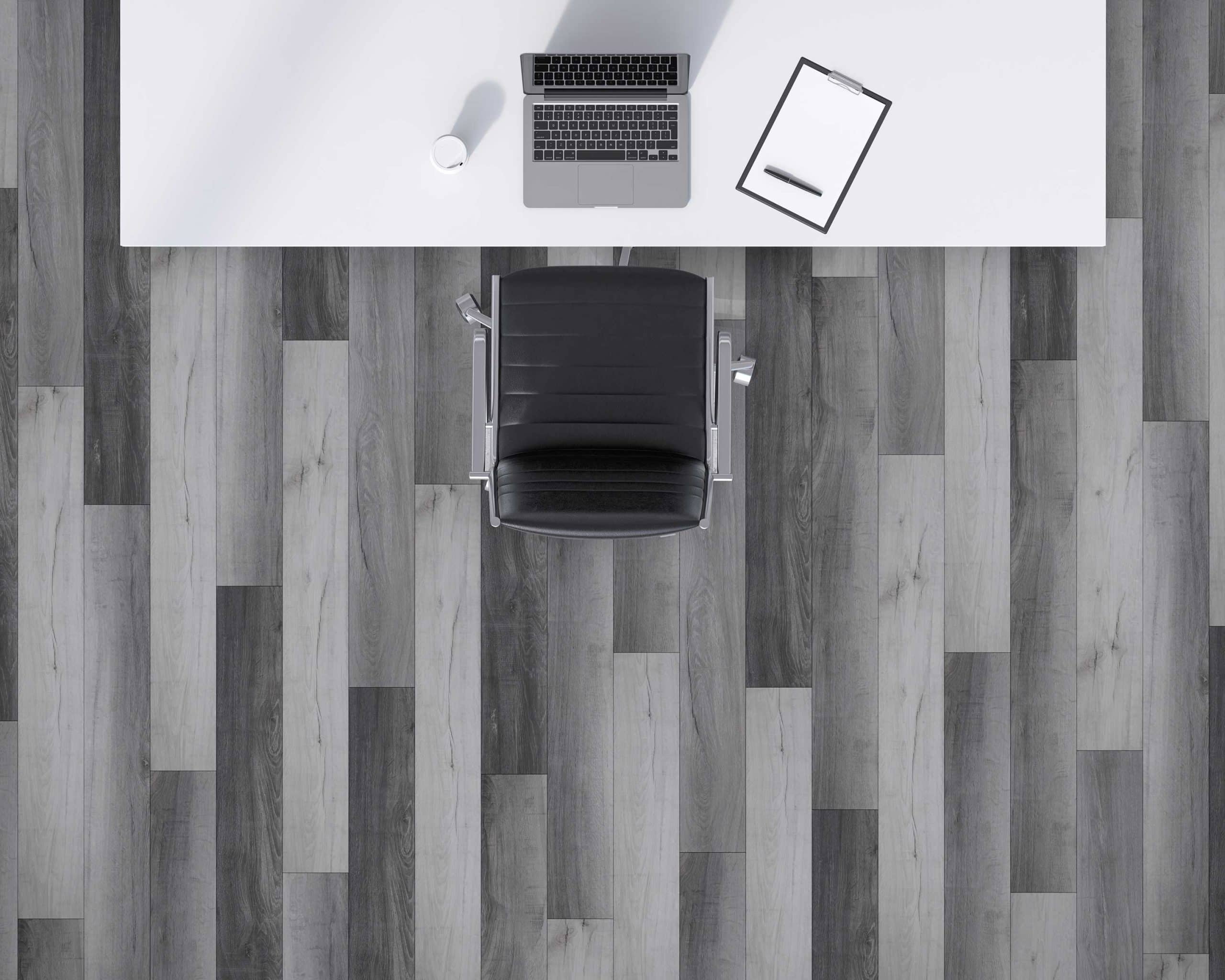 Photo courtesy of Taiga Building products
At its Core
There are a few differentiators when it comes to LVT and LVP flooring. One of the most important to look at is the material used in the tile or planks core, as well as the thickness of the core. Older luxury vinyl flooring cores were made with fiberglass, which provided the water-fastness required but was more sensitive to sunlight exposure.
Newer options such as wood-plastic- composite (WPC, sometimes called waterproof core) and stone-plastic-composite (SPC, sometimes called rigid core) have helped overcome earlier challenges and breathed new life into the category.
The thickness of the core should also be considered. Value-priced products may have only a 3.2 mm core, while more premium products will boast 4, 5 or 6 mm cores. A thicker core, Morrison notes, provides greater integrity to the locking system and can help compensate for uneven subfloors.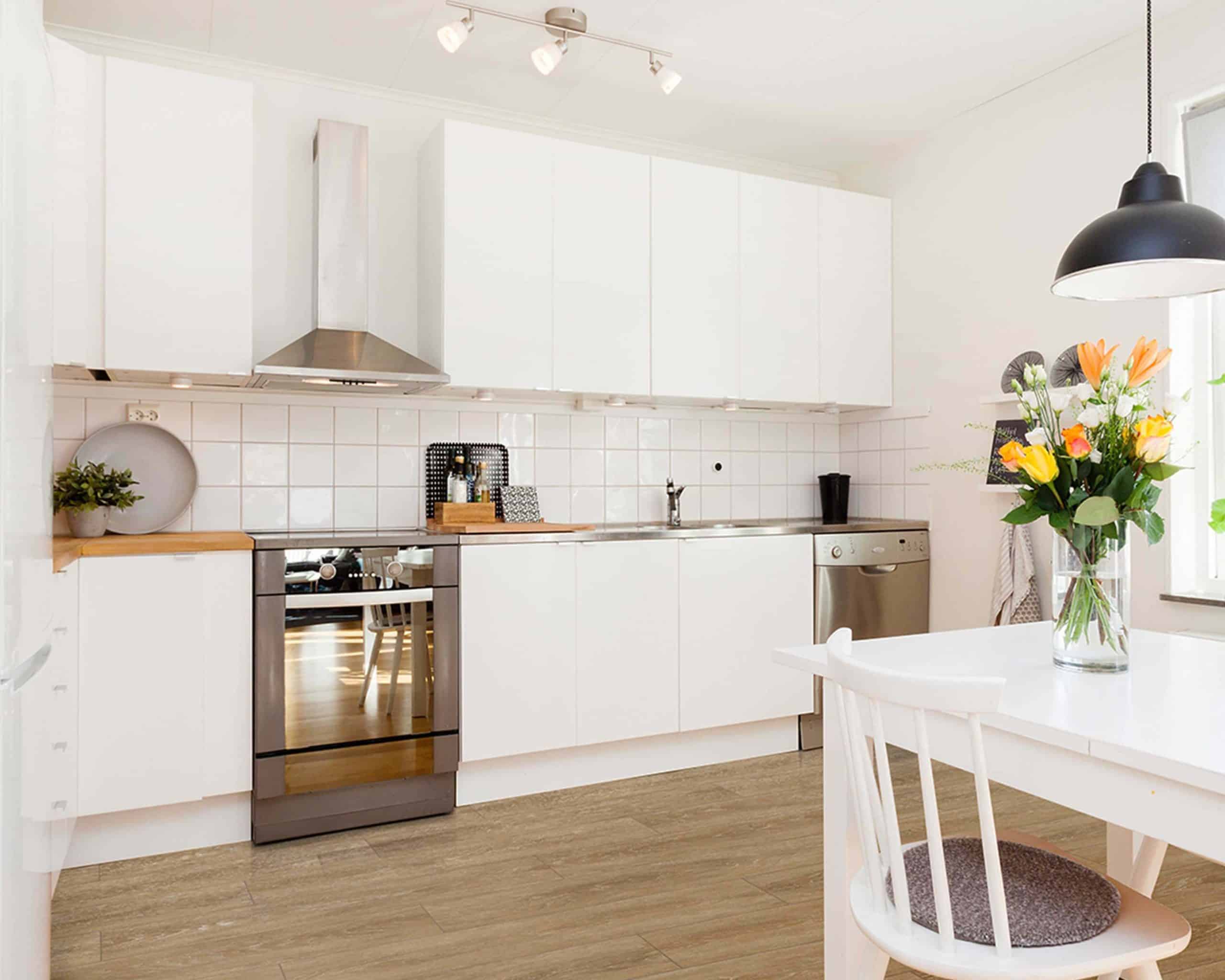 Photo courtesy of Taiga Building products
Loose or Click?
While laminate typically uses a 5G locking system enabling simple and fast installation by vertical snap, luxury vinyl typically uses the newer 5G-i system allowing for wider planks to create a wider visual. Loose-lay vinyl planks are gaining interest, particularly in Western Canada. These boards use a fiberglass mesh or sheet cores. Morrison notes that fiberglass mesh helps to deal with undulations in the subfloor, while Johnson says fiberglass sheet boasts greater stability. Because loose-lay LVP uses pressure sensitive adhe- sives, single boards can be changed more easily than those installed using a click system.
"Dryback or loose-laid (planks) is getting a lot of excitement," Johnson says. "It's especially popular with contractors," he adds, since the ease of installation lets them get in and out of the jobsite more quickly but still create high-integrity and professional results.
Aesthetics to Please
Johnson agrees that vinyl flooring is becoming more and more popular, in its variety of formats and permutations. "LVP, LVT, all these acronyms mean something, but can also spell confusion if you're not aware of what they are." He attributes some of its popularity to one of the category's newest additions: SPC. "It's considered a hard surface, so it's low maintenance, but it also has some beautiful designs and colours or décors. It's very much in vogue with imitating real wood looks and tile or real stone visuals such as marbles, granite or concrete looks."New printing techniques have created less uniformity between planks and tiles, creating a more realistic and visually attractive appearance. "The market doesn't want uniform. They want variation. And they want low-gloss. All of which is easier to pull off with these floors," Morrison says.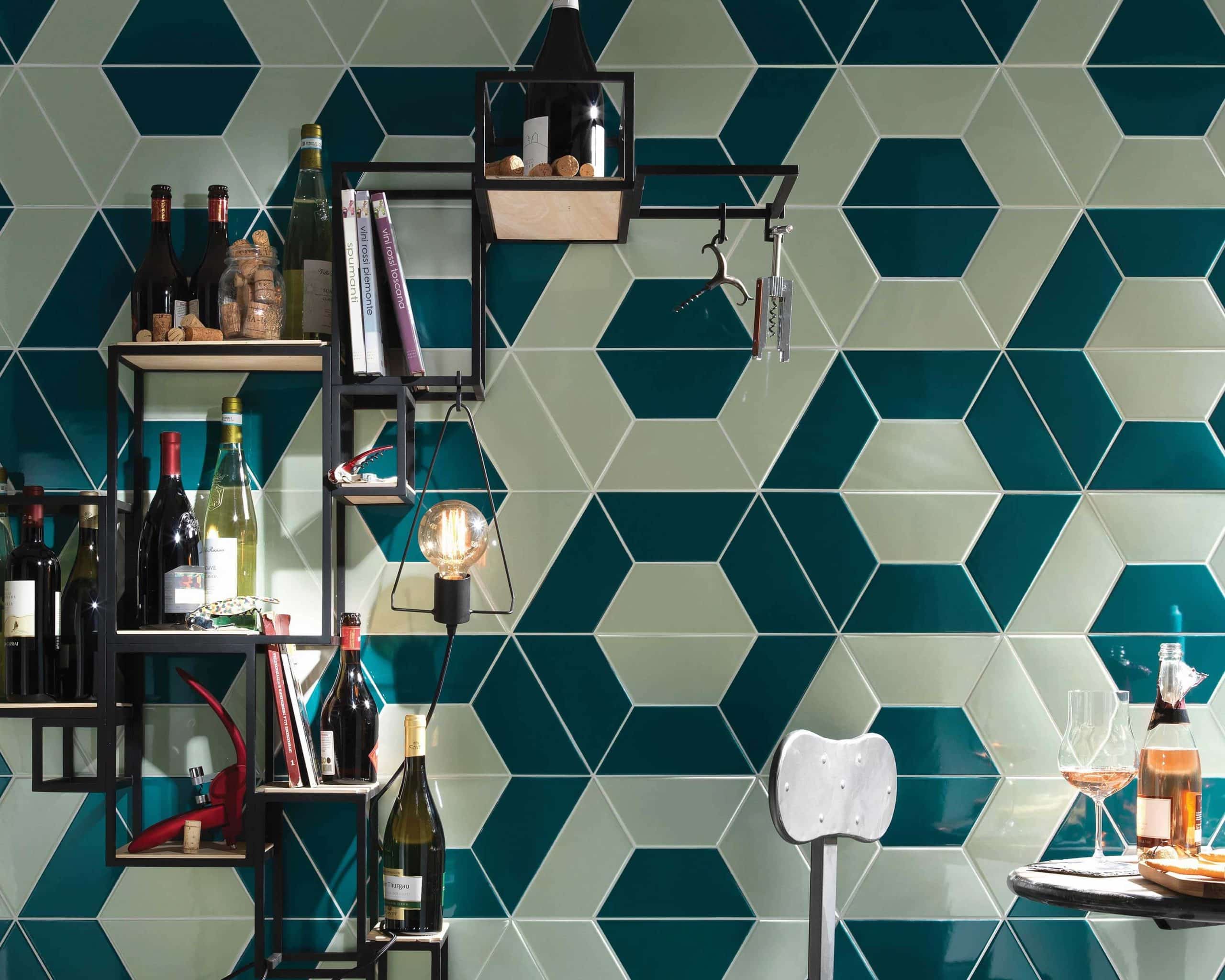 Photo courtesy of Ames Tile & Stone Ltd.
Tile Innovations
Innovations in the digital printing and etching have made porcelain tiles a more attractive option for homeowners as well, especially for those seeking the look of real stone (such as marble) without its cost and with greater resiliency. Tiles that look like marble are "so popular it's unreal," says Ross Keltie, Vice-President of Sales and Marketing at Centura Tile.
Newer options don't stop at appearance alone. "It looks like marble and performs better. They use these special inks that give it a realistic look and feel. If you touched a marble or a porcelain tile (made to look like marble) today you wouldn't feel much difference. You wouldn't know the difference, but the porcelain is far superior around installation and ongoing maintenance."
Chris Stanton, Sales Consultant at Ames Tile & Stone Ltd. attributes the popularity he's seeing toward marble reproductions in part to the ebb and flow of home fashions, but to the reproduction capabilities of the factories manufacturing the tiles. "Some of the lines we carry have up to 35 different faces, so you aren't getting much repetition."
Stanton says he loves real stone but does note that porcelain is more resilient (it can even be used in a commercial setting), and natural stone floors cost more than even the most expensive Italian manufactured tiles.
Classic European and Mediterranean Charms
Imitating real stone is just one of the visuals homeowners are turning to tiles to create. Keltie says, "We are seeing a lot of people going back to, and manufacturers producing this old 'retro' look, which is printed patterns with definite designs on them." "The patterns are an older Mediterranean or European look. Like the old villas, where they had circles and abstracts. You see it a lot in magazines right now. It's nice stuff," Keltie says.
Also increasing in popularity are hexagonal and larger tiles, Stanton says, as well as mosaics (although particularly for backsplashes). "Colours seem to be big this year," he adds. "We've brought in some different lines with more colour. That's more focused on the designer. Designers love to throw in some colour."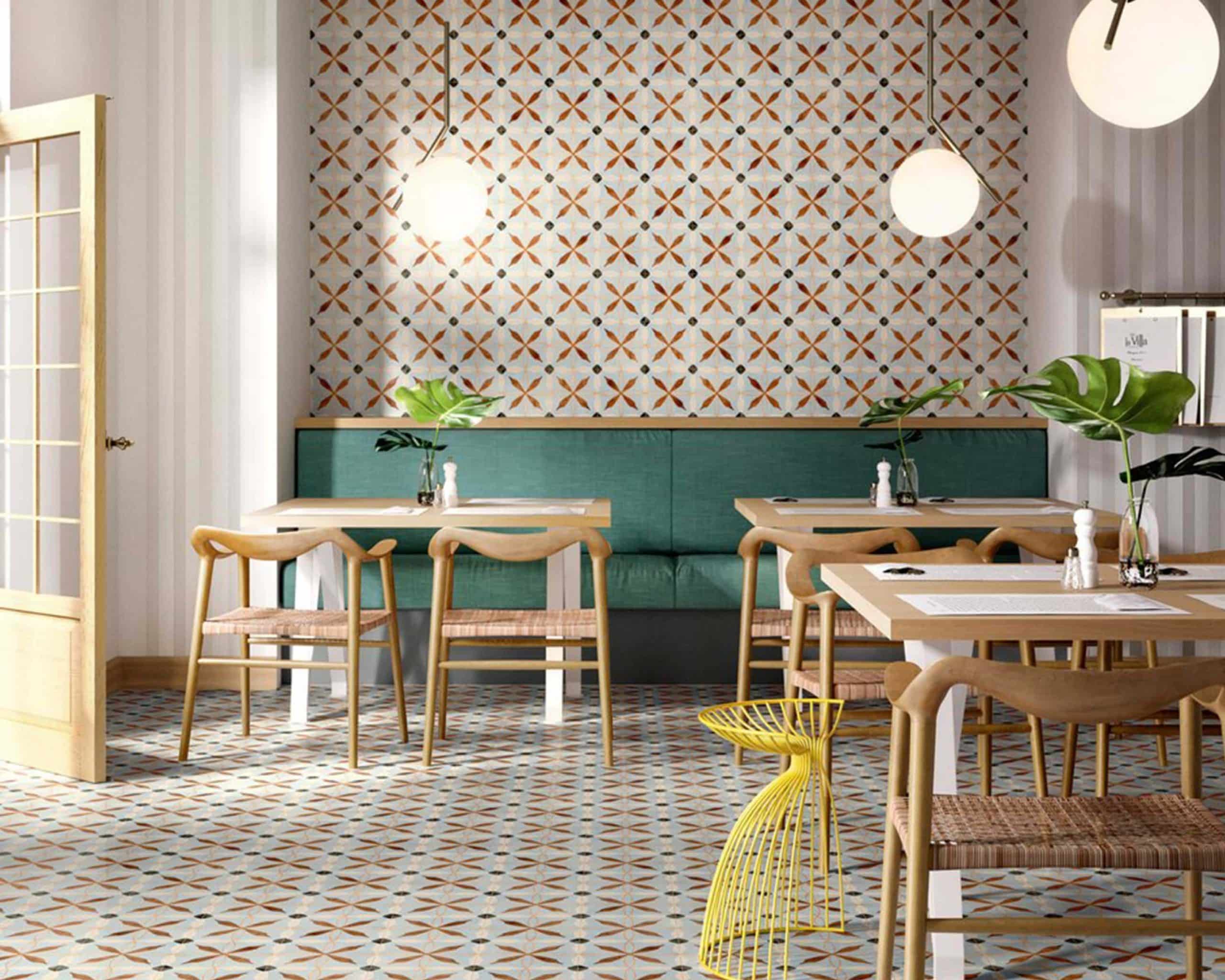 Photo courtesy of Centura Tile
The Right Material for the Job
No one size fits all. Whether laminate, hardwood, luxury vinyl, porcelain or stone, of course it's important to closely review each flooring solution for which is ideal for the application at hand and not to cut corners that may come back to haunt you. Stanton also reminds that contractors must educate themselves fully on the differences between each product and its application or they will do a disservice to their customers but also the flooring industry. He stresses, just because tiles were installed one way 20 years ago, it does not hold true now. "Each thinset (mortar) is different, each grout has a different application," he says. "These products differ vastly."
Contractors should consider that each material has its pros and cons based on the traffic, UV light, water spillage or other factors, adds Johnson. Hardwood has warmth but doesn't deal well with water; laminate has become a practical and affordable option; vinyl is inert and so water resistant, but some will fade, wear, shift or shrink in direct sunlight. Each area will have different exposures and could need different solutions. "You have to be very aware of the surroundings and environment that you're putting in these particular flooring options."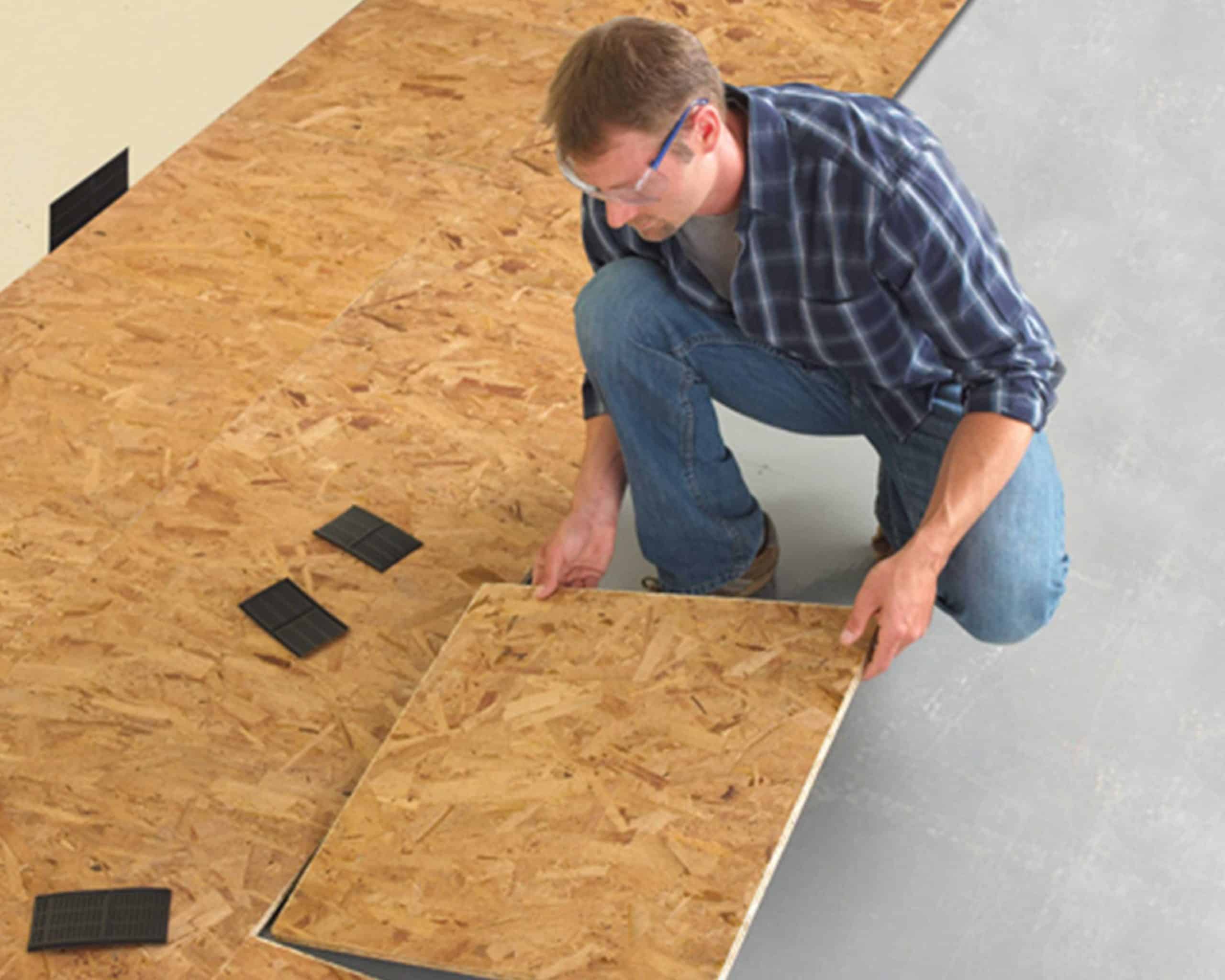 Photo courtesy of DRIcore
Keeping Basement Floors High and Dry
Few areas are more at risk to a water incident than the basement, and one solution may help prevent that expensive investment in a new entertainment room or man cave from going to waste: a basement subfloor.
"In the average lifespan of a house, 98% of homes will at some point have a moisture problem in their basement," notes Bob Smith, Product Developer at DRIcore Products. That's a compelling reason to invest in a subfloor, he says, to protect the greater investment being put into the basement floor — and furniture or electronics sitting on it.
Smith developed DRIcore's floating subfloor, which is made with a raised high-density polyethylene moisture barrier base bonded to an engineered core designed to allow air to flow underneath the subfloor system keeping floors warm and dry. Its interlocking panels link easily without fastening or gluing and polyethylene cleats on the underside keep the wood off the basement floor, preventing moisture exposure and acting as a layer of insulation from the cold, hard concrete.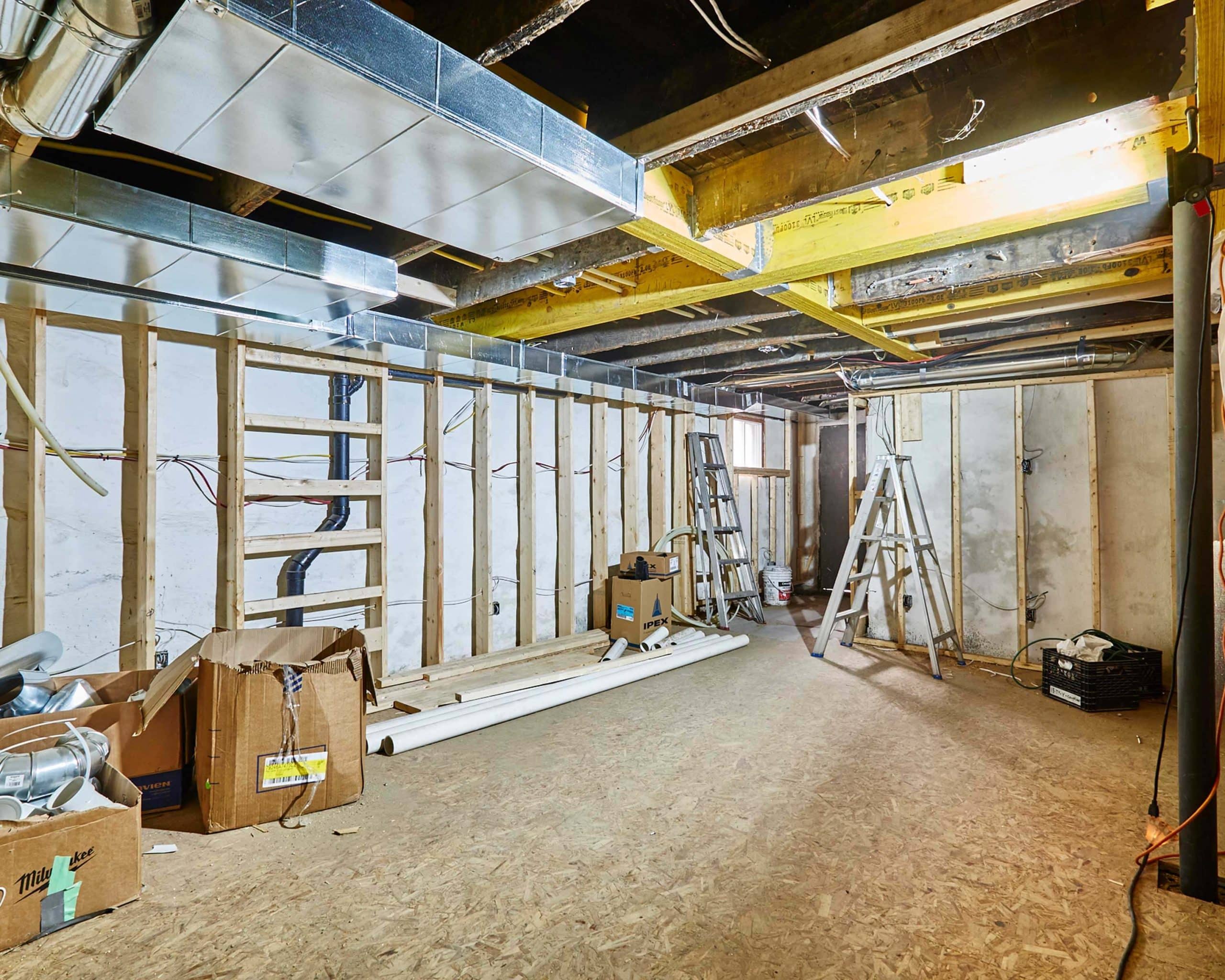 Photo courtesy of Marco Sobrevinas Canada
If a flood does happen, by raising the floor 7/8" off the concrete using a DRIcore subfloor (versus a ¼" membrane), homeowners can protect their investment — having to replace only the subfloor. "When you look at the cost of finishing a basement these days, spending a thousand dollars on a subfloor is a pretty cheap insurance policy," Smith says. "It's a cheap investment, it's great protection, provides warmth and comfort by lifting you off that concrete floor."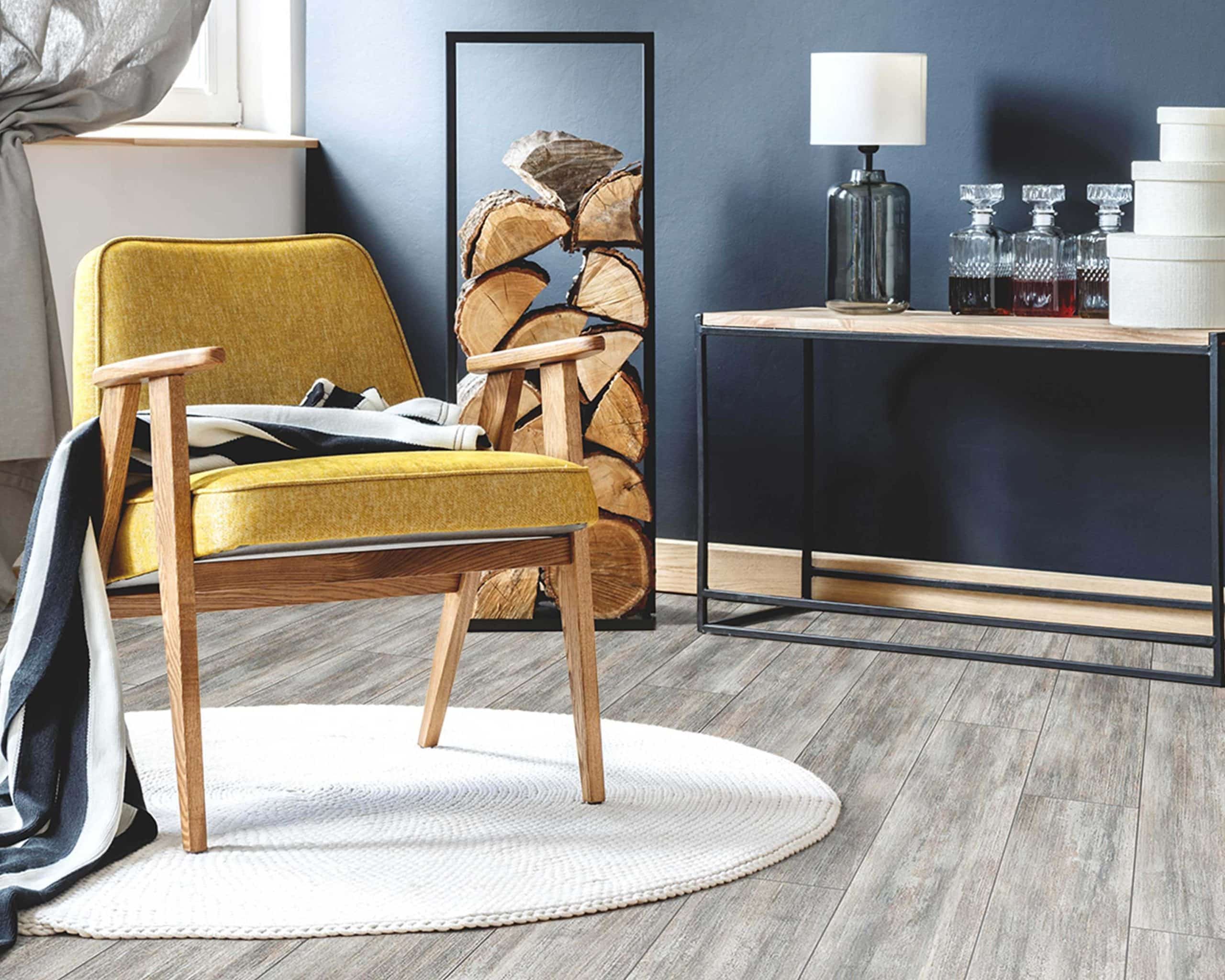 Photo courtesy of Taiga Building Products
Taiga adds Huber OSB AdvanTech
In July, Taiga Building Products announced it would be distributing Huber Engineered Woods OSB products, including AdvanTech Flooring, high-density engineered wood panels.
"We are excited to be partnering with Huber Engineered Wood in our Canadian markets on their Zip, Zip-R and AdvanTech product lines," says Steve Barber, Panel manager at Taiga. "In terms of the AdvanTech products, as it pertains to flooring, we are pleased to be able to offer our customers the top ranked flooring panels available on the market today."
Barber says that AdvanTech has been consistently voted #1 OSB in quality for more than a decade (since 2002), carries a no-squeek guarantee when installed with the AdvanTech adhesive and provides "unsurpassed strength, stiffness and fastener holding capabilities." It carries a lifetime limited warrantee and 500-day no-sanding guarantee.