As building energy codes become stricter, and consumer energy costs continue to climb, energy efficiency in new homes is becoming more than a luxury.
Ever-more energy efficient houses are becoming the necessary norm, according to industry watchers. This new norm along with federal and provincial codes and standards and consumer demand, are at the heart of the movement towards them.
It's a movement driving innovation from building product manufacturers. "The code requirements that are coming into place between now and 2030 are forcing a higher performance in all fenestration products, and that's forcing us to have a more energy efficient product, which is great," says Russell Ibbotson, Technical Manager and VELUX Canada.
In insulation, says Gino Allegro, Canadian Sales Manager for building products company Johns Manville, "stricter standards and code changes have gone in the past years from a planning stage to an adoption stage, and are now entering the enforcement stage."
Allegro notes that work by him and his peers in NAIMA, the North American Insulation Manufacturers Association, in promoting standardizing on higher R-values in building is ushering in improved energy efficiency and ultimately helping achieve net-zero-energy (NZE) homes.
In the end, though, it's not only government and regulators asking for energy efficient new builds. "Energy efficiency in new homes has become a key priority to everyone," says Jean-François Cote, Director of Standards and Scientific Affairs at Suprema and Resisto.
"Beyond government standards and energy codes, people are increasingly inquiring about Passive House certified windows, and Net Zero, and Green Building and LEED," says John Arsenault, Director of Sales for Peter Kohler Windows and Entrance Systems.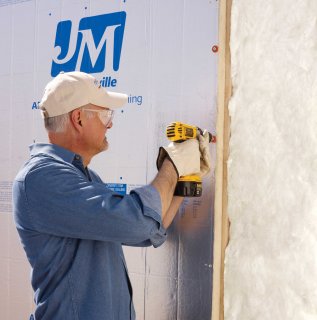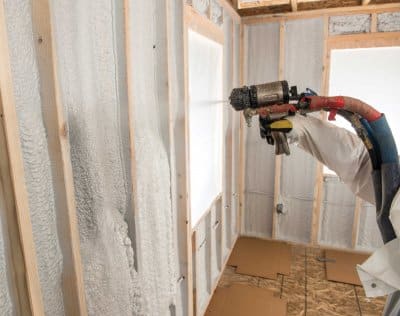 Photos courtesy of Johns Manville
Kohler recently became one of a select few Canadian manufacturers to be certified by the Passive House (Passivhaus) Institute, a rigorous standard for energy efficiency in a building with origins in Germany.
"We have engineers working with consumers and builders who are now very about, for example, the type of Low-E used in windows, or window orientation." "We never got inquires like that 10 years ago."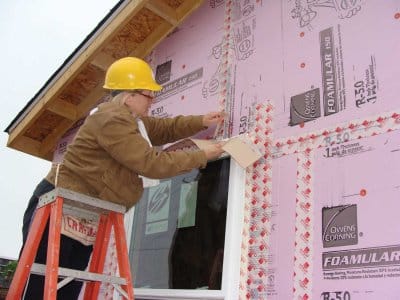 Photo courtesy of Owens Corning Canada
The Skinny on NZE
Net-zero-energy homes represent the current brass ring in energy efficient building. Put simply, a NZE homes generate as much energy as they consume over a year. While they have existed for years, they've been custom built and far more expensive than traditionally-built abodes. Times, however, are changing and with them come innovations in building science.
"It's not a question of if, but when, net-zero-energy homes will be the standard," according to Andy Goyda, Canadian Builder Lead and Market Development Manager at Owens Corning Canada.
NetZero picks up energy efficiency where past standards such as R-2000 left off. In 2015, Owens Corning joined with buildABILITY Corp. in working with five leading builders to construct 26 NZE houses to demonstrate the feasibility of net-zero construction. It's part of a project funded by National Resources Canada (NRCan), with nearly $2 million supporting the technical design and engineering of the houses.
WHAT IS R VALUE?
R-value is the measure of a material's thermal resistance, the ability of heat to transfer from hot to cold through it. The higher the R-value in insulation or building material, the more it prevents heat transfer.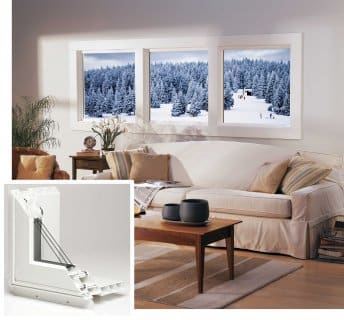 Photos courtesy of Jeld-Wen
Conservation First
In the construction of NZE homes, such as the NZE Reid's Heritage Homes that was completed in Guelph, Ont., in the fall of 2015, focuses first on reducing energy use, then on creating it through means such as solar panels. "Affordability is achieved through conservation first before generation," says Salvatore Ciarlo, Architectural Solutions and Technical Services Manager at Owens Corning Canada.
To that end, use of high R-value insulation solutions, and windows and doors, and wall systems play a part. But they must be viewed holistically as a system. Homeowner comfort and lifestyle also plays a major role.
For example, over the last 15 years, the window-to-wall ratio in residential housing has nearly doubled, according to Lisa Bergeron, Government Relations Manager for JELD-WEN Canada.
"Homeowners want more natural light and need to be comfortable in their highly glazed homes."
Bergeron notes that the path to net-zero homes combines high-performance triple-glazed windows, better insulation and air-tightness as well as right-sized mechanical systems. "Windows really are the biggest opportunity in the building envelope," Bergeron says.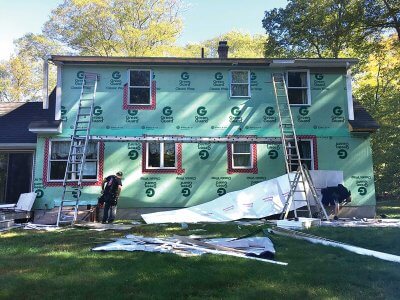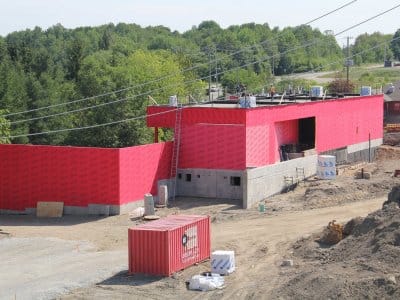 Photos courtesy of Resisto
Lifestyle and Air Quality
"It has to be a whole-enclosure approach," Cote says of the need to view the entire building envelope holistically. As that building envelope becomes more air tight, however, issues of ventilation and air quality inevitably crop up.
Meeting the dual objective of building homes as air-tight as possible for energy efficiency (and sound), while ensuring air is transferred through effective air exchangers is critical.
"We saw homes in the '80s built too tight without the proper ventilation system. People got sick," Cote says. "With today's air exchangers and heat exchangers, it's now possible to build very air-tight while at the same time having ventilation and comfort."
While a good, insulated house wrap can tighten the envelope, Cote suggests that often builders miss sealing the overlap, letting small amounts of air find its way into the wall. As well, as the structure becomes more air-tight, the flashing and air barriers around fenestration products becomes even more crucial.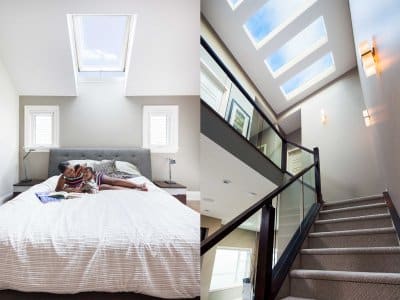 Photos courtesy of Velux Canada
Let the Sun Shine in
Energy balance is key, Ibbotson says. "That's a little bit harder than just looking at thermal efficiency. "You want heat gain in the winter, which is good, but heat gain in the summer is bad."
It goes into product development and design for companies like his. For example, Ibbotson stayed in a net-zero test house last year, and used the estimated energy during the summer of 2016 because of night cooling by opening skylights.
In addition, the natural light from skylights, or where appropriate sun tunnels, of course, reduces electricity associated with lighting. A mere 14" sun tunnel can illuminate a 250-sq. foot room. "Daylight also provides comfort, because it's the full spectrum of light. It effects your alertness, and how readily you go to sleep.
While energy costs loom large for homeowners, experience is still paramount. Most building techniques and solutions to cut energy use also improve comfort, create consistent warmth from room to room, and can cut down on outside noise.
"People are spending more time in their homes, and that needs to be considered in new construction," Allegro says. "Comfort is such an integral part, beyond just making things energy efficient."