Sometimes innovation is literally found in the designs of those belts and boxes, and other times it's about what goes inside them. Whether it's the latest power tools, hand tools or storage solutions, manufacturers are constantly looking for ways to make the contractor's jobs easier, safer and more effective.
As in the past, Contractor Advantage reached out to leading vendors to get their opinions and some highlights around what they thought were this year's coolest tools.
Hardcore cordless power
Building on the success of its LXT 18V lithium-ion battery system, Makita released in the last year the new XGT 40V battery system for power-hungry heavy-duty applications. Not meant to replace the LXT, the new battery system is designed to fulfill the top 10 to 15% of power requirements for contractors, says Matthew Noel, product manager at Makita Canada. Makita currently offers more than 60 tools that use the XGT battery system and are adding to this number every month.
Noel says the XGT batteries were designed on four tenants: high battery output resulting in greater energy capacity at reduced weight; being future proof, alongside the LXT to cover everything from professional applications to industrial ones; smart technology that provides built-in communication between not only the charger and battery but also the tool; and durability against tough environmental and industrial conditions.
"XGT gives the power and performance to really practically replace electric, pneumatic and gas tools on the jobsite. These can functionally replace the gas can and power cord eight hours a day for applications like heavy-duty grinding, heavy demolition of concrete, cutting dense hardwood, removing large diameter bolts and more."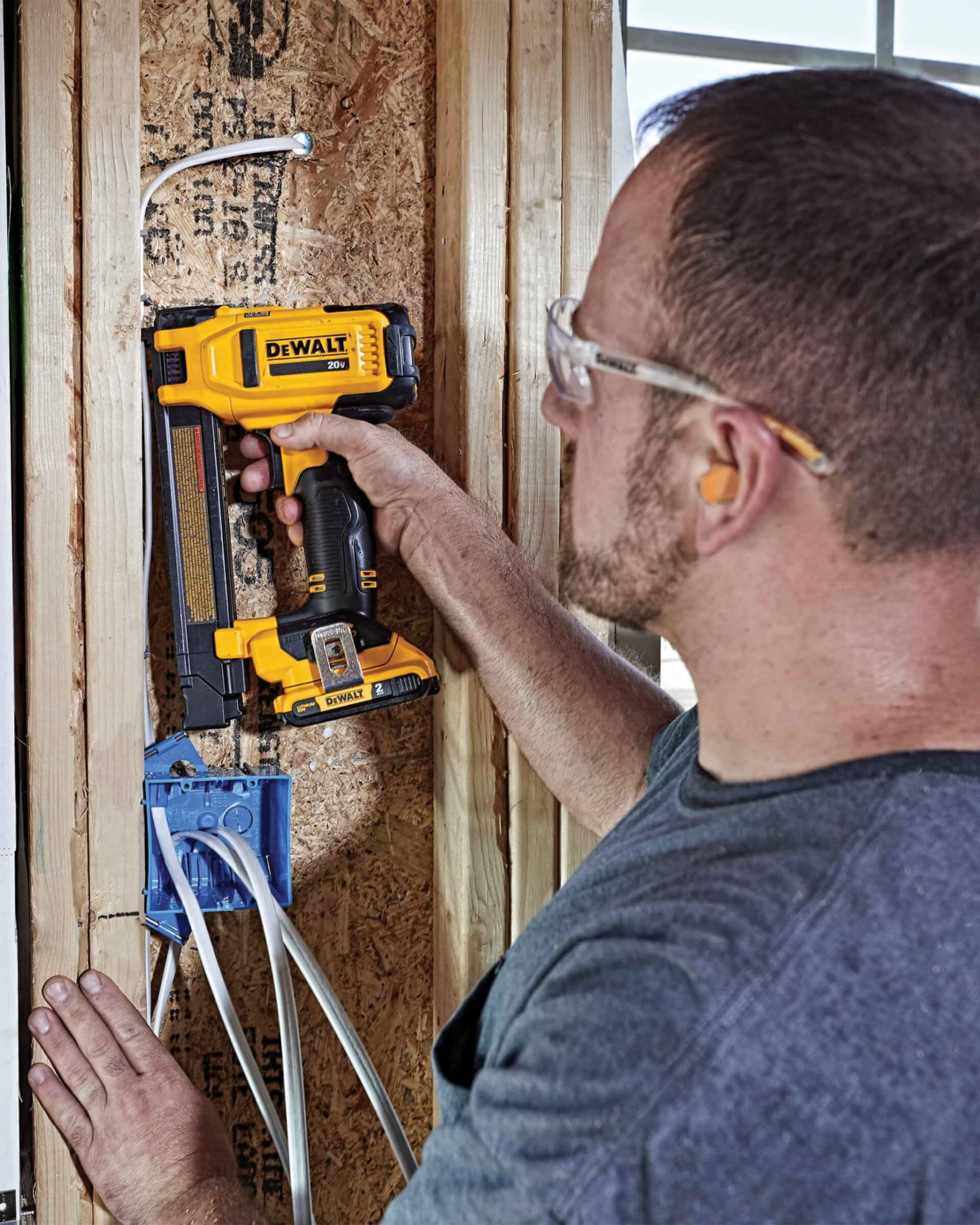 Photo courtesy of Stanley Black & Decker
Cordless cable fastening
Stanley Black & Decker is aiming to bring a popular product in the U.S. and other global regions to Canada: its DeWalt 20V MAX* Cordless Cable Stapler.
"Thousands of staples are going into houses every single day, and right now it's done very old school. Professionals are pulling out hammers and loose staples. A small portion of the market uses a hand stapler which provides an inconsistent drive and is tiring," says Steve Whidden, marketing manager for fastening, saws and woodworking at Stanley Black & Decker, of the need for his company's tool.
Mostly designed for primarily fastening non-metallic sheathed cables (NM-B) for electrical work, the automated stapler can also be used for low-voltage applications like coax cables, AV cables and CAT-5. Specially designed to drive DeWalt's UL-certified 1" cable staples over the cable safely and accurately, the cordless stapler has been found to work twice as fast as manual hammering. The company is in "the home stretch" of its work with the CSA (Canadian Standards Association) to approve the proprietary staples that work with the tool for use in Canada, Widden says, and he expects the product to be available here before year-end.
Cutting innovations
From Stanley Black & Decker's Lenox brand comes innovation to one of mankind's earliest tools. This fall, the company released the Lenox Fast Snap Knife (LXHT10597), which combines the ergonomic comfort and durability of a utility knife with the ready access to a sharp blade found in a snap knife. In addition to combining the best of both cutting worlds, the new knife has built-in safety elements including an integrated blade snapper to perfectly line up the blade and magnet to safely hold the snapped segment in place.
Louise Young, commercialization manager for hand tools at Stanley Black & Decker says the company was looking to build on Lenox's heritage and asked, "how we could reinvent cutting." It comes with a Lenox carbide-edged blade but can use any standard 18mm snap-off knife blade.
EAB (Exchange-A-Blade) has released two sawblades that also perform double duty. Offered in 6 ½" (32 teeth) and 7 ¼" (36 teeth), the company's new Professional Series Wood/Metal Cutting Saw Blade eliminates the need to waste time switching blades when cutting lumber, angle iron, metal studs or threaded rod. The blades can be used for both materials thanks to a combination of an MTCG (modified triple chip grind), C6 carbide teeth and 0° hook angle.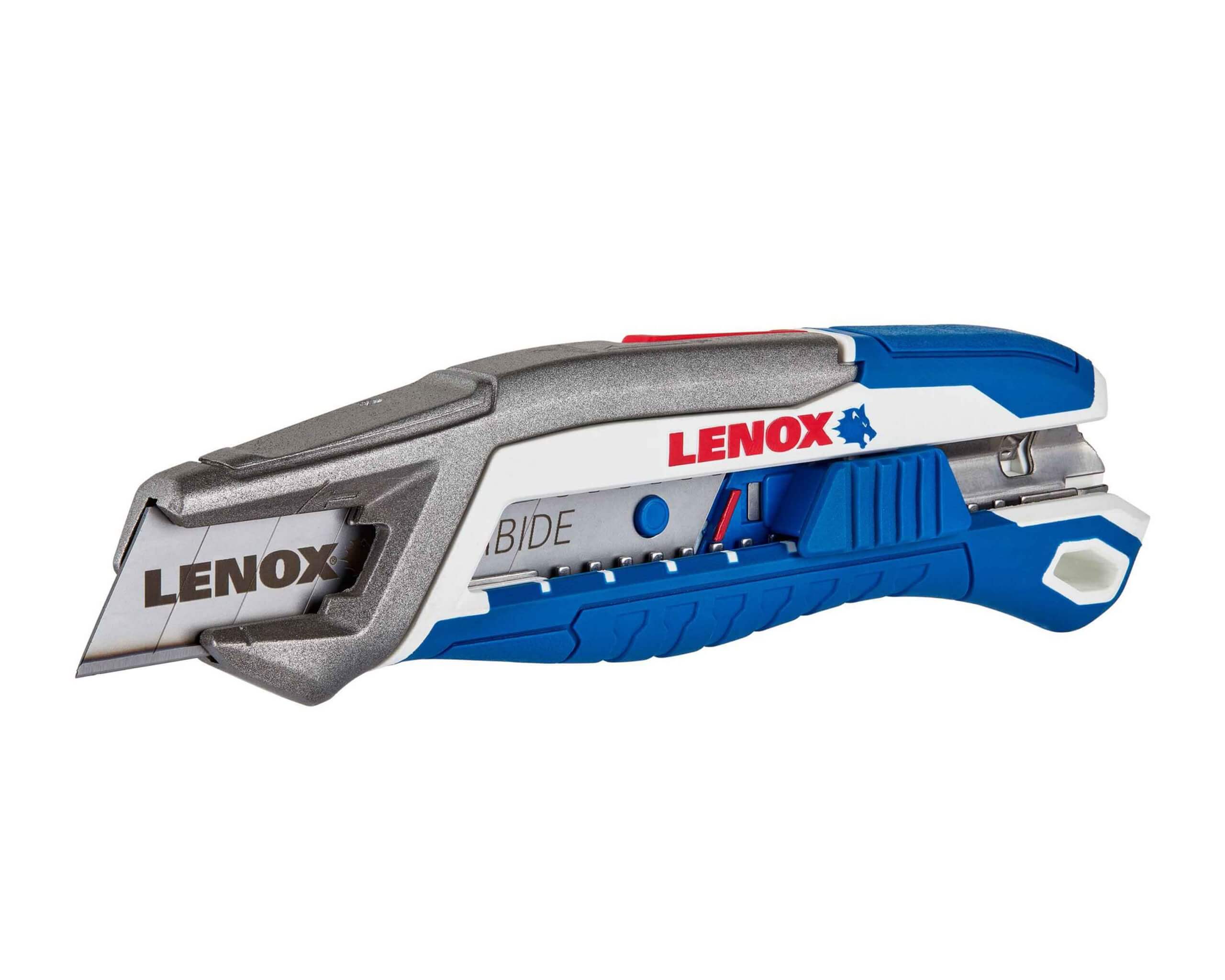 Photo courtesy of Stanley Black & Decker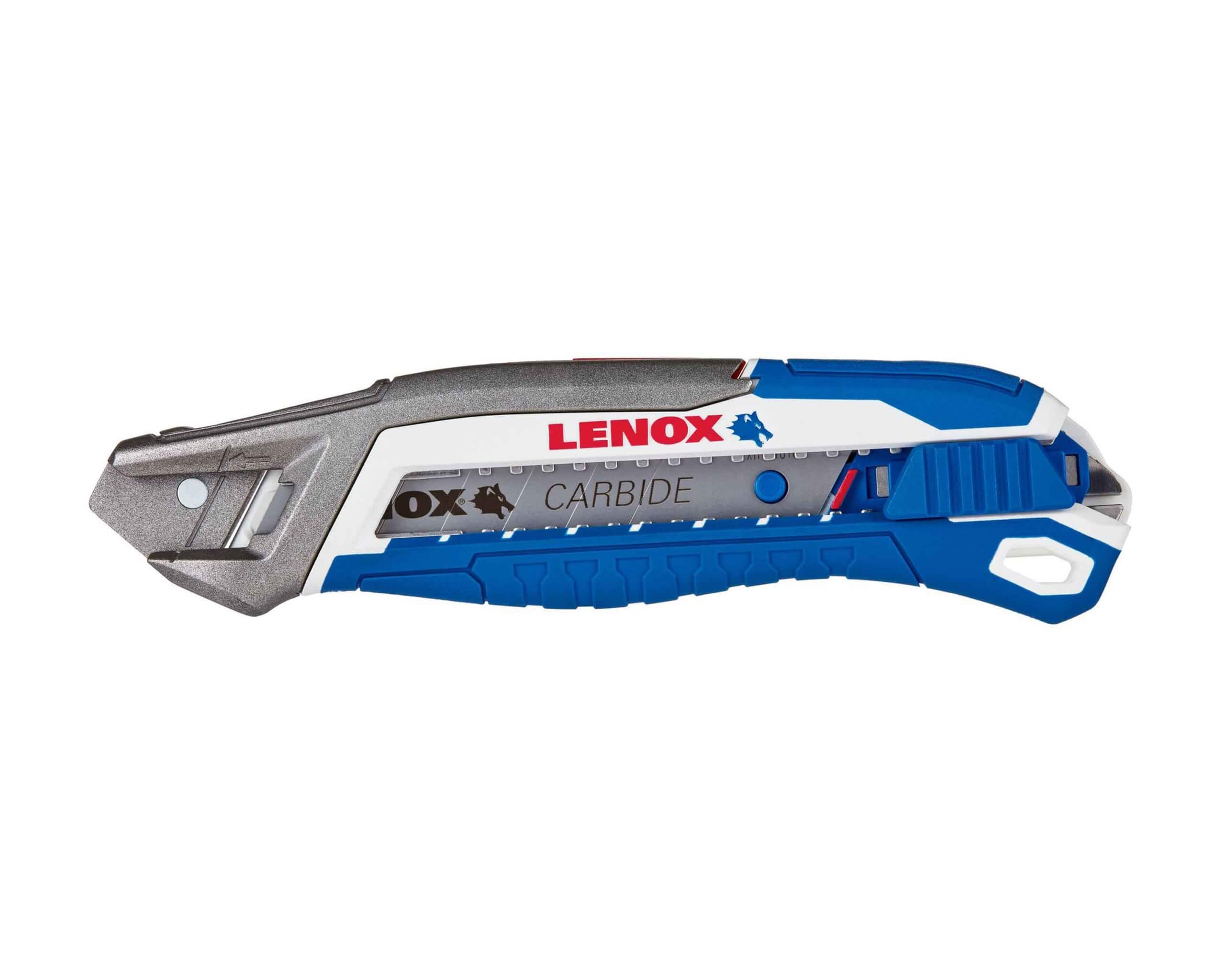 Photo courtesy of Stanley Black & Decker
"It saves both time and money," says Dave Cameron, product manager at EAB Tool Co. "Contractors can get things done without delays, but also don't have the need for two tools to complete the job." The other savings, Cameron stresses, comes from the EAB exchange program, in which all EAB products can be exchanged for credit when being replaced. The program celebrated its 45th anniversary this year, keeping more than 60 tons of steel out of landfills annually, he says.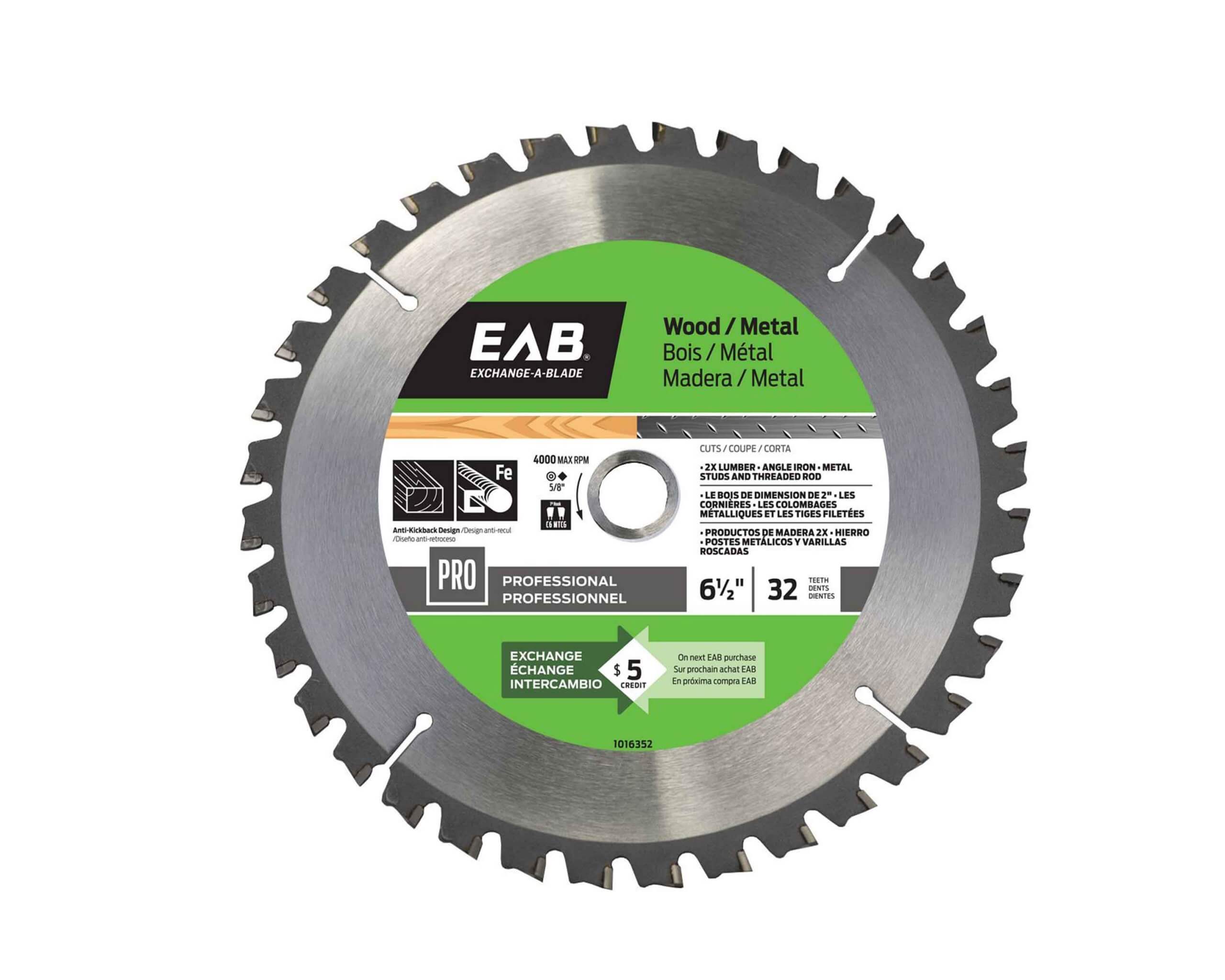 Photo courtesy of EAB Tool Co.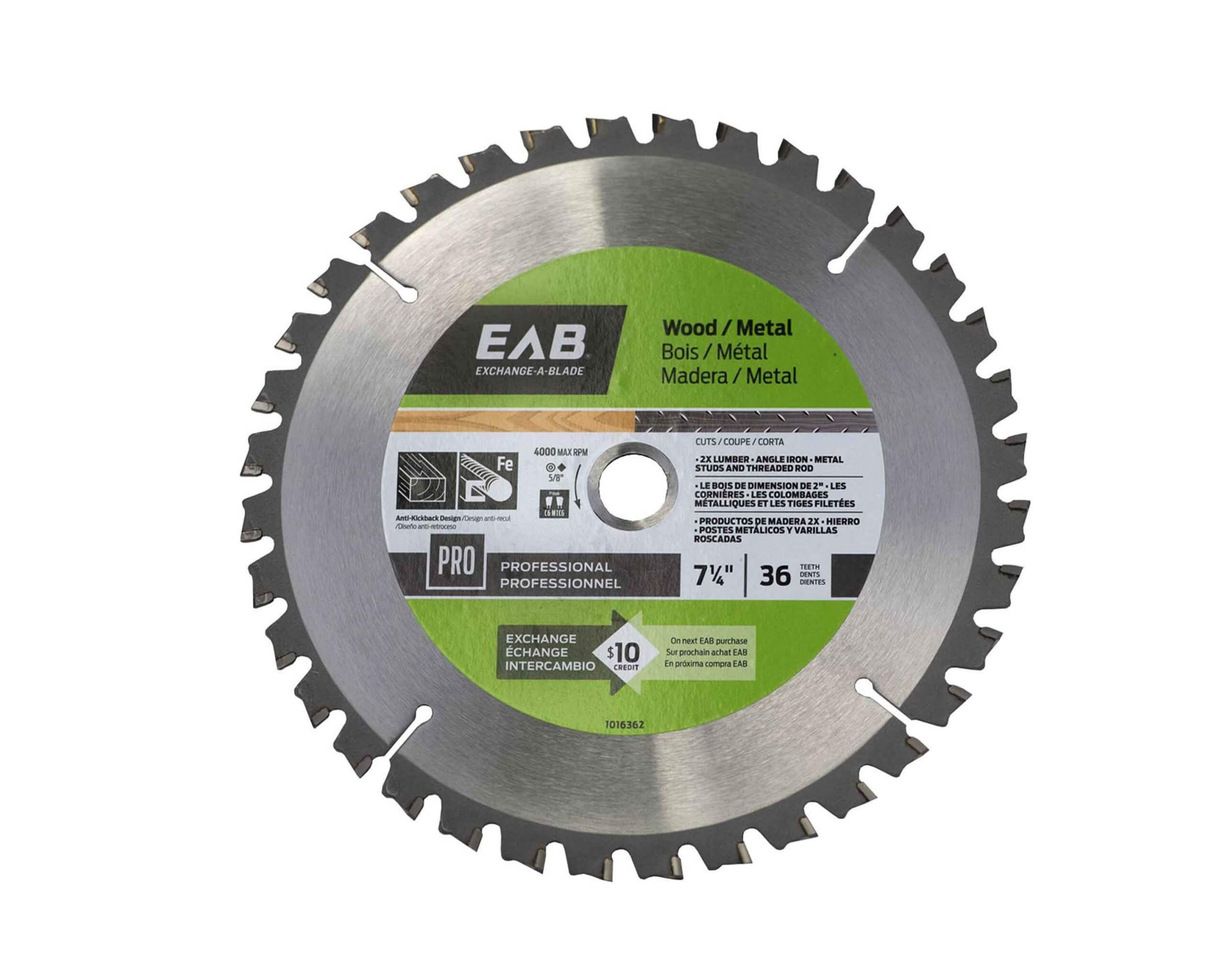 Photo courtesy of EAB Tool Co.
Simple and flexible time savers
Ted Fuller, vice-president at King Canada Tools, says his company has two elegant solutions to problems many contractors face.
The company's 3 and 3/8" toe-kick saw is specially designed to cut underneath cabinets, so flooring contractors don't need to remove the cabinets when replacing subfloors. Adjustable with four depths of cut positions, it's designed to run flush along the inner wall of toe-kick panels to cut faster and easier.
A lot goes into the design to ensure safe and steady cutting, but ultimately Fuller says, "It's a simple solution to a problem that eliminates a cascade of other things you have to deal with if you don't have it."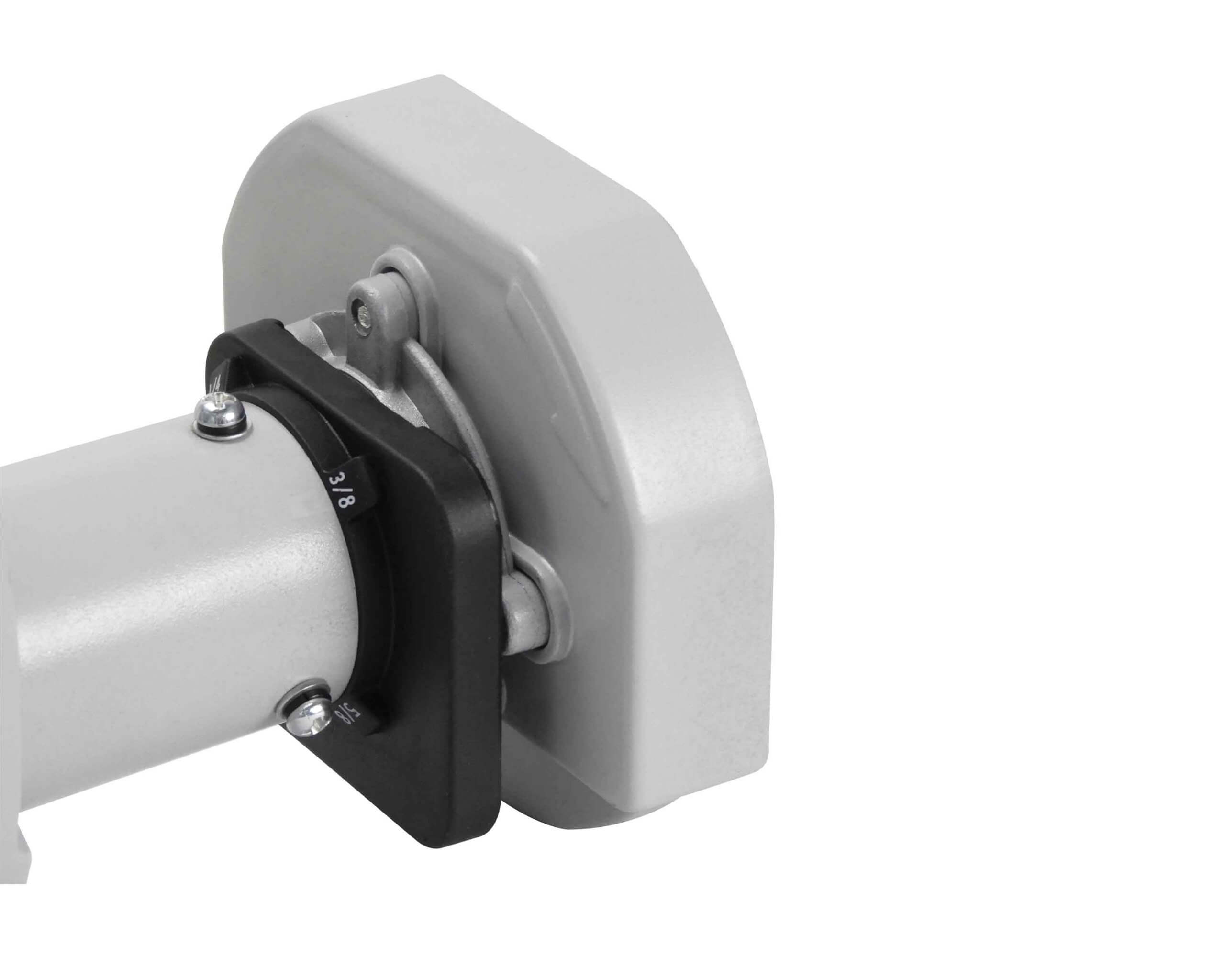 Photo courtesy of King Canada Tools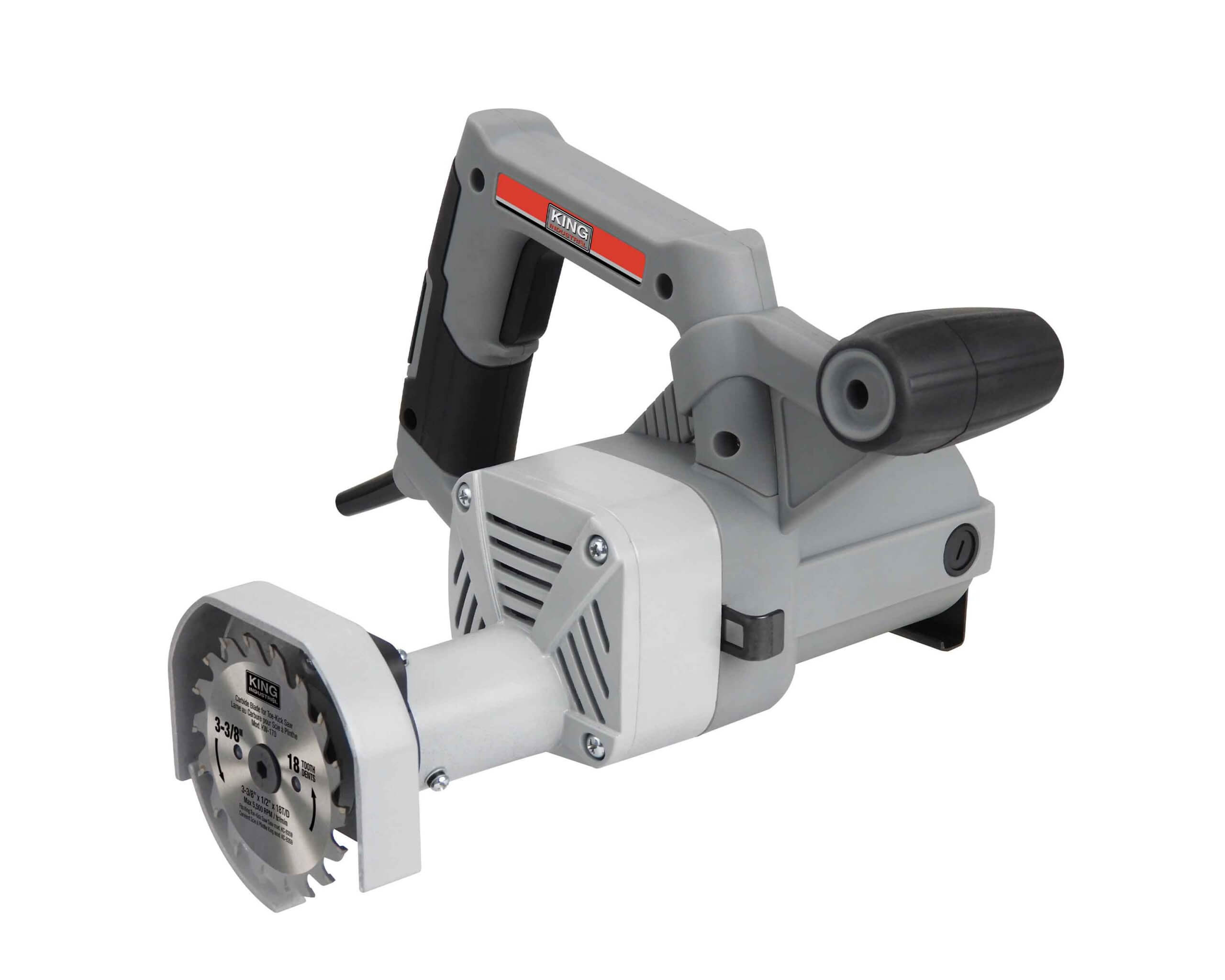 Photo courtesy of King Canada Tools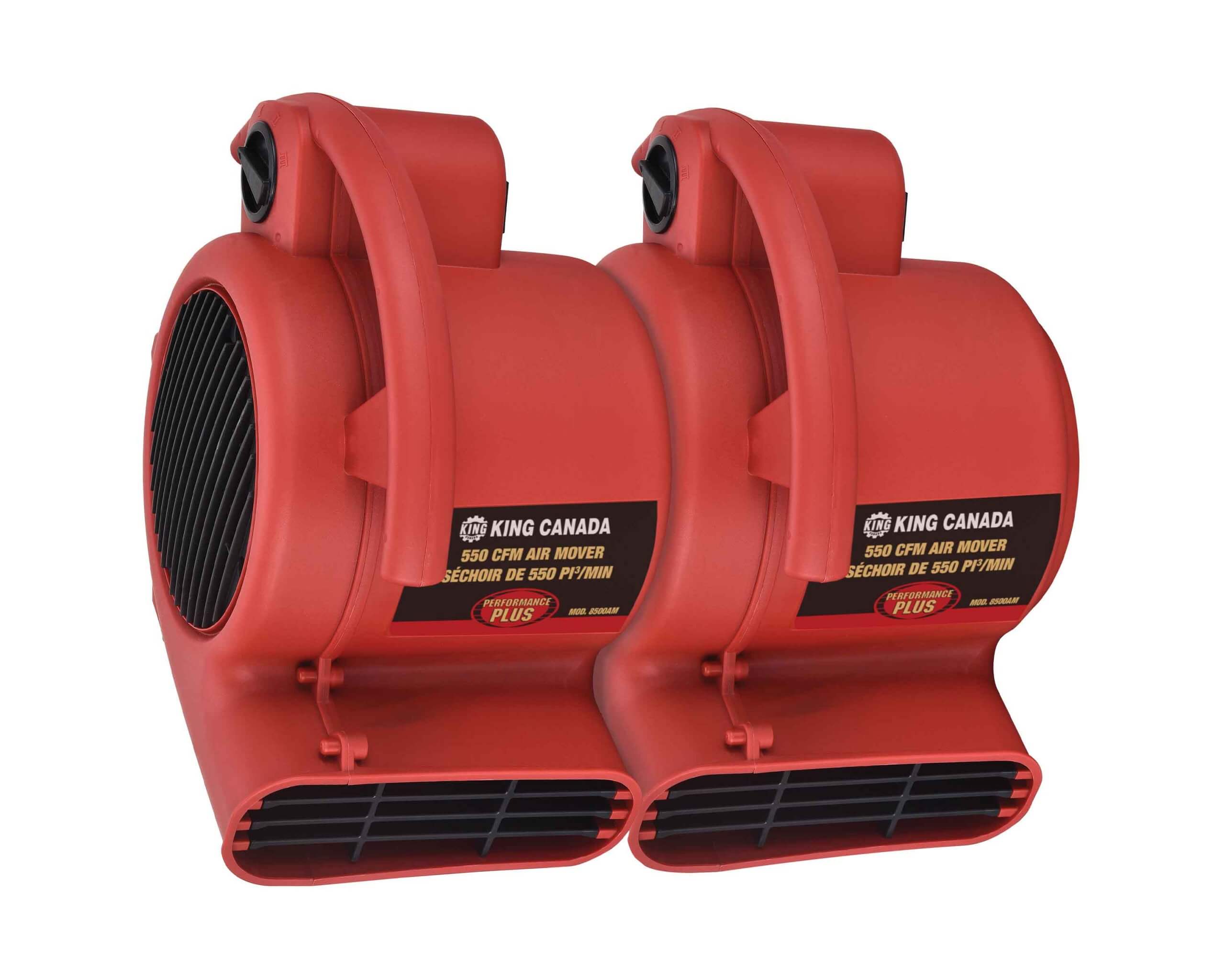 Photo courtesy of King Canada Tools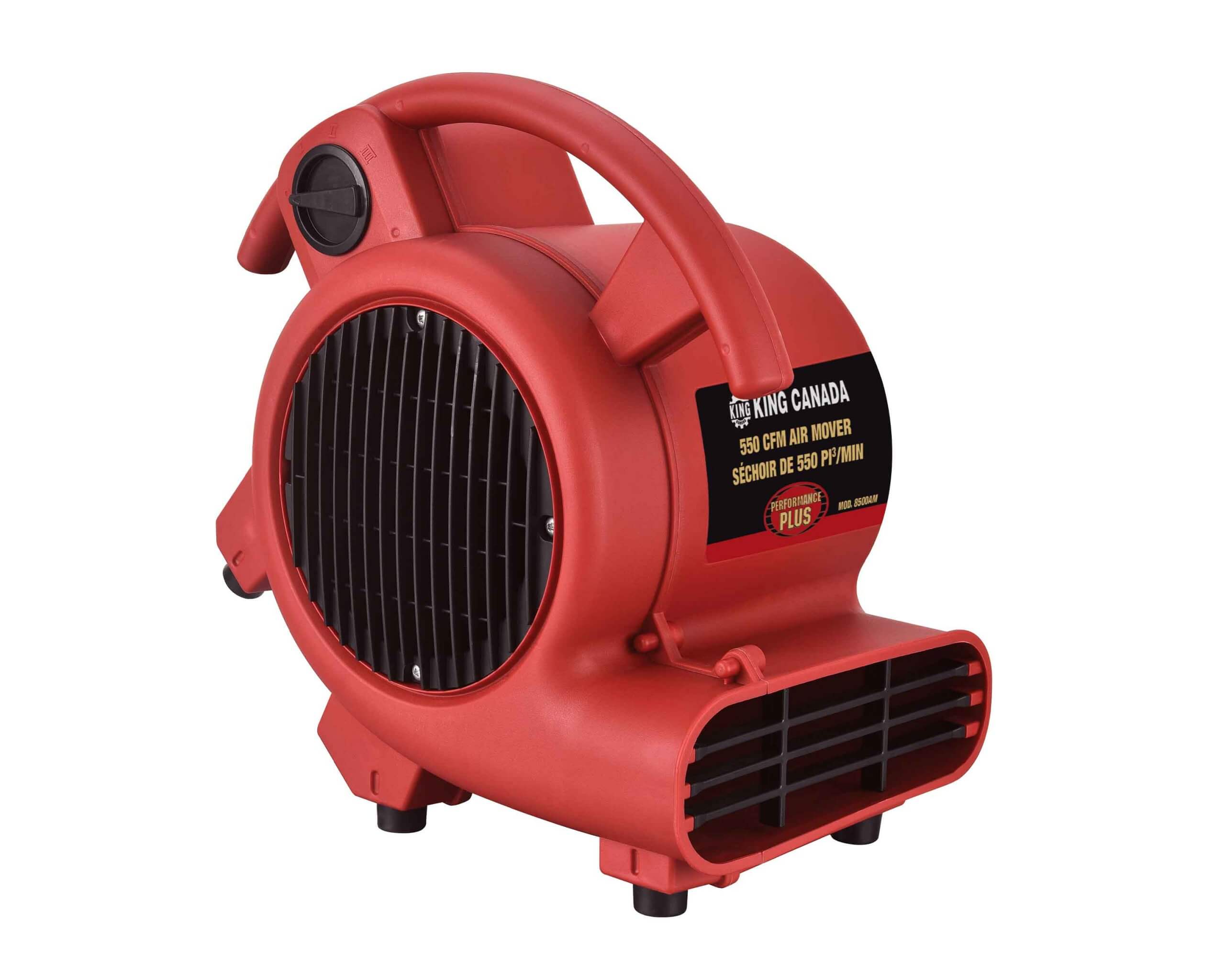 Photo courtesy of King Canada Tools
King's 550 CFM (cubic feet per minute) Air Mover is lightweight (9 lb.) and has design features that make it more flexible, Fuller says. Portable and most importantly able to be daisy-chained together for larger jobs, the air mover is designed with interlocking guards, making it easier to stack and store.
"There's a couple little design quirks we put into it. It has a three-position location — so you can have it parallel to the floor, 45° from the floor or up in the air — and the other is it has a handle shaped like a banana which allows you to wrap the cord around it."
What's in store for storage On the topic of stack ability, the Milwaukee Packout Modular Storage System is the cool tool of 2021, suggests James Mitchell, senior product manager at the company.
"It's the customizability that makes it cool," he says. "The way the cleats lock in, it's such a small thing, but that's what made the Packout system totally takeoff."
The storage system allows users to interchange and interlock a wide variety of heavy-duty toolboxes, organizers, totes and more across different configurations. It boasts durability and resilience and the ability for contractors to customize storage to fit their needs whether in the shop, in transit or on the jobsite.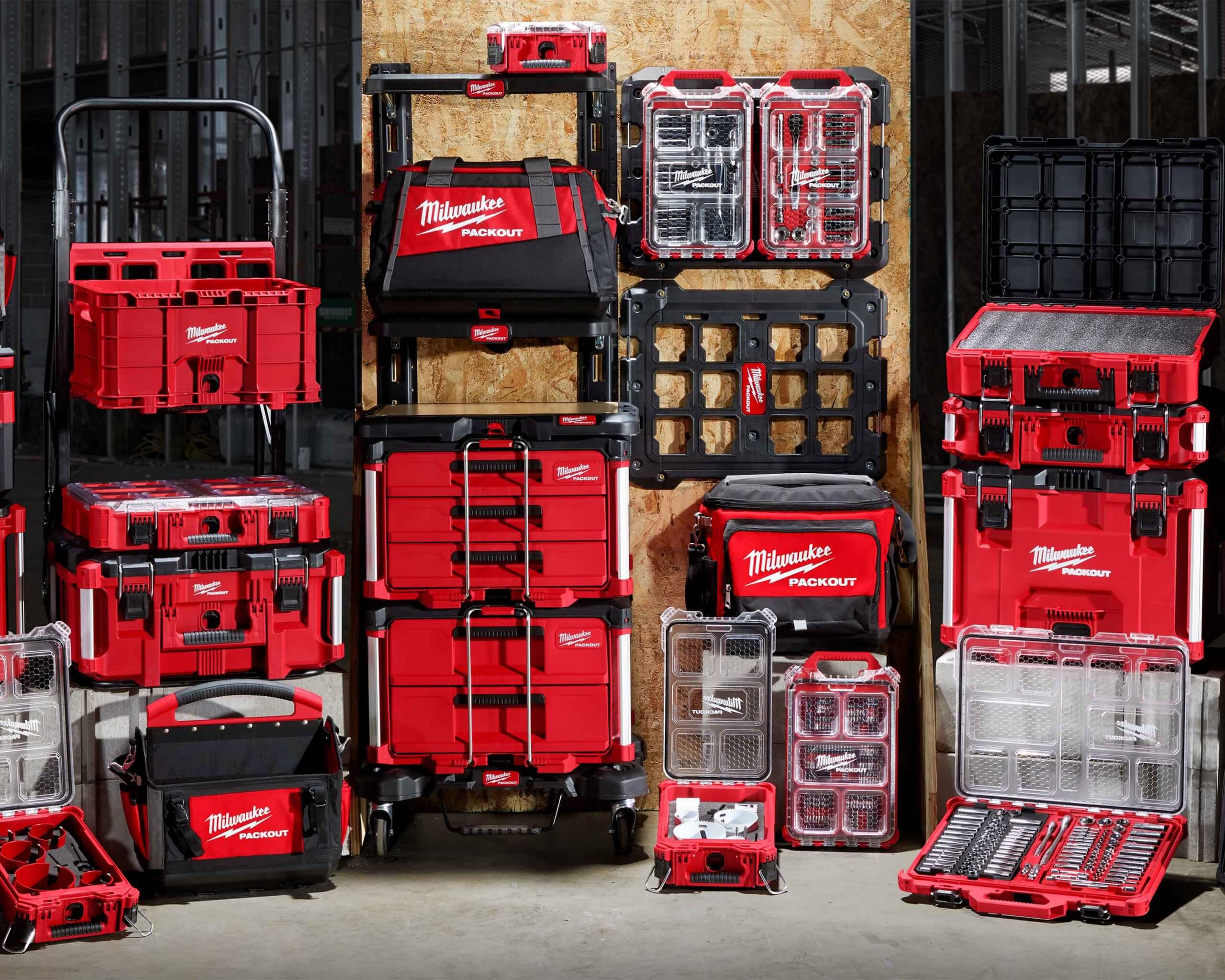 Photo courtesy of Milwaukee
The company started with the usual storage suspects and ultimately even coolers but has recently started to work the Packout locking system into some of its tools, including a vacuum, radio and light — things generally carried loose to a jobsite. "The thing I'm really excited about in the future, is we're going to be building (more) tools into it," Mitchell says.
For contractors on the go, check out Task Tools' Bucket Buddy which converts any old 5-gallon bucket into a toolbox. The ballistic nylon carrier slips over the bucket when in use to offer 12 interior pockets and 53 exterior pockets and loops with slots for driver bits, as well as two tape measure clips. "The Bucket Buddy isn't necessarily new in 2021, but we've packed it with more pockets, loops and even a bonus carabiner to clip loose tools to," said Tara Coen, Director of Product and Marketing at Task Tools. "It's made from 1680D and 600D ballistic nylon meaning it's less rough on the hands. And when you're done, you can fold it up and store it out of the way." —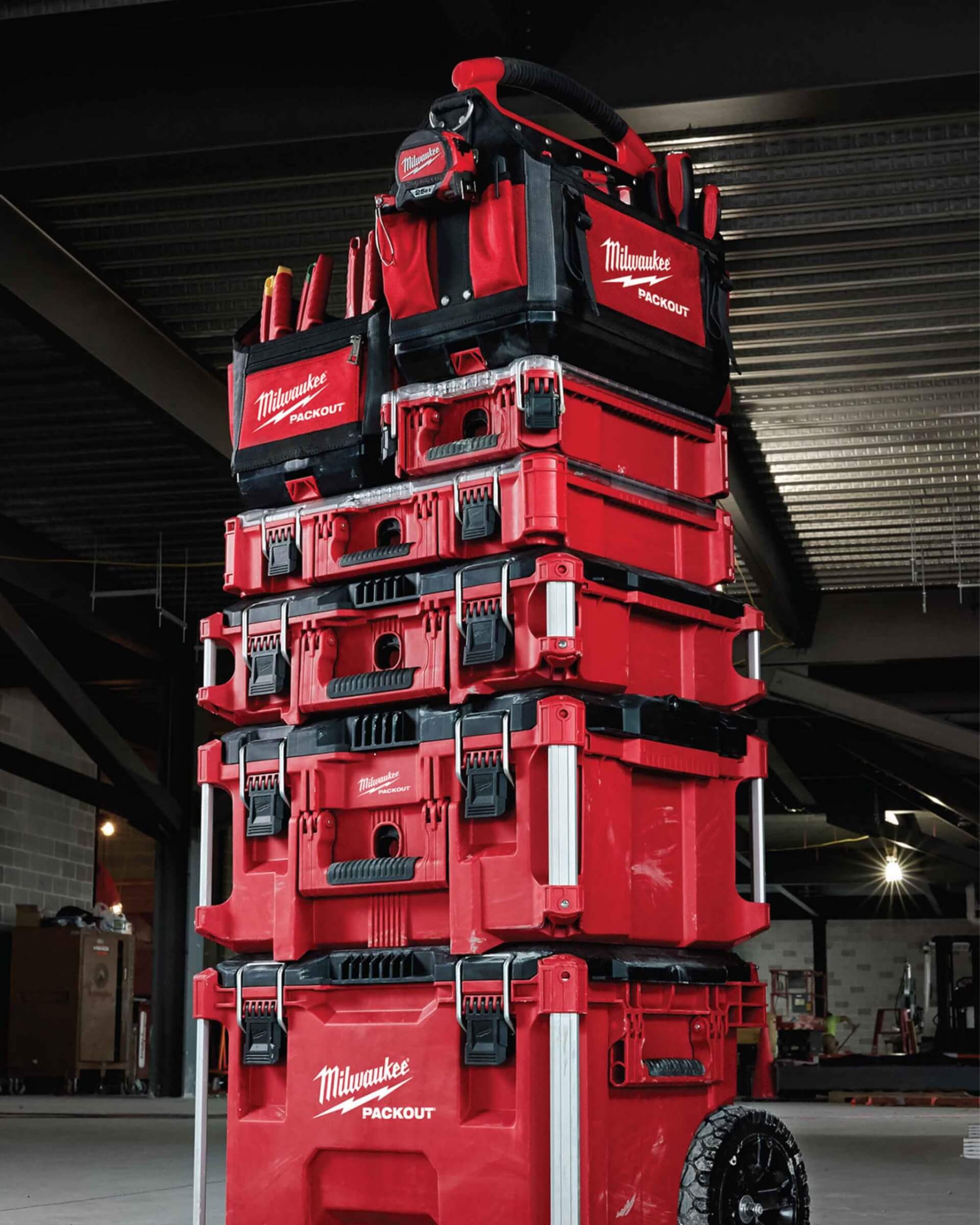 Photo courtesy of Milwaukee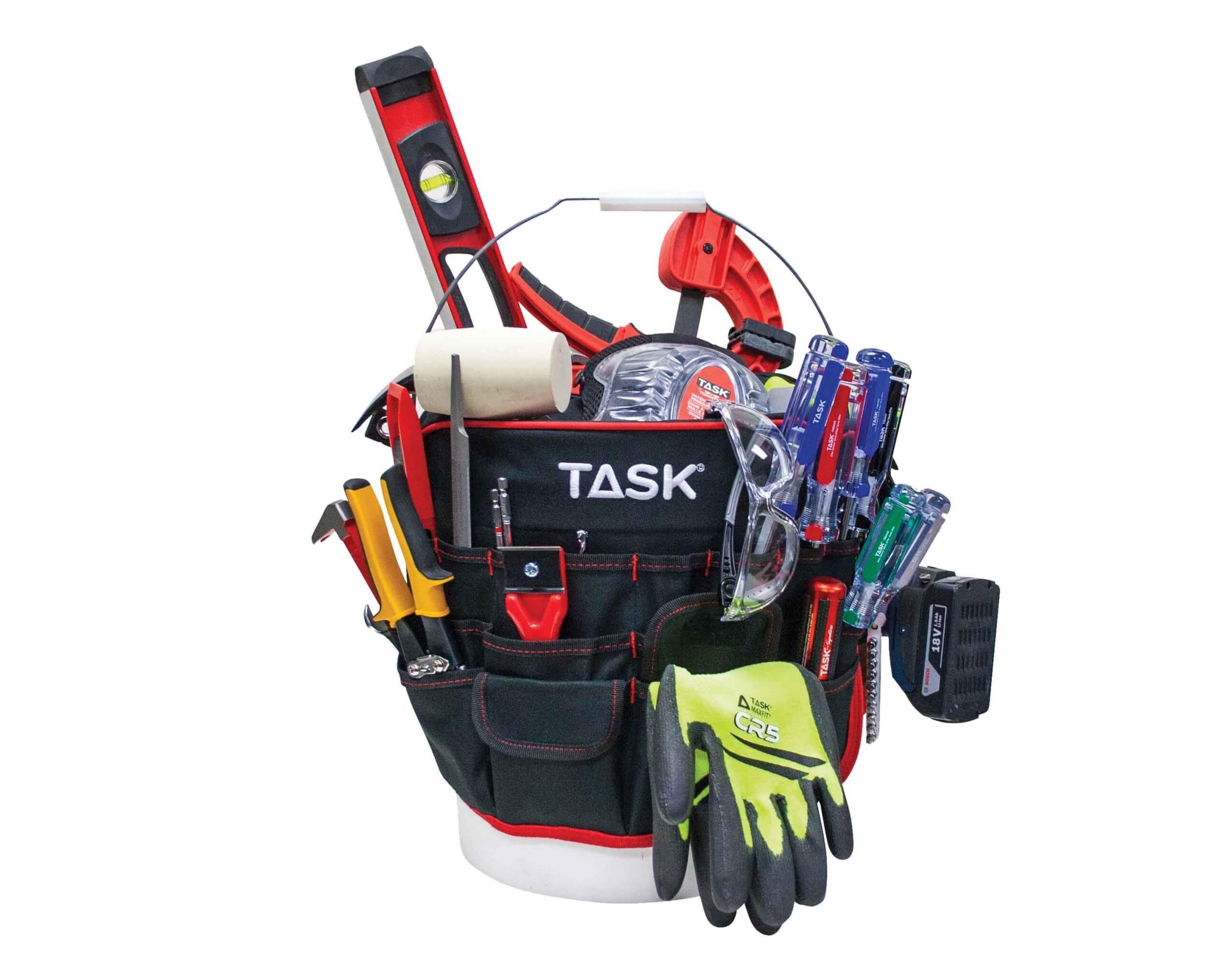 Photo courtesy of Task Tools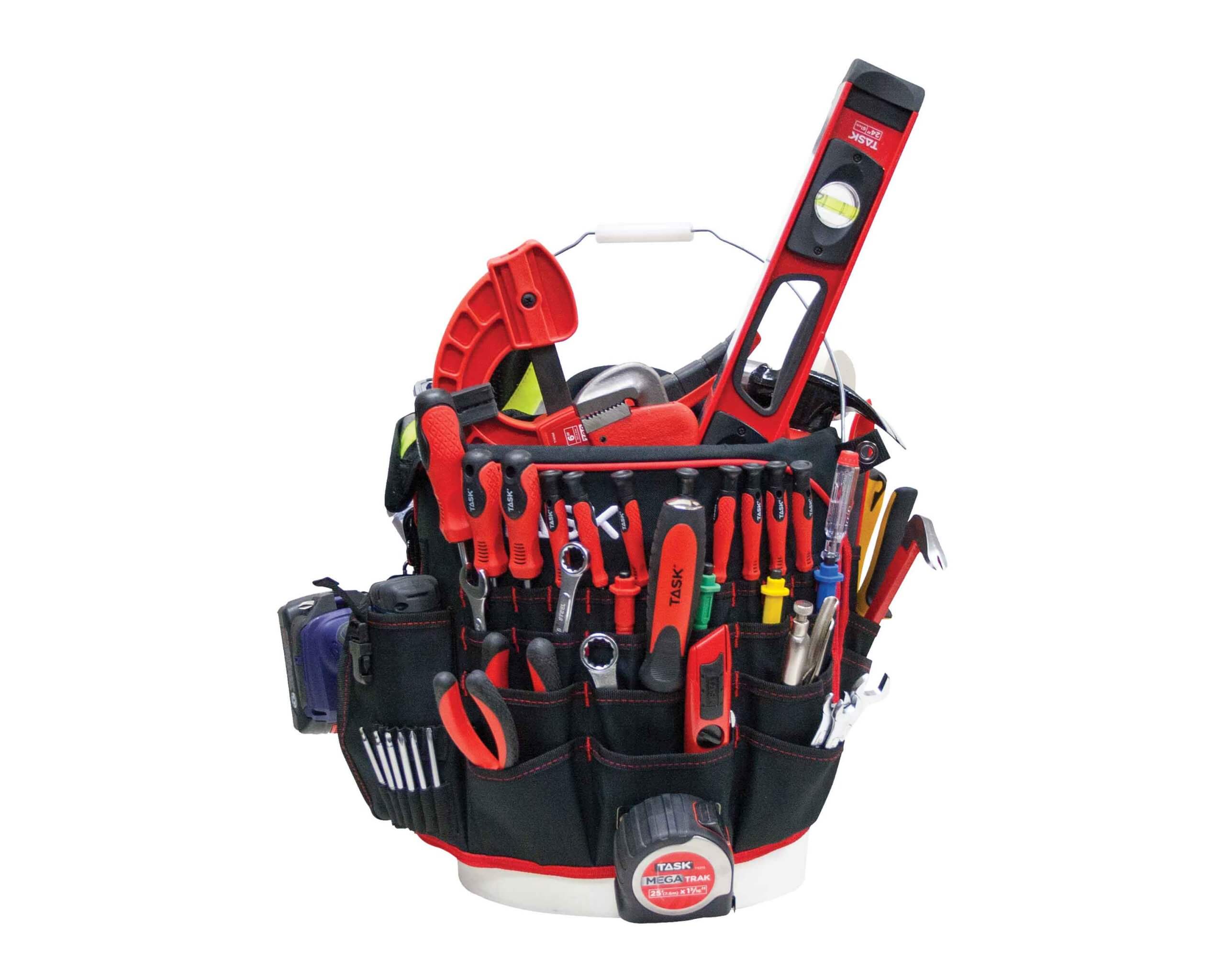 Photo courtesy of Task Tools