It's the first thing a guest sees when entering a home, and householders are continuing to put money into making their front doors look good and function well.
Despite lockdowns having passed and pandemic concerns waning, it appears many homeowners continue to invest in their abodes and consider their impact on curb appeal and comfort, exterior doors — both front and back — are on that list.
"We're still seeing a tremendous amount of investment that people are putting into their exterior doors," says Lauren Sabeski, Director of Sales at Alliance Door Products. "More than ever before, we're seeing more dollars spent per door, which is encouraging."
Considering the pandemic and recent economy, he adds: "we actually thought there might be a slowdown, but we're not seeing that, which is a very positive metric for us." Still, economic decisions may play a part. Sabeski says energy efficiency remains top of mind, with homeowners being more energy conscious about their product decisions.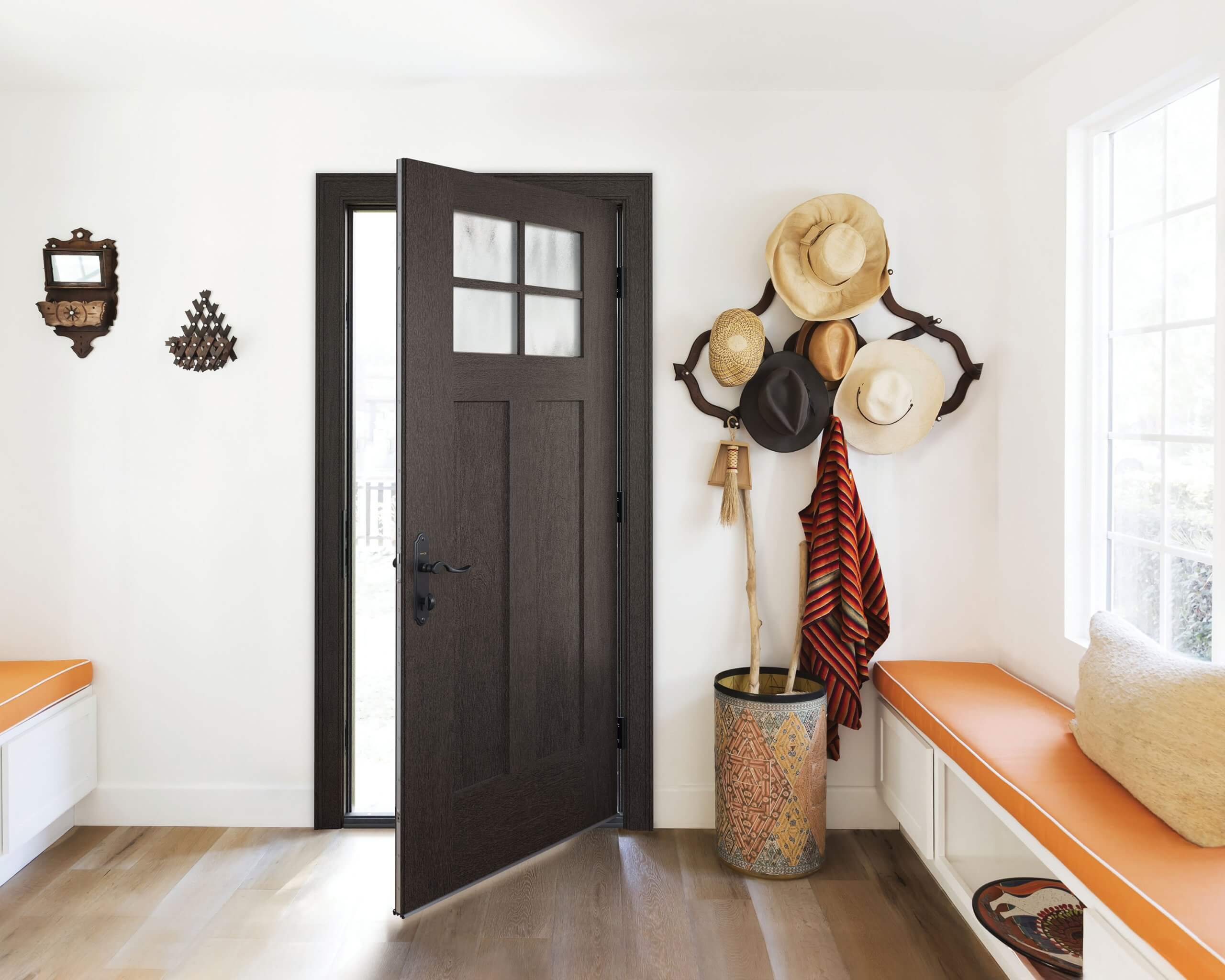 Photo courtesy of Ostaco 
"There is no question people are looking at their lifestyle and wanting to be more comfortable in their homes," says Jeff Ward, Director of Business Development at Durabuilt Windows & Doors. "There are some great rebates out there, both federal and provincial, but we've found [our] market in Western Canada continues to be very strong. In fact, the problem for the last couple of years was trying to get the supply to look after customers."
John Arsenault, Director of National Accounts/Atlantic Sales for Kohltech Windows and Entrance Systems says, "The market appears that it will stay stable, I do not foresee any large swings in the residential units for 2023, but it will vary by area."
He notes that while there is consumer uncertainty regarding interest rates and inflation, the commercial building sector will remain strong through 2023 for his company. Alongside that market stability, David DeFelice, COO of Frank by Ostaco is predicting good things for the fenestration industry and its customers.
"After these past few years of high demand and slow supply, and with the supply chain slightly improving, we expect 2023 to be more manageable. This allows us to get creative and innovative with our product offerings," he says.
Shane Powell, Marketing Director at JELD-WEN of Canada, suggests that while policies should make housing more affordable, new starts are projected to continue trending down, which should be a boon for the renovation market as homeowners invest in improving their homes over buying new ones.
"The economics forecast a shallow recession. High-interest rates appear to have the desired effect of slowing spending. Home sales and prices have fallen dramatically," Powell says. He adds that "The new Canadian foreign ownership law is expected to have the positive effect of making housing more affordable and bolstering economic recovery."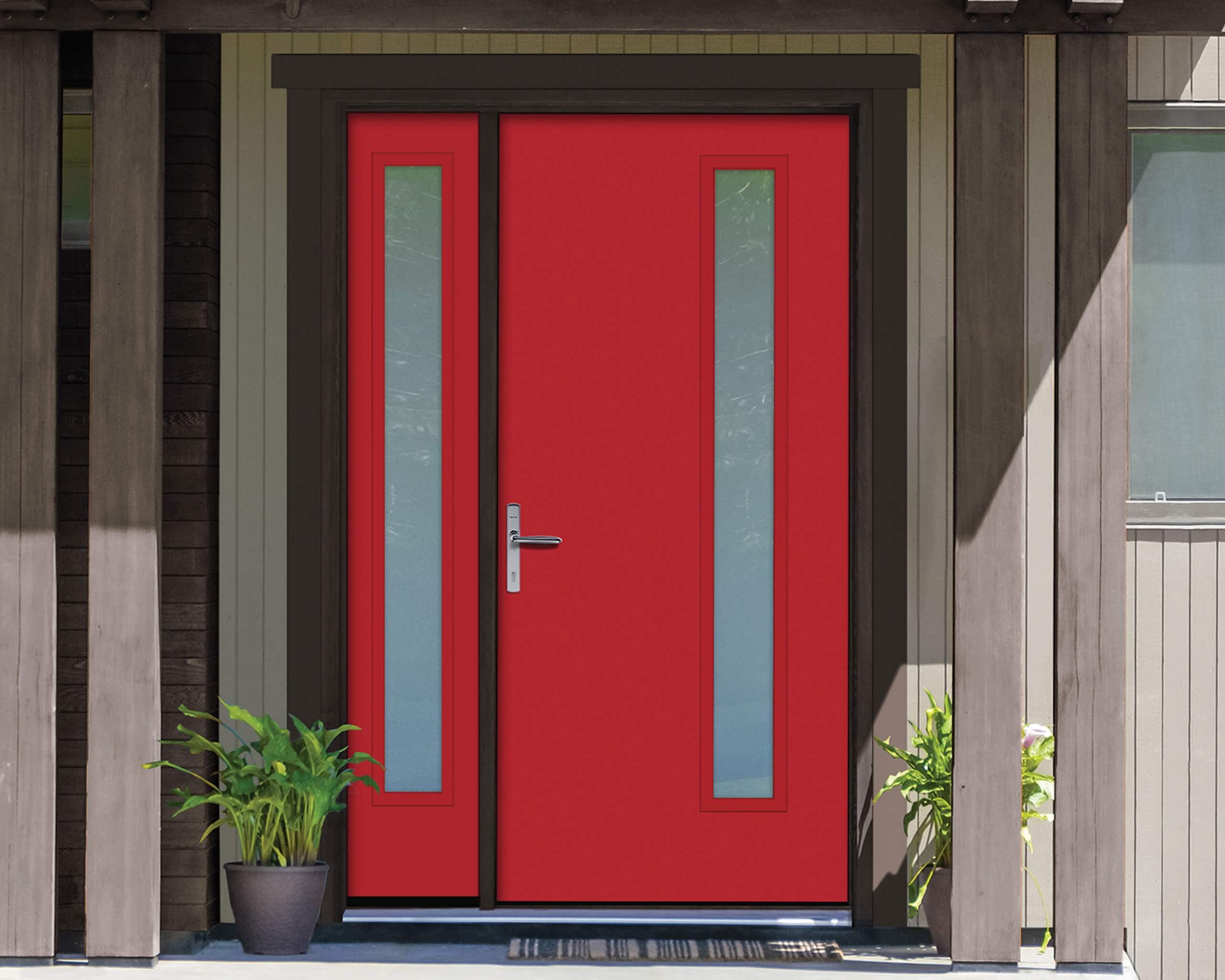 Photo courtesy of Alliance Door Products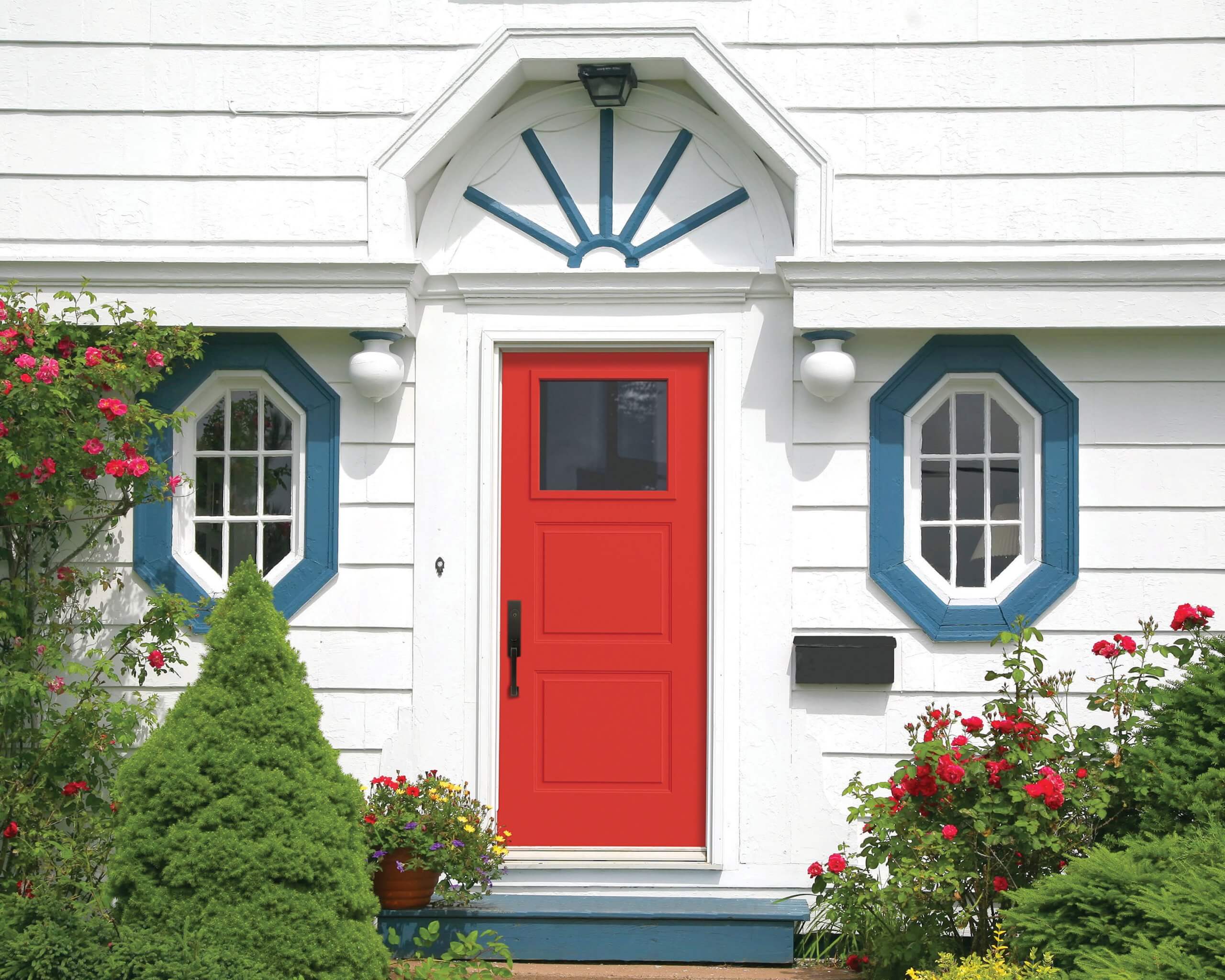 Photo courtesy of JELD-WEN of Canada 
IMPROVING AN OLD STANDARD
At first blush, the front door might not seem to be the place to see a lot of improvement, but that's not stopping manufacturers from providing new improvements that builders and homeowners are seeking.
For instance, Kohltech is trying to aid in the ongoing quest for greater energy efficiency in new construction. "We are about to launch a door jamb that will accommodate wall depths from 6 5/8 to 12 ½". This will be great for ICF applications as well as Net Zero home construction. We are also working on a vinyl buck that will be used in the concrete tilt-up wall panels."
Demand for taller (and now wider) doors continues to grow and with these grander openings and the need for an improved seal. Because of that, there's more demand for Alliance Door's multipoint locking system. "It's a three-point locking system, at three points of the door, and that helps create a better seal, so you don't get wind infiltration or water infiltration in the door.
"It just allows that door to seal so much better, and customers feel better knowing that door is locked solid."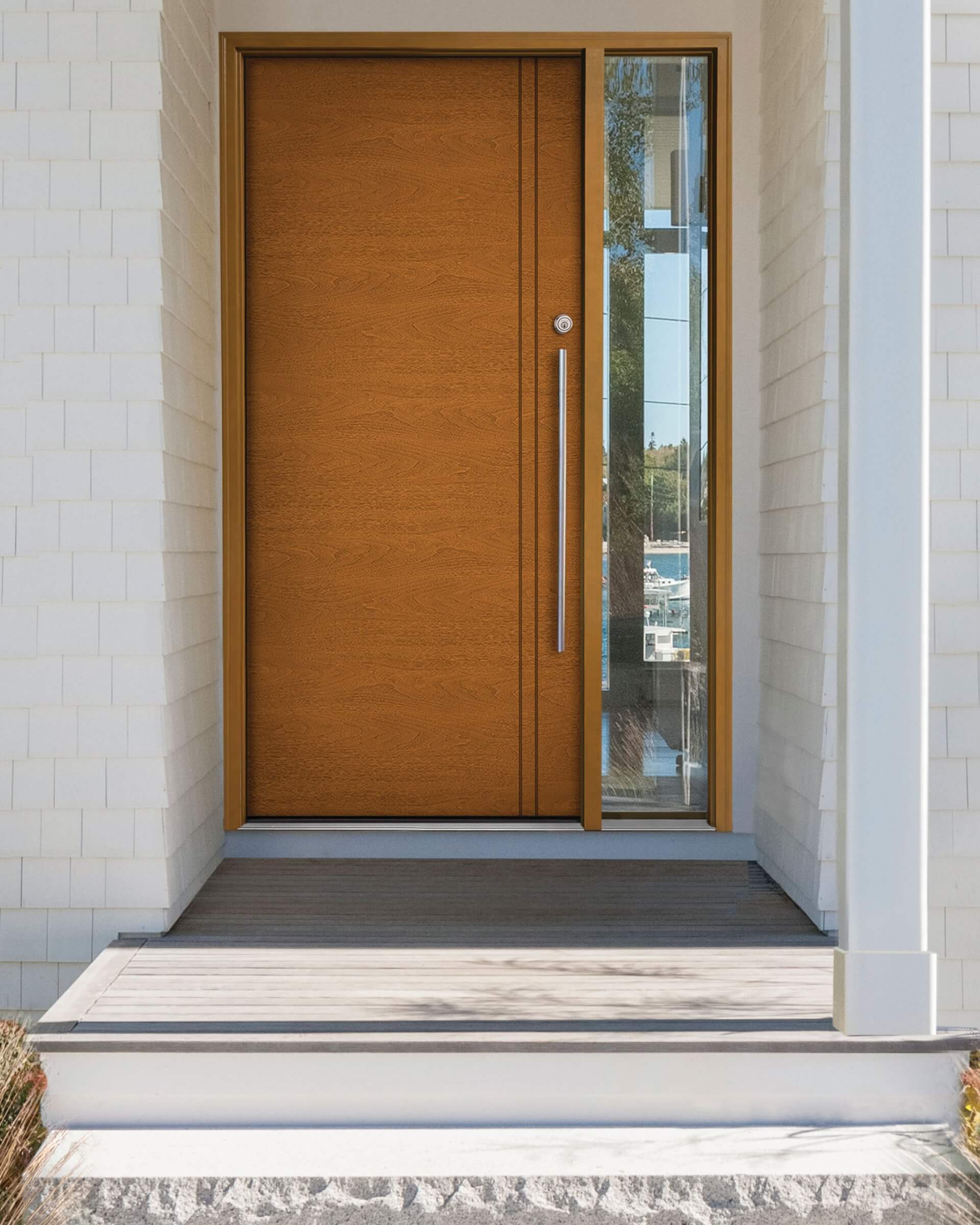 Photo courtesy of Ostaco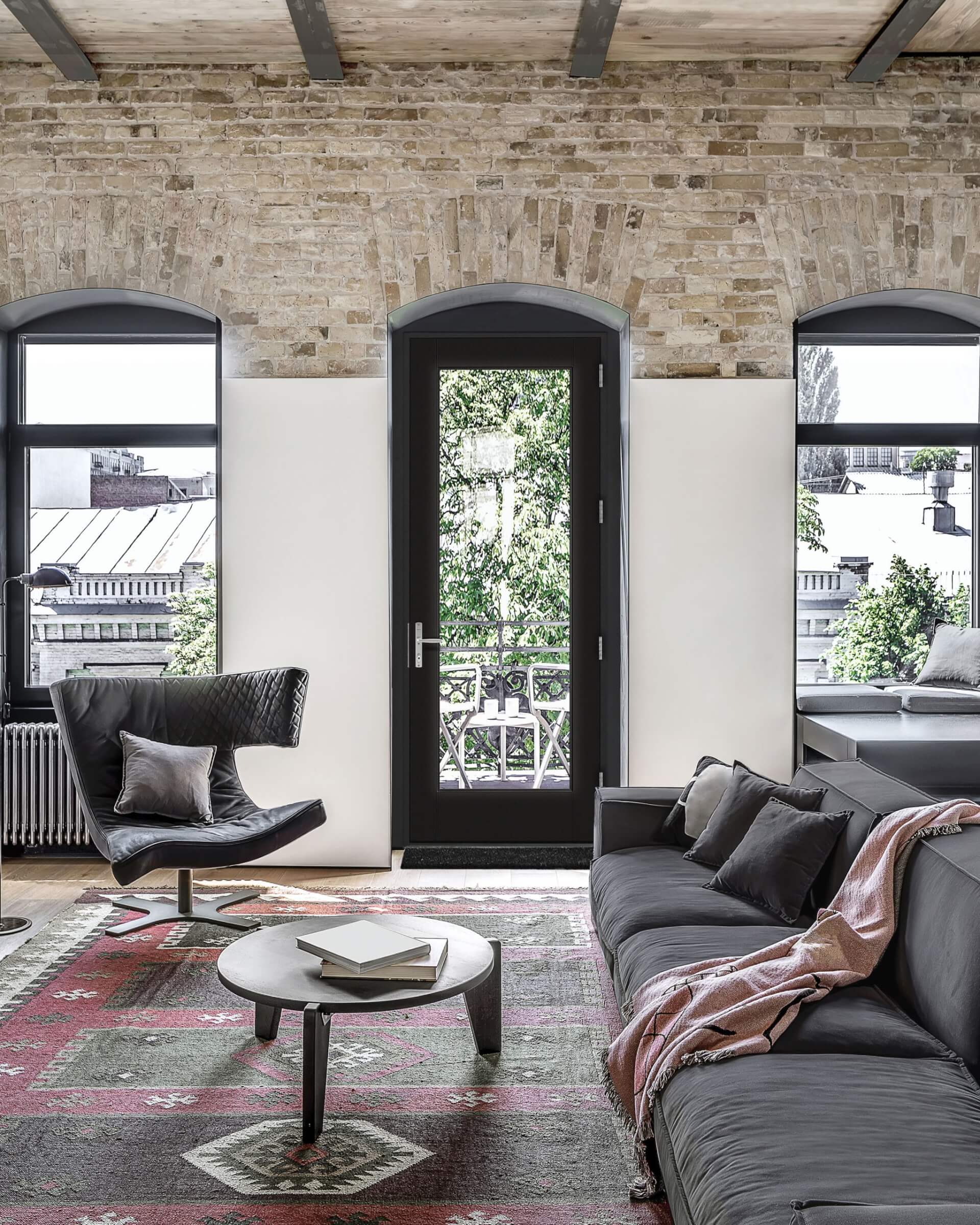 Photo courtesy of Ostaco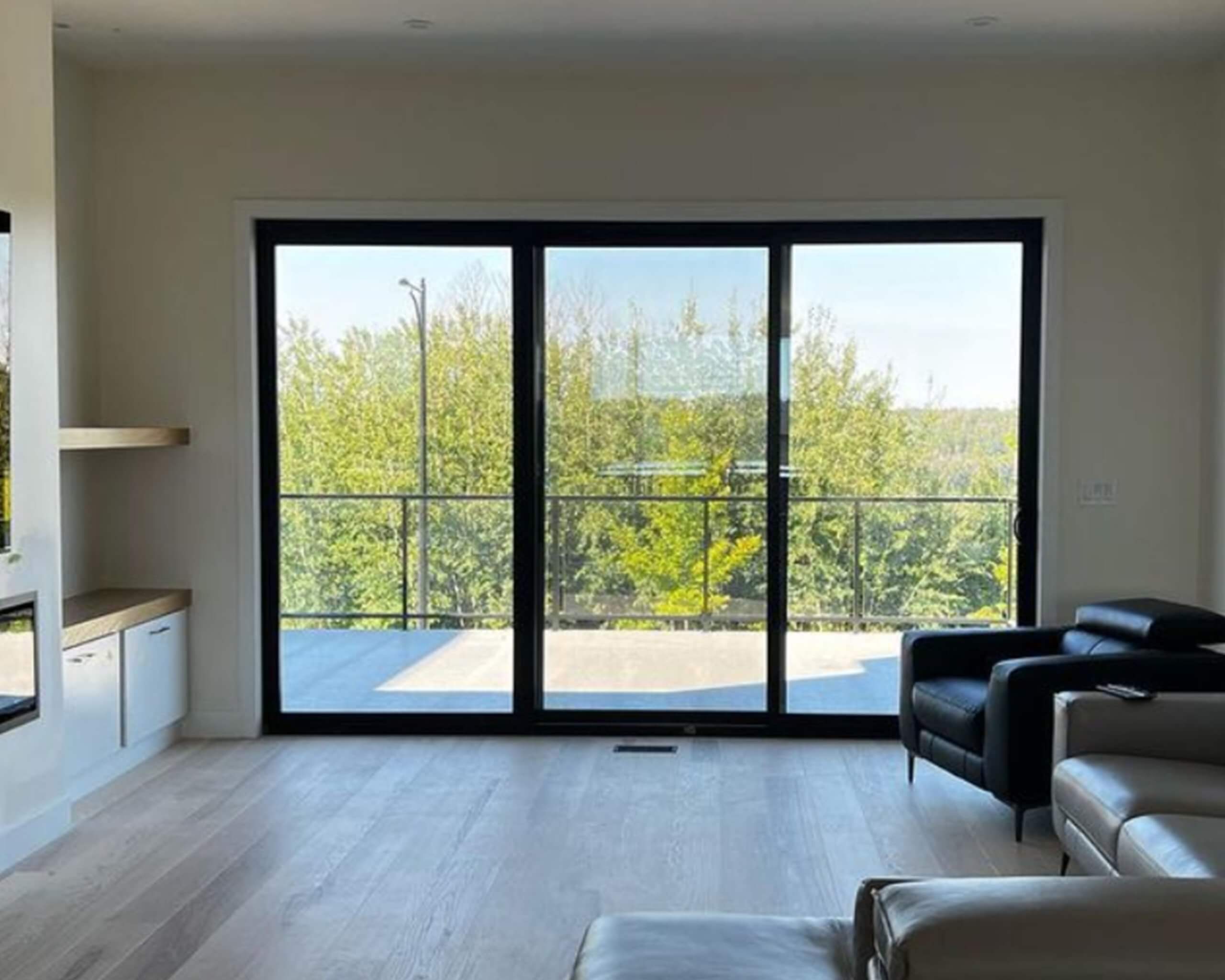 Photo courtesy of Durabuilt Windows & Doors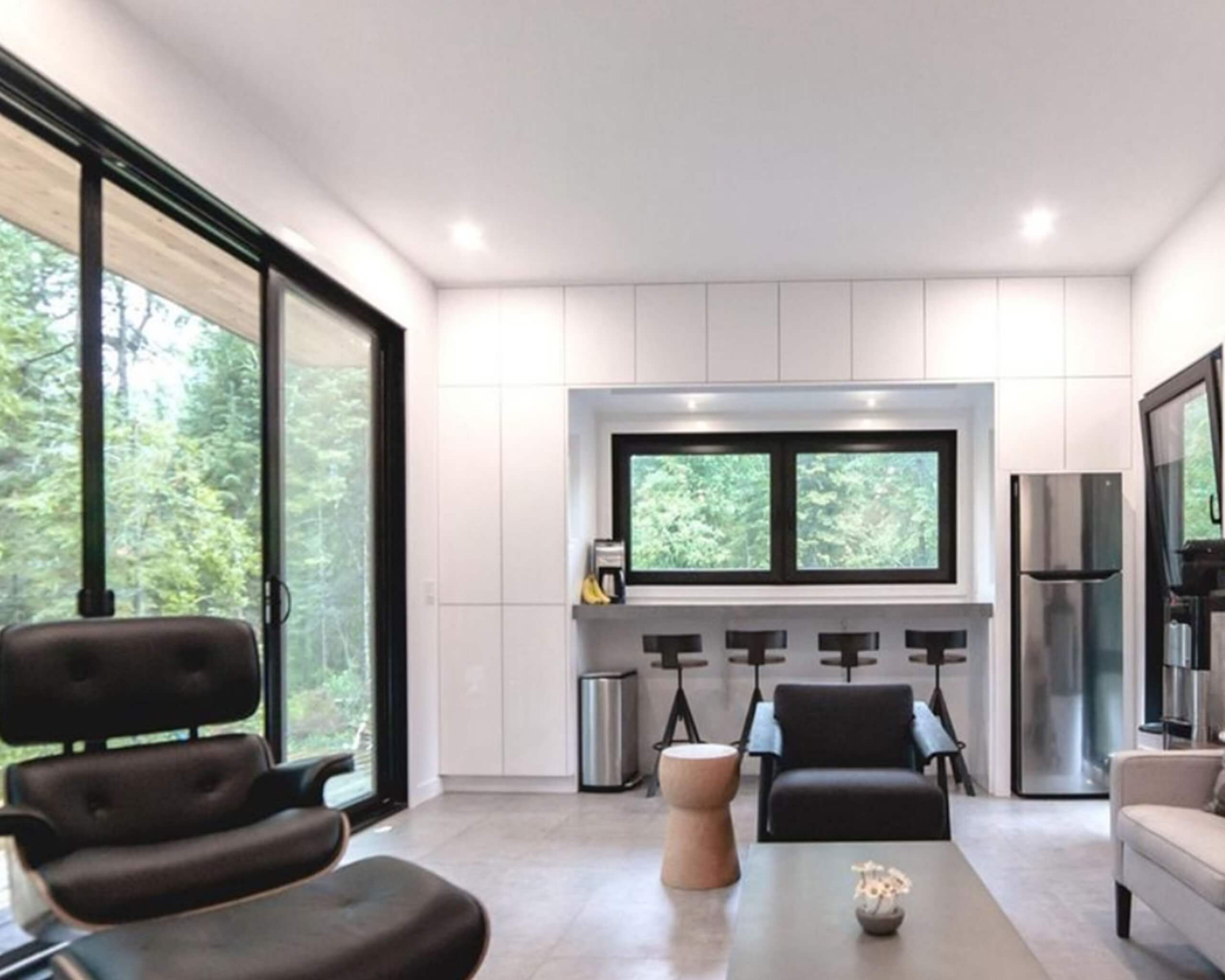 Photo courtesy of Durabuilt Windows & Doors
EVEN BIGGER DOORS
Especially in new builds, bigger is better. Ward notes how entry doors had climbed to being 3-foot (36") by 8-foot (96") in recent years. "They were very luxurious. But now you're seeing a lot of doors moving to be 42" wide and 96" tall."
"That's reminiscent of a time when there were double doors, but people moved away from that. Today what they want is that big door that's going to set that front door apart."
The trend towards higher value, large format is also taking place for exterior back doors, a more common investment for remodeling and renovation. Here, lift-slide patio doors allow for up to 50 sq. ft. "A lift-slide door is a designer's dream because it compresses when it closes."
He says the investments being made into larger patio doors and the desire for more glass is consistent with what's being seen in the outdoor building space. "People want to connect to their outside." 
CONTEMPORARY STYLES
The trend toward contemporary styles, with its simplicity and clean lines, continues to trend in exterior doors, but also a return to mid-century simple wood grain.
Of course, that wood grain isn't always in the form of solid wood doors. Innovation in fiberglass manufacturing has created the ability to emulate many grains of wood and make multiple patterns. Sabeski notes with the improvements in fiberglass, homeowners are choosing it because "It has that ability to look like a true piece of wood and the construction of it: it's dent resistant, skins are 40% thicker, so they have durability and long-lasting performance."
"And we're doing things like adding 4" lumber down the sides to give it that real feel of a natural wood door."
Colour plays a part too. With darker, often black, window frames, some are using doors to play up the contrast, suggests Richard Hill, Vice-President of Marketing at Cornerstone Building Brands, parent company to Ply Gem.
"Contrasting colour pop doors are gaining popularity as a statement against monochrome windows and siding. We see a lot of bright oranges, yellow, turquoise, and even shocking pink."
Powell says that while black continues to be on trend, so too are nature-inspired colours that blend the exterior with natural surroundings, and bold colours are being embraced by some homeowners to make a statement.
Shapes, too, are playing a big part in aesthetic decisions, with Powell noting that arched windows and doors are being used to differentiate and increase curb appeal, such as Versa (United) Fibreglass Exterior Doors.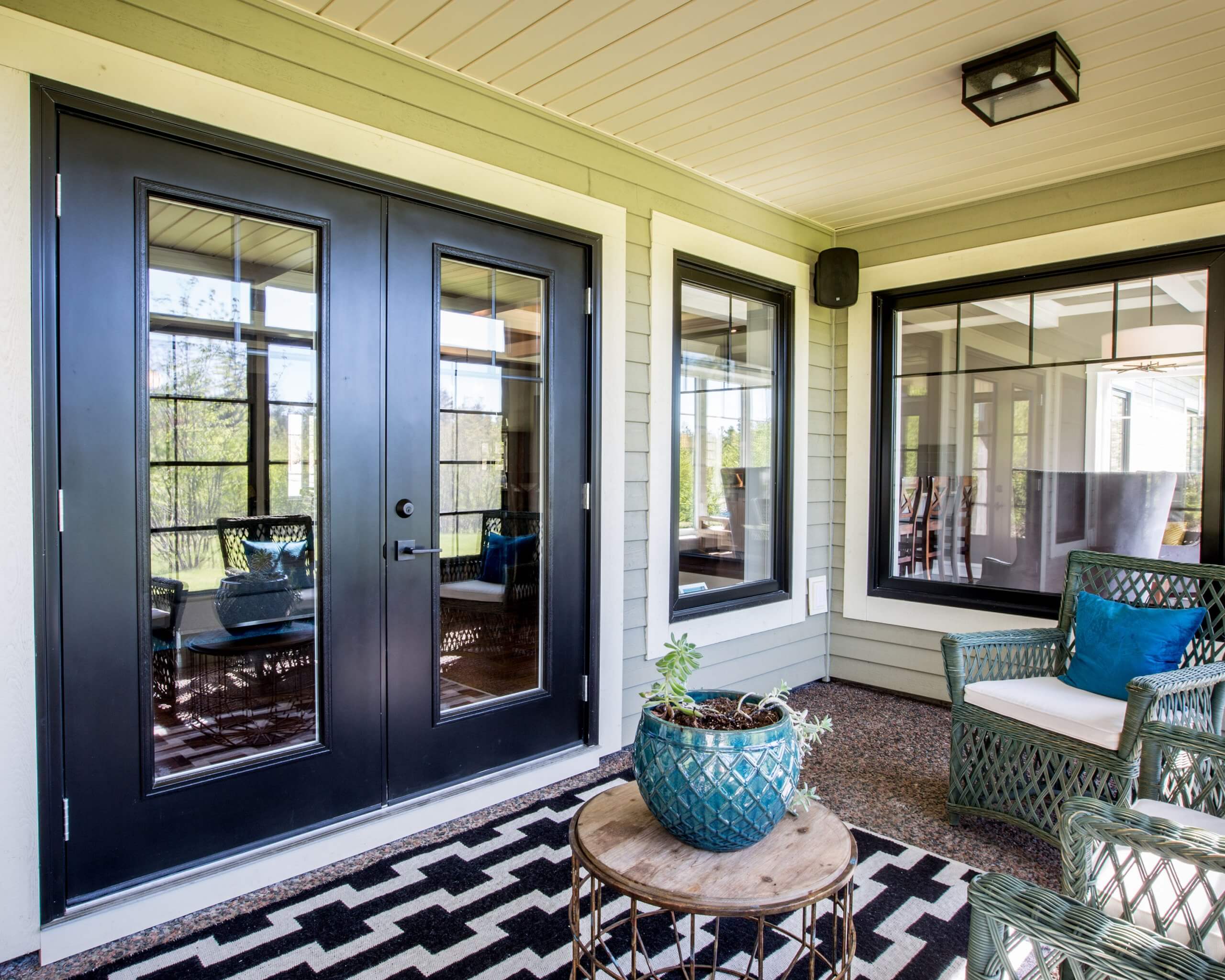 Photo courtesy of Kohltech Windows and Entrance Systems 
NATURAL LIGHT BUT PRIVACY
Although larger windowed doors in the rear of the home are on the rise, the front is seeing a move towards fewer door lites and even less visibility. Privacy glass or textured glass is on the uptick, Sabeski says, like reeded glass that presents a very modern look. Also extremely popular are geometric patterns and cubic textures.
He points to his company's Therma-Tru EnLiten flush-glazed designs, in which double- or triple-pane glass is built directly into the door with a high-performance dual adhesive weather seal, again reducing the potential for air and water infiltration. The company suggests this also provides 16% more light.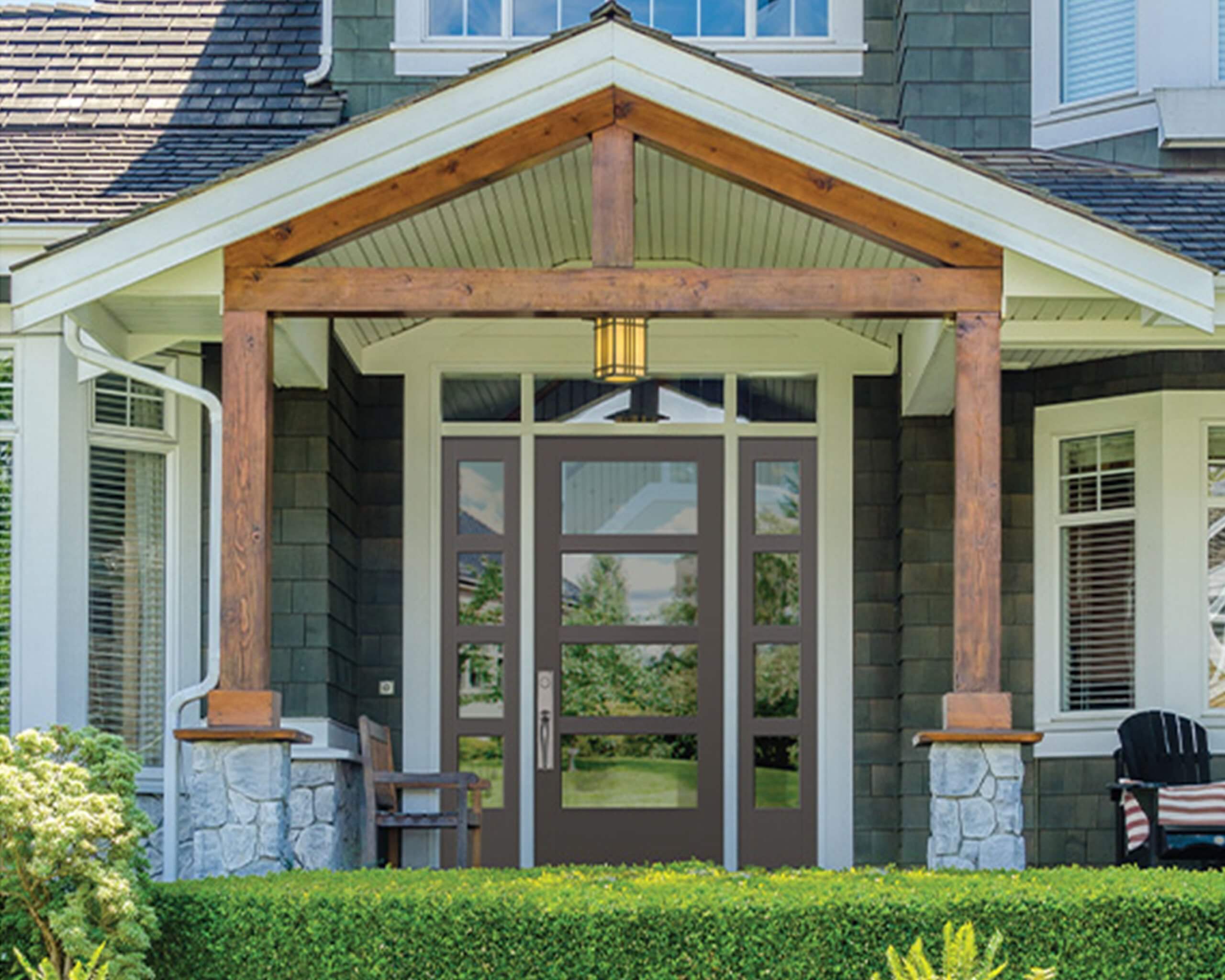 Photo courtesy of Ply Gem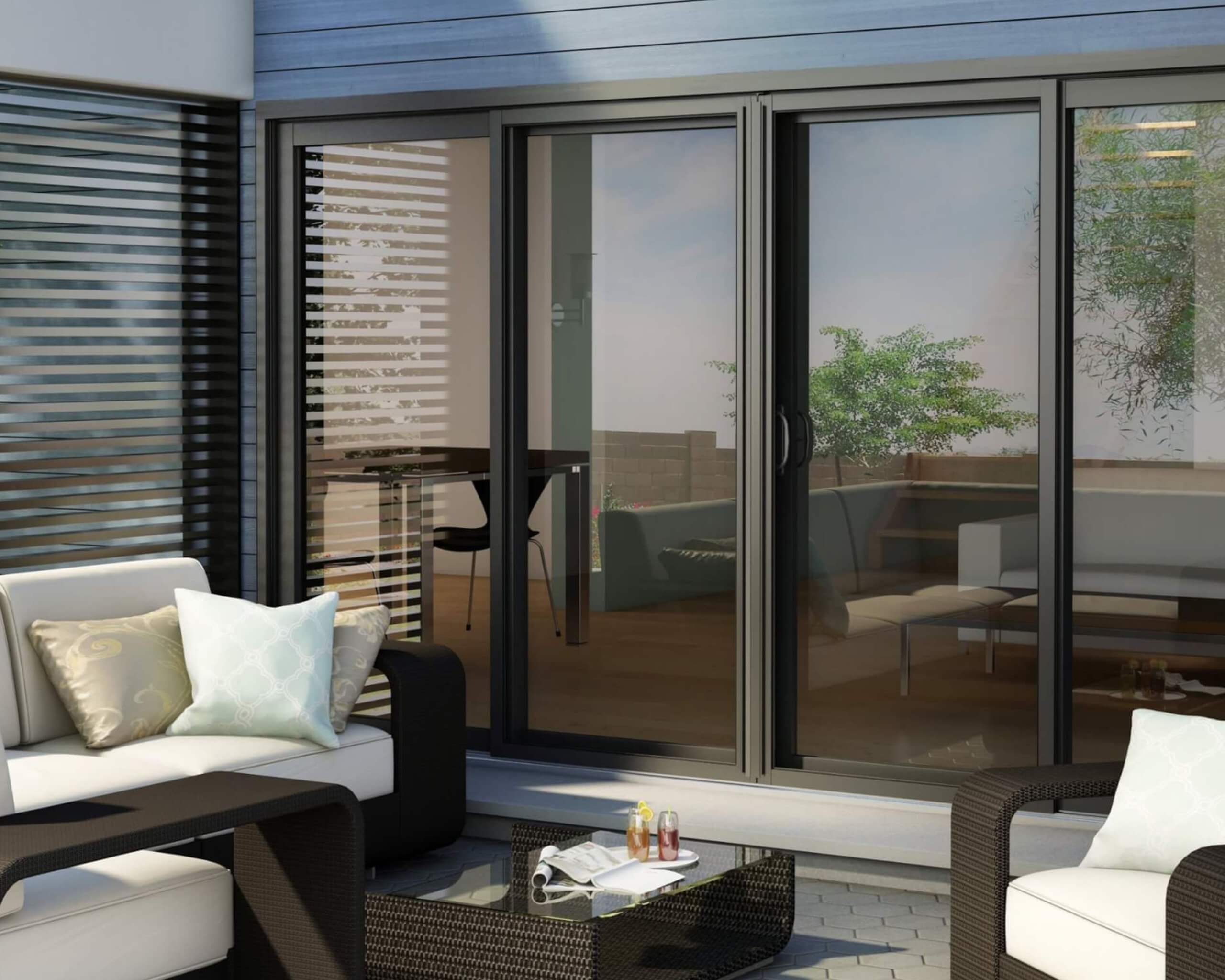 Photo courtesy of Ply Gem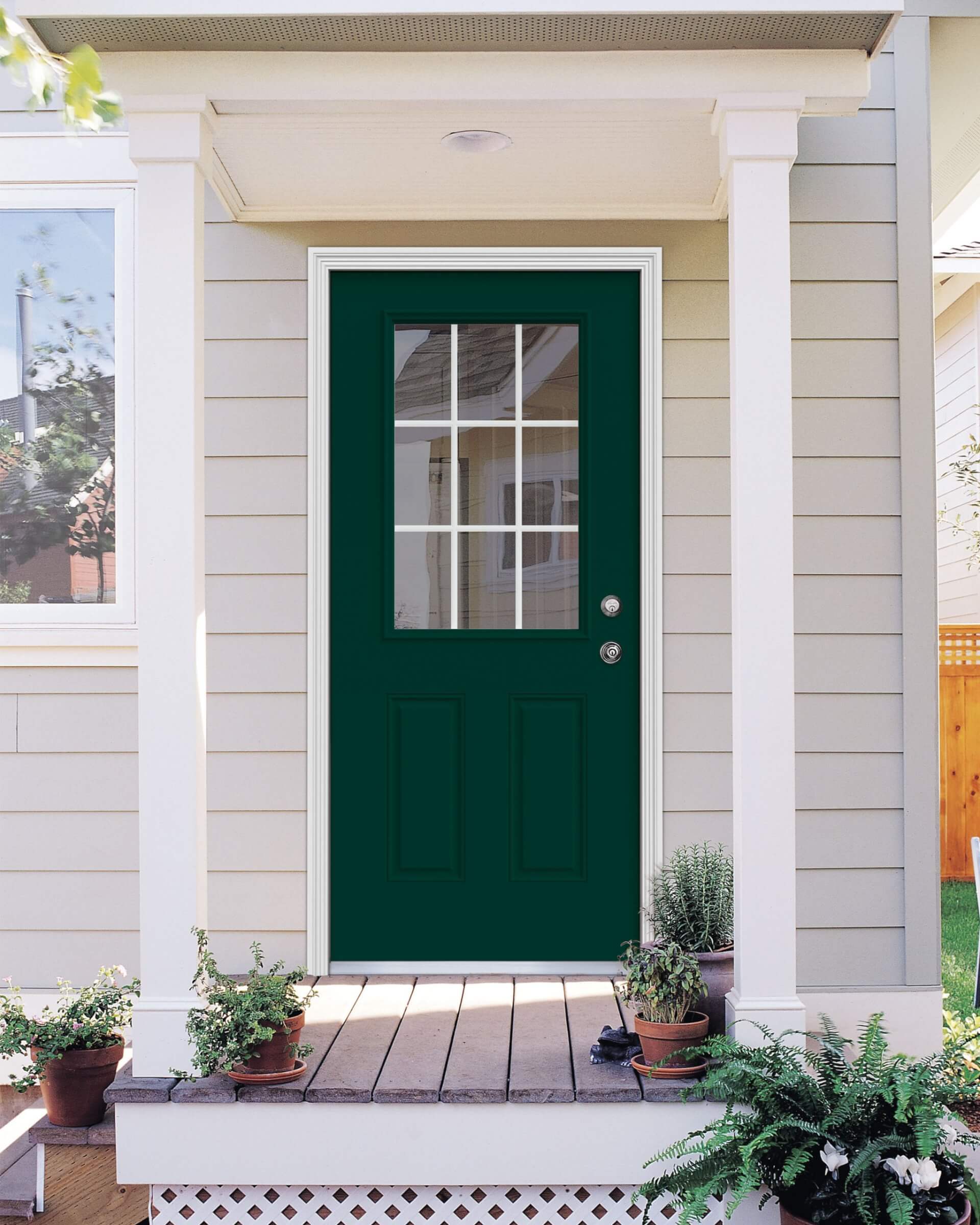 Photo courtesy of JELD-WEN of Canada
RAMPING UP CURB APPEAL
Of course, a big part of the attraction to bigger and bolder front doors is its impact on the overall look of the home, and that, Sabeski suggests, is what's leading homeowners to open their pocketbooks.
"The curb appeal of houses starts with the front door, and consumers are willing to spend a little more money on their front door to give their house that unique appeal." —