Consumers are stepping away from cool greys and moving towards natural warmth, according to this season's flooring trends.
While greys have been underfoot for the last few years, suppliers are now reporting a demand for more natural tones, including oak, maple and blonde wood with hints of grey-brown.
In addition to driving colour, buyers have catapulted luxury vinyl into the best-selling flooring category, with an emphasis on wider planks and a variety of textures and finishes. Laminates, as well as real and engineered hardwoods, remain popular in some markets and there are regional trend variations across Canada.
Across all product lines, there is no doubt that flooring is a big business in Canada, representing an estimated $4 billion in annual revenues, according to market and consumer data provider Statista. That number is expected to grow as consumers – housebound thanks to the COVID-19 pandemic – are electing to spend vacation dollars on home improvement projects instead.
"Floor covering is a growing category and we are experiencing healthy growth," reported Sven Johnson, director of Flooring at Taiga Building Products. The company has 15 distribution centres and sells product across all regions of Canada. When it comes to flooring, Taiga carries luxury vinyl planks and tiles, laminates and flooring installation systems.
"Luxury vinyl has exploded," he continued. "It's definitely a product category of choice because it's waterproof, which is the No. 1 thing right now. That's a given when it comes to vinyl products because they are waterproof.
"As far as colour, we're not seeing as much contrast; it's moving towards softer tones, more monolithic. We're seeing grey fade into the background as an undertone and more warm natural colours coming to the forefront."
Johnson said consumers now prefer wider, longer planks, so Taiga carries five, seven and nine-inch wide boards. Vinyl tiles are also becoming popular, with 12×24-inch being the most sought-after.
Taiga is now freshening up its product lines for the fall, taking inspiration from the fashion apparel industry as it moves to stay on the cutting edge of demand. Johnson predicted that cork flooring will soon begin to make inroads in the market.
"The innovation the two major manufacturers are showing is amazing. They are producing cork that looks like hardwood; the entire core of the product is made from real cork. I see it as a product of the future."
Appearance and Affordability
Goodfellow Inc., a Canada-wide manufacturer and distributor of wood building materials, including solid and engineered hardwood flooring, also sells laminate and vinyl floor coverings.
Vice President Jeff Morrison said the company has also noted the trend towards lighter hard surface flooring. Goodfellow, too, is seeing a demand for wider planks, which he believes is being driven by open concept floor plans.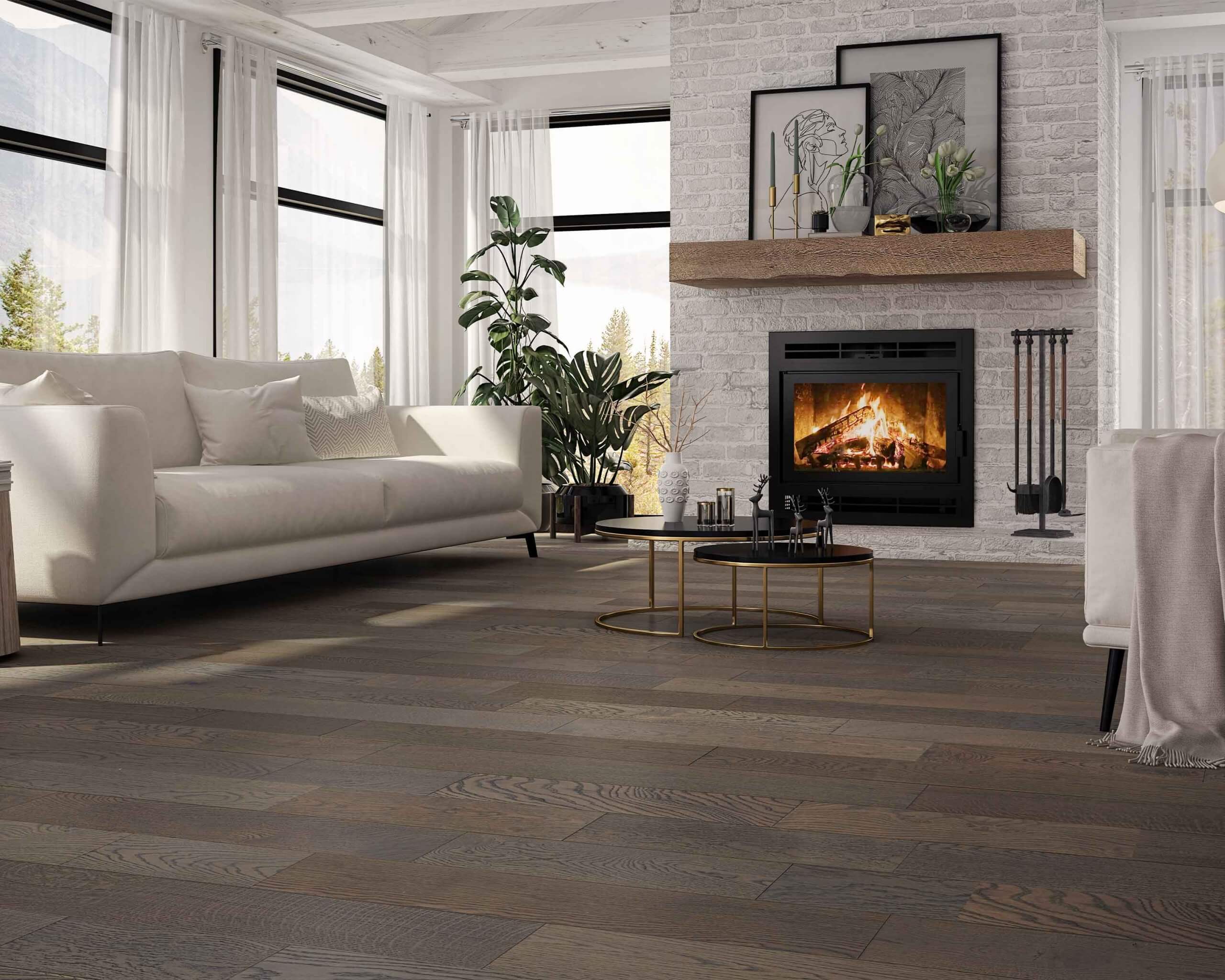 Photo courtesy of Goodfellow Inc.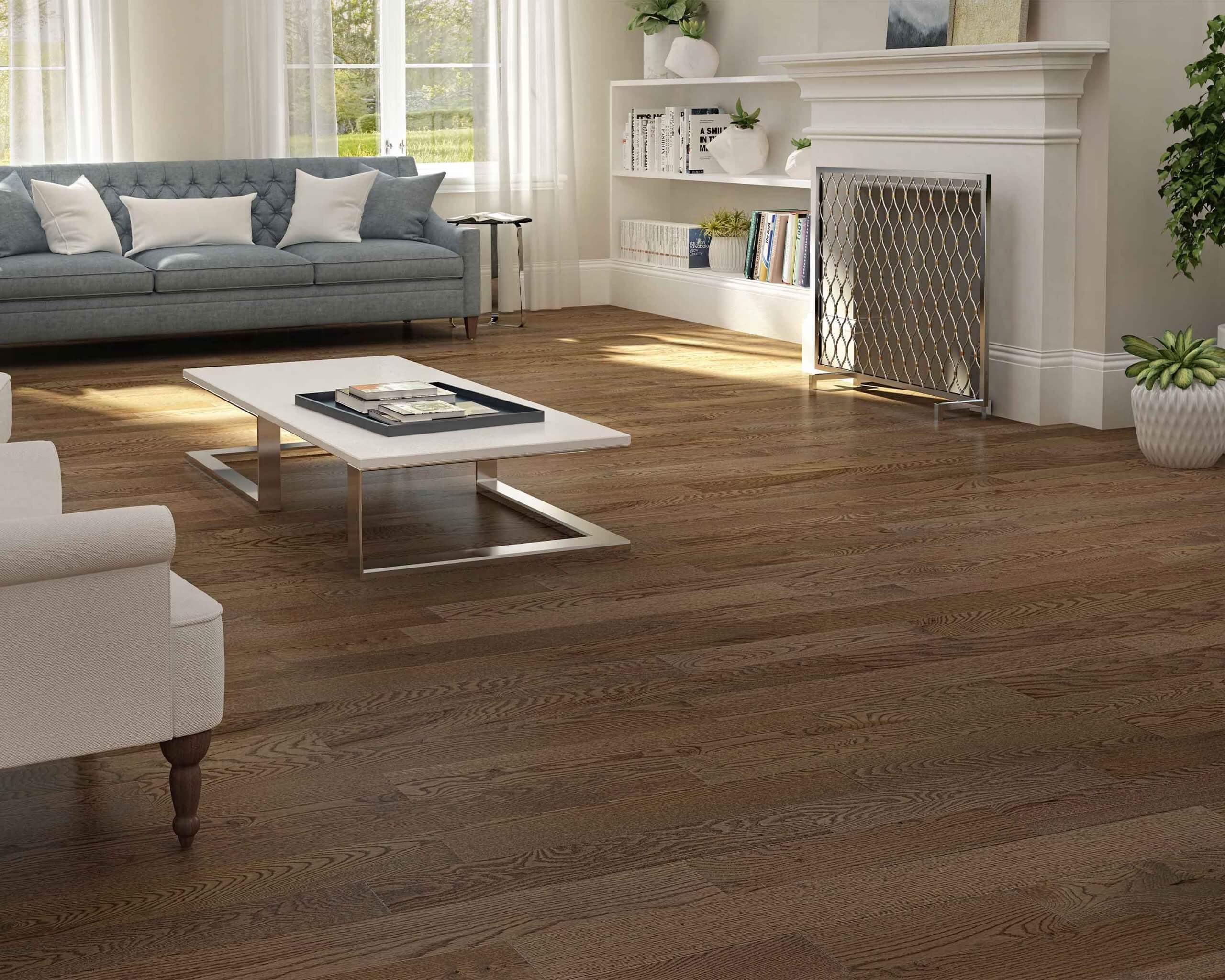 Photo courtesy of Goodfellow Inc.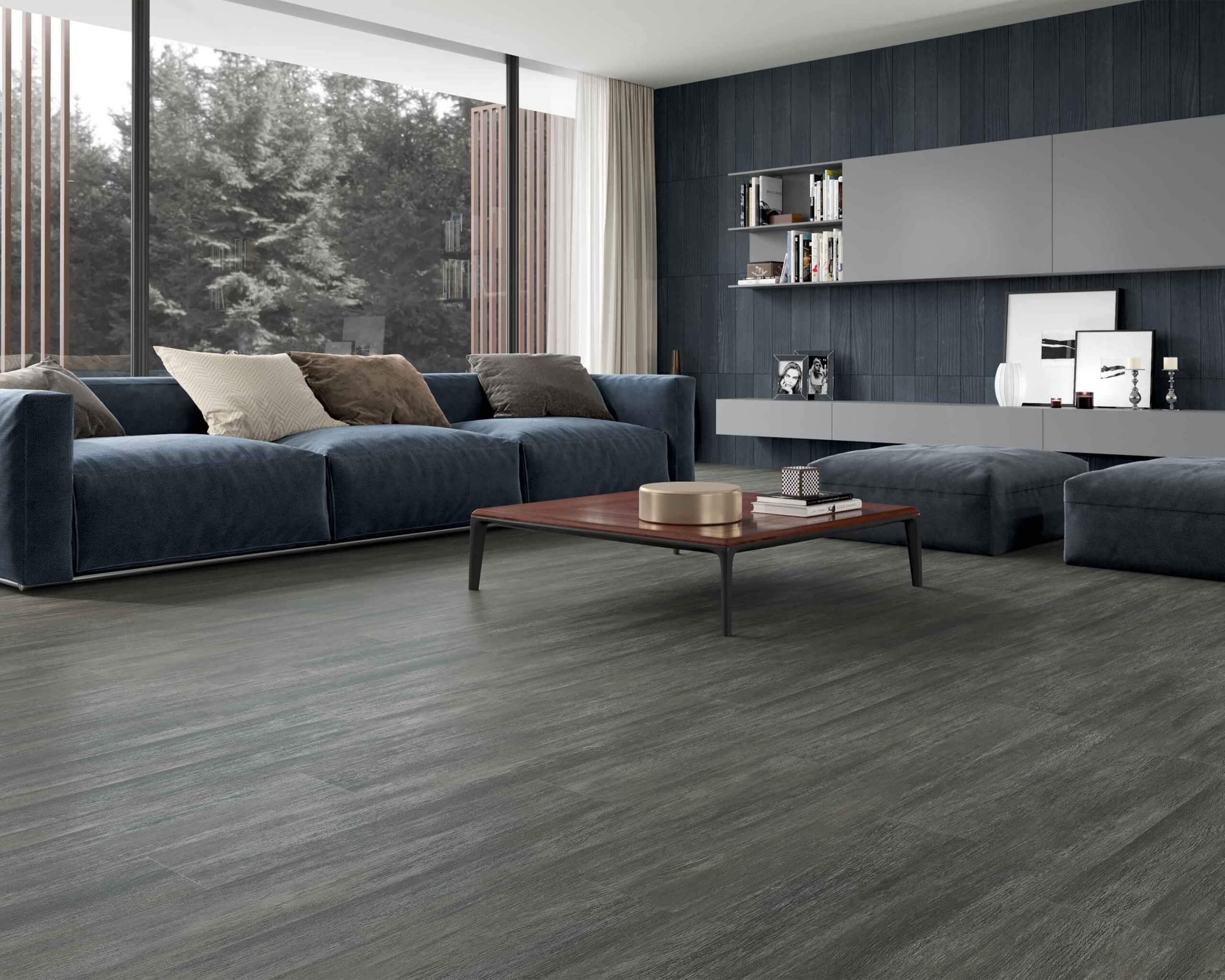 Photo courtesy of Taiga Building Products 
Photo courtesy of AFA Forest Products Inc.
"They can have one floor covering throughout the main living area of the house, and that has driven the overall look the consumer wants. Instead of the older homes where it was cut up into different rooms, open concept really influences what the consumer wants. They are often sold on the liveability and durability of vinyl."
Morrison said the biggest factor influencing floor selection is appearance, but affordability is second. While empty nesters or older homeowners trend towards hardwood, the younger generation is more conscious of maintenance and durability, so they look at vinyl and laminate options.
"There's not much demand for hand-scraped flooring anymore," he continued. "A lot of people are looking for a wire-brushed surface. That trend follows in laminate and vinyl, with embossed products that are selling better."
Goodfellow has seen a surge in laminate flooring orders since the pandemic began. "The only thing we can put our finger on is it's a bit more affordable; tried, tested and true."
Focus on Technology
One very popular category is SPC (stone polymer composite) vinyl plank flooring. Durable and resistant to temperature extremes, it features a stable limestone plastic core that expands and contracts at a much lower rate than that of regular LVP/LVT (luxury vinyl plank/luxury vinyl tile) flooring.
"The big trend we've seen is that everyone has pretty much moved to SPC and away from luxury vinyl," said Calgary-based Geoff Keats, vice president, Allied Products at AFA Forest Products Inc. "We decided to be different and called ours LSP, or Luxury Stone Plank. That's how we refer to it."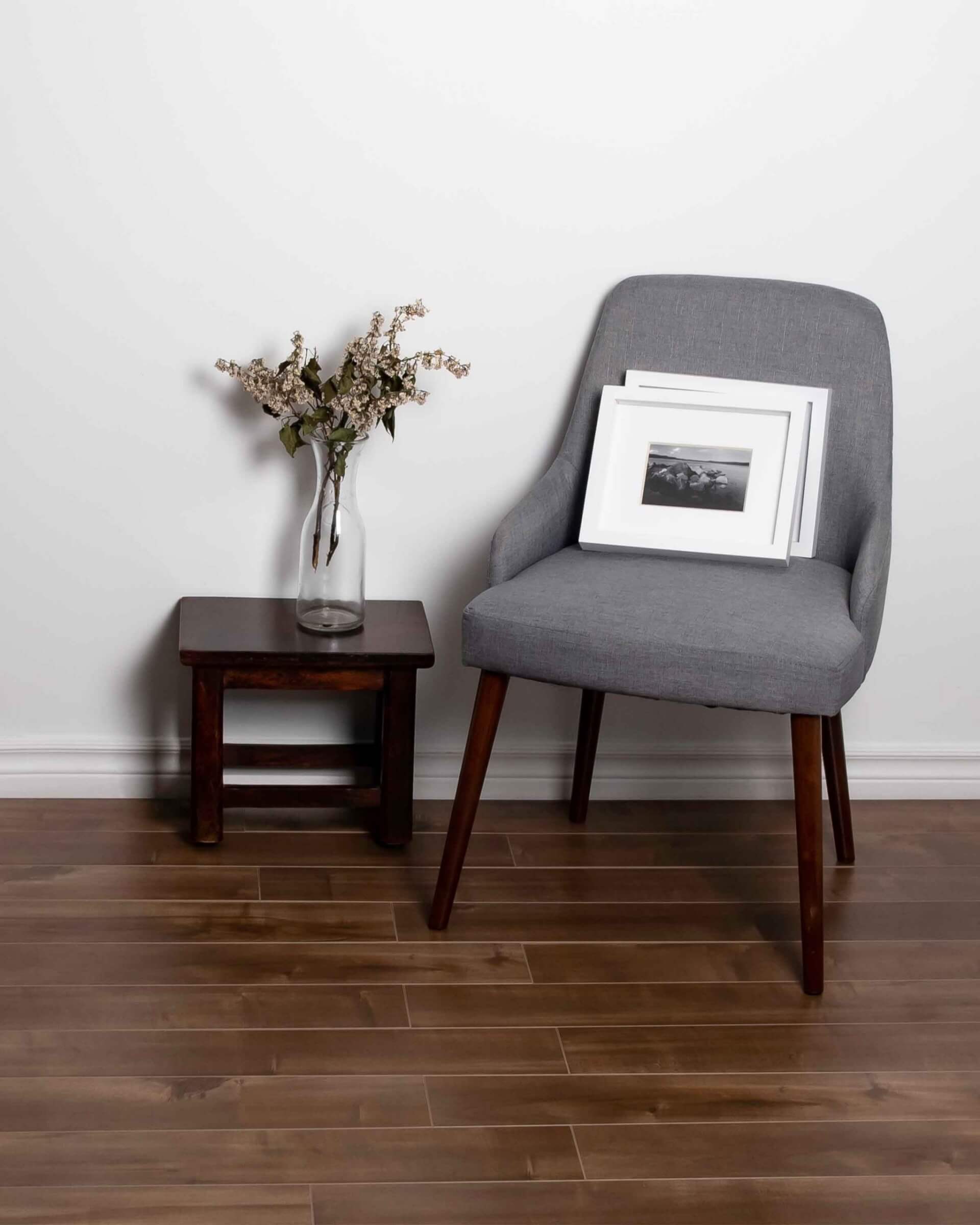 Photo courtesy of AFA Forest Products Inc.
While he said trends are always shifting, AFA has also seen consumers move away from grey and towards a more natural look with less colour variation and real wood patterns. Smooth textures are in, as are wider and longer planks.
With 13 distribution centres across the country, AFA knows that what sells in B.C. doesn't necessarily sell in Newfoundland.
"For instance, Quebec still sells narrow plank flooring, but we don't sell it anywhere else in the country," said Keats. "So rather than following and focusing on what everyone else can change along with us, such as colour or plank size, we focus on the newest technology instead. We were one of the first to introduce SPC in the marketplace and have since come out with an engineered SPC in our Volcano line, which consists of two layers of vinyl and stone for enhanced performance.
AFA has recently released its Titan HD LSP line, featuring an ultra-resistant wear layer that has been proven to resist damage, even from a hand-held grinder. Keats said the Titan HD line currently comes in four colours, with two more in development.
"The trends we focus on are what is the consumer looking for? At the end of the day, the customer's decision is based on colour. From there, they'll look at the different attributes of each particular product. They want the ultimate scratch resistant product that is also easy to install and water resistant."
Worth the Investment
Susceptibility to moisture is an important consideration in Newfoundland and Labrador, where too much humidity in the summer can prove challenging for solid hardwood floors, while too little in the winter heating season can affect both solid and engineered hardwood flooring.
Steers Distribution Ltd. in Mount Pearl, N.L., sells hard and soft surface flooring across the province. General Manager Chris Martin agreed that luxury vinyl planking has experienced the biggest boom. He thinks this is because it's billed as waterproof, although he said thicker water resistant laminate products are good options that offer sturdy locking systems.
"The biggest thing for us would be to do moisture readings in the home before you install, and make sure the floor is acclimatized to the home," he advised. "Any complaints that arise are usually moisture-related."
Martin reported that consumers in Canada's easternmost province are also moving away from grey flooring and more towards grey-brown mixes. "I think that's starting to go into grey-beige and even back to some brown tones. We're starting to see natural oak, maples and blonde wood."
Steers is a wholesale distributor that sells to retail stores and commercial contractors. While price is definitely a factor, "I think pattern and design still trumps price in most cases," said Martin.
"My argument to people is, 'You're going to put down a floor which will be at least a medium-term investment. When you put it in perspective, if you like the colour and pattern and it's a bit more, it's worth the investment.' I do think the days of people just buying something cheaper are gone."
Read the Box
Regardless of price, colour, plank size or flooring material, experts say contractors and DIY warriors can do one thing that will astronomically increase the success of their installation: read the directions.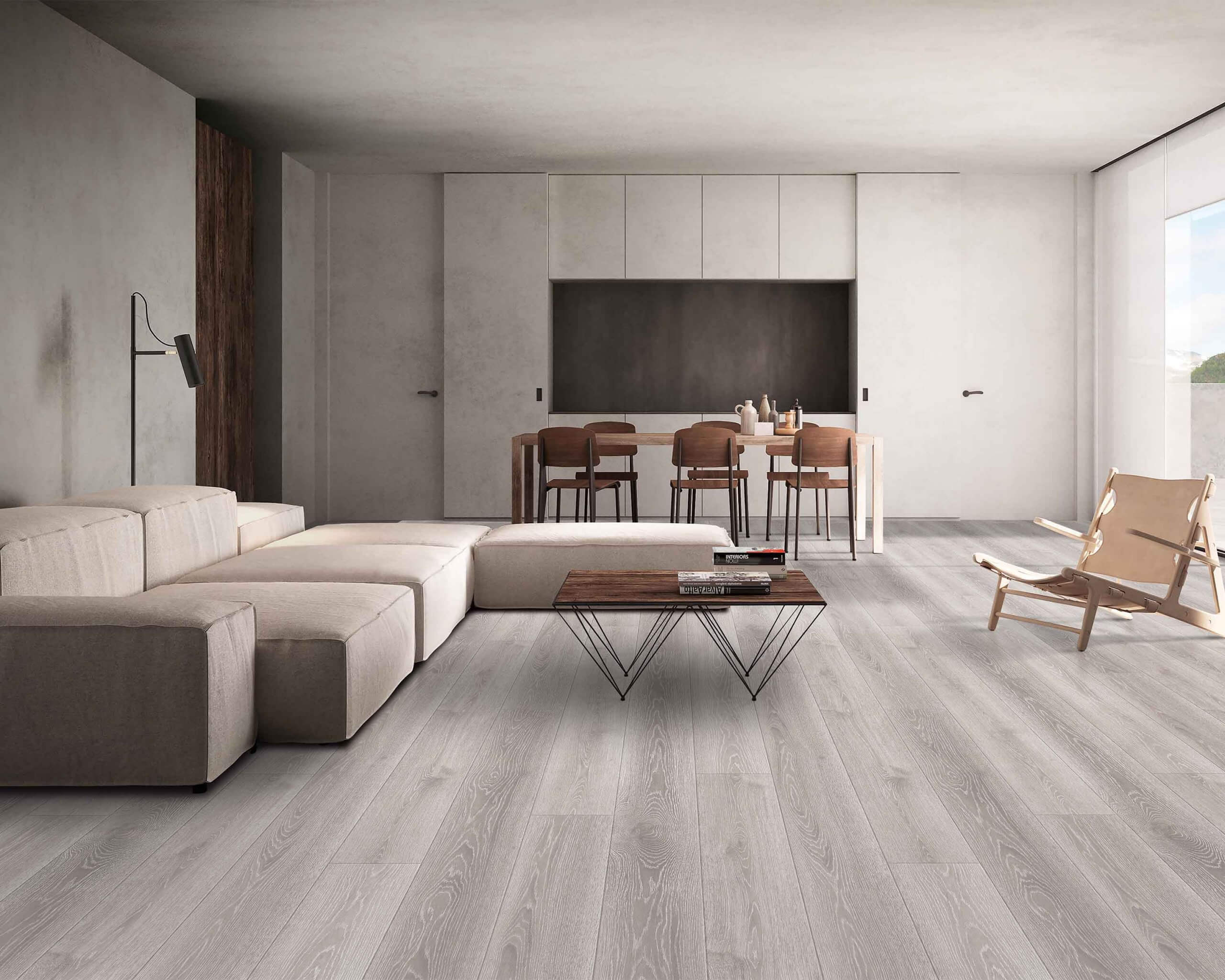 Photo courtesy of Steers Distribution Ltd.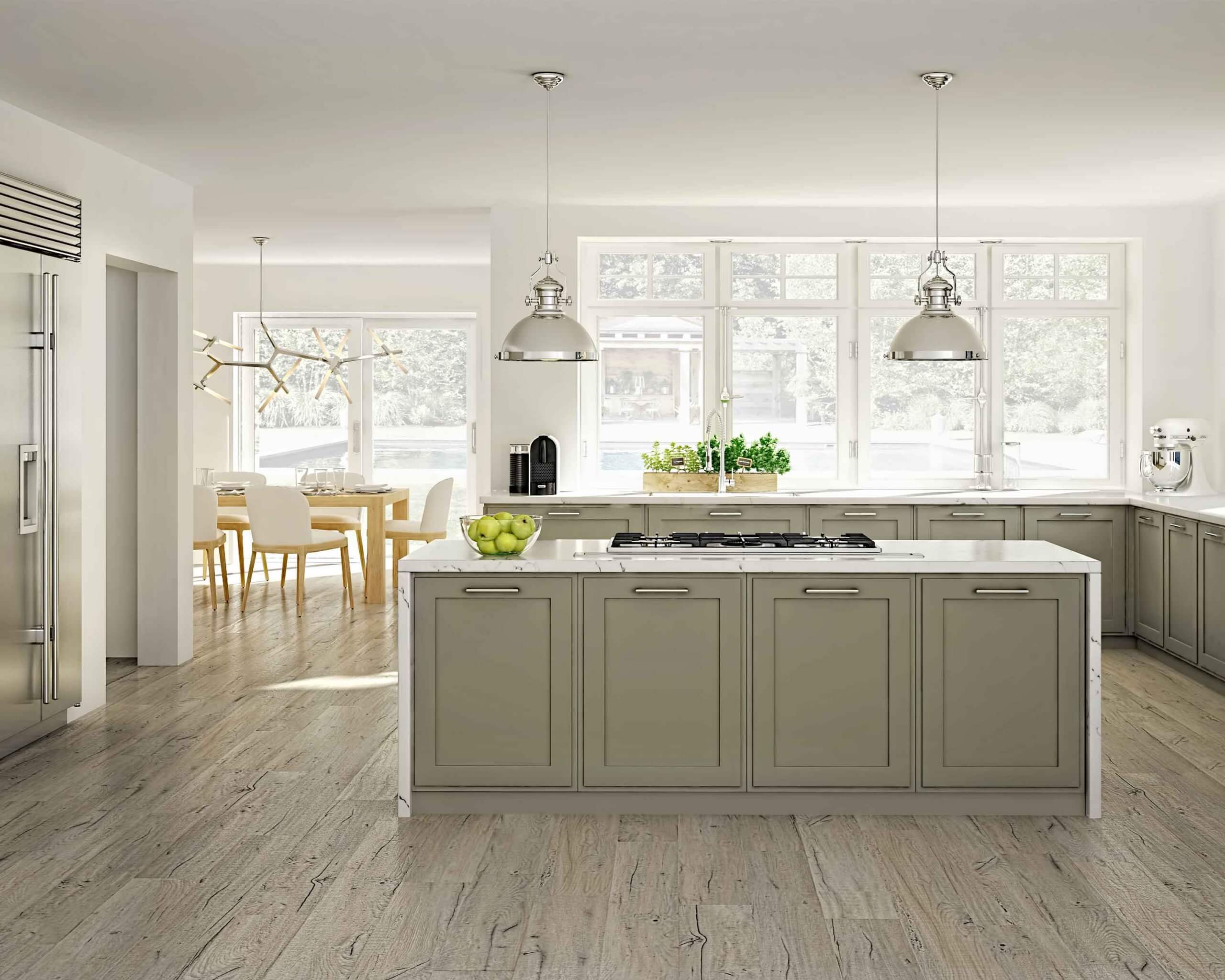 Photo courtesy of Goodfellow Inc.
"You hear the old story: That was installed by an installer who has been putting down floors for years," said Steers' Chris Martin. "Yes, but things change. It's not the same as just banging down hardwood with a nail. The instructions are there for a purpose. If you want to have the best results, follow the directions."
Goodfellow trains its retailers to educate consumers about best practices, such as glue assist installation on engineered flooring. "As floor covering changes and new products are launched, it's incumbent upon the contractor to update their skills in installation," said Jeff Morrison. "One of the things we talk about is training, training, training. The more training we can do, the more we can mitigate claims coming up. Contractors, ask the seller or manufacturer for advice so you can have a flawless installation."
Taiga's Sven Johnson recommended that installers familiarize themselves with modern locking systems on vinyl products. "Many of the products do not have a locking system that meets a proven patent," he said. "We pride ourselves on aligning with the right manufacturers who incorporate patented, proven locking systems. We're also aligned with top quality installation systems, such as Uzin Utz, so we can be certain the product will stay fastened properly."
Like many projects, preparation is critical to end success. "It always starts with the substrate," said AFA's Geoff Keats. "If you're not putting product down on a proper level surface without defects, you'll run into problems. Start with a nice smooth sub-floor. Your floor is only as good as what's underneath it."
With more hard surface flooring choices on the market than ever before, consumers are sure to find a product they love at a price they can afford. And, while flooring selection is always driven by personal preference, a successful installation proves the old adage that what's underneath really does count. —