Canada's climate extremes have always put demands on our homes. And that's truer now than ever before. Few elements are put to the test more than insulation when it comes to keeping the heat or the cool inside.
It's an industry with a lot of innovation and regulation. To help contractors stay in the know—and help their clients get everything they want from the products—seven industry leaders offered their perspective on what's new, what's trending and what's important when it comes to insulation.
INSULATION'S GROWING ROLE
"As climate change increases the frequency and intensity of weather events, more builders are considering construction strategies that contribute to greater resiliency," says Kim Friedrich marketing manager, Canada & Roofing NA Business Development, Marketing, Rockwool.
That's where insulation can play a significant role. "Insulation is no longer an afterthought as it might have been in decades past" typically, "stuffed haphazardly into vacant wall cavities and attics," says Friedrich. "Insulation as part of home design and construction has become highly purposeful and strategic, addressing complex codes, standards and legislation, and driven by decades of building science learning."
CLIMATE CHANGE DRIVING PRODUCT EVOLUTION
The insulation industry has been evolving in several ways. For one thing, products are increasingly applied and designed with climate change and extreme weather in mind.
"The population in general is more concerned than ever about the environment and is creating a groundswell of advocacy for how we use our resources," says Brent Bélanger, Architectural Services manager, CertainTeed Canada. "Well-insulated buildings reduce the use of energy resources, many of which are non-renewable." He adds, "People are more informed and aware of these facts."
Regulations and programs are evolving to reflect those realities. "Building codes in Canada are becoming more rigid and are requiring a more sustainable approach in terms of thermal efficiency and the use of materials," says Bélanger.
While codes dictate current construction, builders are also keeping future targets in mind. "The Pan Canadian framework on climate change driving codes is mandating all new construction be Net Zero ready by 2030 and Net Zero by 2050, helping to reduce CO2 emissions," explains Salvatore D. Ciarlo, Architectural Solutions, codes & standards & technical services manager Canada, Owens Corning.
And there are plenty of other programs addressing sustainability, as well. "A vast and growing contingent of initiatives from all levels of government and industry stakeholders is aimed at reaching ever more ambitious energy targets," says Friedrich.
What's also changing is the general level of knowledge and understanding about insulation products and their impact. "One of the most interesting trends is how consumers and contractors are using online resources to become better informed about insulation and thermal performance," says Bélanger. "YouTube videos and self-education sites on insulating and air sealing are just two examples that have helped to improve the knowledge of both applicators and consumers."
Gino Allegro, Canadian sales manager, Johns Manville, and Chair of the Board of Directors of the North American Insulation Manufacturers Association says builders and homeowners increasingly recognize the effectiveness of insulation and its value as an affordable investment. "When homeowners make the investment to build or renovate, they tend to do it properly," says Allegro. "Because insulation isn't a huge expense,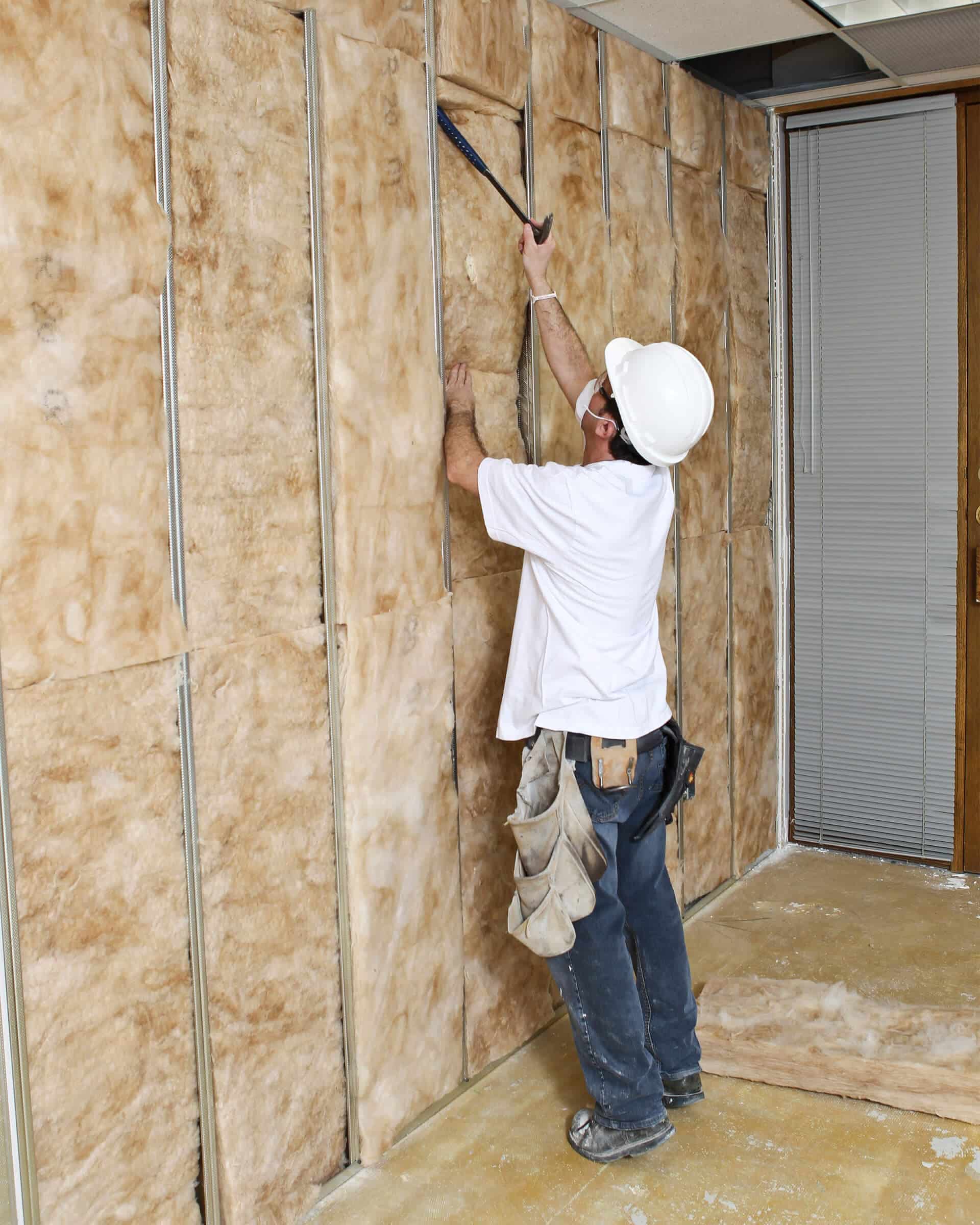 Photo courtesy of CertainTeed Canada
they're likely to install the insulation where they can get even distribution of heat and cool comfort throughout the house and give thought to how they can get the best possible energy efficiency."
There's a good chance that trend will continue to grow. David Kelly, corporate account manager DuPont Performance Building Solutions, who predicts we'll see even more government incentives and consumer desire to upgrade insulation and air sealing in existing, older housing stock across the country. "It is definitely one of the renovations that easily pays the homeowner back with energy savings," says Kelly.
PRODUCTION AND SUSTAINABILITY
Insulation manufacturers are also addressing how insulation is made and sold, to help reduce its impact on the environment.
Knauf Insulation, for example, has developed an alternative to the phenol / formaldehyde binder traditionally used in fiberglass products. "The plant-based binder holds our product together and gives the product its unique appearance," says Gary Romes, manager business development, residential/light commercial, Knauf. "All of our products are formaldehyde-free and made from sustainable resources, such as recycled glass and sand."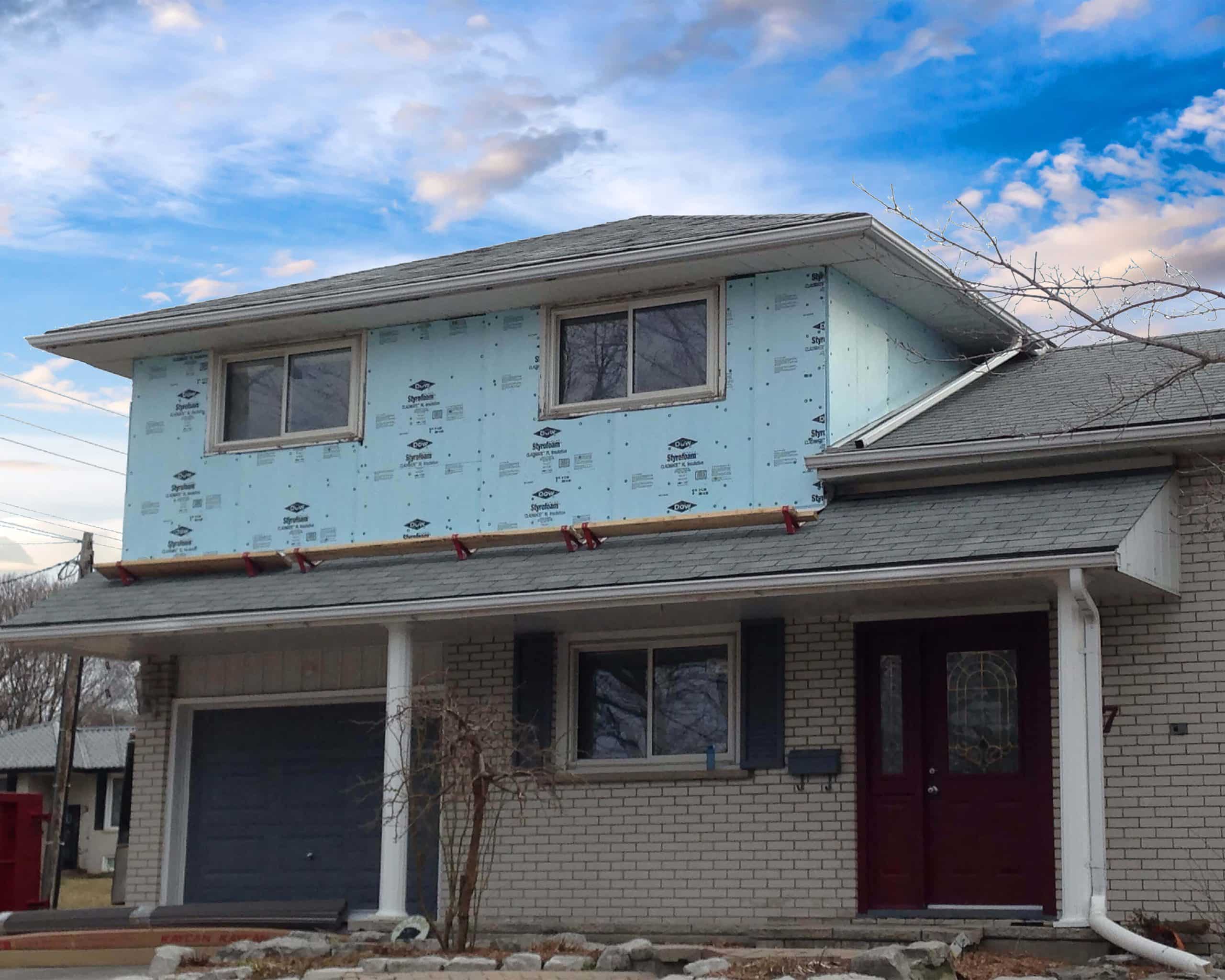 Photo courtesy of DuPont Performance Building Solutions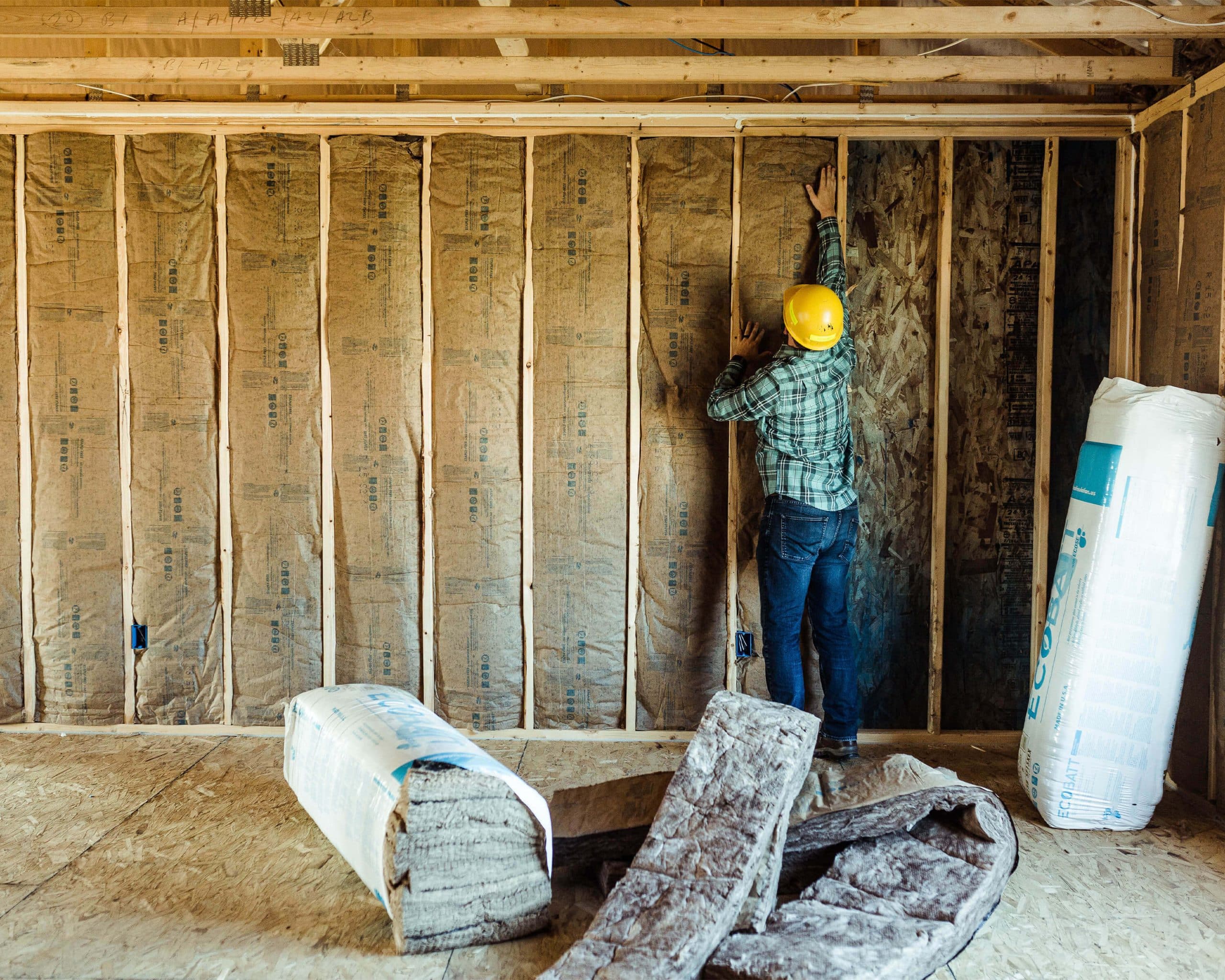 Photo courtesy of Knauf
He adds that the company's Eco Batt residential products have an extra level of environmental certification. And in a nod to today's well-educated, well-researched consumer, Knauf Insulation also participates in Declare, a voluntary self-disclosure program aiming to transform the building materials industry towards producing and using healthier and more ecologically sound products through ingredient transparency.
"Glass fibre insulations containing high recycled content and plant-based binders are further evidence of how producers are working to make insulation more green," says Bélanger. "We are seeing a major transparency movement where manufacturers are publishing Environmental Product Declarations to inform users as to the amount of resources used during the life-cycle of the product."
Other sustainability initiatives are gaining traction, as well, including the use of space-saver packaging which means more insulation per bag — and fewer plastic bags going to landfill, points out Ciarlo. While Friedrich notes that her company's wool products save approximately 100 times the energy over the course of their service life than it takes to produce them. Plus, they are manufactured using basalt rock — an abundant natural material — as well as recycled slag.
APPLICATION INNOVATION
When it comes to installing insulation, there are improvements and trends to keep in mind too. While there are many tactics to meeting the code requirements and initiatives, they all tend to focus on the building envelope, and highly insulated wall and roof assemblies, in particular. "Existing homes, and in particular older residential housing stock, represents a significant opportunity to improve energy efficiency and reduce fossil fuel dependency and carbon emissions," says Friedrich. The introduction of energy, renovation and retrofit programs, as well, has increased demand for thermal insulation products.
For improved energy conservation in homes and businesses, more and more builders are looking to continuous insulation. Kelly explains, "Continuous insulation is an uninterrupted layer of insulation that spans over structural members without thermal bridging, other than fasteners and services." It's in demand, he adds, because it helps reduce the potential for condensation within the wall where mold and mildew can accumulate undetected.
Continuous insulation can be applied to both the interior or exterior of a building, as well. "In commercial construction, building codes now call for the use of continuous exterior insulation in order to meet requirements for higher R-values," says Friedrich. It's a trend, she points out, that's gaining traction among residential builders, as well.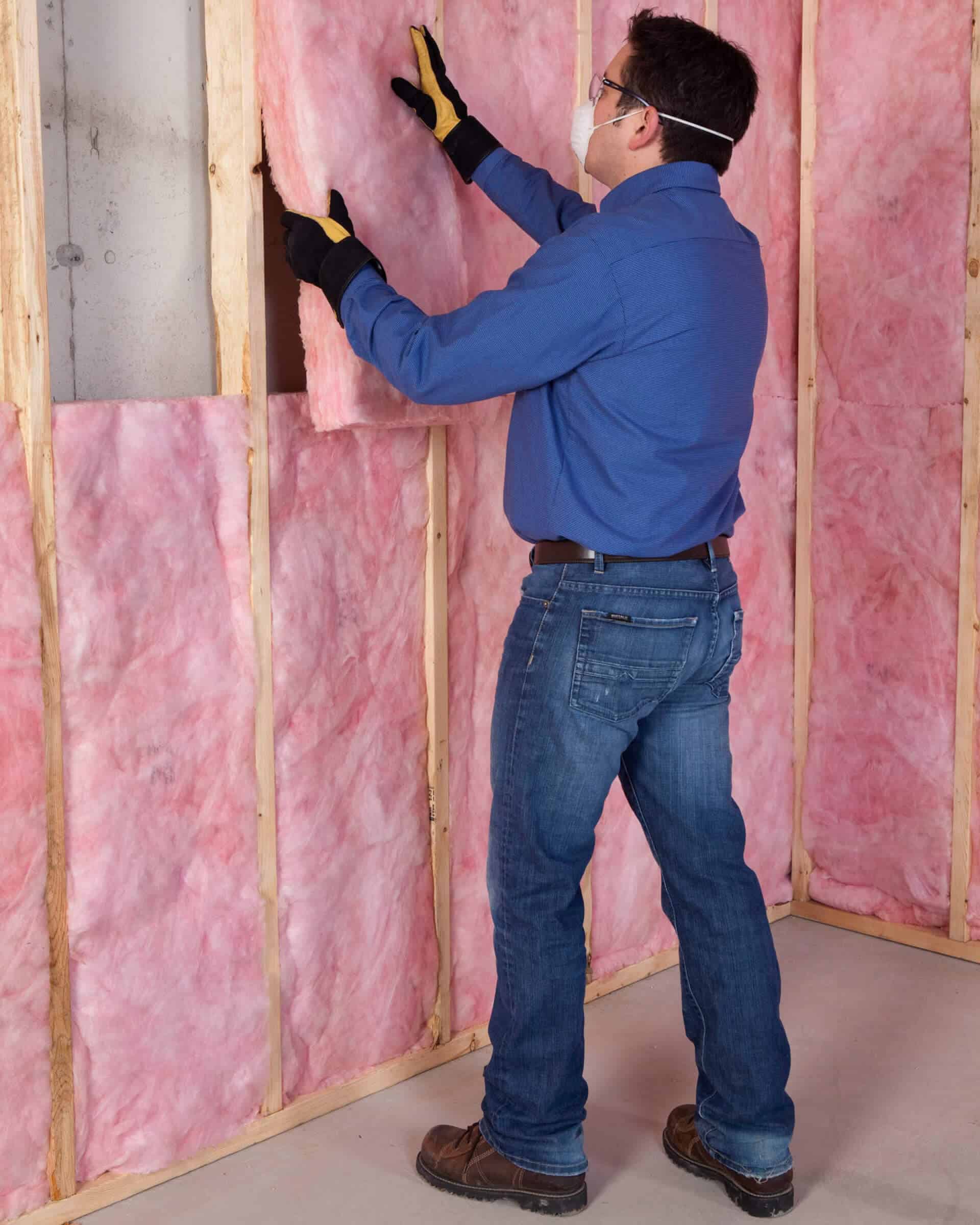 Photo courtesy of Owens Corning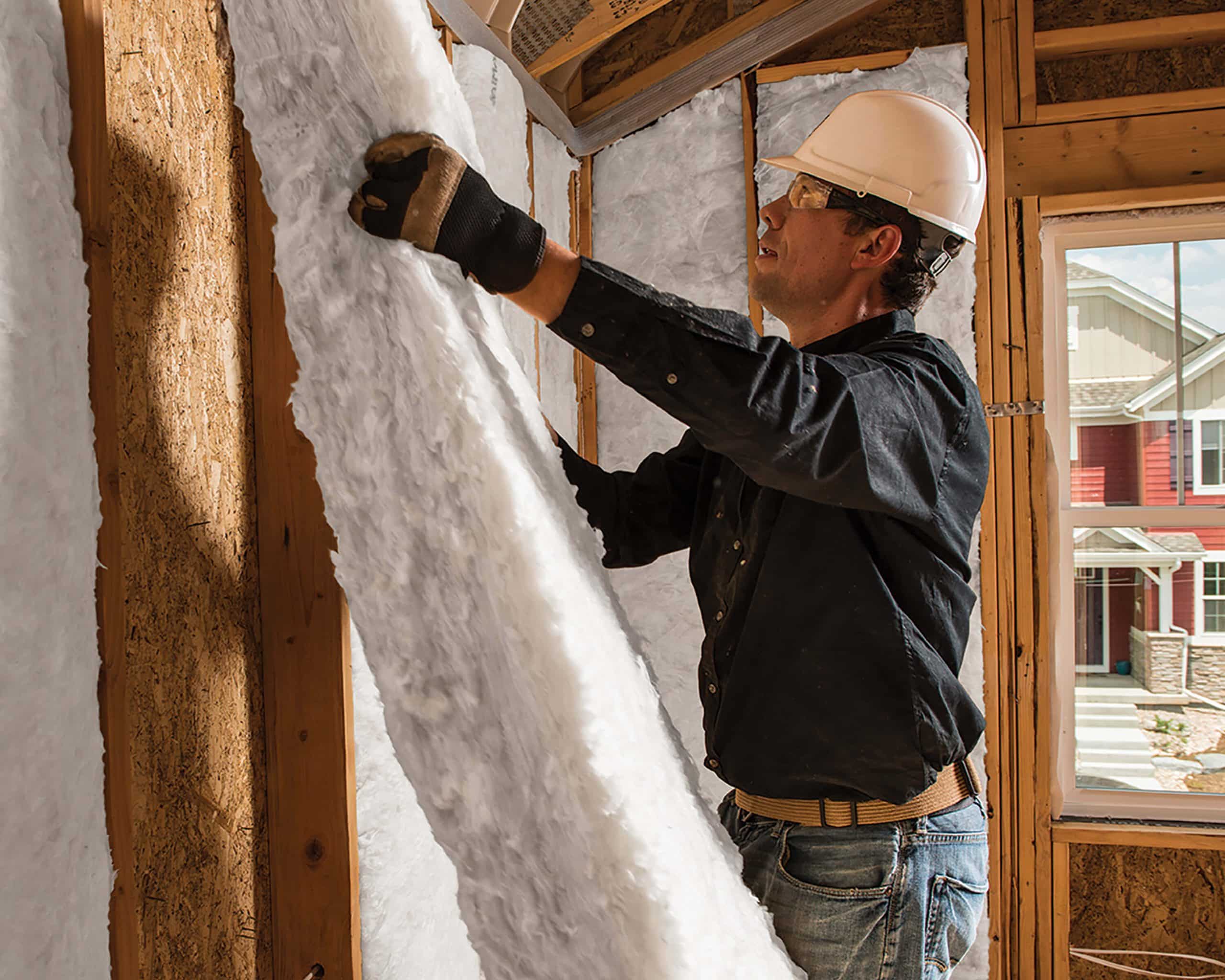 Photo courtesy of Johns Manville
"A lot of times with construction even though you insulate your home well you get those cold spots that can penetrate through the wood or steel studs," says Allegro. "That's especially prevalent where steel studs are used. So exterior sheeting is a growing piece of the insulation world, helping to solve that problem."
ACOUSTIC DESIGN
Though not typically the main driver when it comes to building design, there's a growing demand for the sound-managing properties of insulation, as well. "Builders are increasingly interested in the acoustic value of insulation," says Allegro. "There's more demand for home offices and home theatres, and so greater need to think about soundproofing. This is true not just in custom homes, but also in track homes." The thinking is, 'Home insulation isn't all that expensive so why not provide some acoustical value, as well?'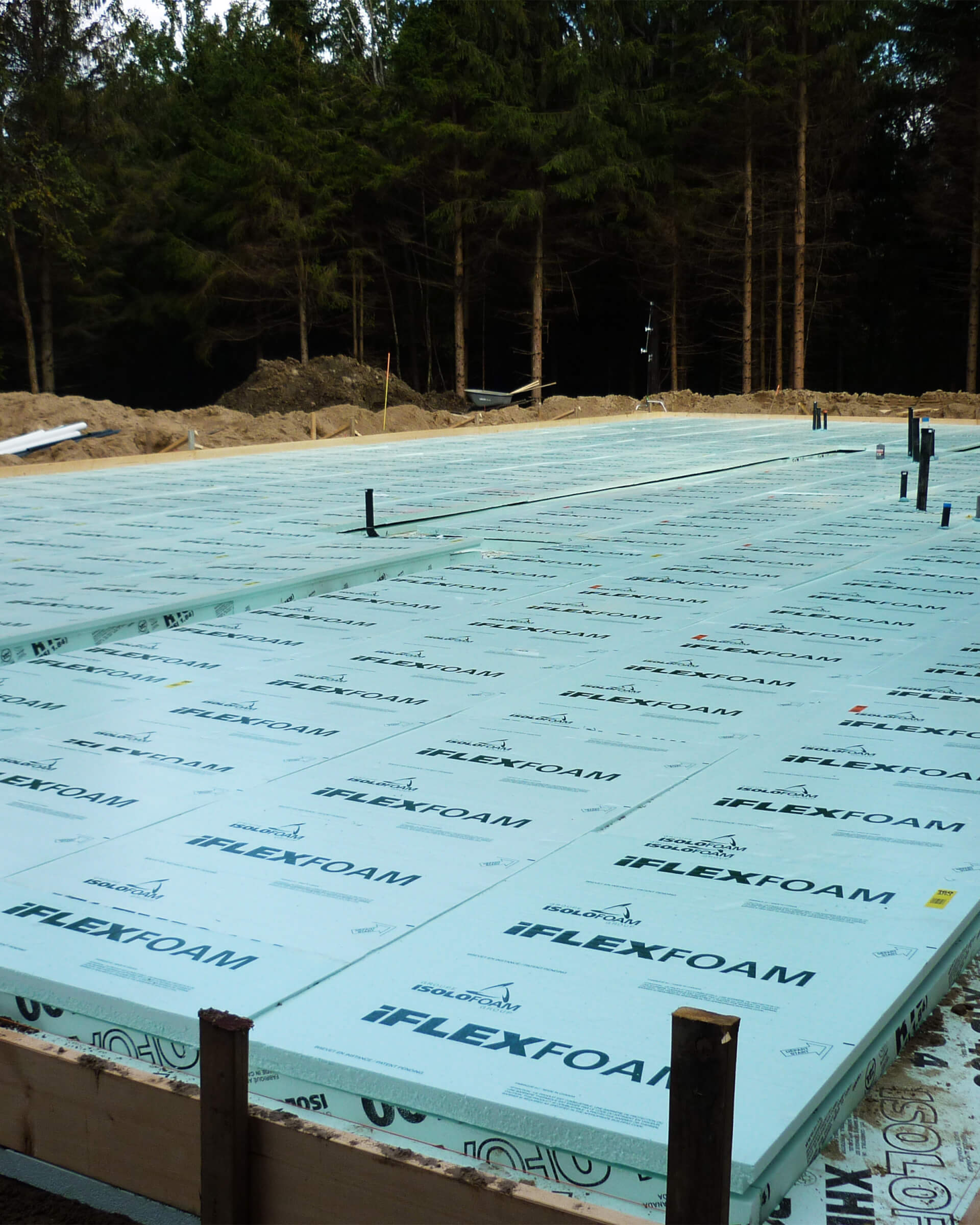 Photo courtesy of Isolofoam
"We see communities becoming denser, especially in our major urban centres," says Bélanger. "That translates into more concentrated levels of noise. So, moving forward, insulation will continue to be an integral part of the design solutions needed to solve sound problems."
Friedrich says she's witnessed this shift, as well. "Because of the realities of today's increasingly dense and noisy environments, a growing number of home builders are planning for sound insulation as part of whole building design," says Friedrich. She adds, "Stone wool is a top choice thanks to its dense composition and non directional fibre structure, allowing it to achieve excellent sound management, and it also contributes to other objectives such as fire protection, moisture management, building resiliency and occupant comfort."
PROBLEM SOLVING ADVANCES
The industry is innovating in plenty of other areas too, in response to a wide range of needs and trends. For example, says Geneviève Labonté, vice-president, marketing and innovation, Isolofoam, "Under-slab insulation and radiant floor heating is getting more popular in every market." In support of that development, specialized panels (including the ISORAD V2) help ease installation of that technology, she says.
There are other practical advancements too. "Labour shortages on building sites are an issue in nearly every market," says Labonté. Isolofoam has created products to help solve this problem and save time and effort on job sites. "The products offer great insulation value but also have a unique clipping system that keeps panels where you want them, to avoid wasting time putting them back in place."
As builders plan further into the future (thanks in part to long-range code requirements), insulation manufacturers have done the same.
"The long-term thermal resistance has to be considered for insulation products that contain expansion gas," says Labonté. "By January 2021, no building insulation containing HFC gas will be allowed in Canada." She adds, "Expanded polystyrene which is the type of insulation material Isolofoam produces is not concerned with these two elements since it does not contain any gas other than air."
MULTITASKING AND THE FUTURE
Looking ahead, it's likely builders and consumers will increasingly be looking for—and finding—insulation products that tick several boxes at once, including energy conservation, sound insulation, fire resistance and moisture control, all while meeting or exceeding building code requirements. Insulation is, in many ways, the quiet multi-tasking star of the building world, helping support the environment while also contributing to the creation of safer, quieter, more efficient buildings that support homeowners' comfort and wellness. —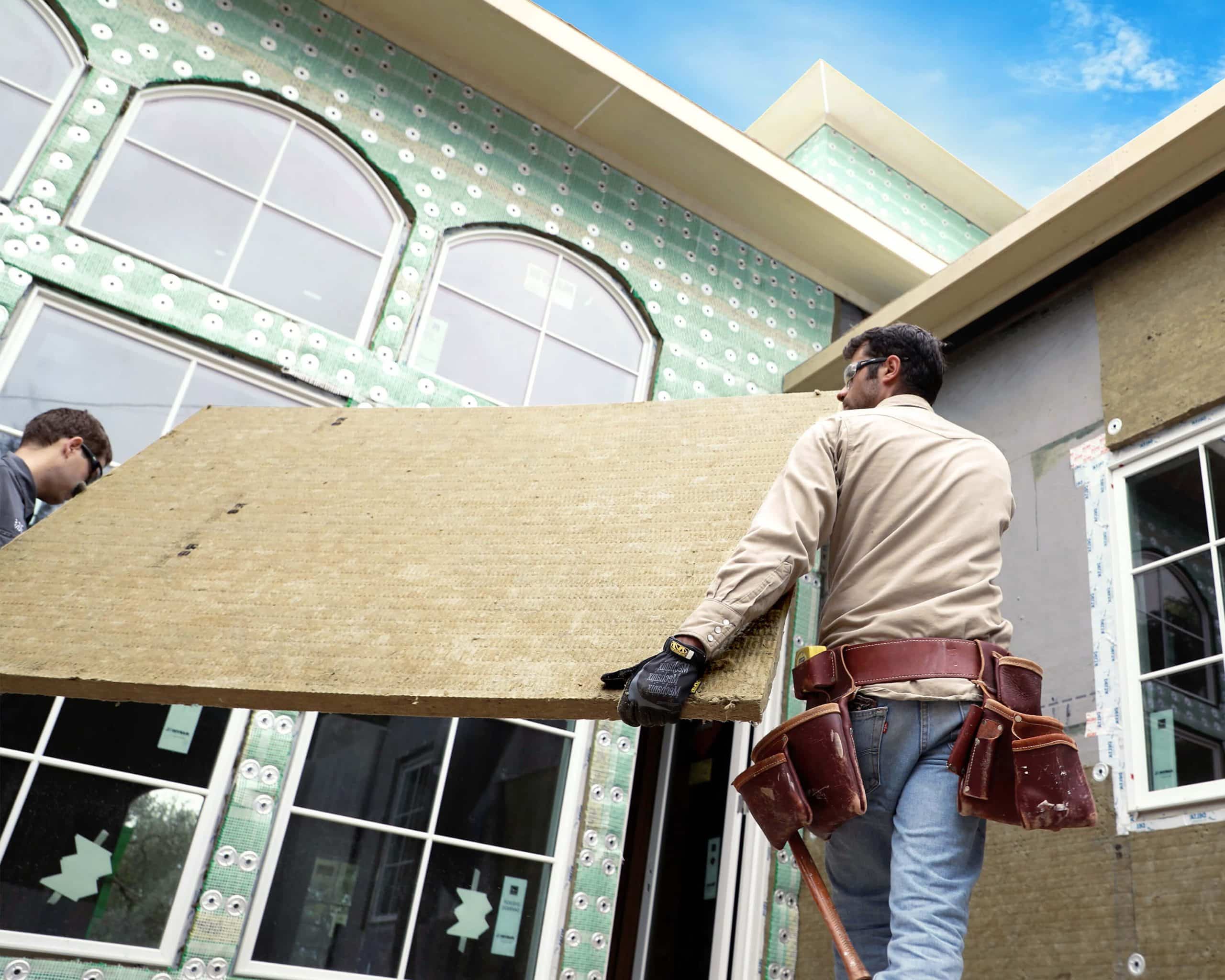 Photo courtesy of Rockwool