Things are "looking up," literally, when it comes to the latest interior design trends for 2019. Whether in home or commercial design, ceilings are garnering a lot of attention, as they become one of the newest areas to infuse personality and character into a space.
Similar to the buzz in the 1920s over ornate molded tin ceilings, individuals are excited to make a statement with their "5th wall," using a variety of materials, colours and designs. As Mike Bielak, Director, Business Development — Ceilings Canada, at CertainTeed Ceilings, Saint-Gobain, explains, "There has been a shift away from commodity, and more of a movement towards aesthetic elements. For example, architecturally, there has been the shift to include an artistic ceiling, or 'specialty type of ceiling.' Some choose a design element that gives an acoustic quality, while others pick a style simply for the design element."
Jay McBurney, Product Manager at CGC Ceilings, finds similar trends in the market, "For residential applications there is a clear trend towards a ceiling panel that makes a design statement for the space." The trend is found in commercial spaces as well. He explains, "in [these] spaces there is a trend toward making the space both functional and visually appealing so that the occupants are both comfortable and productive." As such, products are being developed to meet these demands. For example, McBurney describes that, "CGC Ceiling's, USG Mars High NRC High CAC provide building owners with an acoustical ceiling that not only looks great, but also provides excellent sound absorption and attenuation, as well as a very high light reflectance that minimizes the amount of light required for the space."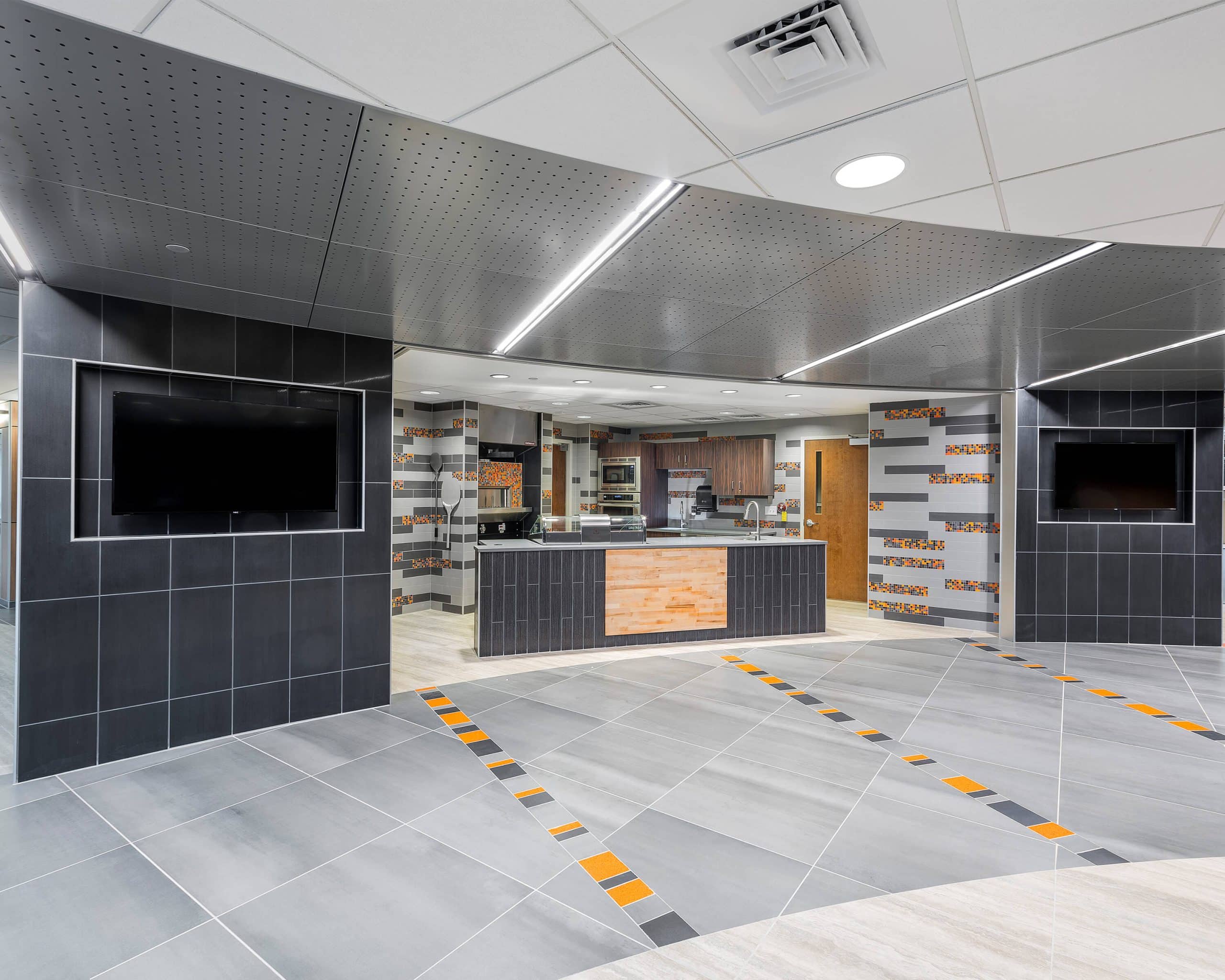 Photo courtesy of CGC Ceilings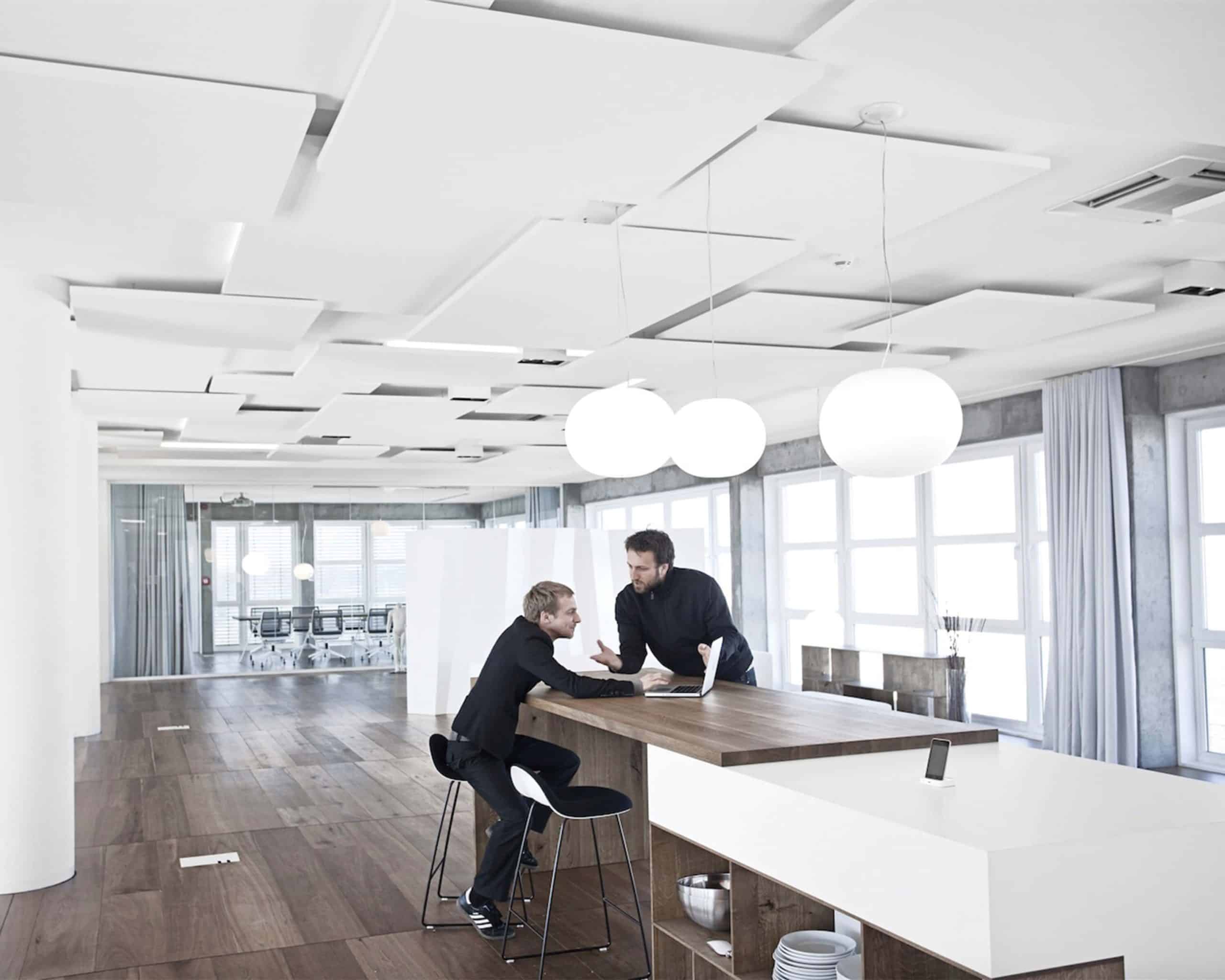 Photo courtesy of CertainTeed 
Bielak especially notes that in commercial spaces, it is all about sprucing up the common areas. "They are putting specialty design into the lobbies of buildings, as well as the board rooms," he states. In order to create such innovative designs, a variety of materials are being sourced; McBurney explains, "in commercial applications we have seen an increase in demand for our metal, wood and translucent ceiling products. For example, customers can combine the natural wood look, with acoustics, fire safety and accessibility found in CGC Celebration or Panz metal panels in our attractive wood tone finishes."
When it comes to high-rise residential, the trend is similar, "People want to live in specialty buildings," explains Bielak. "As a result, specialty designs are being placed in lobbies,
whether for acoustical or aesthetic purposes, to help attract the customers." Another trend on the rise are buildings that offer work, live, play features; as such, unique ceilings are a major focus in the common areas of such structures.
Although consumers' focus has shifted to the aesthetic quality of a design, it doesn't mean they don't care about the sound quality of the products used in their space. For example, with the rise of open concept style workplaces, it has become imperative to choose acoustic panels with a high Noise Reduction Coefficient (NRC); in other words, panels that have a high ability to absorb sound energy. Meanwhile, in the traditional closed office space, one must consider the Ceiling Attenuation Class (CAC) of a product, which measures the ceiling panel's ability to reduce sound transfer from areas that are adjacent to each other.
With open concept now a common trend in residential homes as well, consumers need to consider the implications of such a design. Bielak warns that, "individuals need to be mindful of the fact that once you knock down walls, and sound is hitting tile floors, hard wood floors and hard walls, it will travel." As a result and hard walls, it will travel." As a result, "the open concept and general trends [in residential design] are toward higher performing acoustical ceilings," McBurney explains.
Another factor to consider in residential design is the height of the ceiling. For instance, as McBurney explains, "ceiling height affects the visual aesthetics of the ceiling and could broaden the ceiling tile selections that are being considered."
Bielak confirms the impact of height, as he states, "when individuals are considering a wood beam design for example, they need to consider the fact that they will need a taller ceiling for that type of aesthetic quality."
Meanwhile, in basement design where the ceilings are typically lower and one usually prefers access to utilities, it is best to opt for a panel design. "Our panels come in all designs, even smooth texture, that are bright and white – which is right on trend," explain Bielak. What's more, with a variety of products available, consumers have the ability to fit their design needs to their budget. McBurney describes, "all acoustical panels, whether they are on the low or high end of the portfolio, are a great choice for home renovations because they are inexpensive to the entire project. All CGC ceiling panels install with ease regardless of their cost or performance, and provide ease of access to the area above the ceiling if it is ever needed."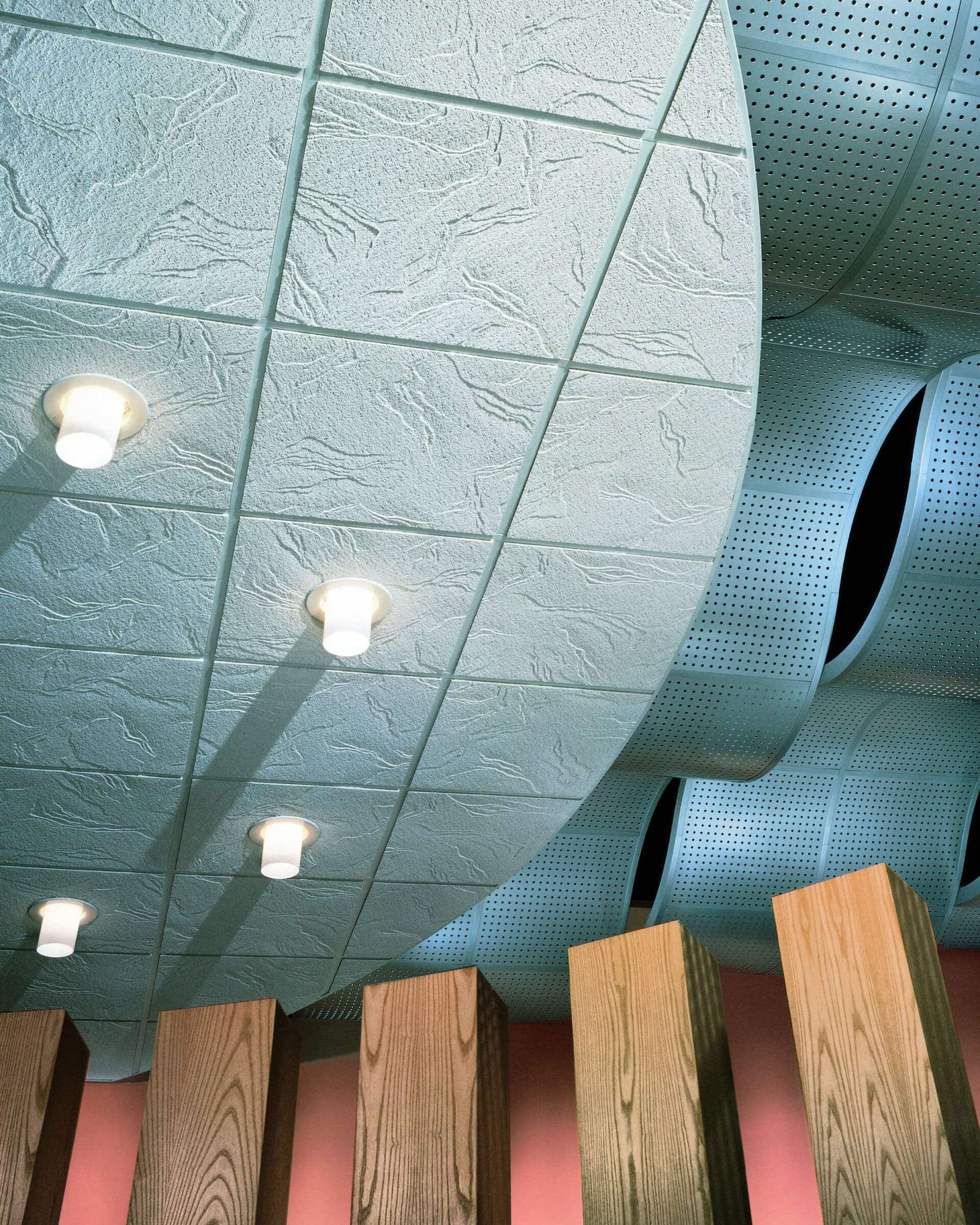 Photo courtesy of CGC Ceilings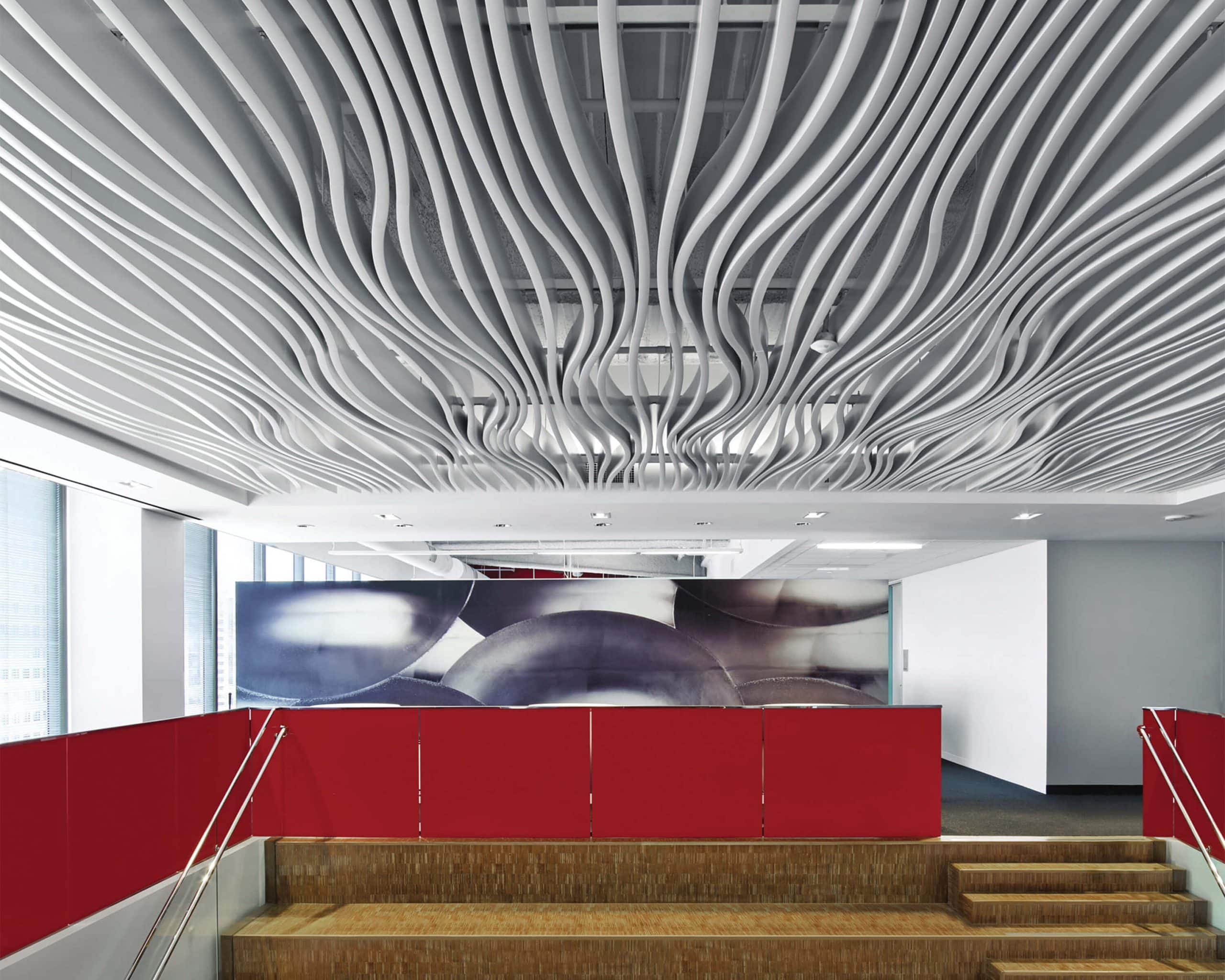 Photo courtesy of CertainTeed
Today, with outdoor living design becoming an extension of the home, it is important to also consider what products are best suited for such an environment. "CertainTeed Ceilings has wonderful systems that can be applied to the exterior of a home," explains Bielak. "For example, certain selections from our Hunter Douglas product line would be the best choice for an outdoor space."
Outdoor concepts are equally important in commercial developments, where trends are showcasing a marriage between interior and exterior designs. As Bielak explains, "commercial applications are opting for a continuous flow through the lobby into the outdoor area, for instance, if a lobby has an overhang area."
With the "5th wall" creating quite a stir, it is definitely another element to consider when designing both commercial and residential spaces. With enough variety in both aesthetic and acoustic designs the possibilities in creating a statement design that performs well, are endless.—