Creativity is key for contractors looking to up their moulding and trims game. And fortunately, there are inspiration and options abound.
Unlike other aspects of home décor, moulding styles tend to change more slowly. Today's trends continue to lean towards the contemporary sleek profiles and clean lines of recent years, such as the ever-popular Shaker style.
Also, with life in 2020 being a bit on the chaotic side, this aesthetic choice helps to create a sense of order to rooms, says Denise Tripamer, director of marketing communications at Metrie. "When you come into your home and those sanctuary spaces, you want a sense of structure, and I think that lends itself well to very crisp lines," she says.
Affordable elegance and luxury
Perhaps the beauty of moulding is that it doesn't need to break the customer's bank to stand out and make a dramatic difference. In fact, the right moulding profile can be the cherry on top of an existing project, taking it to another level of highly professional finish.
"You can do a lot of creative things with moulding that are really cost effective," says Courtney MacKay, accounting manager and social media marketing coordinator at Moulding Warehouse in Hammonds Plains, N.S.
"For example, you could take a very thin panel mould and do a wonderful detail in a bedroom, and that may cost (the homeowner) under $100 but will make the room look completely different. Whereas it was cookie-cutter before, it will become a rich luxurious space that someone wants to spend a lot of time in." 
Photo courtesy of Alexandria Moulding
Wall treatments are in
The use of moulding to decorate and create accent walls continues to be a growing trend in home décor and design. As more householders spend their days in the home in 2020, as well as creating home offices, they are looking for affordable ways to improve the look and comfort of their abodes. Shiplap treatments continue to see increased popularity, moulding experts say.
"We're still seeing a lot of shiplap being used," Tripamer says. "It's mostly on focal walls, or even to dress up a smaller space like an entryway or even a mudroom."
"And we're seeing the use of panel mould to create boxes on the walls or to highlight entryways and just add an extra layer to the wall."
Wainscoting too continues to see growing popularity. "Typically, when we see wainscot applied it's not your typical wainscot, it has a flat stock application that creates a boxed look in the lower part of the wall. Although it might be capped off with a more decorative panel mould on the top or even on the inside; vertical panels just to give a little more curvature to it."
Also, the placement of Wainscoting is changing for more creative treatment, says Donna Gerrits, vice president of sales and marketing for Alexandria Moulding.
"Back in the old days, Wainscoting was very popular. It would be about 3' off the floor, whereas now they are bringing wainscoting and wall paneling up to almost 5' or 6' off the ground depending on ceiling height," she notes
"They are just really having a lot of fun with wall application using mouldings."
Gerrits says shiplap is "exploding" in interest, and not just for wall treatments. "It's unbelievable. People are putting it everywhere. They are putting it on their ceilings, they are putting it on their walls, they are putting it on their porches… as a feature wall… around the side of their kitchen islands. I've seen it as the centerpiece in a coffered ceiling."
She adds that in cottage country, shiplap is being placed throughout cottages and lake houses. "It keeps it bright and airy and yet warm and cozy."
Painted and pre-painted
While white is still the predominant colour choice for moulding, there are a few changing trends. With wall applications, Gerrits says it's not uncommon to have them painted the same colour as the wall, accentuating and giving the wall focus, but at the same time blending into the décor.
One of the reasons for this trend, she suggests, is to complement increased use of printed floor tiles. "People are starting to get into a little bit of a busier floor tile, a printed floor tile, and so the colours and accent and pattern on the tile are there, so they'd like the (moulding) to blend into the wall."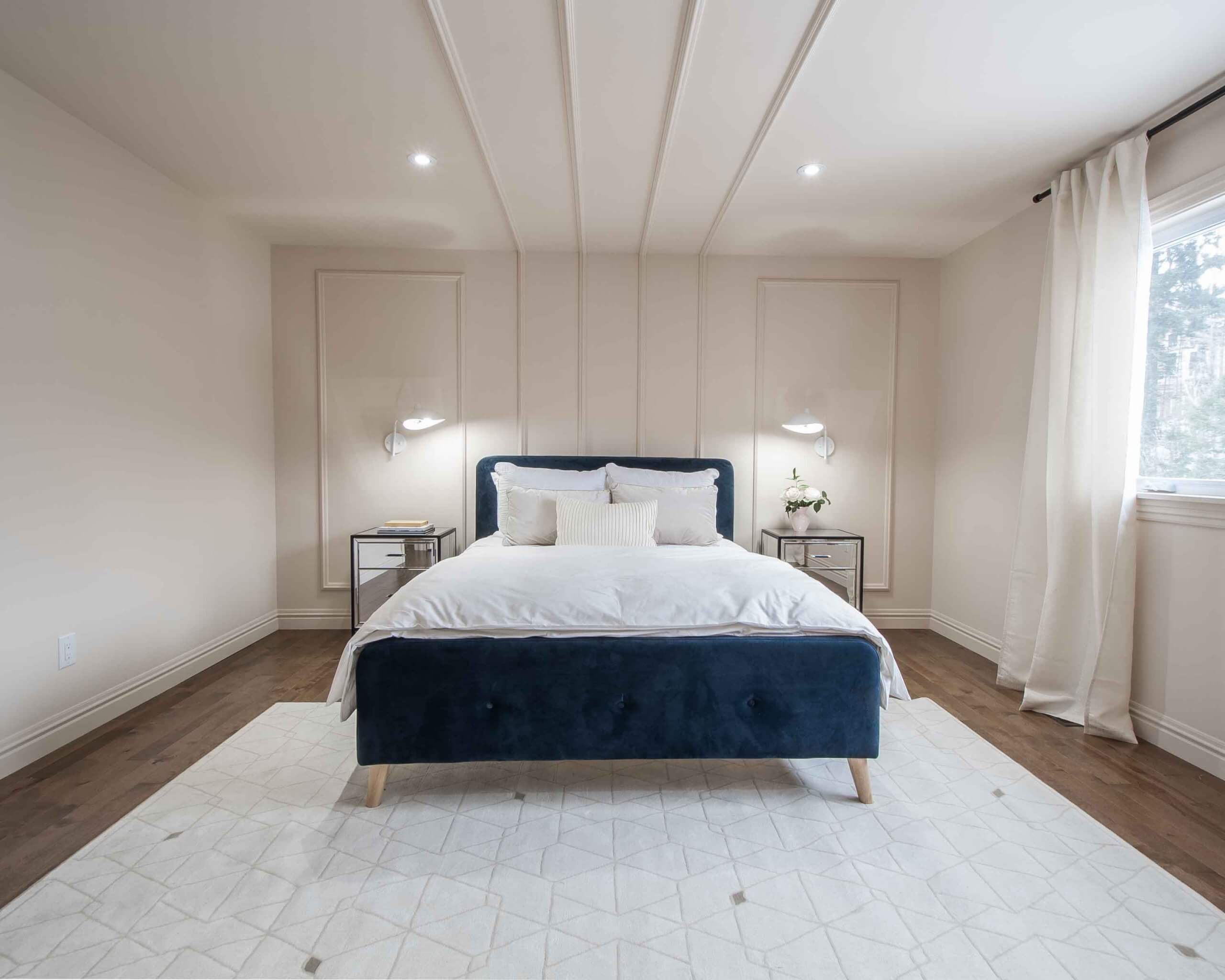 Photo courtesy of  Moulding Warehouse
Tripamer says her company has been seeing an uptick in sales of its pre-painted mouldings, especially for remodeling. "People who want to finish spaces or do a bigger renovation is where we've really seen more traction with our pre-painted product line," she says. She adds that contractors and homeowners are primarily buying pre-painted baseboards and casings and, of course, shiplap.
"So, when you're looking to finish a basement or remodel a playroom, we've found some great success with the pre-painted line for both homeowners and contractors. It saves quite a bit of time and you are able to create that remodeled space very quickly without that extra time."
Typically, colours remain neutral, Tripamer says, whites with an increasing interest in light grays. Still, some applications, a bolder more dramatic paint colour may be in order, but not for core moulding profiles like baseboards, casings or crown moulding. "You're going to want to make sure those are a colour you can live with for a long time."
Show your creative chops
Contractors wanting to stand out from the crowd should use moulding as an opportunity to show both their technical skills but also creativity. Thanks to social media, this doesn't always need to be done through a show room. When you've completed an amazing job, make certain to capture and share it, MacKay suggests.
"You don't want to be known for putting plain casing around the door. Anyone can do that. You want to be recognized as someone who can turn a house into a home," she says. "You want to be known for your creativity and your inspiration." —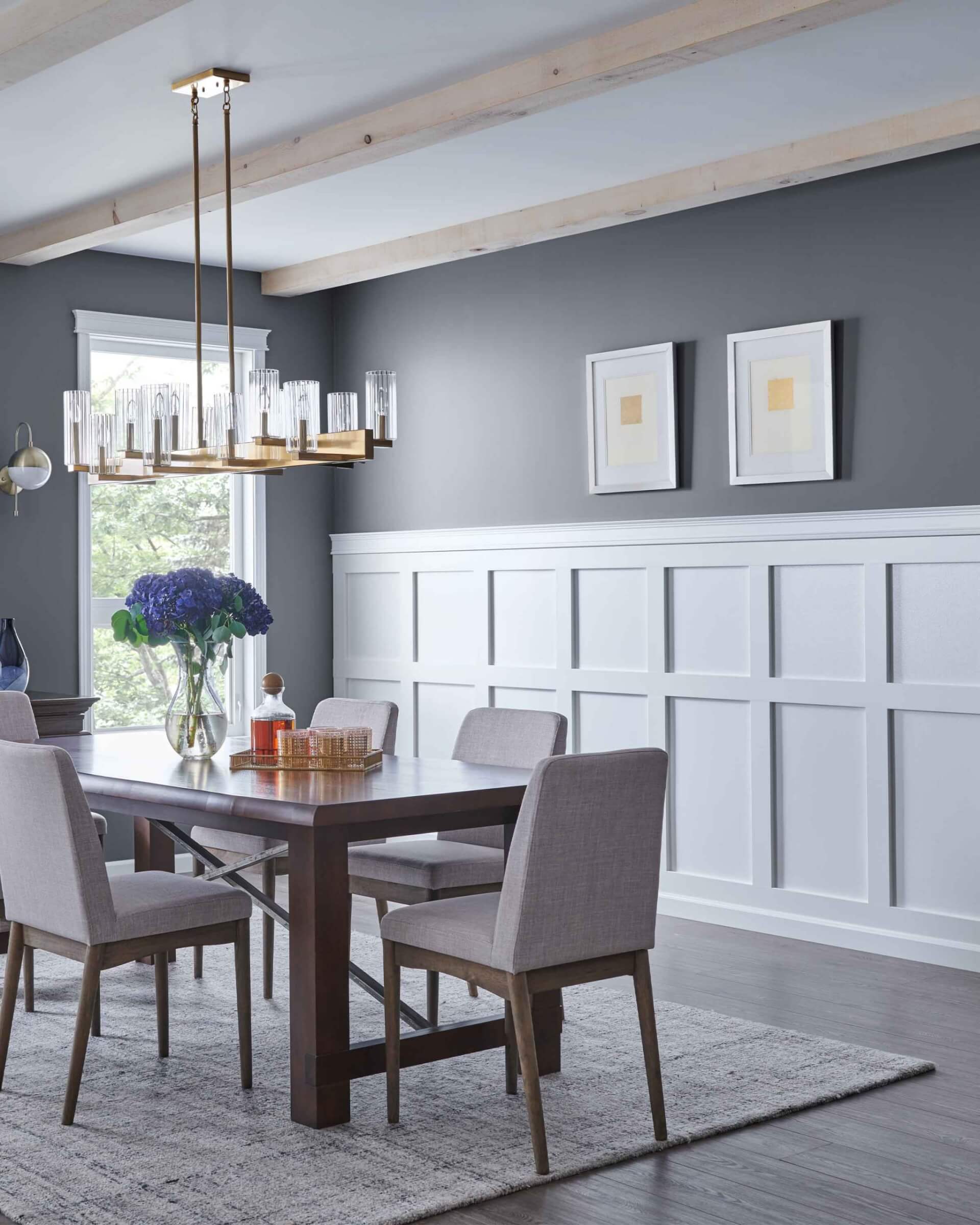 Photo courtesy of Metrie