After a surprisingly banner year of popularity in outdoor building projects in 2020, this year is poised to be even busier for contractors — if they can find the materials.
For composite decking, this has been a year to shine. "Concerning alternative to wood product, we've seen an even greater increase in demand, because the price in treated wood has gone up, narrowing the gap," says Jeff Morrison, vice president of national accounts at Goodfellow. Increasing wood prices and supply challenges are prompting homeowners to be open-minded, investigating alternatives and options they might have never considered in the past. In fact, he suggests many homeowners are starting to look more closely into premium options, such as the Fiberon Symmetry or Fiberon Paramount PVC decking his company offers.
A closing gap
With the increase the year has seen in lumber prices, the gap between pressure treated lumber and entry-level composite decking products has "drastically closed", notes Dave McNeil, vice president of allied products and national accounts at Taiga Building Products, who distribute Trex products in Canada.
"They're not on par, but the differential to move from treated wood to step up to the higher cost of a composite product, that number has gotten a lot closer, so consumers can now justify the incremental spending," he says. "It's now a small step, it's no longer three steps. So, the consumer decision to step up to composite decking has been made even easier for them. That's been huge."
With the availability of nearly all building materials becoming scarcer in 2021, McNeil says he believes consumers may find composite decking easier to source than treated wood and western red cedar—and will experience the benefits of the material: low maintenance, mold and mildew protection and long warranties.
PVC and premium composites
Homeowners aren't just making the now-smaller leap to composite decking, says Matt Lipskey, national product manager for decking and railing products at Gillfor Distribution. He says even premium decking products are getting a boost as wood prices climb.
"This year we've seen the highest increase in top-end PVC products," Lipskey says. "It's not surprising because the AZEK Vintage collection has been a popular line for years."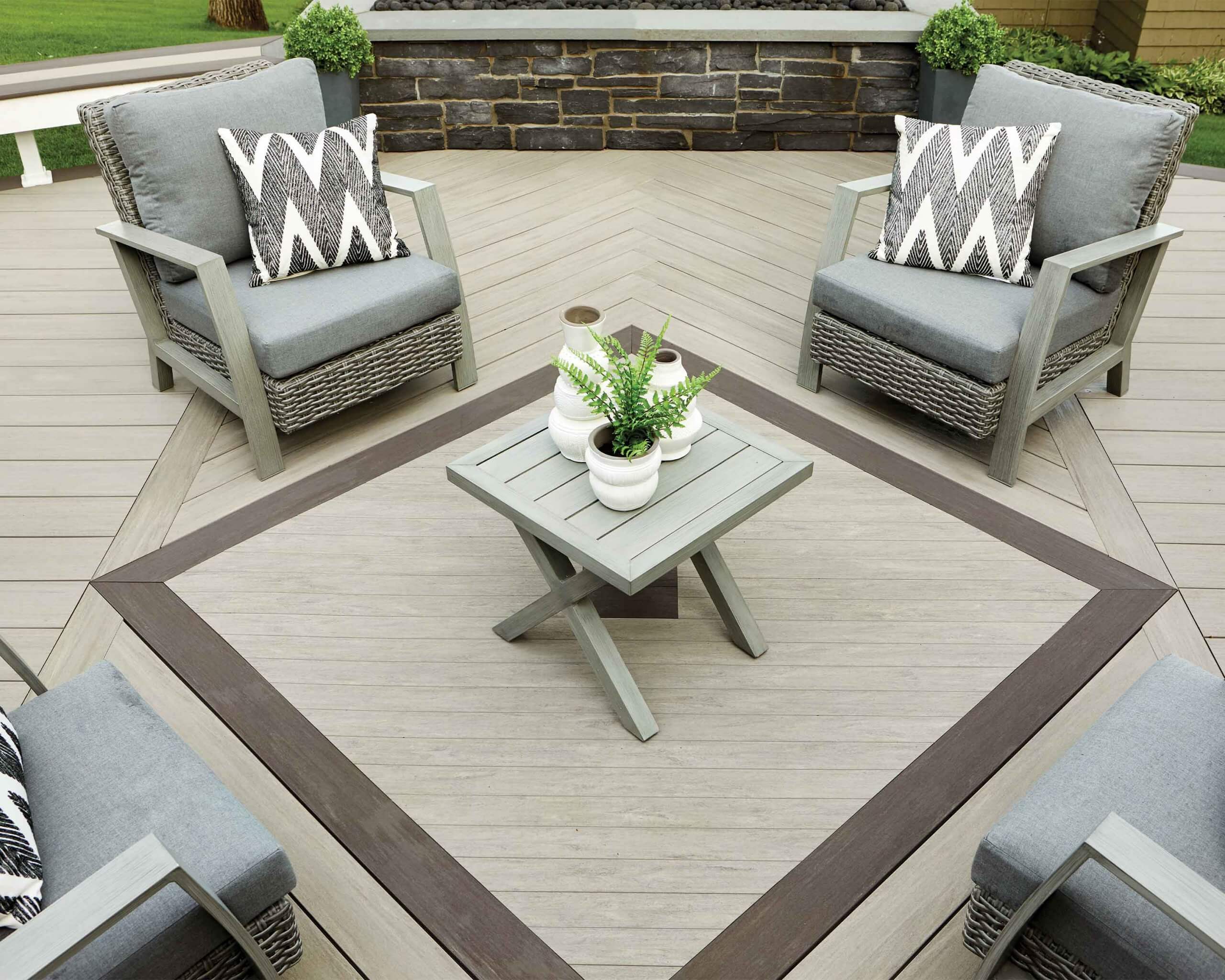 Photo courtesy of Gillfor Distribution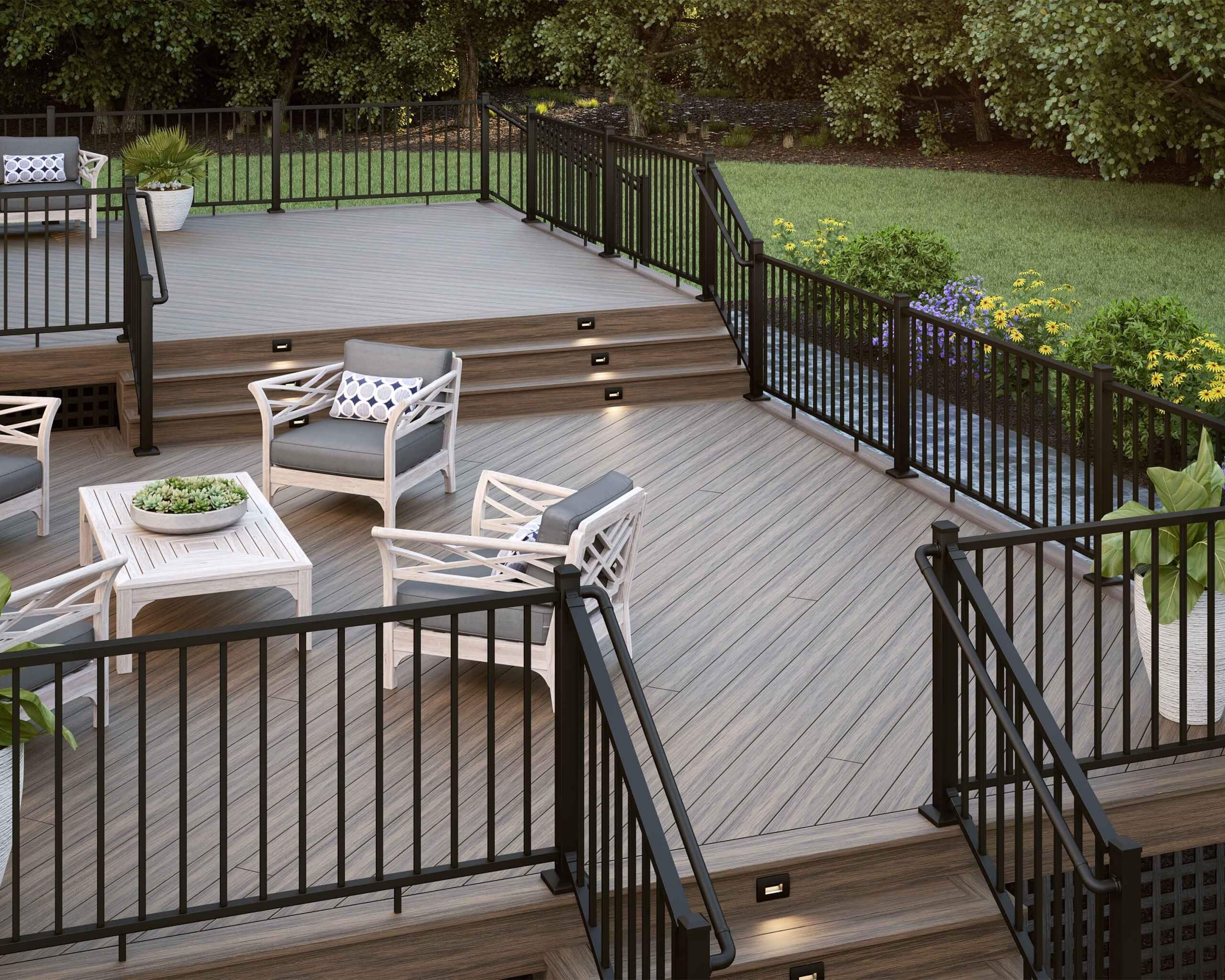 Photo courtesy of Stella-Jones 
"I attribute this to a correlation in wood prices and contractor availability," he says. He suggests that with materials representing an increasing portion of project costs, adding an extra 30% or so to get top-of-the-line composite or PVC is less of a stretch. "When people make that commitment to spend X amount of dollars, they are making sure they get the product they want."
Uptake of new options
While the closing price gap between pressure-treated lumber and composite decking has had some effect on its popularity, there is more to it than that, says Gary Shuchat, senior director of sales and market development for residential lumber at Stella-Jones.
"Last year there was such a run on everything to do with decks and fences that North America was cleaned out of product, so everybody had to be refilled this year," he says. This resulted in a huge uptake of composite decking at the start of 2021, and now supplies have become tight, he suggests. Homeowners, he suggests, are savvy and not so hung up on price—they are building projects not buying artwork—but looking for value: "How can you not invest in your home when you see what the value of it is?"
Composite decking, like the Dekorators line distributed by his company, has come a long way and is now boasting 25-year warranties, natural-looking aesthetics and the low-maintenance homeowners want. "Dekorators has some creative and innovative technology and different design opportunities for the homeowner," he says.
Bringing the inside out
The growing trend of past years of having the outdoor living space mimic or build on their indoor living space continues strong, according to Tori Smejkal, product manager for MoistureShield Composite Decking.
"You see people bringing their kitchens outdoors, and living rooms outdoors with televisions and all kinds of things you'd normally associate with comfort indoors coming outdoors," she says. "I think that was kicked into high gear by the pandemic; people were in their homes more and want to make it a more inviting, comfortable and livable space."
On the comfort front, she says MoistureShield CoolDeck® Technology helps overcome concerns homeowners may have around the heat of their deck's surface by reducing heat absorption by up to 35%.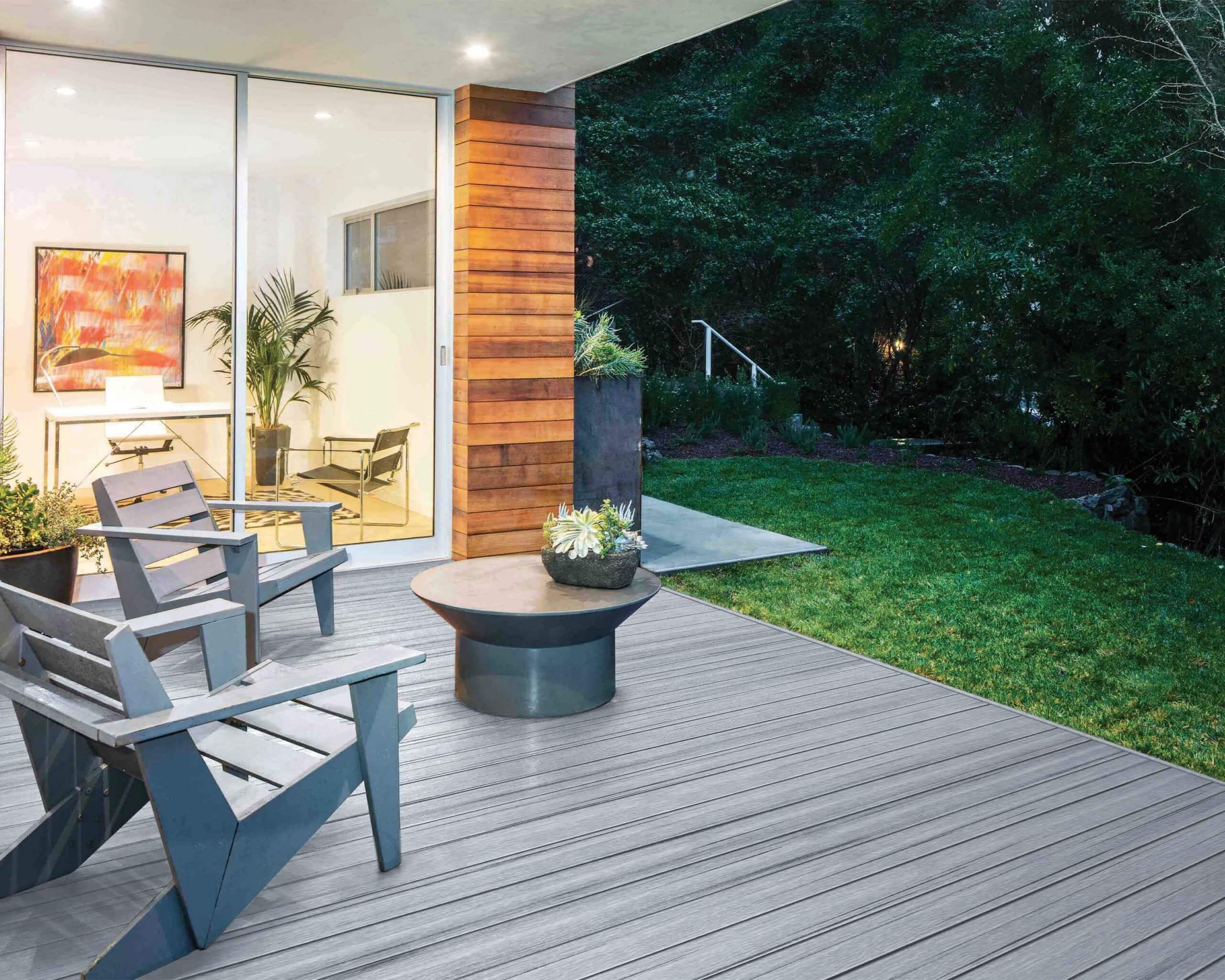 Photo courtesy of MoistureShield Composite Decking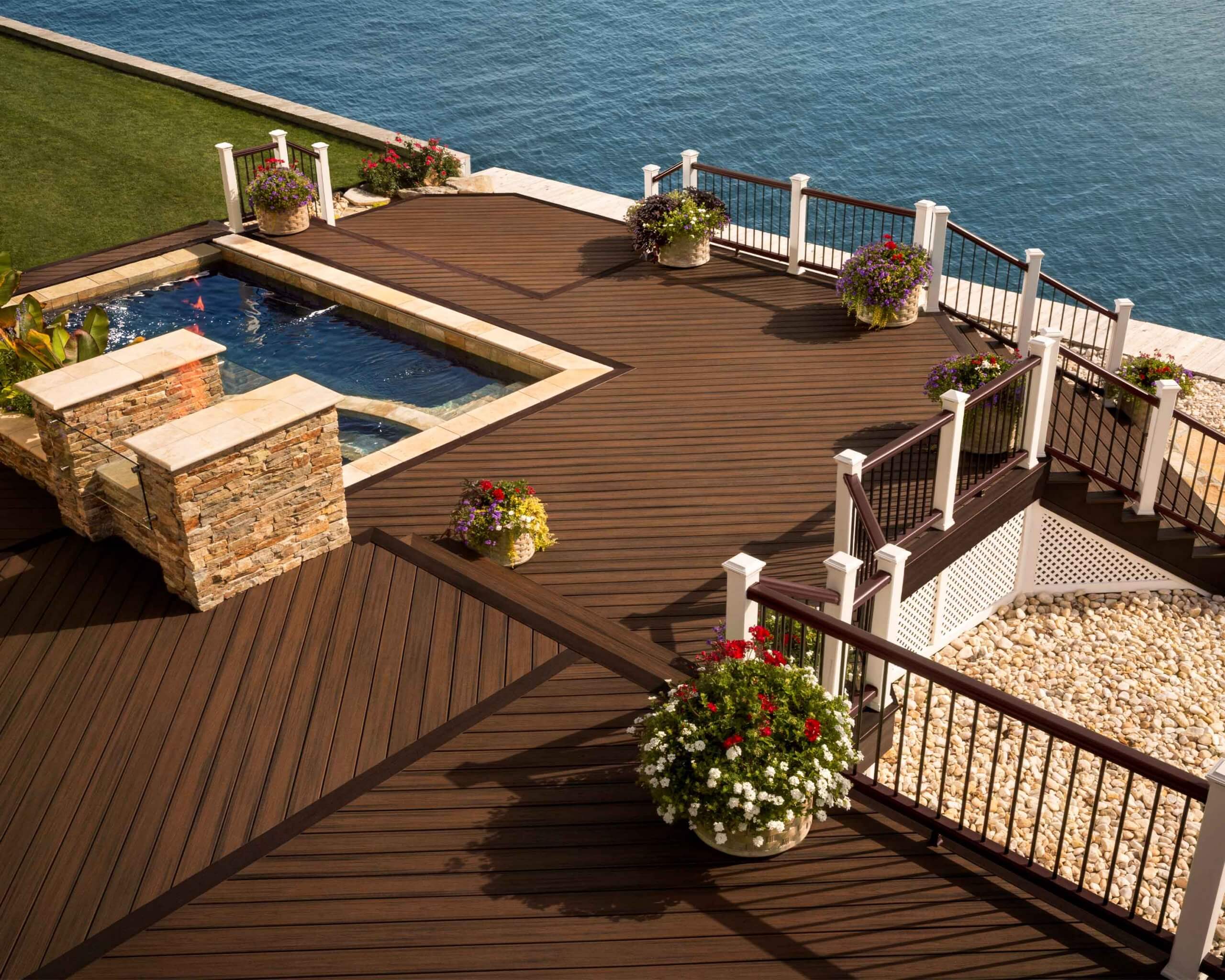 Photo courtesy of Nicholson and Cates 
Smejkal suggests an aesthetic push toward variegated colours with realistic textures to mimic natural wood, while offering the easy maintenance and longevity of composite decking.  MoistureShield's Vision series, which features CoolDeck Technology, and budget-friendly Elevate series are distributed in Canada through CanWel Building Materials Group.
The covid domino effect
Jeff Morrison, vice president of national accounts at Goodfellow, says 2021 is seeing a continuation of the increase in demand for outdoor building projects spurred last year by COVID-19.
"People are sprucing up their outdoor living spaces to make up for not being able to travel anywhere," he says. "What that's done is really increase the demand, to the point where it's outstripping supply." In addition to price increases, supply scarcity is making it take longer to get products and complete jobs. Morrison points out that it's not just materials that are in short supply.
"The domino effect of the demand we see today is there isn't a lot of contractors around to do the work, but also with delays, some jobs just can't get off the ground."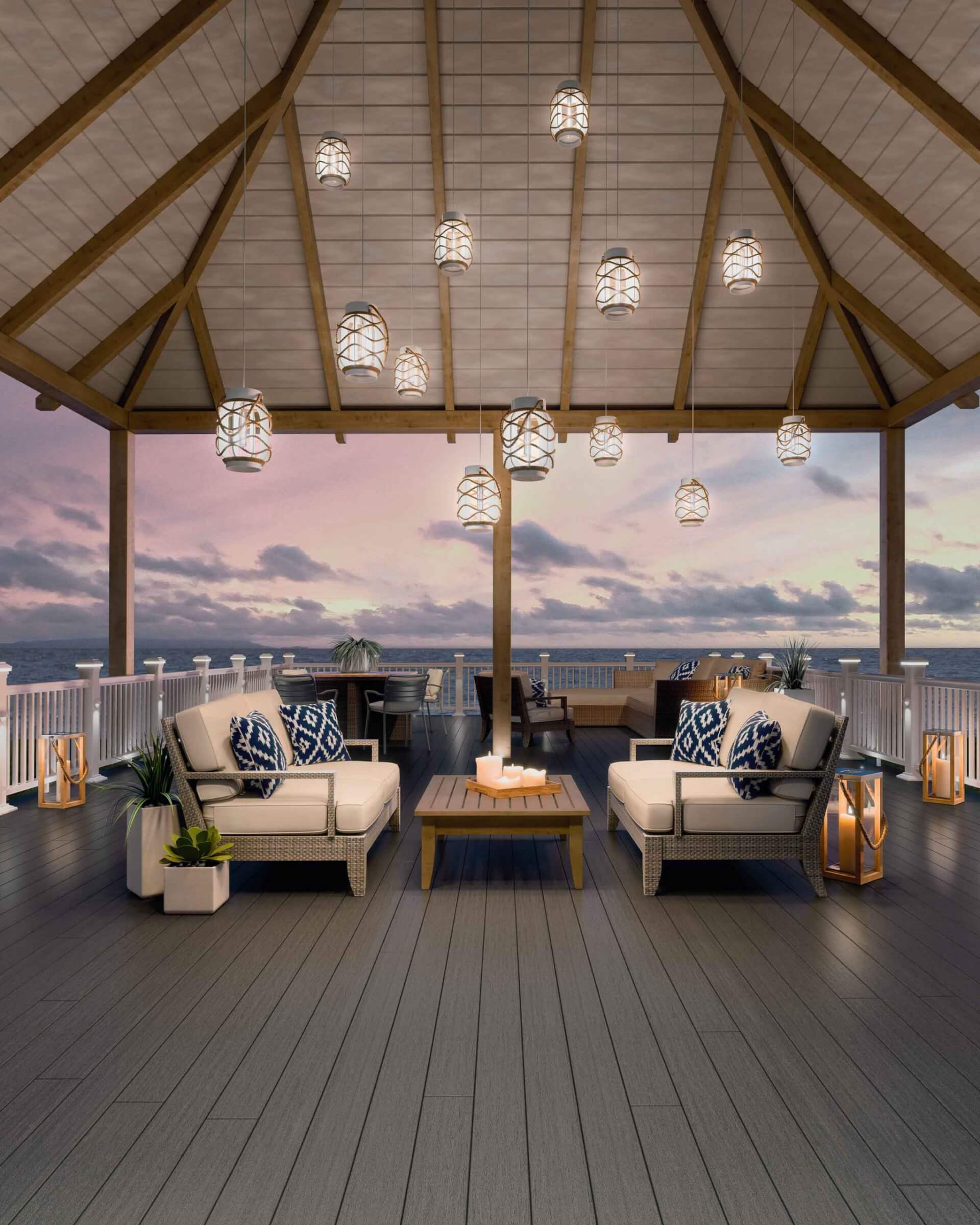 Photo courtesy of Goodfellow
Bigger and better decks
Not only has 2021 been busier than 2020 in terms of outdoor building projects, but the season started early, says Shawn Pilon, marketing manager at Nicholson and Cates, who distribute Trex.
"Our products, which are all exterior products, the season started in January or February, where historically it's April and May," he says. "We were seeing big demand and it carried forward, now as we get into our traditionally busy season it puts strains on inventories." In addition to the number of projects, their overall size is growing. He echoes that as wood prices have climbed, moving to products like Trex Enhance Basics or even up to Natural Naturals isn't much of a jump.
"You get the lower maintenance of not having to paint and stain your cedar every year, as well as the colour offerings," he says. "At the lower levels there aren't as many colour options, but they are still those same ones people use when painting or staining their decks. Now you can have the colour you're looking for with lower maintenance, and with Trex a stain warranty as well."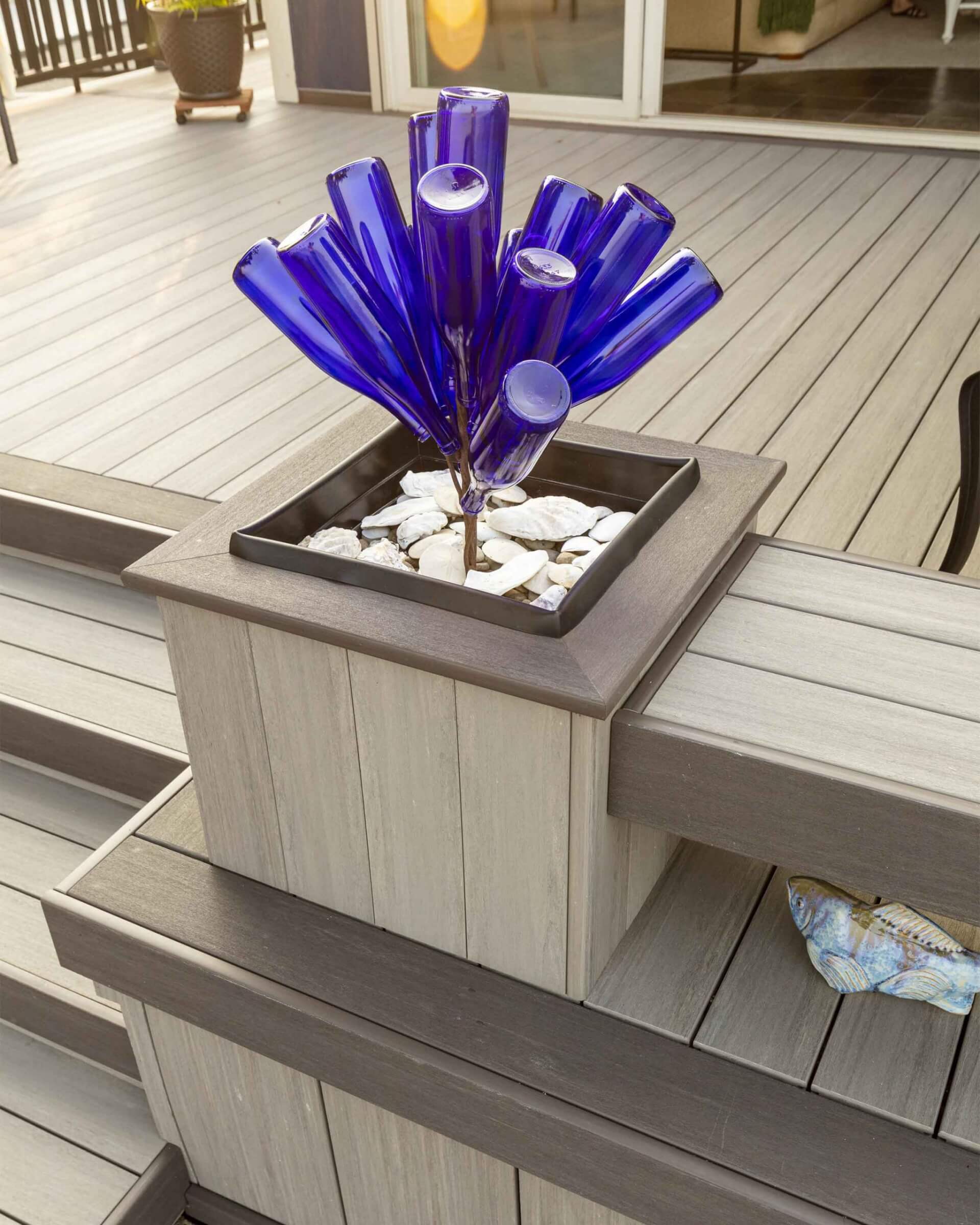 Photo courtesy of AFA Forest Products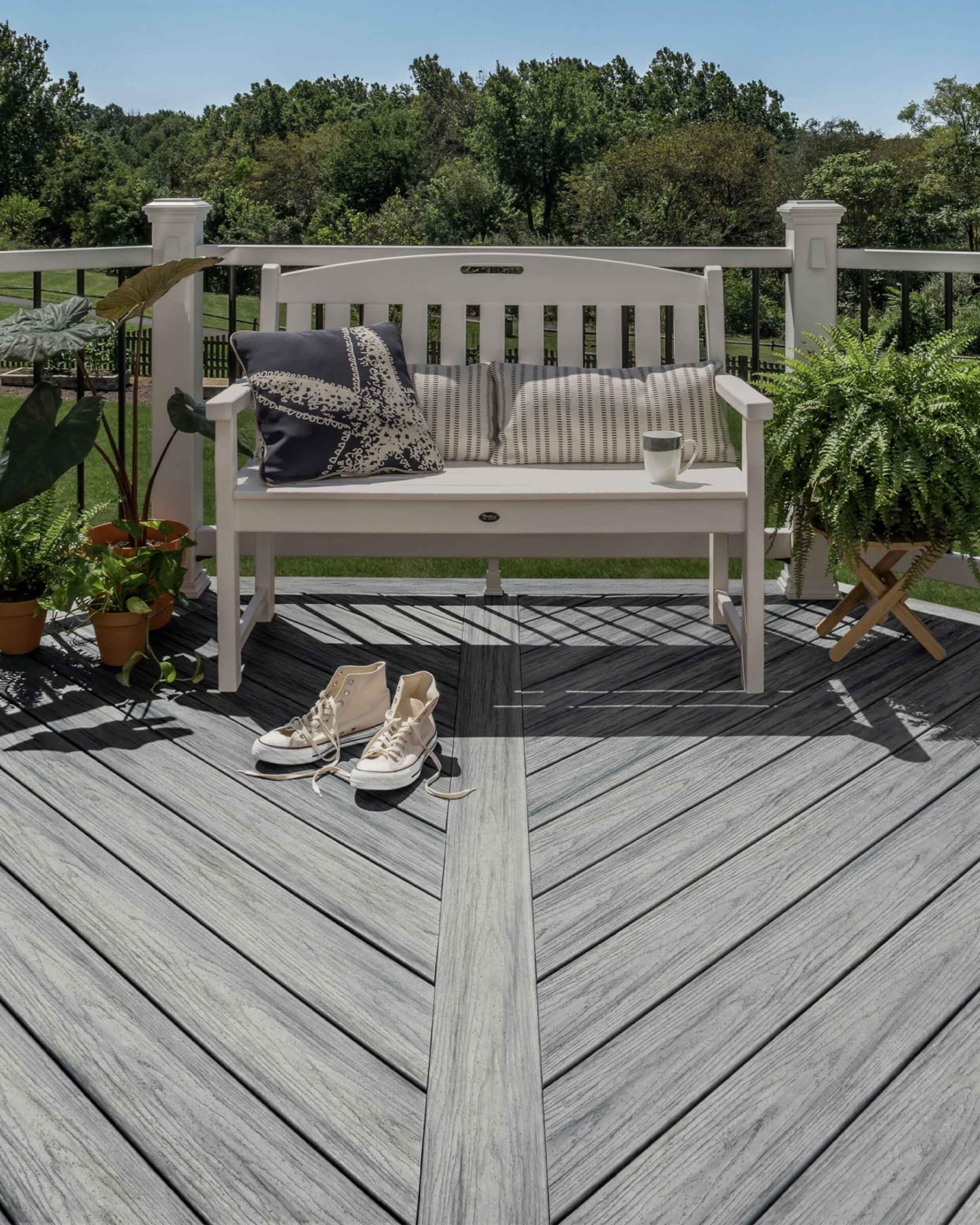 Photo courtesy of Taiga Building Products 
Homeowners remain gung-ho
Even rising material prices aren't tempering homeowner interest, suggests George McCart, director of allied products at AFA Forest Products.
"Builders are still very busy on the decking side of it, the contractors and retailers are busy, and I don't think there's a lot of hesitancy from consumers," he says. "People understand we're still going to be home this summer, it still adds value to your property, so they're still spending the money."
While aesthetics such as natural texture and colour variegation have improved in recent years, one of the biggest innovations from manufacturers has been around making the installation easier. This, of course, is a boon for contractors facing a busy season challenged with finding labour. Like others, McCart also sees homeowners moving towards the higher end of the product spectrum.
"AZEK's Vintage line, which is one of the more expensive lines they produce, is quickly becoming our best seller. It's become more of a fashion item than just a performance item in a way," he says. "Five years ago, I would never have said that that is going to happen. In the last two years, people are starting to see and understand the value proposition. You want long-term happiness, and with this, you get the performance, the beauty and the designer look." -–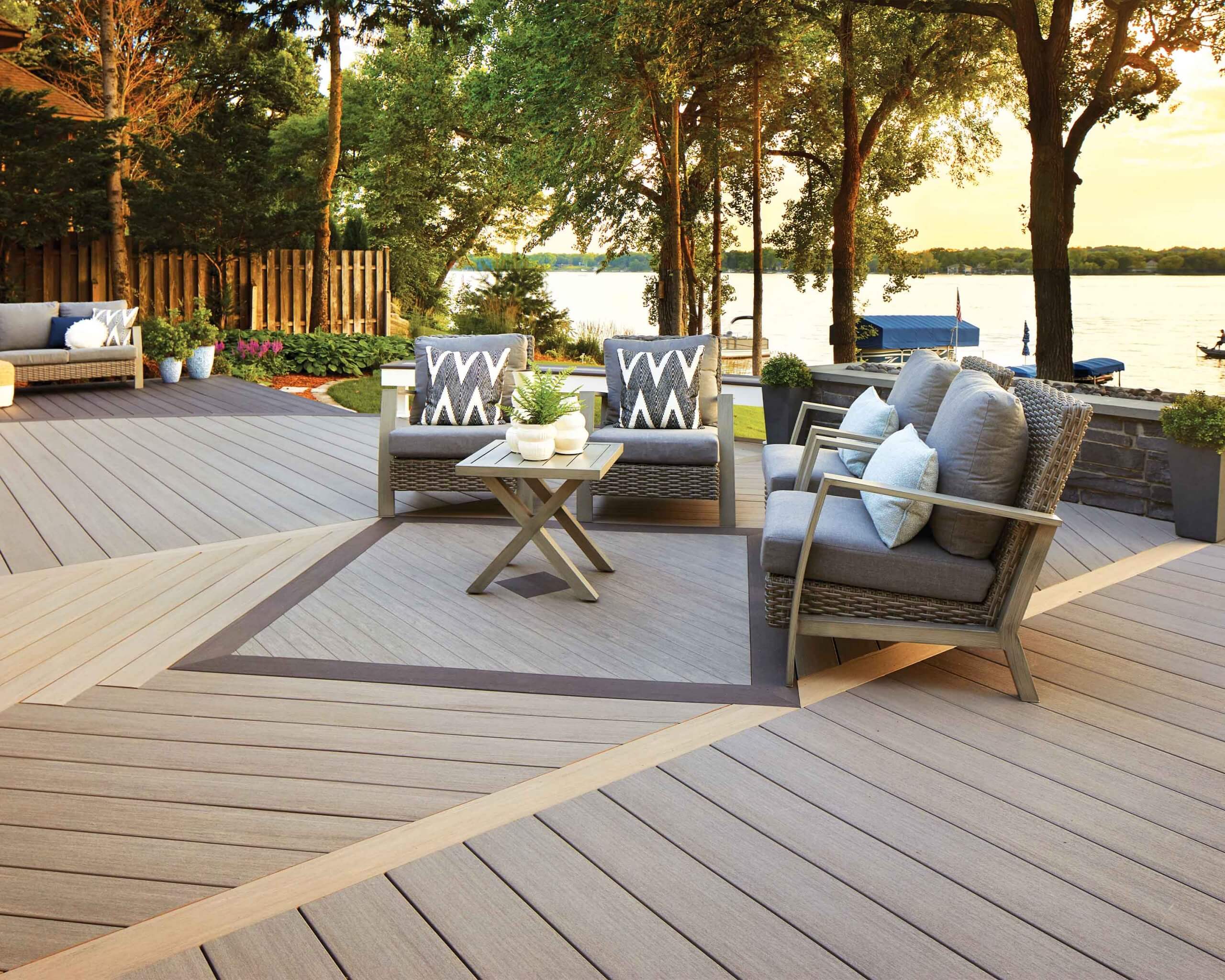 Photo courtesy of Gillfor Distribution