A lot goes into the choices homeowners make when it comes to fencing and railing. There are security and safety features to consider, how the products work with the landscape and home design, plus price and durability. To make sense of it all, we talked to experts in the field to help pin down what trends and products are most in demand, right now.
KEEP IT CLEAN
In keeping with newer interior and exterior home designs, there's a move toward a more modern, simple look. "In recent years, we've noticed that fencing has started to lean towards simplicity and embrace the notion that less is more" says Carlos Pacheco, President, Nuvo Iron. "People want smooth, clean horizontal lines when it comes to their outdoor designs." This trend is especially prevalent in iron fencing, Pacheco adds.
The same is true for railings. "Design trends in the rail mar- ket have shifted away from big and bulky to clean and refined lines," says Matt Lipsky, National Product Manager, Deck & Rail, Gillfor Distribution.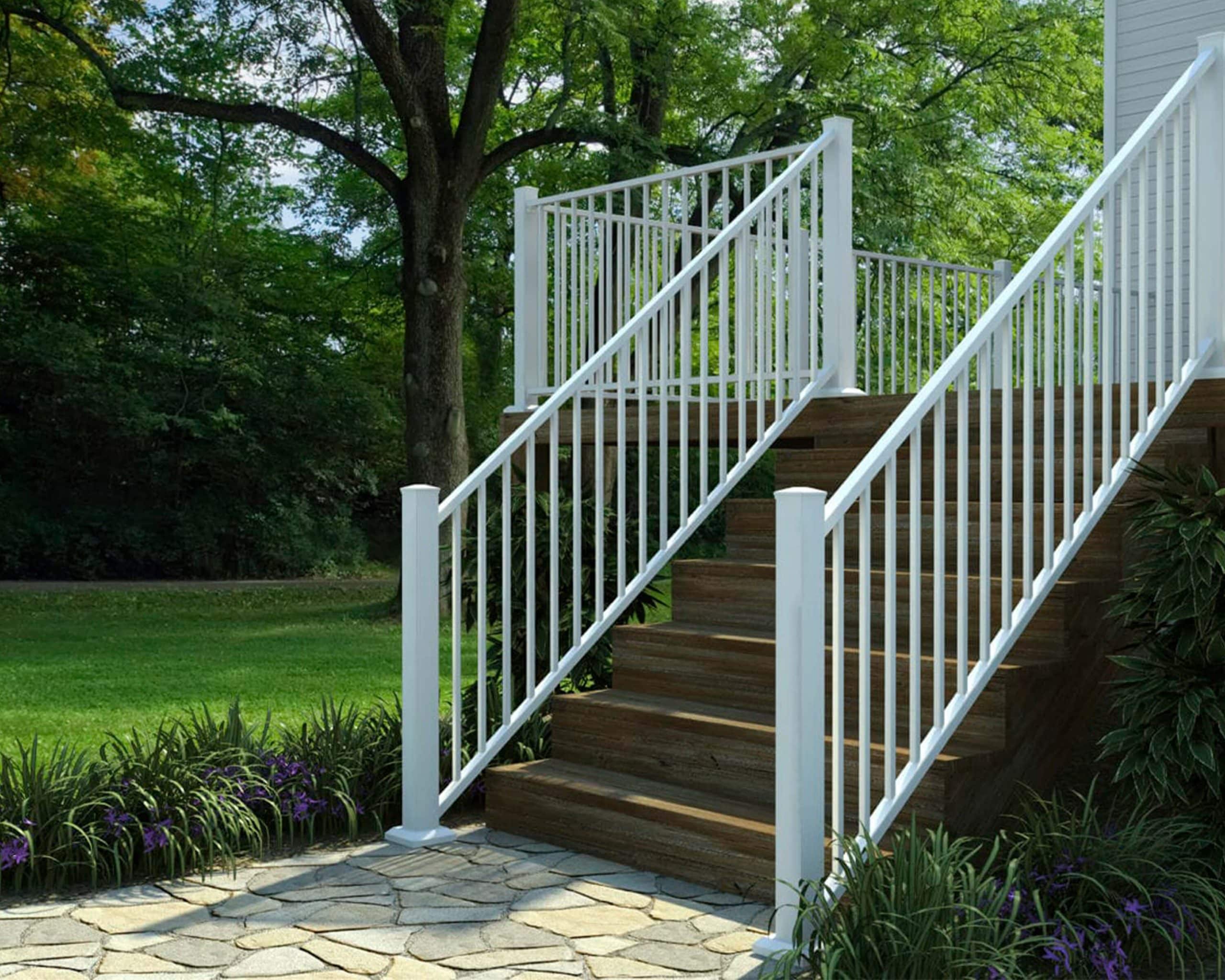 Photo courtesy of Gillfor Distribution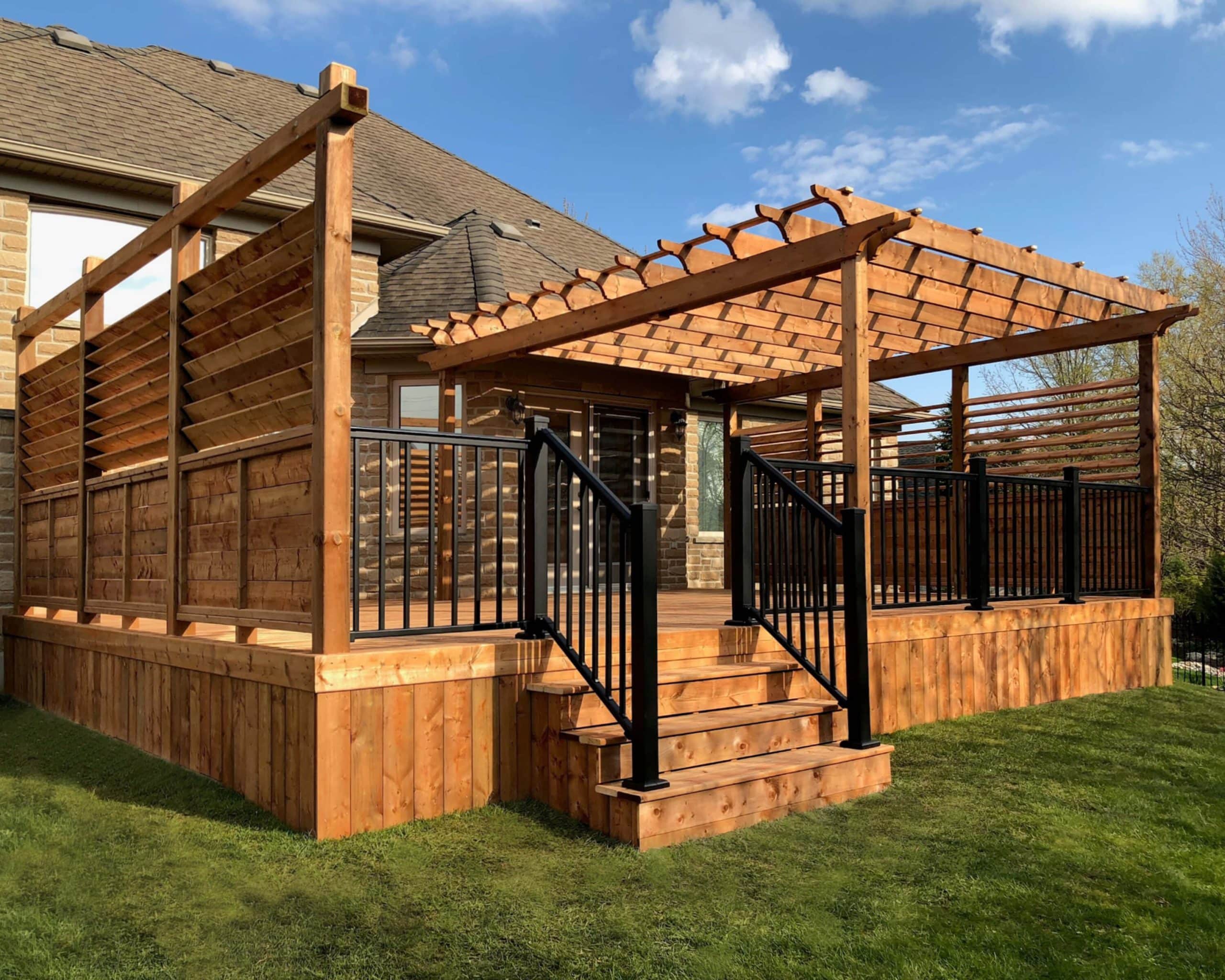 Photo courtesy of Nuvo Iron
CONTRAST
Even with a clean design there's room for a little creativity. Pacheco says he's noticed a growing number of customers choosing contrasting, but still complimentary, materials. "Instead of having a wooden fence with wooden lattice and post caps, consumers will top their fence with aluminum post caps and maybe an iron insert in their gate," says Pacheco.
MORE PRIVACY
In many cases, homeowners are looking for privacy when it comes to fencing. "We've found in subdivisions, in particular, that most people want privacy screens or glass on either side with neighbours," says Joe Pezeg, President, New Trend Corporation. "Protecting property from wind is a big factor, as well," says Pezeg. He adds that privacy screens—including those made from bamboo that lend a tropical feel to back- yards—have been popular, too.
Pacheco has witnessed that same demand for privacy. In the past year, Nuvo Iron has released louvers—a shutter and blinds system. "Our louvers are incredibly useful in creating a sense of privacy while at the same time offering the ability to control air flow and sunlight," says Pacheco.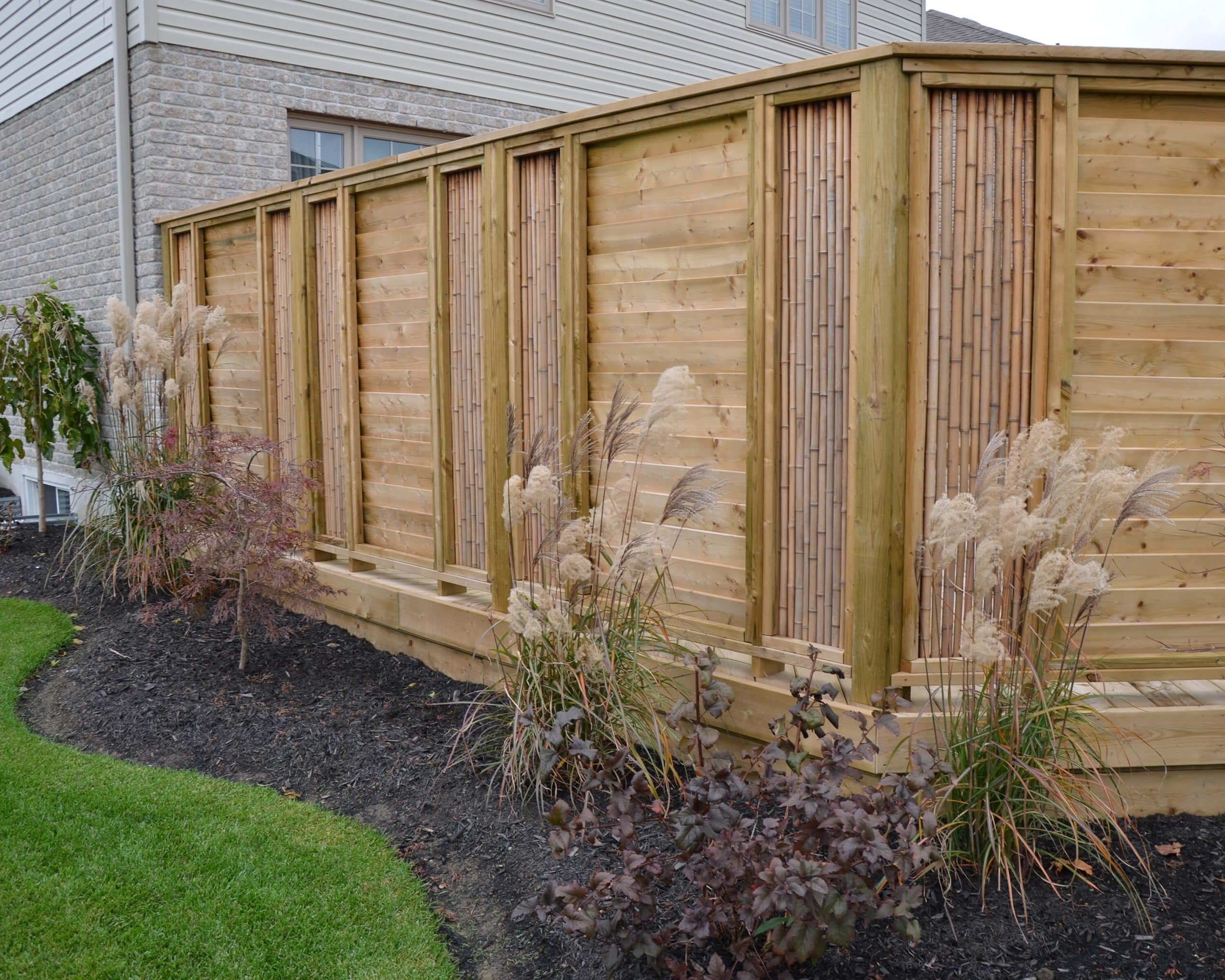 Photo courtesy of New Trend Corporation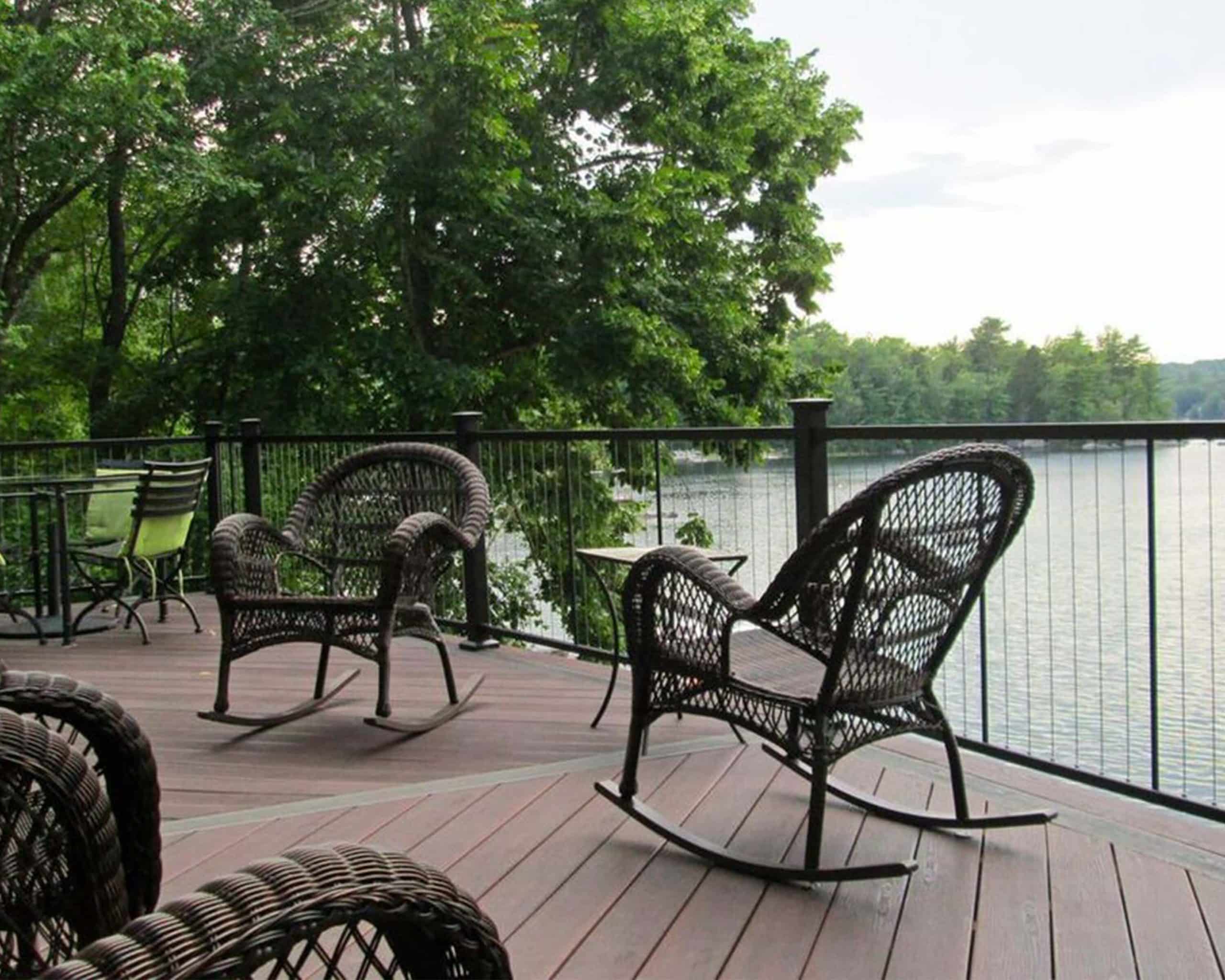 Photo courtesy of Gillfor Distribution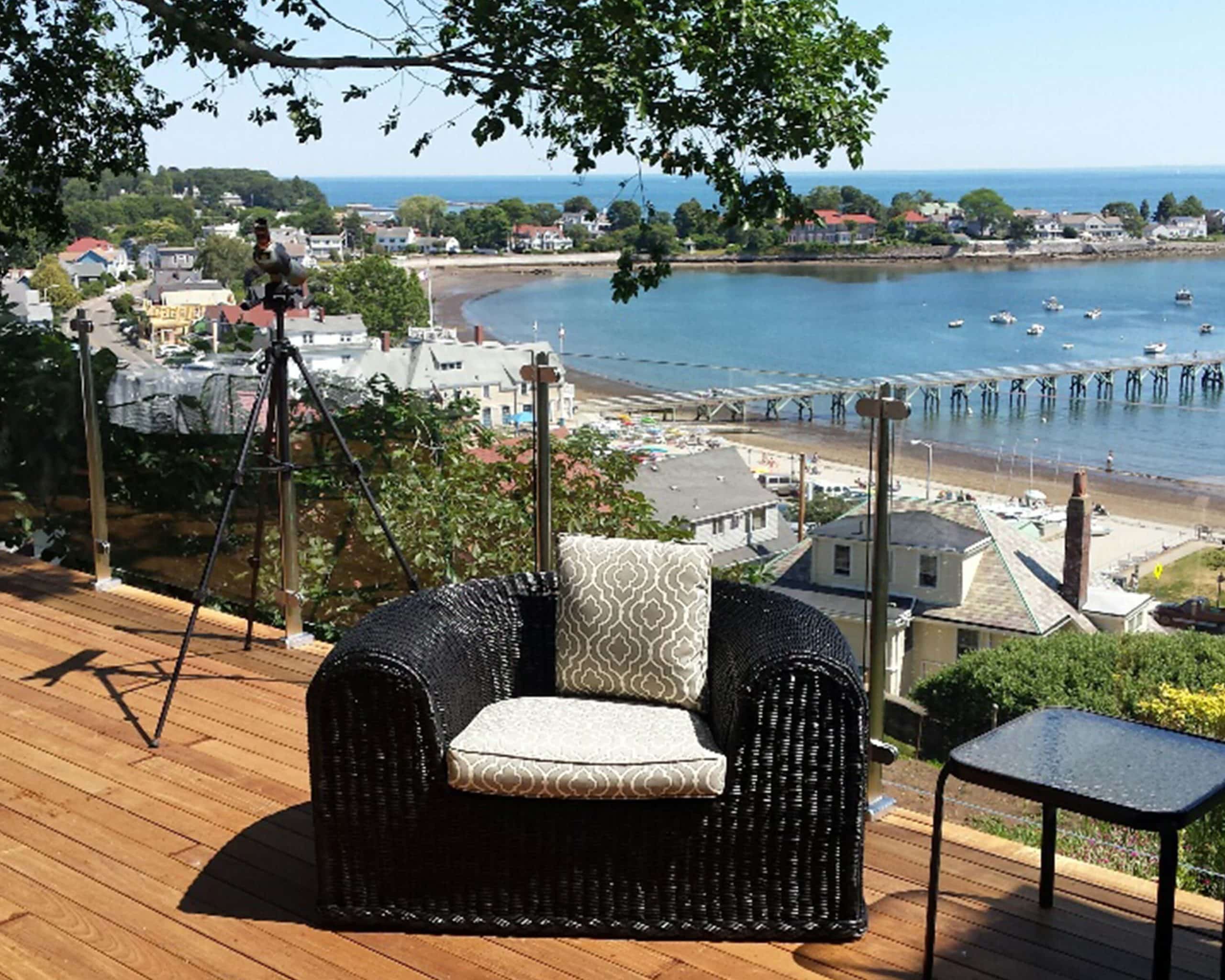 Photo courtesy of Invisirail/Liv Building Products 
VERSATILITY AND MULTIFUNCTIONALITY
Iron gate inserts, too, allow for light and air flow, and that's one reason they continue to enjoy popularity with homeowners. There are other upsides to the feature, as well. "Aside from being a stylish and affordable addition to your new or existing fence or gate, they also double as an effective burglar deterrent, due to the added visibility," says Pacheco. He's seen some creative uses for them, too: sprucing up a privacy fence, hung on a wall as an art feature, or installed low on a fence as a dog window.
MORE VIEW
If there's a trend toward using fencing for privacy in close-together homes, there's a trend in the opposite direction, as well. Where the view beyond a yard isn't another home, but a lake, a field, a mountain or something else equally picturesque, many homeowners are searching for fencing that's almost invisible. "Consumers are more focused on what is beyond the rail: their view," says Kevin McQuin, Director of Sales and Marketing, Invisirail/Liv Building Products. He notes that options such as glass infill, cable infill and less obtrusive balusters, that were once seen as an alternative, have now become the norm.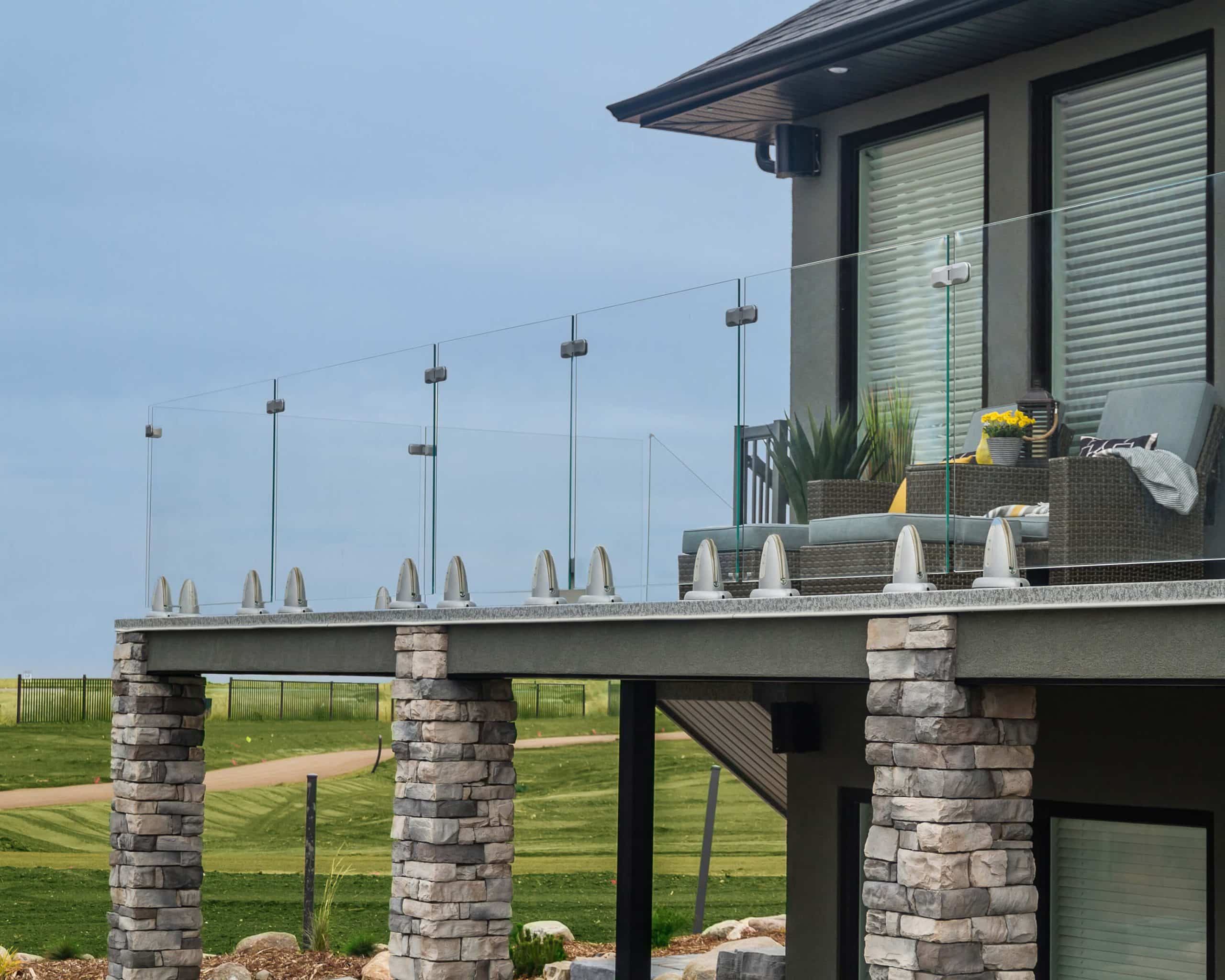 Photo courtesy of Regal Ideas Inc.
Andrew Pantelides, Vice President of Marketing and Business Development for Regal Ideas Inc., has seen the same trend. "We have a glass track system that can incorporate wood or composite railing systems," says Pantelides. "This opens up the view and keeps the classic deck look and feel." Now that cable railing—another nearly invisible option—is included in the National Building Code, the market for the product has taken off. Vista Railing, for example, has seen growing demand for its cable railing system with powder-coated aluminum posts and rails and stainless-steel hardware and cable. "It's simple to install but also a very stylish, contemporary design option," says Rob Mitchell, President and CEO of Vista Railing.
LONG-LASTING PRODUCTS
Consumers are moving away from quick-fix or short-term solutions when it comes to their fencing and railing. Gillfor Distribution, for one (they're the national parent company of regional distributors McIlveen Lumber, Brown & Rutherford, OWL Distribution and Brunswick Valley Distribution) has seen a growing interest in products that are built to last. For example, the company carries AL PRO pre-welded panels that provide extra stability. "With a heavier gauge aluminum than the competition, you'll never hear the rattle of the pickets in the wind or worry about structural integrity," says Matt Lipsky, National Product Manager, Deck & Rail, Gillfor Distribution.
"Consumers purchase aluminum railings for the quality and longevity of the product," says Adam Scott, General Sales Manager, Cendek Railings Group. He adds, "This eliminates added painting and staining throughout the years to come."
"Most people want long-term, low-maintenance solutions," says Pezeg. "Budget plays a big part in that too. Wood has gone up so much in price that people are now are looking more seriously at materials since wood is more expensive in some cases."
PERSONALIZATION
If consumers are spending time carefully selecting products designed to last, they're also giving a lot of thought to design and how they can add personality to their outdoor space.
Sometimes, a high-impact look comes from mixing unexpected materials. Vista's Traditional Deck Railing Kit is an all-in-one boxed deck kit—and its contents have expanded over the years to include the possibility of mixing many different materials. "The styles have continued to evolve to now include square balusters, glass panels and unique round curved balusters," says Mitchell, reflecting homeowners' desire to customize and differentiate their choices.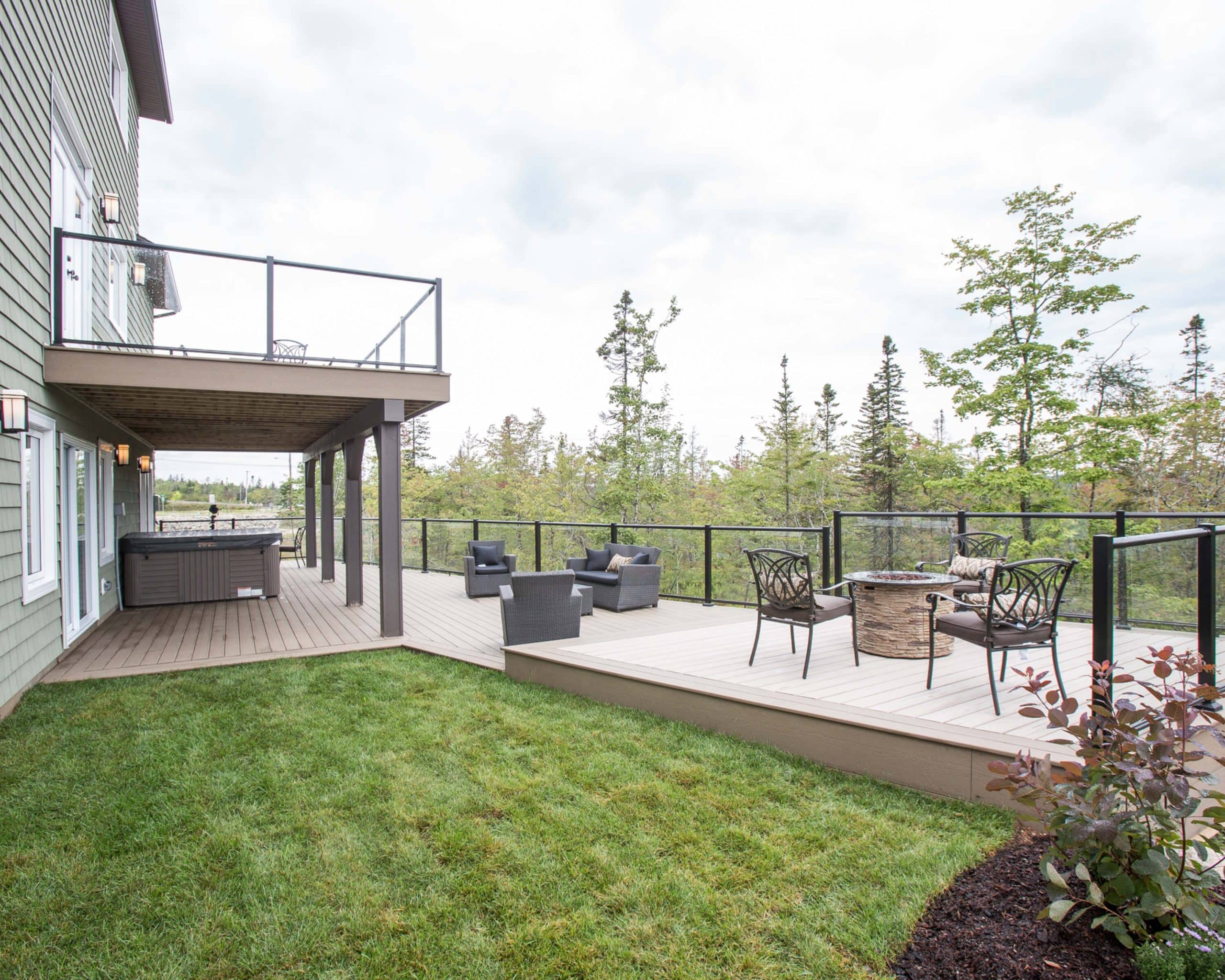 Photo courtesy of Century/Cendek Building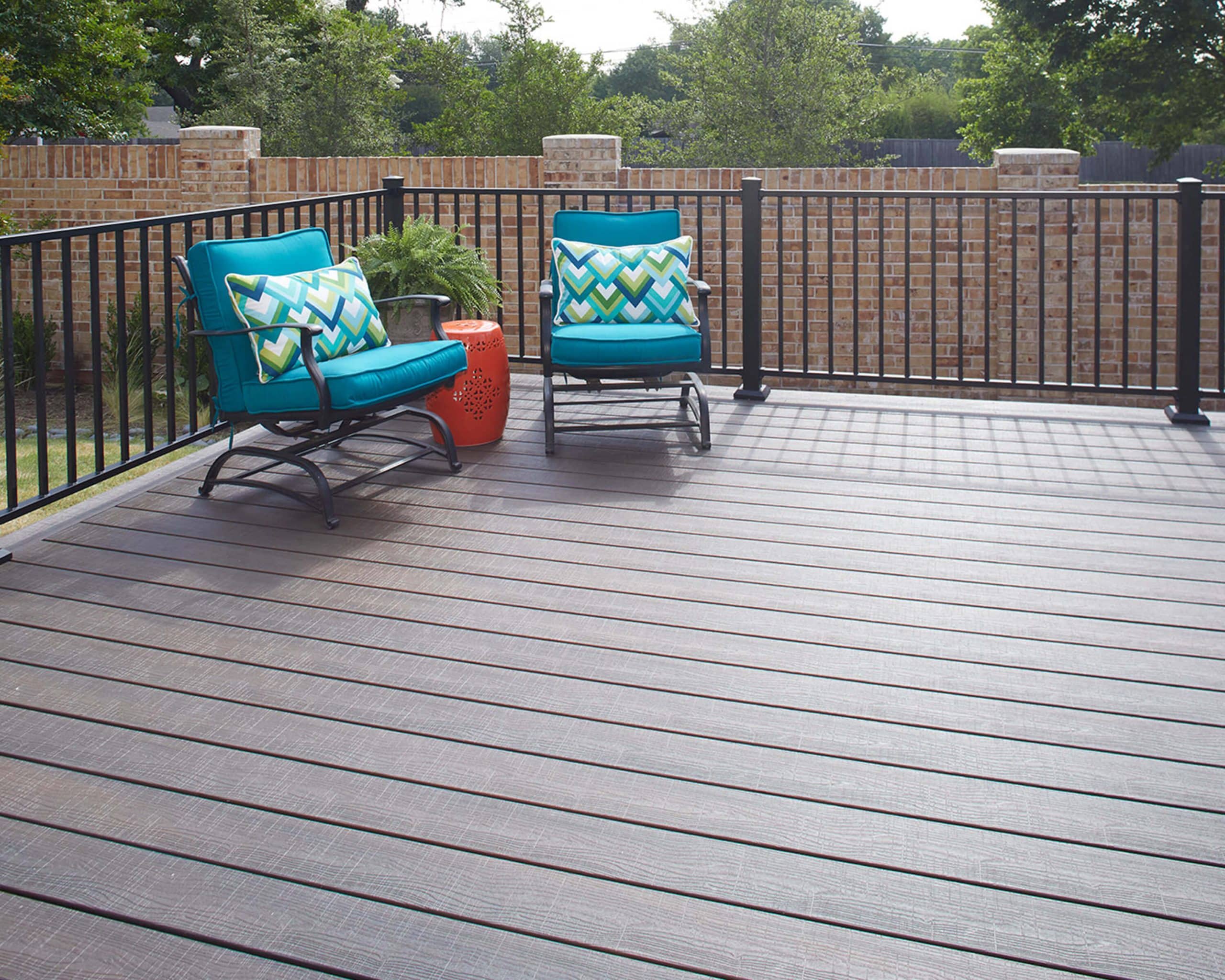 Photo courtesy of Gillfor Distribution
Sometimes, good design requires a custom build. "With the deck designs of today and the growing trend of more elaborate outdoor living spaces, homeowners and contractors are often looking for solutions to fit in with their non-traditional builds," says Pantelides.
CALMING COLOURS
Choices in terms of colours and finishes can have a big impact on how a project looks. Lipsky notes that with many products there are surprises when it comes to what colours are trending, but that this isn't the case with the railing market. "It's been much more consistent than most other products," he says. "White and black are timeless shades that nicely accent all brick tones and complimentary materials," says Lipsky. "With new home development leaning towards
modern lines and monotone colours, matte black is by far the most in-demand finish."
Scott notes that Century Railing carries three classic colour options that he says fit most colour trends. "If a customer is looking for something other than the standard colours, though, we can colour match or custom colour, as well," says Scott. Like Lipsky, Scott notes that matte black is the most-requested finish, in recent years.
"In aluminum railing, after years of glossy coloured rail- ing, we are seeing strong movement towards textured colours, specifically black and textured bronze, which are rapidly over- taking their gloss counterparts," says Mitchell. "These textured finished colours offer a much richer appearance than their glossier options."
There's a practical reason to move away from high gloss, too.
"People are really leaning towards railings with furniture texture paints that have a higher scratch resistant value," says Pezeg. "Fingerprints show up on high-gloss finishes and scratches are easy to spot."
With wood railing, the biggest colour change has been the shift towards brown treated wood, notes Mitchell. He adds, "This trend is driven by consumers' desire for warmer tones when using wood, as well as, providing the look of cedar at a lower price point."
EMBRACING OUTDOOR SPACE
In general, homeowners are willing to spend more than they used to, to make the most of their outside space. "There's been a huge increase in spending on outdoor living over the last few years", says McQuin. "I would say the average deck has doubled in price due to people investing in higher quality products."
Lipsky has seen the same changes, with consumers willing to pay more for quality not just for the look, but for durability. "Backyards have become an extension of the home, garnering the same commitment in terms of time, budget and attention to design usually reserved for interior projects such as kitchens and baths," says Lipsky.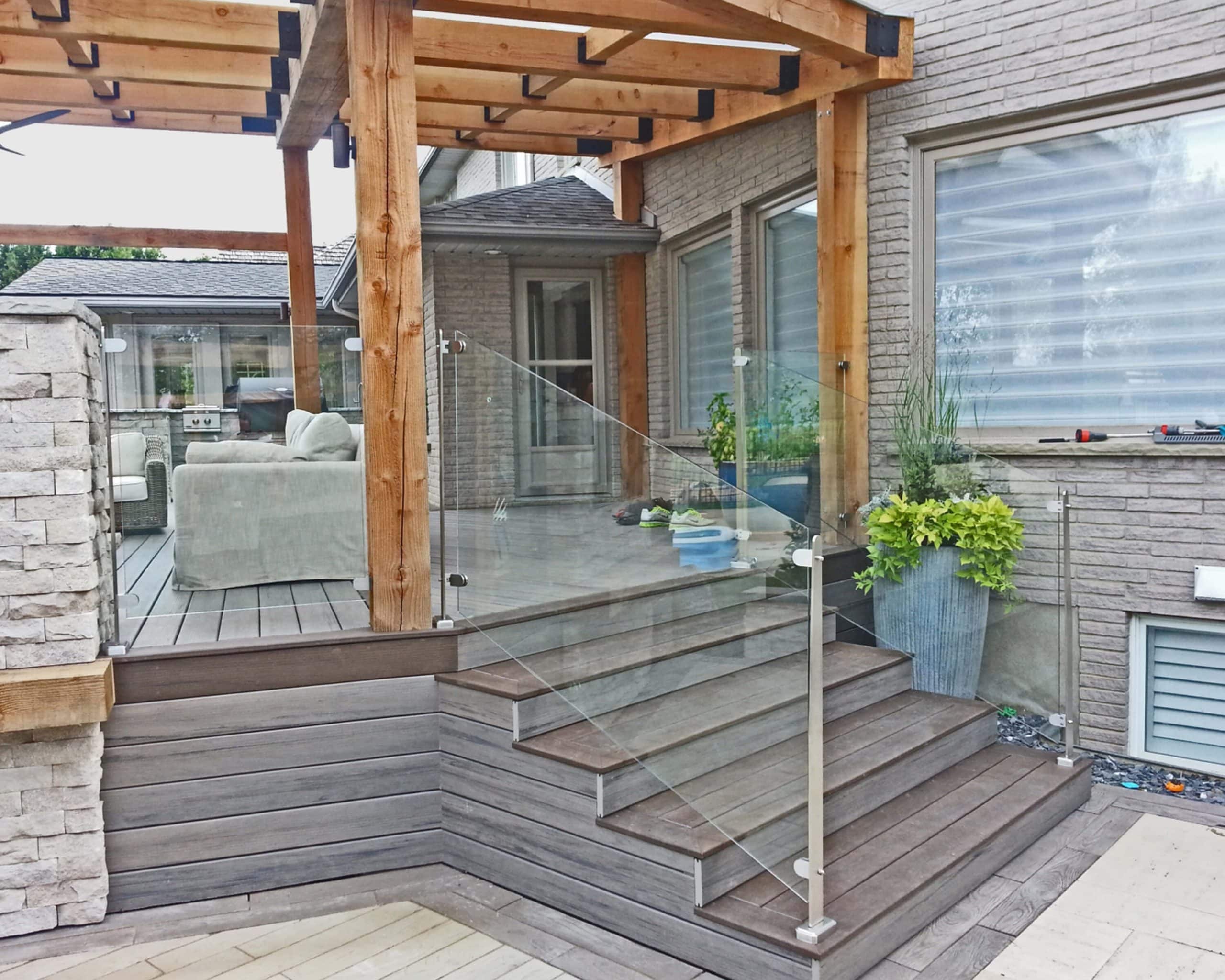 Photo courtesy of Invisirail/Liv Building Products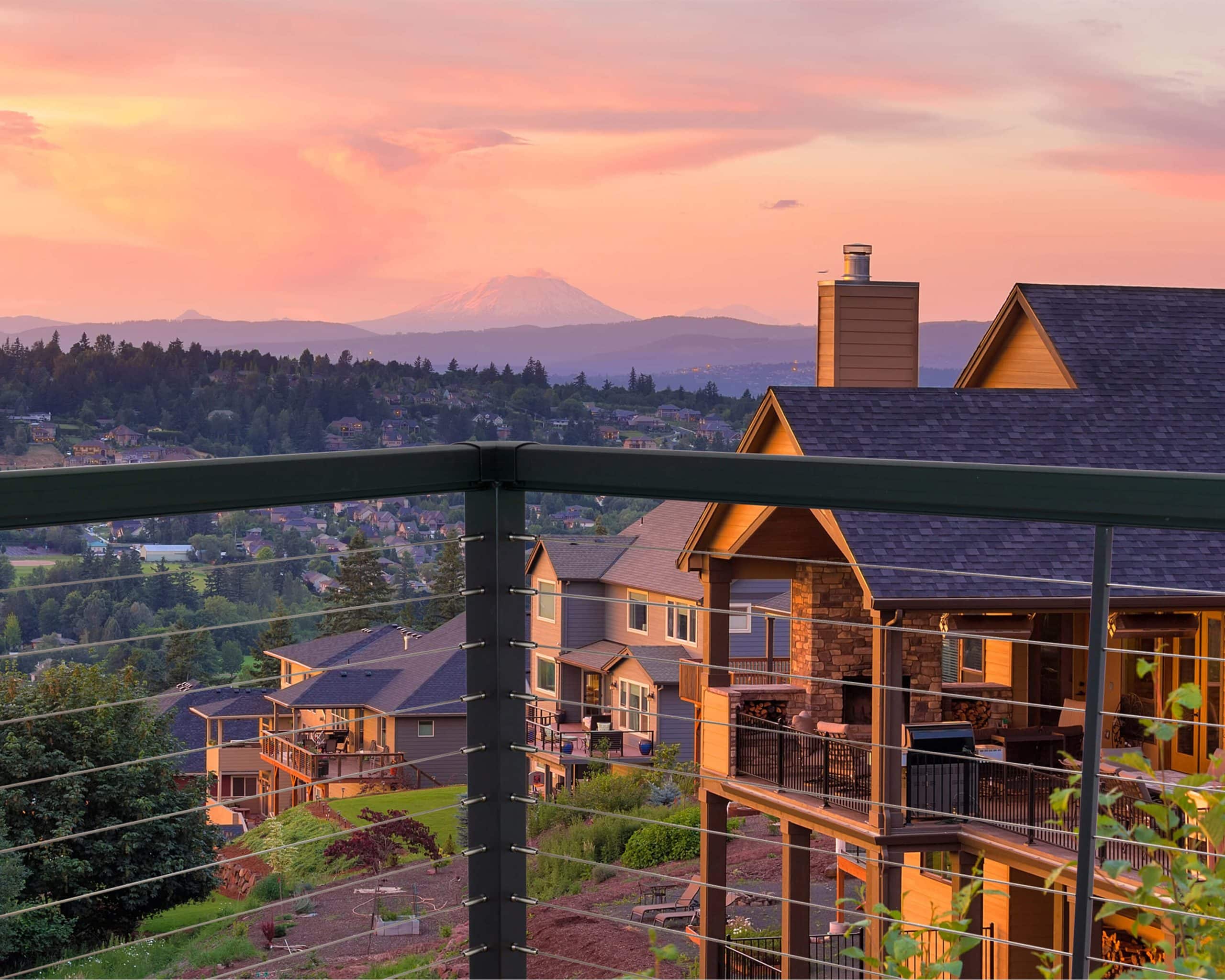 Photo courtesy of Vista Railing
INVEST WISELY
With all the enthusiasm for our outdoor projects, Lipsky cautions homeowners and contractors to consider all the options and ask plenty of questions before committing to a plan. Make sure you have all costs and information before you buy, for starters. "Touch and feel the different products, compare quality. Does the product have the strength and durability required? Does it meet national building codes?" He adds, "It can be very costly to get these answers after the job has been completed. Your project is an investment in a home; invest wisely." —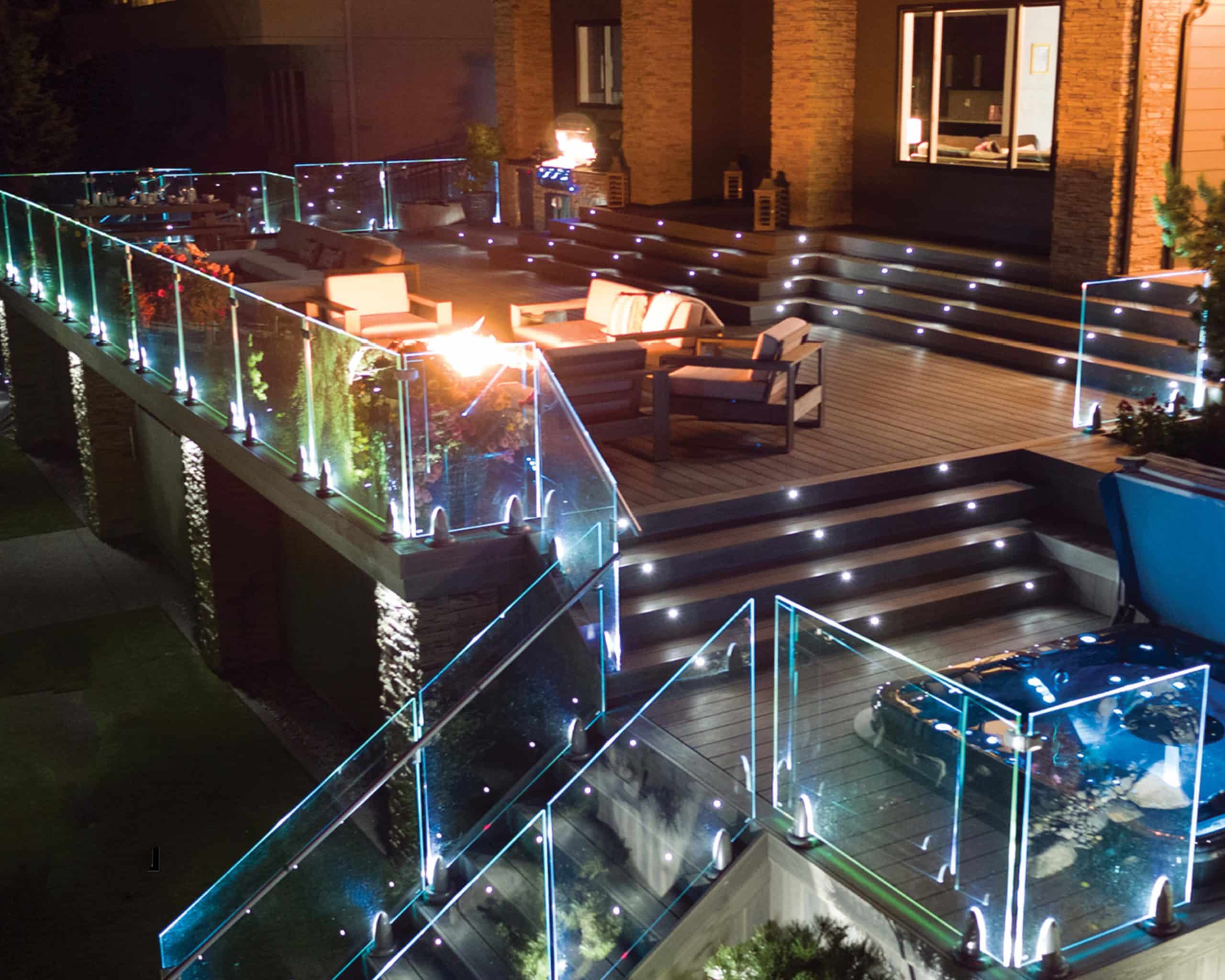 Photo courtesy of Regal Ideas Inc.