As we approach the end of the year, many start to wonder what lies ahead in 2018 in terms of design trends. One element in particular, colour, always seems to paint the picture and set the tone for so many other interconnected industry facets like furniture, décor and overall design mood for the new year.
SICO® paint by PPG recently selected their 2018 trending Colour of the Year as Cast Iron (6173-83). The deep grounding hue, for those who dare to go darker, is a sophisticated, stunning black which is sure to provide a modern touch of elegance to any home. Additionally, as an unexpected neutral, it also offers many a respite from life's hectic tendencies.
According to Sico colour experts, black paint highlights a perfect mix of modern yet timeless sophistication and offers a flexibility in design that is often overlooked. Similar to your favourite black handbag, Cast Iron pairs beautifully with almost any design style. "Cast Iron is a perfect choice for do-it-yourselfers (DIY-ers) who crave a grounded room that is enveloped in comfort and coziness, beginning with their paint colour selection," said Mylène Gévry, Senior Marketing Manager, Sico paint brand by PPG. "This colour is hard to ignore and provides a certain grandeur or simplicity to a space because of its flexibility."
While black commands attention on its own, Sico colour experts recommend pairing it with a variety of other tones. Layer this deep, rich midnight hue with a variety of trending softer neutrals and a warm white like Zen for a tranquil and minimal look. To make a dramatic statement, pair Cast Iron with a dark burgundy like Venetian Wine, a mid-tone grey like Industrial Grey, a soft beige like Gobi Dunes or an off-white like Ground Coriander. Combined with brass or gold accents, this colour palette will give the appearance of elegance and luxury.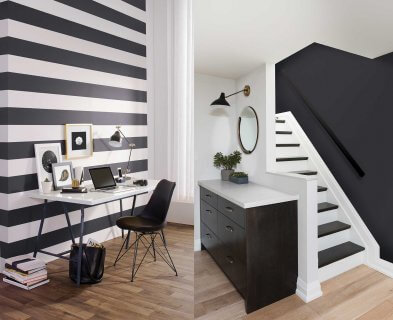 Photo courtesy of PPG Architectural Coatings Canada Inc.
"Sico paint's Cast Iron colour perfectly complements the various trending black building materials and home accessories that we're seeing in the marketplace. From timeless black windows to matte black kitchen appliances, this hue will fit in perfectly with modern or traditional design elements," Gévry noted. "Black is often overlooked and under-appreciated when choosing paint colours for the home, but its ability to refine, subdue and add strength to a space makes it a perfect choice," said Misty Yeomans, Colour Marketing Manager, Sico paint. "It brings solace and a peacefulness to any space, creating a haven in which to retreat from our always-connected, high-pressure society. Its versatility in pairing with other colours adds to its allure in home decorating."
To view the Sico paint brand's 2018 Colour of the Year, get design inspiration from top home decor bloggers, and use a leading-edge virtual painting tool to try colours in a photo of your own rooms, visit www.sico.ca.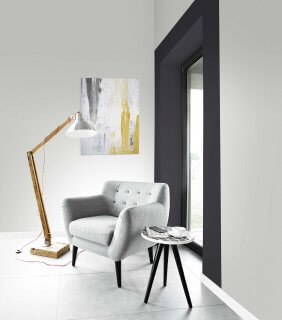 Photo courtesy of PPG Architectural Coatings Canada Inc.