At one time, adding stone to a home meant heavy expense or a major renovation project; leaving it close to impossible if the home lacked the right foundation or a brick ledge to support it.
Today, that's all changed, of course, with the availability of mortarless or mechanically fastened stone veneers — that can be screwed directly to walls — adding stone elements to a home can be a project a handy "weekend warrior" can perform, allowing for wide, sometimes wild, creativity.
"Over the last few years, stone veneers and stone siding have been evolving and picking up steam," says Brad Thomson, retail director, Canada, at Oldcastle Architectural, which offers Beonstone, panelized stone siding marketed by its company Permacon. "It's really becoming DIY friendly and for a few reasons."
He notes that accessibility to traditional masonry stone and brick work has been increasing in price and has started to taper off in recent years as access to skilled masons has dipped in price. This makes the easier-to-install stone veneers available now a perfect fit for general contractors or as a do-it-yourself (DIY) homeowner project.
Oscar Quan Rosales, product manager for masonry and retail at Permacon, adds that in addition to easy install and not requiring an existing brick ledge, or unaffordable change in foundation, homeowners are seeing mechanically fastened stone as a warmer, more durable choice than wood and vinyl cladding.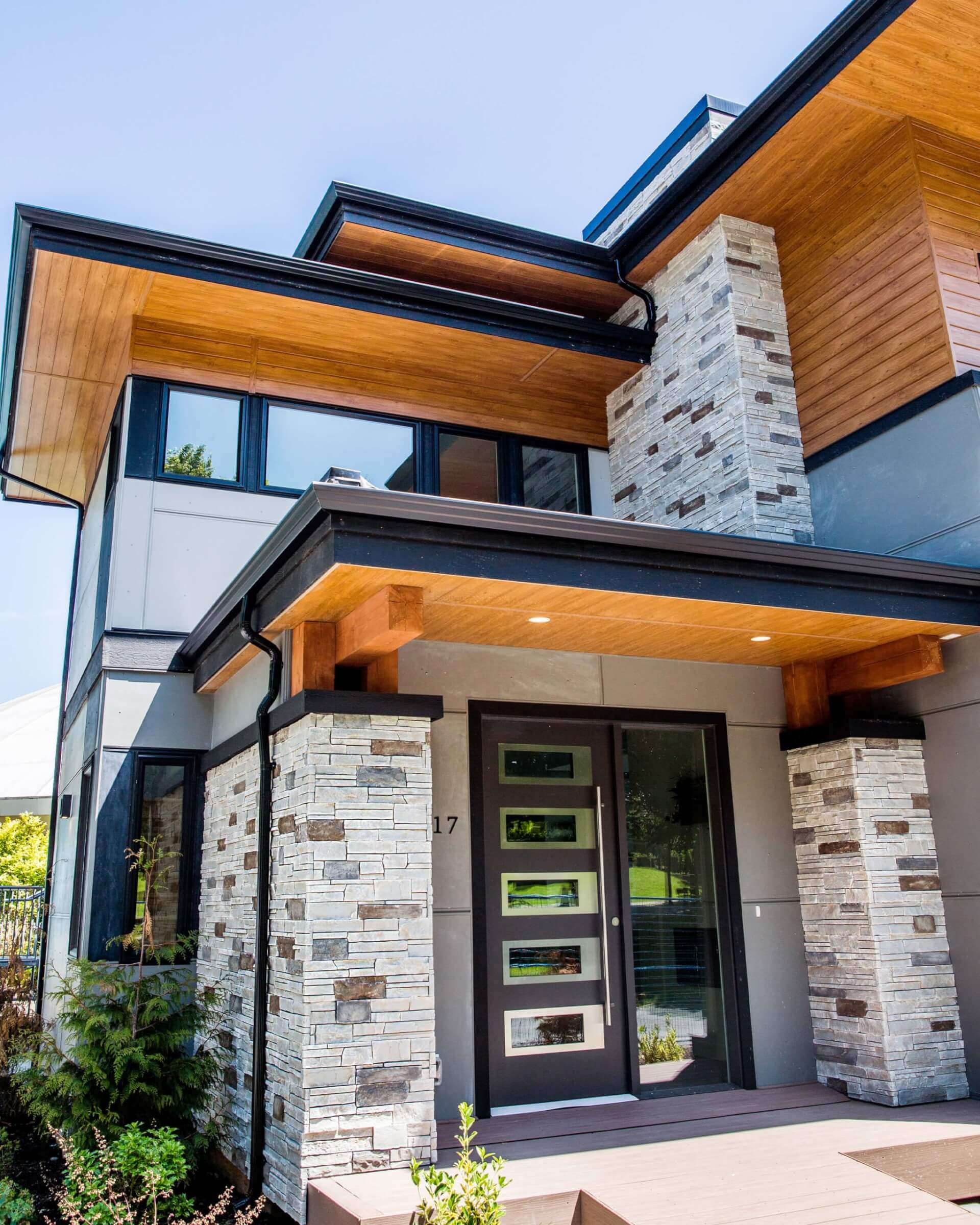 Photo courtesy of Gentek
Beonstone panelized stone siding can be installed on most surfaces with anticorrosive screws, the number and length of which influenced by the type of wall. It's also available in a range of style profiles (Classic, Canyon, Element and Horizon), each in several colours.
Ease of installation is a key factor homeowners or contractors must consider, says Simon Osborne, business development at Canadian Stone Industries, master distributor of Versetta Stone. It's one his company hasn't taken lightly.
"The thing that separates Versetta from its competitors is there are limited parts and pieces. The galvanized nailing flange (by which you install the product) is embedded right into the product when it's manufactured," Osborne says. "The other consideration is the weight per square foot." To that end, he says, his product is anywhere from 20 to 25% lighter than competitors.
Versetta Stone is a morterless, cement-based mechanically fastened stone siding product. It uses an interlocking tongue and groove installation, so it installs just like traditional siding. Gentek Building Products, a distributor of Versetta Stone, says this allows carpenters and contractors to "recreate the beauty and craftsmanship of authentic stone masonry using nails or screws."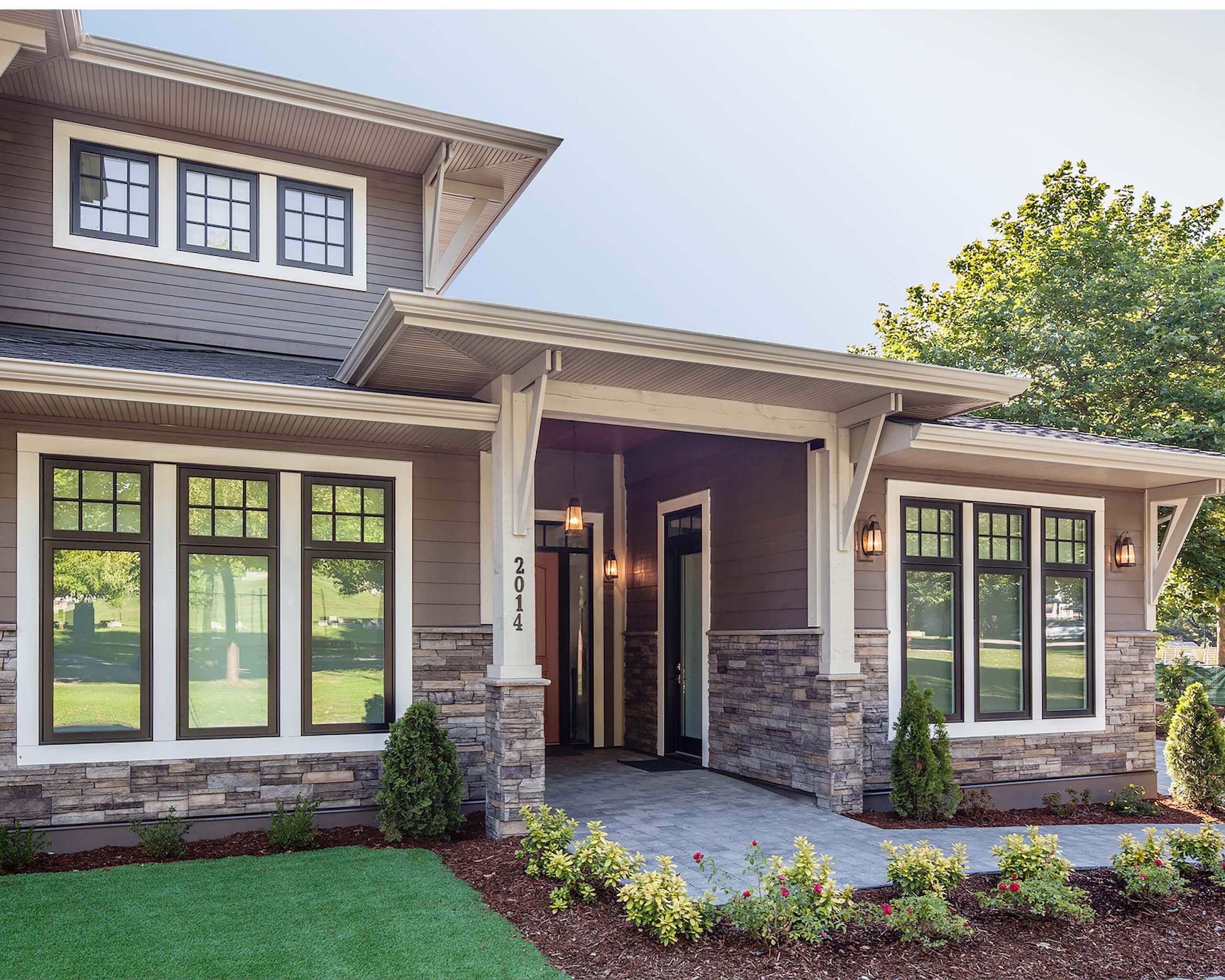 Photo courtesy of Gentek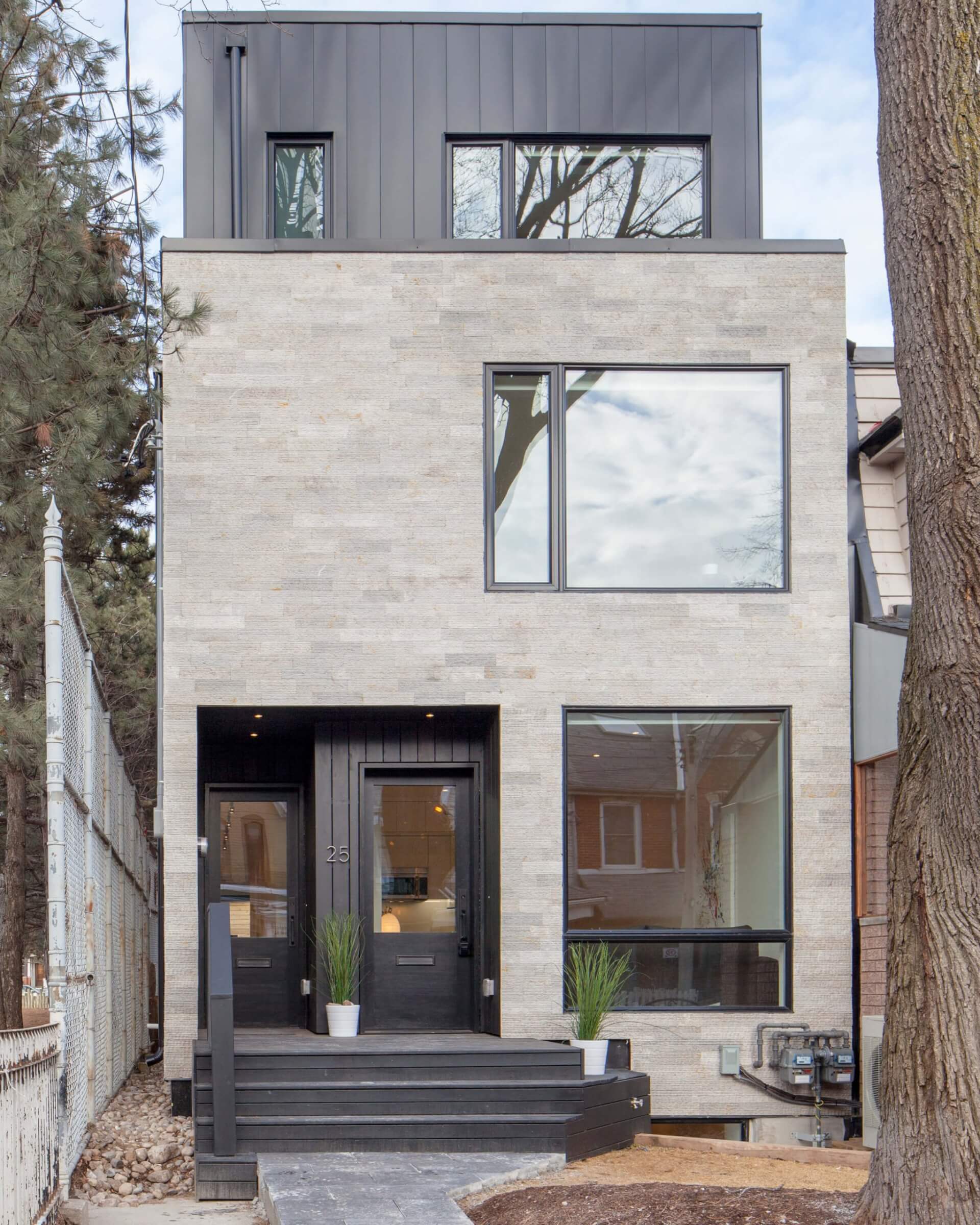 Photo courtesy of Erth Coverings
Available in a number of styles (Ledgestone, Tight-cut and Carved Block) and colours, Osborne says the product's new Northern Ash is a darker colour that compliments the tones of popular vinyl siding today.
Versetta Stone is a non structural, cement-based, manufactured stone veneer that uses an interlocking tongue and groove installation, installing just like siding. Available in a number of styles (Ledgestone, Tight-cut and Carved Block) and colours, Osborne says the product's new Northern Ash is a colour that compliments the darker tones of popular vinyl siding today.
While natural stone veneers are not new, they are seeing an upswing in use, both externally and internally, suggests Ivan Rapa, president and CEO of Erth, producer and distributor of high-quality natural stone veneers under the brand Erth Coverings.
He theorizes that accessibility and homeowner awareness have played a major role in this growth. The time is right now for many householders to embrace natural stone, he suggests.
"Thin (stone) vaneers have been around for a long time, but really only started to make an impact about 15 to 20 years ago," he says. "It's typically 20 years between major renovations, so those people who haven't renovated their home over the last 10 or 15 years and are now getting into the frame of mind there is a lot more information available and if they are working with designers, they are more aware of the possibilities."
He says Erth Coverings are finding their way throughout the inside and outside of homes, adding that the thinness of the veneer — only 1′ — lends itself well to internal use where traditional masonry — 4′ stone or 3 to 3 ½' brick — would rob rooms of square footage. (Just as true in use as external cladding, where use of thin stone to clad the house could save builders around 3% of the total square footage, he says.)
Erth Coverings are manufactured using all-natural stone suitable for indoor or outdoor application with exterior corners available for each stone type. Available in a variety of styles and colours, Erth Coverings bring natural stone to a wide range of possible applications to a wall without the weight that would require a brick ledge.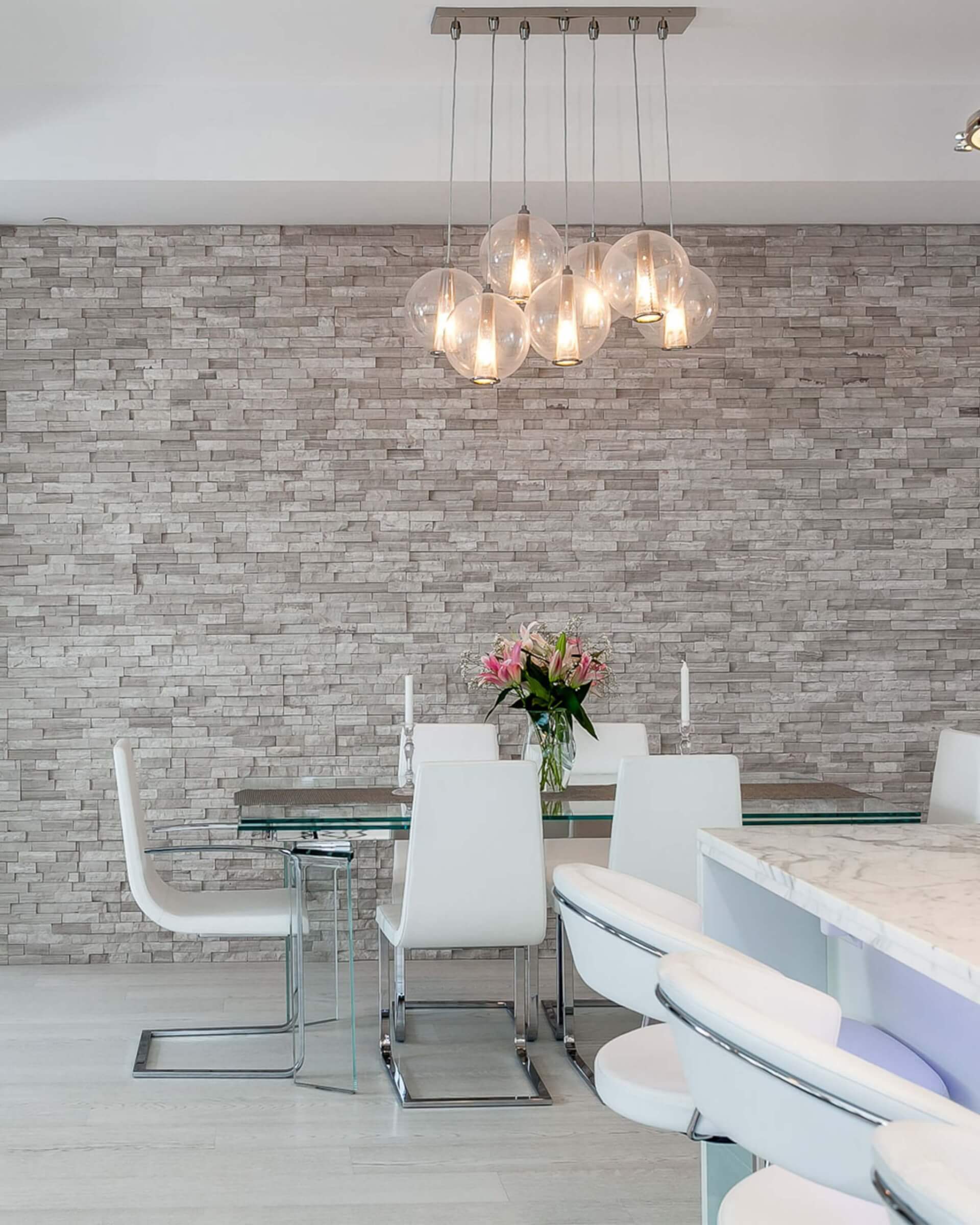 Photo courtesy of Erth Coverings
Stone lends itself to a range of skill levels, says Andrew Koza, business development manager at CanSave, distributor of StoneCraft. He says some will find panelized stone, such as Farmledge, more DIY-friendly, adding that it goes up in half the time. If somewhat skilled, a handy homeowner can make use of any of StoneCraft's stone profiles, from a rugged and more randomized profile, made up of much smaller pieces, to larger panels with the more rectangular elements, and everything in between.
Bringing stone from the outside to inside the home is even easier, he notes, creating a wide variety of applications. "The beautiful thing about doing an interior wall is a lot of people have old brick or old outdated fireplaces or focus walls can be a popular thing to do. And StoneCraft is something you can do in a weekend. It's not something that takes a huge amount of skill or time. Just pick a wall."
"It's something that most people with average skill level pull off. We have boxes, called handy boxes, which easily carried right into the house and have everything you need. You just apply Xcel MGA (masonry grab adhesive) to your pieces and up you go."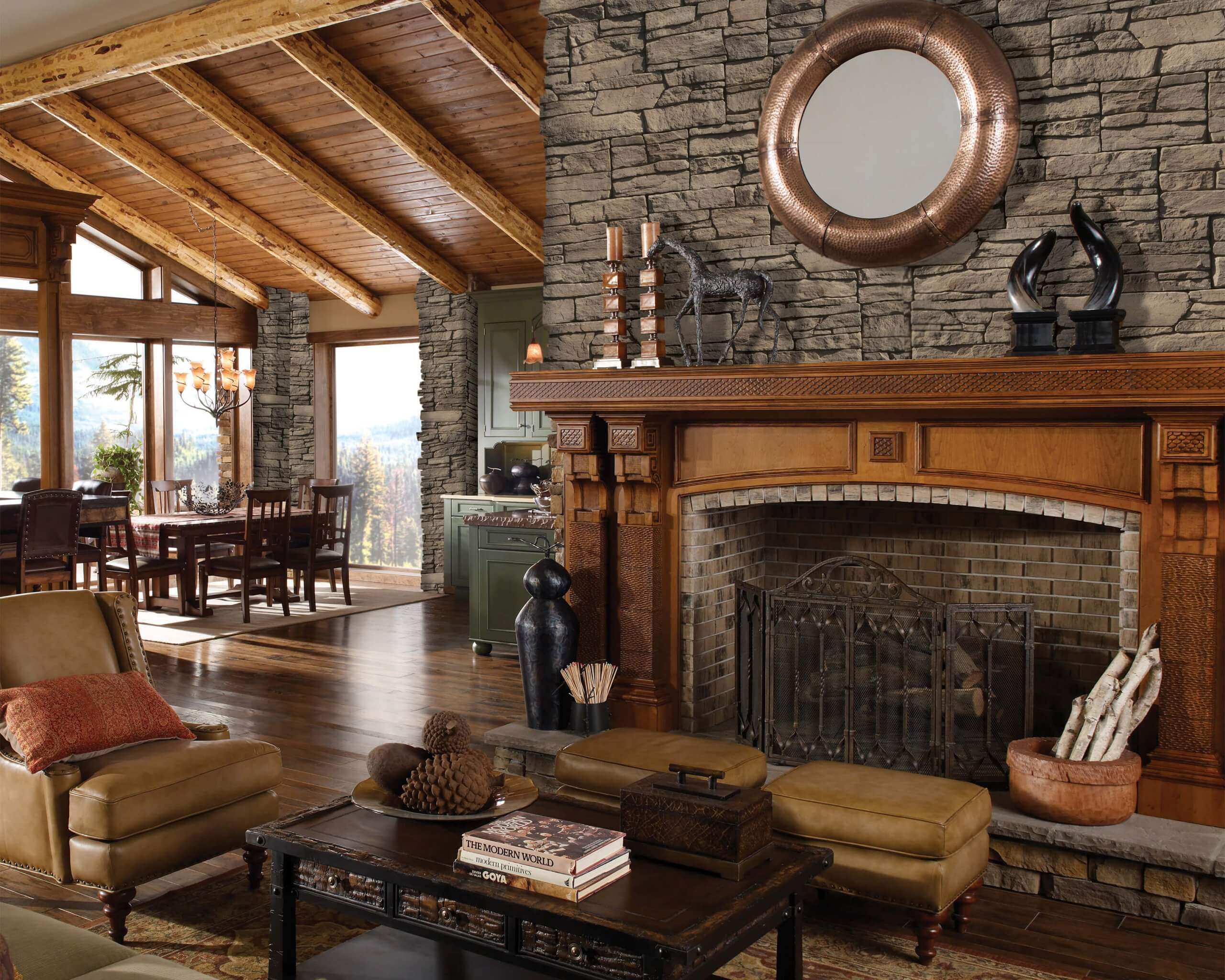 Photo courtesy of CanSave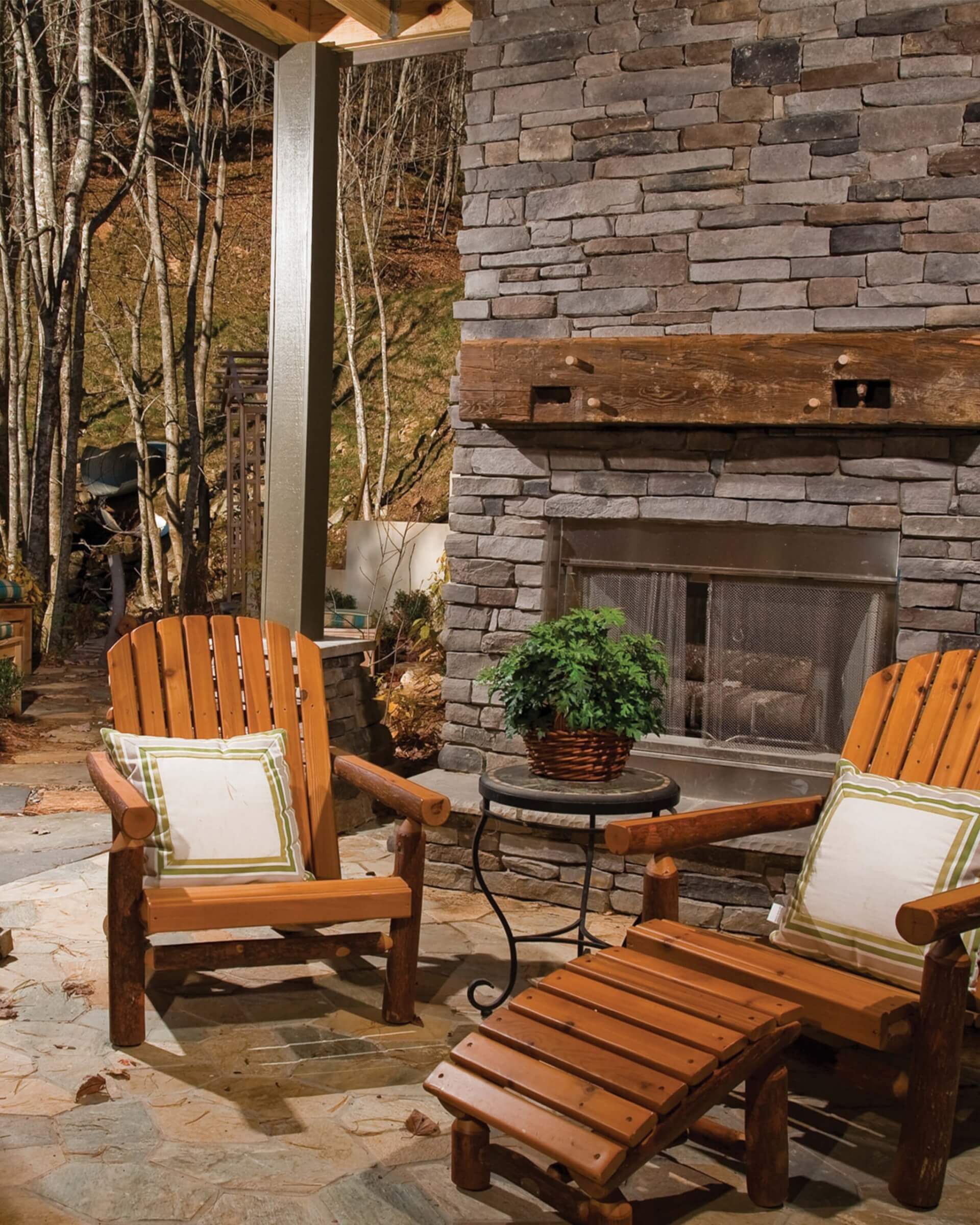 Photo courtesy of CanSave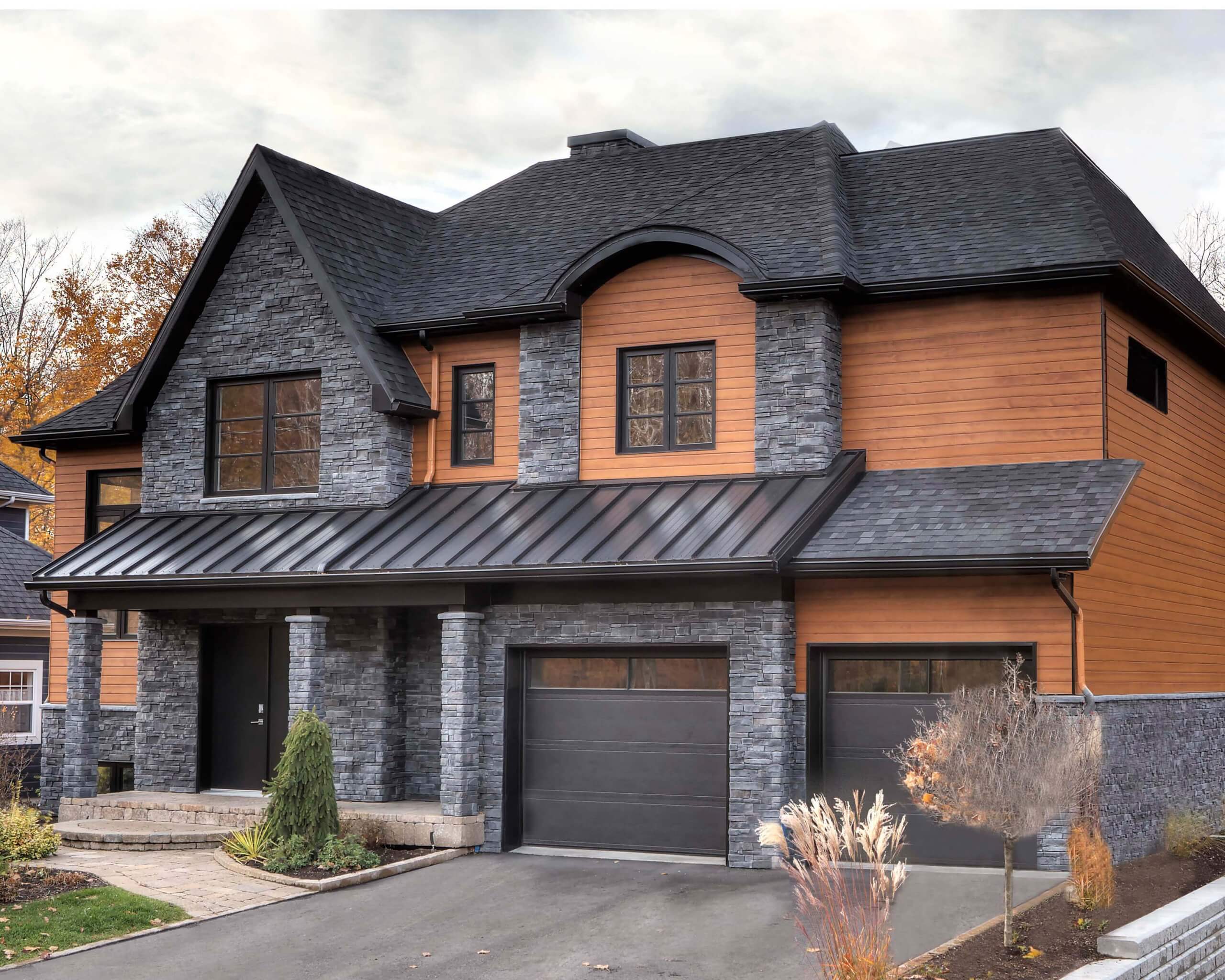 Photo courtesy of Erth CanWel
StoneCraft manufactured stone veneer provides the distinction of quarried stone, at a fraction of its price, weight and installation time, the company says. It is available in a variety of stone profiles (Laurel Ledge Canyon, Heritage, Fieldstone, Ledgestone and Cobble) and a wide variety of colours.
Homeowners should remember that along with its durability, stone is a long-lasting (as well as one of the oldest) building materials. Style is not something to take too whimsically, since masonry trends typically have a long lifecycle. That's one of the reasons Fusion Stone uses only natural colours found in the local Ontario market for its products, suggests Eric Hensel, Ontario sales representative for Fusion Stone.
Most requests are for white and black tones and, of course, natural colours are always in vogue.
"We don't offer pinks and purples and things of that nature," he notes. "One of the nice things about our products being Canadian made is we understand the indigenous colours of Canada when it comes to the masonry world. We extract and extrude our own aggregate resource up in the Bruce Peninsula, which is a raw limestone aggregate, and we apply colouring to it, those colours are the same gray or brown that we extract out of the ground."
Offered by CanWel Building Materials Division, Fusion Stone is available in three stone veneer textures (Great Lakes, Peninsula Ledgestone and Dry-Stack), each in a number of natural colours.
With options abound, adding a new stone veneer product to a home is becoming nearly as easy as finding inspiration, planning and deciding where and how big a project you want to take on.
Sidebar: What is a brick ledge?
A brick ledge is a reinforced concrete bearing to support the heavy weight of materials such as bricks or stone, generally on the exterior of a house or building. It is a requirement for traditional masonry but not for mechanically fastened and thin stone veneers. —