Home exteriors are getting back to nature these days, with an emphasis on earth tones like dark grey, green and brown. At the opposite end of the spectrum, crisp white is making a comeback—often paired with a black roof, windows and doors—in a modern farmhouse style characterized by vertical board and batten siding.
Regardless of their end choice, homeowners face a lot of decisions when it comes to selecting exterior cladding. Considerations such as budget, design goals and even a home's geographical location can impact cladding choices—so it's important to do your homework before making this big decision.
To get the inside scoop on the latest trends and materials in residential exteriors, we connected with several leading manufacturers and distributors of siding and stone veneers. Here's a round-up of what we can soon expect to see around Canadian neighbourhoods.
Perhaps the biggest giant in the residential cladding category is vinyl siding.
"One of the reasons is its affordability overall," said Diana Sousa, marketing director at Kaycan, a North American distributor of vinyl, aluminum and engineered wood sidings. "If you look at how much the product costs and how it performs long term, it's a great investment."
Vinyl siding has come a long way from the late 1950s when it was first invented. Today's quality products often carry warranties of 25 years or more when professionally installed. And gone are the days of just a few colour choices. Kaycan offers more than 40 shades of vinyl siding so homeowners can avoid the cookie cutter look.
Sousa reported that dark colours continue to be in demand. "One of the most popular is called Manor, a dark grey that is almost black. It's a great colour to put on a bigger home because it makes it stand out."
Speaking of making a statement, she added that many people are choosing to mix their mediums when it comes to personalizing the exterior of their homes.
"More so in the last two to three years, they might use brick or stone in the front and then finish the rest in vinyl siding because it is more affordable and offered in so many colours," she said. "People can mix and match so the home looks cohesive. If they are using a cooler material like steel or aluminum siding, for example, they can marry it with a warmer product like engineered wood. This adds warmth to the design of the home and then they can introduce little pops of colour with the front door, planters or other elements. This allows them to easily update the look down the road."
For eco-conscious homeowners, Kaycan offers its GreenSense R3V program to reclaim, regrind and reprocess vinyl siding.
"Customers can bring back used pieces of vinyl siding and we will repurpose them into starter strips that people don't really see on the home," explained Sousa. "The program first launched in Calgary after the 2020 hailstorm. We took back anyone's siding. It was important for us to take control of that narrative and show that we're not a single-use product. Ninety-nine percent of all vinyl siding can be recycled and every Kaycan distribution centre now has the program in place."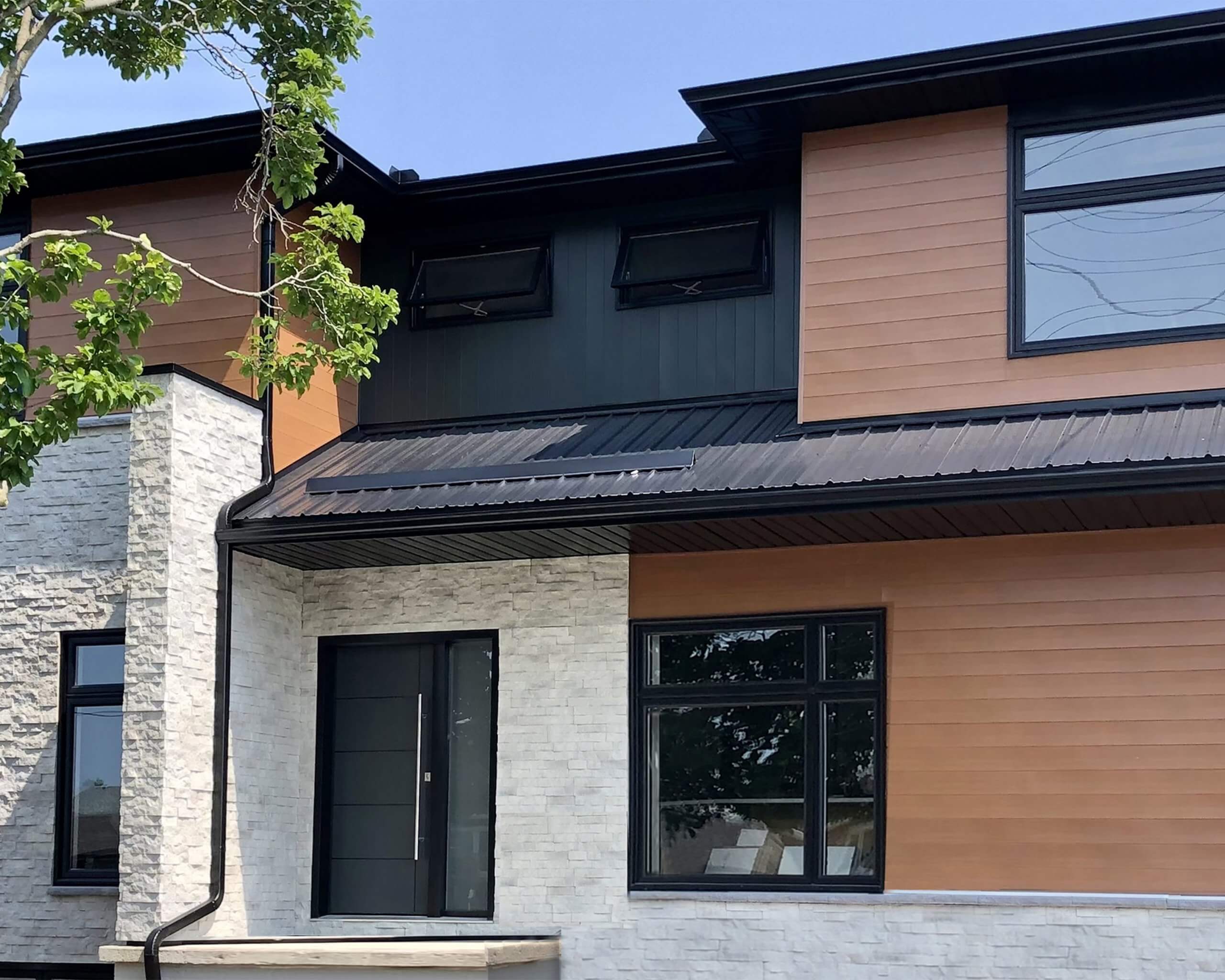 Photo courtesy of Kaycan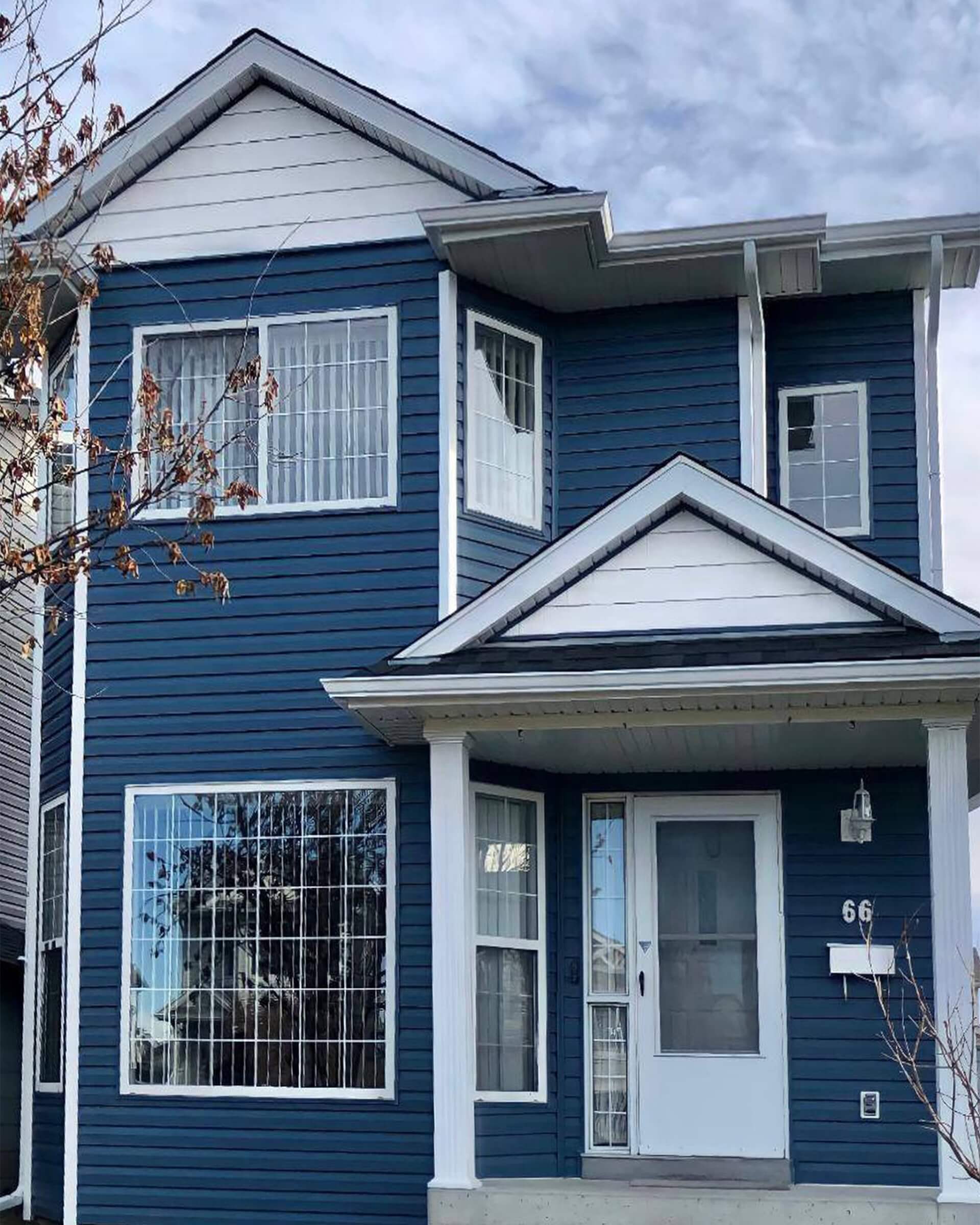 Photo courtesy of Kaycan
Kaycan also offers durable aluminum siding products that won't rust or crack, offering a smooth coolness that is scratch resistant. One of the most popular lines is the Urbanix wood-grain look, with Harvest Cedar and black being the most popular colours.
"It mimics wood and is highly sustainable," said Sousa. "We pride ourselves on having a very sustainable process for aluminum siding."
If a homeowner is after a wood look, engineered wood siding is a popular option. Kaycan's KWP engineered wood is made from 100 percent pre-consumer recycled content.
Explained Sousa: "All the material used to make the boards is recycled material with additives to stabilize the product. That can help with LEED (Leadership in Energy and Environmental Design) green builds and we are certified by the FSC (Forest Stewardship Council) as sustainable. Engineered wood doesn't have some of negatives that real wood might have. You can keep it in a bucket of water for months on end and it won't swell or shrink."
She said the most popular colours in engineered wood are two-toned combinations that reflect the look of real wood.
For homeowners who are just beginning to research cladding choices, Sousa recommended obtaining samples so they can be examined at home in all types of lighting. The right choice can really make your home stand out, especially if it's going on the market.
"When you're reselling, if your house looks fresh and brand new, that catches the eye," she concluded. "It's the whole concept of making it attractive for your potential buyer. Their first impression will be the exterior of the house."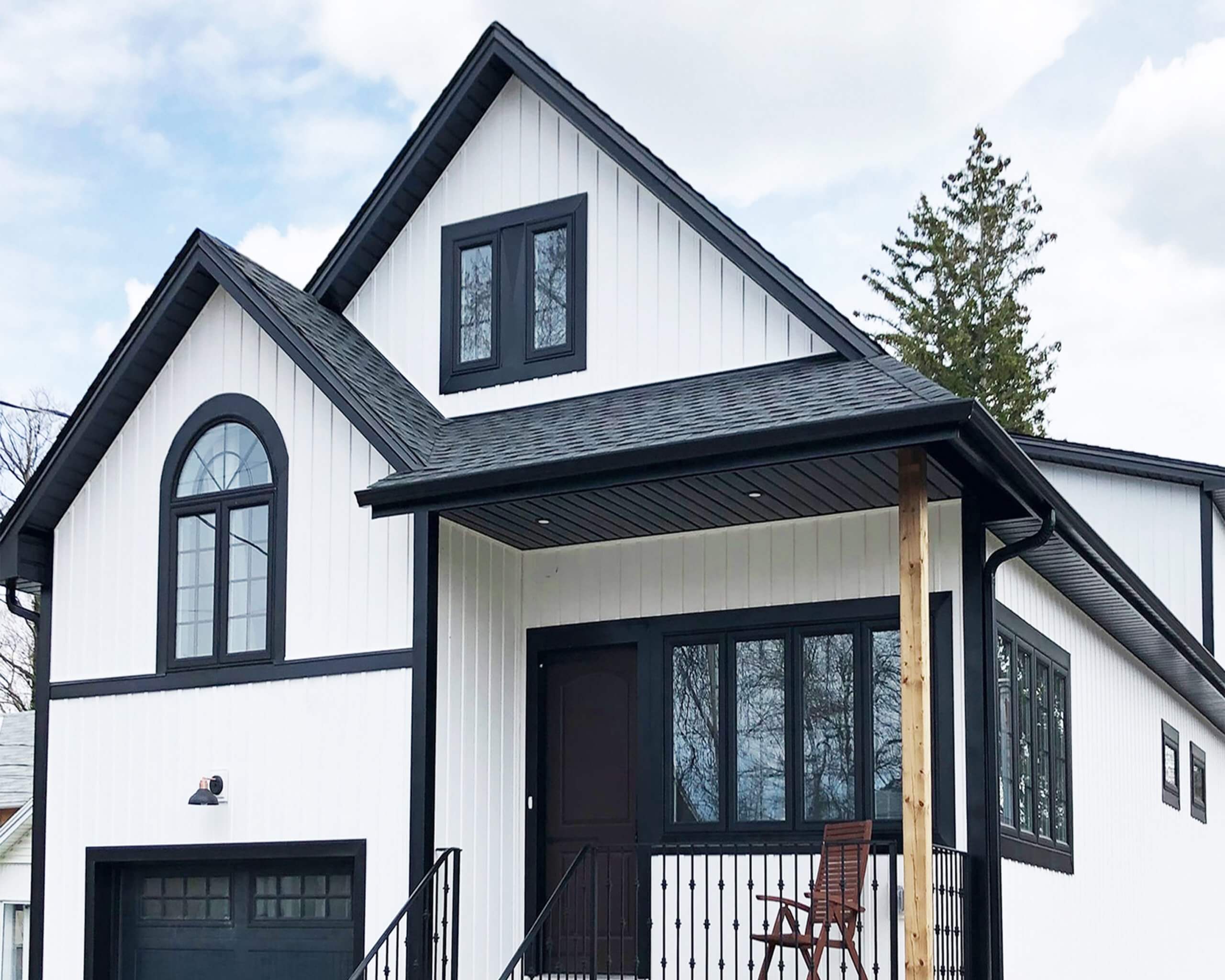 Photo courtesy of Kaycan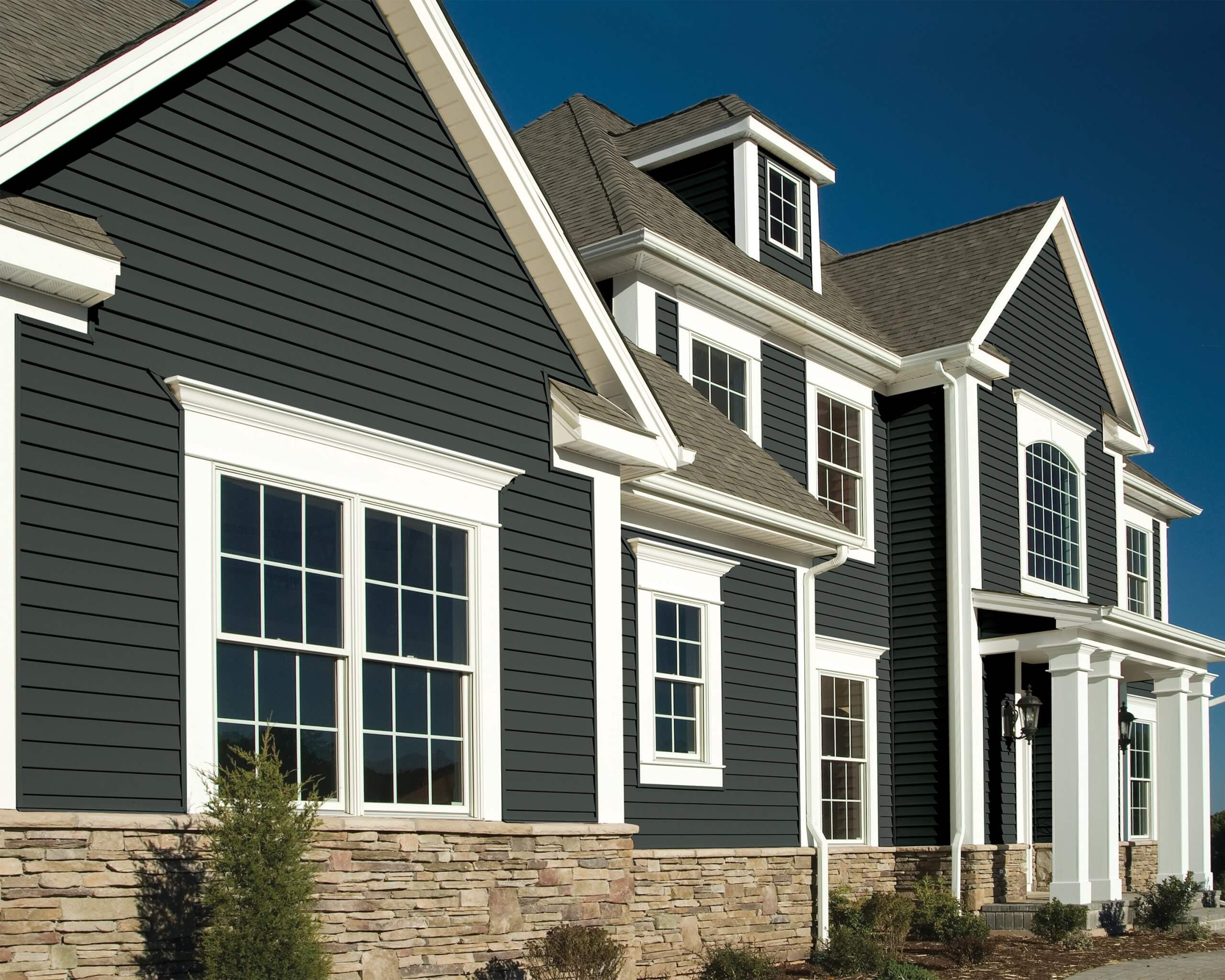 Photo courtesy of Gentek Canada
 TRENDING DEMAND
When it comes to vinyl siding, all products are not created equal. Maurizio Scatozza, regional manager for Ontario at Royal Building Solutions, explained that it can come in many different variations.
"Royal Building Solutions offers several profiles in its vinyl siding portfolio," he said. "Haven Insulated Siding has a rigid insulation backing in horizontal and vertical profiles. We offer standard board and batten siding with dark and premium colours, as well as the traditional white, beige and sand. We make thicker gauge vinyl siding to be more robust. Our Woodland line is the thickest, with a distinct grain pattern. It comes in 27 UV resistant colours and is manufactured in 16-foot panels to decrease seams."
Scatozza said Royal Building Solutions also sells vinyl shake and shingle products that add visual interest to a home's exterior.
For those looking for the durability of PVC, he suggested the Celect line of cellular composite siding "that looks like wood with none of the maintenance concerns. It is impervious to water, comes in 15 colours with a 25-year warranty and is very low maintenance."
In the aluminum category, Royal Building Solutions offers its popular Cedar Renditions line, a painted wood grain aluminum siding. "That is really hot these days," said Scatozza. "It comes in widths of four, six and eight inches and can be installed horizontally or vertically. A new colour, Aluzinc, is proving to be popular.
"The latest trend is using our Cedar Renditions six-inch Design Series wood grain siding on soffits and roof overhangs—we offer a vented version of this siding. Roofs must breathe and our vented board allows for this."
Scatozza confirmed that black, grey and dark blue continue to be in demand. He predicted that wider boards could be trending; likewise, newer homes continue to incorporate various materials and textures, including brick, stone and siding.
He pointed out that cladding trends vary across the country, as evidenced by demand at Royal Building Solutions' 16 Canadian branches.
"In the GTA, Cedar Renditions is the hottest and the rest of Ontario is trending toward rich dark colours, as are the western provinces. Quebec is where it starts to change, moving toward lighter shades. By the time you get to Atlantic Canada, they prefer more traditional vinyl siding in blue greys or pebble clay. In Newfoundland, they still prefer the light blues and yellows and bright whites."
If homeowners are updating their siding, Scatozza recommended they have their contractor verify the condition of the plywood or substrate underneath, and change it where needed.
"Before you buy, ensure you understand the current building code requirements in your neighbourhood," he advised. "See if there are any restrictions in terms of colours—in heritage areas, for example."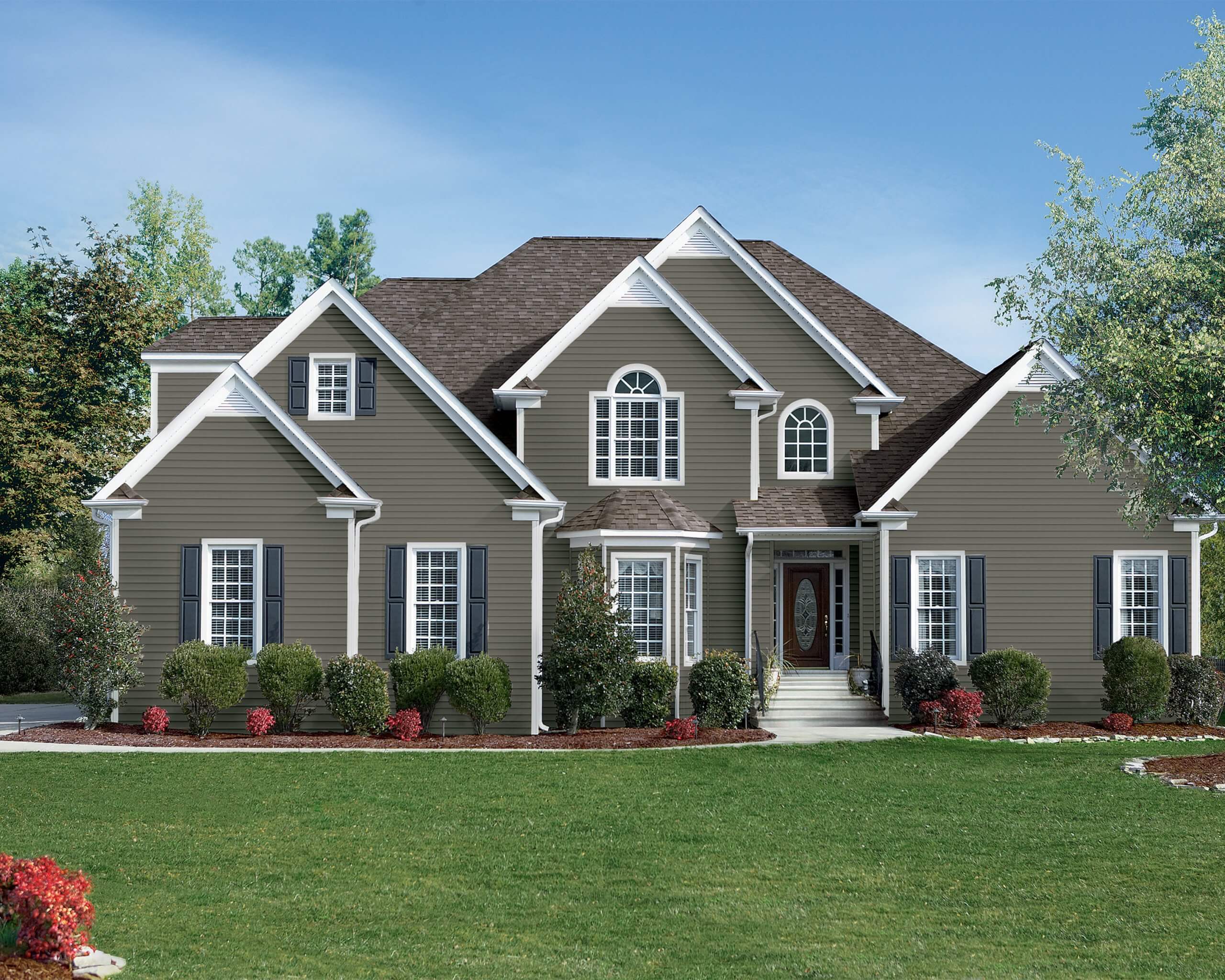 Photo courtesy of Gentek Canada
GOING WIDER
With 22 locations across Canada, Gentek Building Products is known for its expertise in manufacturing and distributing a variety of home exterior products, including siding, soffits and windows. Its specialty is a full range of durable sidings, including those with a wood-grain appearance in such materials as vinyl, aluminum and steel.
Aluminum siding is the company's number one category overall, with vinyl—including its Sequoia Select line—increasing in popularity, according to Philippe Bourbonniere, executive VP of Gentek Canada.
Committed to innovation, Gentek—formerly part of Alcan—recently introduced a new line of composite cladding called Align. A seven-inch single fiberglass-reinforced composite plank, it installs like vinyl siding but delivers a more durable alternative to popular wider profiles seen in fibre cement and engineered wood.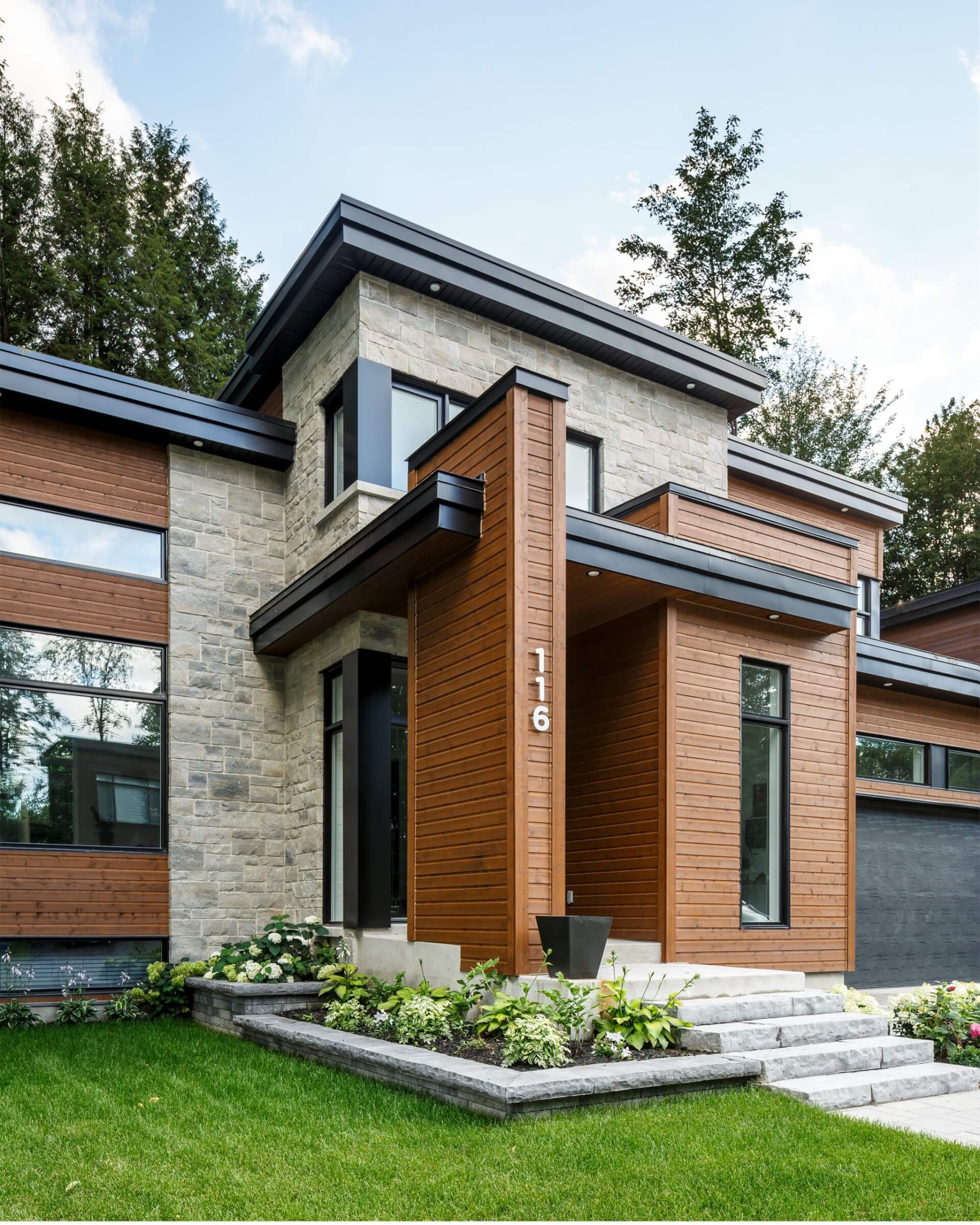 Photo courtesy of CanWel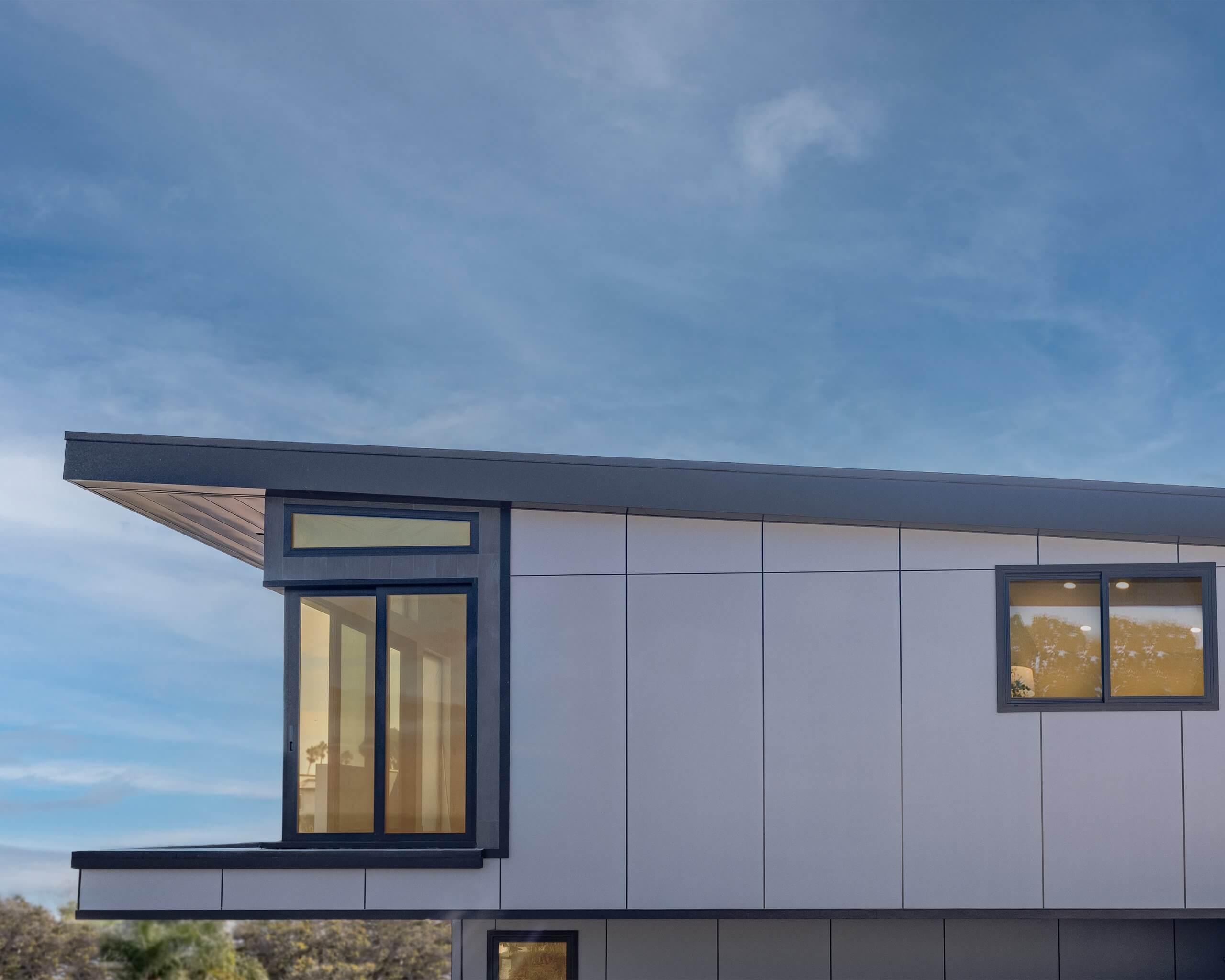 Photo courtesy of CanWel
"We are really excited about Align," said Shawn Hardy, senior VP of integrated products for Associated Materials, Gentek's parent company. "It's an innovative solution for the market, boosting home values through increased curb appeal, and going head-to-head with fibre cement in terms of the look.
"The beauty of Align is that until it came along, you had to make a choice between a higher-end look and maintenance-free ownership. This has a lifetime never-fade warranty. You pay for the material and installation, but you don't have to worry later on about the expensive paint job that fibre cement needs every five to 10 years."
Added Bourbonniere: "From a homeowner's standpoint, fibre cement requires maintenance over time. With Align, I like to say that a homeowner can enjoy a beer by the pool while the neighbour is painting their fibre cement. You have better things to do."
Hardy noted the importance of considering the true cost of ownership over the lifetime of the product. "Align is virtually maintenance-free and doesn't need painting or recaulking. I think the ability to withstand the elements
is important. Some products are more prone to moisture absorption or saltwater exposure. Think about impact resistance—if you have kids playing baseball in the yard, you have to consider products that will withstand everyday life."
In addition to the increasing popularity of wider wood-like cladding, Bourbonniere and Hardy noted the preference for incorporating dark colours on a home's exterior.
"Iron Ore represents 60 to 70 percent of our sales of dark colours," reported Bourbonniere. "It's been trending for the last three to four years. And black is the new black in soffits, fascia, downspouts and windows. We have also started to see some new custom homes being specced in a lighter grey, closer to white. Is it the beginning of a new trend? It's hard to tell."
In the future, Gentek expects millennials will continue to look for maintenance-free products while being open to higher-end products, like Align, as they invest in their homes. Sustainability will continue to be important; Hardy pointed out that aluminum and vinyl sidings are recyclable, with waste getting reground and added to new product.
"A lot comes down to enabling homeowners to make their current home look more like new construction," concluded Hardy. "Those new homes can drive product selection and colour selection. I see people being more willing to spend a bit more and step up to higher-end products and a general uptick in some of the selections."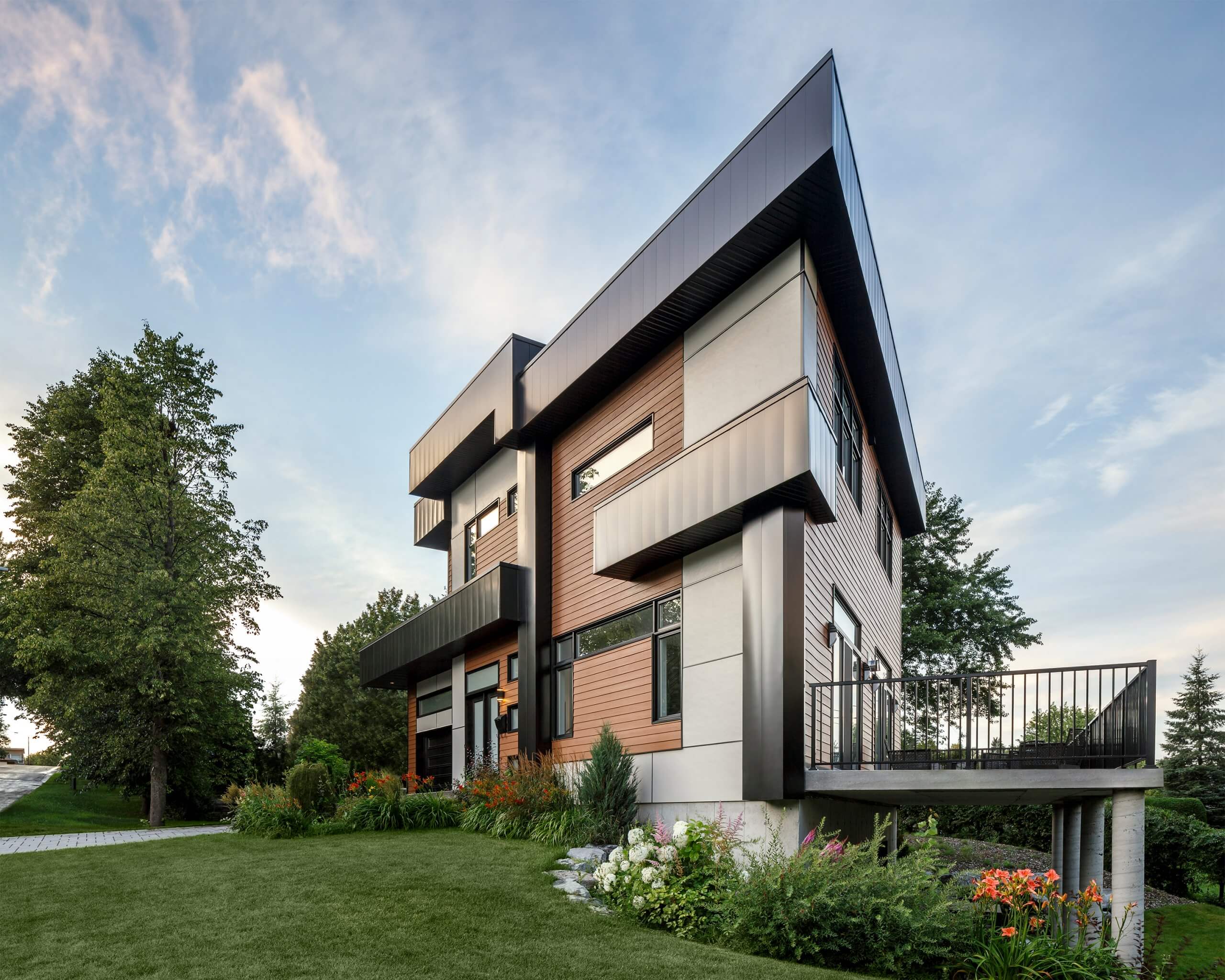 Photo courtesy of CanWel
BRIGHT ACCENTS
Quality continues to be in demand at CanWel Building Materials, a Canadian national distributor of various siding lines and building materials.
"We're very proud that we partner with renowned manufacturers offering top brands in each of our siding products," said Pierre-Olivier Thouin, national accounts manager, CanWel Building Materials Division.
An example is Maibec's CanExel line of engineered wood siding. An established brand that has been performing for decades, Maibec recently introduced VStyle, a V-joint installation system that delivers a modern, streamlined look.
"A big feature of VStyle is that it can be installed vertically or horizontally," said Thouin. "It opens the way for very unique design and a transition to unique colours, such as the new Dark Roast and Scandinavian. It is also created and crafted to be easily manipulated by contractors."
CanWel also distributes the James Hardie line of fibre cement, which is popular and growing in almost every region, but especially in B.C. Offered in lap siding, vertical siding, shingle siding, panels and trims of all sizes, the fibre cement family offers 18 pre-finished and oven-cured stocked ColorPlus colours, plus a selection of 700 special order shades to choose from. Thouin said the James Hardie line, with fire resistance properties, is a good choice in neighbourhoods with close housing or areas that are prone to forest fires.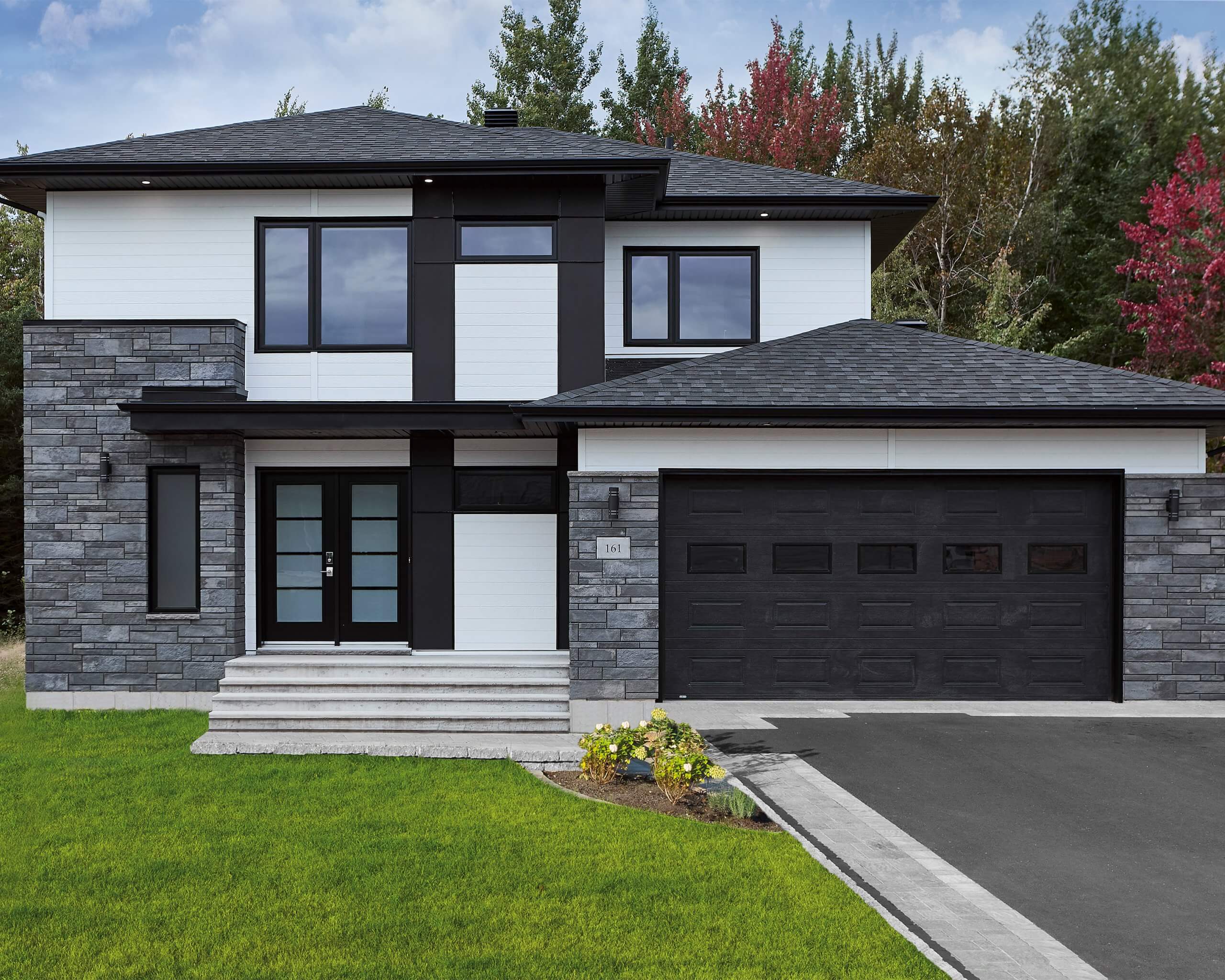 Photo courtesy of CanWel
"James Hardie has been in existence for decades around the world and will always remain a great option," he said. "It will be a matter of colour trends. At one point, every house was white. Now it's black, browns and greys. After a while, white might come back. But the materials themselves will remain the same."
CanWel has partnered with Fusion Stone Veneer, the first product in the market that is a mechanically fastened, easy-to-install stone. In fact, Fusion Stone is effectively a do-it-yourself masonry product line for exterior and interior applications.
"It definitely fits the trend of mixing mediums, perhaps with a section of stone on the bottom and then siding above," said Thouin. "There are three profiles now with three to four colours in each. Most of our sales are focused on the greys, like natural rock."
Finally, he highlighted the Diamond Kote line of prefinished LP SmartSide boards. Available in 30 colours plus custom-order options, Diamond Kote offers a 30-year, no-fade warranty and comes in siding, board and batten, trims, post wraps and all manner of accessories for a complete siding project.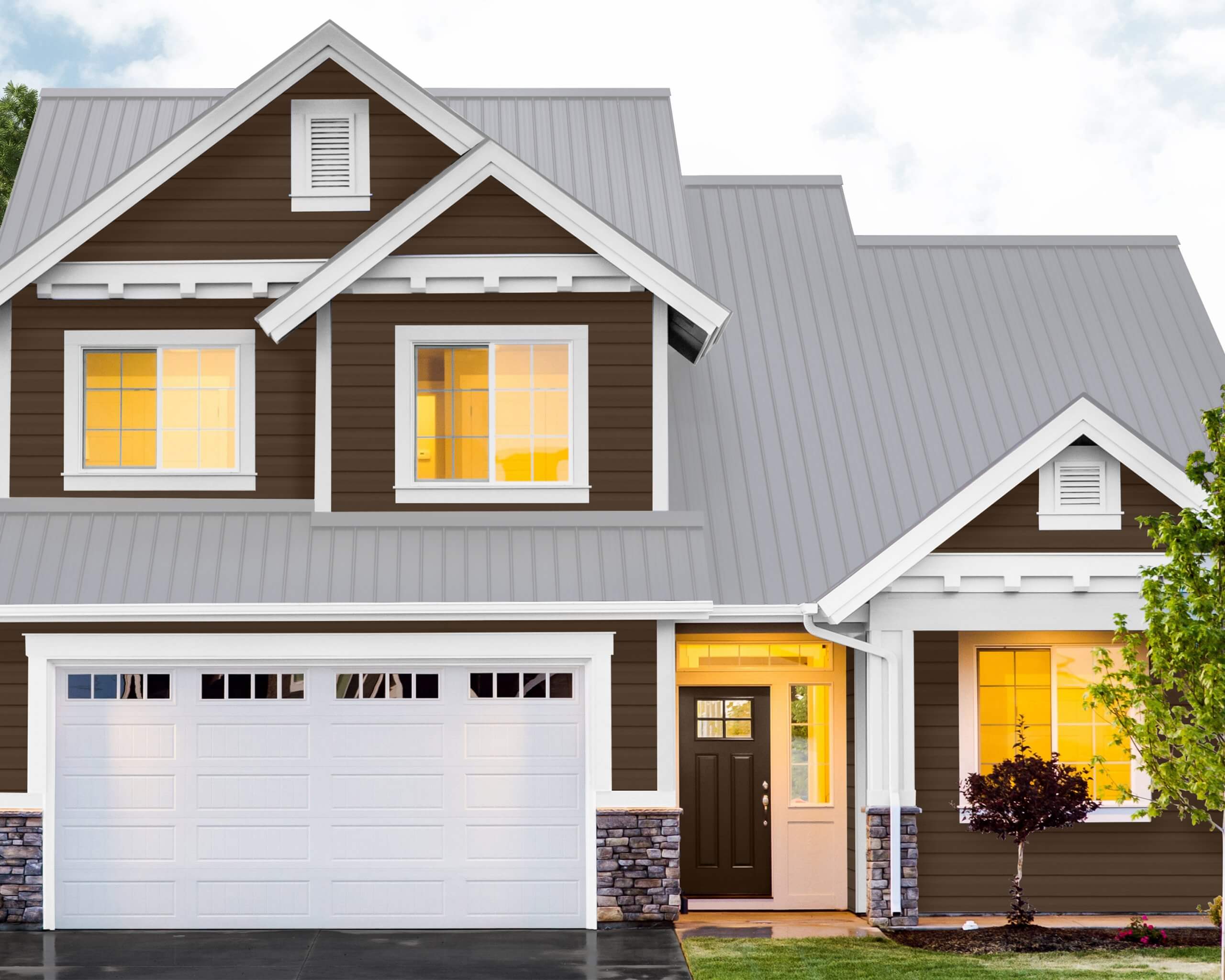 Photos courtesy of Duchesne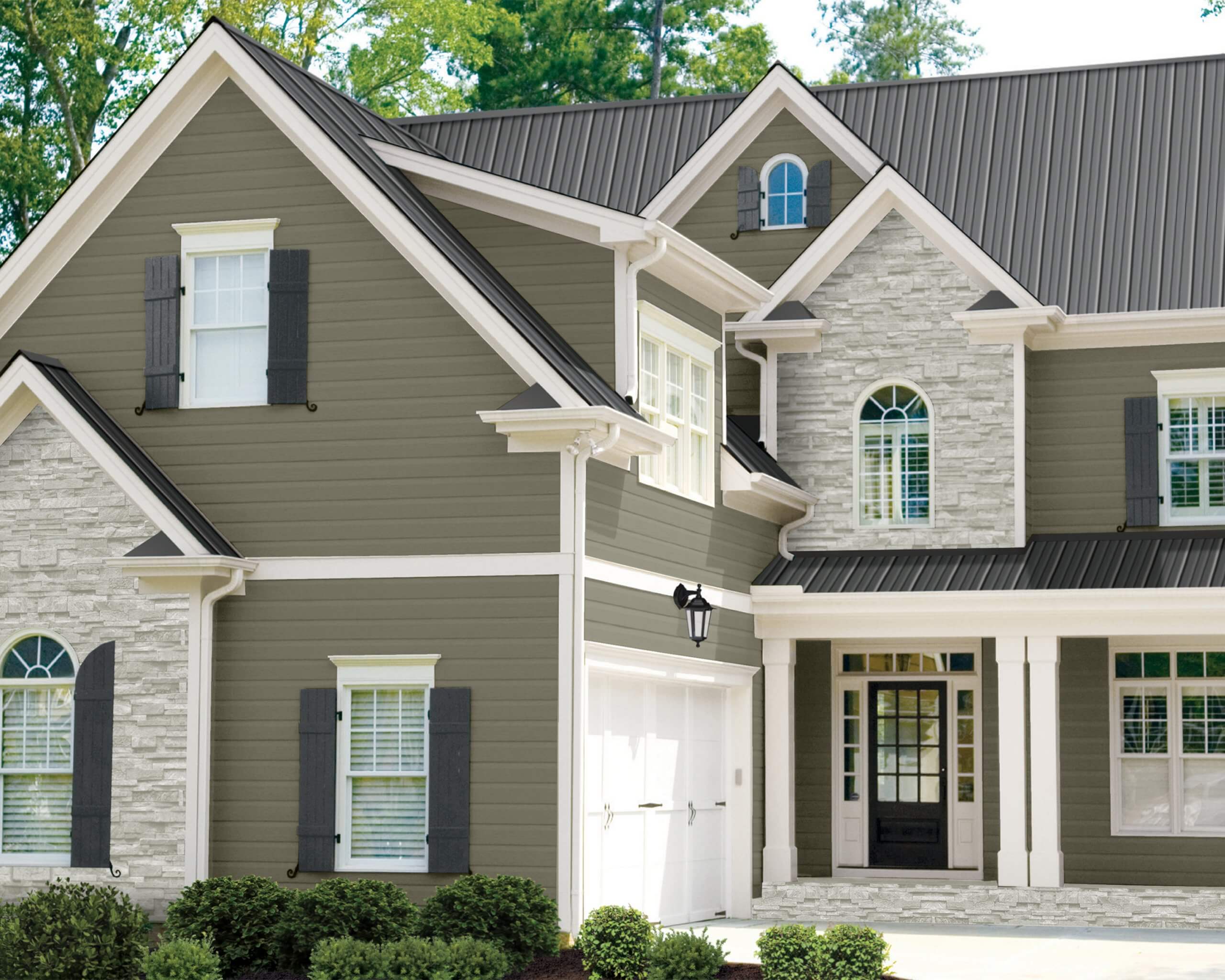 Photos courtesy of Duchesne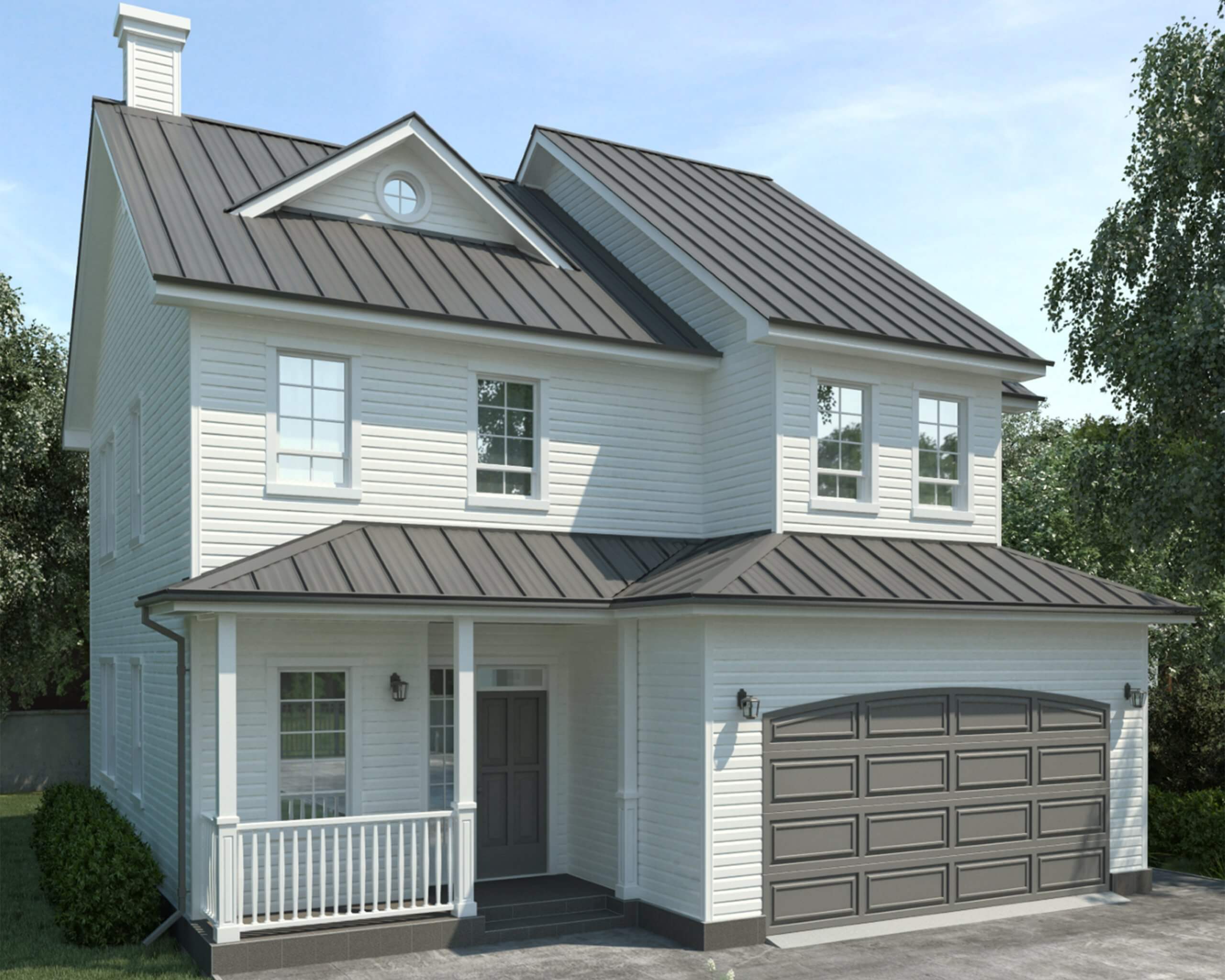 Photos courtesy of Duchesne
 In terms of industry trends, Thouin agreed that dark grey and other deep hues are popular, as are two-toned products like Expression and the TrueGrain Series, which replicates the natural variations of stained wood.
"There is a big trend towards accents," he said. "You see dark accents overall, like graphite grey, and then accents around natural wood tones or brighter colours to enhance something like the doorway. People want a sleeker design and avoid the uniform look, and they want products that last longer than wood but look like real wood."
When it comes to choosing any of these products, Thouin emphasized setting a budget and then determining the preferred material. Low maintenance and durability are key considerations.
"Think long and hard," he advised. "Siding, like the roof, is a building's first point of contact with the environment. So, look at how you can get the highest quality materials for your budget. The siding of your house is what you see every day when you come home. It's really an image of yourself and your family, so make your investment worthwhile."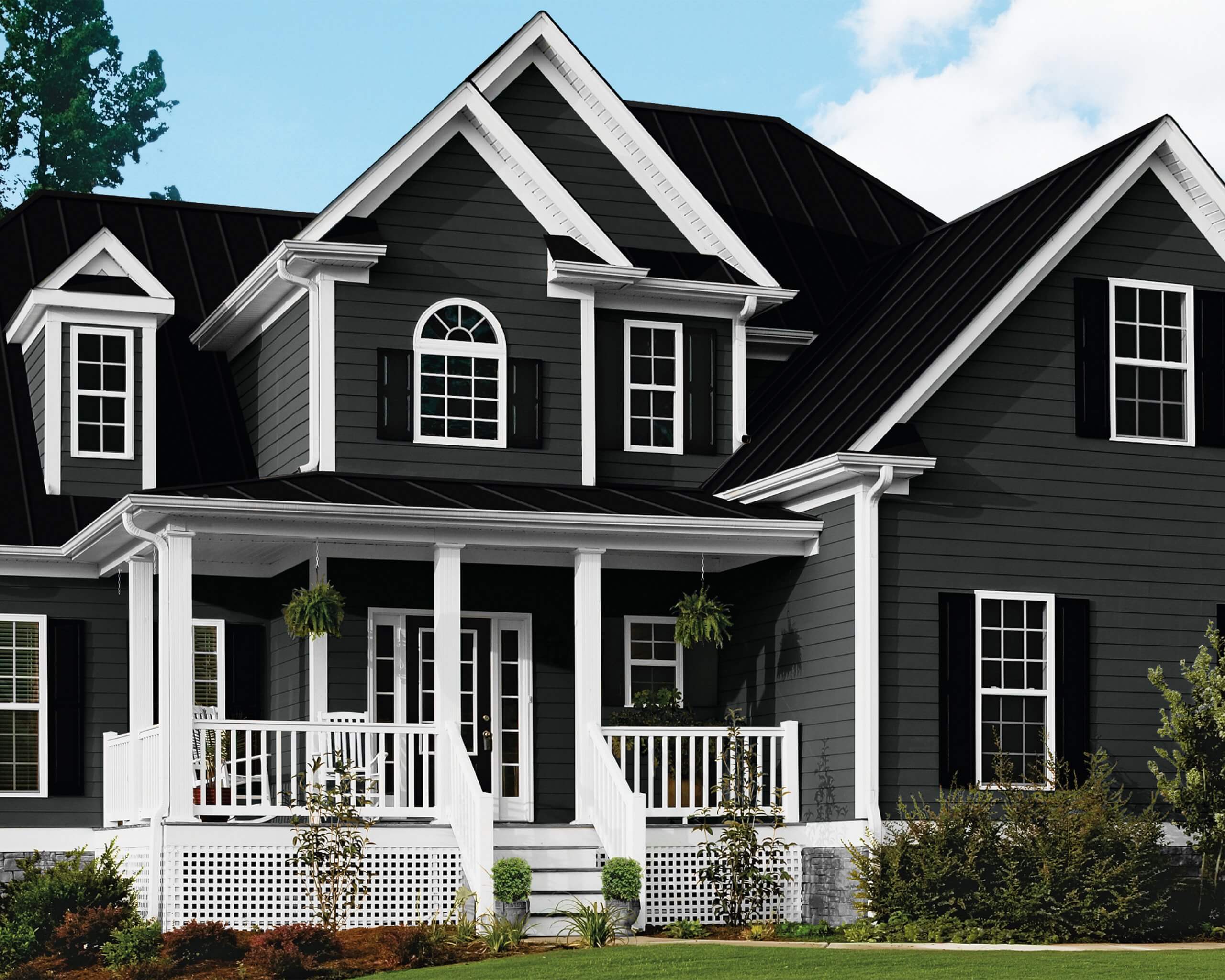 Photos courtesy of Duchesne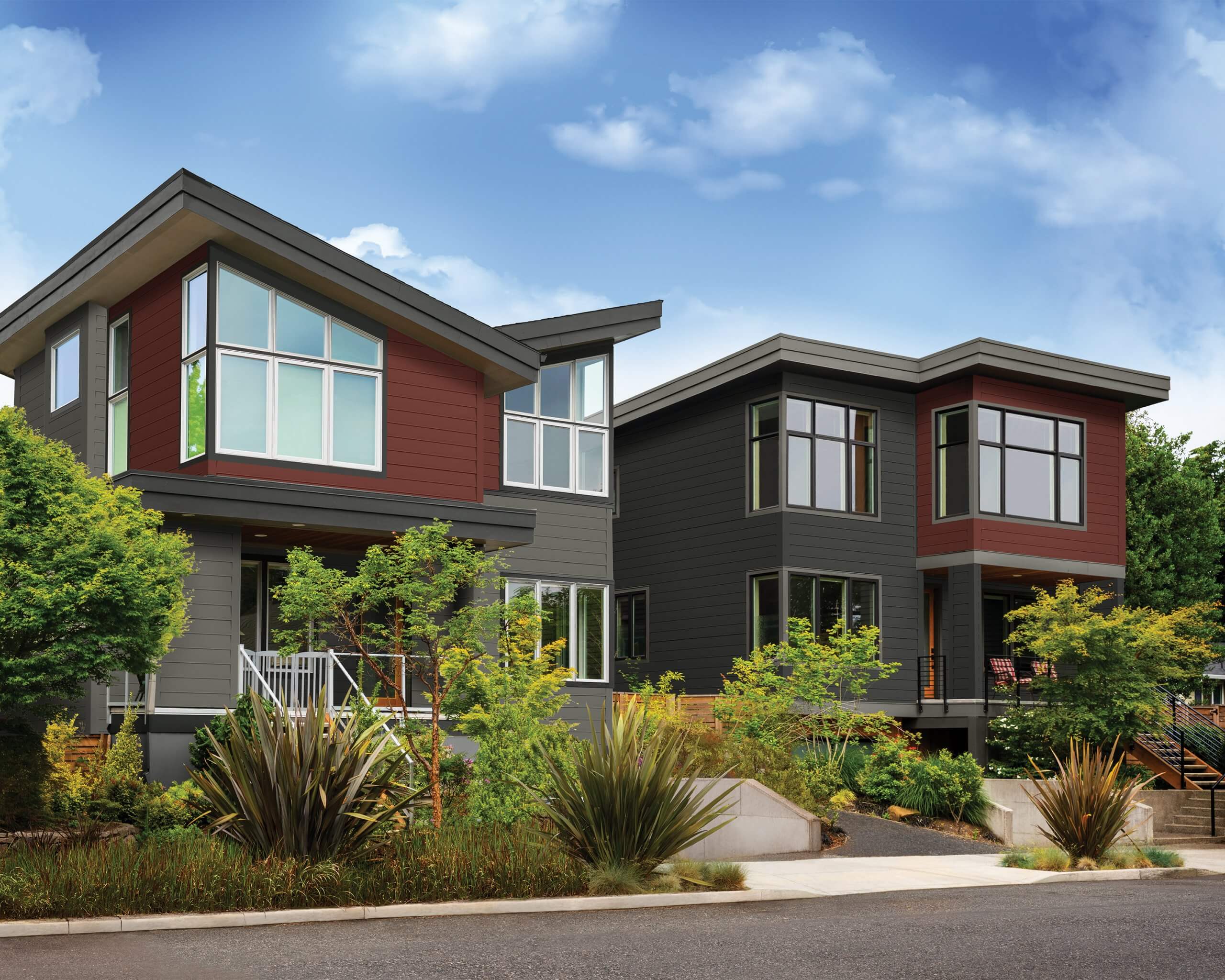 Photos courtesy of Gentek
 GREEN RISING
Now in its 95th year, Duchesne et Fils is a Quebec-based siding manufacturer and distributor.
"We offer a complete vinyl product line with siding, mouldings and accessories," explained marketing analyst Sam Bellavance. "We also offer accessories like exterior corners, J trims and vinyl soffit from Atlantic Canada to Ontario.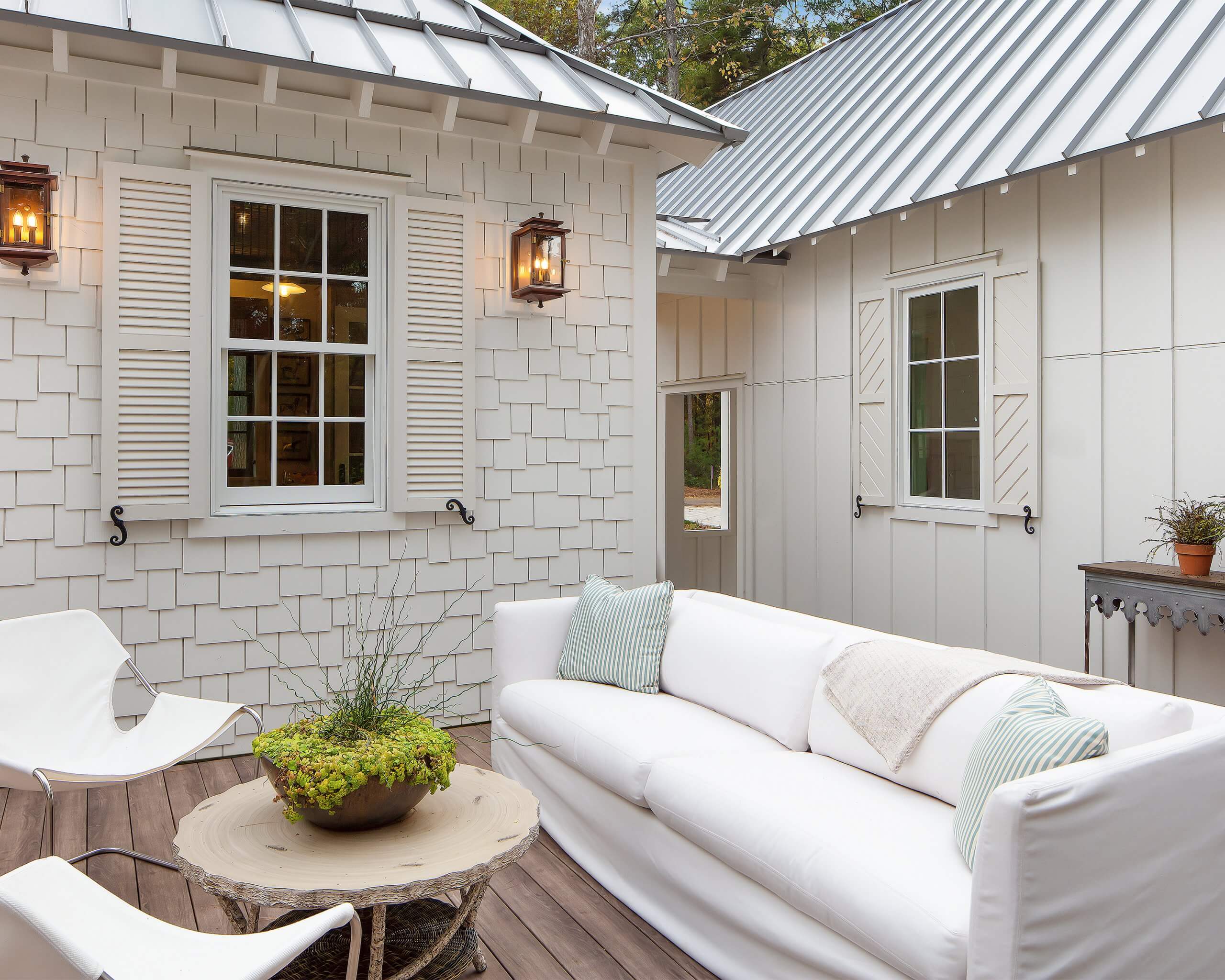 Photos courtesy of CanWel
We have a complete steel siding product line and steel roofing products as well. We sell aluminum products—siding and trims like soffits, fascias and flashings."
This year, Bellavance predicted that siding colours will trend towards earthy tones that bring forest or natural elements to mind. Shades of brown, grey, beige and green will be popular.
"Green is not a siding colour that was popular, but it is up and coming with designers now," he said. "In 2022, we see green coming. The textile industry, car manufacturers and paint manufacturers have all named a shade of green as their colour of the year. We also guess that browns are coming back, because houses are being built with wooden accessories and specific steel siding is being painted with a wood-like coating. Dark colours are popular, and dark blue in particular is very popular in Atlantic Canada."
In terms of materials, Bellavance agreed that the trends are different depending on each region.
"The Atlantic is all vinyl. In Quebec, many houses are made from brick at the front, but vinyl on both sides and the back. If you take a look at Ontario, board and batten and vertical siding is popular as an accessory. In Quebec, it's horizontal all the way."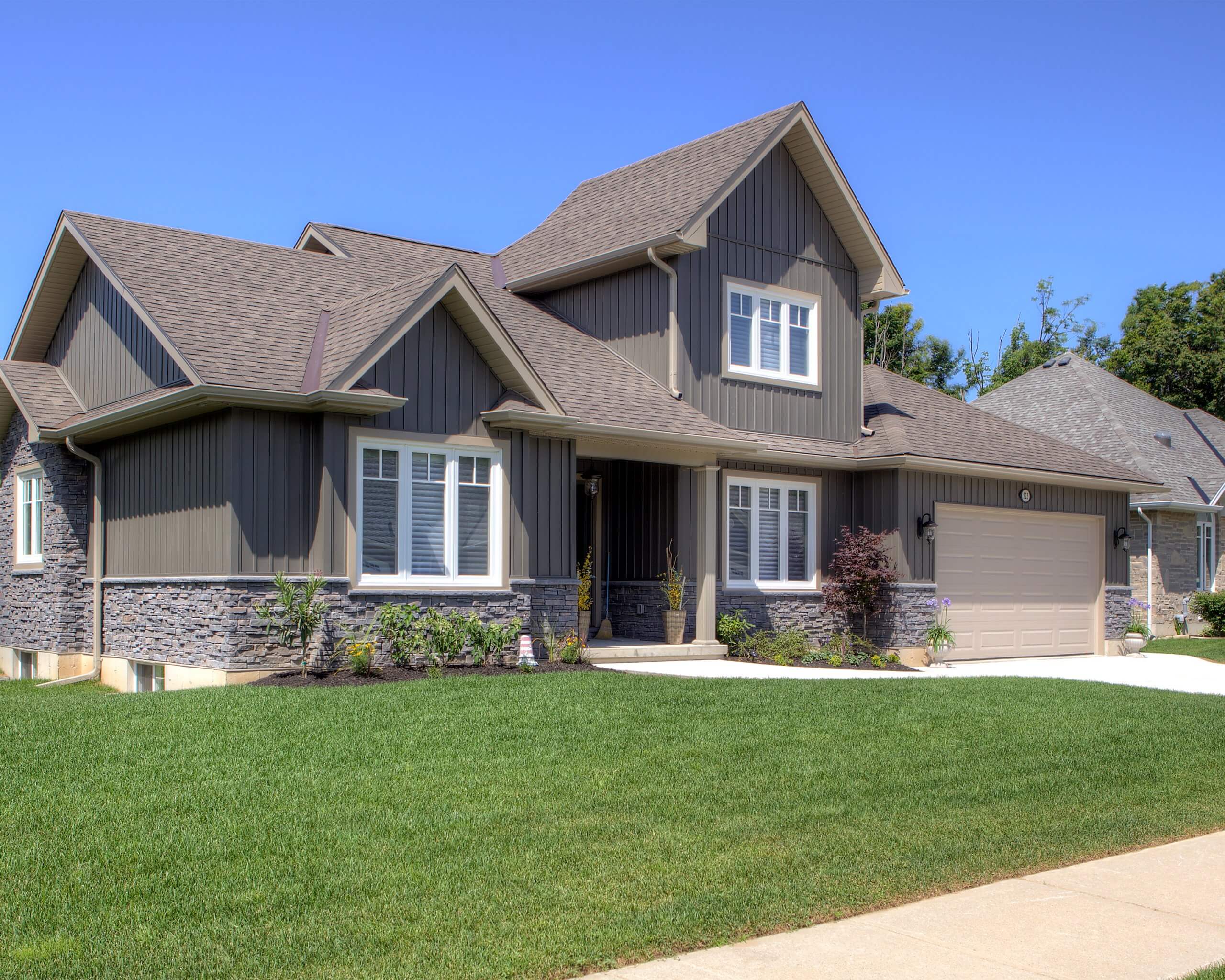 Photos courtesy of CanWel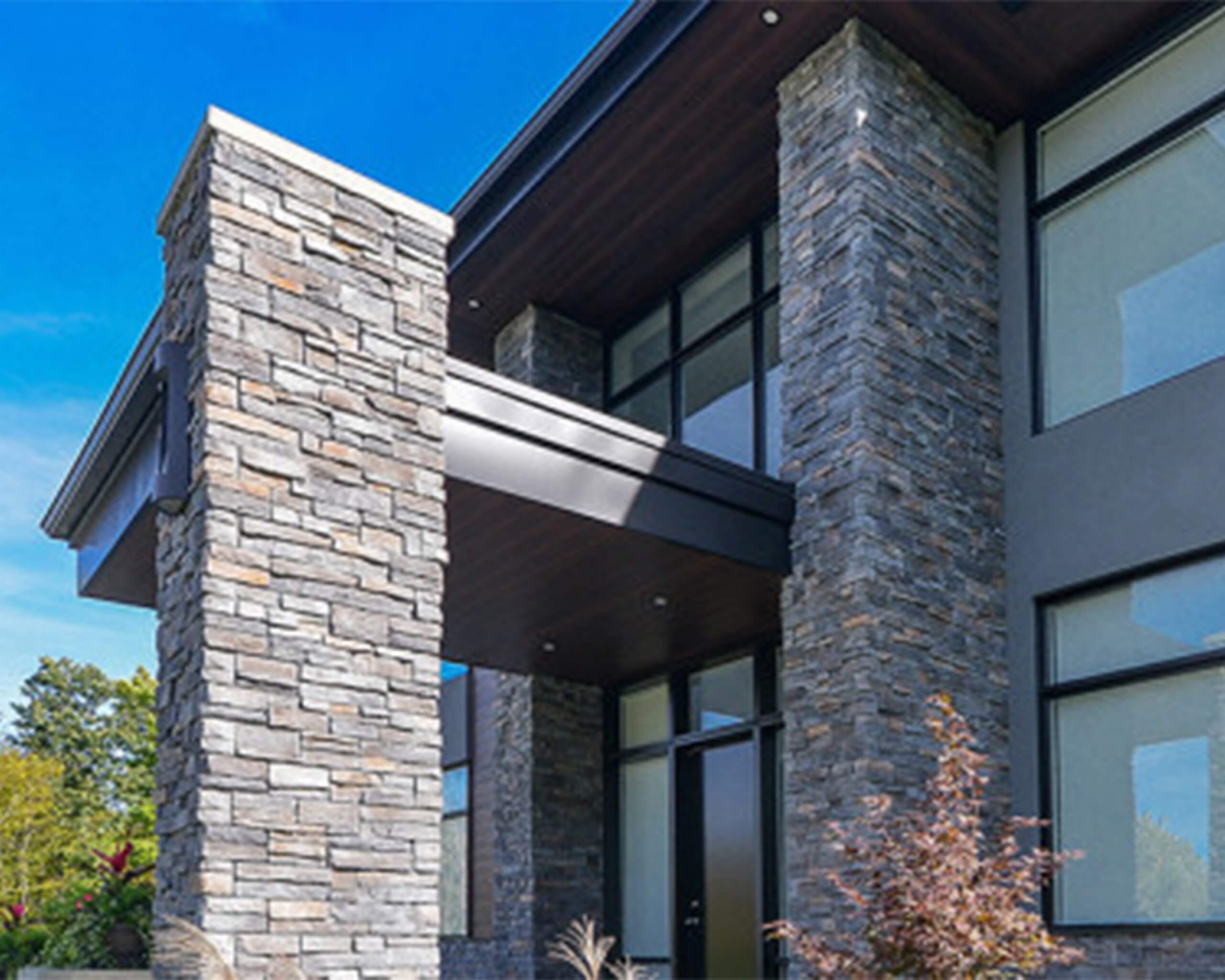 Photos courtesy of CanWel
 Duchesne's Newport vinyl siding line carries a lifetime warranty of 50 years, offering high quality and low maintenance. It is offered in 15 signature colours and features a realistic wood grain finish. The company also offers additional vinyl, aluminum and steel siding lines.
Jean-Pierre Hamelin, the company's marketing director, also pointed out that today's homeowners prefer to mix and match exterior cladding types.
In the future, he predicted that smaller, more affordable homes will be the trend in new construction, thanks to soaring home prices and a scarcity of building lots. Regardless, homeowners should invest in the highest-quality cladding they can afford and have it installed by a professional to protect the warranty. Hamelin said the investment will pay off.
"If you go to steel, it has a long warranty and durability. Our highest vinyl siding, Newport, won't change through the decades. But if people cut on price, they may have to change it sooner than they thought."
No matter what exterior cladding product they choose, homeowners should first do their research. Most siding manufacturers offer complimentary visualization tools on their websites, where buyers can upload a photo of their home and try different combinations of colours and materials.
It's important to set a budget and take durability and maintenance requirements into consideration, so there are no surprises down the road. And, finally, professional installation is a must—with the exception of Fusion Stone Veneer, an exceptionally easy product to use.
Lastly, as supply chains begin to recover from the havoc wreaked by Covid-19, residual effects are still being felt in some markets. On top of that, the cladding industry—like many others these days—is facing a labour shortage.
Duchesne's Hamelin cautioned homeowners to plan siding projects well in advance and to be patient if delays are incurred.
"Some stores are running out of materials and it's tough to respond to all the requests," he said. "Everyone is low on staff so production is at the max. Please be patient with dealers and manufacturers. We are working hard to meet demand." —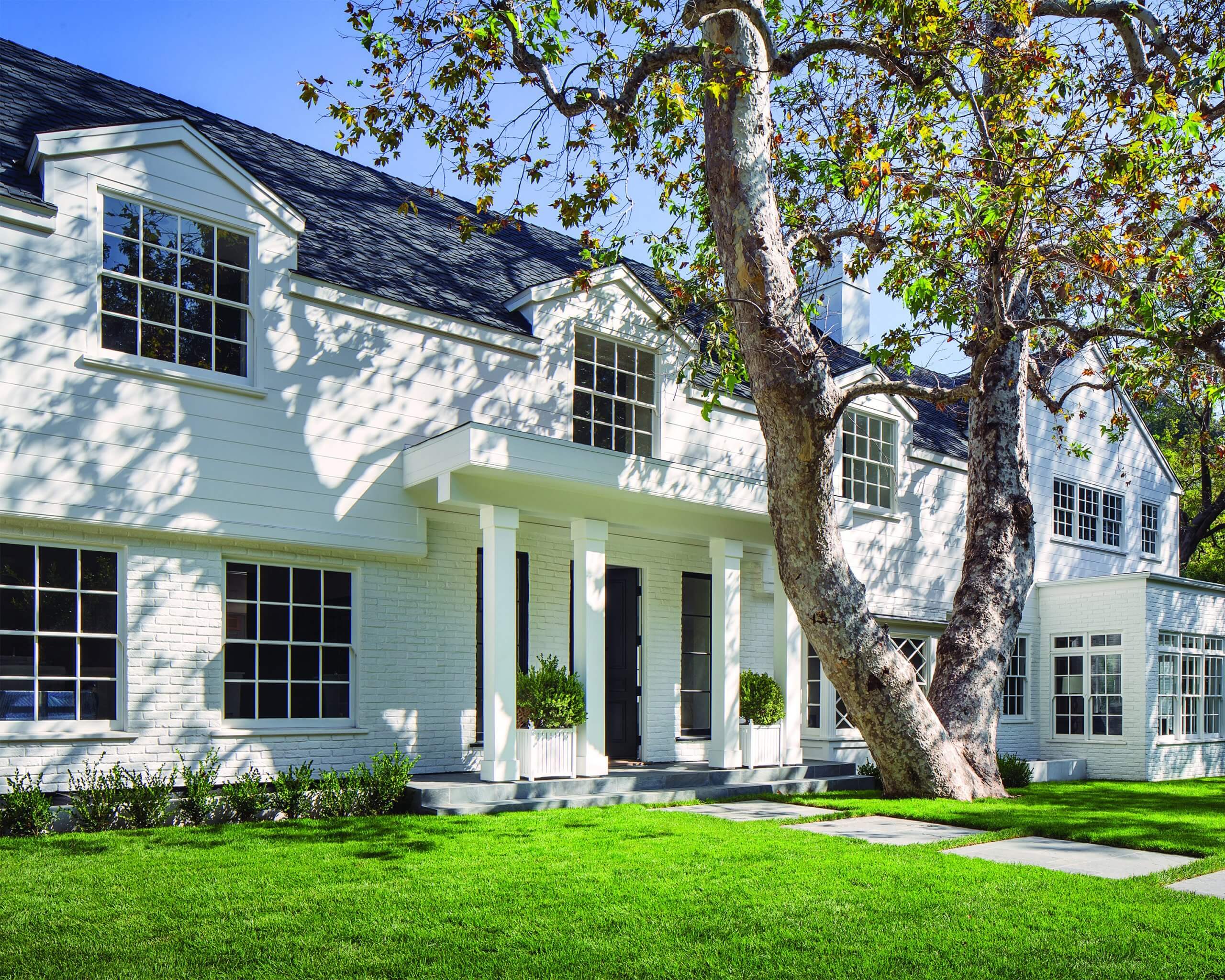 Photos courtesy of CanWel