If you haven't considered the impact of the ceilings on your dream homes, experts suggest it's about time to. Over the last few years, this "fifth wall" has become a more popular option as an accent wall with choices and attention going beyond the traditional application of mouldings.
The ceiling represents a major canvas for your designs. Todd Bergman, Retail Product Manager at Armstrong World Industries says that since unlike walls they tend to be uncovered, "the ceiling plane is actually the most visual plane of the room. It's your biggest opportunity to add some visual, but it's also a backdrop," he adds. "The ceiling can be the showcase in the room, but it has to be the right space."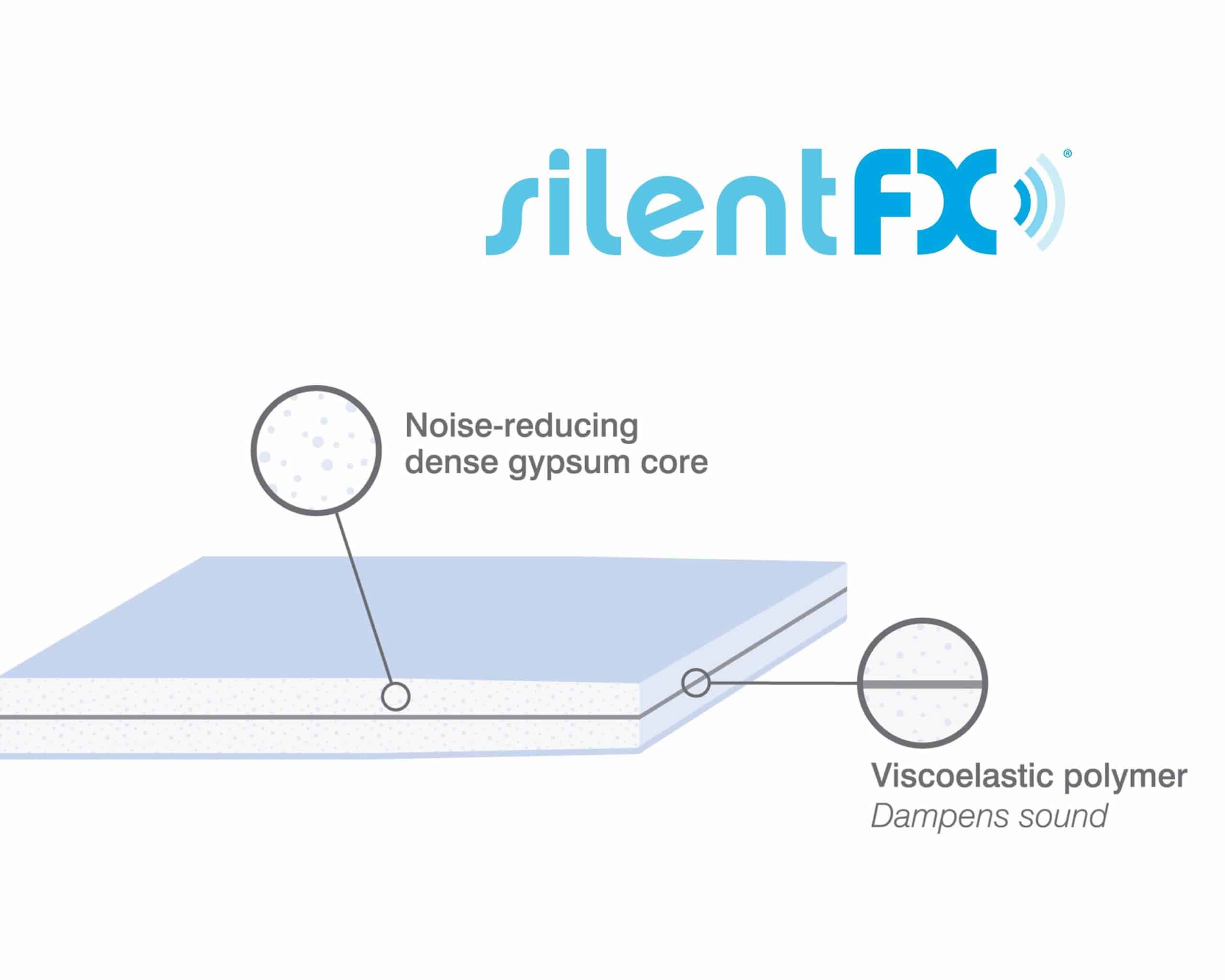 Photos courtesy of CertainTeed
Sound Advice on Ceiling Tiles and Drywall
While major changes in the ceiling tile industry don't come every day, innovation in the substrates used in gypsum board and ceiling tiles continues to trek along consistently.
A few housing trends have driven demand for higher-performing, sound-proofing and acoustic performance: an increase in multifamily residential (or multidwelling units) and housing density, the uptick in entertainment rooms and open-concept homes.
"We have a lot of open-plan homes now where people are taking down walls, so rooms have gotten bigger. We've also added more hardwood floors and less wall-to-wall carpeting or area rugs," Bergman says. "Because of this a lot of homes today have a lot of reverberation. They're loud."
"While the microwave is running you can't hear the TV. The kids are dropping blocks and echoing off the hardwood floor and you're trying to have a conversation. That creates a lot of opportunity for the performance substrates we've developed."
The key, he says, for residential use is in the right combination of aesthetics and performance. To meet growing demand for ceiling aesthetics, Armstrong developed its WoodHaven ceiling panels. These light, easy to handle and install MDF (medium density fiberboard) planks capture the look and texture of real wood.
Currently these pre-finished tongue-and-groove panels are available in classic white, beadboard, knotty pine, natural maple, classic maple, new apple, rustic pine, white wash, natural cherry, bamboo, weathered and painted white. Armstrong is launching four new finishes in 2018.
"As people open their minds to new visuals, new finishes, that's where these products come in." In fact, he notes that some have actually begun using the company's ceiling panels to decorate their walls or for novel applications such as a bedroom headboard.
"Past ceilings didn't have the durability needed to go on walls," Bergman says. Not so anymore, thanks to innovation around high-performance substrates.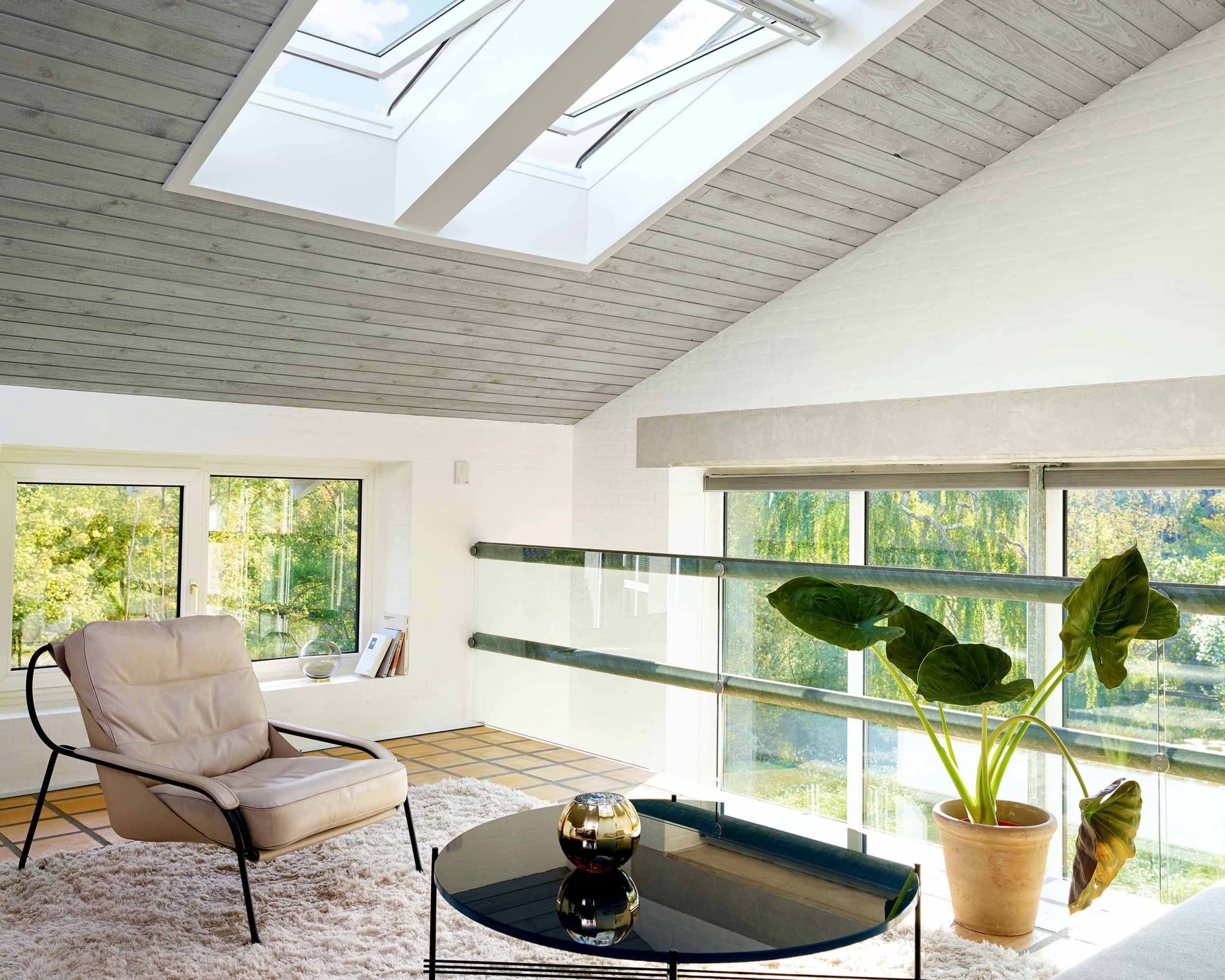 Photo courtesy of VELUX Canada Inc.
Quiet and Healthy Homes from the Top Down
The air-tightness of modern homes also has an impact on acoustics and air-quality, according to Tom Prokop, Innovation & Product Marketing Manager for CertainTeed Gypsum at Saint-Gobain.
In fact, Prokop points out, new building codes are demanding stricter sound proofing on interior products. In the past, acoustical performance was tied to the product's STC (Sound Transmission Class), the National Building Code of Canada 2015 called for code to reference the product's ASTC (Apparent Sound Transmission Class). This stricter measurement incorporates the single transmission of sound through the board, like STC, but also the ability for sound to flank it, travel around it, diagonally through it, or through elements like a wall outlet.
With that in mind, CertainTeed has launched gypsum board for ceilings and walls that boast advanced sound-proofing and air-quality performance, respectively, dubbed Essential Drywall.
Featuring a viscoelastic polymer that dampens sound energy, SilentFX is specifically designed to reduce airborne sound transmission between two adjoining spaces when used in wall or floor-ceiling assemblies. Meanwhile, AirRenew Essential uses an innovative technology to absorb formaldehyde from the air and turn it into an inert harmless compound.
Of course, it's typically during an upgrade, or in a new home purchase, that householders look for the difference in sound proofing and air quality, Prokop notes. "Houses are getting more expensive. Homeowners are becoming more demanding and more educated."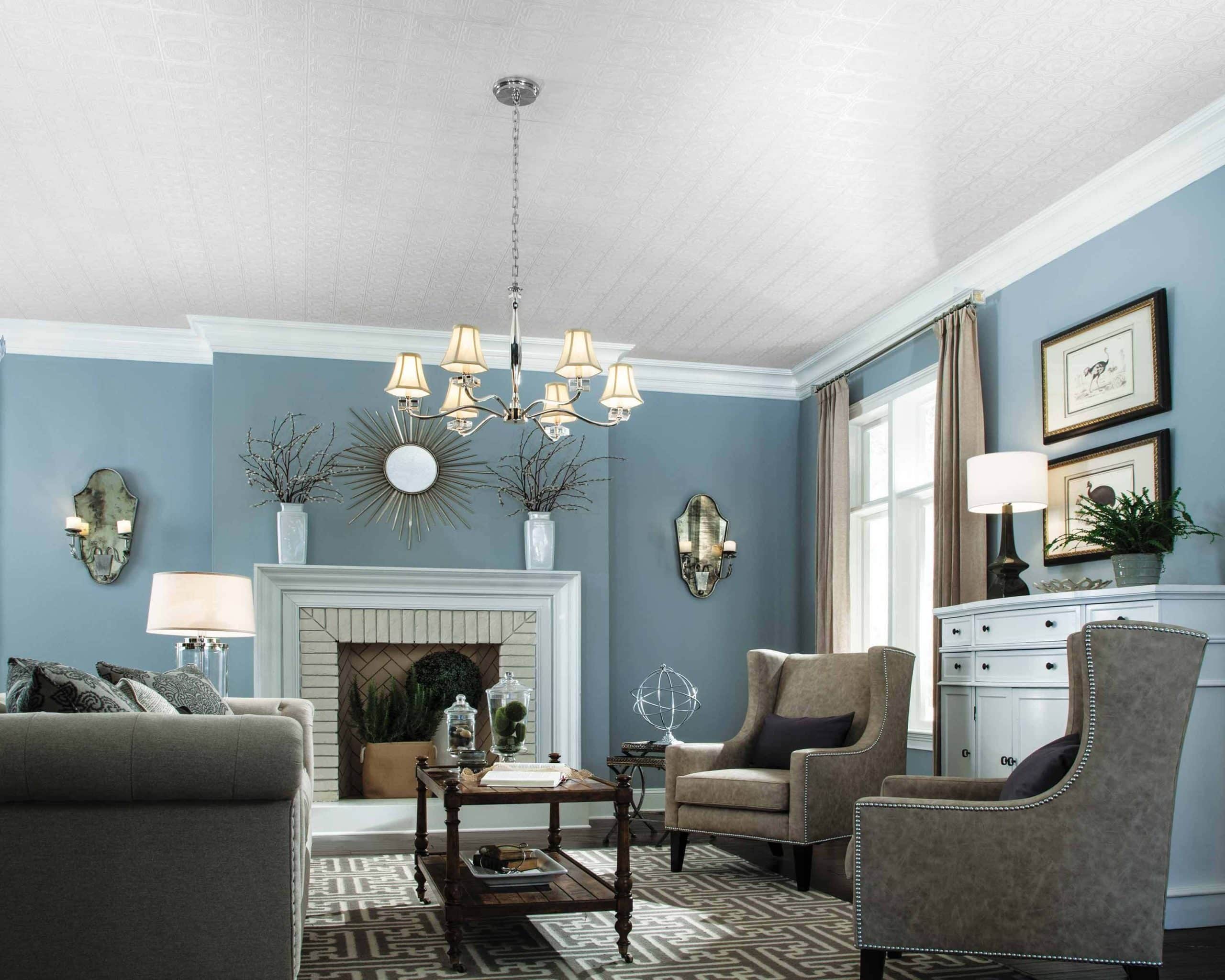 Photo courtesy of Armstrong World Industries
Let the Sun Shine in
Skylights aren't new, but the need for them may be on the increase. Everyone wants a brighter home, but as urban density increases, crowding is causing some traditional windows to fall short on sharing sunlight.
"Everyone is trying to maximize property lines, and they are building narrower and longer. Even single-family homes are beginning to look like townhomes. This is really restricting access to natural light," says Mark Taylor, National sales manager at VELUX Canada Inc., designer and manufacturer of skylights, sun tunnels and roof windows.
These aren't your grand-daddy's fixed skylights (although, the company does offer fixed skylight solutions.) Today homeowners have options of a wide range of skylights that include manual and electronically-controlled venting, and even solar powered venting for instances where wiring is a challenge.
Taylor says VELUX has been growing year over year to keep up with the increasing demand from homeowners for skylights, and as such have broadened their product portfolio and spent ever-more time training and certifying installers.
He notes the impact climate change has had on the demand for venting skylights that can open to let the air circulate. "I lived in Vancouver for 20 years, and 10 years ago you'd be hard pressed to have one or two days a year over 30°. For the past five years you're getting weeks, if not months, straight of that, and the current housing stock was never built to acco-mmodate that air condition."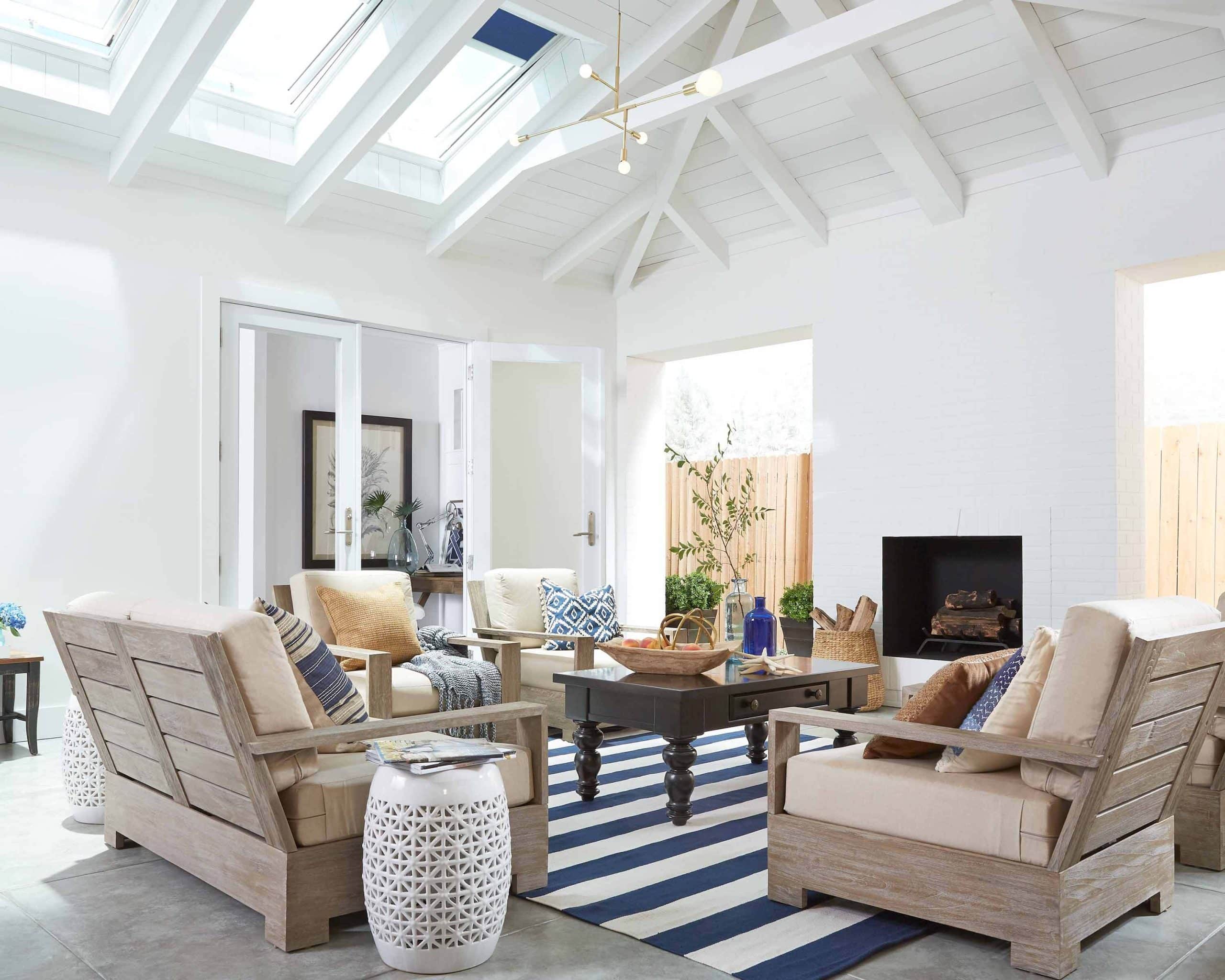 Photo courtesy of VELUX Canada Inc.
"People are looking for solutions to exhaust heat and draw airflow, and skylights are an ideal way of doing that." They, or rather the natural light they offer, are also part of a healthier home. Study after study show natural light can help improve sleep, mood, vision and more when compared to the lux generated by light bulbs.
And they're becoming easier to control with electronically controlled blinds and venting and even, soon enough, automated or smartphone-controlled systems. In 2018, VELUX will be releasing VELUX Active with NETATMO, a home climate control and monitoring system that pairs skylights and blinds with smartphones and home sensors to adjust them for ideal temperature and air quality.
With options abound, whether they are 10 or 12 ft. high, the perfect ceiling for your dream house has quickly become well within your reach.