Our homes have always been our castles, but in 2020 they've become much more than that.
Now, home is our fortress. It represents safety and sanctuary from all the uncertainties we've encountered this year, thanks to the global pandemic. That chronic uncertainty generates a great deal of stress, and consumers are responding by investing more in their homes. They recognize that if they're going to be there, they may as well make it comfortable.
Nowhere is the desire for serenity more prevalent than in the bathroom. Trends this year include rich materials such as marble and granite, with striking dark hues juxtaposed against crisp whites. Natural textures and touches – including live greenery – add interest and help to soothe frayed nerves. Special "extras" contribute to the boutique look, such as elegant shower hardware, mixed medias and mono-block faucets atop striking vessel sinks. Spa-like bidets with heated seats, heated water and air dryers render a pandemic-induced toilet paper shortage irrelevant.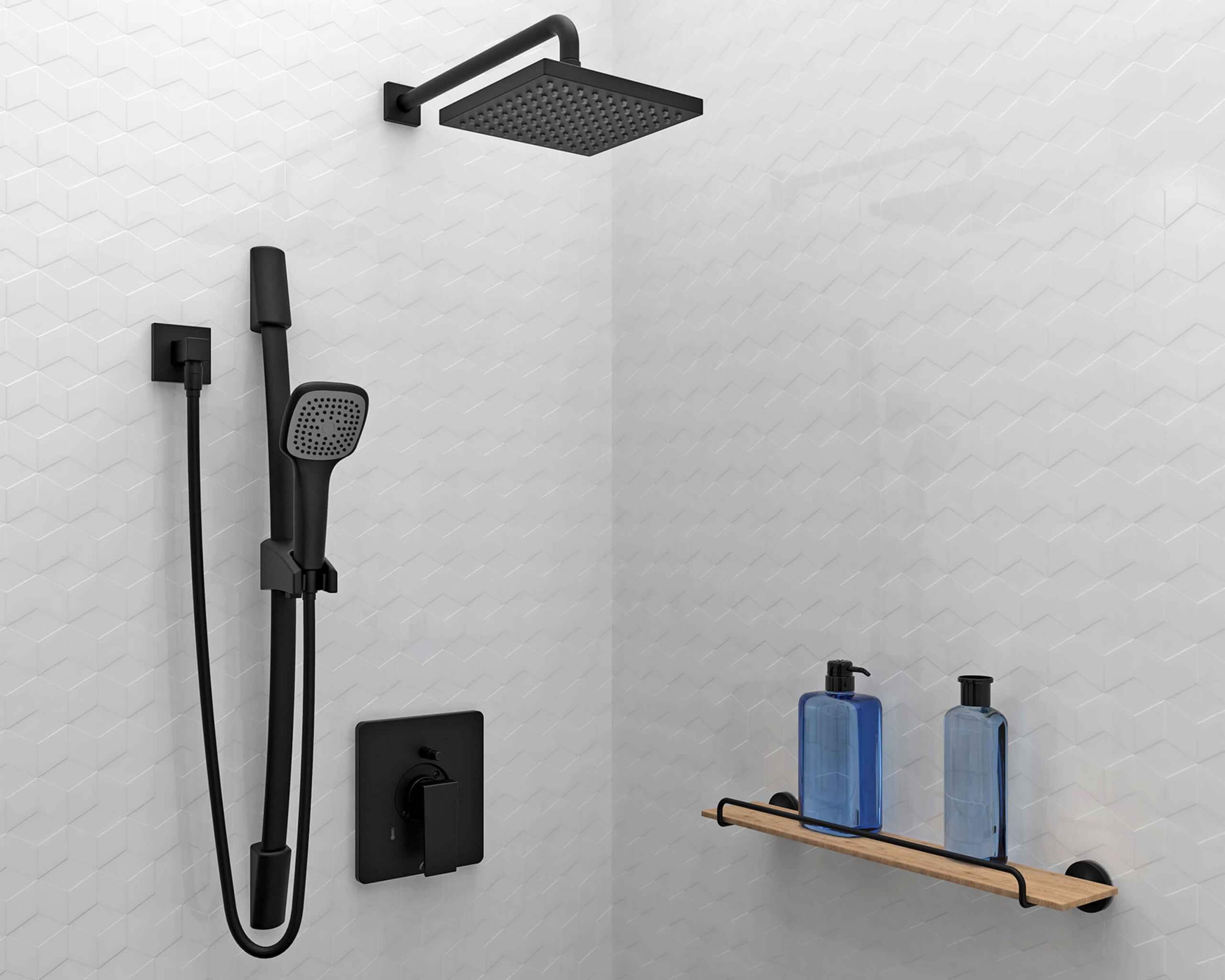 Photo courtesy of Belanger
"What we see right now is a trend of do-it-yourself but with the look of boutique products," said Melanie Schwery, national sales and marketing director for faucet and plumbing manufacturer Belanger. "Boutique-type products are now being offered in the retail environment with finishes like matte black. We just keep coming out with new products that are in matte black; it will be timeless like chrome."
While she believes matte black is here to stay, Schwery said Belanger's new matte gold faucet is beginning to trend, along with mixed medias such as matte black with either gold or chrome accents. Belanger's best seller is a shower fixture kit with a square matte black design.
"Square design is a standard," she confirmed. "It looks modern, but classic as well. We're now coming out with new faucet lines that are blurred, to soften the edges a bit."
Lixil Canada, which includes the American Standard brand, sells shower systems, sinks, faucets, vanities and toilets.
Marlon Thompson, Lixil's senior marketing manager, reported that sleek and contemporary bathroom fixtures are popular these days, featuring minimalistic lines and customizable features. Lixil, too, is selling a lot of matte black products.
"Polished chrome is No. 1 in the market still, but as a percentage growth matte black is growing exponentially," he said. "Brushed nickel is on its way out."
Mono-block faucets – one-piece designs with a single handle – are increasing in popularity and usually accompany an undermount or vessel sink. Consumers are attracted by the ability to create a unique bathroom experience. They are experimenting with designing their own stone or concrete sinks, mixing and matching various modular vanity components and commissioning custom cabinetry.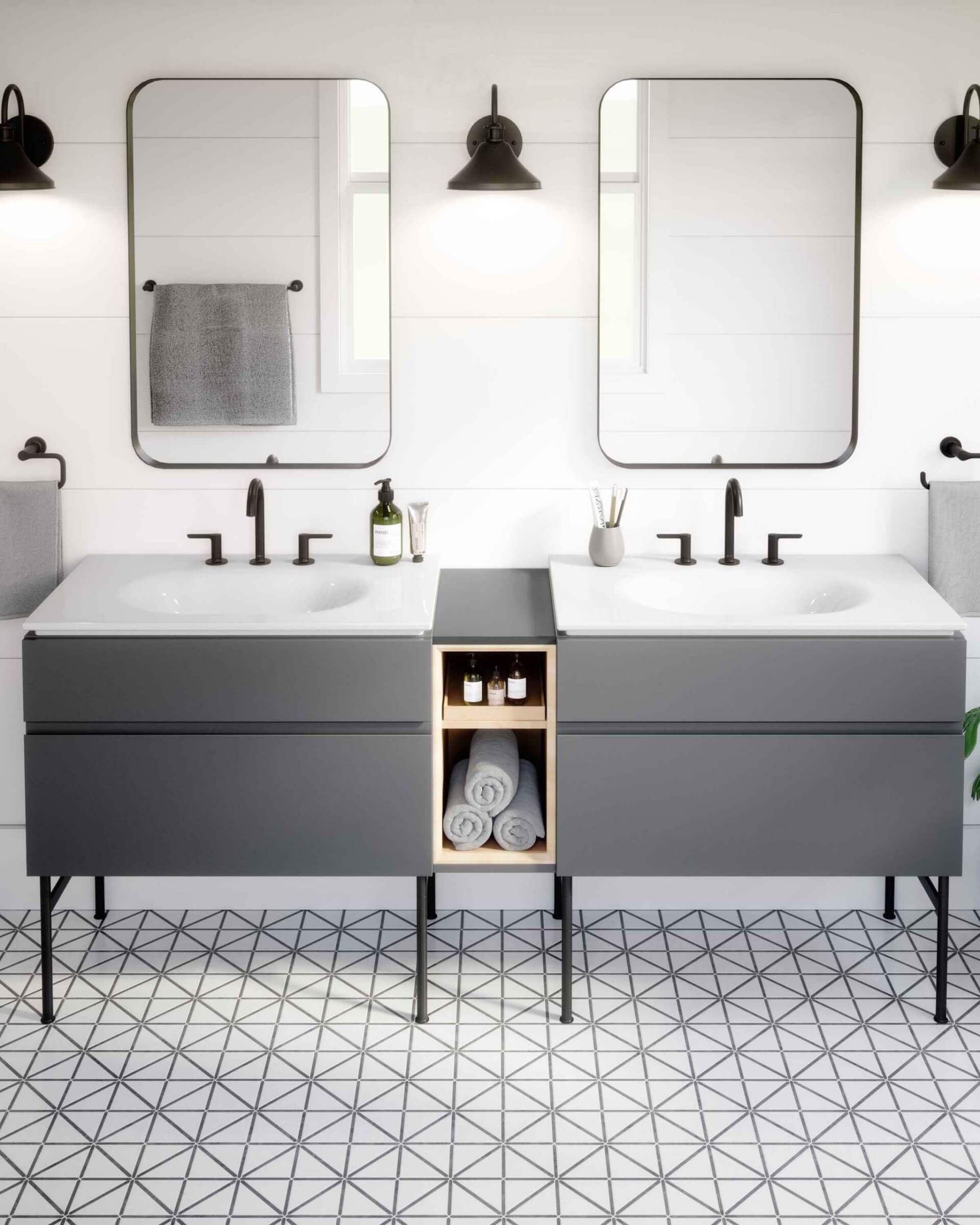 Photo courtesy of Lixil Canada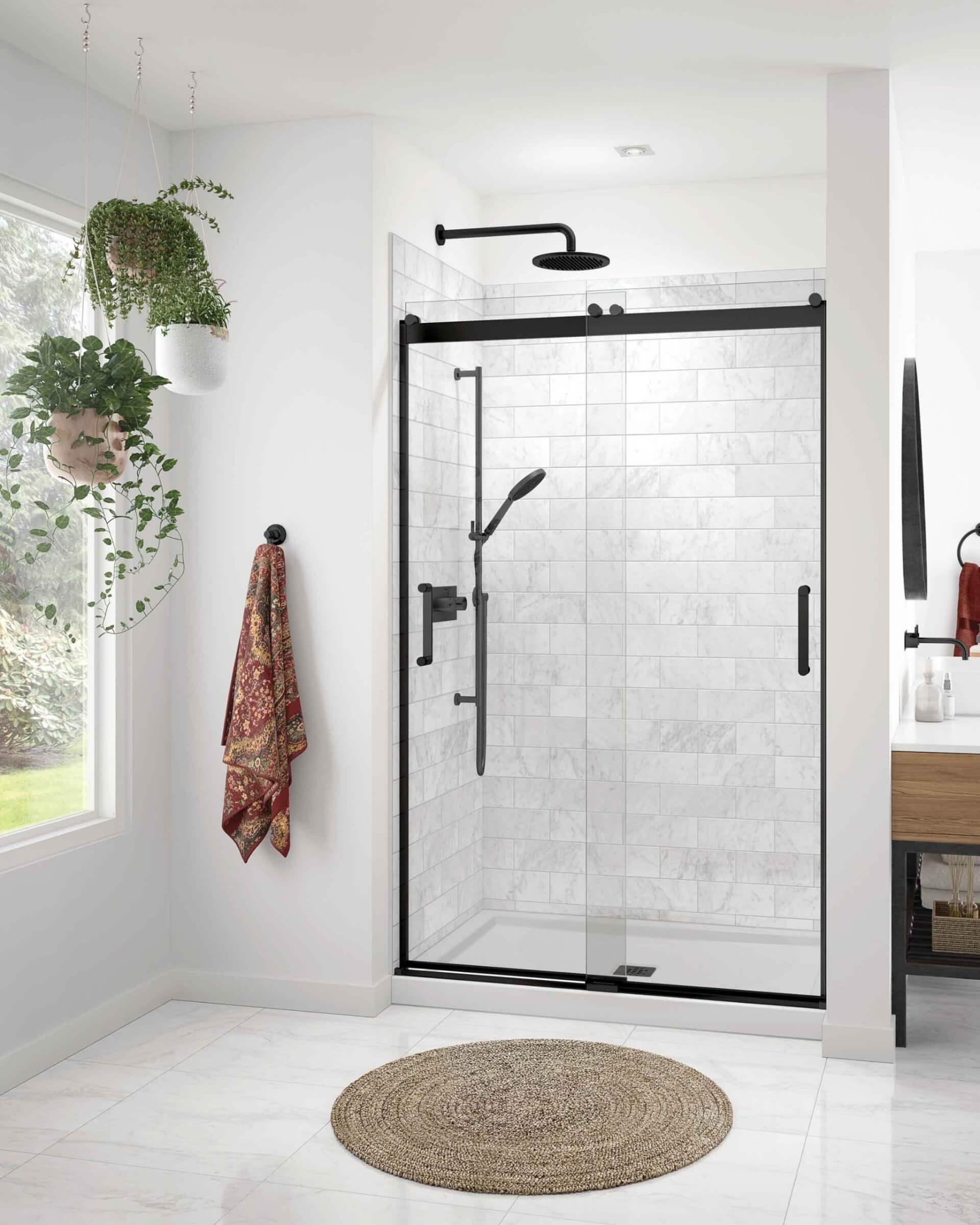 Photo courtesy of Maax Bath Inc.
"People are wanting to create a spa-like experience in the bathroom," said Thompson. "We have a retrofit shower kit that doesn't require you breaking the wall to install it."
Bidet seats that use a toilet's existing water supply feature "something for every budget," from heated seats and warm water to air dryers. The majority of elongated bowl toilets can accommodate these seats, he noted.
The act of bathing is now an experience. Shower stalls have gotten larger, with bigger doors fashioned from materials that match the faucet and drain. Once again, matte black is a popular choice, according to Aude Simard, who is the director of product management, Bathware Solutions at Maax Bath Inc. The company supplies all kinds of bathroom products, including shower bases, stall walls and doors, various bathtubs and medicine cabinets.
"What I see is a supported trend toward the product that has a minimalist design and a high focus on functionality," she said. "It's about soft shapes, comfortable radiuses … It needs to be comfortable, easy and enjoyable."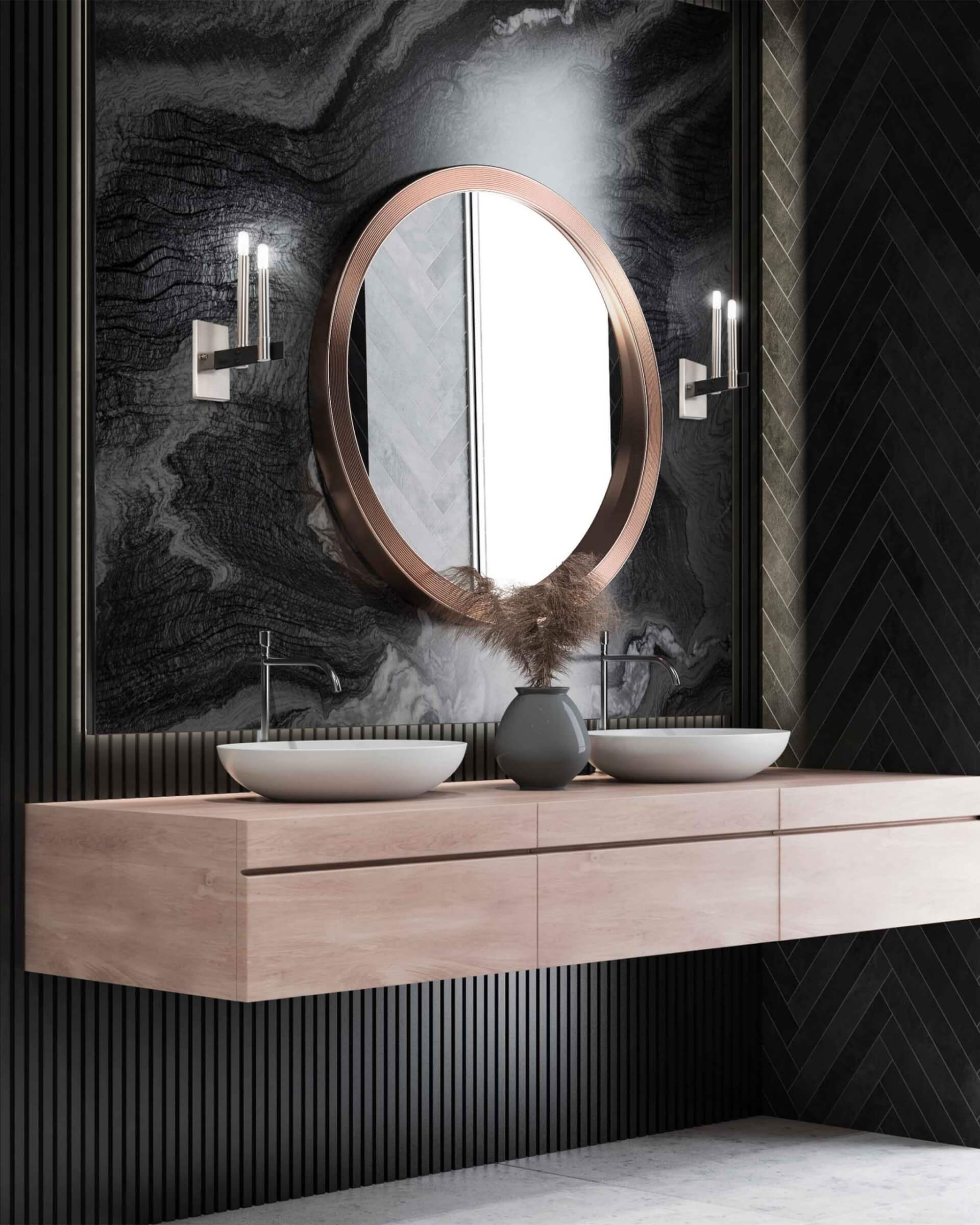 Photo courtesy of Lumirama Inc.
Simard said freestanding tubs are growing in popularity, although they are shrinking in size.
"What we are seeing is a trend where the freestanding tub is a smaller tub, so it can replace a classic alcove tub. It fits in the old space. So, we try to maximize the bathing well while minimizing the outside, which means innovating much thinner walls."
Personalized luxury is prevalent in modern bathroom design. Moen Canada's Lorenzo Sciarra, senior marketing manager, Retail Faucets and Showering, said consumers are looking for a more spa-like shower, as well as options to personalize their showering experience while adding functionality.
"One great way to do that is through a fixture like the Moen Engage Handshower with Magnetix," he explained. "Showerheads with Magnetix offer a powerful magnetic dock that allows for easy release of the handshower, and a secure return back into place, even with your eyes closed. They also offer six spray settings, all with optimized pressure ranging from massage to combinations of soft and forceful rinse sprays – making it easy to customize your experience in the shower. It's available with either a push button or dial to switch between settings."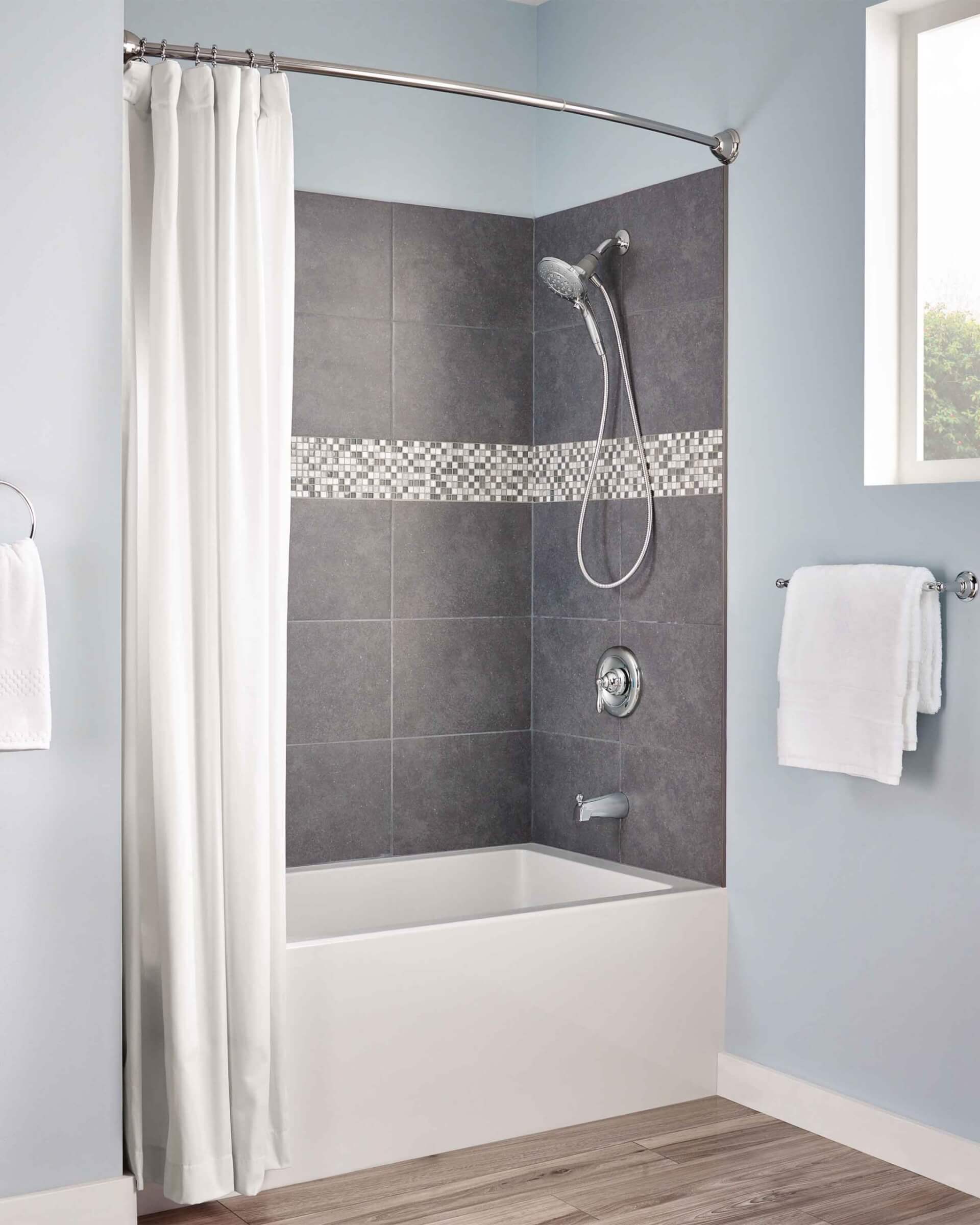 Photo courtesy of Moen Canada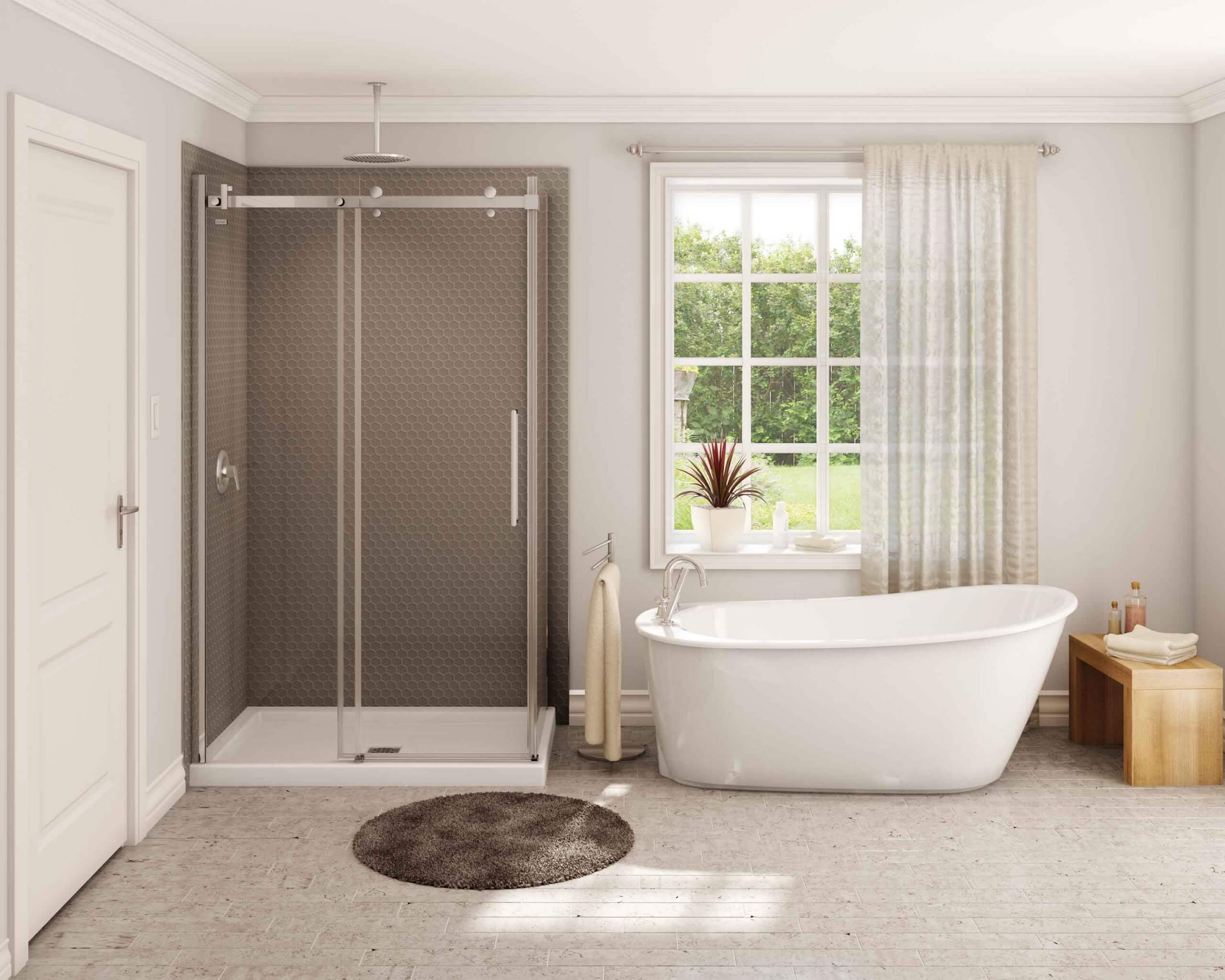 Photo courtesy of Maax Bath Inc.
Other options from Moen include the Engage Combination Handshower and Rainshower with Magnetix, which provides three showering options in one fixture. The rainshower and handshower can be used separately, or together, depending on preference.
Moen's bathroom line includes a variety of collections, from traditional to modern, in a range of finishes.
"Consumers are becoming more open to experimenting with colours and non-traditional finishes, like matte black and brushed gold, and chrome continues to be a popular choice for those creating contemporary looks," said Sciarra. "Our Spot Resist Brushed Nickel finish resists fingerprints and water spots – a great benefit for homeowners who prioritize a cleaner looking bath – while also fitting right in with traditional or transitional style aesthetics."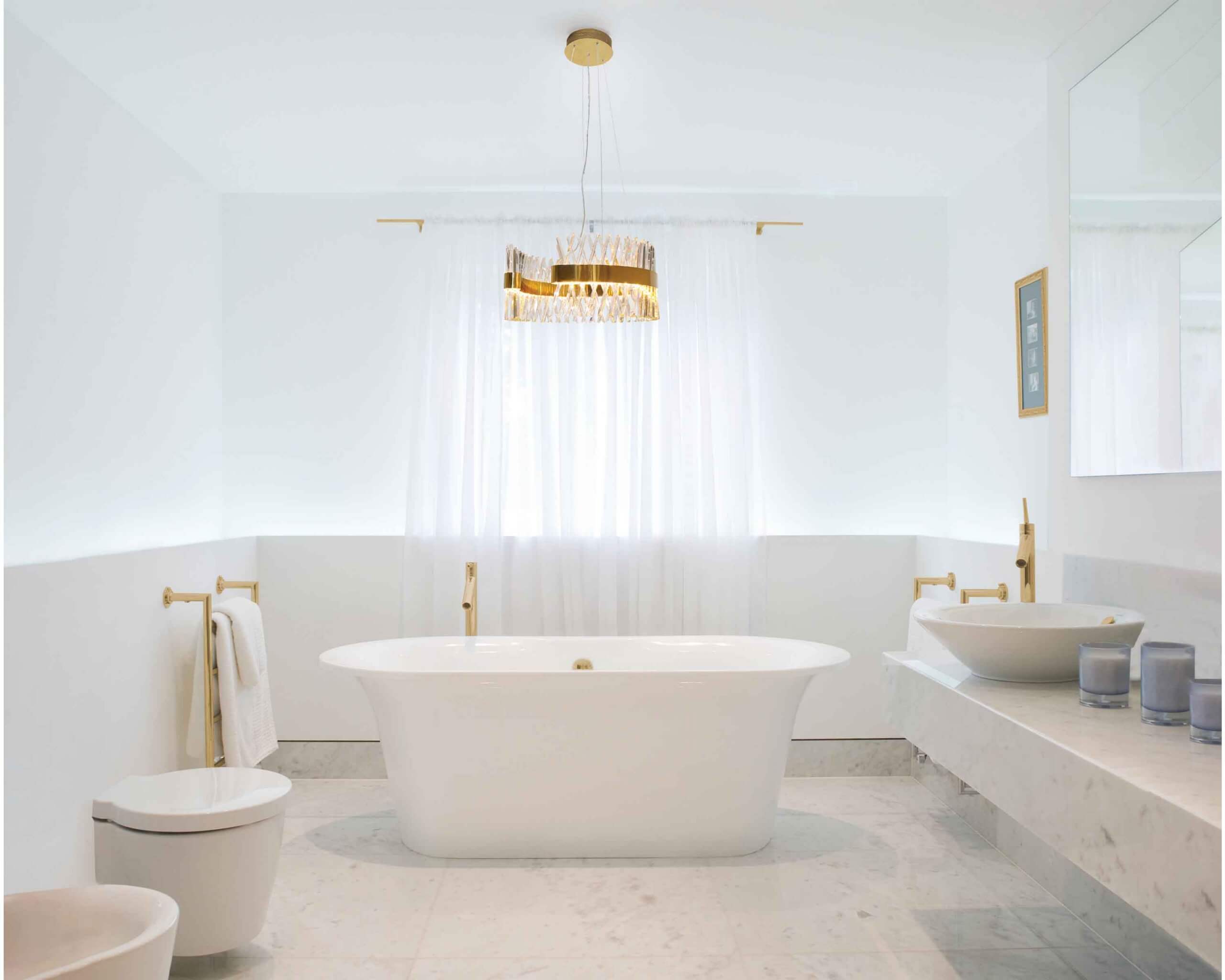 Photo courtesy of Lumirama Inc.
Pierre Labrecque, president of Lumirama Inc., said black is finding its way into plenty of lighting fixtures.
"Chrome is still in the bathroom but black is becoming more prevalent. It could be matte, black chrome, or gunmetal. Or, it could be chrome matched with something else. More and more, people are looking for a mix of finishes and materials. This could be metal with glass or ceramic, for instance."
Labrecque said lighting fixtures are trending toward frosty or white glass in very smooth lines.
"They are becoming more and more linear. It's one piece, very clean, with less and less fixtures with individual lights. LED is not a feature anymore. People have pretty much accepted it as being more efficient and longer lasting."
If the ceiling is high enough, a suspended light fixture creates a glamourous impression in the bathroom. Other lighting options include vertical wall sconces on either side of a mirror; minimalistic designs with uniquely-shaped bulbs are popular.
"The bulb is like the tie for a suit," added Labrecque. "If you choose the wrong tie, people will notice."
He said the pandemic has slowed lighting product design and development and he expects to see the existing trends continue for the next 12 months or so.
"Our feeling is that we'll just pick up somewhere in 2021 or 2022, and go forward with the next trends."
As the COVID-19 pandemic continues with no definite end in sight, consumers are expected to continue pouring cancelled vacation dollars into home renovations. As the stress of returning to the "new normal" accelerates, it's a sure bet that a comforting bathroom oasis will be an attractive option for many. —