For an increasing number of homeowners, style starts at the front door. And beyond the door itself, the choice of hardware – from locks to handles to hinges – is key to making a good first impression.
According to Isabel Carvalhana, senior marketing manager with Allegion Canada in Mississauga, Ont., today's homeowners are leaning towards modern contemporary door hardware. Allegion is the manufacturer of Schlage and Schlage Custom brands, as well as selling endorsed brands – such as Dexter by Schlage – to a variety of national retail outlets.
Carvalhana said that when it comes to single-family new builds, modern contemporary door hardware leads the pack. Owners are increasingly choosing matte black door hardware – a finish that surfaced approximately five years ago in adjacent product categories, such as plumbing and lighting fixtures, and has now edged out satin nickel as the first choice of homeowners and designers.
Satin brass, referred to as gold or brushed gold, is strong in lighting, cabinet hardware and plumbing fixtures, and is beginning to make its way to door hardware – while aged bronze has slowed down significantly. Rather than a last-minute afterthought, door hardware has become more of a pre-planned consideration to ensure a consistent finish, style and design is carried throughout a home.
Especially popular today is the "pill shape" – a rectangle with rounded ends and softened corners reminiscent of arched doorways, mirrors and even accent pillows.
"It's interesting, because there is also a transitional market," explained Carvalhana. "A large portion of existing homes are traditionally styled, so when owners want to update the look, they purchase a transitional lock, something that complements the existing traditional or classic style, but isn't quite so modern looking."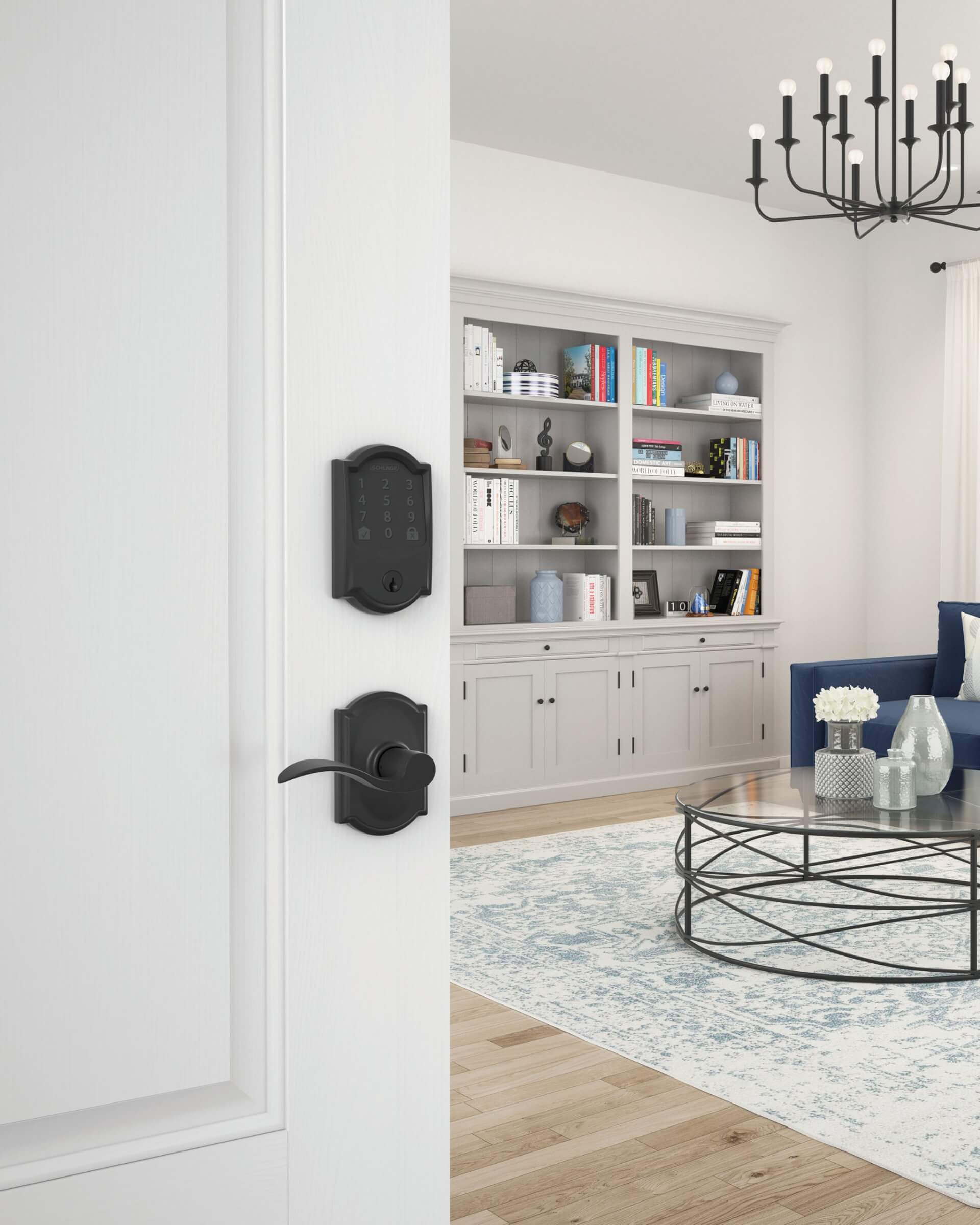 Photo courtesy of Spectrum Brands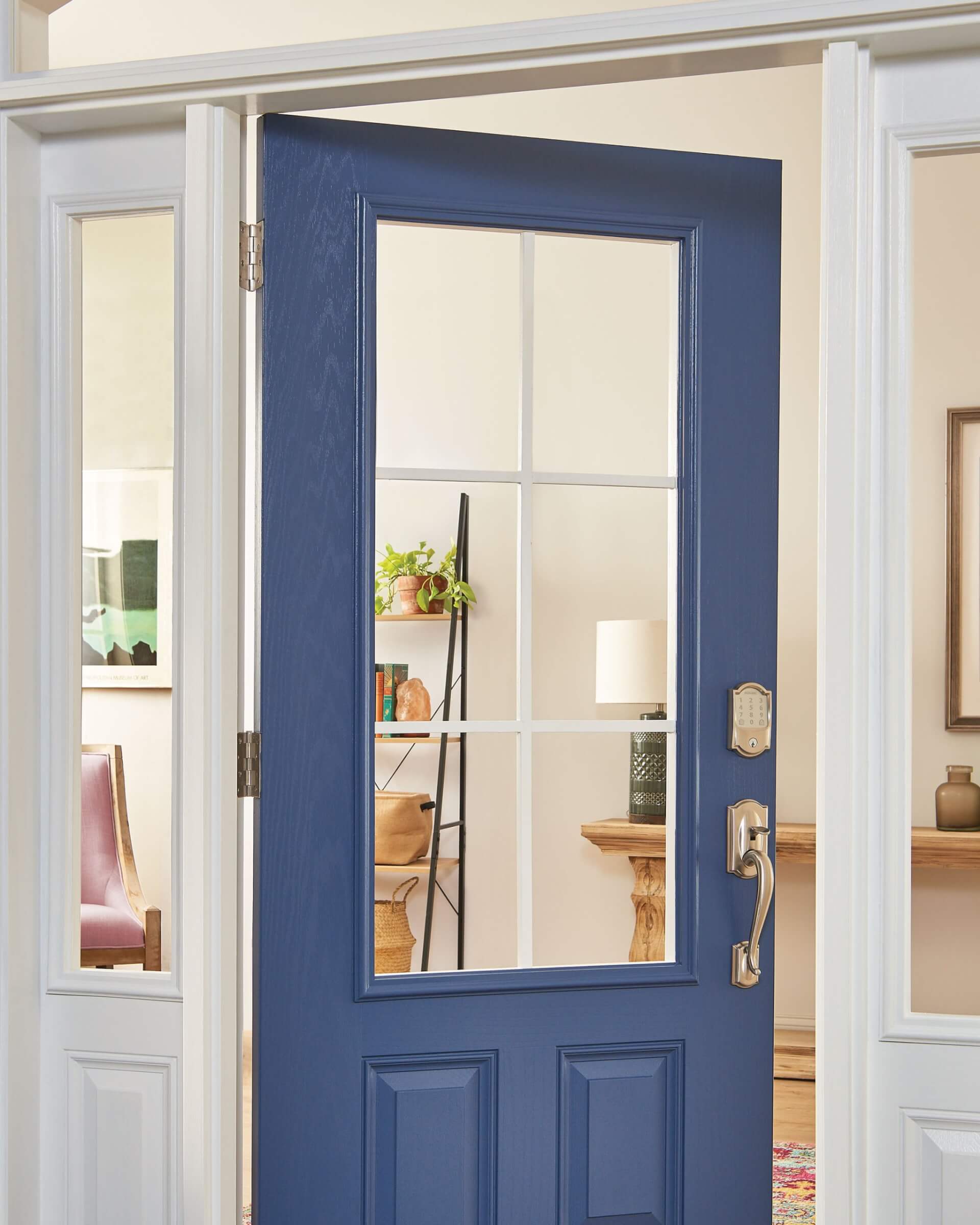 Photo courtesy of Allegion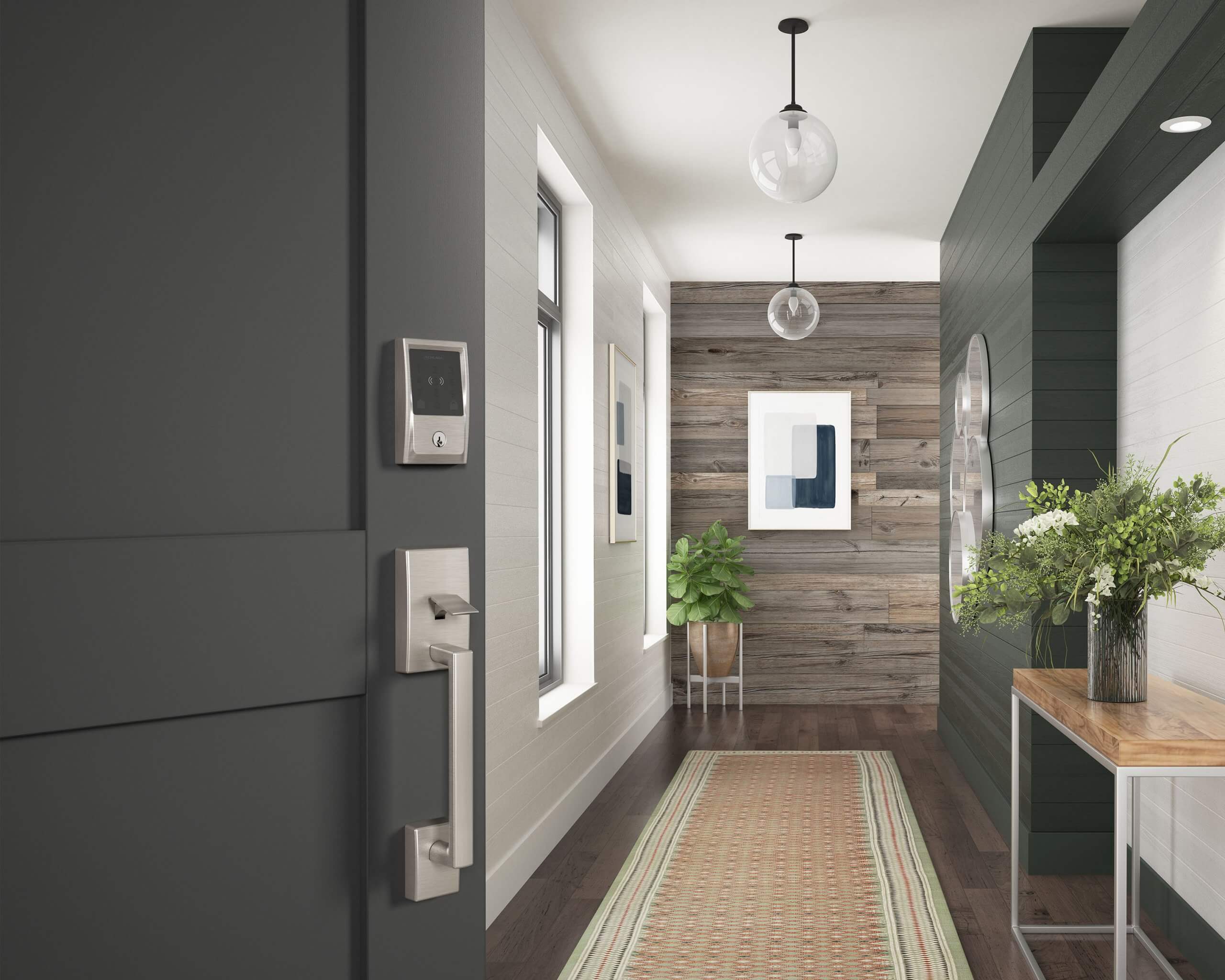 Photo courtesy of Allegion
 While mechanical locks still represent about 70 percent of sales, Allegion has seen increasing customer interest in electronic locks. Electronic door hardware includes connected locks (smart locks that connect to Wi-Fi or other home automation systems such as Alexa or Ring), as well as non-connected, keyless locks that are battery-operated and open with a keypad code.
"We are seeing a lot of investment in electronic locks and smart locks," confirmed Carvalhana. "Electronics are moving up. The biggest reason for that, in my opinion, is smart home devices in general. There is a trend to modern, contemporary smart homes with a focus on safety, ease of entry, and user-friendly experiences."
Allegion is expanding its Schlage Encode portfolio of electronic locks with the launch of three new connected smart locks in 2023, all designed to provide safety and seamless entry: Schlage Encode Plus Smart Wi-Fi Deadbolt; Schlage Encode Smart Wi-Fi Lever; and Schlage Encode featuring the new Greenwich trim.
Schlage Encode Plus can be synced to the home's Wi-Fi network to remotely control and monitor a residence using the Schlage Home app. The door can be locked and unlocked from anywhere and homeowners can view the lock history and receive notifications as requested.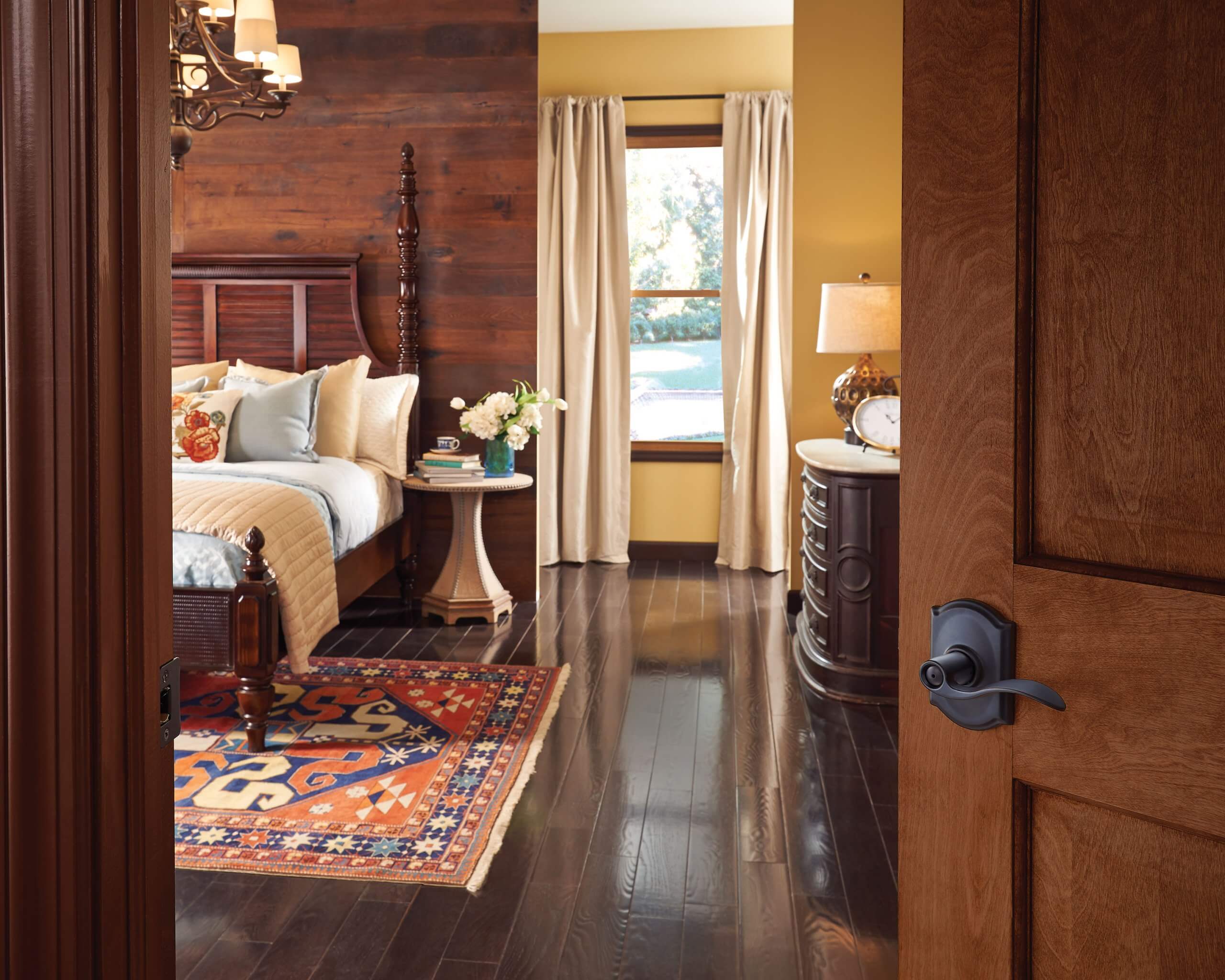 Photo courtesy of Allegion
In addition, the tap-to-unlock feature works with Apple Home Kit and Apple home keys so users can simply tap their iPhone or Apple watch for easier entry. Schlage Encode Plus also works with Amazon Alexa and Google Assistant for optional voice-enabled access. It is securely encrypted with a built-in alarm and fingerprint-resistant touch screen for code security.
The Schlage Encode Smart Wi-Fi Deadbolt is also Wi-Fi compatible and features remote lock and unlock ability, guest access codes for temporary or permanent entry, voice-enabled control through Amazon Alexa or Google Assistant, and one-touch locking.
Part of Schlage's current product offering is the Schlage Connect smart deadbolt which incorporates the security of Z-Wave Plus, a wireless protocol that controls a home's smart devices through one central hub. It is also compatible with home automation systems such as Alexa, Google Home or Ring. So, what happens if the battery dies or the Wi-Fi goes down? Carvalhana said all battery operated locks feature a manual key override. If the Wi-Fi is out, users can input codes saved prior to the outage and/or use the available manual key override.
"We are projecting stronger growth in electronic locks," confirmed Carvalhana. "We expect market share to increase to 40 percent over the next year (up from 30 percent). It's almost like how people adapted to online banking – they slowly adapted and tried it gradually before making the jump. For locks, this might mean they test it on the garage door first before installing it on the front door."
Looking ahead, Allegion expects to see matte black continue to dominate the door hardware finishes category, combined with modern contemporary shapes and styles.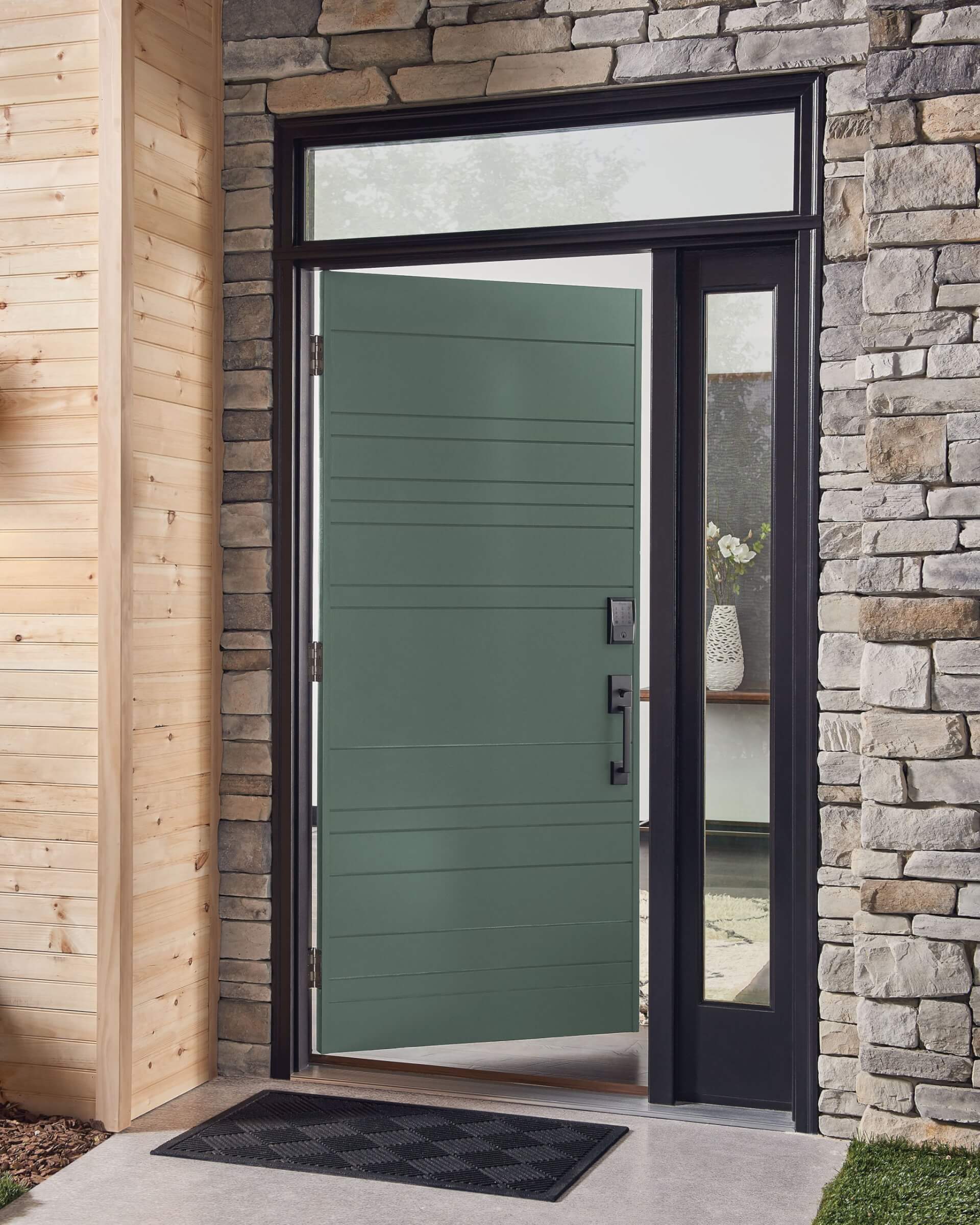 Photo courtesy of Allegion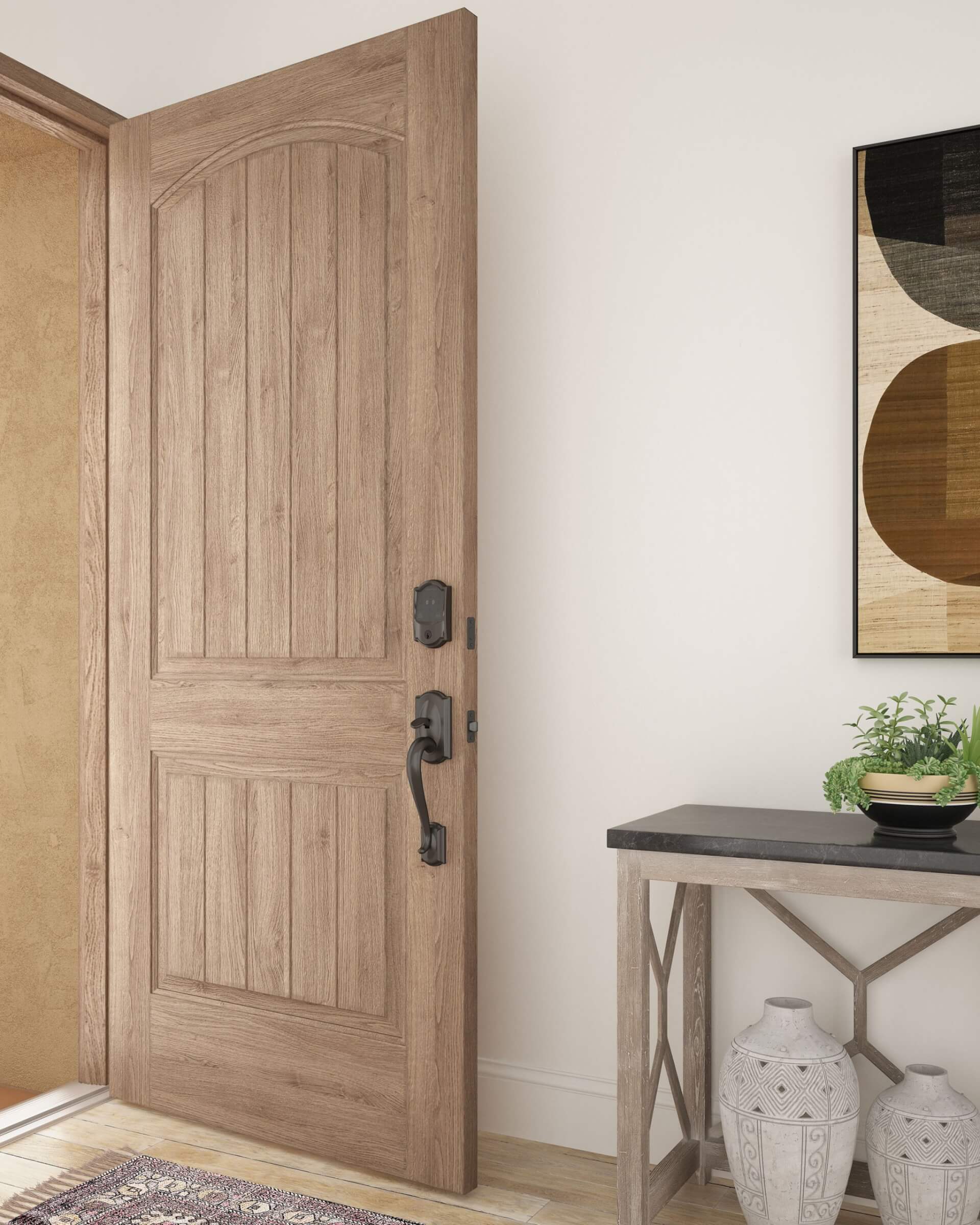 Photo courtesy of Allegion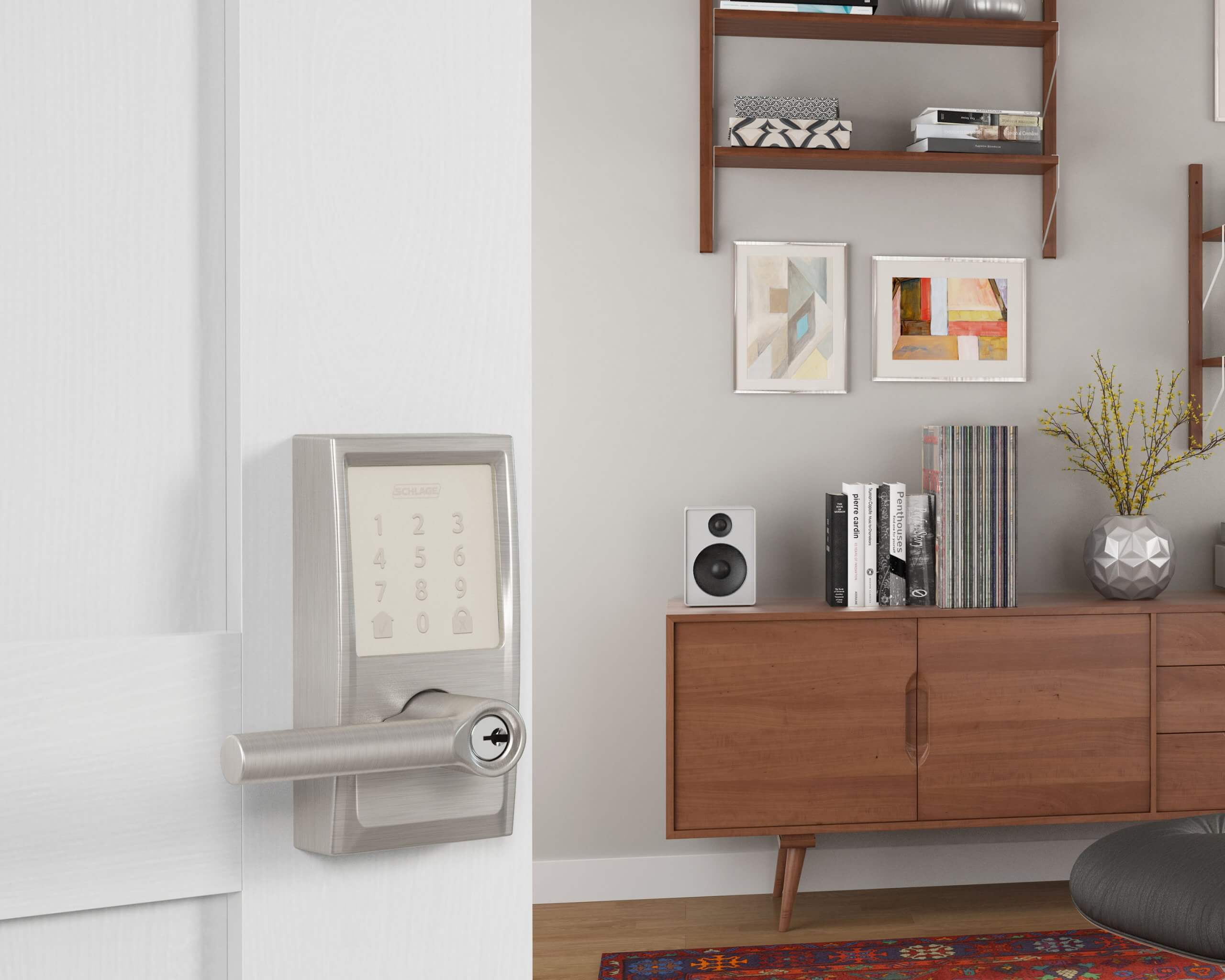 Photo courtesy of Allegion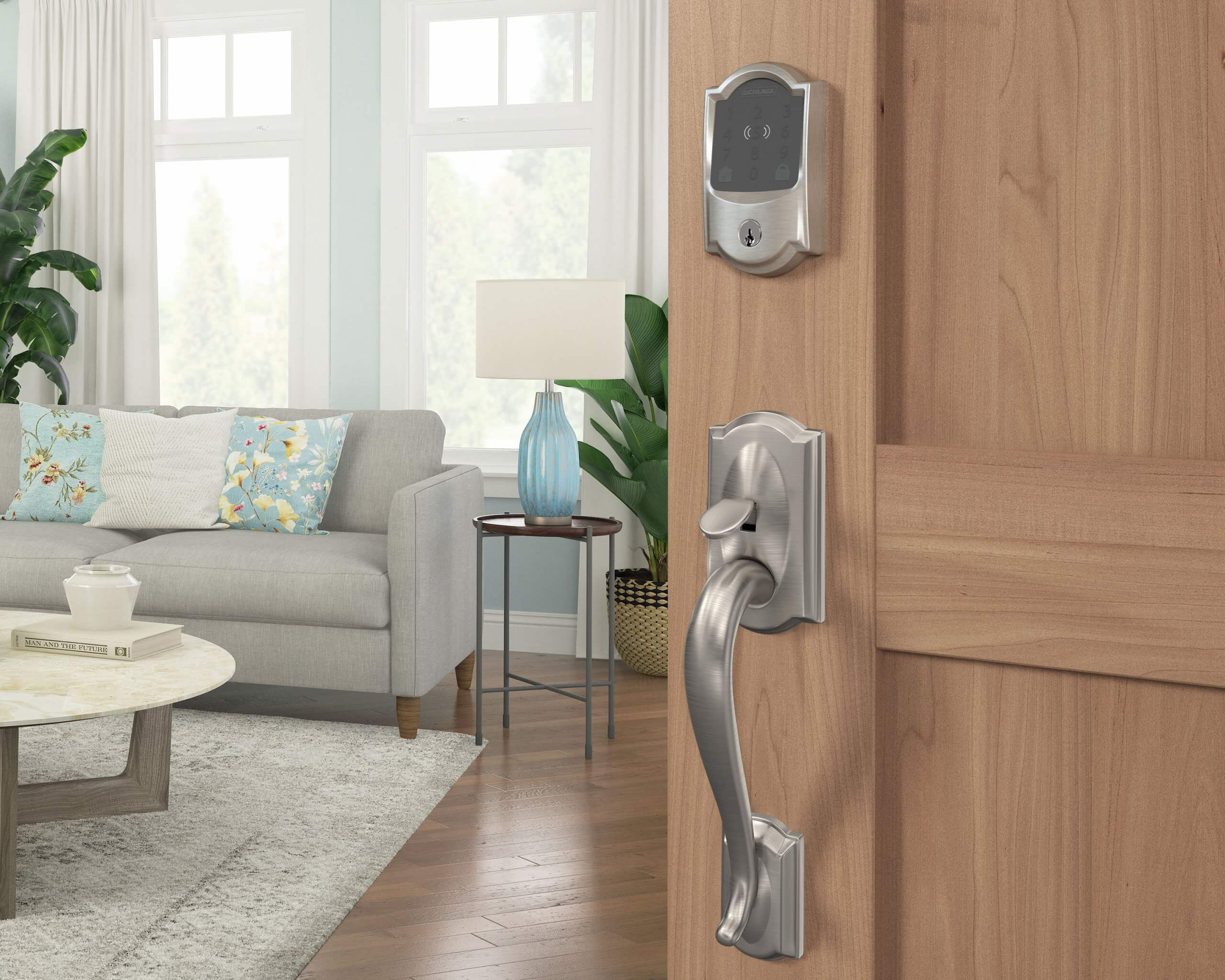 Photo courtesy of Allegion
SECURING TOMORROW'S SMART HOMES
In 2020, market research found that one in five Canadian broadband households owned at least one remotely-monitored, internet-connected device, with 14 percent owning at least one smart home device.
That's no surprise to AJ Bayne, National Sales Manager, Traditional Retail at Spectrum Brands. His company represents residential door hardware lines from Weiser and Baldwin, as well as the Tell brand in the commercial sphere.
Technology is trending, said Bayne, noting that electronic locks now make up about one quarter of total sales. Currently, Spectrum Brands' battery-operated, stand-alone keypad electronic locks are the biggest sellers – but smart locks that connect to Wi-Fi or other smart home devices are seeing significant growth.
"Google, Alexa and other smart devices like thermostats and lighting – that technology is really becoming DIY technology," noted Bayne.
"Five years ago, you may have needed a technician to come in and set it up. But the Wi-Fi technology today lets you punch in your Wi-Fi code and you're connected. Luckily for us, if you're building your own smart home, the first thing you touch when you come home is your lock. It can link to your lighting, thermostat, make your blinds go up, etc. It's almost like your house is welcoming you home. There's a lot of appeal to a lock being a connected device."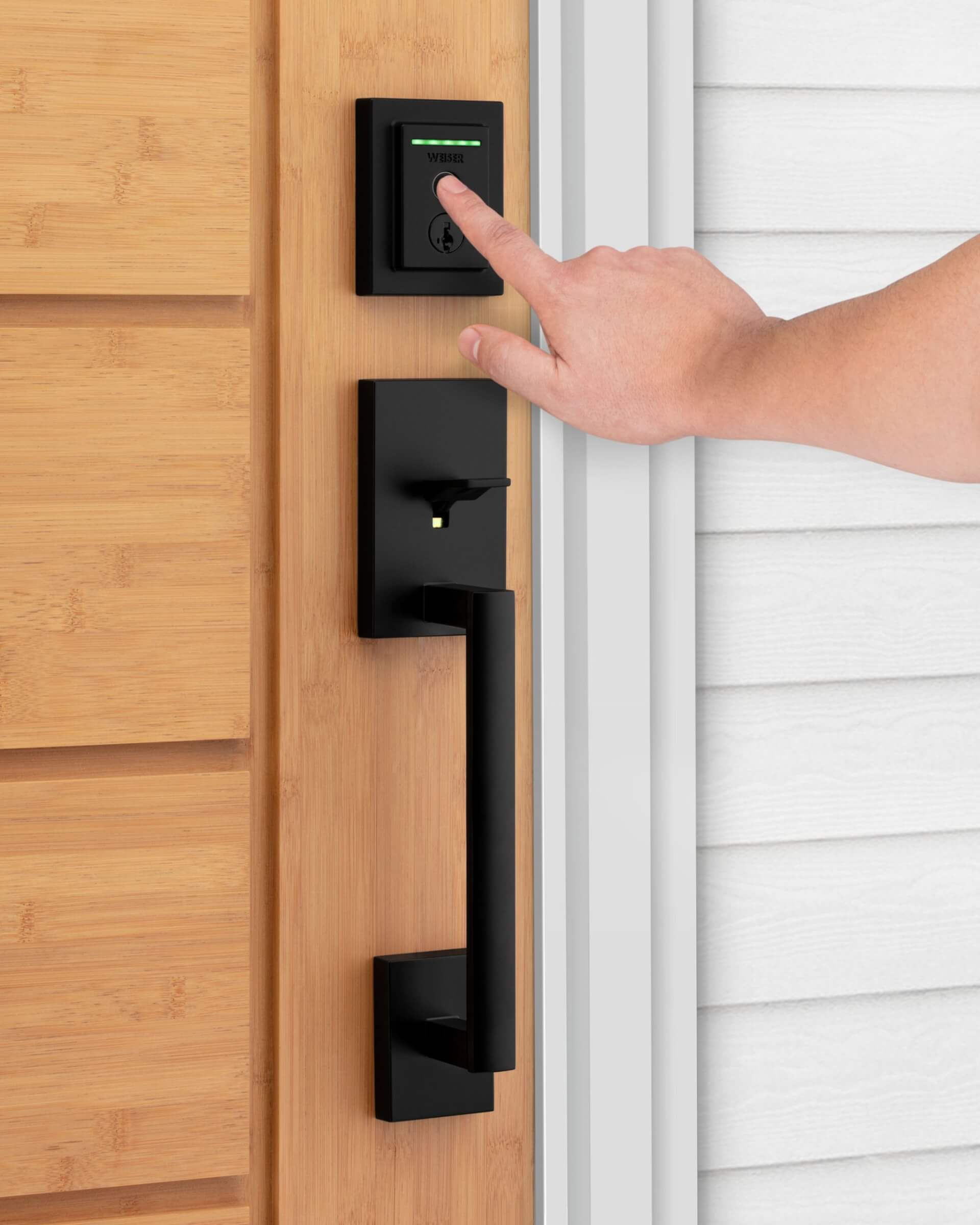 Photo courtesy of Spectrum Brands
While mechanical locks still make up 75 percent of sales, Bayne referenced an independent study that predicts smart home devices will penetrate 47 percent of Canadian households by 2025.
"Based on that, some of the features in our top line of Weiser Halo locks include one-touch fingerprint access, voice control, and remote Wi-Fi lock/unlock capability remotely through an app."
He explained that Weiser offers several lines of electronic locks featuring a range of capabilities and options.
"Each has a different price point. Our opening is the PowerBolt (with stand-alone keypad); then SmartCode (stand-alone keypad, a bit sleeker with more finish options); and from there you get into Bluetooth tech to our Aura line, where you have to be in proximity to the lock; finally, there is our Halo line of Wi-Fi locks with keypad or fingerprint function. With true remote locking and features tracking, you can share an electronic key to friend's phone or create a system of who can enter your home at any time."
Similar to the arc of smartphone development, Bayne predicted that fingerprint recognition on residential locks may one day be replaced by facial or iris recognition.
In terms of interior door hardware, he said Weiser's line of mechanical knobs and levers now feature integrated Microban technology – an antimicrobial protectant that repels bacteria on bathroom door handles, for example.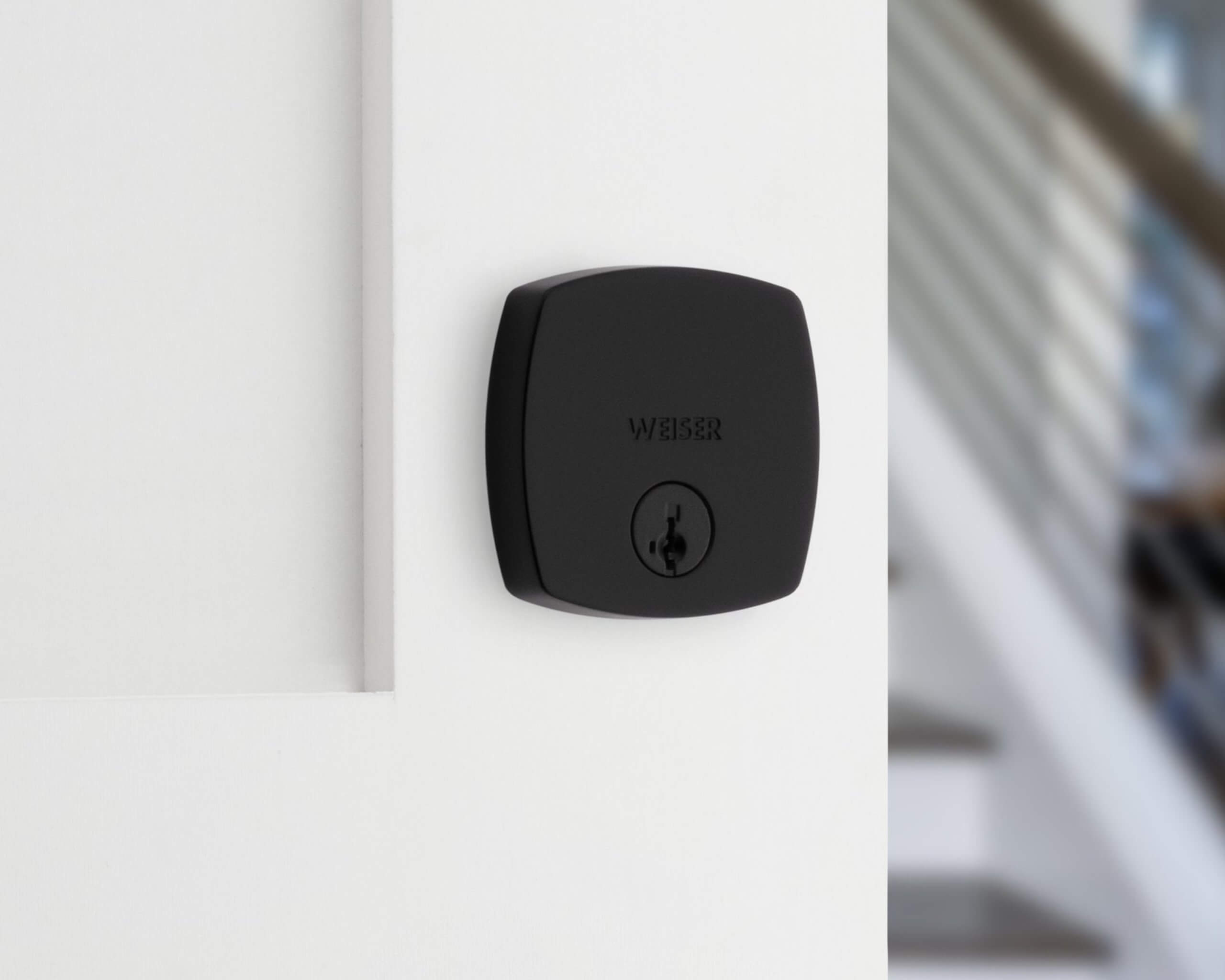 Photo courtesy of Spectrum Brands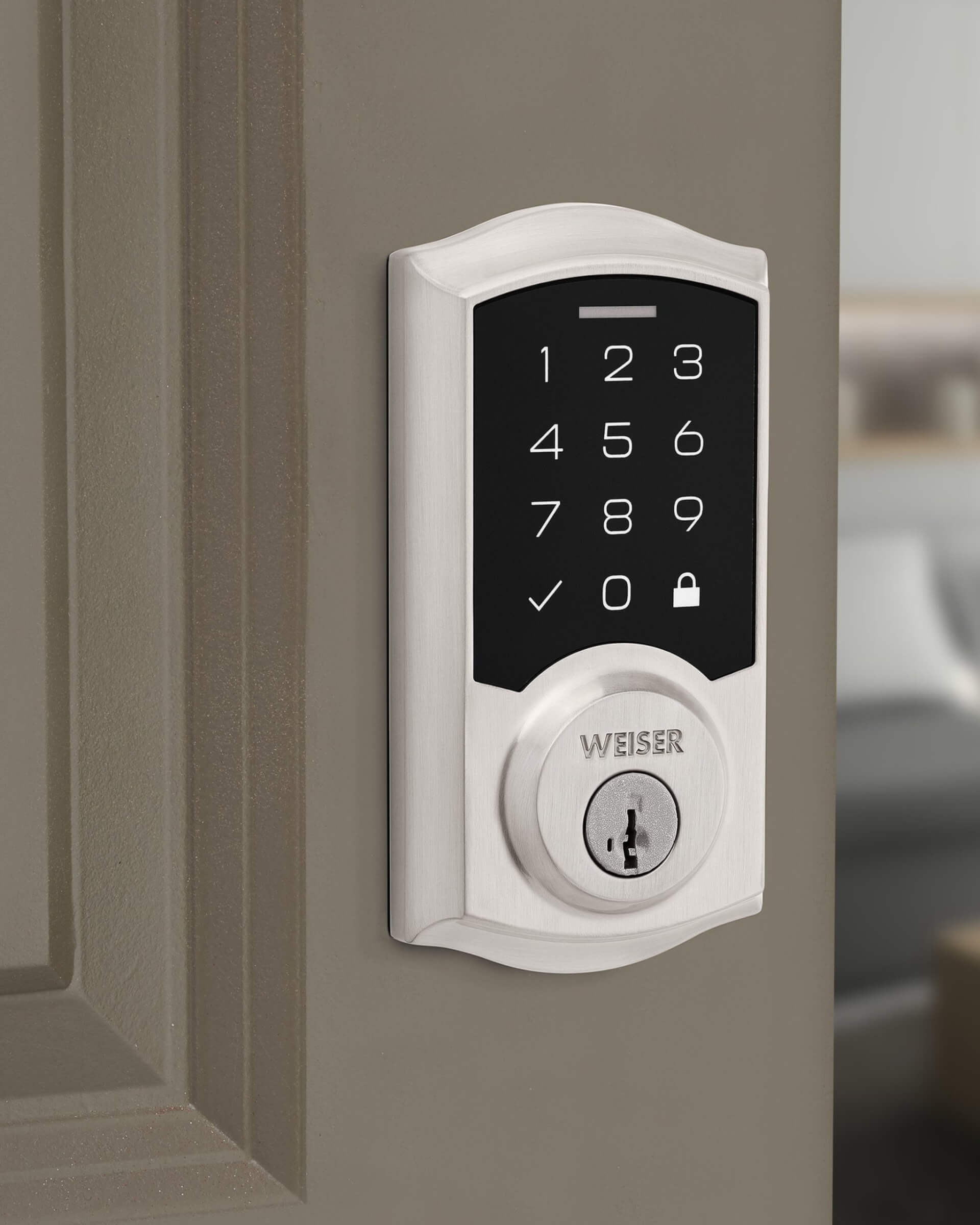 Photo courtesy of Spectrum Brands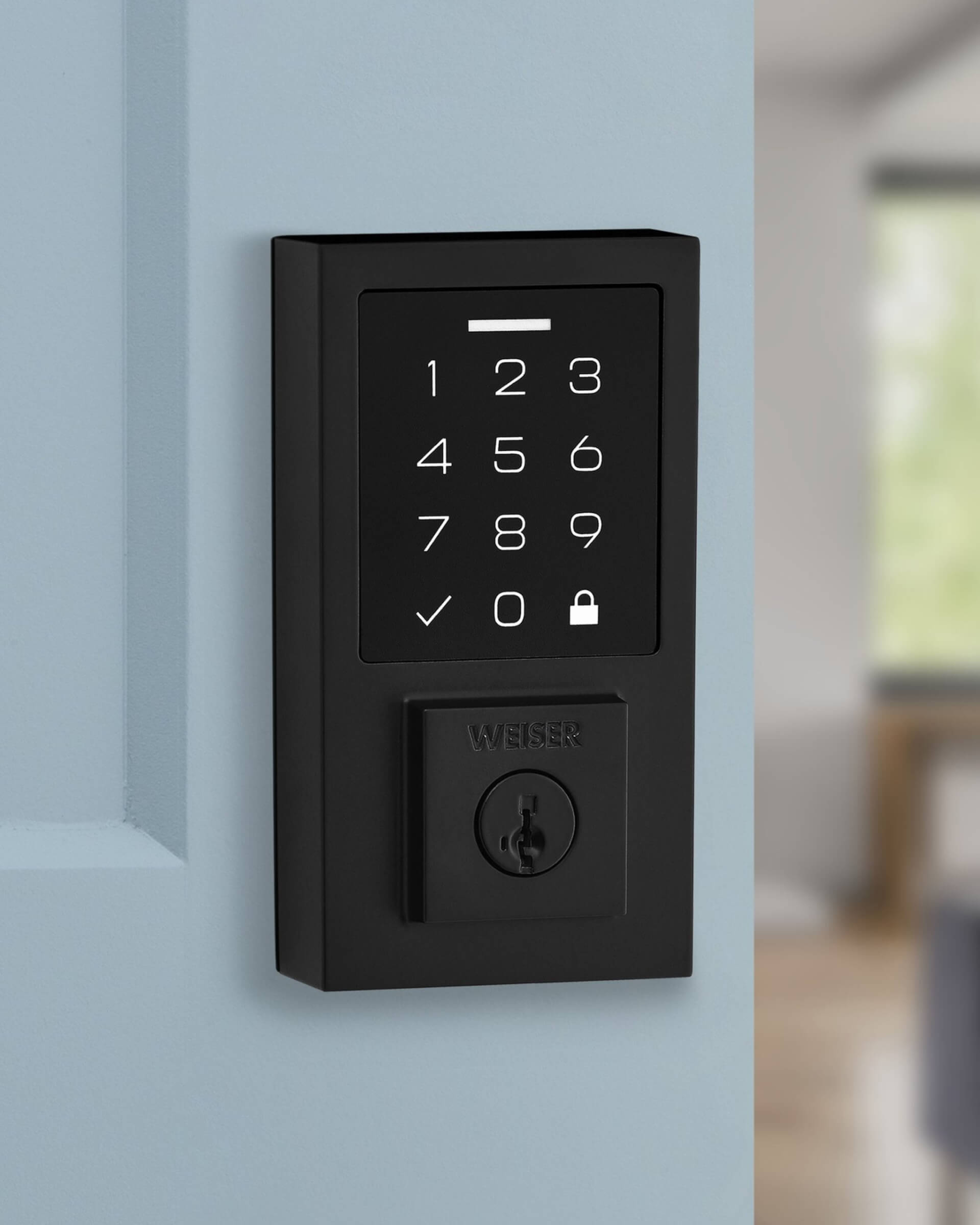 Photo courtesy of Spectrum Brands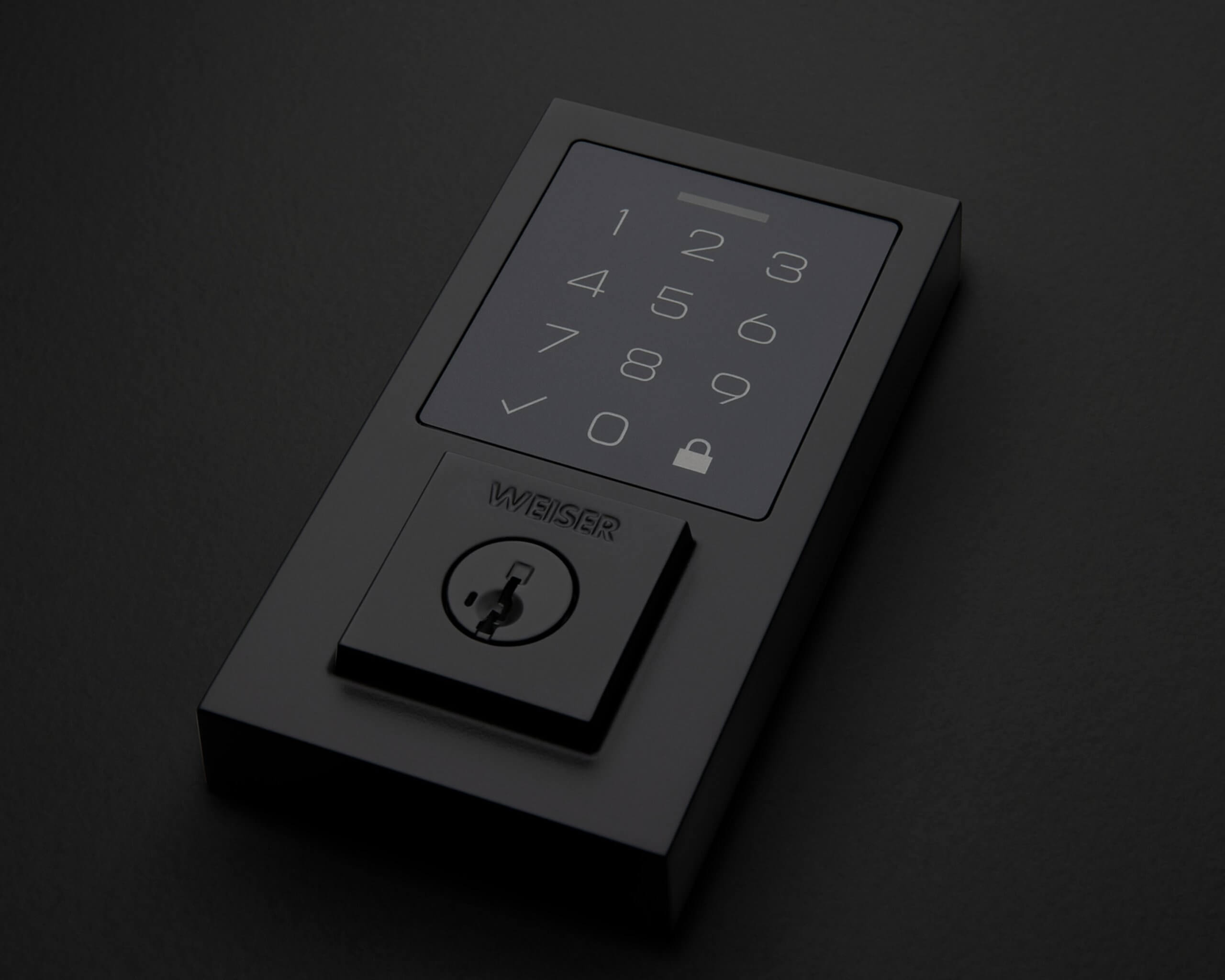 Photo courtesy of Spectrum Brands 
Bayne, too, said matte black is growing in popularity as it begins to overtake satin nickel as the number one door hardware finish. There is a trend to warmer finishes in general, including satin brass, while Bayne considers bronze to be limited to a niche market.
"Brass is becoming more popular in terms of interest, but the challenge is matching it up with other manufacturers' satin brass when it comes to lighting, plumbing fixtures, etc.," said Bayne. "Everyone seems to have a different brass, so that can complicate things."
The hard edges and ultra-modern look of past years' residential door hardware is giving way to softer, rounded shapes reminiscent of organic forms – what Bayne called a more "transitional contemporary" design that complements many décor styles. He said mixed finishes and textures may soon be coming to a front door lock near you.
Trends in residential door hardware are inspired by other sectors, including architecture and interior design. Companies must do a lot of research to stay ahead of the next big thing.
While tomorrow's trends may be uncertain, one thing is for sure: Smart, connected homes are growing in popularity and the key to embracing that technology starts at the front door. —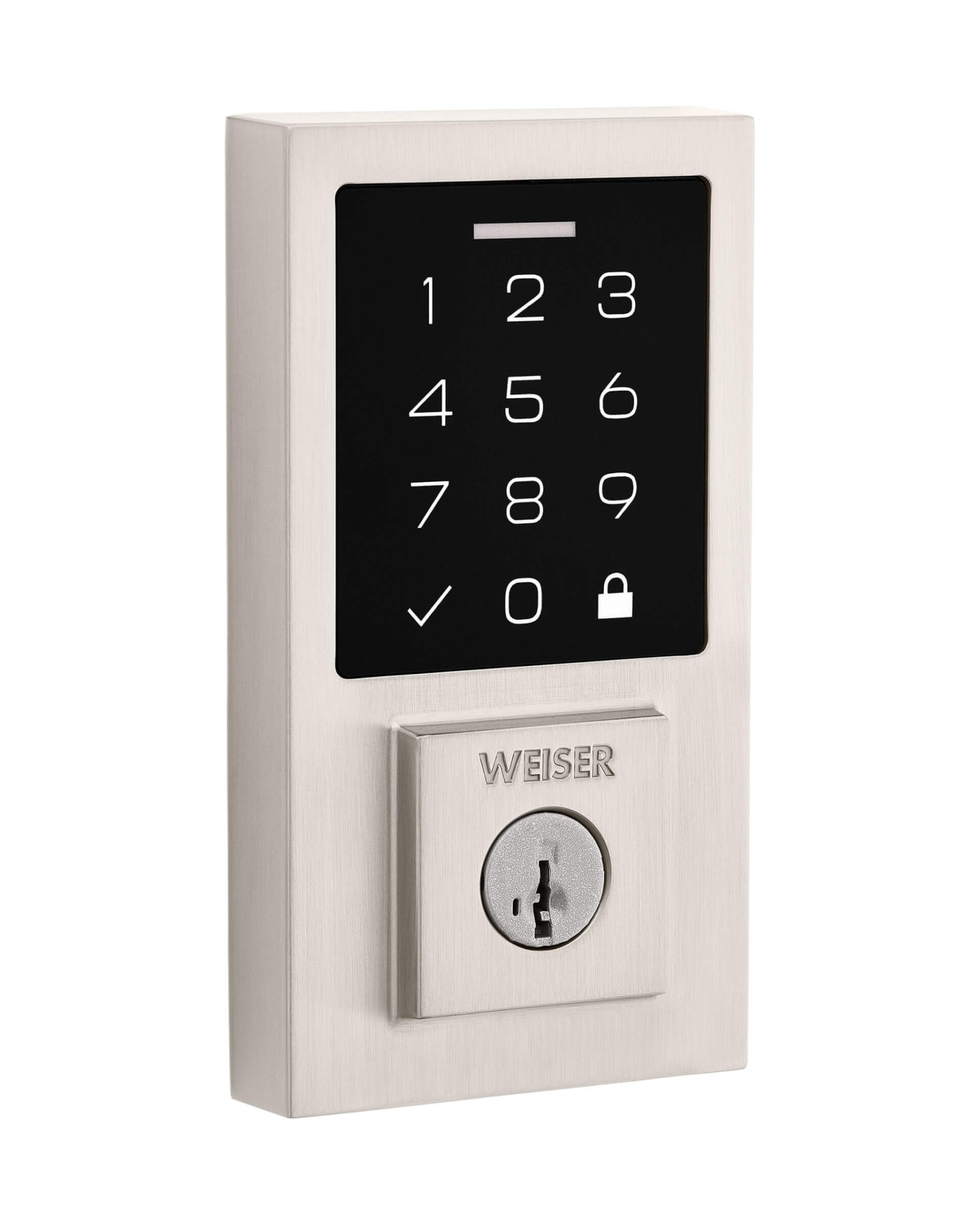 Photo courtesy of Spectrum Brands