When it comes to interior design, curb appeal, energy efficiency and security, no other elements of a home have quite the same impact as doors and windows.
Today's doors and windows reflect the changing needs of building codes, broader choices thanks to technological advances, and on-trend styles and colours in line with homeowners' evolving wish lists.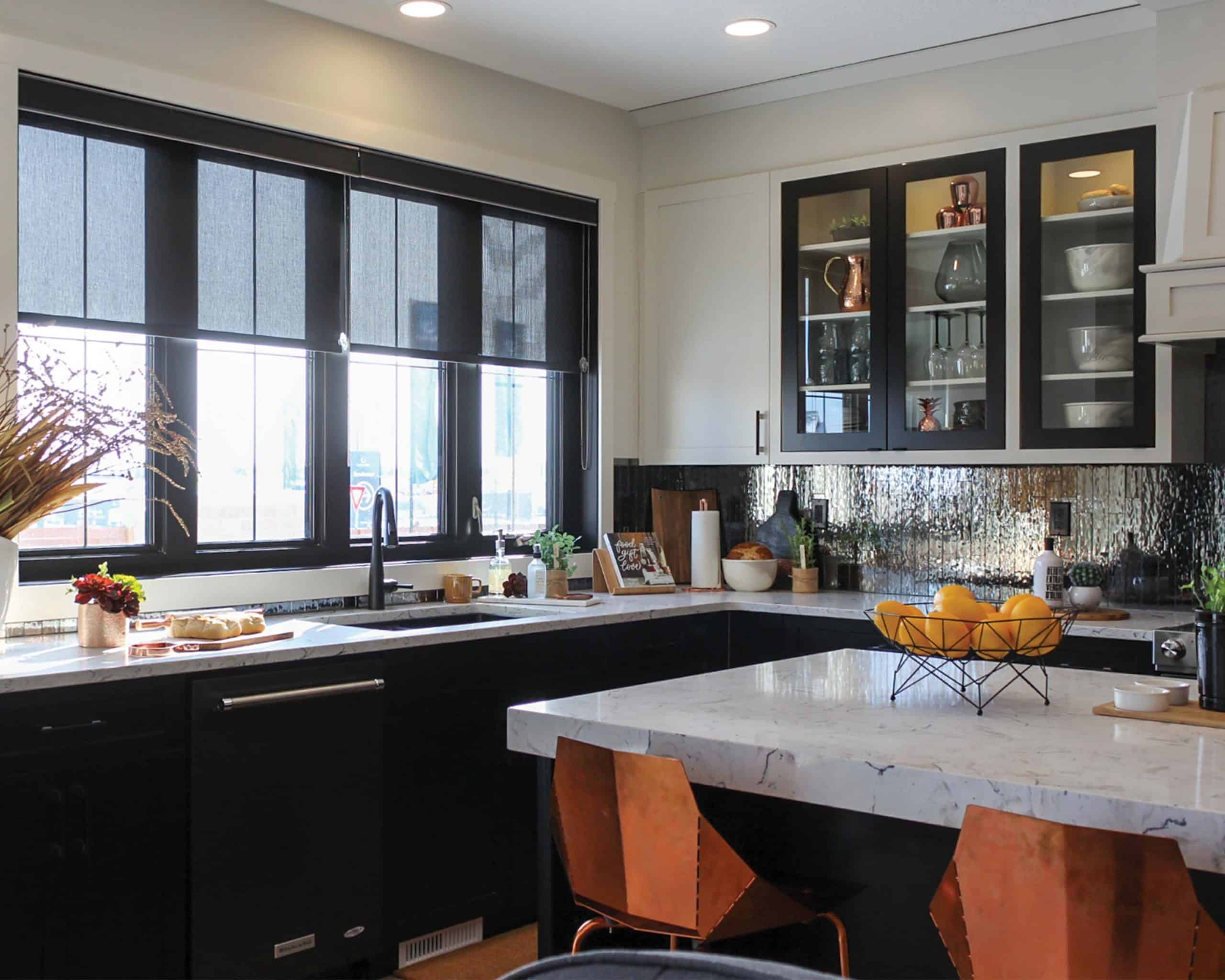 Photo courtesy of All Weather Windows
Stately Darker Frames
"In terms of colour, what we've seen over the last few years is a move to darker colours," says Jeff Pigeon, Product Line Manager, Windows, at Jeld-Wen. "With exterior colours, the painted options for vinyl windows in dark earth-tone colours have been dominating the market for the past few years."
Technology has been an integral part of that trend. "Before, painting a colour on a dark window profile meant you would end up with a warped, blistering profile," says Pigeon. "Advancing paint technology has opened up the option of using those dark colours over the past few yeas. Before we weren't able to get people these dark true blacks for exterior colours, but now we can, and we can still provide a full warranty on them, as well."
Tracy Nadiger, Director of Marketing, All Weather Windows, agrees. "From a color perspective we are seeing black on the outside of windows becoming more and more common." She adds, "Right now, grey is even more on trend for windows and has increased in popularity over the last 18 to 24 months." She points out that these colour choices reflect other design trends. "If you look at siding and hardy board, their popular color palettes have shades of grey as well so it makes sense that the windows are following suit," says Nadiger.
Dark shades aren't the only ones gaining traction. "We are starting to see a bit of an uptick in bronze, so that will be a color to watch," says Nadiger.
Technology has improved over the years, which has facilitated choices beyond basic white, for consumers. "The way color is applied to a window varies by manufacturer; you can have capstock color, painted windows, acrylic wrap which is laminated to the PVC, and then aluminum clad which is put over top of the PVC," says Nadiger.
"The acrylic wrap has gained a lot in popularity as it resists scratching, fading and chalking which are common issues in capstock, paint and aluminum clad."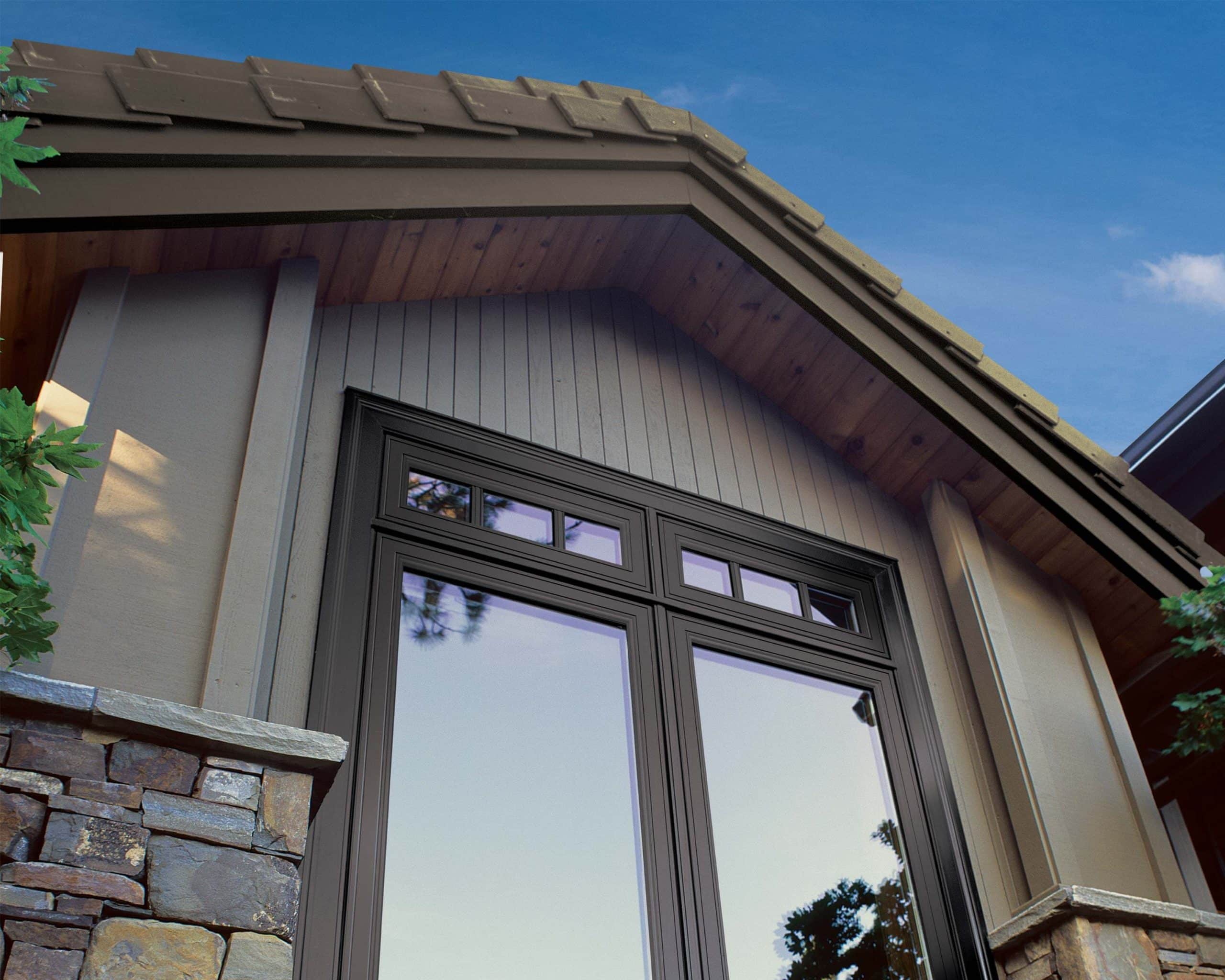 Photo courtesy of Jeld-Wen Windows & Doors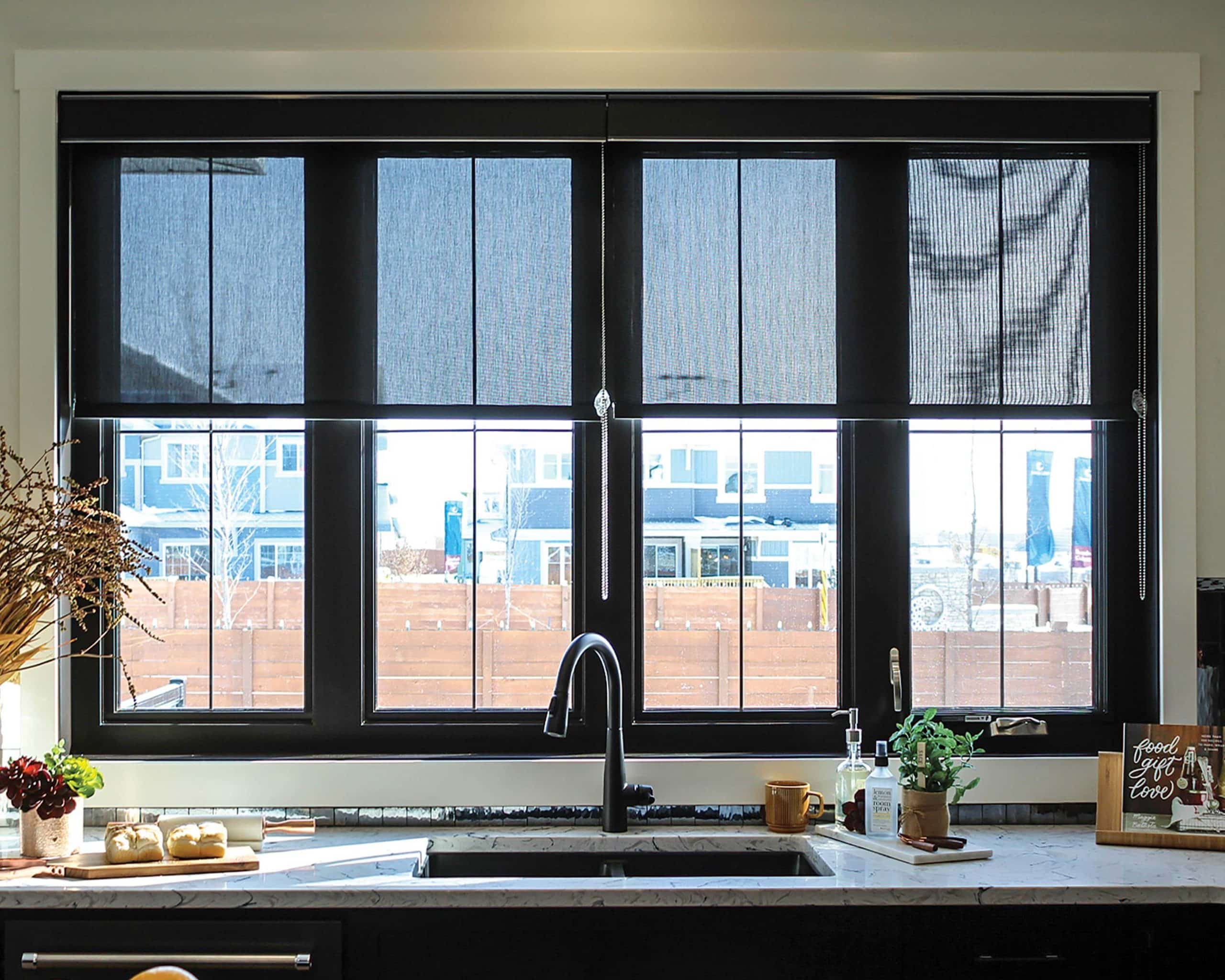 Photo courtesy of All Weather Windows
Inside, Anything Goes
Inside the home, colour palettes for windows are expanding, as well. "No longer do you have to have white windows inside your house," says Nadiger, who says she's seen an uptick in the number of consumers interested in her company's interior colour options, as well as other finishes. "Customers can have any of our six acrylic wrap colours, or if they want a wood look without the maintenance they can have a stainable fir grain acrylic wrap that you stain to match the rest of the wood in your home."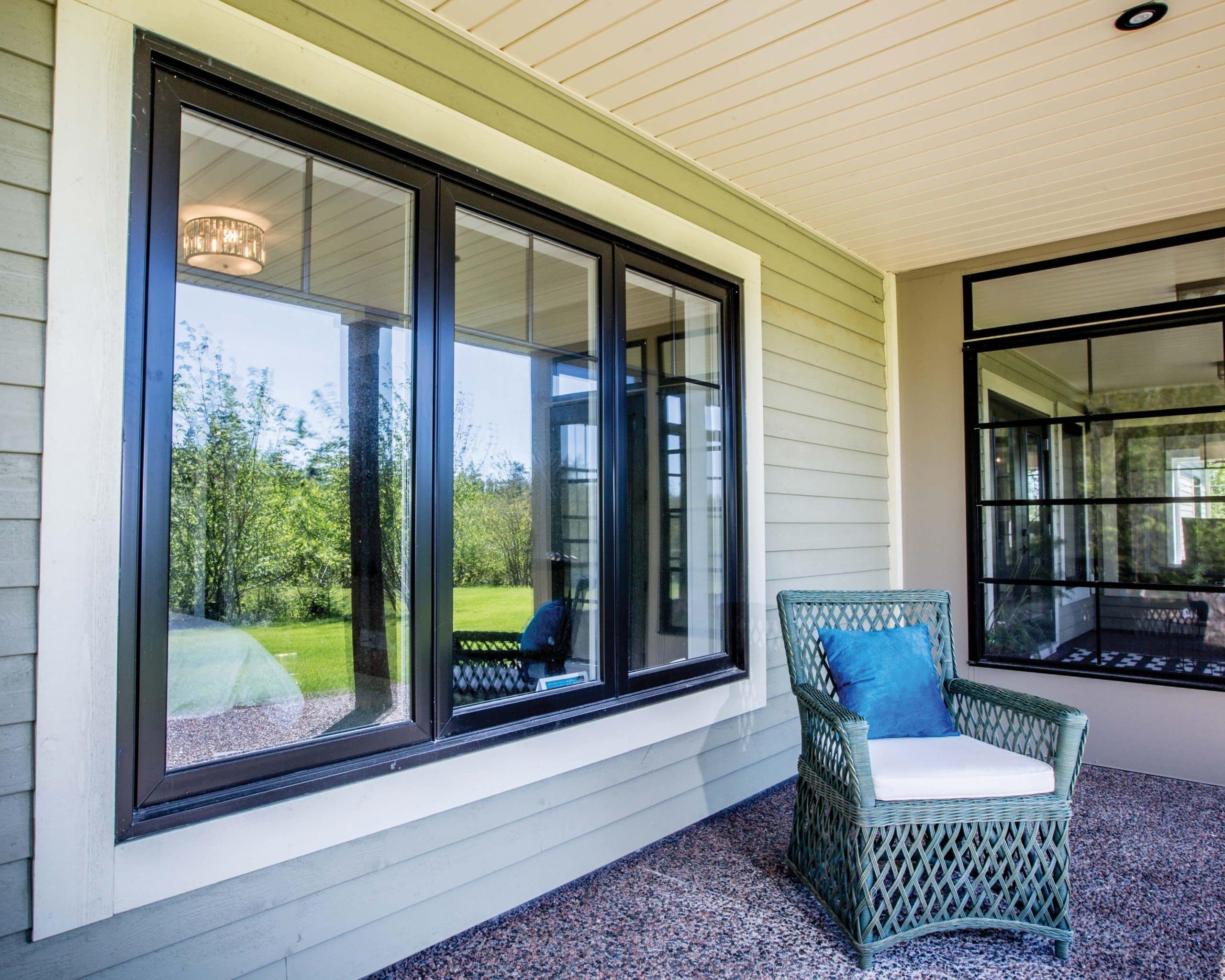 Photo courtesy of Kohltech Windows & Entrance Systems
The Shape of Things
Beyond colour, other changes are taking shape, as well. "One trend we're keeping an eye on is a move to a more contemporary, smaller window profile," says Pigeon. "It's about maximizing glass and making the most of the view." he adds, "Clean lines seem to be dominating what everyone's looking for."
"The other big thing in windows is that we see them getting bigger," says John Arsenault, Director of Sales for Atlantic Canada, Kohltech Windows & Entrance Systems. "That can be a challenge because they're getting a lot heavier, which makes things more challenging for installation and everyone who handles the windows in the supply chain."
Arsenault points out homeowners are giving a lot of thought to their windows and how they'll help enhance their homes and make the most of their surroundings. "They're choosing styles that have fewer grills and let in more light." Arsenault adds, "If people are building homes with lake or mountain views, for example, they're making sure they have big windows."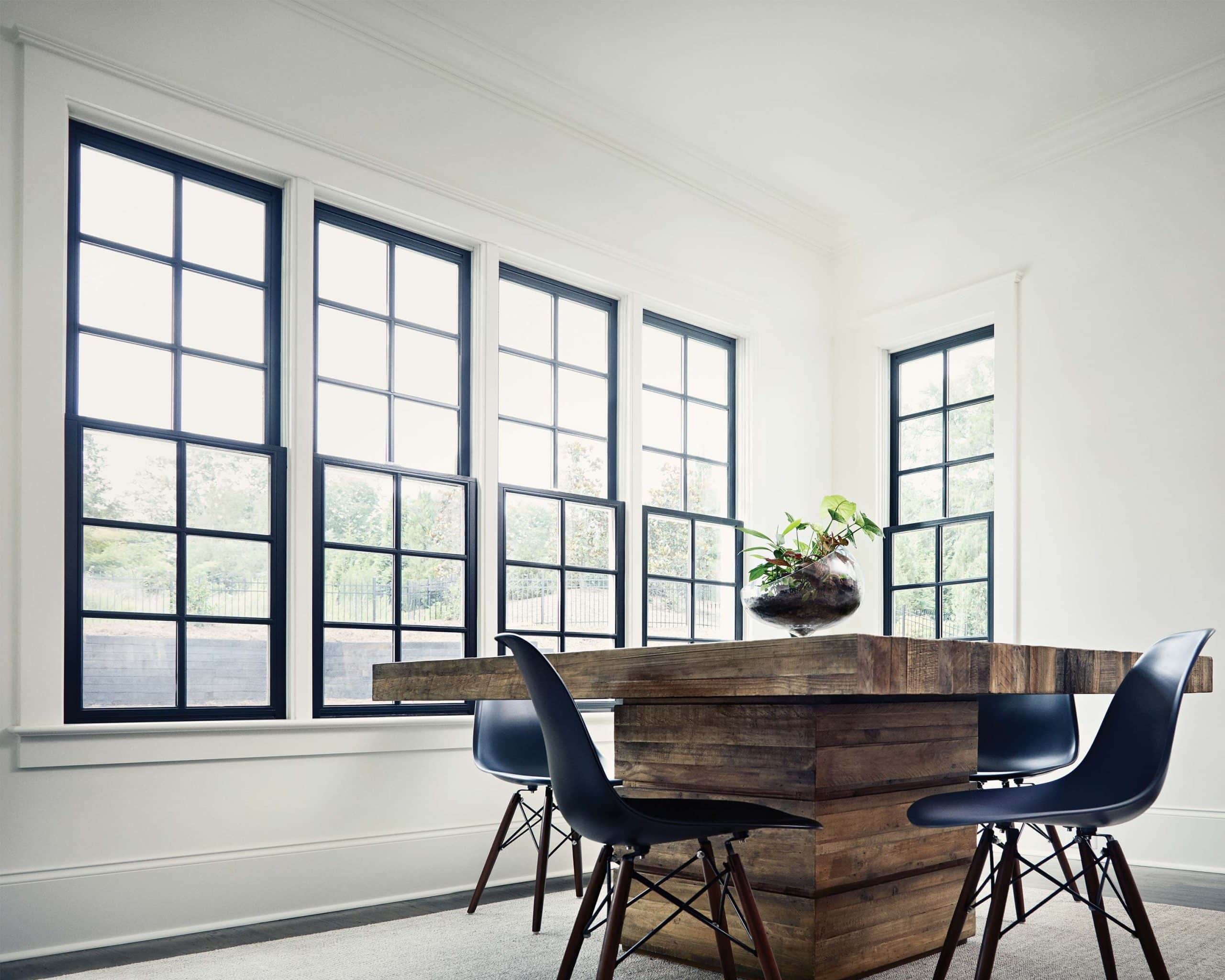 Photo courtesy of Jeld-Wen Windows & Doors
Performance, Efficiency
Energy efficiency is a driving force for innovation, when it comes to windows. "First, the national building code requires new home builders to meet certain overall energy efficiency levels in their homes," says Nadiger. "Since windows are a big part of the building envelope it's important that they are as efficient as possible. There are requirements for windows to meet certain U values or energy ratings, depending on the number of heating degree days in the geography."
Another driver in the push for more energy efficient windows is the Pan Canadian Framework on Climate Change. "The Canadian government has said that by 2030 they want all new homes to be net zero and that windows will have U value ratings below 1," says Nadiger. "Currently there are no mass-produced windows that meet this U value and so this will definitely drive innovation." She adds, "Things like vacuum glazing and triple pane glass with standard IGs along with a number of coatings on the glass will become more of the standard."
Arsenault sees demand for triple glazed windows already on the rise. "It used to be that a typical upgrade for energy effi- ciency would be to go from standard glass to a Low E glass," says Arsenault. "Well, now it's going from two panes to three and that's with Low E on two of the three glasses." He adds, "You can double the energy performance when you go to a triple glaze window." And that's critical for energy efficiency, he points out, since, "you can insulate the walls all you want but windows are the area where there's the reduced energy rating. A better rating on the windows means you can make a significant performance improvement on the whole envelope."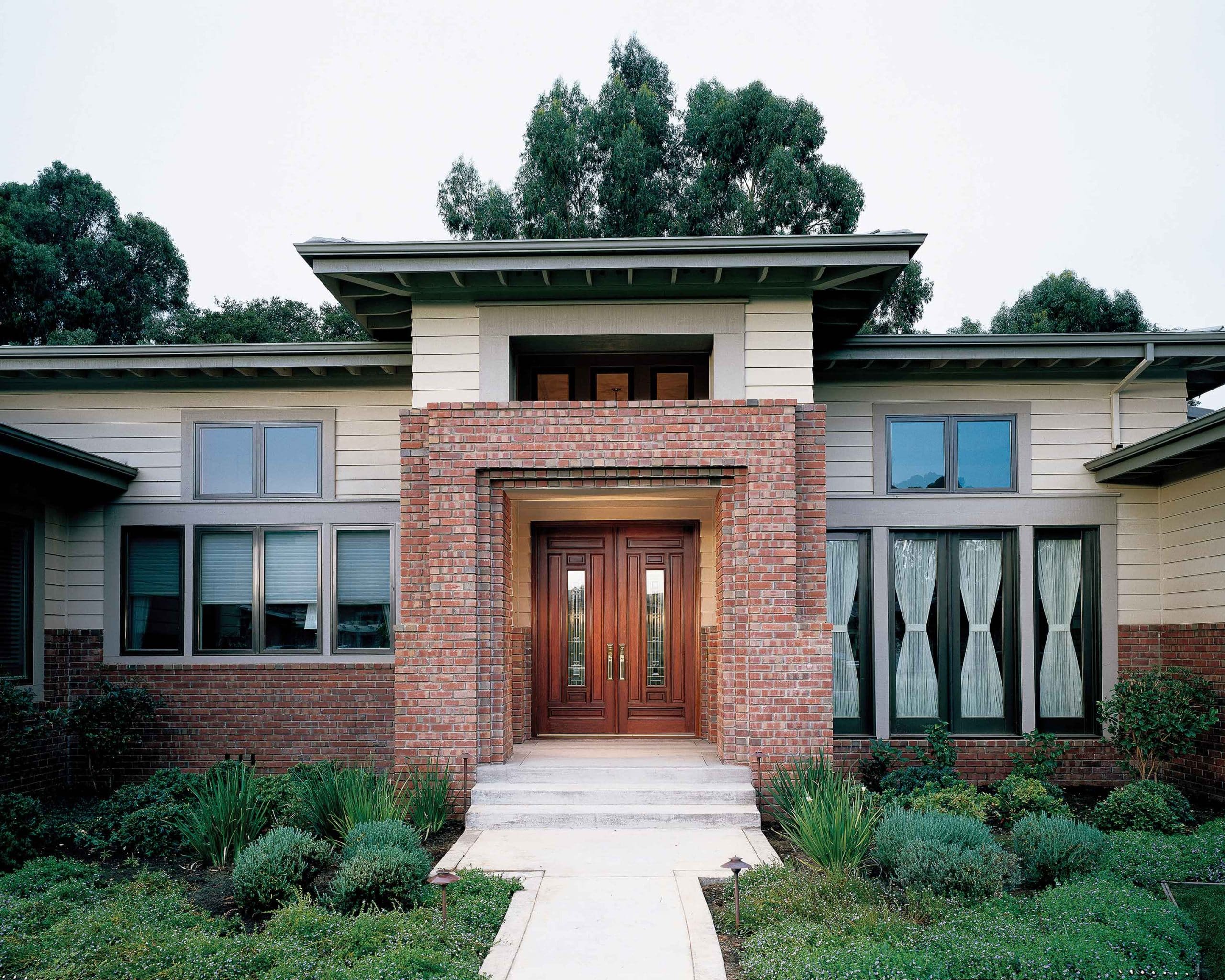 Photo courtesy of Jeld-Wen Windows & Doors
Door Styles and Colours
In terms of design impact, doors have the potential to make a serious design statement. "When you look at a house, what do you remember?" Asks Susan Ryan, Product Line Manager, Interior/Exterior Doors, for Jeld-Wen of Canada. "What you should remember is the door; it should be the focal point."
The big trends in terms of door design —simple but bold choices—support this idea. "The continuing trends that we see staying popular are the craftsman style product and mid-century modern styles," says Ryan. "These types of doors can either have traditional glass with rail patterns or they can have more decorative caming and different types of glass." She adds that it's the clean lines that customers are finding so appealing.
Preferred shapes for door lights are changing, too. "Think back to it in the '50s and '60 where they would have three diamonds cut into the door or four squares, or one big long light that's six inches wide but runs the whole length of the door," says Ryan. "They're coming back, but with a little more flair; so it's not just plain or opaque glass, but decorative glass with silk-screened designs and textures." She adds, "It replaces the half moon and sunburst door lights that we're not likely to see much of anymore."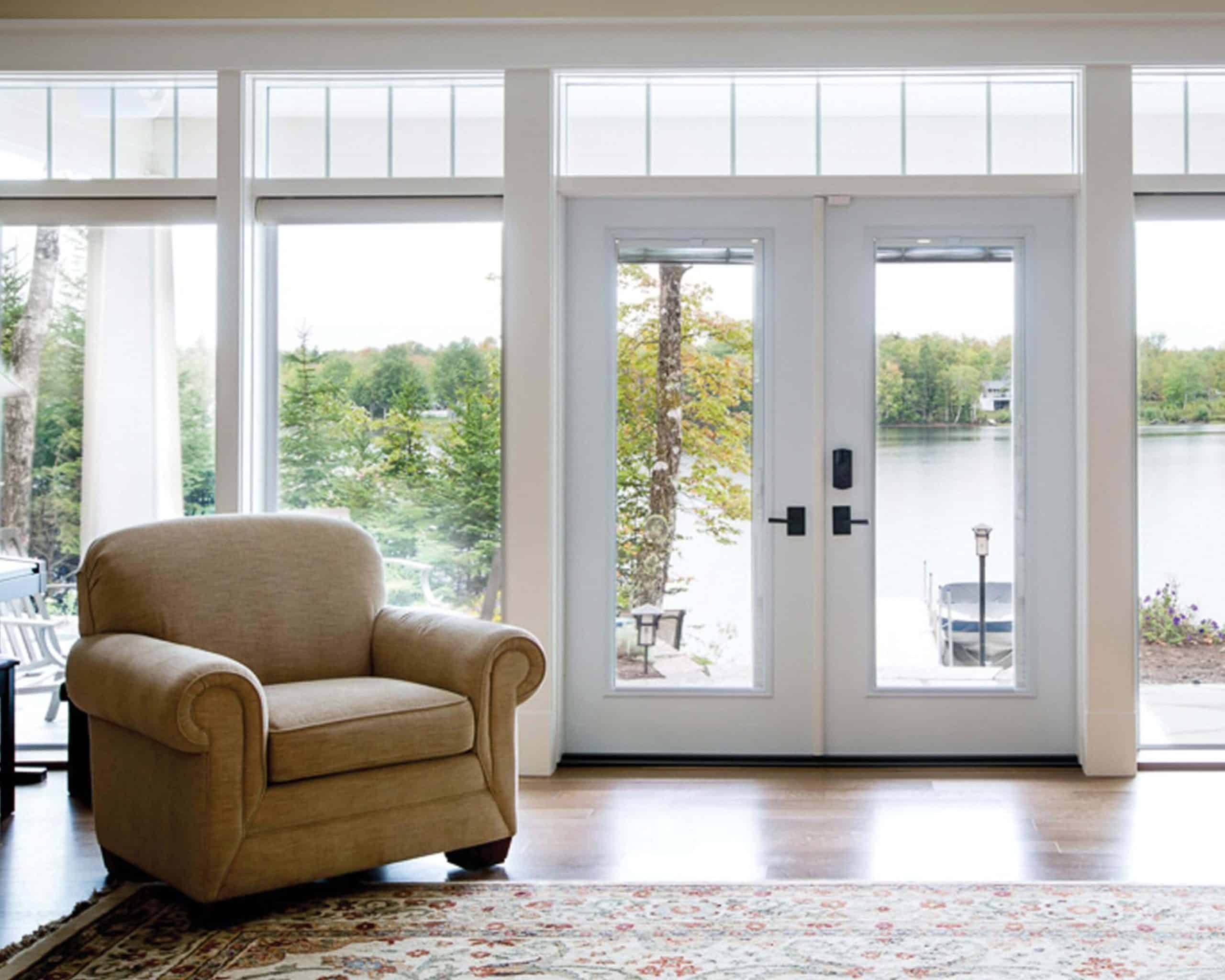 Photo courtesy of Kohltech Windows & Entrance Systems
Bold Colours
As far as colours go, there are several trends. "If it's a fiberglass wood grain door, we tend to see dark browns and even shades of black," says Arsenault. "People are interested in a rich wood look." That ability to look like wood grain, plus its durability, has helped fiberglass continue to grow its share of the market, over steel.
When it comes to smooth, painted doors, bolder colours are an increasingly popular choice. "We're often seeing bright reds and blues and yellows," says Arsenault. "People are looking for very vibrant and distinctive front door colours."
"It's one effective way to really have your house stand out from your neighbours," says Pigeon, whose company offers on-trend door colours in mid-century inspired turquoise, green, red and other hues. "They want something distinctive, even in a neighbourhood where houses look the same."
On all home design points—including doors and windows—consumers are spending more time thinking about their choices. "They're doing a lot of research online and they're watching renovation and design shows and reading magazines," says Arsenault. "They're building their retirement homes or their dream homes and making choices about energy efficiency and performance and comfort." He adds, "They're asking contractors for features they never considered asking about, 20 years ago."
More choices, better-informed homeowners and improved technology can add up to door and window design decisions that benefit the look and efficiency of any home.