After a few tumultuous years, with climbing flooring prices and challenged supply chains, the flooring market is seeing a post-covid cooldown.
That's not to say, however, that opportunities aren't there for contractors with the install expertise, product familiarity and customer service strength to take advantage of them.
"Definitely, the flooring market is still alive and positive," says Sven Johnson, Director of Flooring at Taiga Building Products. "It certainly has cooled off from the record and unprecedented increases through the pandemic."
He says the market is still seeing
above-normal activity compared to before 2020, and attributes it to several factors, including real estate boons and housing shortages in certain areas of the country, such as the Maritimes and Prairies.
It's a perspective shared with many of his peers at leading floor vendors. "The flooring market is in a covid correction," notes Jeff Morrison, Vice President at Goodfellow Inc. He notes that the biggest trail off is at retail and in large urban and suburban centers.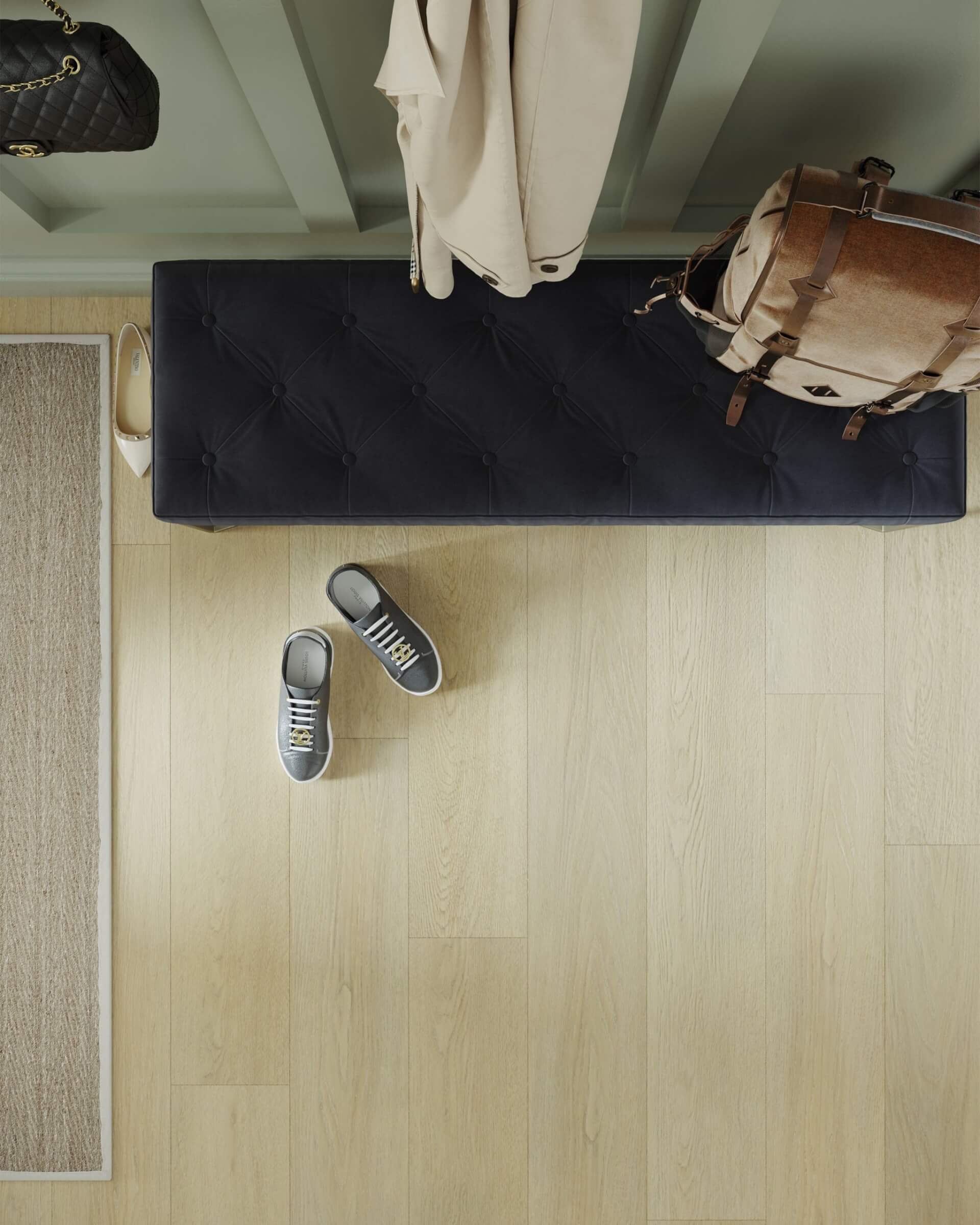 Photo courtesy of Taiga Building Products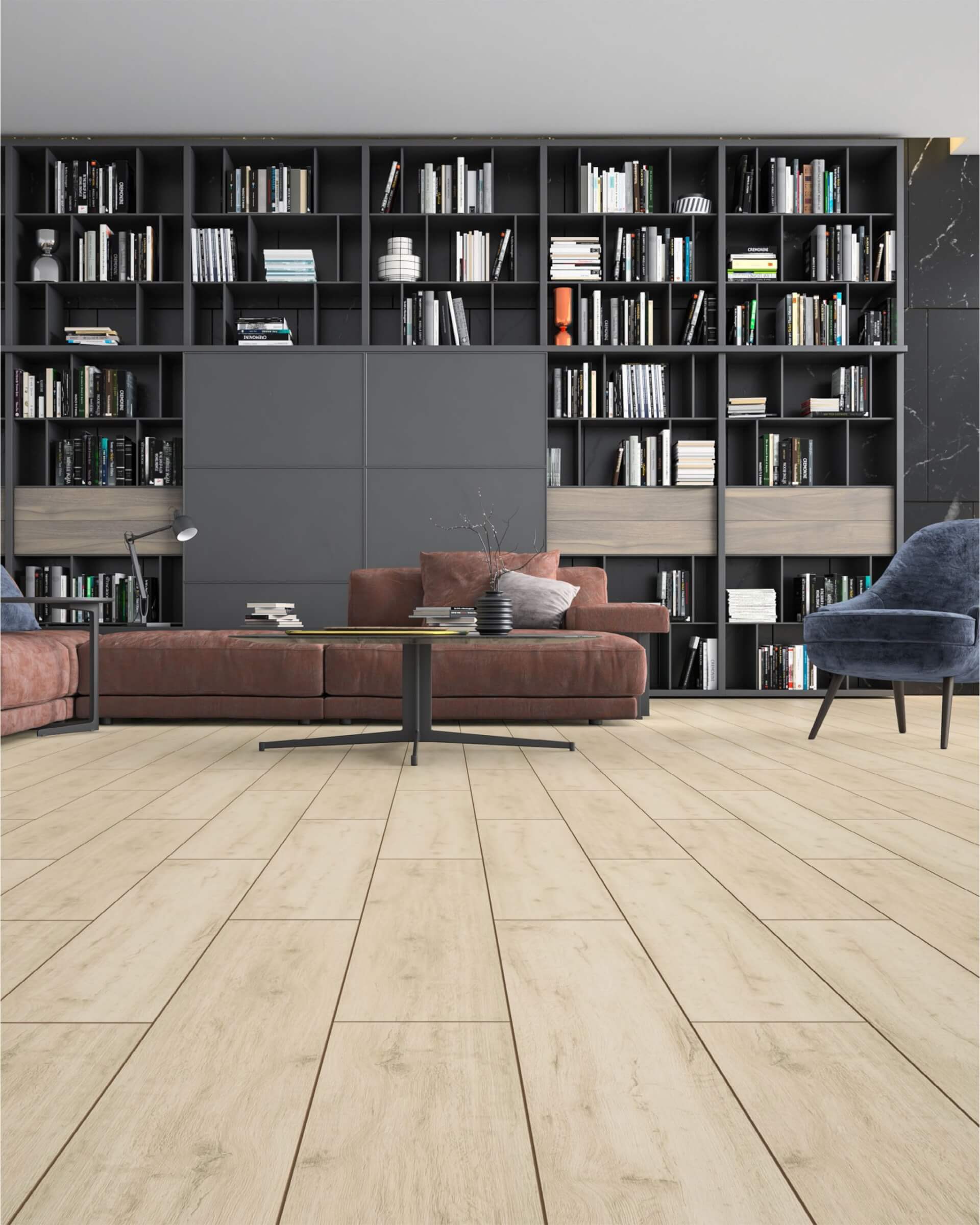 Photo courtesy of Goodfellow Inc.
"A lot of people did renovations during covid, and now they're back in the office. So, in 2020, 2021 and 2022, we traded some future business for people to do things then."
"Also, the share of wallet has changed," he continues. "Consumers are now spending money in other places. You see it at the airports, on the roads, at the restaurants. People are out and about again."
INTEREST RATES AND INFLATION IMPACT
In July, as an ongoing inflation countermeasure, the Bank of Canada raised the benchmark inflation rate another 25 basis points, to 5.0%, and it suggested future hikes were possible with no likelihood of cuts in sight. On the reverse, inflation had cooled to 3.4% in May, from its peak at 8.1% in June 2022.
As interest rates continue to rise, Morrison adds that householders are thinking twice about projects they invest in. Still, with a pronounced housing shortage, he sees a huge opportunity for flooring installers in custom homes and multifamily units, with new builds returning to a normal rhythm.
"There's still a lot of work," he says.
Ross Keltie, Vice President of Sales and Marketing of Centura Tile, calls the market "a little soft" in part due to financial uncertainties and rate hikes, but he's optimistic. Soft, of course, compared with the last three or four years, which he says have been "absolutely stunning."
To strengthen their business in a softer market, he suggests contractors not ignore the renovation market. "It's not going to be as hot, but it's still a very good market. A lot of people couldn't get contractors or get their jobs together because the prices went up."
"Now that prices have stabilized, people who didn't spend their money on holidays, they're going to be out there taking advantage of the new pricing and availability that's there."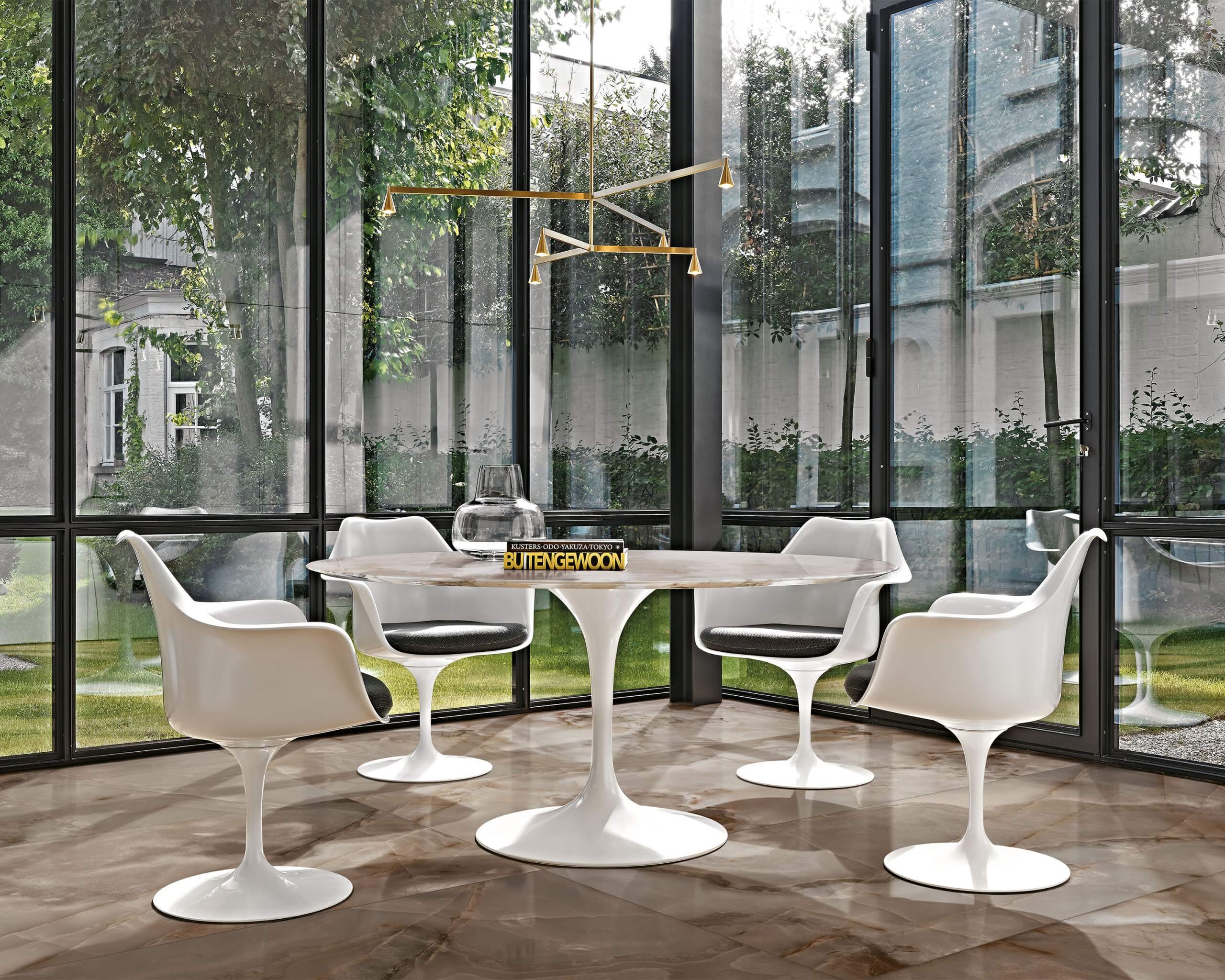 Photo courtesy of Centura Tile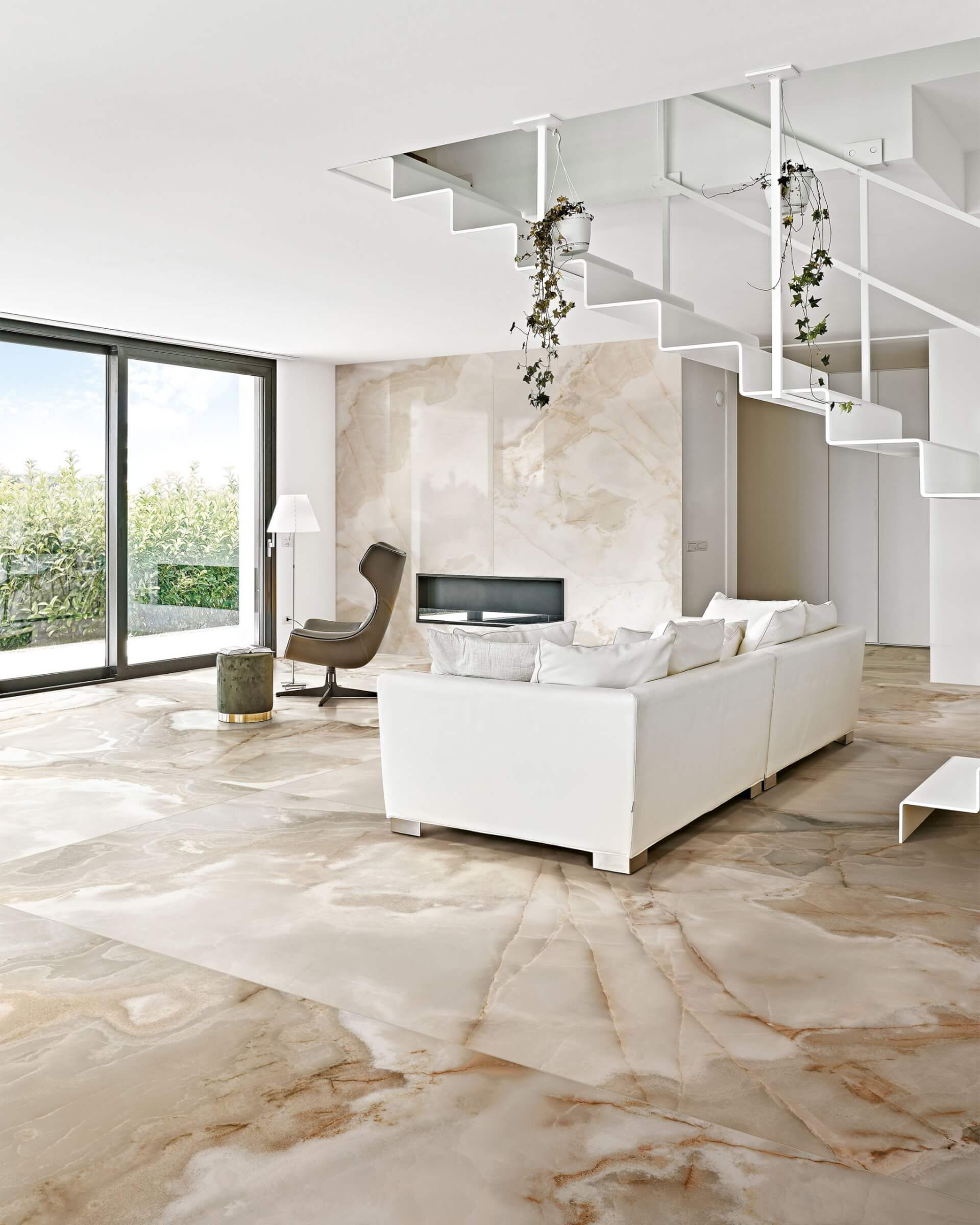 Photo courtesy of Centura Tile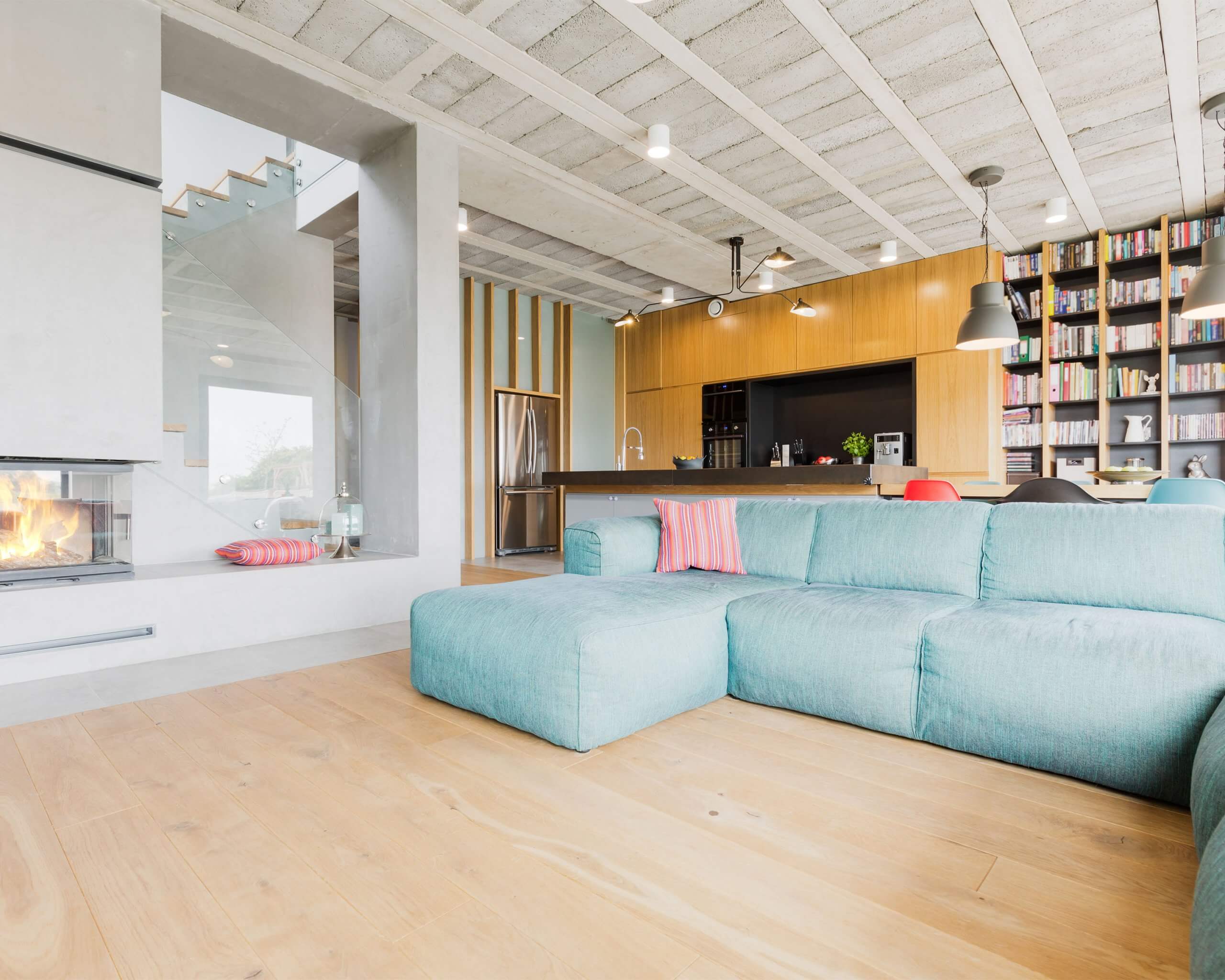 Photo courtesy of Gillfor Distribution Inc.
"People have money," he says, citing the interest he's seeing in showrooms. "It's just you have to offer them a good value for them to open their purse strings."
VINYL & LAMINATE CONTINUE TO TREND UP
While a decline in house flipping has slowed down the use of some entry-level flooring systems, the "vinyl revolution" continues, according to Morrison.
However, past poor installations have some homeowners a bit warier of certain products, such as SPC (stone plastic composite) vinyl, since it's paramount that subfloors be level to prevent separation. With that in mind, Morrison says he's seeing more contractors turn to loose-lay vinyl flooring installed with adhesive.
"Ironically, glue has become a big deal in the couple of years," he says, adding that glue assistance is also vital to installing the wider widths of engineered wood planks homeowners are seeking lately. Contractors need an adhesive that's not only effective but easy to clean off surfaces, he says, pointing to Stauf Adhesives distributed by Goodfellow in Canada.
Mike Schneider, Vice President of Business Development at Gillfor Distribution Inc., echoes the sentiment that contractors must be attentive to the underlayment and instructions around SPC vinyl.
"I think because it's so easy to install and so forgiving when you first put it down, some installers have not done the proper preparation work, leading to a larger number of claims (around SPC) than the industry has seen in the past," he notes.
"It's installation error, but due primarily to expecting too much from the product."
After three years of high demand in the market, and with its 2022 acquisition of AFA Forest Products, Gillfor is in planning mode for 2024 with R&D top of mind. "We believe there are some significant changes to flooring happening right now," Schneider says. "And a lot of R&D catchup that needs to be happening."
One of those areas of recent R&D-sparked improvement is around laminate, increasing its popularity with homeowners. The area of improvement helping the material gain traction: water resistance.
"One category on a growth spurt is laminate, and it's competing directly with luxury vinyl because of its ability to resist moisture," Johnson says. "People are very conscious of water and whether it is going to ruin their floor."
Photo courtesy of Gillfor Distribution Inc.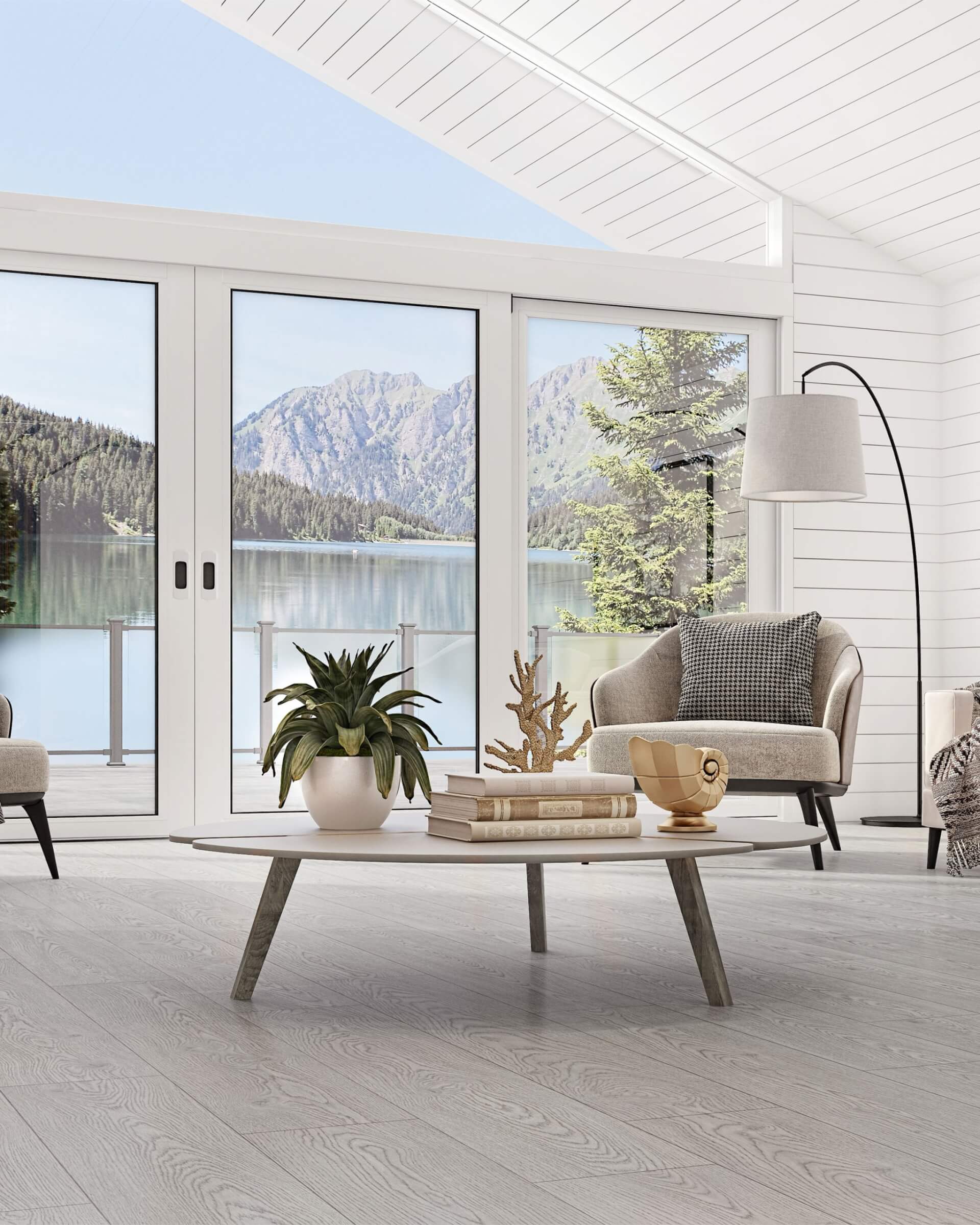 Photo courtesy of Goofellow Inc.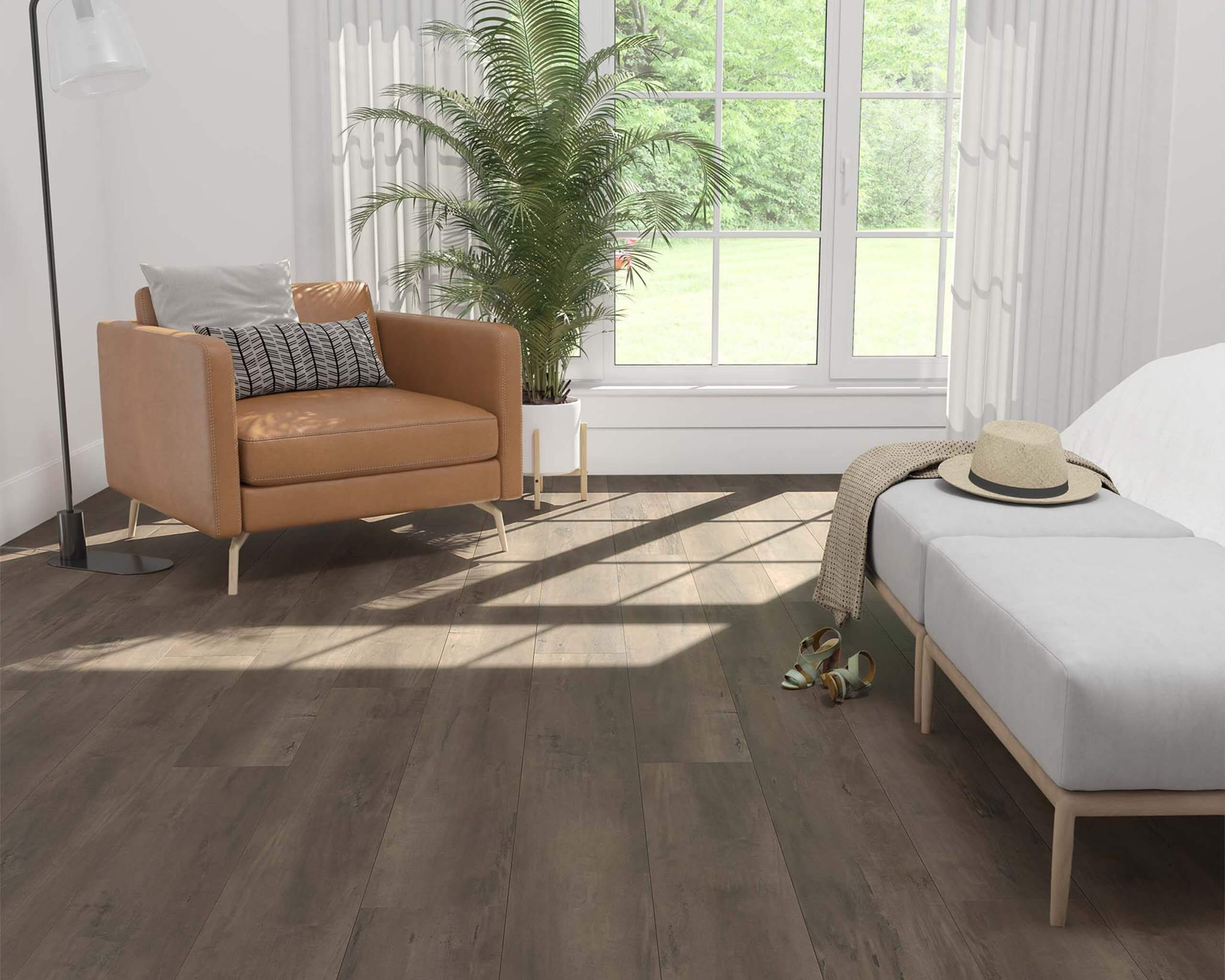 Photo courtesy of Taiga Building Products
"It may be overstated, but we're trying to provide a product that makes them comfortable, and we're seeing a lot of demand for water-resistant laminate, which is new."
Johnson points to another consideration being made around laminate, the low-emissions mandate in effect around the material. It's a good news story, he says, adding that his company is 100% compliant with new emission regulations.
As aesthetics go, it may be no surprise that wood grains and natural tones continue in popularity, and the trend towards wider planks or tiles continues in hard surface flooring. Lighter, warmer tones and greys with a touch of brown or beige ("greige") are popular.
DIGITAL DRIVES UP INTEREST IN PORCELAIN TILES
In tiles, bigger is better, with homeowners looking for larger size tiles, such as 24"x24" or 24"x48" ceramic tile, resulting in fewer grout lines.
"The size is moving up, and with that, so are the designs," Keltie says. "And people are that much more into decorating — with a larger format — and at the end of the day, it also adds value to their house."
He says Centura is also seeing a shift from grey back to beiges and warm colours. "When it comes down to the basics, a lot of people fall back to soft and subtle marble looks."
Advances in digital printing have been taking tile surfaces to another level, Keltie suggests. For example, they aren't just giving porcelain tiles the look of natural stone like marble, but with new and improved glazes, the feel — cost-effectively, and with virtually no maintenance.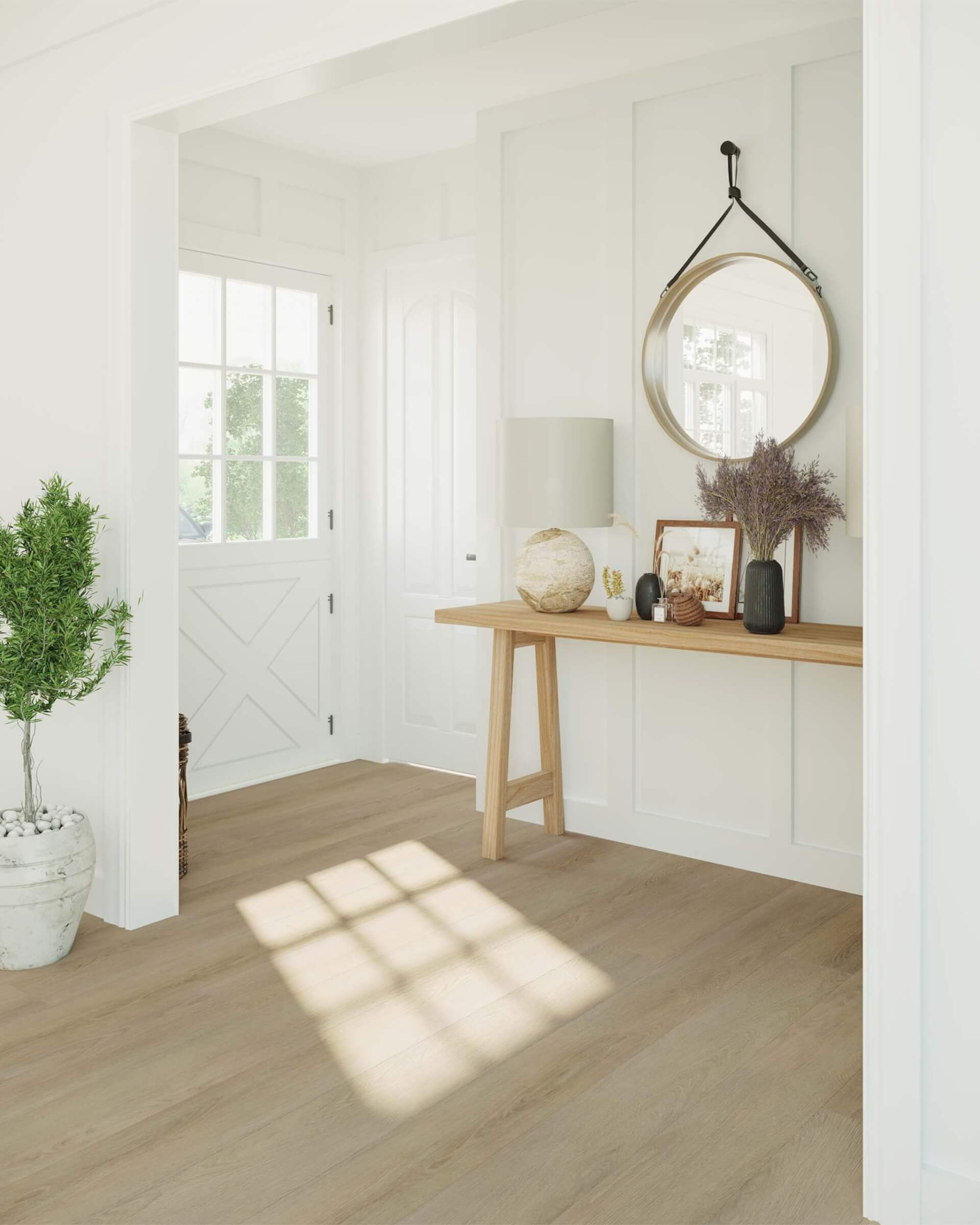 Photo courtesy of Taiga Building Products
"For the last five years or so, it's been 'shiny, shiny, shiny' but now people are going for the softer, silkier look. And they are hard-pressed to see the difference between real marble and the copy," he says, pointing to Touchstone 3D-printed porcelain tiles from Italian manufacturer Coem as a prime example.
Meanwhile, the tiles are easier to install and clean with a little detergent and hot water. Porcelain tiles are also stronger, harder and more
water-resistant than regular ceramic tiles.
Creating trust. Start with listening
No matter the flooring system, getting it right is essential. No one wants callbacks or unhappy clients.
Johnson points to the golden rule (and three
sub-rules, pun unintended): start with floor prep. "The three golden rules are clean, sound, and flat. If you can start there, you'll have a better chance to succeed with a perfectly installed floor (they) can be happy with for years to come without fail."
Of course, it's not just about preventing callbacks that should drive contractors to focus on following the rules and not cutting corners. "I think there is an opportunity for contractors who stay true to the instructions and the installation guides to step up and become trusted installers for the dealers they are working with," Schneider points out.
Building trust is key, whether with a client or dealer. With an eye on growth in floor replacements coming (from soft to hard surfaces), Johnson lays down one last piece of perennial advice:
"Really listen to the customer's needs, wants and desires. At the end of the day, they want a warm, refreshed living space," he espouses. "You will win more business if you take the time to really listen and meet those needs. Stay focused on customer service." —