Homeowners have been spending a lot more time inside the last few years, and it's created an appetite for change. The result has been a boom in building product categories and the contractors who install them, and interior doors have been no exception.
"We've seen a dramatic increase in business in all product categories, but of course interior doors — renovations — are through the roof," says Lauren Sabeski, Business Development Manager at Alliance Door Products. "People are upgrading and modernizing their houses and it's a phenomenal thing to see."
"We are not seeing a slowdown in that market," Sabeski says of activity in the new year, post COVID-19 lockdowns and reduced travel restrictions. He's optimistically positive around the end of the year and moving into 2023, and says Alliance continues to focus on "right-sizing" its plants to meet the continued high demand.
"The business is not going away."
One factor may be the continued trend towards working from home. "Working at home is still a trend that is leading to making an office space that functions with the lifestyle," says Jeffrey Pigeon, Senior Manager of Product Management of JELD-WEN of Canada. This is driving work-from-home householders to create more multifunction spaces.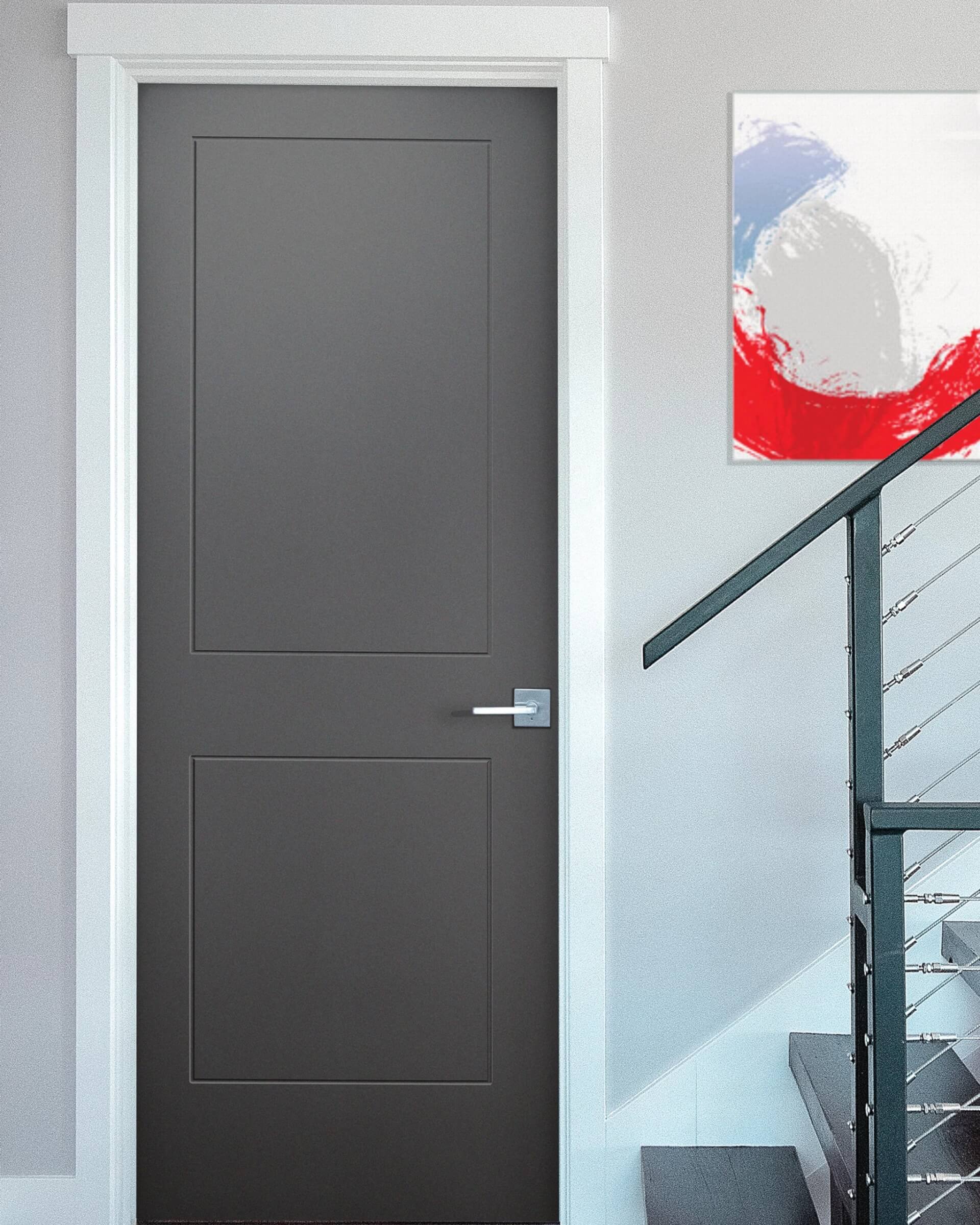 Photo courtesy of Alliance Door Products
Another change prompted by the pandemic is the desire (or need) to segregate rooms, a move away from the open concept spaces of the previous years. Double doors and folding (or retractable) doors are popular approaches to alternating between open and private spaces.
"Open concept, in a lot of markets, went crazy for so long, and now we're seeing a lot of homes transitioning back to closing off rooms, having offices, having separate spaces," says Dave Ludolph, Channel Marketing Manager for Canada, at interior finishings manufacturer Metrie. "And for us, this is where you start to see doors become more popular in homes again."
"Stile and rail doors are one of those growth areas and having more French doors and different options for French doors that will allow light in, but still separate you from your kids doing schooling in the next room or your partner who's also working from home."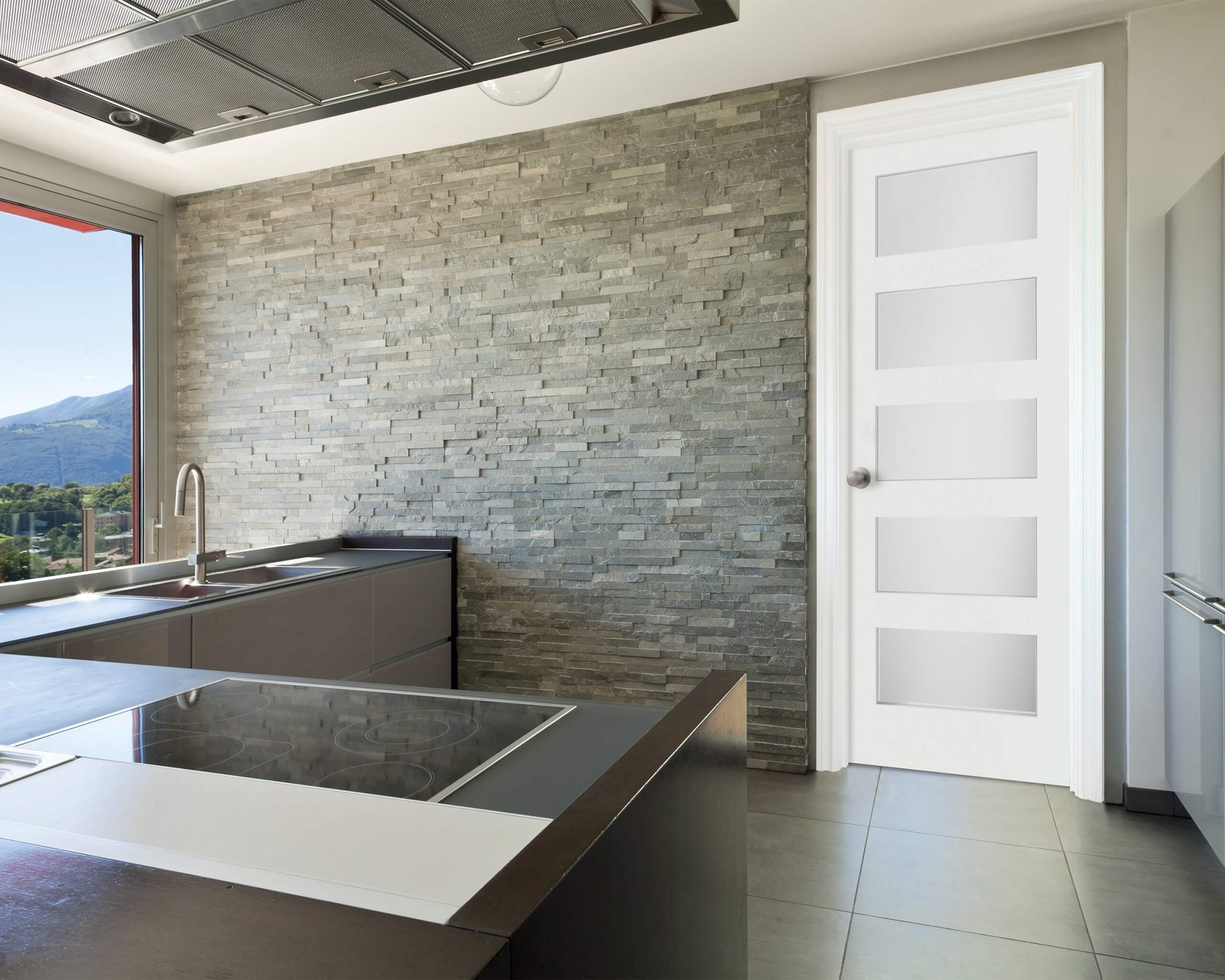 Photo courtesy of Metrie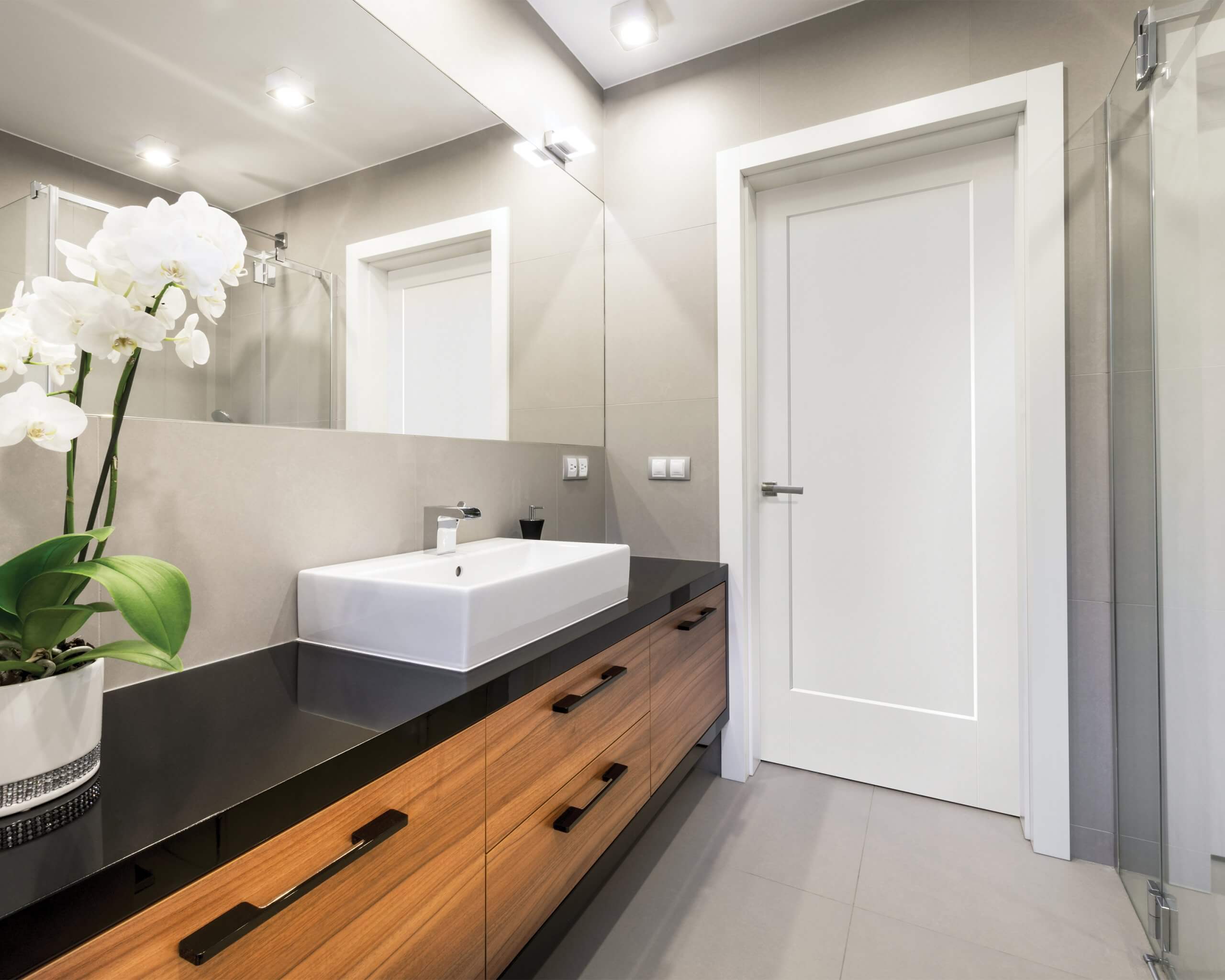 Photo courtesy of Metrie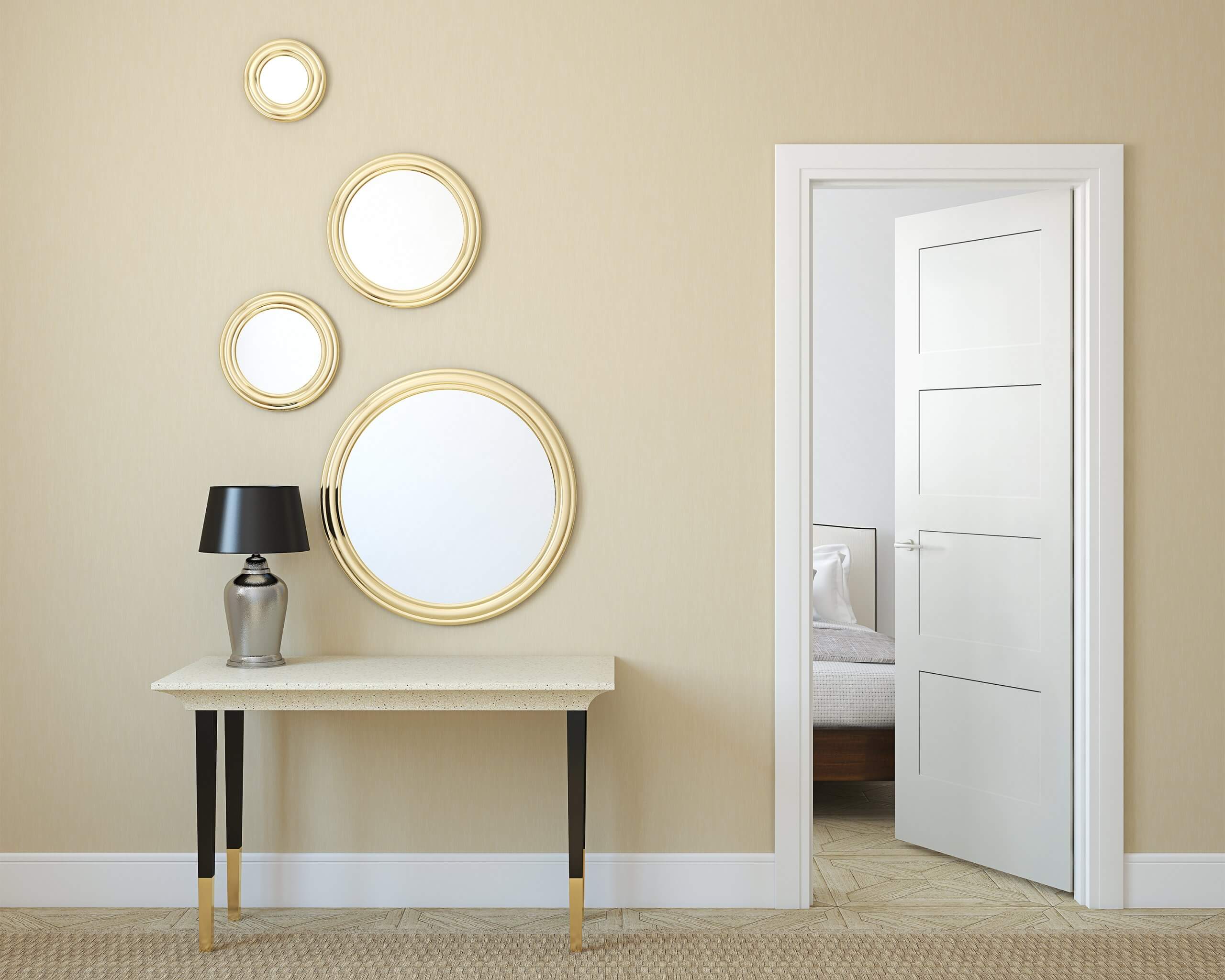 Photo courtesy of Trimlite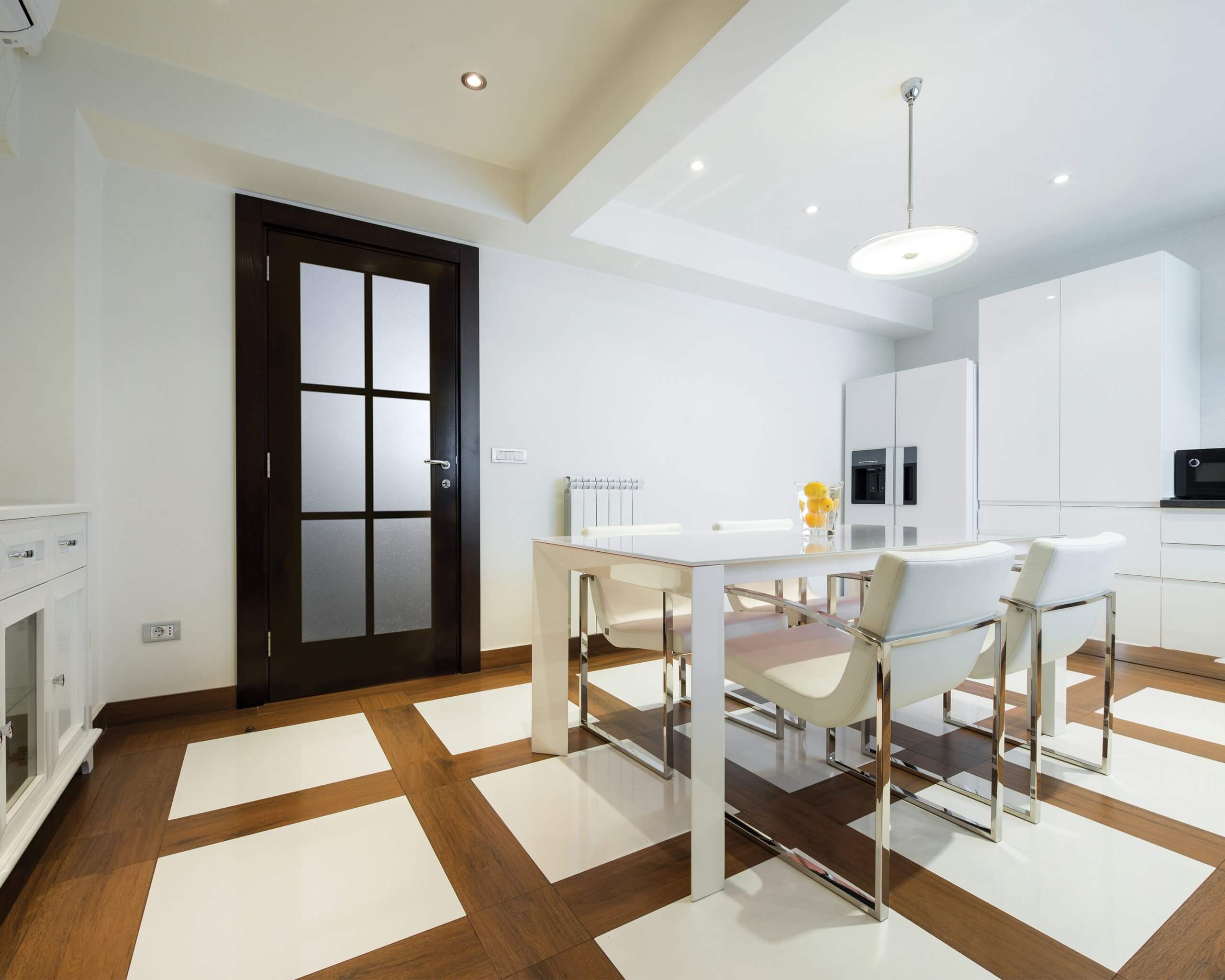 Photo courtesy of Trimlite 
TRENDS IN 2022: MODERN AND CONTEMPORARY DESIGN
Modern and contemporary styles that embrace simplicity and subtle sophistication continue to be a leading popular design trend for homeowners.
"Over the last three of four years, in terms of design, the theme of simple, clean lines remains to be en vogue," says Eddie Choe, Director of National Accounts & Business Development, Trimlite MFG. This is both in terms of renovations and new builds.
"My wife is an architect, and she's very into straight lines — no curves — so when you look at door design, whether it's a moulded panel door or a stile and rail door, that's what you're continuing to see in terms of trends."
He says there's a correlation to be seen in terms of the design style's growth in other areas such as mouldings, kitchen cabinets and door hardware (For more on mouldings design trends, see "Are new aesthetic trends breaking the mould?" on page 26).
"Where we're seeing growth, your biggest door across builders today is still your two-panel smooth, so a pretty basic moulded panel door," Ludolph says. "But you're starting to see again more design trends that match your moulding trends; bringing back that Shaker look is big, and we've done a lot of work in our regions to ensure we have product [in those design styles] in stock."
JELD-WEN's Pigeon notes that "the market is showing a shift to modern styles such as Birkdale, Madison, Conmore and Flush doors," as well as taller doors (7' to 8') where possible — especially on the main floor of new construction. The most popular style, he says, for panel doors remains smooth Madison and Monroe doors in one- or two- panel designs.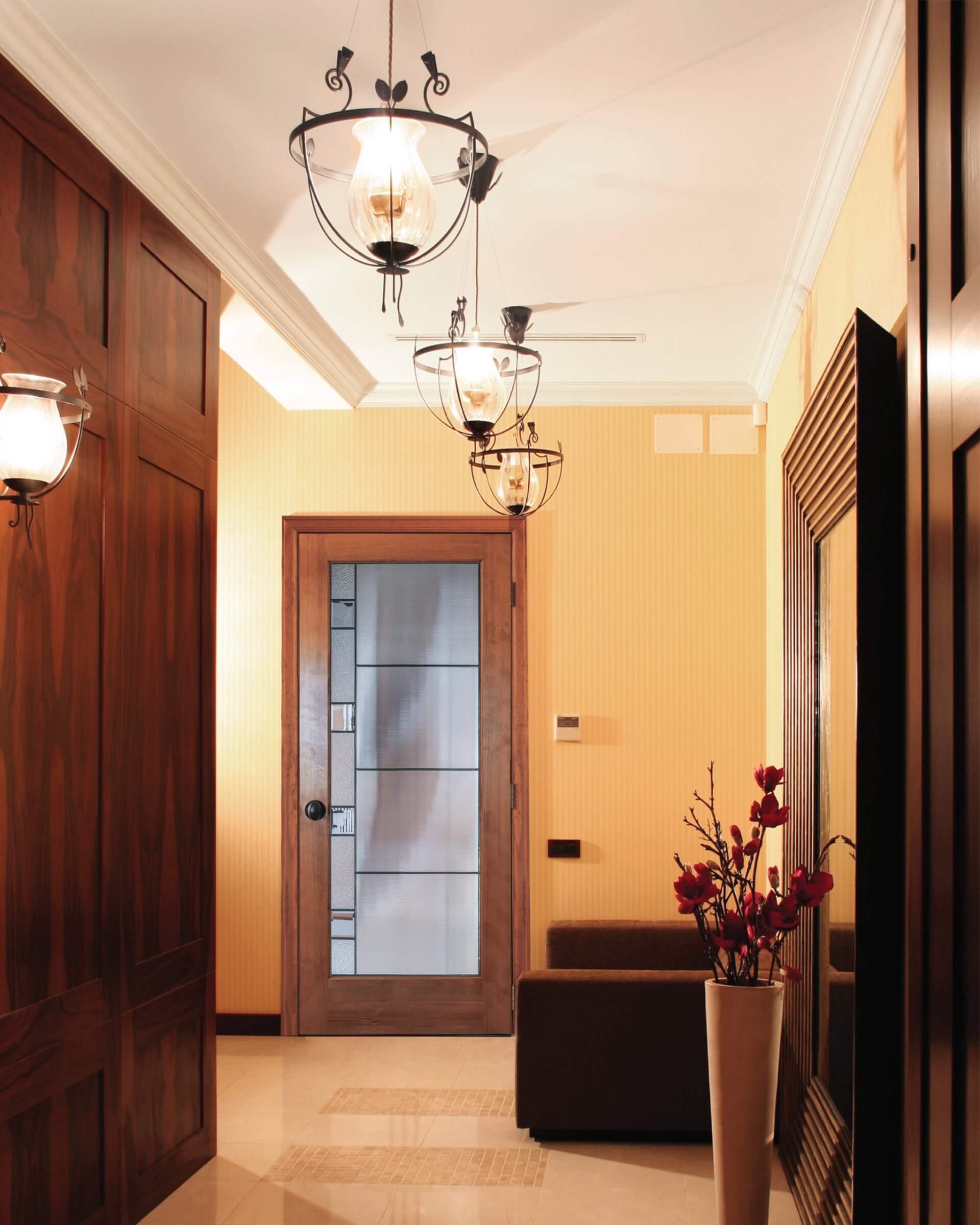 Photo courtesy of Trimlite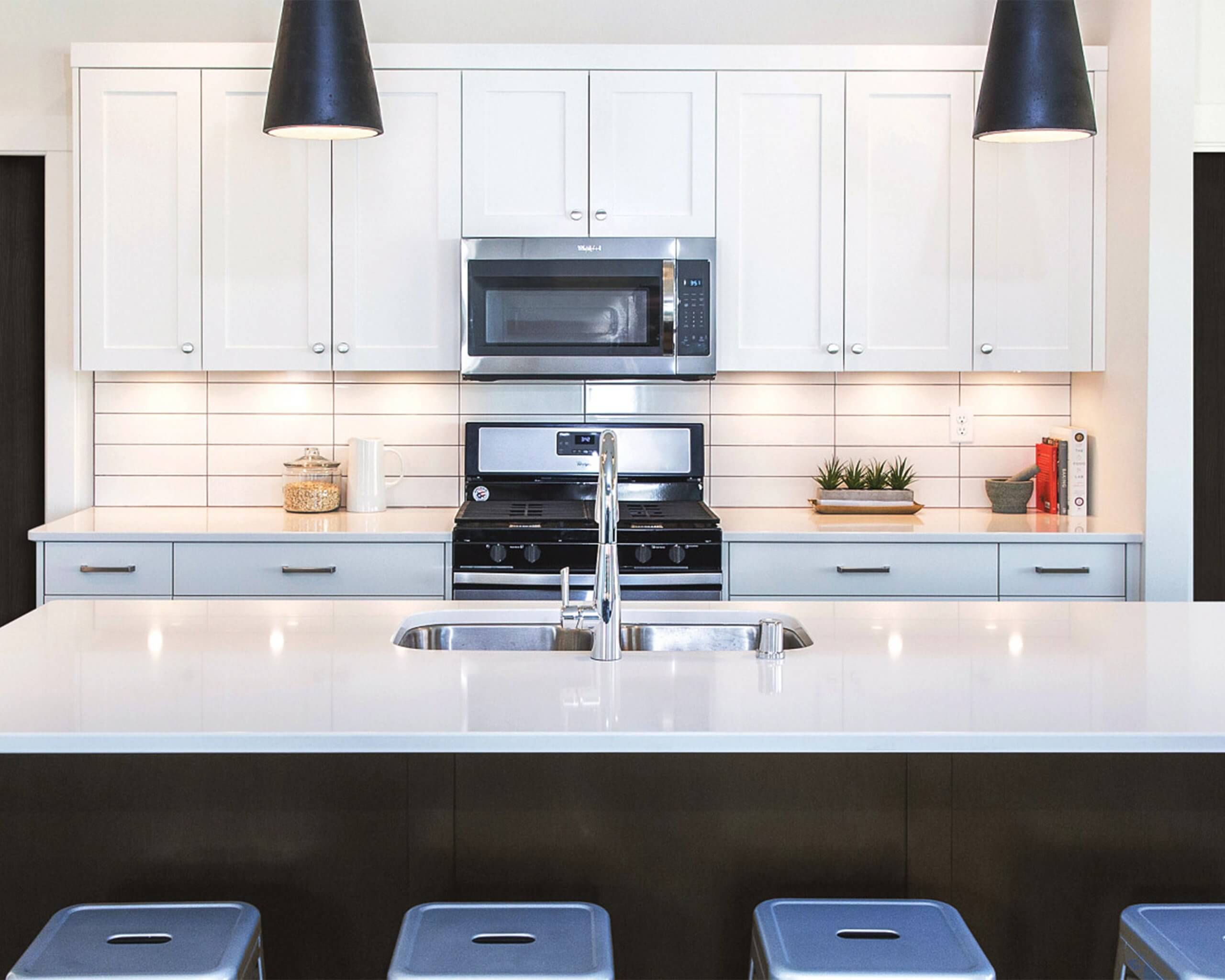 Photo courtesy of Alliance Door Products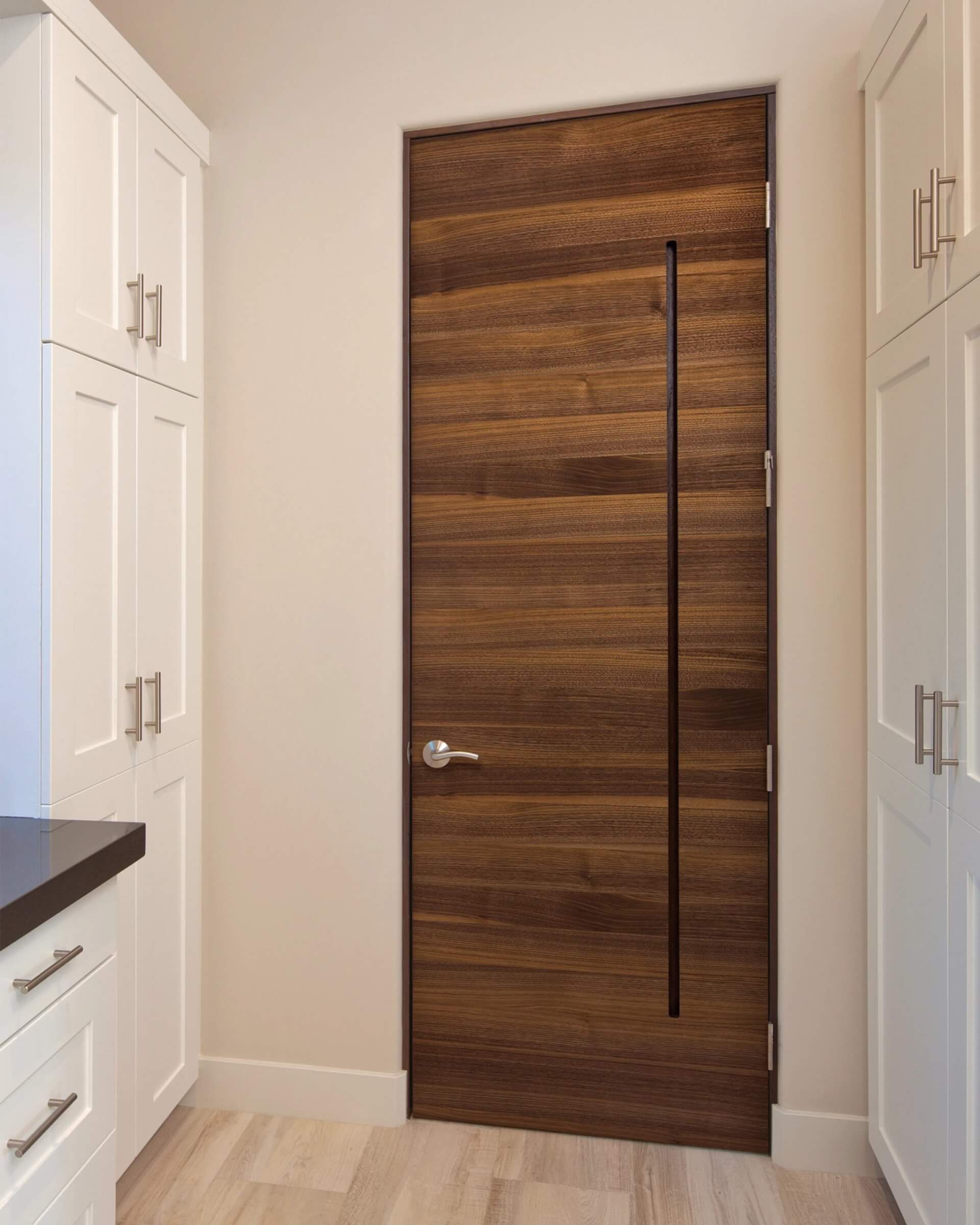 Photo courtesy of Alliance Door Products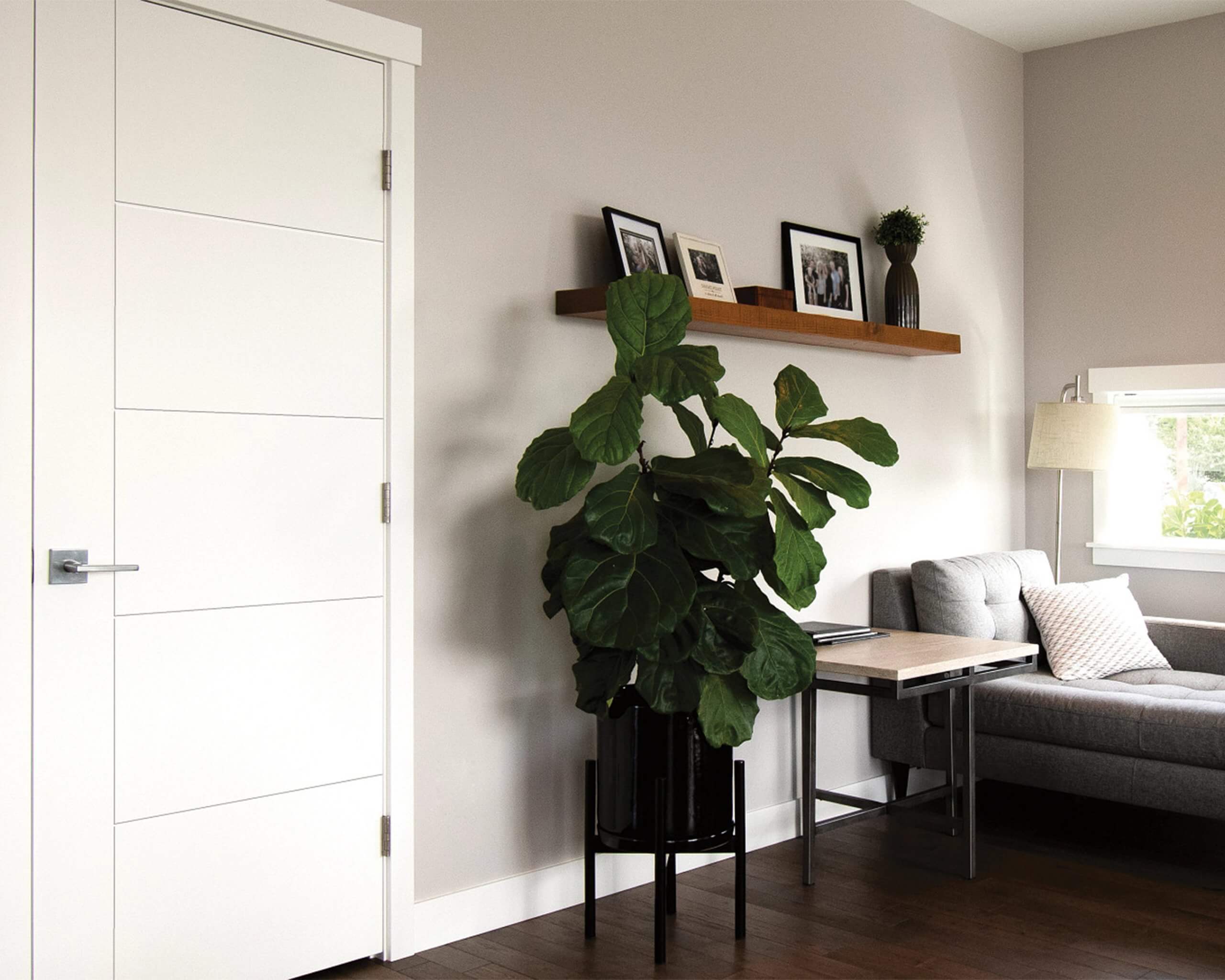 Photo courtesy of Alliance Door Products
PAINTED WHITE OR WOOD FINISHES
Pigeon says many homeowners want interior spaces inspired by nature, using sustainable materials, and boasting a natural look and energy efficiency. Neutral or muted colours are most used, as are frosted door lights. "Natural light is also a trend – doors with glass to allow a natural light flow," he says.
White or off-white remains popular, as always, but manufacturers and distributors suggest leaning towards wood textures. "I have a personal bias," says Choe. "Let's look at the beauty of the door, put a light stain on it that shows the feature of the wood. Why hide its beauty behind a dark stain?"
Pigeon similarly recommends French doors be in light natural wood tones.
Pre-painted interior doors are growing in popularity, says Metrie's Ludolph. "This has the benefits of a factory finish, but also, I work for a door company, and I still have to get around to finishing a few of the doors in my own house. There are so many steps to prepping doors and finding the space, it would have been much quicker if I used the pre-painted doors."
"We have in-house capabilities to pre-paint doors and are starting to test that across all of the markets, but for the contractors that we've talked to it's just a massive time saving."
Sabeski reminds that interior door upgrades tend to be tied to larger renovations taking place, trying to compliment and tie into other improvements. "Doors are really becoming part of the beauty of the house now, whereas before it was just function."
To that end, homeowners are looking more towards different wood veneers to match the species used throughout their house and match moulding. For pre-finished hardwood doors, like the Lynden Door Rift Cut, he says "people are moving outside of just that white door that they always used to have." Currently, Rift Cut doors are available in slate, medium walnut, coffee and teak.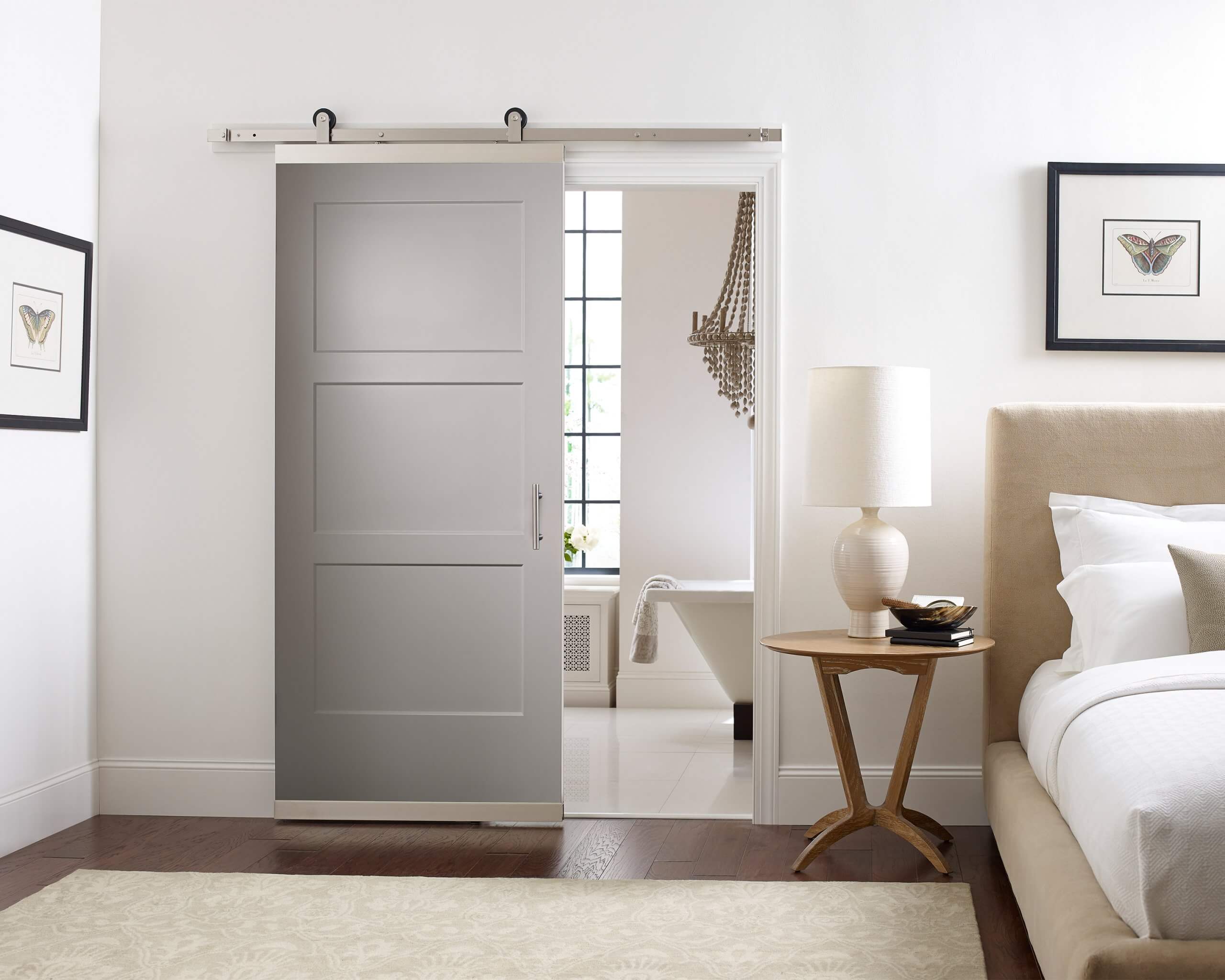 Photo courtesy of JELD-WEN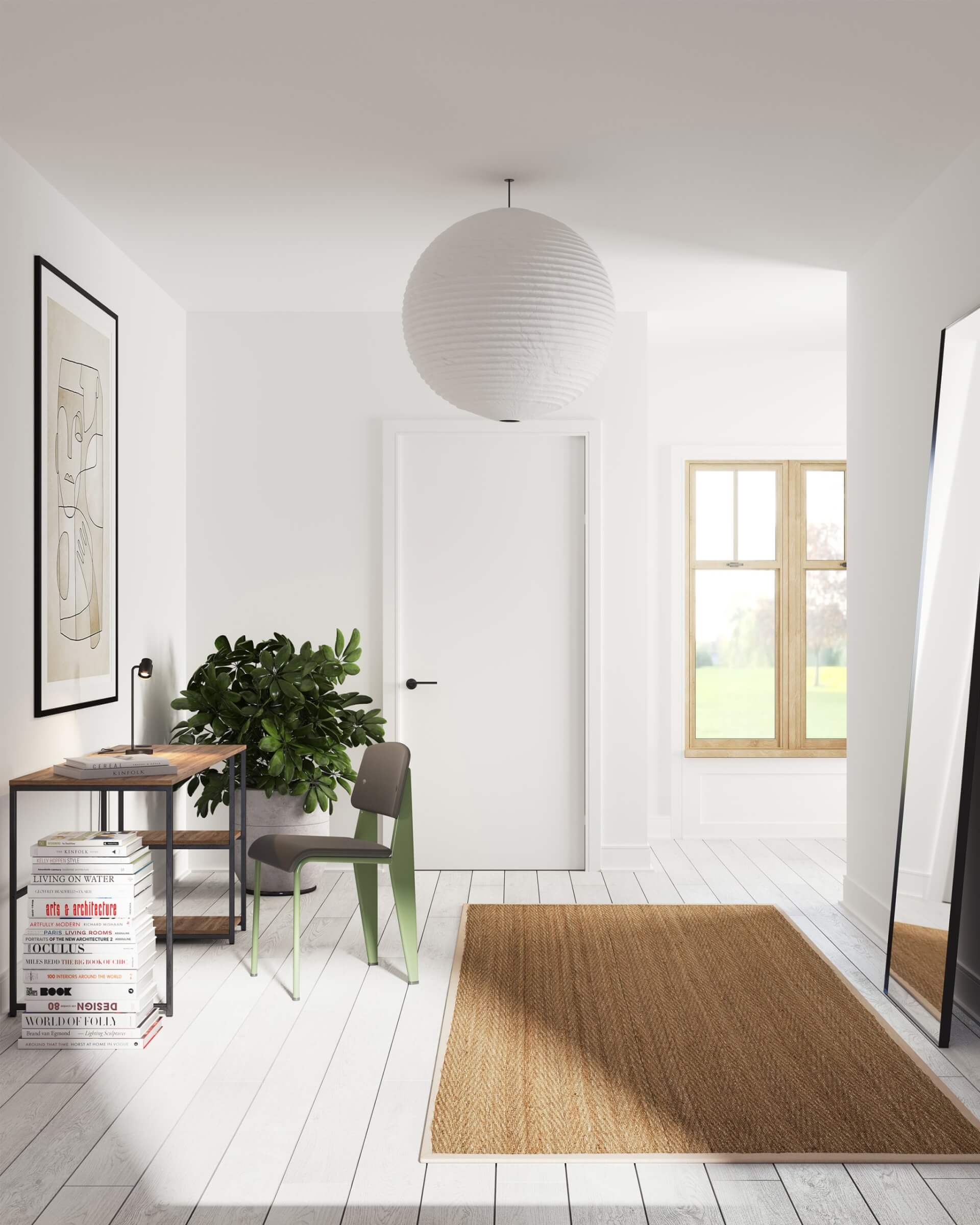 Photo courtesy of Metrie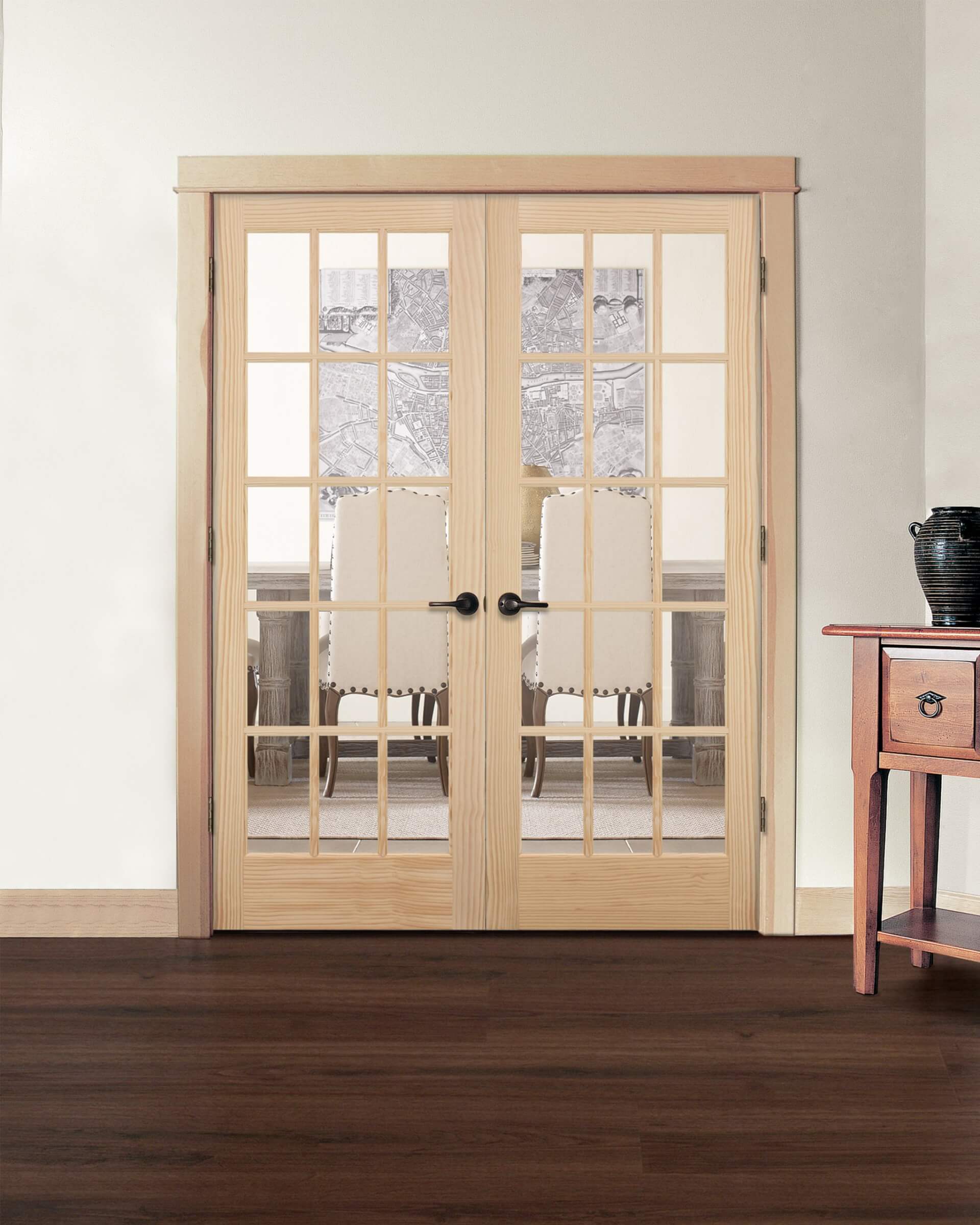 Photo courtesy of JELD-WEN
FUNCTIONALITY: MULTI-FUNCTION AND MULTI-FAMILY SPACES
The increased need to separate spaces for different functions, as well as the growing number of multi-family dwellings, demands greater sound attenuation.
Ludolph points to solid stile and rail doors for greater sound reduction between rooms; similarly, Choe points to the transition homeowners are making from hollow-core to solid-core doors for the same reason.
Solid core doors are about more than cutting down on noise, but also the weighty and high-quality feel they provide. "We are seeing tremendous growth in — and a lot of our capacity is geared towards — solid core, because a lot of consumers that want less sounds transmission. The whole idea of having a door that's solid, that has weight and has a perceived value to it."
Pigeon notes that while hollow-core doors remain the number one seller, the market for solid-core and fire-rated doors is growing.
VENTILATED DOORS
A newer offering from Alliance Door offers another type of functionality: ventilation. The company's VanAir Ventilated Door system.
The goal of the system is to promote greater comfort and healthier living, as air circulation plays a part in reducing pollutants, as well as relative humidity in areas such as bathrooms. It works by using an integrated channel running through the door to move air, while baffling and resonators absorb high- and low-frequency sound.
"You know, you see doors where they put those ugly grills or vents on them? This door will allow airflow, so it's excellent for laundry rooms or condominiums where you have the washer or dryer that needs ventilation on the main floor," Sabeski says.
"So, we're accomplishing having a nice looking aesthetic yet having the performance of airflow and Building Code requirements." –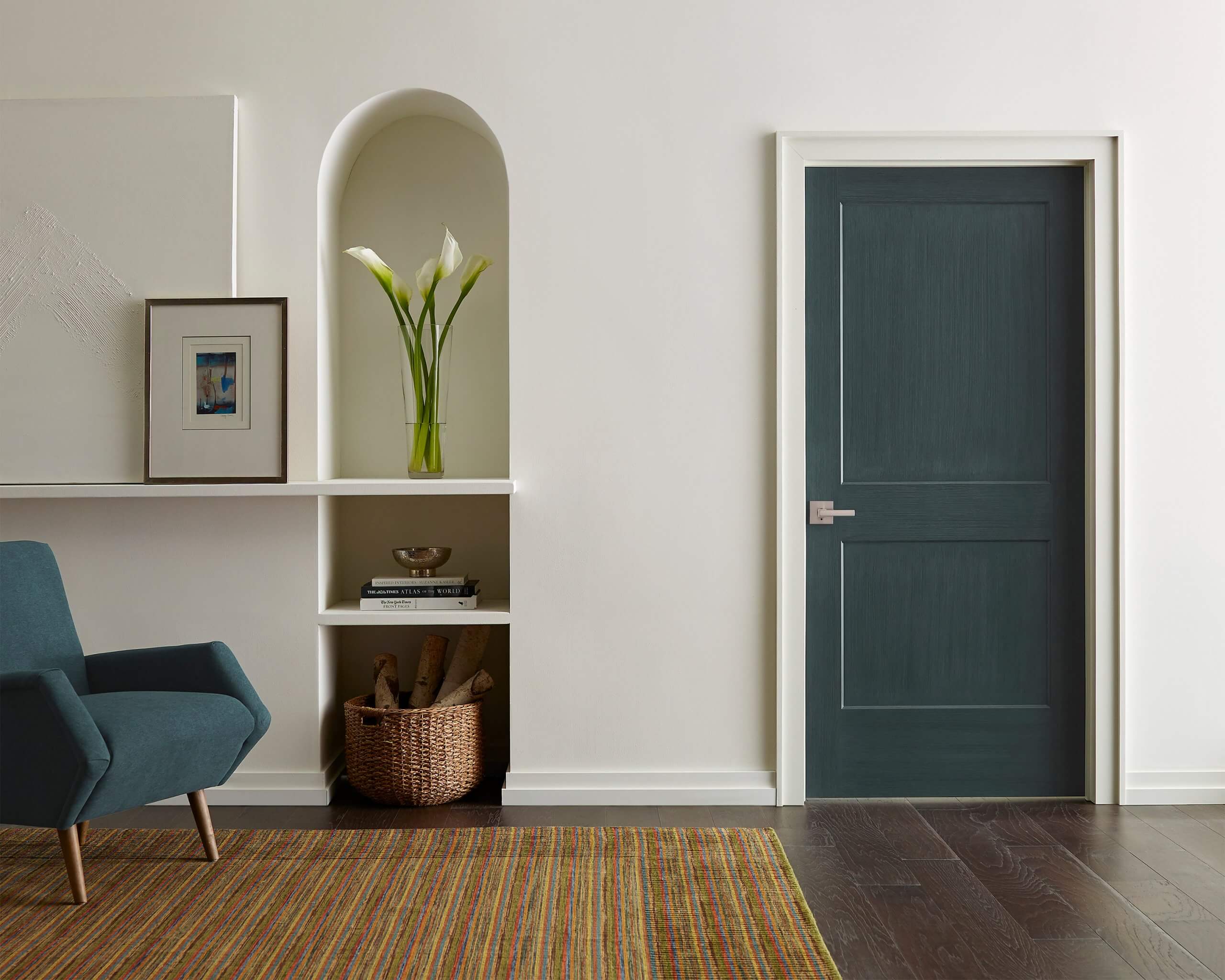 Photo courtesy of JELD-WEN