Contractors specializing in composite decking products may be in just the right place at just the right time this summer. A combination of homeowners staying home to fight the coronavirus, product innovations and breadth, and range of price appears to be peaking homeowner interest in composite decking this year. Contractors who can reach potential customers through social media or relationships with their manufacturers and dealers may be poised for success.
Interest in composites continues to grow
Despite, or perhaps due to semi-lockdowns, the market for decking products has had a huge burst of activity this spring, suggests composite decking distributors. Gary Shuchat, senior director of sales and marketing at Stella-Jones Inc. says his company is seeing record interest in the Deckorators brand of composite decking products it distributes in Eastern Canada.
"Composite decking has really picked up across Canada since mid-April," he says. "A switch went on and the whole thing took off."
He adds that the Internet has played a major role. "Anyone who tells you Canadians don't spend more time online than anywhere else is wrong. That's where people find products." He says growth is taking place across the range of Deckorator lines, from entry-level composites that compete more closely with pressure-treated wood to its high-end Voyage line.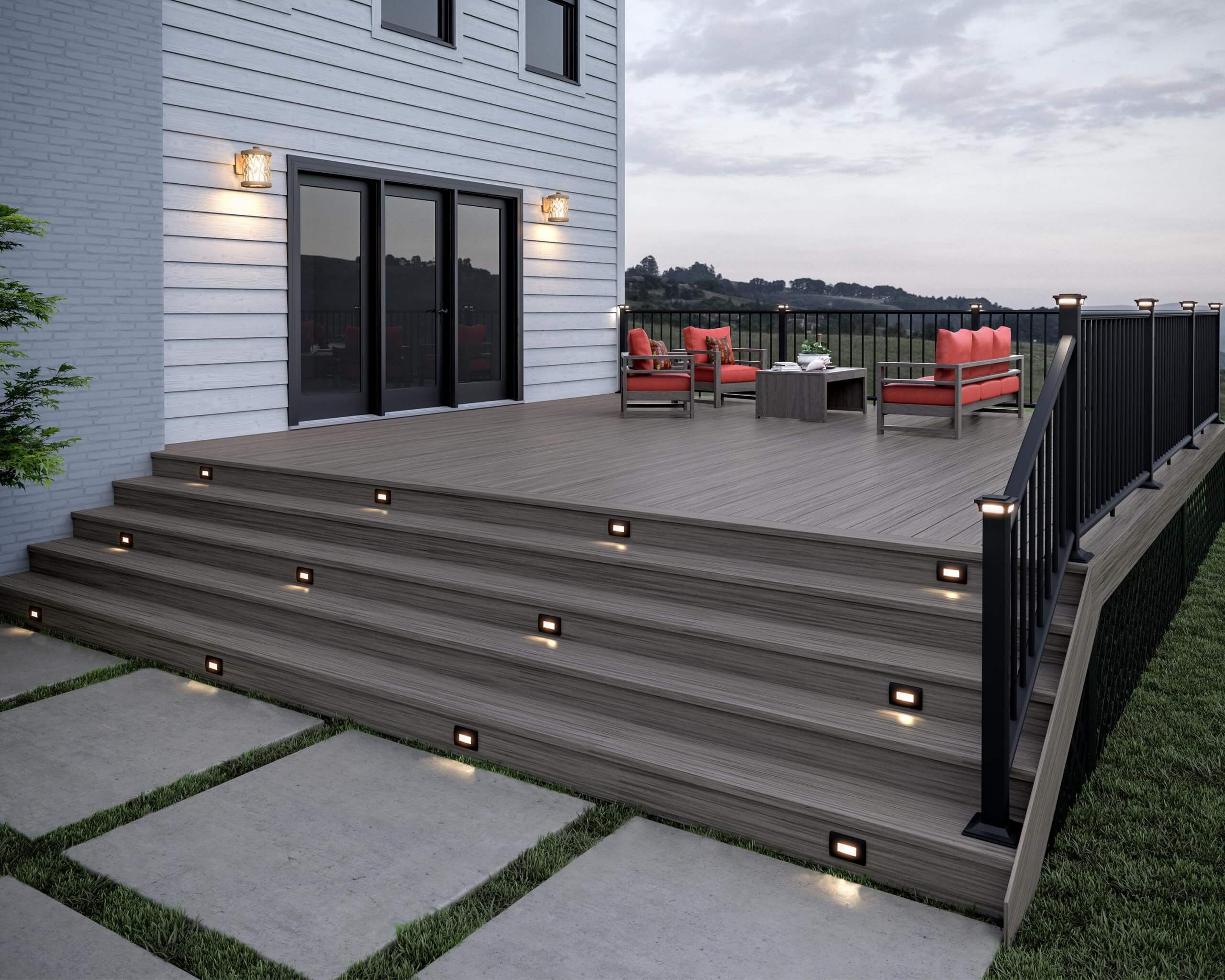 Photo courtesy of Stella-Jones Inc.
Voyage is part of Deckorators family of products using patented Eovations composite technology. This mineral-based technology gives it strength like engineered wood, the company says, plus durability, weatherability and it weighs 35% less than traditional wood-plastic composites. With virtually no thermal expansion or contraction, Voyage is warrantied for installation in the ground or water. The decking features textured embossing for enhanced surface traction — 34% higher than other brands, Shuchat says — making it ideal for use near water. "If you're on a dock or near a pool you won't go sliding."
Jon Hensen, vice-president of sales and marketing, TruNorth Deck, echoes that his company has been seeing an increase in online traction around composite decking and has been receiving a high number of requests for samples due to social isolation and partial lockdowns. "We're sending out a lot of samples because people can't get into the stores to see it. They're making decisions based on 6" tiles they receive in the mail," he said.
Most contractors he's spoken with, he says, have been relatively quiet earlier in the year, but warmer weather and businesses reopening may change that. Made from a rice hull formula using 95% recycled materials, TruNorth's composite decking is eco-friendly, saves trees and reduces our environmental footprint. He notes that homeowners are looking for several popular features in their composite decking: its heat blocking capabilities and slip resistance. "Some decking products look beautiful but are slippery as can be, so that's something we've done a lot of work on." Of course, durability and aesthetics remain top consumer priorities, he says.
TruNorth decking is available in 10 colours, six variegated and four solid tones. Hensen says that while a variegated colour, createing a more natural wood-like appearance, has always been more popular, this year a light-gray painted appearance is on the rise. "Maybe it's just a clean look that they are going for. Maybe it's a sign of the times."
Get homeowners where they live: online
This heightened interest in composite decking could prove a boon for many contractors, with skills that go beyond deck building. "It's a wonderful time for the forward-looking, technically-savvy contractor," says Dave McNeil, vice-president of allied products and national accounts manager at Taiga Building Products, national distributor of Trex composite decking.
Contractors who can embrace social media and reach out to their customers digitally, especially through Instagram — which is leading the charge in building and renovations — can better engage consumers generally stuck in their homes, while "old school" contractors may struggle with the lack of home and cottage shows where they used to engage their customers.
"Now is the time to strike," McNeil advises contractors, calling it a "wonderfully fertile time" for outdoor construction. "The consumer is ripe for [online engagement] because traditional retailing is on pause. There's still a great opportunity if you can pull the right levers."
Whether shopping online or in-person, McNeil says appearance remains top of mind when choosing a composite deck product and, to that end, he points to the breadth and depth of the Trex line. "From opening price points to high-end premium ones, Trex has got an offering essentially in every category." At the entry-level Trex last year reintroduced its Enhance line (Enhance Basic and Enhance Natural), which offers a solid colour or variegated colour more like natural wood, respectively. At the top end of the Trex line, he points to Transcends Tropical, boasting deep-wood patterns and luxury colours, on top of stain, fade, scratch and mold resistance. "There's something to fit everybody."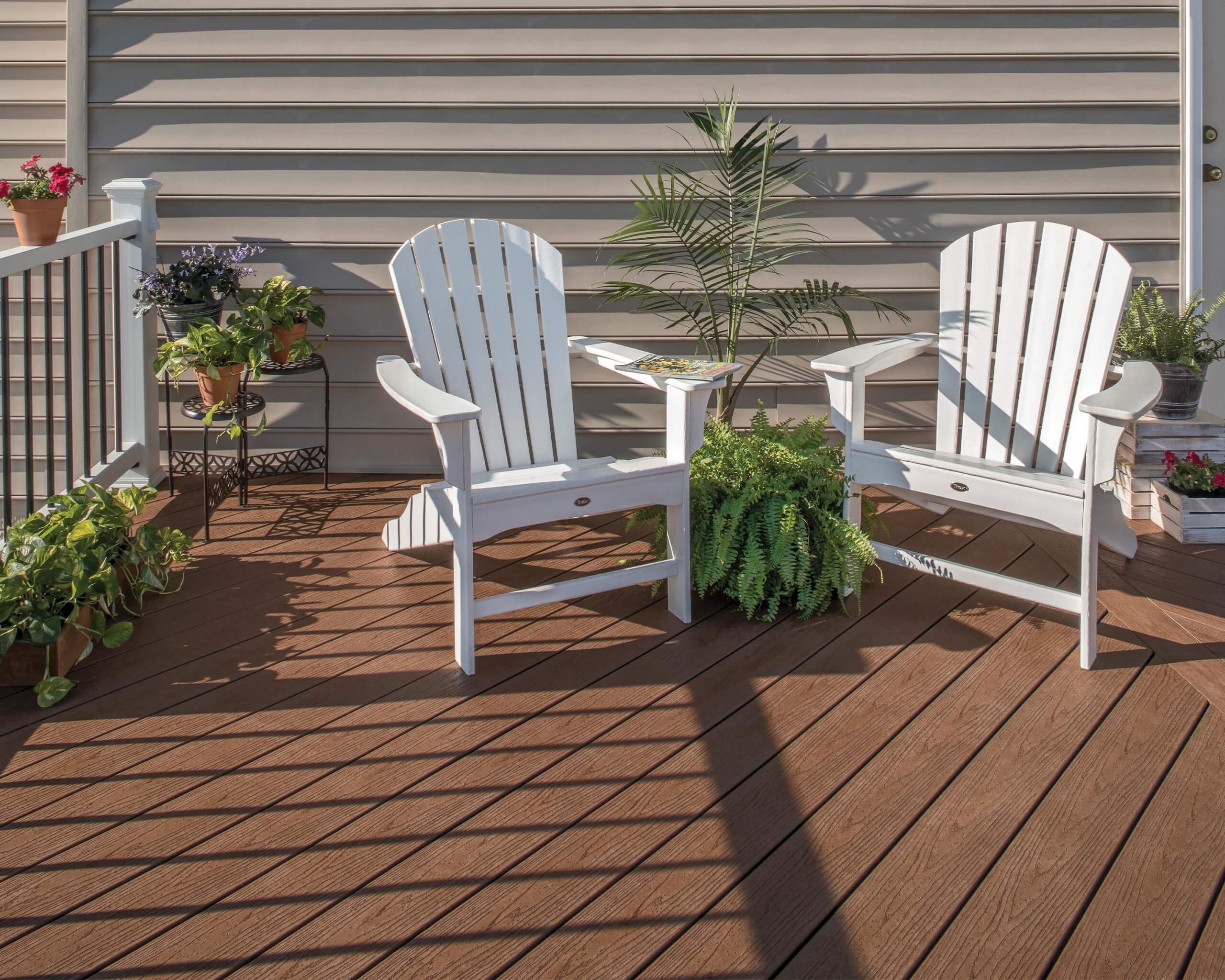 Photo courtesy of Trex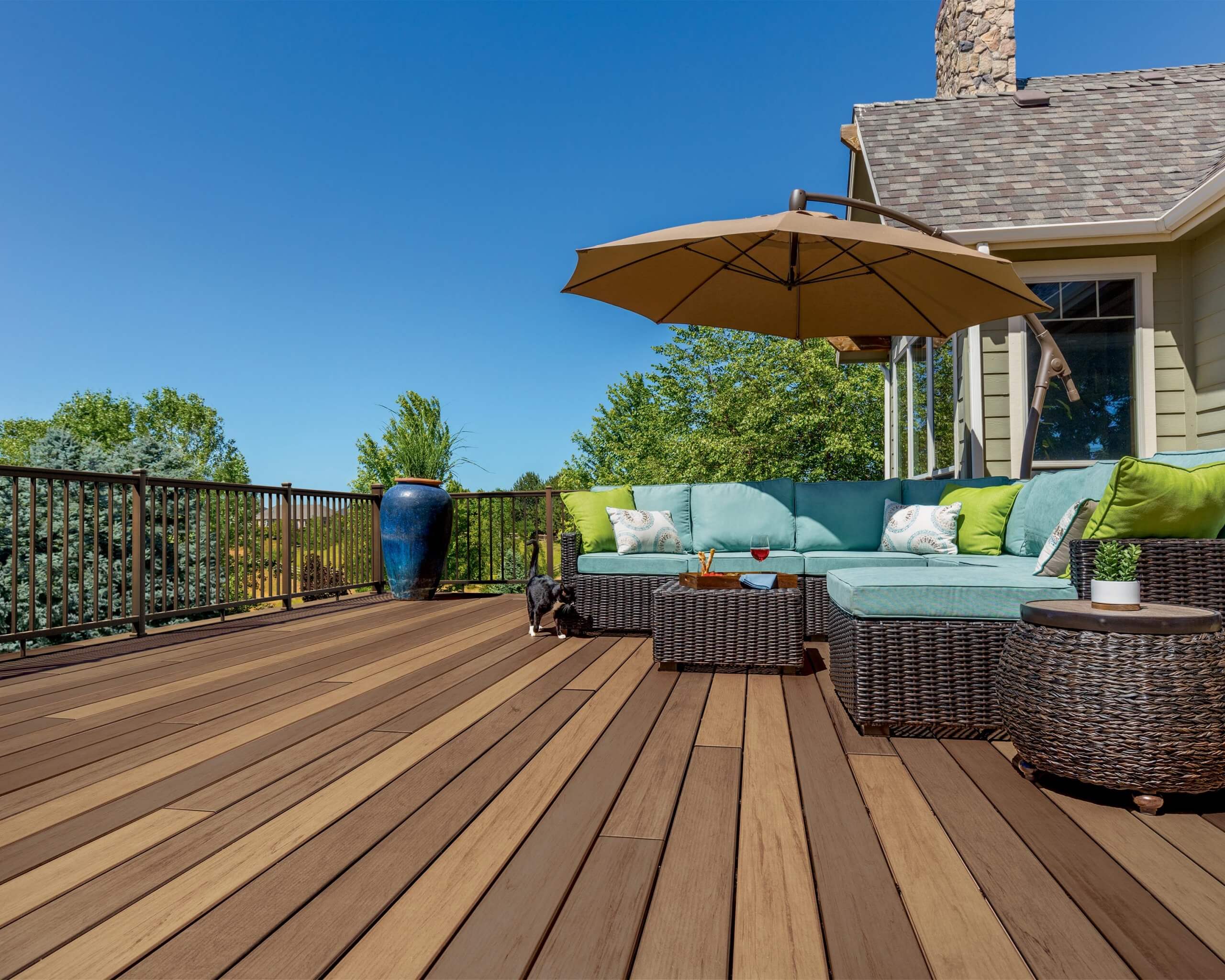 Photo courtesy of TimberTech AZEK
Innovations in composite driving adoption
Composite decking products have continued to improve over the years to not only incorporate elements such as slip resistance and heat blocking, but significant improvements to their resilience and aesthetics.
"Quite frankly a lot of the outdoor products nowadays are so much better from a technology standpoint and there's more confidence in them."
"Fifteen years ago, when you were talking about composite decking and how expensive it was comparatively – or the thought of it was comparatively – some people look at it now and it's a no brainer," says George McCart, director of marketing, AFA Forest Products, which distributed TimberTech and TimberTech AZEK decking.
Not only has the gap in price between composite decking and pressure treated decreased over the decade, the warranties have increased, some now as high as 50 years, as composite technology has improved. "Every major manufacturer is investing in their technology."
For TimberTech AZEK decking, that investment has provided a polymer wrap that provides a skin around its PVC core and gives it fade and stain resistance. "AZEK is a 100% PVC core. They've managed to produce a product that has virtually 0 waste through recycled content and still maintain structural integrity, which is massive," McCart adds.
By taking the existing capabilities of AZEK PVC core and TimberTech composite-wood decking and adding a polymer wrap, "It's just amazing what they can do. The streaking they can do, the finishes now. Composites that look so much like actual wood now, it's very hard to distinguish it's not, unless you're right on it looking at it."
What's at the deck board's core is important, suggests Randy Pearce, national product manager at CanWel Building Materials. The MoistureShield composite decking distributed by his company carries a solid core that acts as an impermeable barrier that fights damage from moisture, rot, insects and other harmful elements, the company says. The core is found in products at all price points.
"It's manufactured differently, using a process called encapsulation, where the wood fibres that go into the composite are wrapped into [something] like a Ziplock bag," Pearce says. "So that allows our product to go on the ground, you can burry it in the ground, you can burry it underwater, you can use it for docks, boats, marines — water doesn't affect it because of that solid core difference."
Last year MoistureShield launched its Vision line to respond to consumer concerns that composites are too hot to walk on, Pearce says. Using what's dubbed CoolDeck Technology, heat transfer from the boards are reduced by up to 35% compared with competitive products, the company says. "So, for people using the decking with a south-facing exposure where you get sun all day and you want to walk out in your bare feet around a dock, or pool deck, everything — we've been getting tons of enquiries since it launched."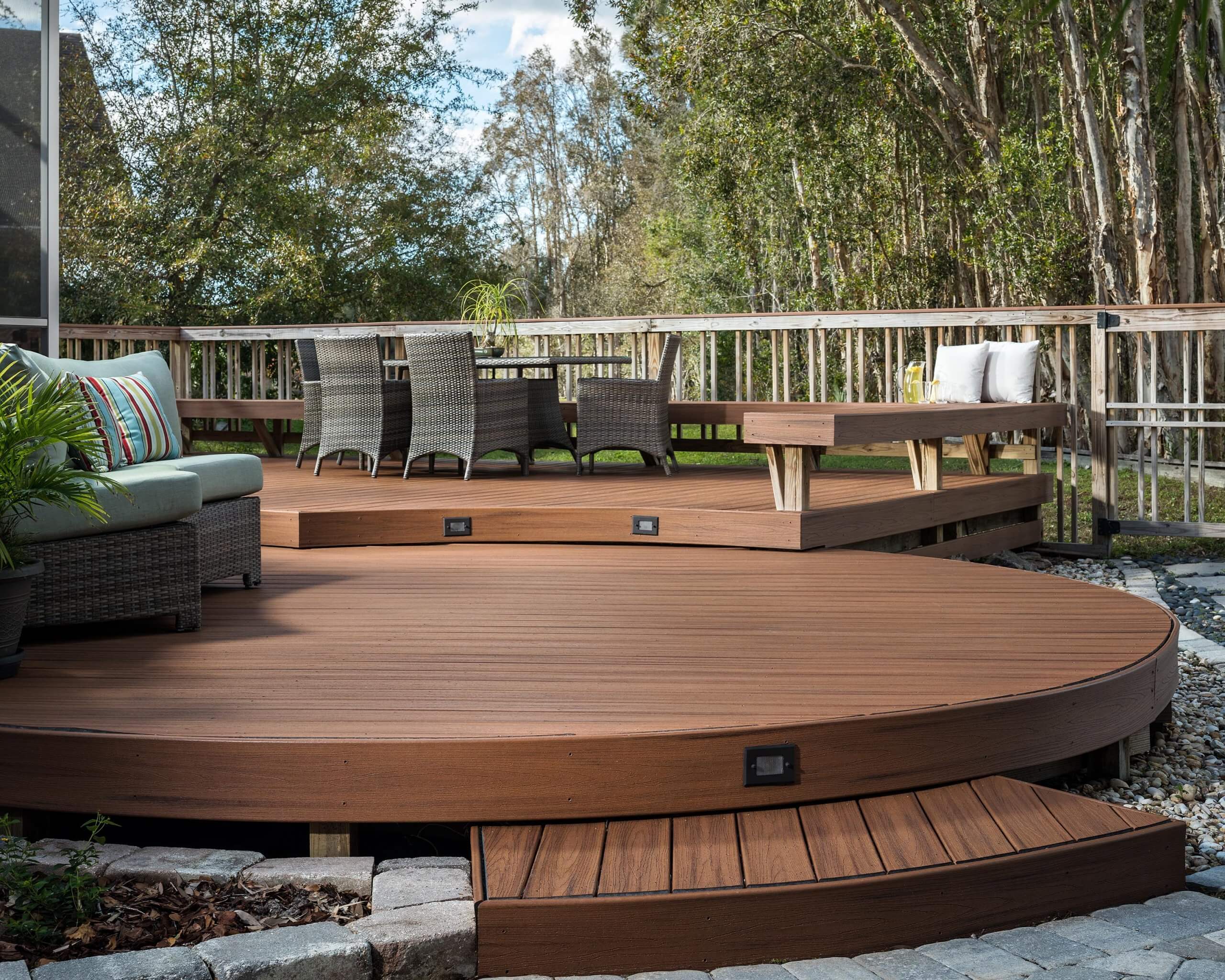 Photo courtesy of MoistureShield
Tremendous opportunity for composite decking specialists
Brian Roger, sales manager at Nicholson And Cates Ltd., co-distributor of Trex in Ontario says his company has been busy in recent months. "Composite is growing, growing, growing," he says. "It's amazing the size of composite decking orders, and the intricacies of the designs. The decks being built are like artwork."
He says 2020 is a tremendous opportunity for outdoor living contractors, saying many homeowners are spending money due to cutting back on other activities. The composite market slowed in 2019, but Roger says it is rebounding, in part because of the wide range of products and pricing released last year. While some DIYers may tackle their own decking projects, many especially those looking for creative designs or wanting to use products in the higher price point are going to seek out composite decking specialists, Roger suggests.
That's an opinion shared by other distributors, like Matt Lipskey, national product manager, decking and railing, at Gillfor Distribution Inc., which distributes TimberTech and TimberTech AZEK product lines. He says the industry was expecting the outdoor living market to trail off a bit in 2020, but for the most part it hasn't. He says that's absolutely an opportunity for contractors.
"There are some DIYers that will tackle composite decking and we see that a lot with the entry-level price points," he says. "But what we've found is even the higher-level price points the sales [lately] have been just as strong, and generally those large jobs are contractor jobs."
"I think contractors were sort of waiting to see what happened with lockdowns and so forth, but now that restrictions have been eased a little — the stores are open — their order files are completely full for the year and they will be out in full force doing decking jobs."
Part of that opportunity comes from educating homeowners. Lipskey points out that while composites generally cost more up front than wood, when factoring in maintenance, replacement costs, labour and other factors, composite can be more cost-effective long-term.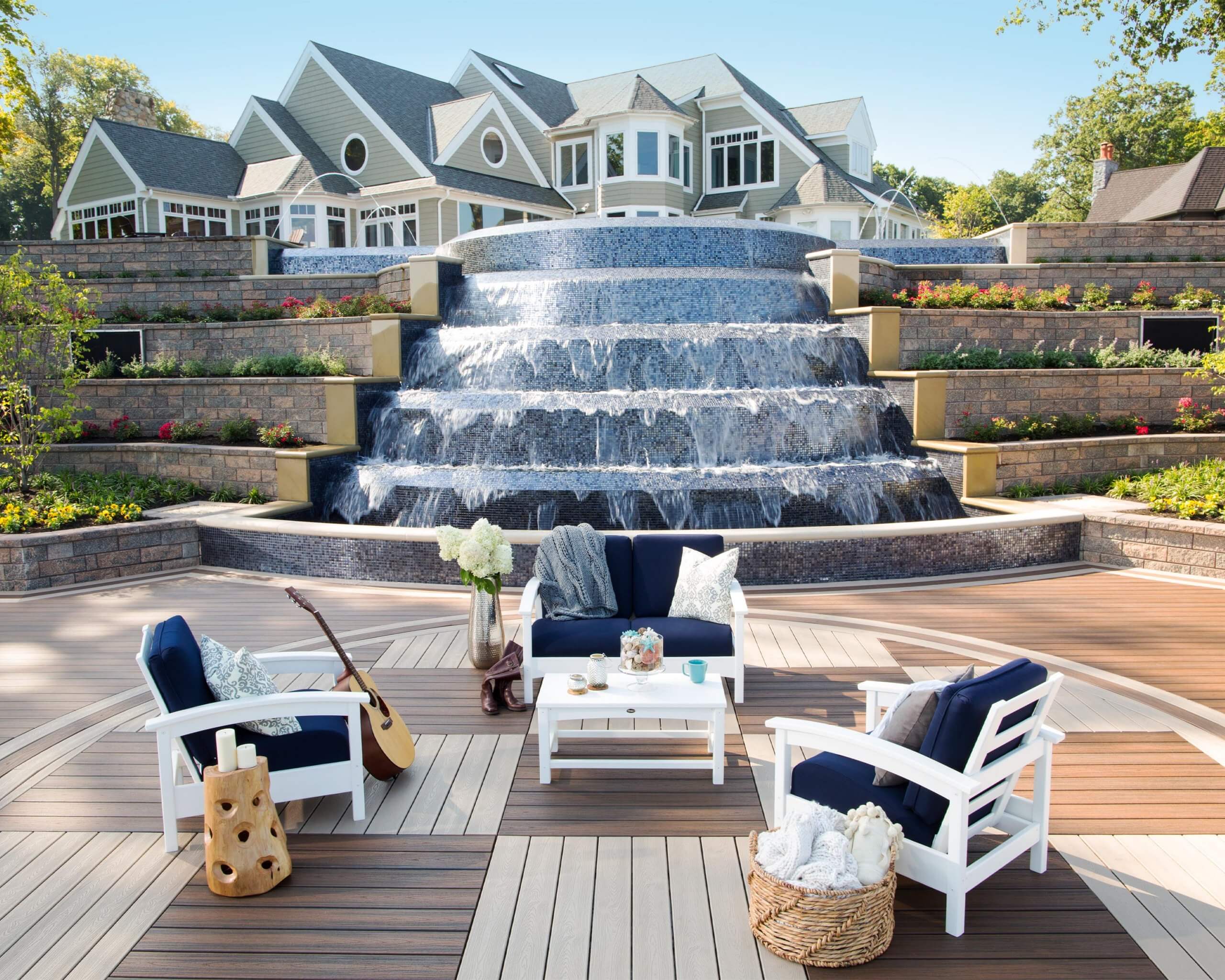 Photo courtesy of Trex
Leverage dealer and manufacturer relationships
Nearly all distributors of composite decking stress the benefits of being a certified installer. Being  certified as a professional installer of a certain brand not only increases visibility but can have other benefits as well. For example, in the case of TimberTech, Lipskey points to the labour warranty that becomes associated with their jobs, "so, if there's a problem not only will the material be taken care of but the contractors will also receive compensation for labour, which is a big thing."
Other manufacturers, like Deckorators, have also started to incorporate labour into their warranties.  Shuchat also notes that this year members of the Deckorators Certified Pro program receive 3% cash back on purchases and access to the company's Pro on the Go App to assist with building tips and quoting and other aspects of 
the job.
Similarly, is the connection with your local dealer or lumber yard, Roger says. "Your go-to lumberyard; have a good relationship with your go-to retailer. They'll know and recommend you to the consumer. They provide the service and probably are providing delivery. Think of them as an extension of yourself." —