Do you need your garage door to conserve energy? Enhance your home's stylish beauty? Match its exterior wood cladding?
No problem – there's a garage door for that.
This summer, a collection of stylish new garage doors is boosting curb appeal, saving energy, and maximizing natural light as they roll up on a house near you. Contractor Advantage connected with a trio of garage door manufacturers and distributors to find out what consumers are looking for when it comes to dressing up the biggest door in their home.
Stewart Overhead Door is based in Delaware, Ont., under the Northland Garage Door brand, and has been producing residential, commercial and agricultural sectional doors and counter shutters for 59 years. Sales manager Mark Rennison said Stewart's line of sectional residential garage doors includes galvanized steel with insulated polyurethane, glass and polycarbonate options.
Dark colours are still trending, reported Rennison. "Black is still the No. 1 colour. We offer 13 colours and we are introducing Iron Ore later this year, a dark grey, which has been popular for siding and other metal finishes. Wood-look steel doors painted in Walnut, Mocha and Auburn are also popular."
Many homeowners are concerned about soaring heating costs, so they are looking for energy-saving garage doors.
"We have products up to R-18, which is one of the highest R-values in the industry," added Rennison. "Before, there used to be non-insulated or lightly insulated garage doors. People are now looking for as much insulation as they can get. If your door is down and well sealed, it can create a more balanced temperature."
Though they want to keep the cold out, homeowners want to let as much light into their garages as possible. Instead of the traditional row of windows across the top of the door, many models now offer a vertical row of windows going down one side of the door, or down both sides. In addition to standard-sized panes, Stewart also offers a slimmer alternative, as well as the option of dark-tinted or satin glass to ensure privacy and home security.
Over the last year or so, Rennison said he's had a few requests from homeowners who want their garage doors to match the exterior cladding on their home.
"When you add something like imitation wood to the door, it creates some challenges because you're adding weight, but it can usually be done," he said.
Aside from getting smarter in looks, modern garage doors are now part of the smart home movement, too.
"Liftmaster, our partner for garage door openers, is totally tapping into that market," said Rennison. "There is a focus on integrating smart software and how you can set it up so that when you drive into the driveway, it senses you are home and opens the door."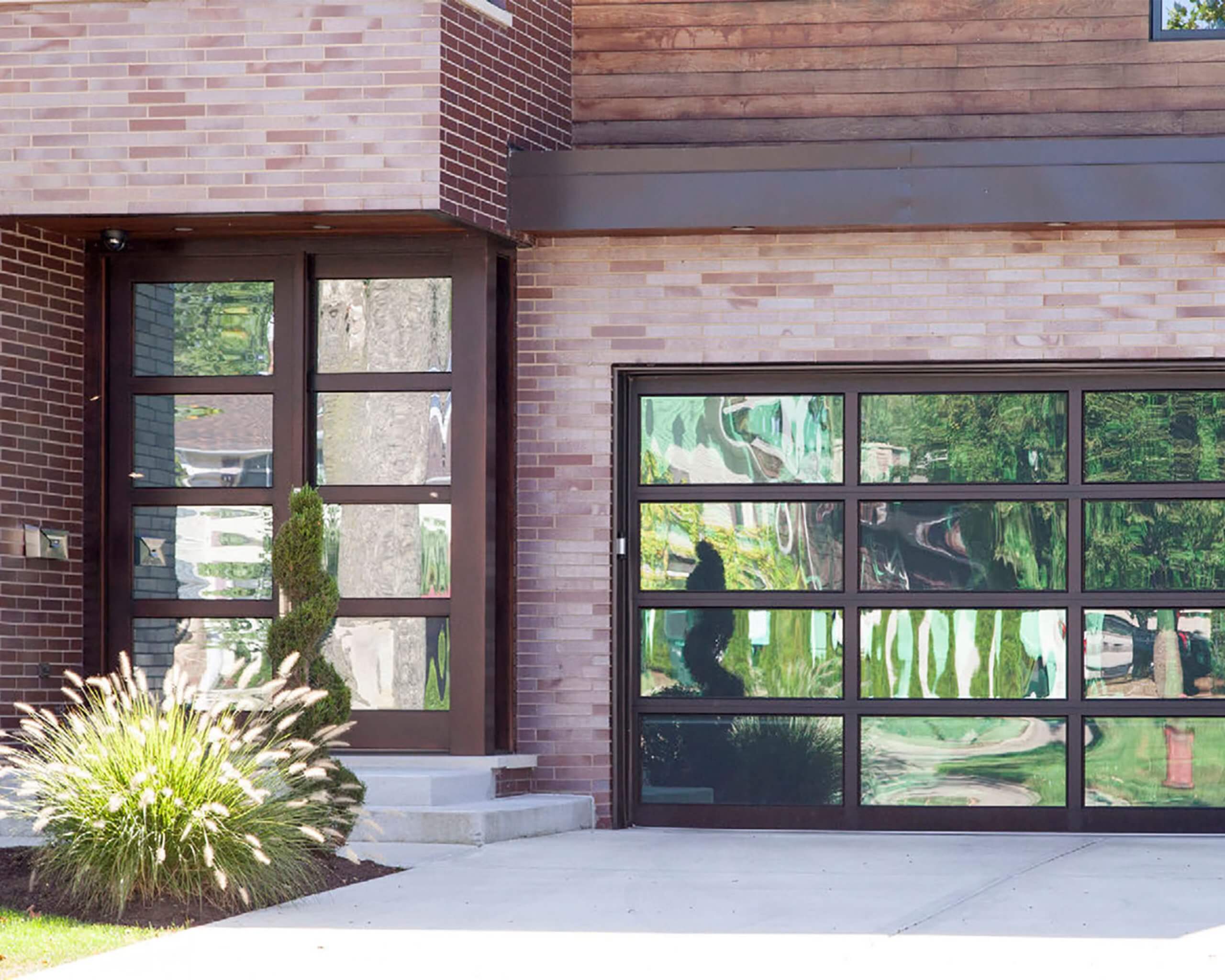 Photo courtesy of Stewart Overhead Door
With many people using their garage doors as the main access point to their homes, cameras and digital keypads are becoming the norm. In the U.S., for example, Amazon Key in-garage delivery allows access to compatible "smart garages" for grocery and package deliveries.
"Every Liftmaster opener in the near future will have a camera built-in, even the most basic model," said Rennison. "They are already on the train to help people automate their garage doors. The technology is getting less expensive."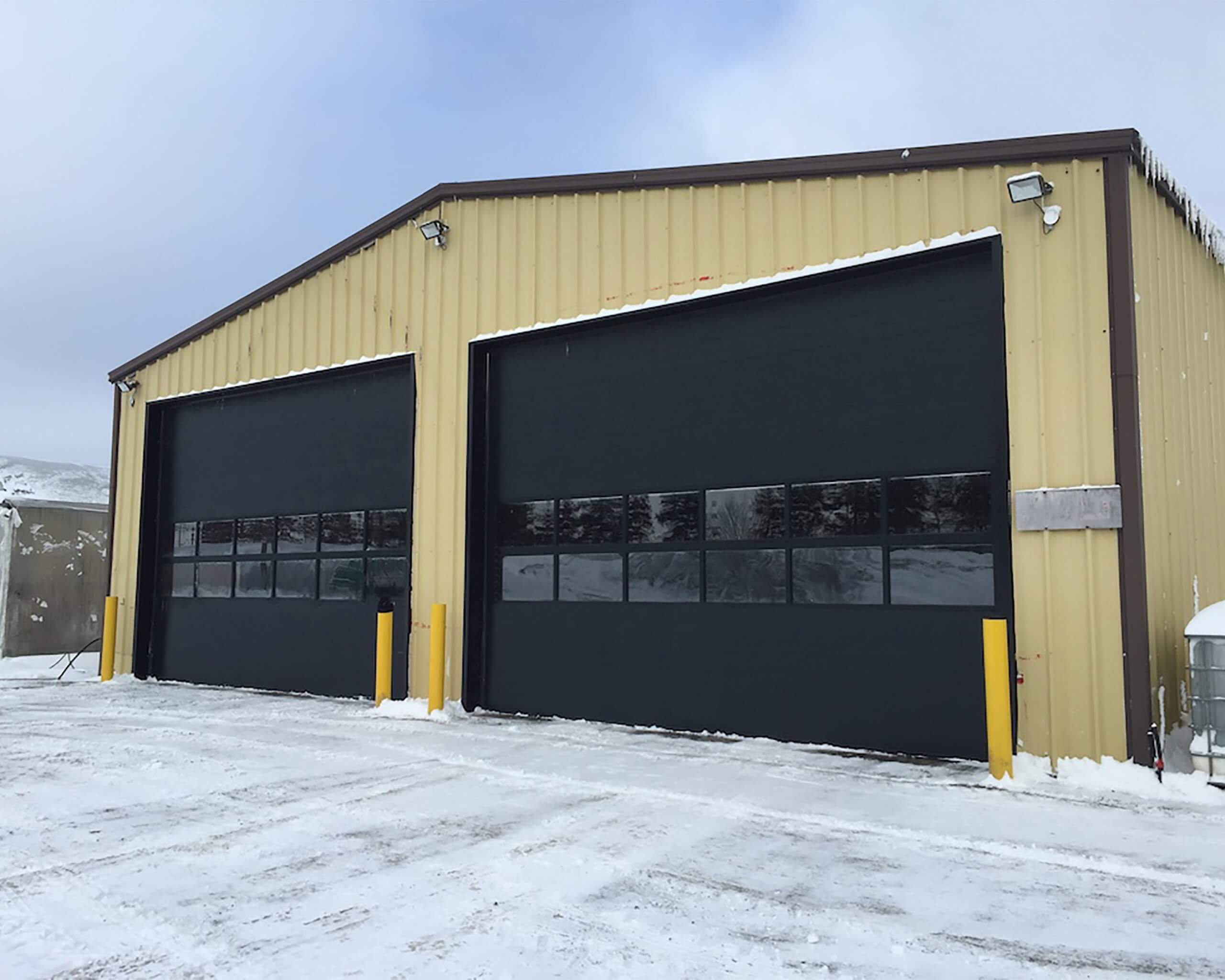 Photo courtesy of Stewart Overhead Door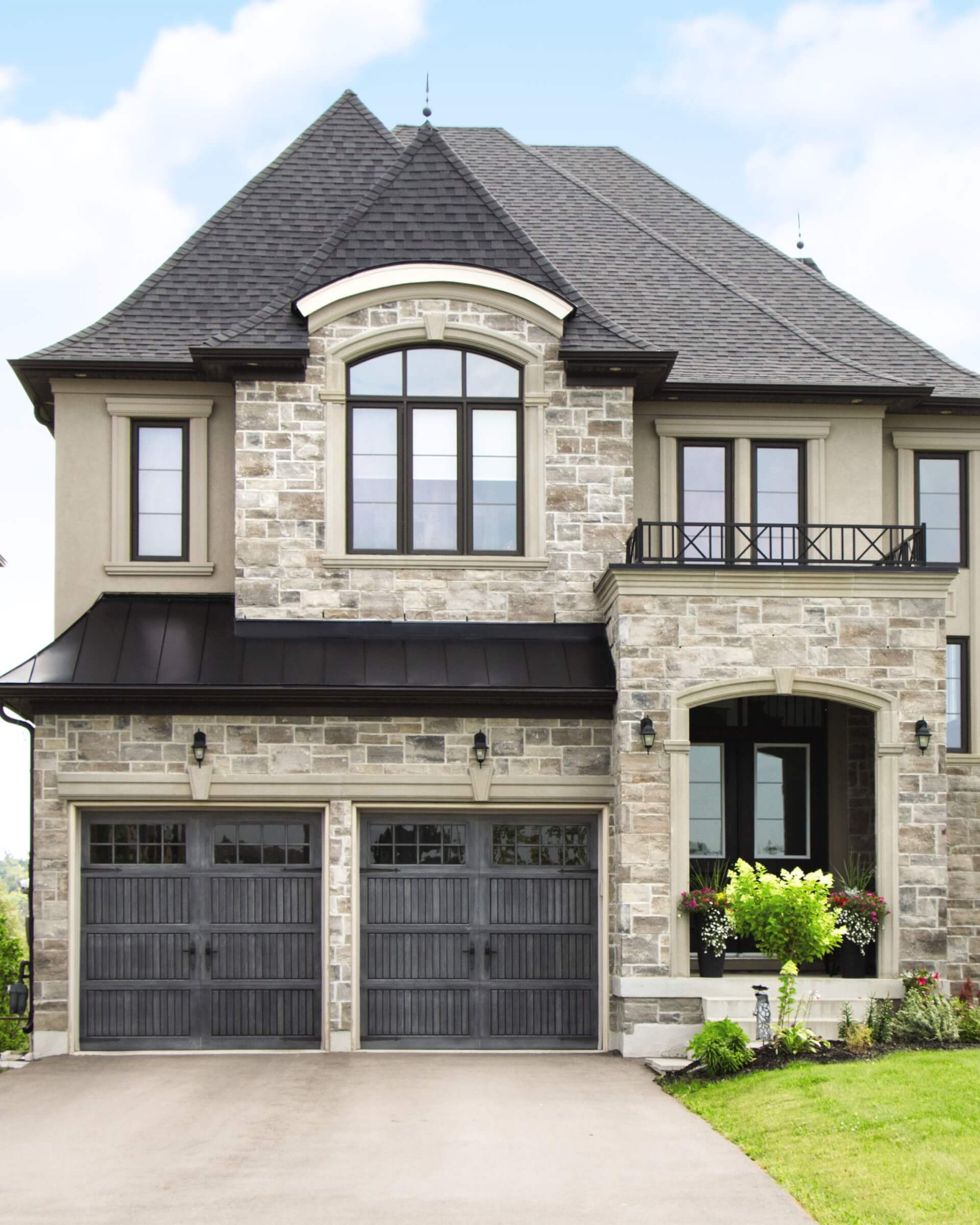 Photo courtesy of Creative Door Services
Sophisticated Styles
For nearly 55 years, Creative Door Services has distributed some of the best garage door brands in North America, including Wayne Dalton, Richards-Wilcox, and Martin Door.
Lana Winterfield, the company's Regional Manager, Marketing & Communications (Canada), said its Western Canadian offerings include modern glass garage doors, wood doors, premium and classic steel doors, carriage house designs, designer fibreglass doors, specialty vinyl, and copper garage doors – all in a variety of colours, panel styles and window options.
When it comes to the latest trends, Winterfield said black still rules.
"Modern black garage doors with clear or
satin-etched, vertically-stacked windows have become increasingly popular among homeowners seeking a contemporary and sophisticated look for their homes," she said. "Flush garage doors (slab doors without raised panels) have also been gaining in popularity for their sleek and seamless design, and we've noticed the same trend across all our branches."
Wood-look doors are a hit with customers who want the warmth and beauty of natural wood, but not the maintenance that comes with it.
Photo courtesy of Creative Door Services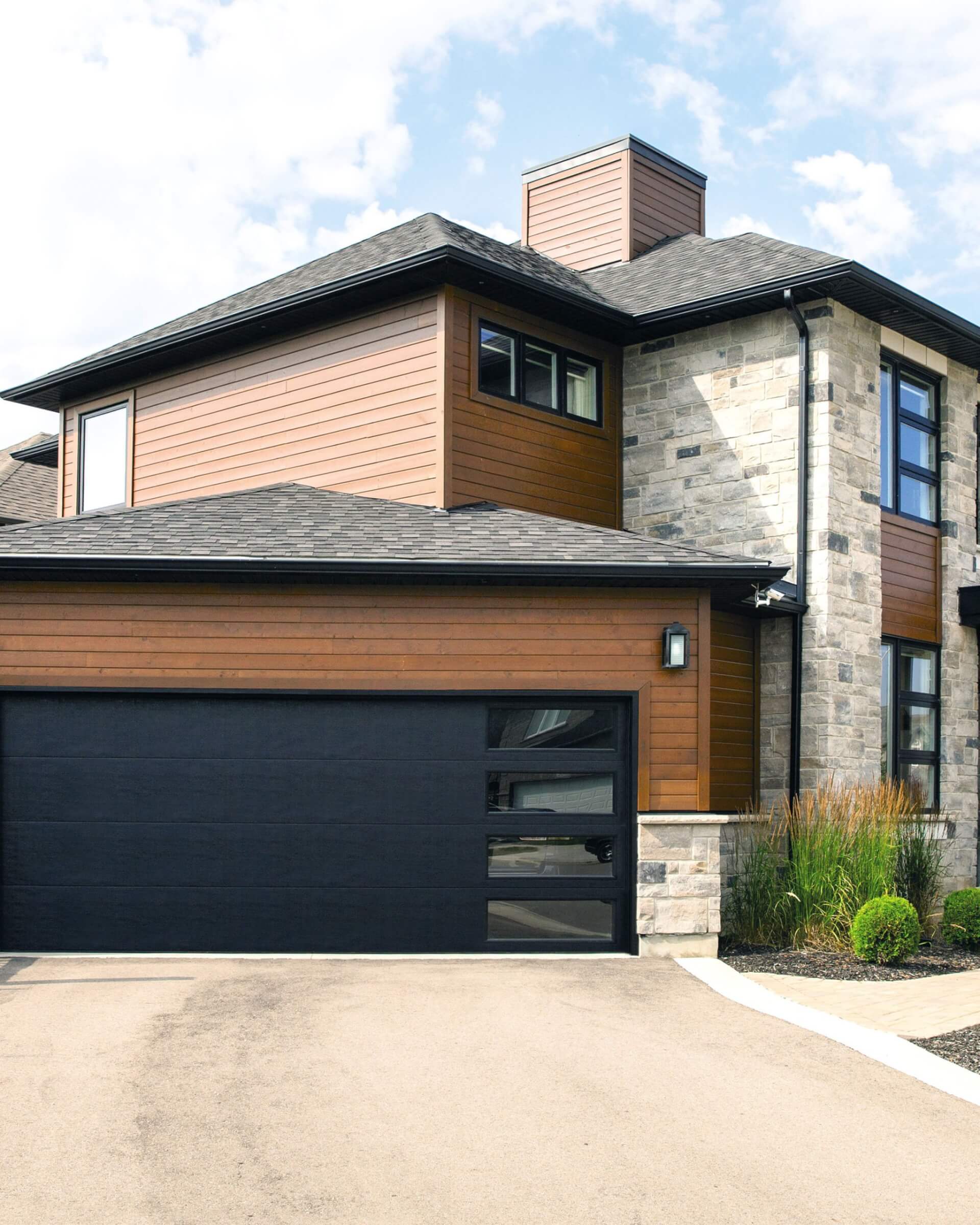 Photo courtesy of Creative Door Services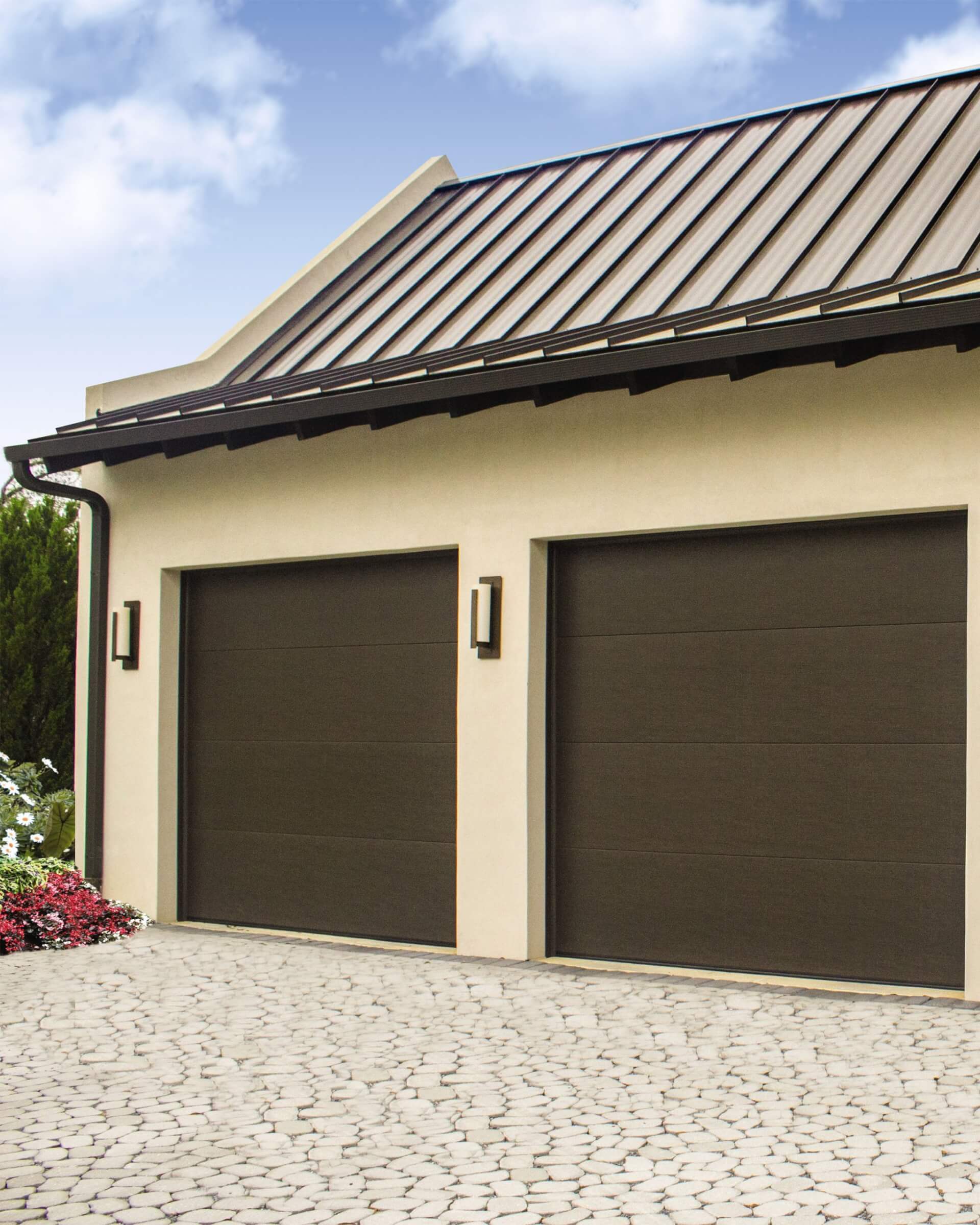 Photo courtesy of Creative Door Services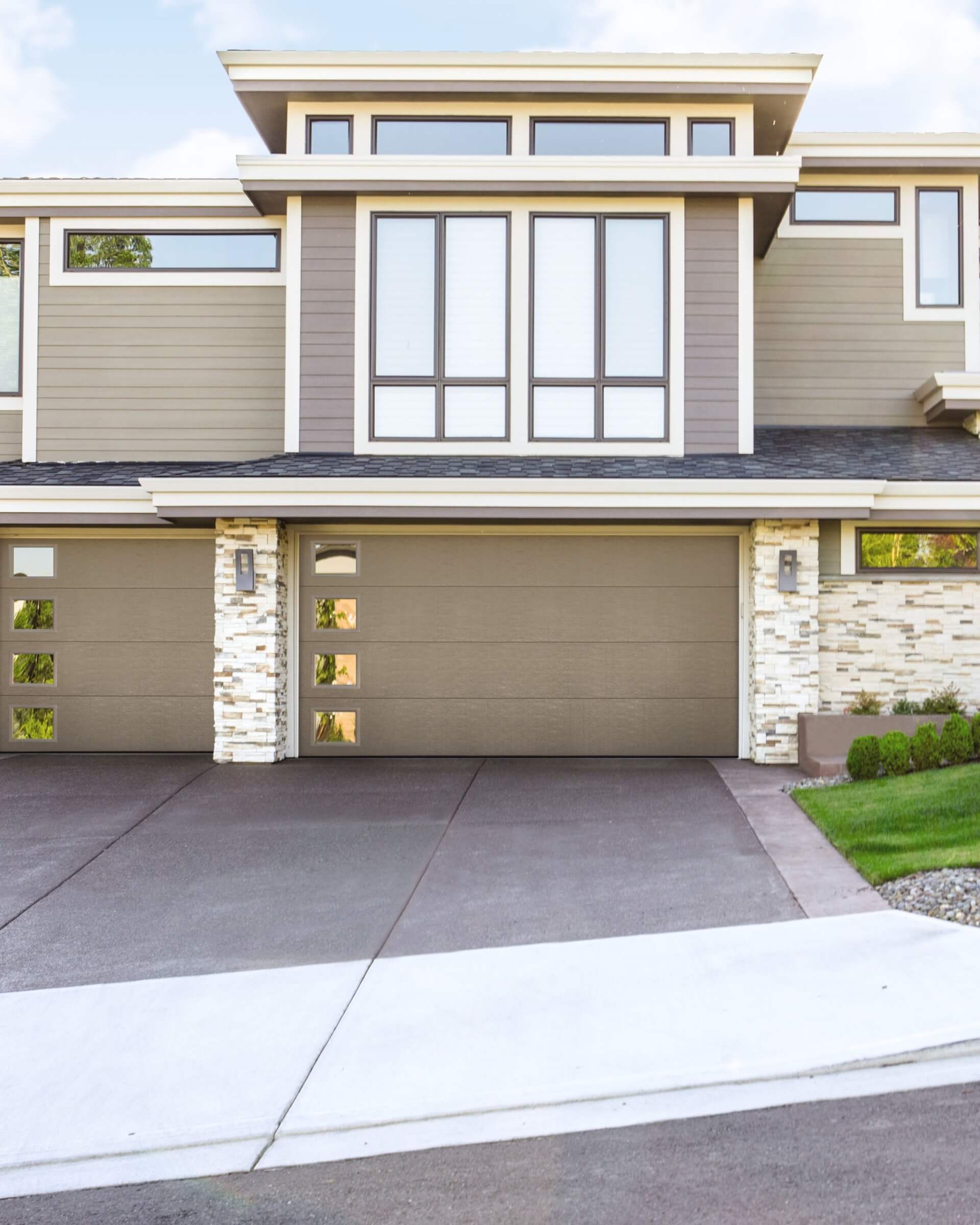 Photo courtesy of Creative Door Services
Embossed galvanized steel is the preferred base material for garage doors, she added.
"It is highly durable and resistant to rust and corrosion, which makes it ideal for use in garages where exposure to moisture and varying temperatures are common. This means customers can rely on their garage door to last for many years with minimal maintenance."
In addition, steel can be customized to achieve a wide range of looks, making it a popular choice for homeowners who want to match their home's existing style.
Winterfield agreed that consumers are excited to explore smart options for their garages. Integration and connectivity to mobile phones and devices like Google, Alexa and Amazon Echo allow homeowners to operate garage doors and lights, even when they're not home.
WEATHER-RESISTANT DESIGN
Headquartered in Edmonton, Alta., Steel-Craft Door Products has manufactured high-quality residential and commercial garage doors for 60 years. Marketing spokesperson Arlyssa McArthur said the company is well known for its ability to fully customize its door styles.
"We design and manufacture every component of our doors, from hardware and track to springs, at our 500,000-square-foot manufacturing facility in Edmonton," she said. "Steel-Craft employees can be found at our branch locations nationwide. Our products are distributed and sold in Steel-Craft distribution centres, wholesale retail centres and by authorized dealers nationwide."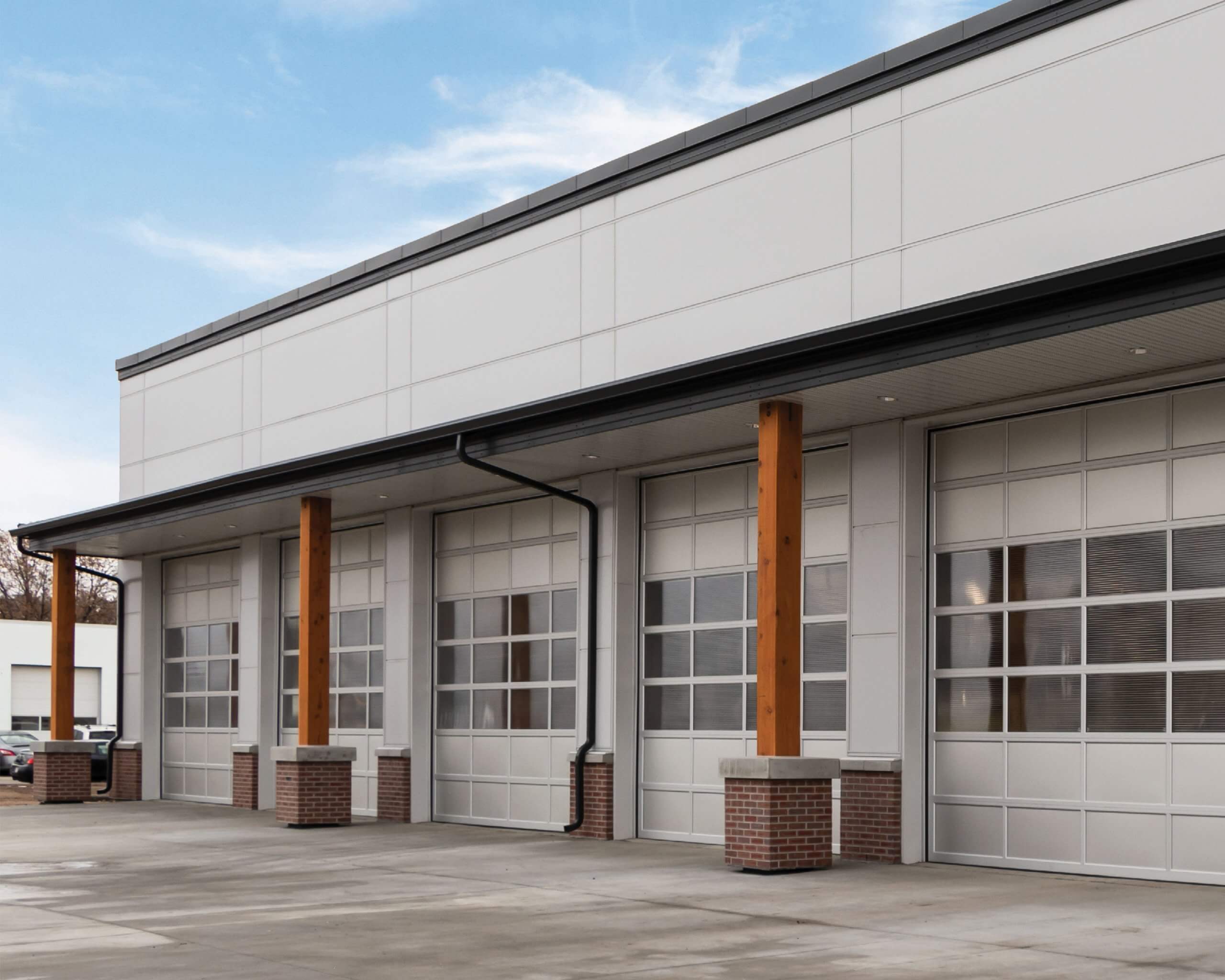 Photo courtesy of Steel-Craft Door Products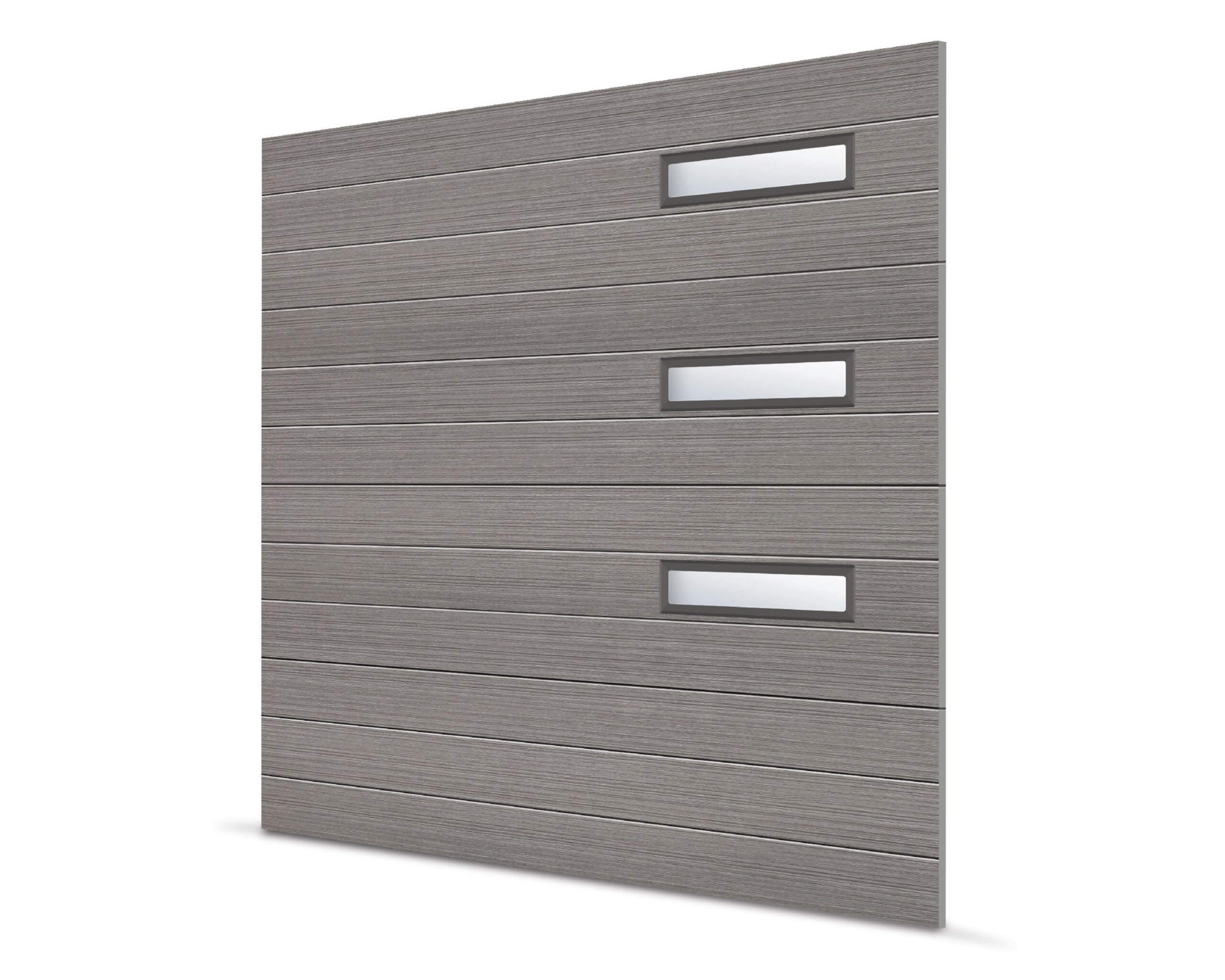 Photo courtesy of Steel-Craft Door Products
Steel-Craft's product range includes sectional overhead garage doors for residential and commercial applications, in both steel-insulated and aluminum options.
Steel-insulated doors are made with high-quality Canadian steel, ClimaCore polyurethane insulation and the company's patented Weather Lock no-open-seam system to increase R-value and energy conservation.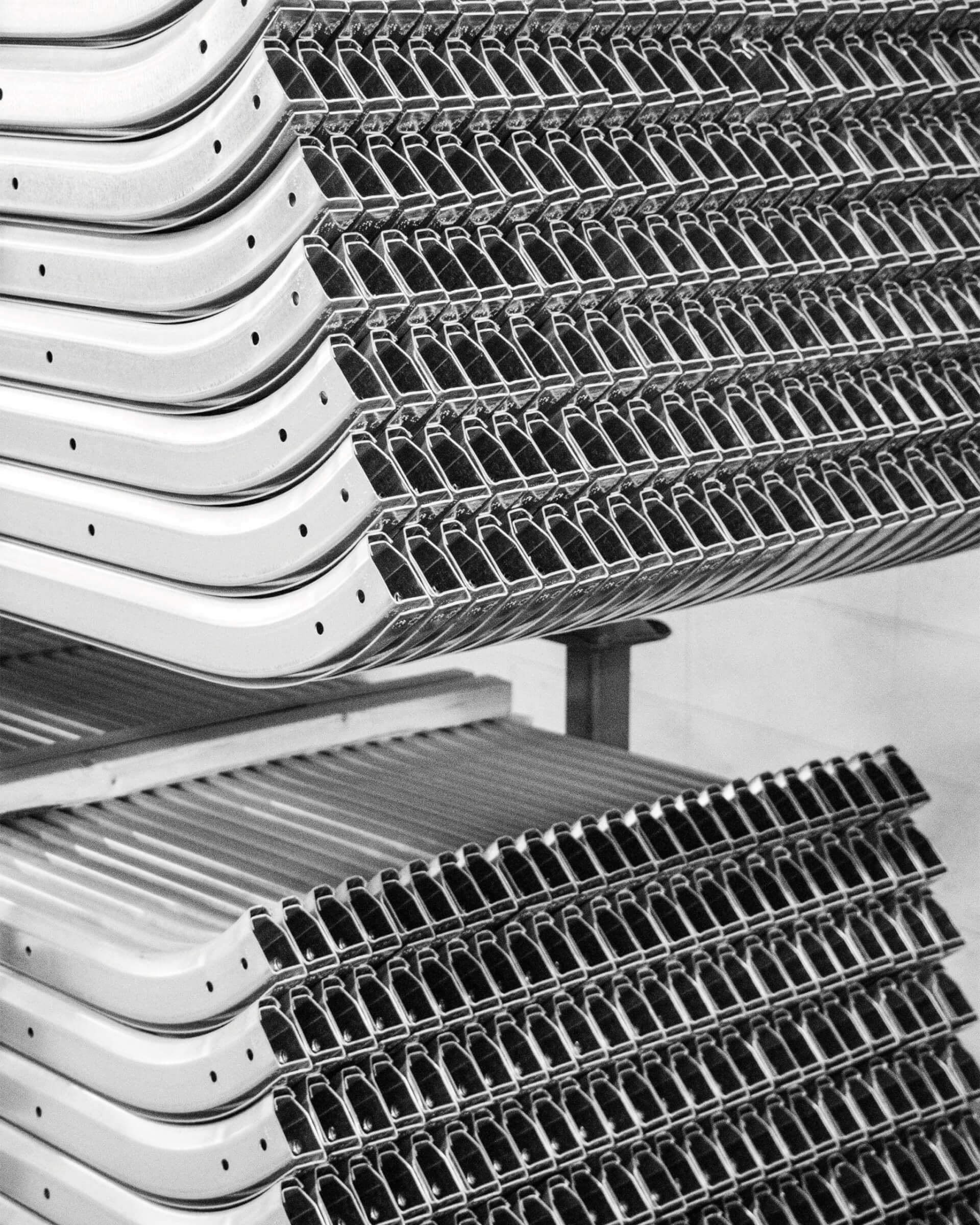 Photo courtesy of Steel-Craft Door Products
"Our aluminum doors are constructed from corrosion-resistant aluminum and have a Hydr-O-Guard to keep weather out," added McArthur. "Our products are designed to withstand all weather conditions. We engineer the highest performance into our doors, adding style, distinction and security to every home – and offering a wide variety of customizable colours, windows, glass, hardware and sizes."
Steel-Craft has noted a number of consumer trends in garage doors, including a move to modern and contemporary designs. In warmer Canadian climates like British Columbia, full-view aluminum doors are a popular choice for their sleek modern look and ability to flood the garage with an abundance of light. In colder climates, steel-insulated doors are most popular due to their durability and energy efficiency.
"Overall, if you want to improve your home's curb appeal, we recommend choosing a door colour and style that complements your home's existing architecture and colour palette," advised McArthur.
Darker colours remain popular, including Deep Matte Charcoal, Brown and Sable Grey. She also said wood-grain finishes like Weathered Wood, Walnut and Cedar are in demand from customers who like the look of traditional wood doors.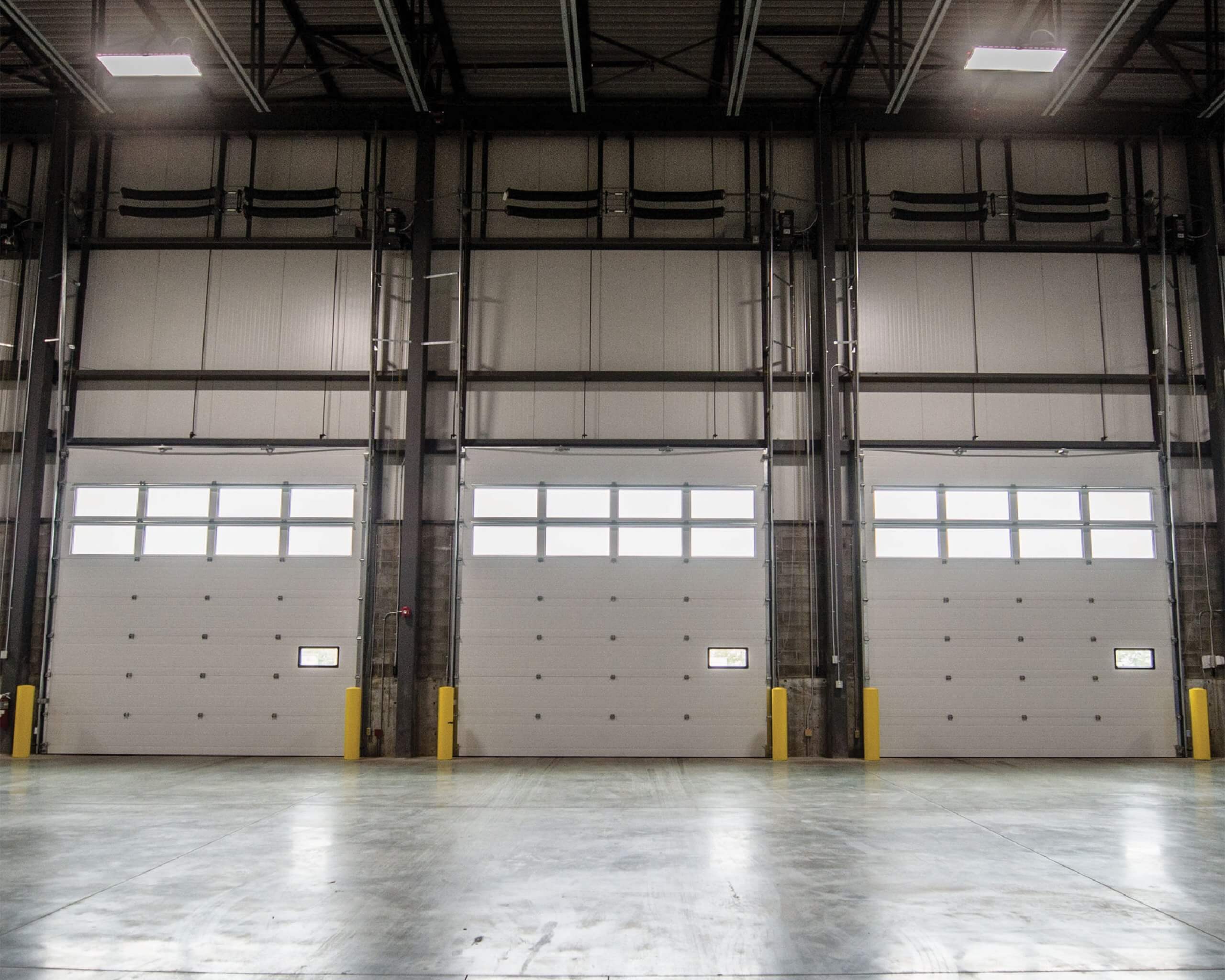 Photo courtesy of Steel-Craft Door Products
No matter what colour or style is chosen, garage doors can be difficult – even dangerous – to install. That's why all of the experts we spoke to recommended they be installed and regularly maintained by professional technicians.
"We really encourage that there should be a professional installing these doors. From a safety perspective, all overhead doors use torsion springs and must be set up correctly. It's your biggest moving feature in your home and your health and safety are paramount," concluded Steward Overhead Door's Mark Rennison. —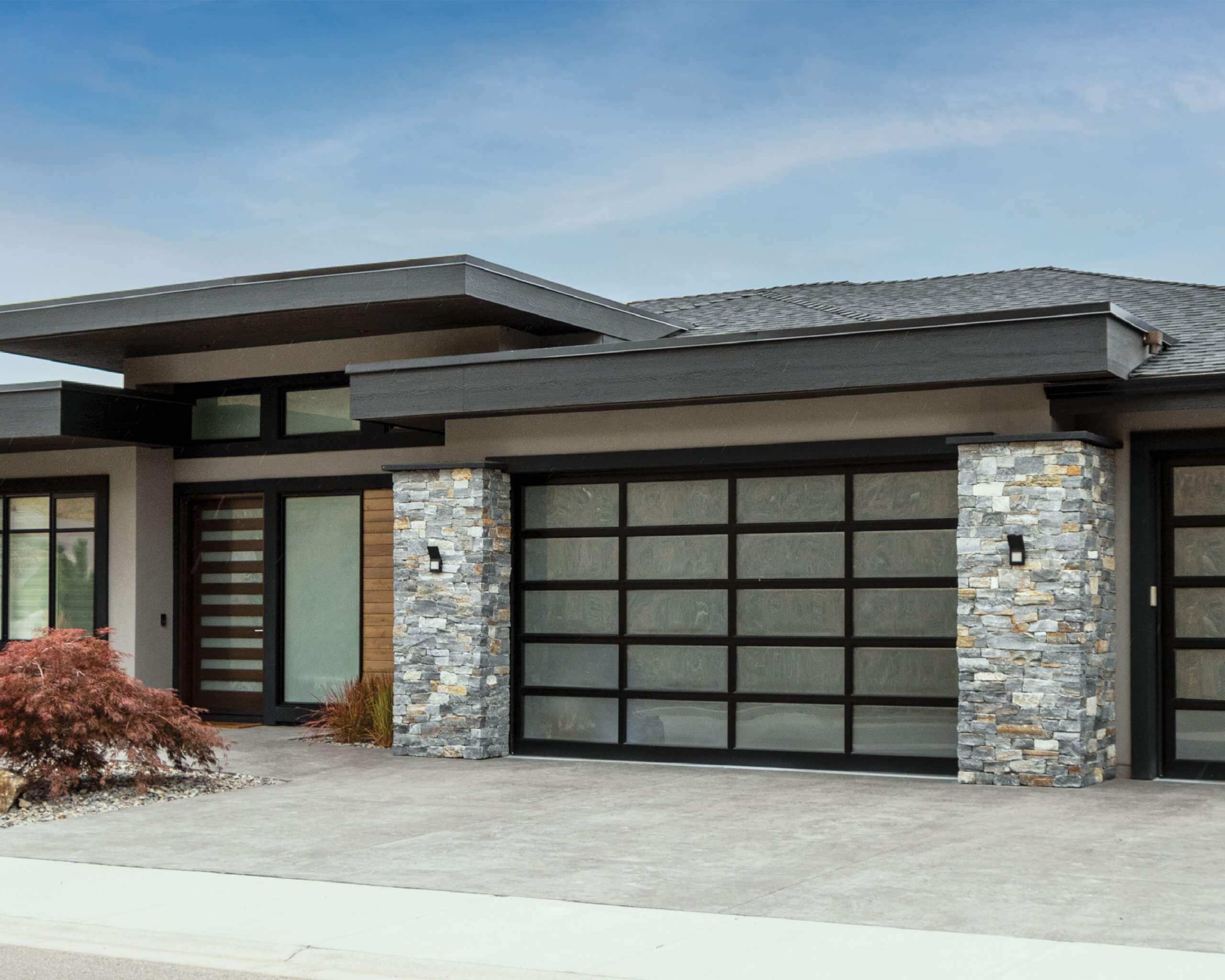 Photo courtesy of Steel-Craft Door Products