Whether you're building a new home or updating an older one, your choice of siding can make a major impact on a new home. Innovations in technology and evolution in design means those choices are changing from season to season. Here, industry experts share what's popular, what's new and how to choose when it comes to siding for residential properties.
Embrace the dark side
When it comes to style, there's a move toward deeper, more stately shades. "Dark Colours in vinyl siding, colours like Gentek's Marine Dusk or Iron Ore, are hot right now," says Christine van Egmond, marketing manager for Gentek Building Products. "Dark colours, in general, have been gaining in popularity, whatever type of cladding it is." Lighter shades, she says, have been fading in popularity in recent years, although they're still being used in smaller measure. "More often than not lighter colours are being used simply as accent colours," says van Egmond.
Bruce Filek, national sales director, Retail Division with Duschene et Fils Ltee, agrees. "Vinyl siding growth trend remains strong in darker colors." He adds, "The biggest development for Duchesne acrylic siding this year is the overwhelming success of our new color introduction," says Filek, including Abyss Blue and Carbon Grey, recent additions to the company's Newport line.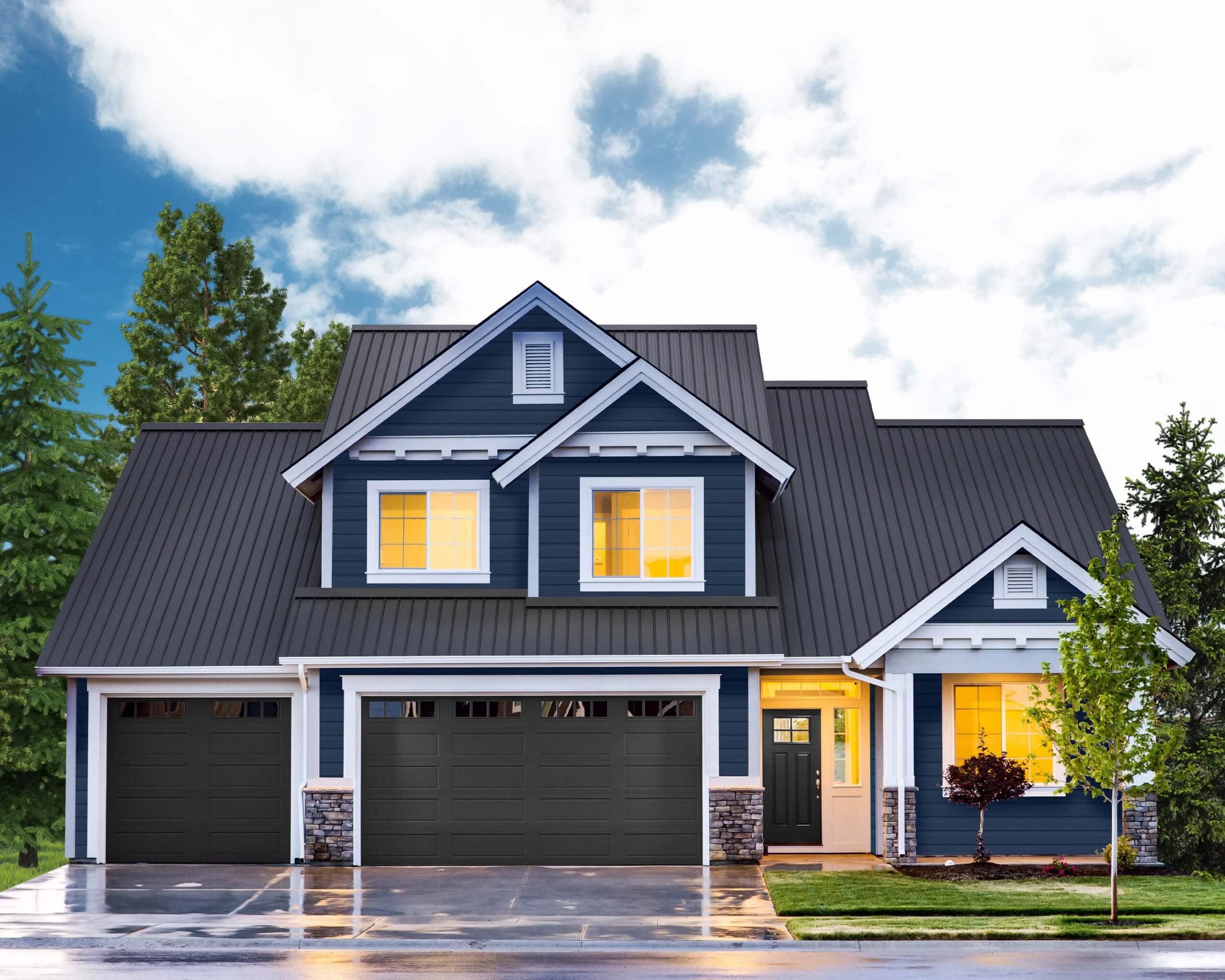 Photo courtesy of Duchesne 
Photo courtesy of Kaycan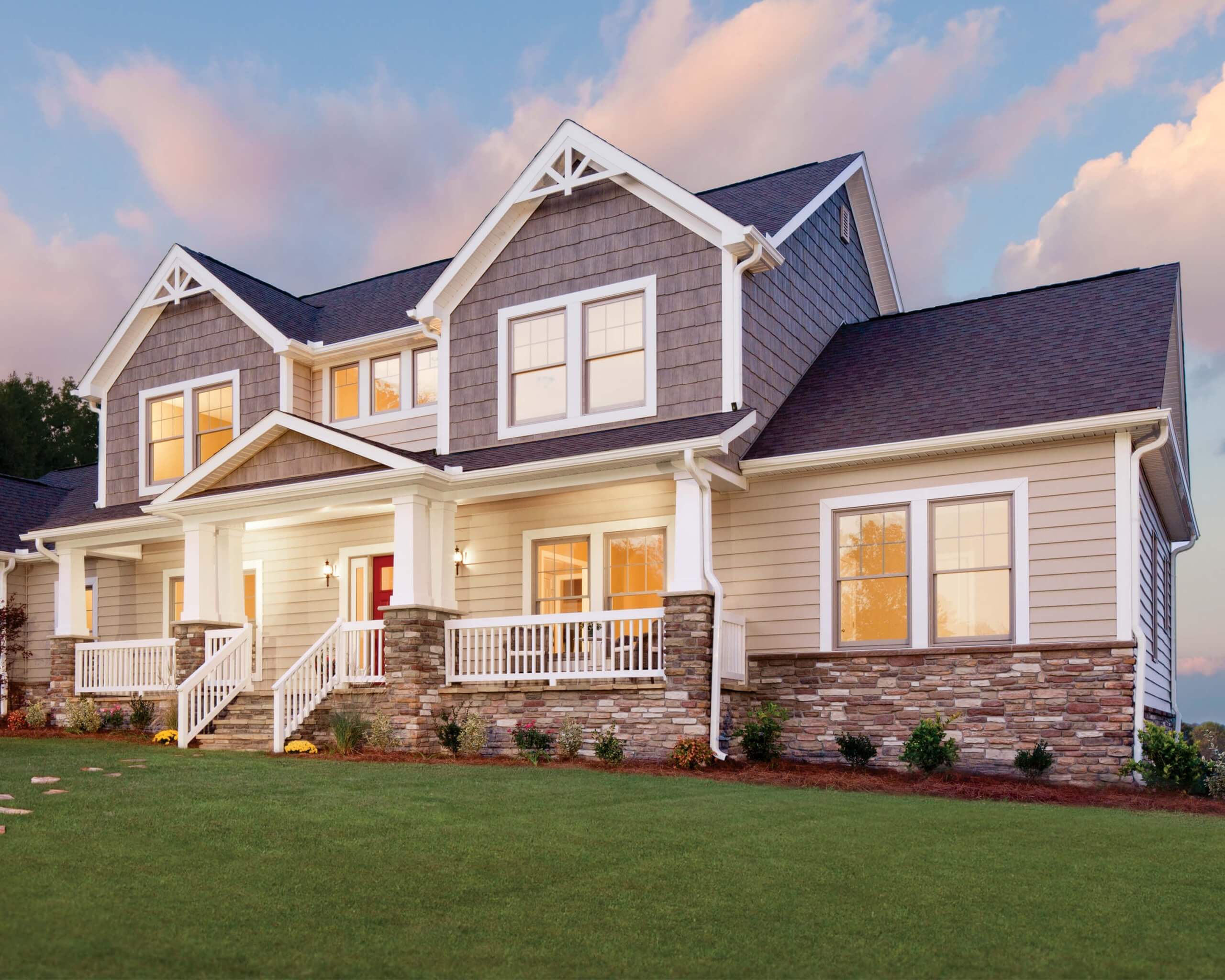 Photo courtesy of Mitten Building Products
"For 2020 Mitten has introduced two new rich, bold colours, Yukon Grey and Huron Blue, that really round out our industry leading colour palate," says Chris Ladner, product manager, Vinyl & Allied Siding at Mitten Building Products, part of the Cornerstone Building Brands family. "While darker greys and blues continue to gain popularity, earth tones such as light browns and greys are prominent as well." He adds that black, too, continues to be a popular colour in the market. "It is mostly seen in accent pieces and Mitten offers a black vinyl soffit option that really stands out on a home," says Ladner.
Looking ahead, Diana Sousa, marketing manager for Kaycan, notes, "For 2020, we are predicting strong colour choices to continue. Stormy grays and deeper blues are going to be the 'it' shades." Like Filek, she anticipates homeowners will increasingly turn to lighter trim shades to enhance those darker hues and brighten the overall look. "Keep an eye out for these emerging colours — they will be changing neighborhoods and adding flair," says Sousa.
Keeping it real (looking)
Another popular choice right now is wood-look siding. "Gentek sells faux wood products in a variety of materials such as steel, our Distinction product; PVC, our ChamClad product; and aluminum, our Longboard product," says van Egmond. "These products give you a very realistic look of wood without the upkeep of real wood."
Ladner points out that while homeowners are looking for low maintenance products for their exteriors. "Sanding, painting and sealing the outside of your home takes away from time people could be spending with their family or on other activities," he says. "Mitten distributes Lux Architectural Panel as a great way to achieve the woodgrain look with little need for upkeep," says Ladner. Mitten, he notes, offers a line of variegated vinyl siding in four rustic colours with a distinctive woodgrain appearance, with all the benefits of vinyl siding, plus instant curb appeal.
Low-maintenance and good looks are an appealing combination. "Gentek sells a product called Everlast Advanced Composite siding  that's really gaining in popularity in Canada," say van Egmond. "It never requires caulking or painting. It's also highly water resistant and contains no organic material, so it can't swell, bow, rot, or be attacked by wood-boring insects." It also comes in a wide panel width — something van Egmond notes is in demand with a growing number of homeowners.
To boldly go
The use of mixed materials on home exteriors is popular right now, says Ladner, with home often cladded in more than just one type of material. "In a lot of new home builds and renovations, we are seeing stone products installed on the bottom of an exterior wall, siding installed in the middle and shake in the gable areas," says Ladner.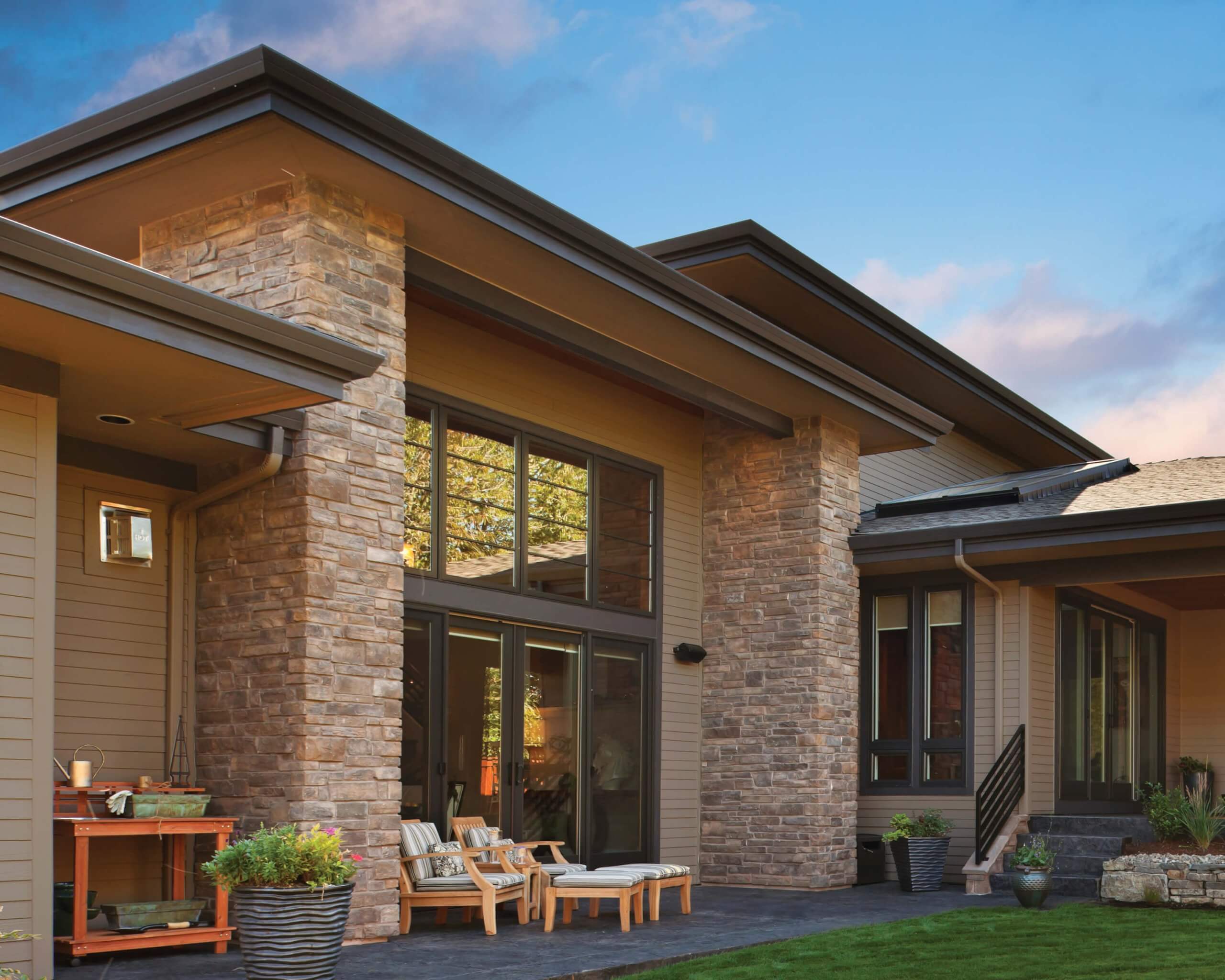 Photo courtesy of Gentek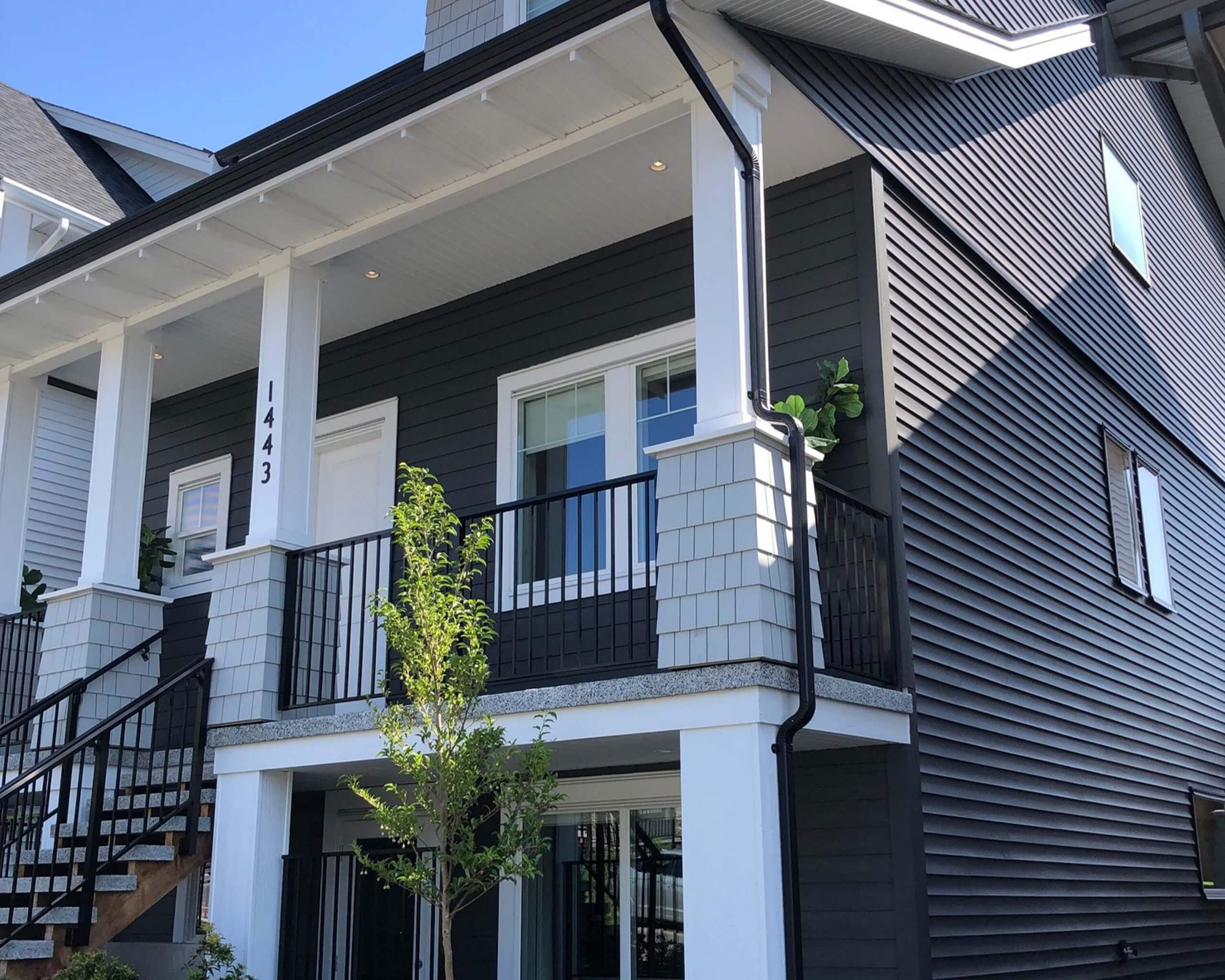 Photo courtesy of Kaycan
"We are definitely seeing a strong trend with mixing a variety of materials on the exterior," says Sousa. "This is a great way to stand out and get noticed," She notes as well that homeowners are becoming bolder with their choices. "The colours and materials they're choosing are influenced by the clean lines and dark colours of much contemporary design," she says. "Contrasting materials, like aluminum in our Urbanix Collection, paired with vinyl siding creates a stunning visual and adds a sleek modern touch to any architectural style."
Engaged consumers
When tackling projects like exterior siding, homeowners are taking an increasing interest in the choices available to them, and investing a growing amount of time in becoming well informed. "Homeowners want their home to reflect who they are, so they are taking their time and researching colours, styles and materials long before they are ready to purchase," says Sousa, who points out that this means suppliers are able to connect with customers in ways they never have before. "The interaction this creates on social media is something we haven't seen before, and dare we say it's one of our favorite things," says Sousa. "Being able to guide them on their buying journey by answering their questions and giving them ideas, allows us to feel like we are part of their project." —