Homeowners are seeking more natural light as they spend more time indoors, making windows a more significant part of their home's design and style.
"It's tied into consumers wanting more expansive views," says Darren Lagacy, vice president of marketing and sales for Global Windows and Doors. "They are looking for larger windows in their main living areas, their kitchens, living rooms, dining rooms and family rooms. They are trying to bring the outside in." It's an opinion mirrored by window vendors across the country.
Alongside that demand for more view is a push for more contemporary or minimalist styles with greater glass and less framework. While energy efficiency is "by far one of the leading factors" in selecting windows, style and colour are now playing a role.
Installation
Achieving all this beauty doesn't come easy, and contractors will find that the larger windows and ensuring their efficiency will be an ornerier job, suggests John Arsenault, director of national accounts and Atlantic sales at Kohltech Windows & Entrance Systems.
Energy efficiency is continually driving the increased demand for triple glazing, which Arsenault says, can double that window's weight along with the reinforcement needed to structurally bare a larger window. The larger sizes themselves can cause transportation and logistical challenges, and the engineering of homes today make elements of flashing, detail and use of the rain screen principle more critical.
"With climate change, we get more frequent adverse weather conditions… we get a lot of high winds, driving rain… And you have these very tight homes, so you have negative pressure in some cases just sucking water in," Arsenault says.
Eco-aware consumers
The energy efficiency of windows is, of course, a top priority, and with stricter codes and Energy Star requirements, top of mind for many homeowners and builders. But energy efficiency isn't the only way homeowners are making their eco-related concerns known.
Driven by the Millennial generation, consumers are beginning to look beyond merely what they can do to make their homes environmentally friendly, but for manufacturers who share their values. To that end, they are starting to look at the environmental practices of the vendors, and the entire lifecycle of the product, Lagacy says.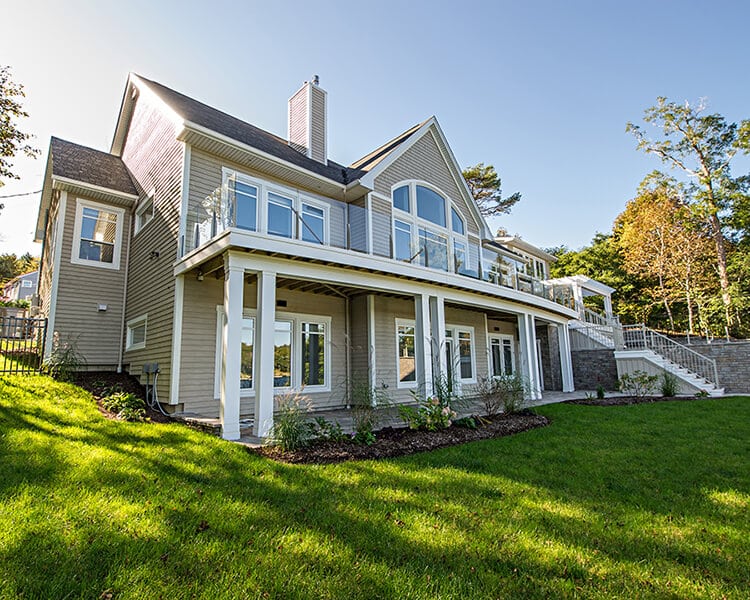 Photo courtesy of Kohltech Windows & Entrance Systems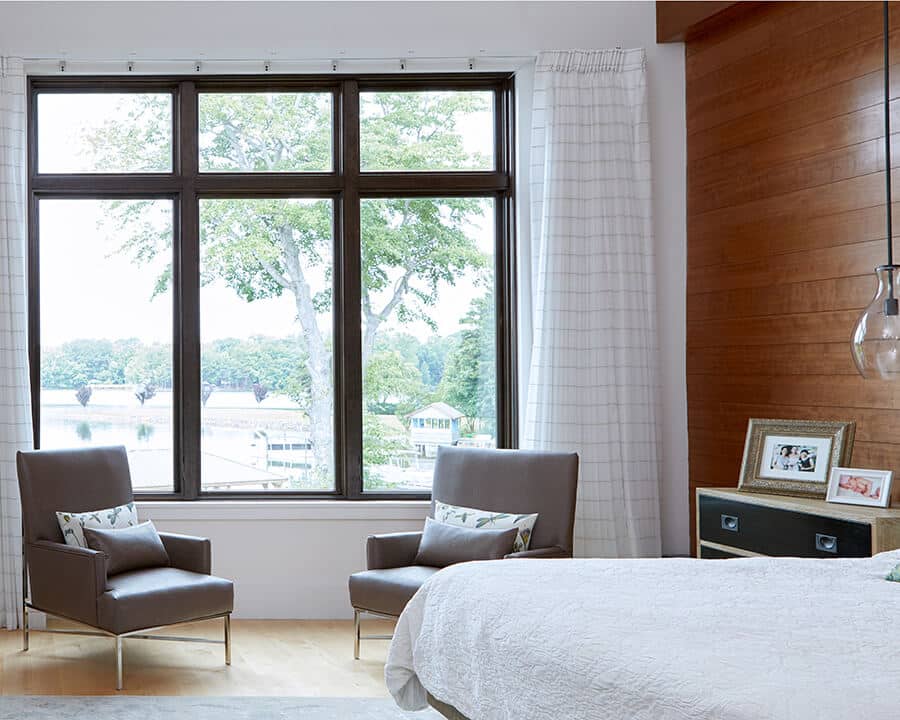 Photo courtesy of JELD-WEN
Black is still the new black
As in past years, black remains the colour of choice when it comes to painted windows, manufacturers suggest. In fact, the colour represents 60 to 70% of all painted product from JELD-WEN of Canada, according to its director of marketing and manager Paul Commisso. But this interest doesn't come without challenges that manufacturers like JELD-WEN are trying to solve. "The issues with paint in a construction environment, especially with dark colours is wear and tear during shipping and installation. Manufactures are moving to alternatives from paint to avoid damage as well as provide products that provide superior appearance, quality and performance." His company's FiniShield option for vinyl windows is a semi-rigid PVC foil that, as well as protecting against UV rays and reducing heat build up is scratch-resistant, reduces colour variation across units and will not crack or peel like paint.
Still, black is by no means the only colour on the scene. "Black is still the big colour, as mentioned in the interior and exterior," says Tracy Nadiger, director of marketing and customer experience at All Weather Windows. "But we see gray being another emerging colour."
Colour inside and out
Coloured windows continues to hold homeowners' attention, and interior colour continues to trend, says Nadiger. In addition, she says, the use of acrylic wrap to apply colour is gaining in popularity too. "The desire for colour – primarily black – to the exterior has been present in the marketplace for the last ten plus years," says Glen Janiszewski, director of marketing and pricing at Ply Gem. "What has changed recently is the desire to bring black to the interior of the window."
Of course, homeowners are in no way limited to blacks, whites, beiges or grays. Many companies offer a wide range of pre-painted or pre-stained options, as well as the ability to colour match. Tim Weiler, key account and dealer development at Ostaco Windows and Doors, says his company offers 30 colours with unlimited options through colour matching. Similarly, Don Kennedy, marketing and sales manager at Kento Windows & Doors, notes Kento has the ability to provide durable window paint across "pretty much" any colour through matching and replicated stain finish.
That replicated stain finish is, he said, a custom look that's gaining traction with homeowners that want a wood grain aesthetic. Beyond black, Kennedy says he's seeing greens and blues having increased uptake. Weiler also notes an increase in demand at his company for earth-tone colours  like browns, grays and darker tones.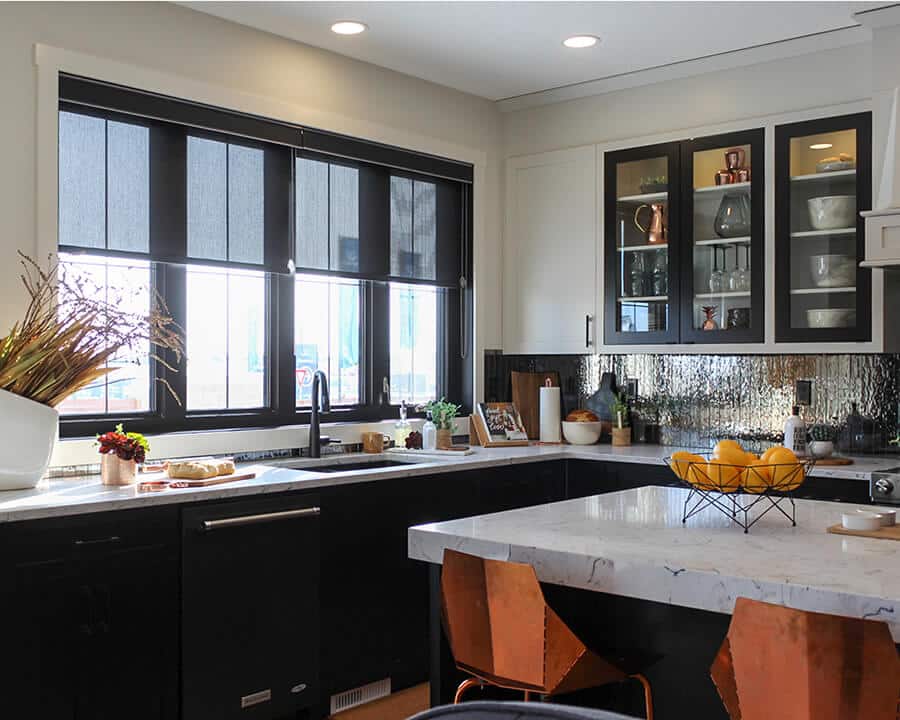 Photo courtesy of All Weather Windows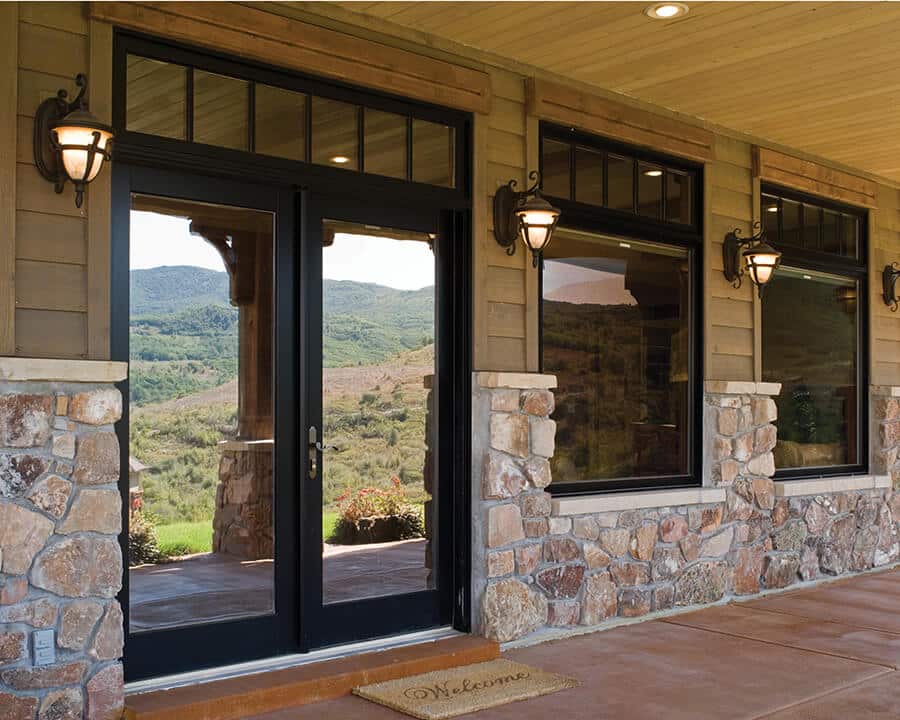 Photo courtesy of Ply Gem
PVC: durable, resilient
Vinyl, or PVC, is still the primary player, representing about 85% of all residential windows sold in Canada, according to Commisso. Nadiger concurs, noting that "PVC is durable, long lasting, and value driven.  It also performs better from an energy efficiency standpoint than aluminum and is a better price point than fibreglass."
That is not to say vinyl is the only material being used. According to Janiszewski, "While vinyl windows continue to be desirable due to their inherent benefits — low maintenance, energy efficiency, etc. — there is a strong desire to "dress them up" and that is why we see strong demand for our aluminum-clad vinyl products." Ply Gem's Design Series windows feature such aluminum cladding on the exterior and vinyl on the interior, while its Design Architectural Series sport aluminum cladding on both.
"There remains a niche market that values the classic look of wood windows," he adds, and as such his company's Signature Series aluminum-clad wood windows features fully extruded aluminum cladding to the exterior and stain grade hem-fir interiors.
Some areas of the country prefer a wood or wood look, such as the Toronto market, according to Weiler. To that point, his company offers an interior finish of solid cellular over their vinyl windows to create the wood grain aesthetic.
Climate Considerations
Canada can have some of the roughest weather, and certain regions face the brunt of it. Kennedy notes that his company's customers in Newfoundland and Labrador represent a microcosm of the "interesting" climate faced across Canada.
Even as homeowners demand aesthetics such as larger windows, different shapes and a variety of colour options, they must be manufactured and built with durability to withstand Canadian temperature shifts and wind-loads.
The trend of open concept homes combined with larger windowed views may be one that at its heart speaks to the Canadian experience: one of a harsh and beautiful landscape.
"We have an interesting climate, combined with a beautiful country; whether it's a scene over the Prairies, a view of the Atlantic Ocean, or of a beautiful salmon river in B.C." Kennedy says, painting a picture of just why Canadians want such grand windows.
He reminds Canadian contractors, that the grand view homeowners seek doesn't always need to be achieved with a single massive pane of glass. In fact, repairs, should they ever be needed, are faster and more affordable when the view is created through combing smaller panes. And, in Canada, the need for a replacement is always a rock, branch or puck away.
"Think about when the kids are playing in their make-shift hockey rink and drive the puck right through the glass?" —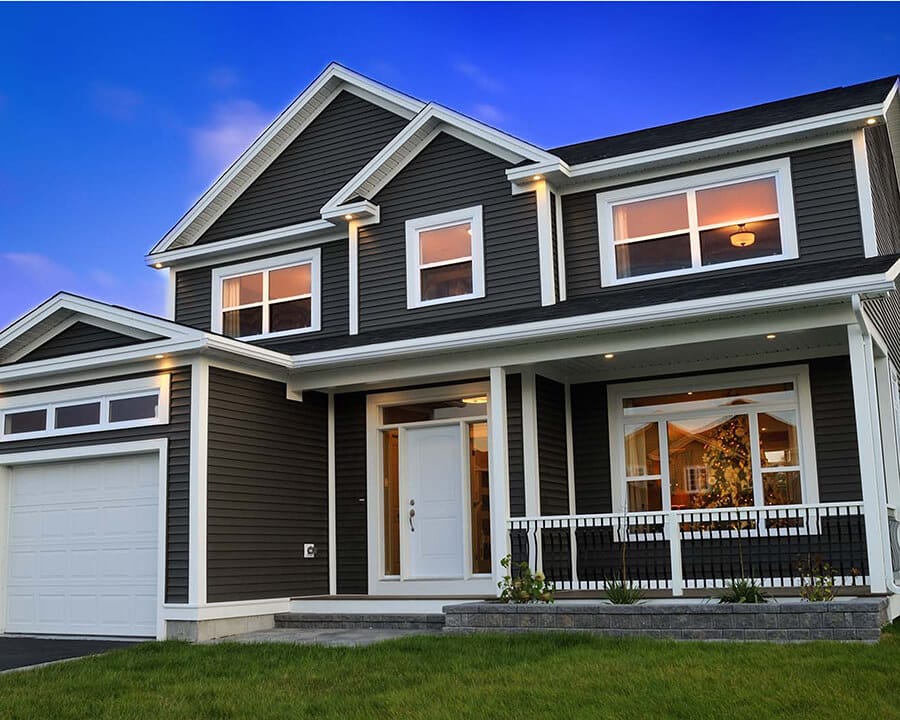 Photo courtesy of Kento Windows & Doors