As any prospective homebuyer knows, curb appeal is critical. A home's exterior instantly conveys a sense of what to expect inside its walls, whether timeless elegance, welcoming warmth or contemporary minimalism.
While many elements come together to create the magic of curb appeal, a big part of the equation is your home's exterior cladding. Today, there is a multitude of residential siding options to create any look, from clean modern lines to cottage-style shakes to wood-look accents. Best of all, modern siding is a durable, maintenance-free and affordable choice to help your home stand out from the streetscape.
With 2021 well underway, a few key exterior siding trends are evident. Homeowners continue to gravitate toward calming shades inspired by the outdoors. Earthy beiges and browns are giving way to a rich palette of blues, greys and a hint of green with cooler undertones. Darker statement colours, such as slate greys, deep blues and even midnight black are appearing on suburban streets across the country, while homeowners mix colours, textures and materials to broaden visual appeal.
In many cases, traditional and contemporary design are merging to create a hybrid look that can be seen in the modern versions of the farmhouse, Tudor or cottage styles.
"In regard to architectural trends, we are seeing a surge in the farmhouse style," confirmed Diana Sousa, marketing director for Kaycan Ltd., a manufacturer and distributor of vinyl, aluminum and engineered wood siding and accessories. "This style is well suited for a vertical board and batten siding, and the colour of choice is, surprisingly, white. However, for those who are renovating or building more contemporary homes, we're noticing a push towards deep, bold shades."
With darker colours becoming more popular, the company set about perfecting its Helios technology, which protects rich colours from fading while dispersing the heat they absorb.
Kaycan is predicting another strong year for home renovations, as the COVID-19 pandemic continues to impact travel plans.
"Many people have been working from home and that certainly makes us focus on what is around us and how we can change it," continued Sousa.
Kaycan sells insulated vinyl siding, lap siding, vertical siding and polypropylene shakes in 62 colours, some solid and others with a textured wood-grain appearance.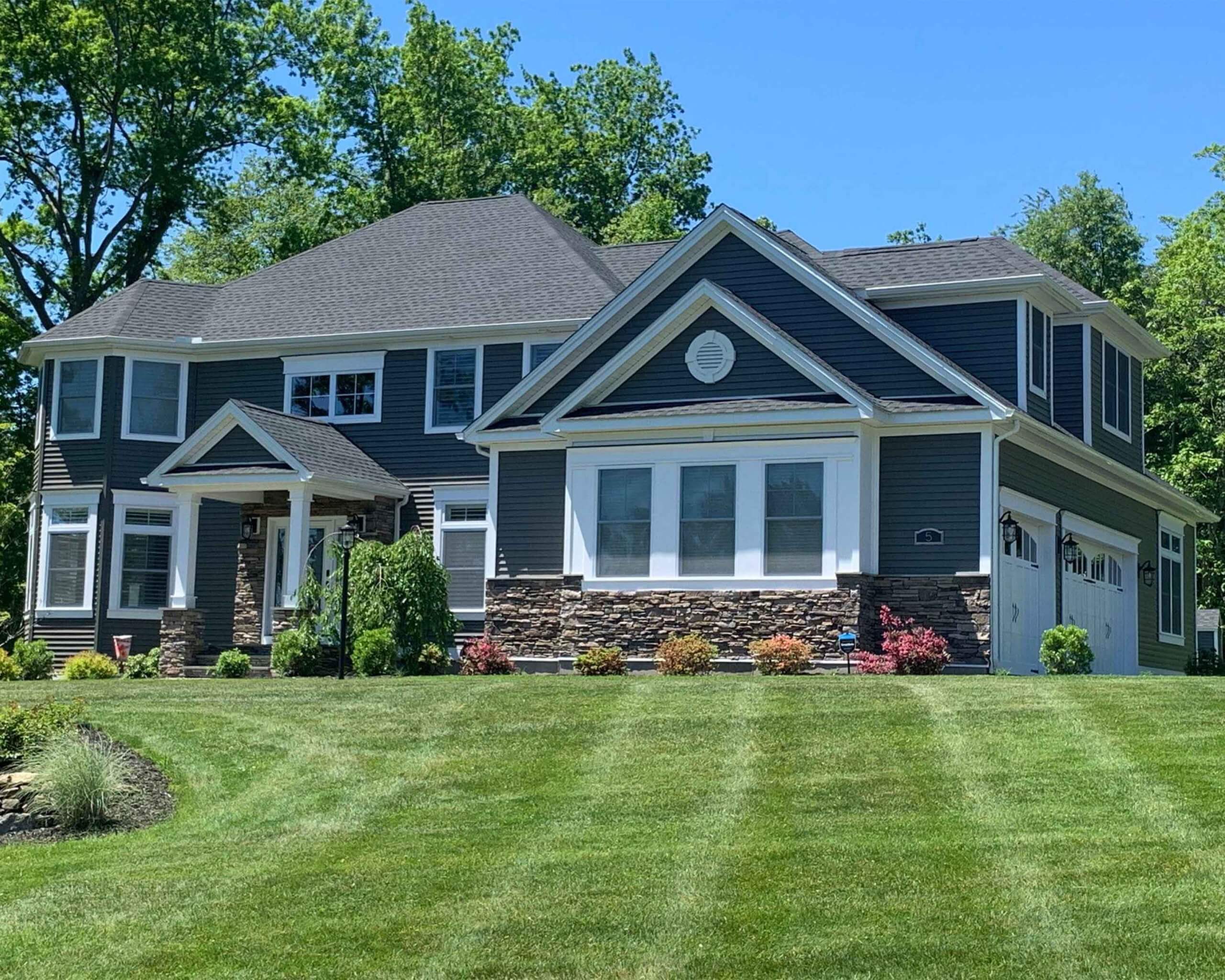 Photo courtesy of Kaycan Ltd.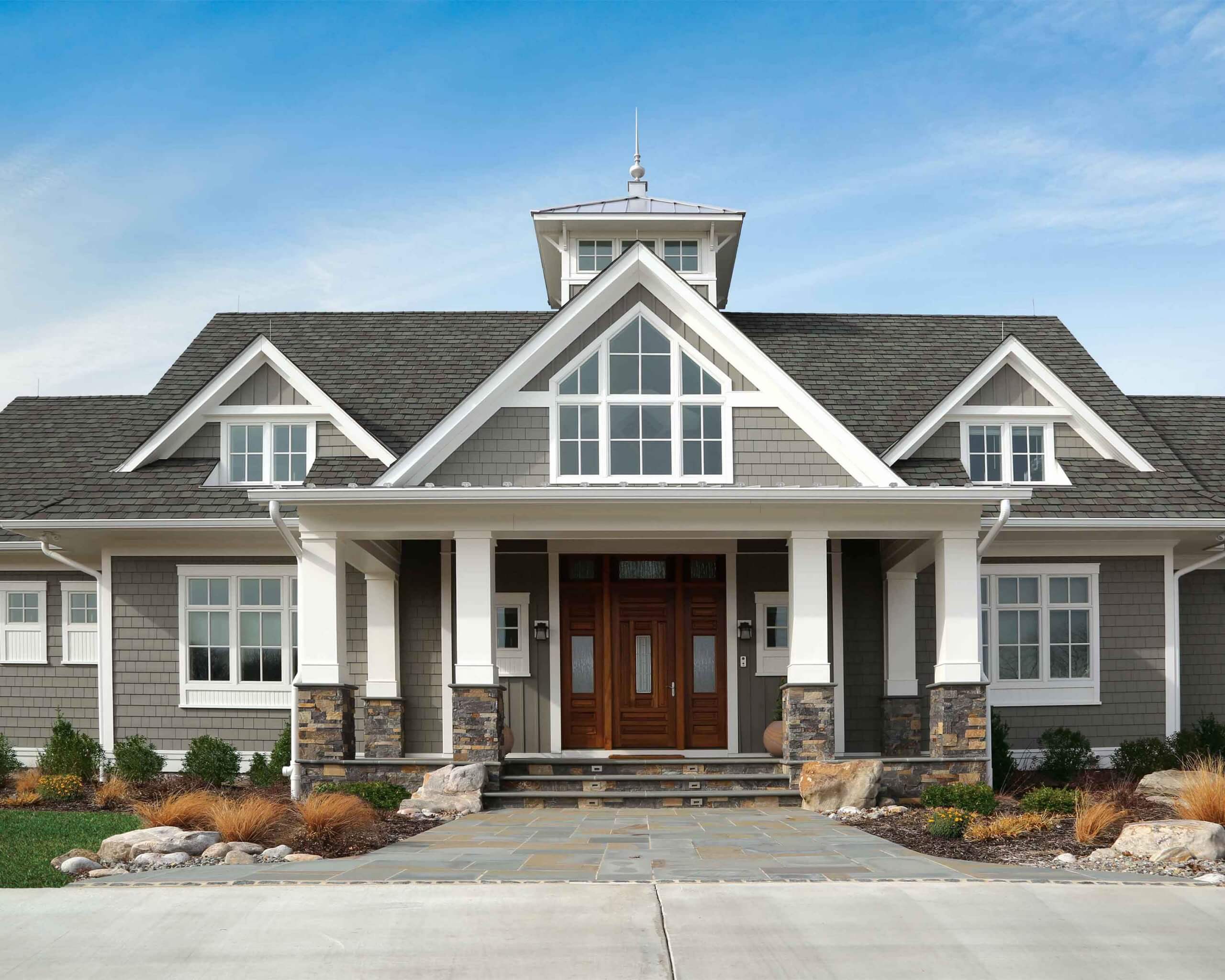 Photo courtesy of Royal Building Solutions
While the sheer number of options available in residential exterior siding can make any homeowner's head spin, Kaycan offers a number of tools on its website, including Home Designer 2.0, a service that allows customers to upload a photo of their home and then visualize it with different siding options.
Royal Building Solutions also offers a wide range of exterior residential siding options, from traditional vinyl to cellular composite, aluminum, shakes and shingles, wood and stone. The company's Canadian business is concentrated in Alberta, Manitoba, Ontario, Quebec, and Newfoundland.
Canadian Marketing Manager Mical Kasweka agreed that darker-coloured siding continues to gain momentum in the marketplace, with greys and blues being popular. For 2021, Royal Building Solutions is offering an updated array of colours.
"We work hard to ensure our colour palettes stay on-trend and offer a range of choices to deliver any design aesthetic," she said, pointing out that some homeowners are choosing to mix multiple materials to pack an aesthetic punch.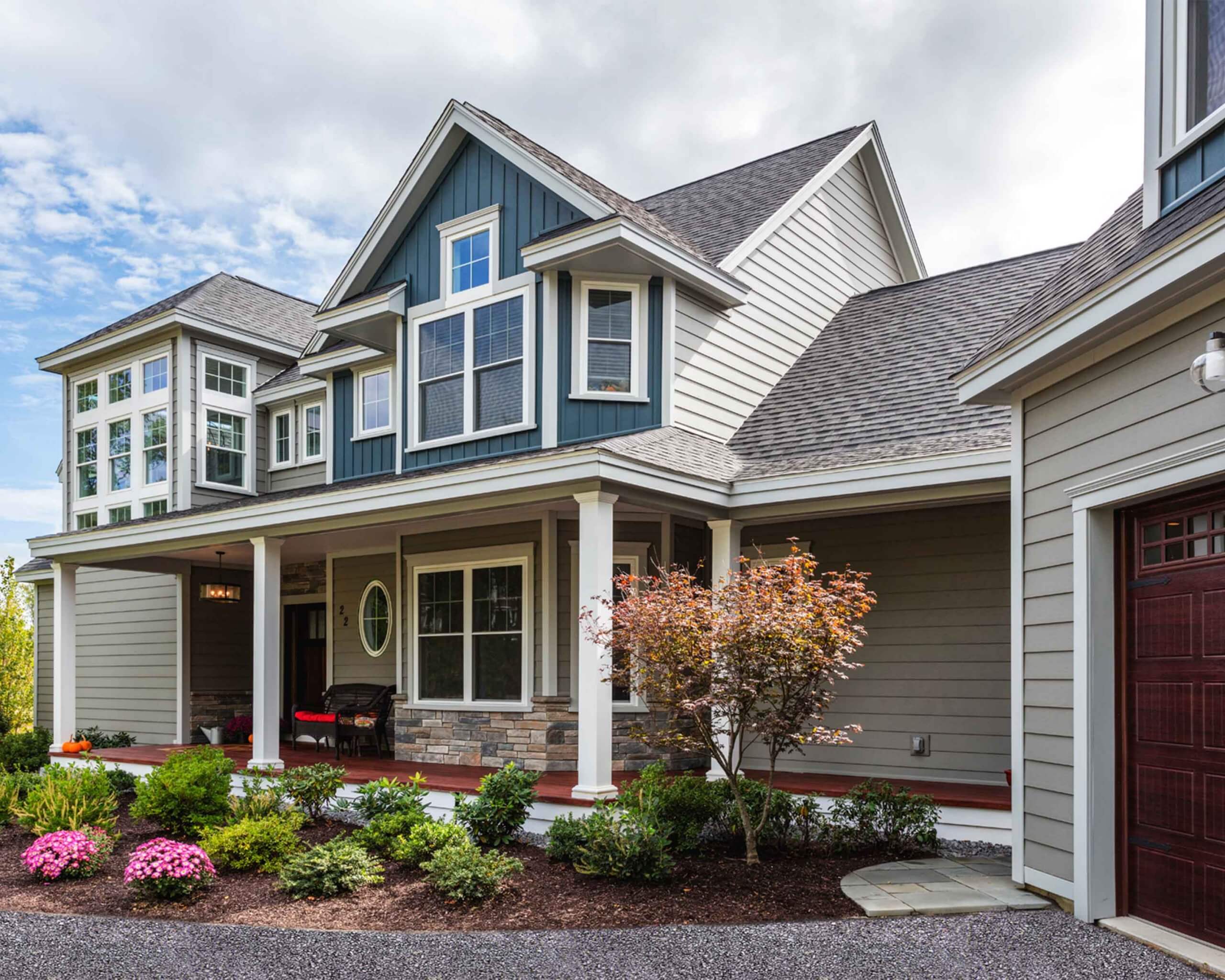 Photo courtesy of  Royal Building Solutions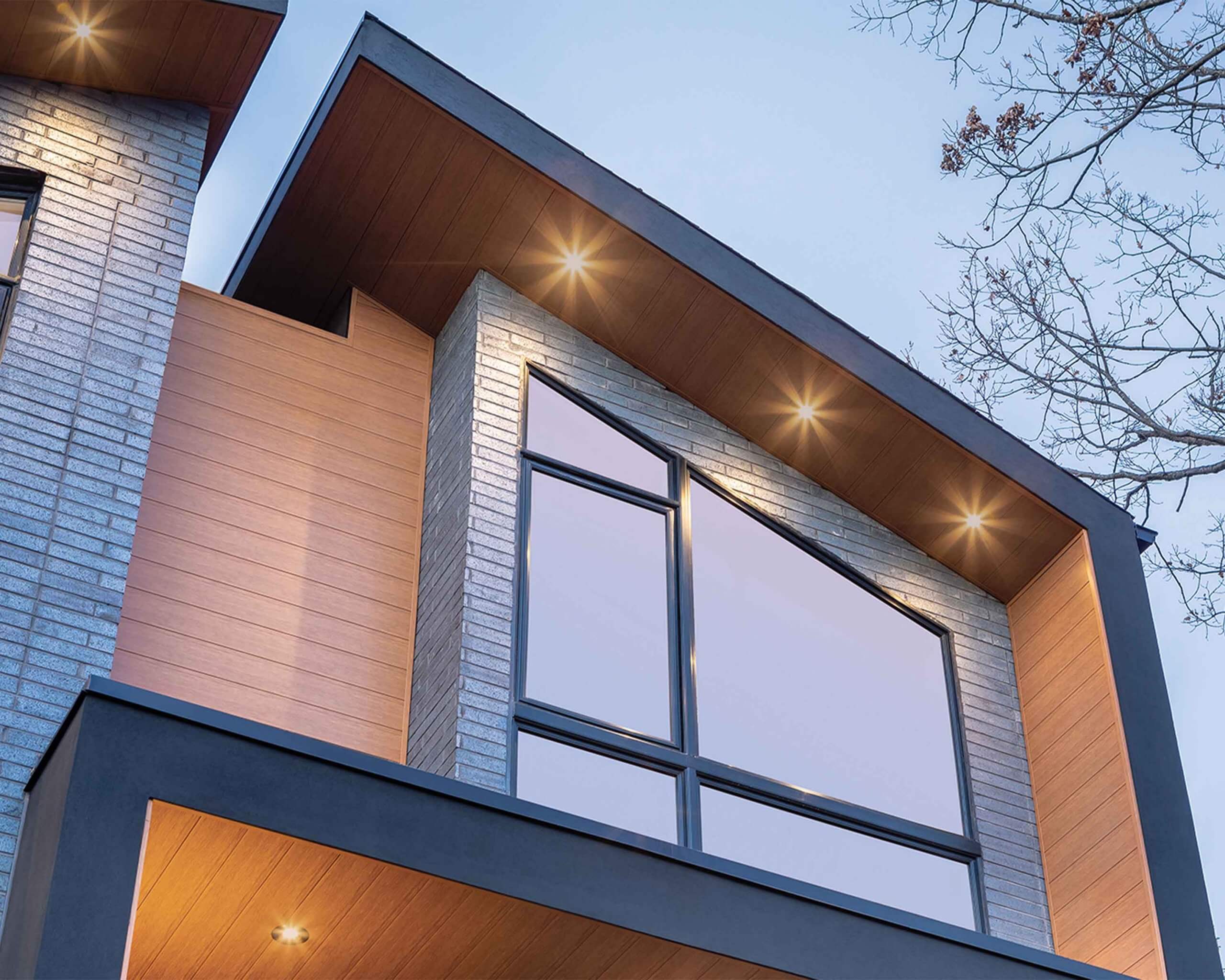 Photo courtesy of  Royal Building Solutions
Some of those mingled mediums include the Cedar Renditions aluminum siding line, which delivers the look of multi-toned stained wood while promising maintenance-free durability. Royal Building Solutions also offers the Celect cellular composite siding family, featuring a special interlocking join that provides a virtually seamless look.
Kasweka said another popular choice is Atlas Stone composite stacked stone panels, which install easily without special tools or repointing. And, if the timeless warmth of cedar shake is the goal, the Portsmouth Shake Line offers colour, texture and functionality in cedar, hand-split shake and half-round accents.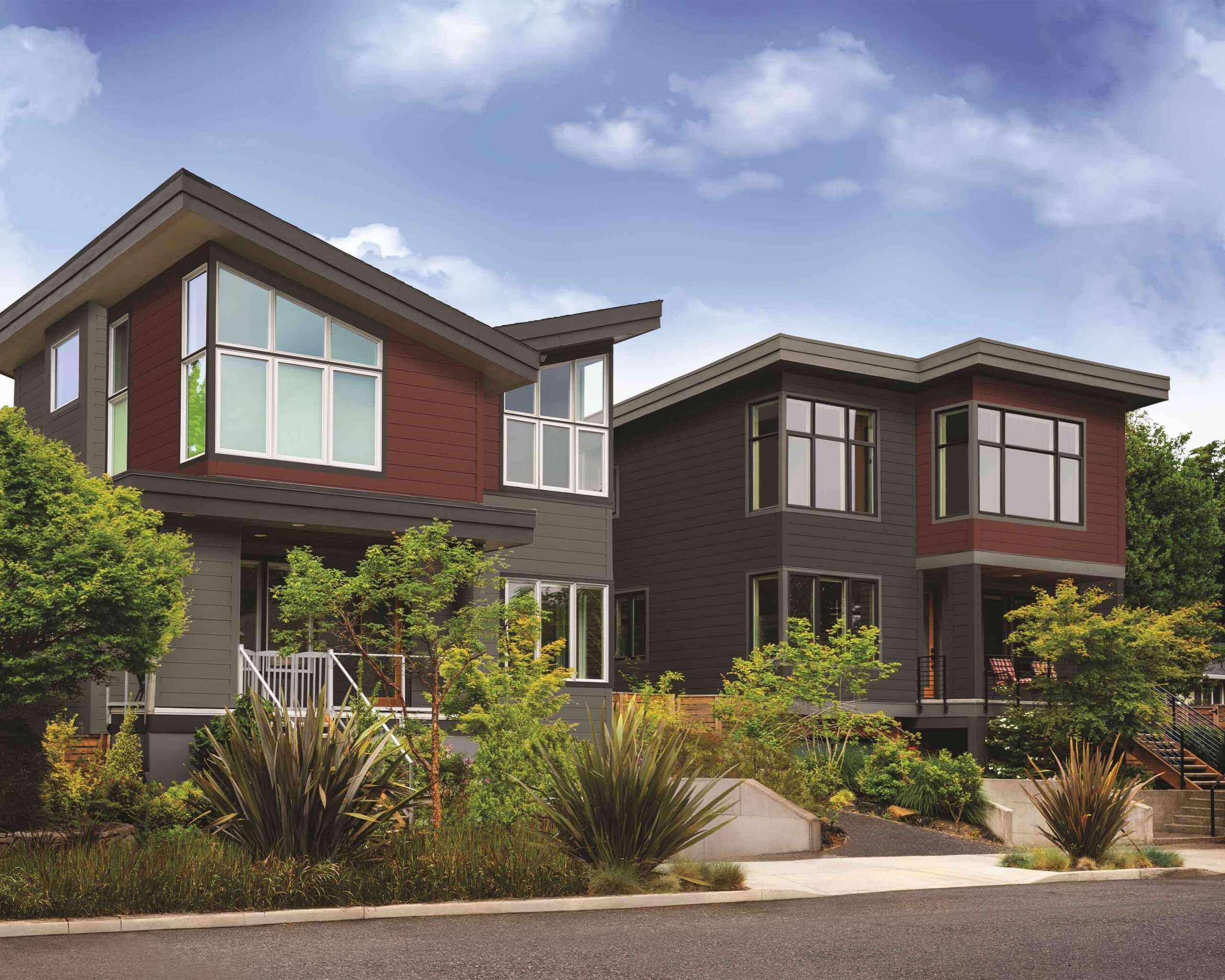 Photo courtesy of  Gentek Building Products
Gentek Building Products is also seeing great success with its new ALIGN Composite Cladding, a fade-resistant product available in 20 colours with the rich look of milled cedar. Thanks to its patented glass-reinforced polymer and graphite-infused polystyrene technology, ALIGN boasts the beauty of wood with a seven-inch flat face exposure and strong, lightweight construction.
"Homeowners get a lifetime of beautiful exterior that is fade- and impact-resistant, and installers have an easy-to-use solution that enables them to deliver a high-end exterior in a fraction of the time, compared to fibre cement and engineered wood," said Pierre Lefebvre, product manager at Gentek Building Products.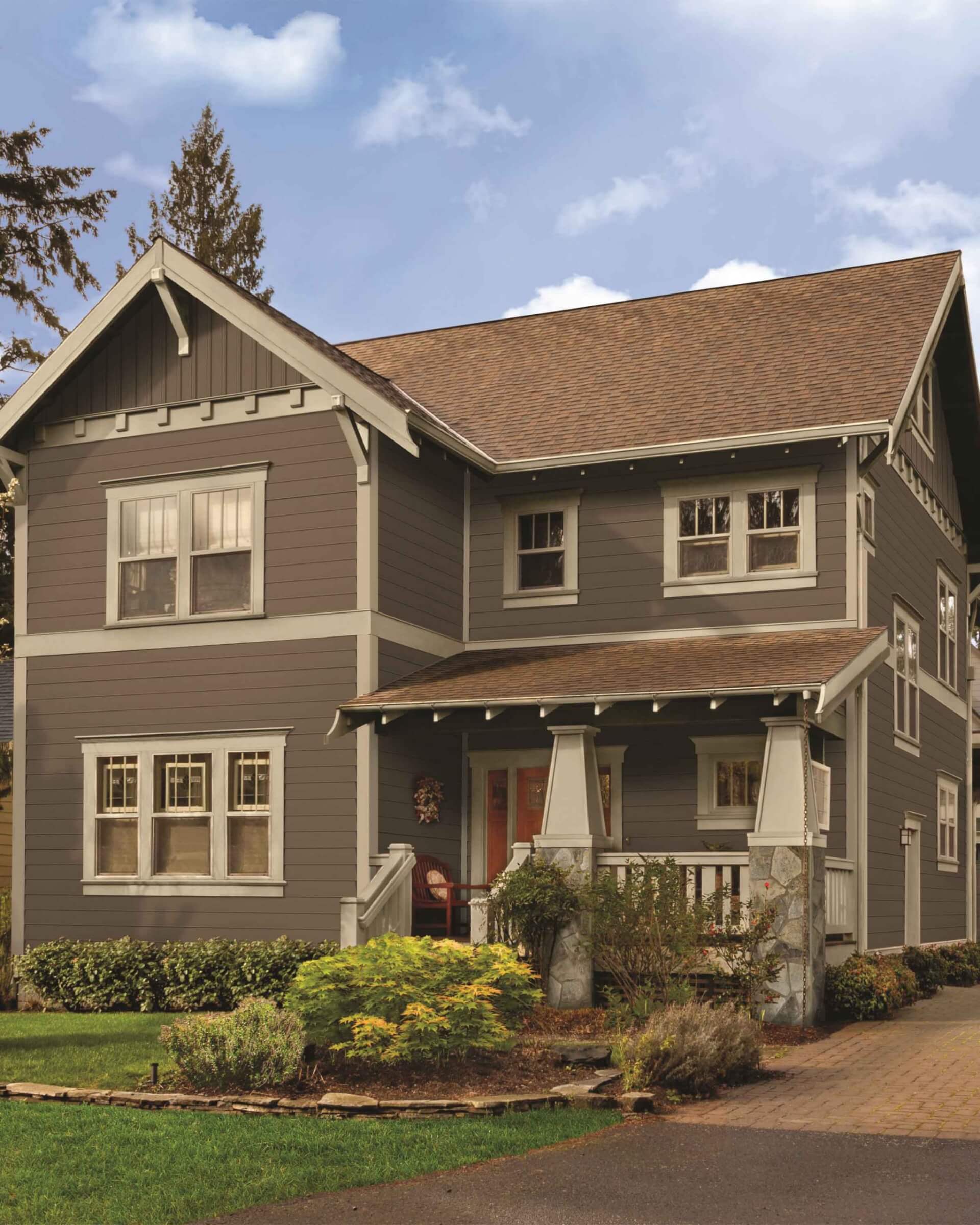 Photo courtesy of  Gentek Building Products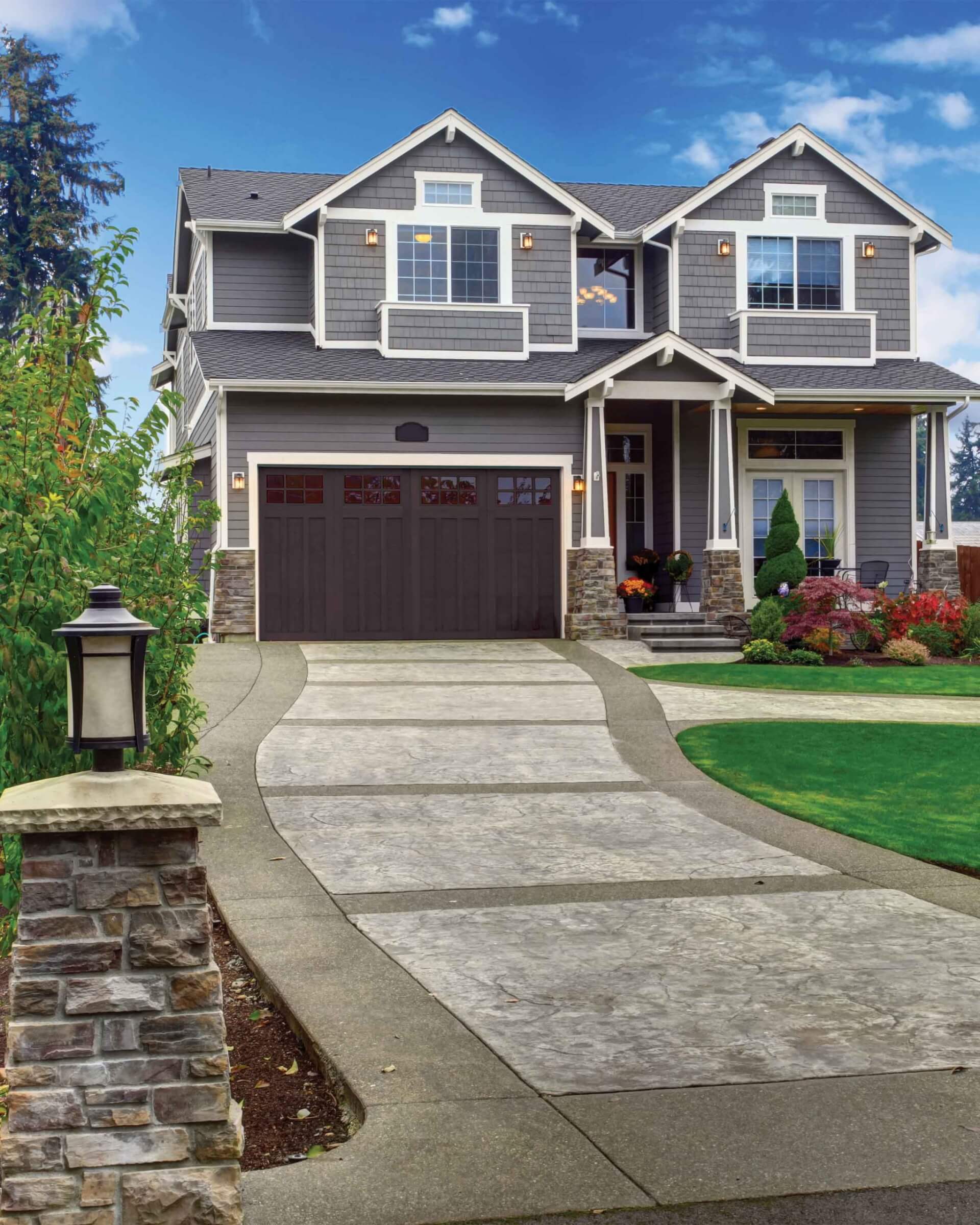 Photo courtesy of Mitten Building Products
Homeowners concerned about energy conservation can consider ALIGN, as well as Gentek's line of insulated vinyl siding. The company also offers regular vinyl and steel siding as well as a selection of specialty stone, faux wood, shakes and composites.
"We also anticipate rising popularity in vertical siding," continued Lefebvre. "We've seen increased demand in recent years for our board and batten product, which offers visual appeal through a rustic charm and contemporary look."
He said grey is currently the most popular colour family sold by Gentek, in shades such as Storm, Iron Ore, Dover Grey and Chesapeake Grey. In addition, the company is tracking an increase in white across its product lines.
Grey and blue are currently the most popular colour families in the Mitten Building Products line of vinyl siding. The company – which also sells Novik shake and stone, Lux steel siding and ClipStone – offers 18 standard vinyl siding colours as well as 37 premium colour options.
Richard Brunet, vp of sales at Mitten's headquarters in Brantford, Ont., said homeowners are looking to mix different mediums for maximum impact.
"The trend is to use no less than three complementary siding materials," he said. "For example, most new homes or renovations consist of a stone skirt, siding up the wall and shake used in the gables."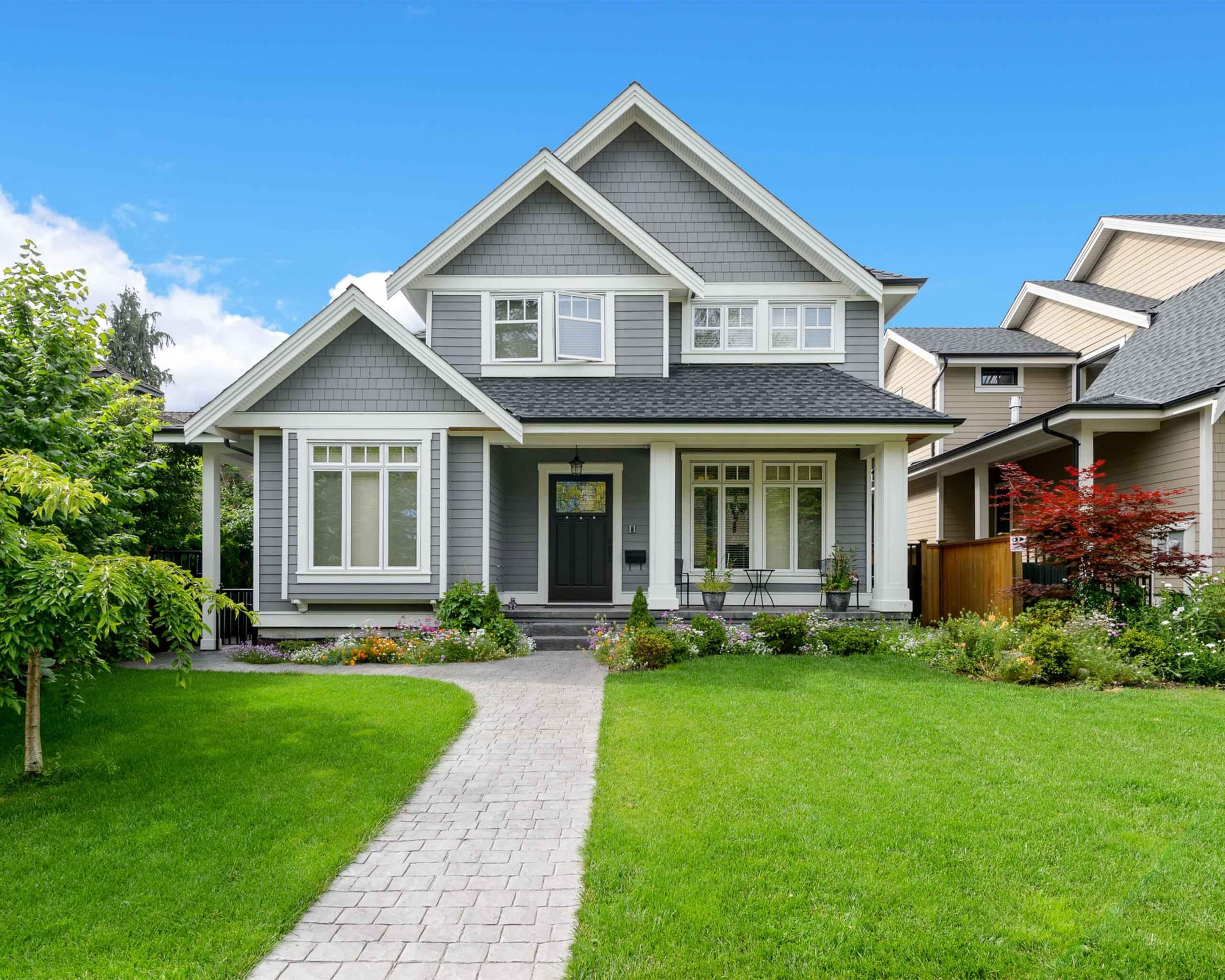 Photo courtesy of Mitten Building Products
As a national distributor with branches across the country, Mitten's 2021 sales have been ahead of 2020, and Brunet expects this trend to continue.
He said one of the company's fastest-growing products is the Sentry Variegated Vinyl Siding series, laminated with a woodgrain film that gives the appearance of real wood – at a fraction of the price and without the need for maintenance.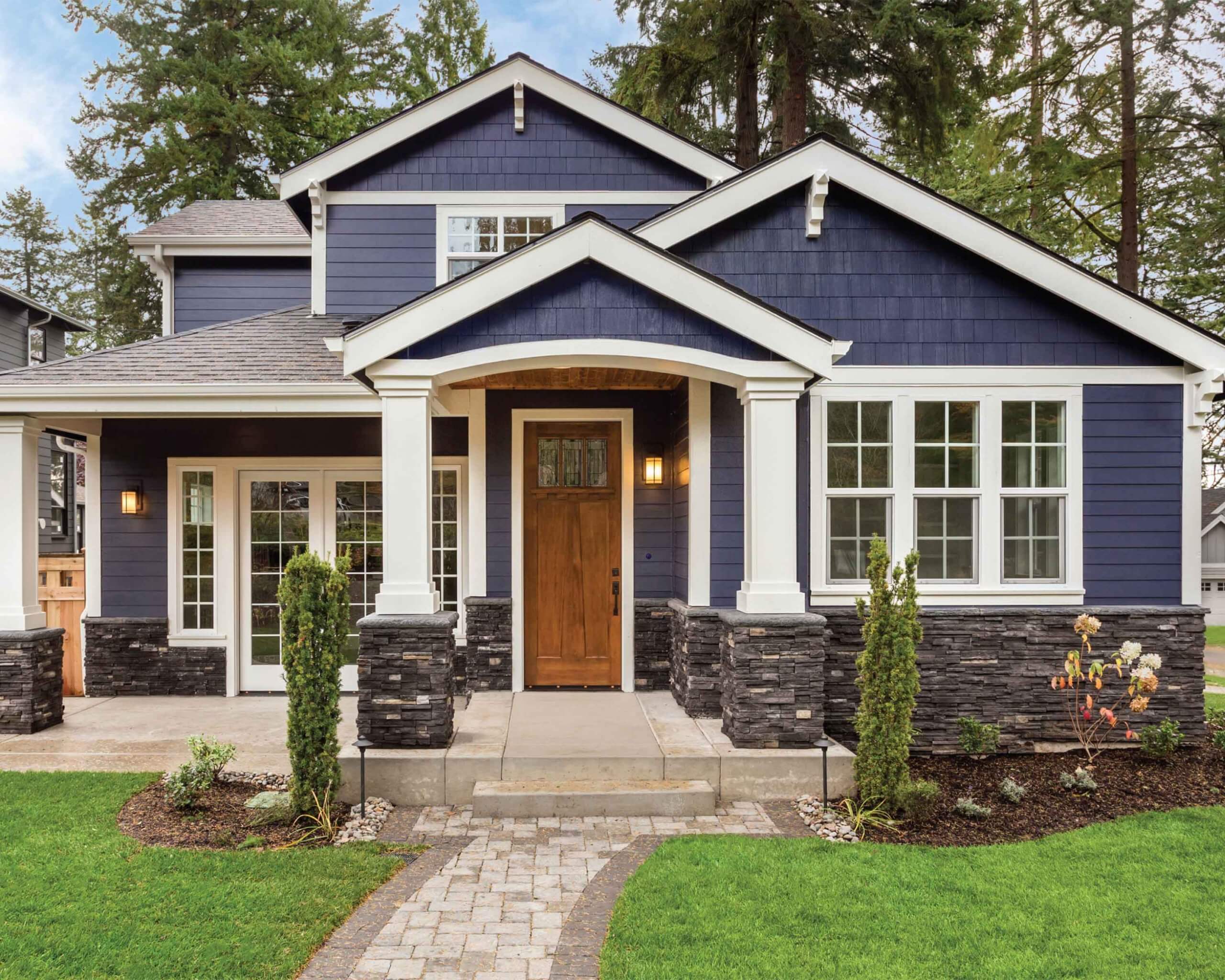 Photo courtesy of Mitten Building Products
With so many innovative siding products available on the market, it's easy to transform a home's tired exterior with a stunning facelift. Cookie-cutter houses are passé in a world that values the unique experience. Today, homeowners are searching for ways to express their home's individuality, and that often starts with new exterior cladding.
Durable, affordable and attractive, today's exterior siding options always get a second look. —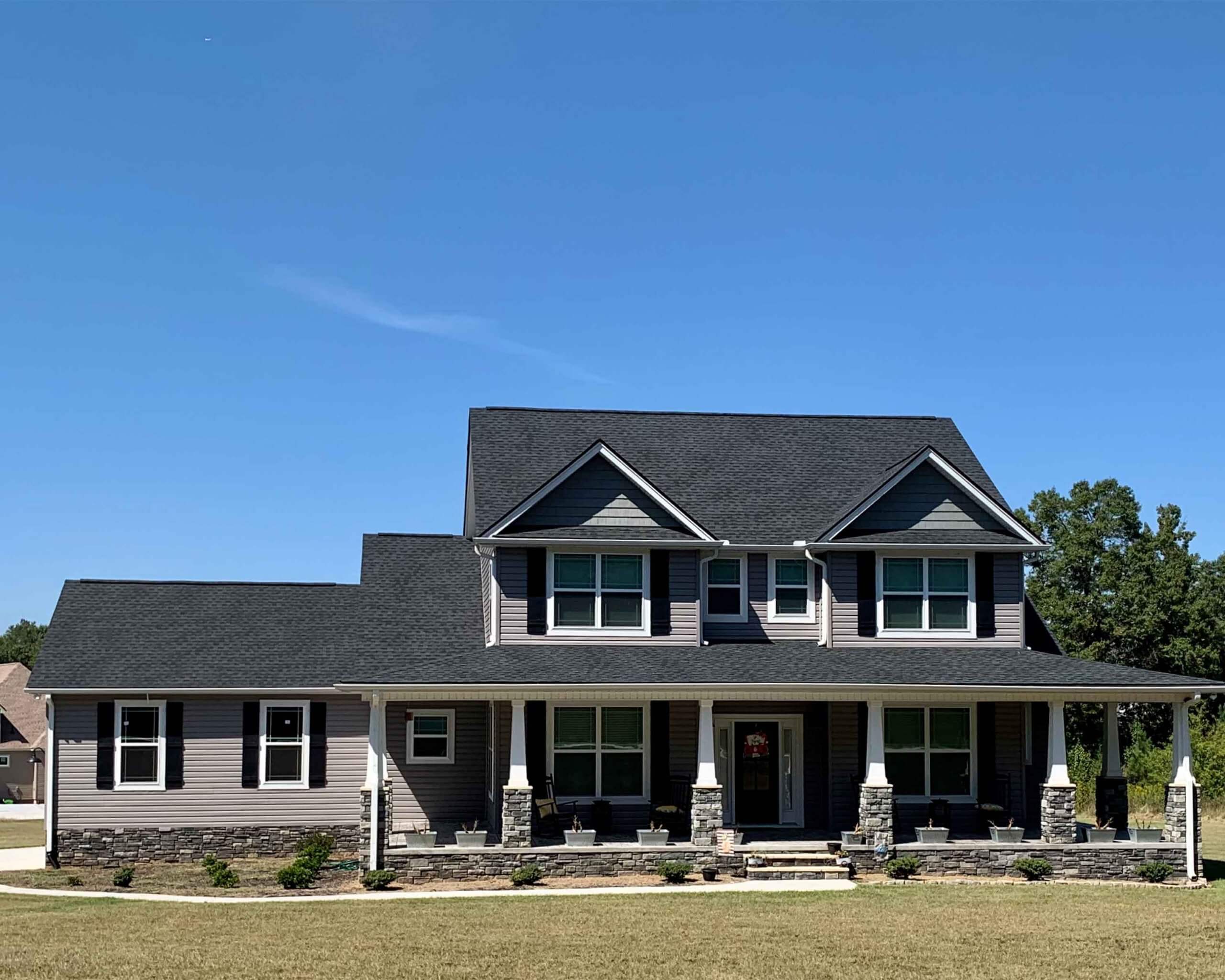 Photo courtesy of Kaycan Ltd.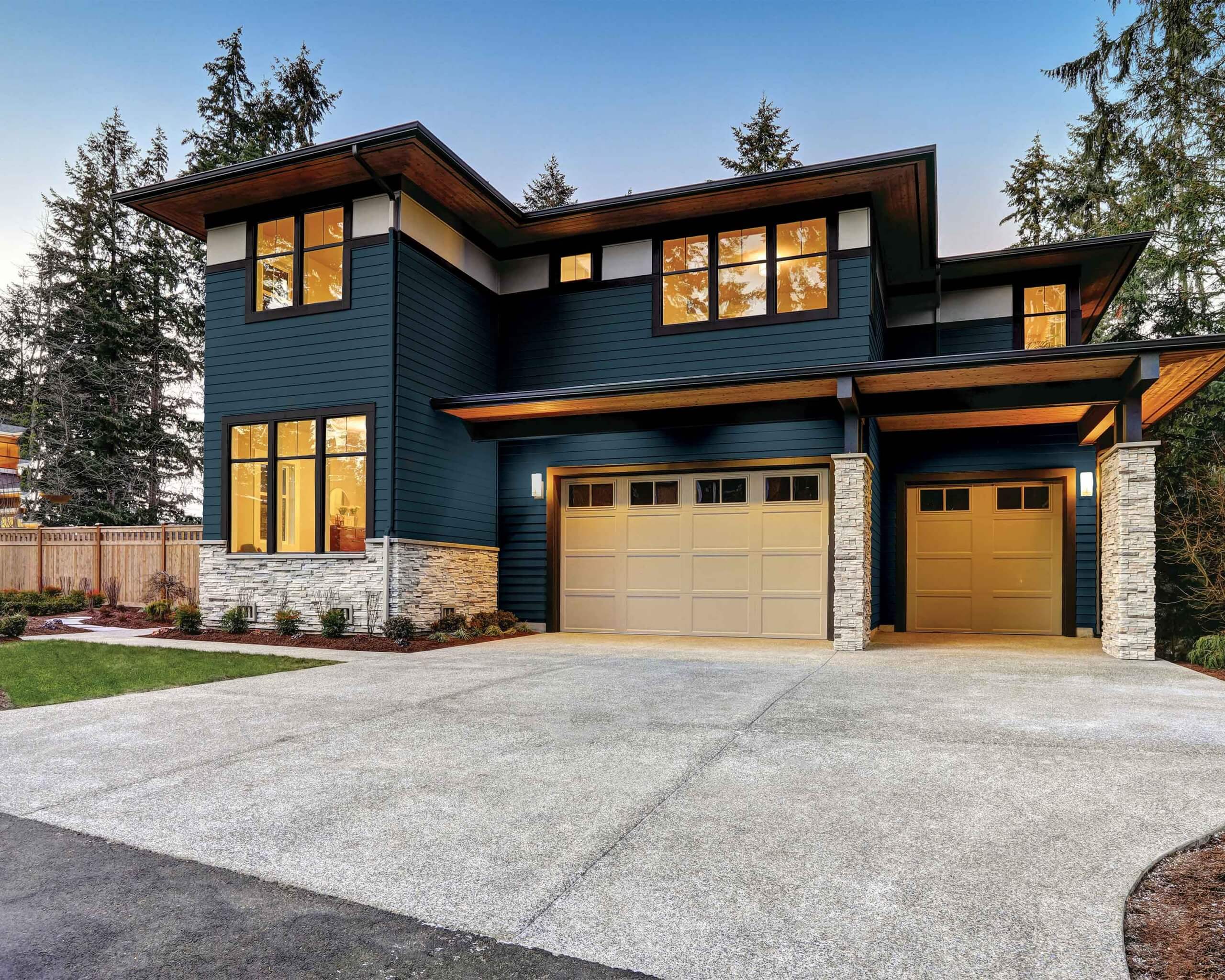 Photo courtesy of Gentek Building Products