First impressions matter, they leave people with lasting opinions for better or worse. For homes and homeowners that impression is generally made at the front door.
Because of this, the front door is a natural place for homeowners to add their own individuality or spin. What better place, some would argue, for homeowners to put their own personal touch?
Aesthetics combined with durability for the front door is important, says Mark Lichty, operations manager at MDL Door Systems. "One thing that I really find interesting is that when people build new homes they will spend quite a bit of money on kitchens and bathrooms, but the front door always seems to be treated as just a door to go in and out of."
Some he says, try to cut back on the windows and doors. "Windows are one thing. You don't use them every day, and 80% of the time they are going to stay closed. The door you use everyday and it's something people should want to put a better system in place."
He says while trends often move more slowly in the space, the aesthetics being sought to make that crucial first impression are increasingly contemporary. But contemporary style isn't just about straight-lines and Craftsman-like simplicity, experts say more attention today is also going towards the glass in and around those door slabs.
Lite details
"The biggest trend in Western Canada is glass lites changing away from decorative glass to clear glass, privacy or textured glass lites with simulated divided lites (SDL)," says Hardy Rahn, director of sales, for Alliance Door Products in Winnipeg. "The trend towards a 'simpler' look is created by adding different size of SDL bars to create a unique look that will add some longevity to the home's appearance."
SDL decorative grills are installed directly on the surface of glass to give the windows, patio doors or door lites a traditional experience.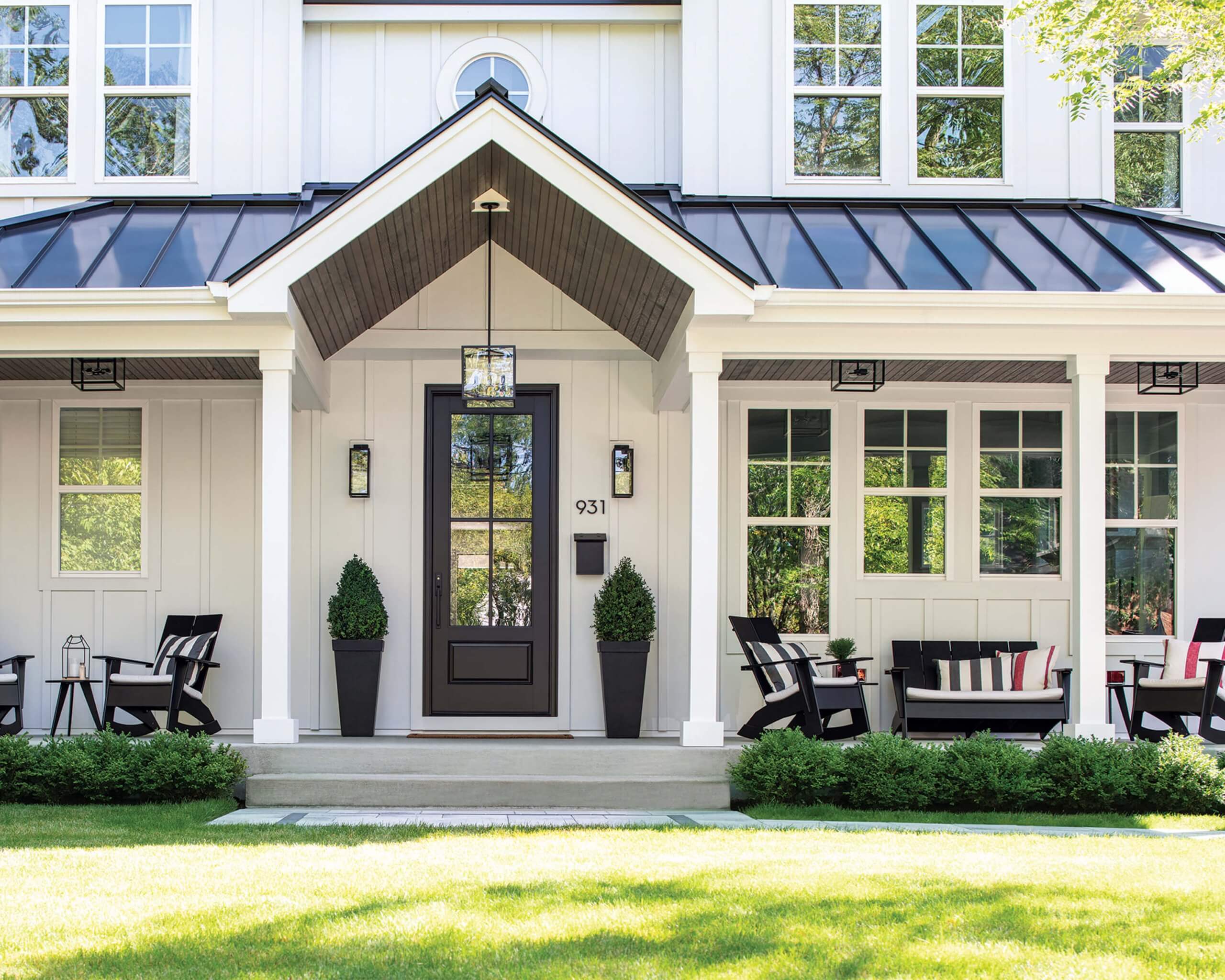 Photo courtesy of Alliance Door Products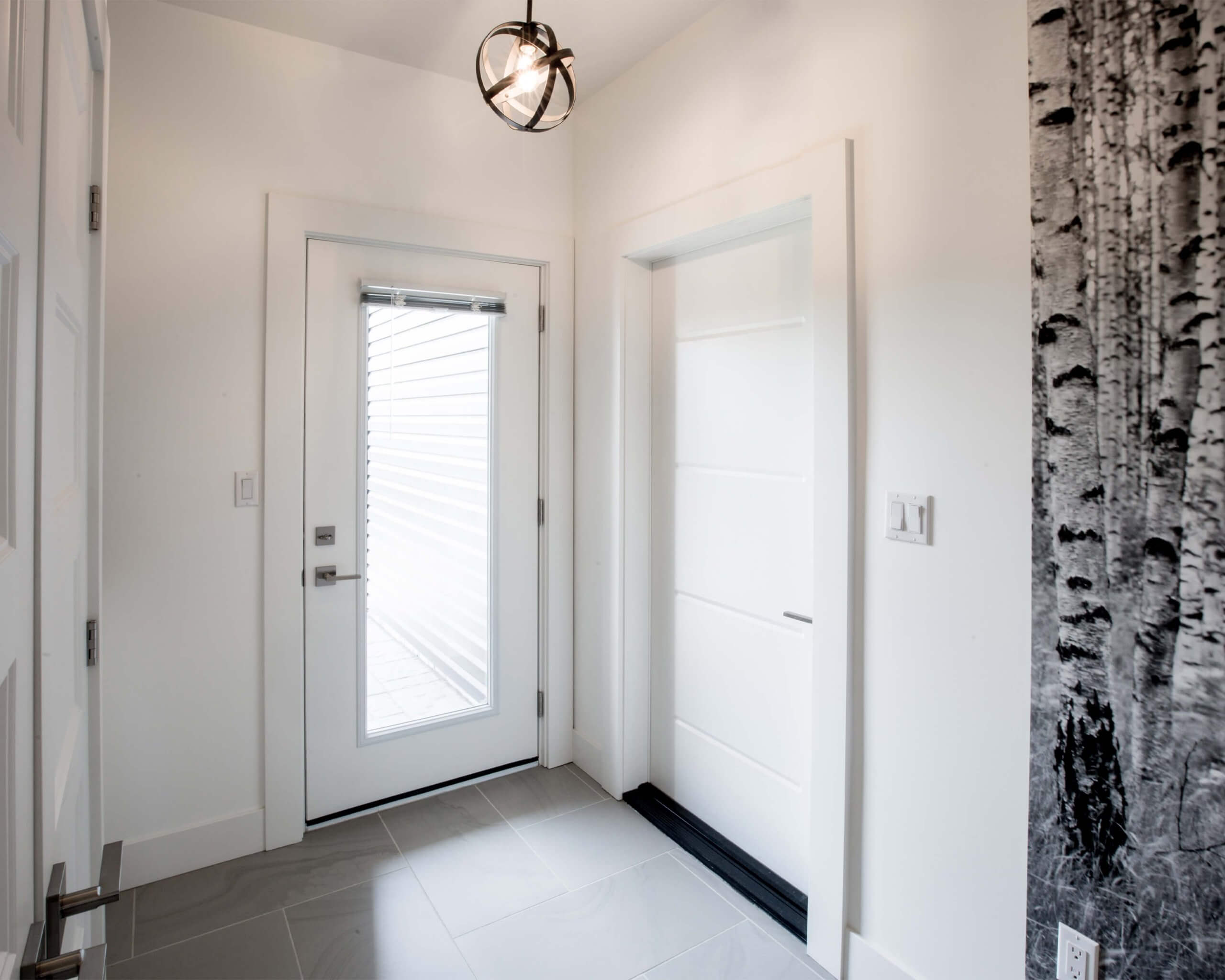 Photo courtesy of Kohltech
(A shadow bar can also be installed for added authenticity).
The move from decorative door lites is not just a western trend, notes John Arsenault, director of national accounts and Atlantic sales at Kohltech Windows & Entrance Systems. "The glass kits we're seeing more popularity from are more of an etched glass, or a rain glass (pattern) or tinted glass, as opposed to a lot of chaining and grills and design. It's cleaner, and in some cases a kind of '60s or '70s retro look."
Gone, or on its way out, he suggests are colonial-style trim rings around curved door lites and curved embossing. Instead, homeowners are leaning toward angles and a flat look.
Colour me proud
It can be hard to differentiate one's abode amidst the abundance of track housing. Here there's an opportunity for renovators to help homeowners seeking to stand out through colour.
"Door colours are where people express their individuality in a home," Arsenault says. "You see bright canary yellow doors, and fire-engine red and purples. Most are more conservative black or blue. But some people do like to be bolder."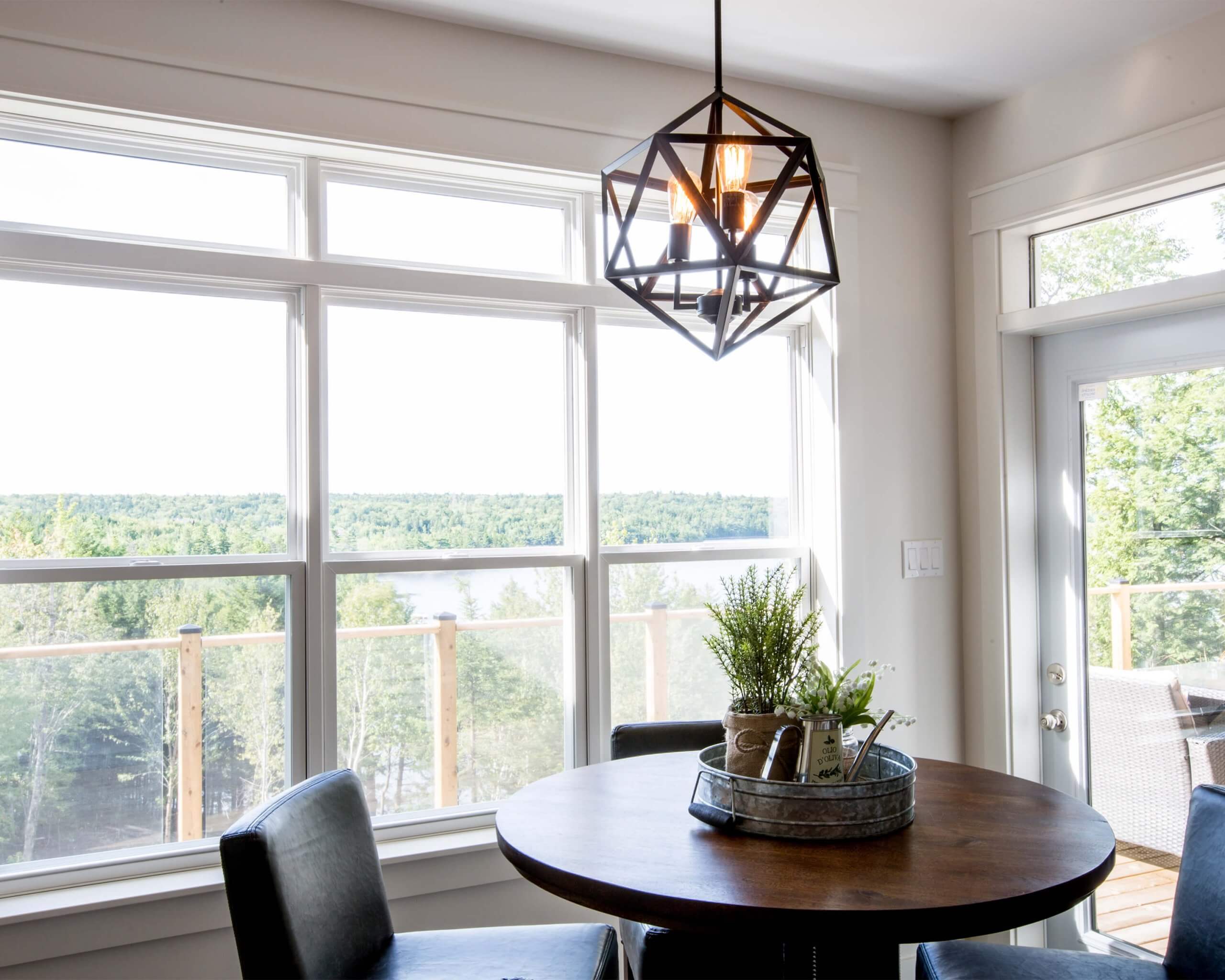 Photo courtesy of Kohltech
Darren Lagacy, vice president of marketing and sales for Global Windows and Doors, suggests that most entrance doors are painted today in order to draw attention to them. "We're seeing darker colours, like iron ore and black in urban centres. And when you get to rural areas, Atlantic Canada, cottage country, you're seeing the blues, yellows, light greens and more pastel colours for cottage-type homes."
Paul Commisso, director of marketing and product management at JELD-WEN of Canada says his company is seeing a wide range of colours gaining popularity in the entry door space.
"From sunny yellows, to millennial pink, aqua blues, deep indigos, peacock and sage, front door colour trends reflect the consumers' individuality," he says. "Customers no longer want the cookie-cutter colours of the past, they are looking to express themselves through new and exciting colours."
In the renovation market served by MDL Door Systems, painted doors represent a continuously growing trend and colour variety is on the rise, according to its operations manager Mark Lichty. His company offers 25 standard colour options, but also provides custom colours through colour matching. "Black's still popular but it seems to be slowly changing to more blues and greens, softer colours, but not so much tans or sand. Lighter tones."
Meanwhile, in Newfoundland and Labrador, Don Kennedy, marketing and sales manager at Kento Windows and Doors, says homeowners typically want to match their windows and doors. He adds that Kento pre-finishes fibreglass and steel doors as well as their all vinyl patio doors with a nearly unlimited range of colours. "If they buy a window that's black, they typically want a door that's black; if they buy a cedar finished "replicated-wood" vinyl window they want that same replication on the doors. Some people are more adventurous, that is happening in the marketplace, where they will select contrasting colours. They'll make their windows black and their doors a pewter or beige or use a wood grain finish."
Steel or Fibreglass?
Steel remains the primary material of choice for entry doors, but fibreglass is growing, Arsenault says. "People want that more of a wood-grain look (achievable with fibreglass)," he adds. Fibreglass wins over in terms of durability, while steel remains the more affordable options.
In the past, Kennedy notes that fibreglass doors had some issues; however, the very high-durability fibreglass offered by door vendors like Kento overcome these, affording consumers the more natural look provided by fibreglass combined with an embossed or printed wood texture. "Because these higher end products meet the durability needs, people who were moving away from fibreglass are now coming back to it for the aesthetics and added durability."
Entry doors are a major player in the curb appeal of a home, suggests Tim Weiler, key account and dealer development at Ostaco Windows and Doors. "Over the years, you've seen steel doors probably with 90% of the marketplace, but in the last 20 years or so, fibreglass doors have come onto the marketplace and gone through its early stages of issues," he said, adding that Ostaco is currently one of the largest suppliers of pre-hung fibreglass doors in Ontario.
"The nice things about fibreglass are that it won't rust and will not dent like a steel door will. If you want to paint it, you have a smooth finish similar to a steel door that accepts paint extremely well." He adds that because the skin of a fibrelgass door is a thicker than that of steel, painted colour looks better when the sun hits it from all angles. He says, when dealing with higher-end doors, like those  offered by Ostaco, fibreglass is competitively priced against steel.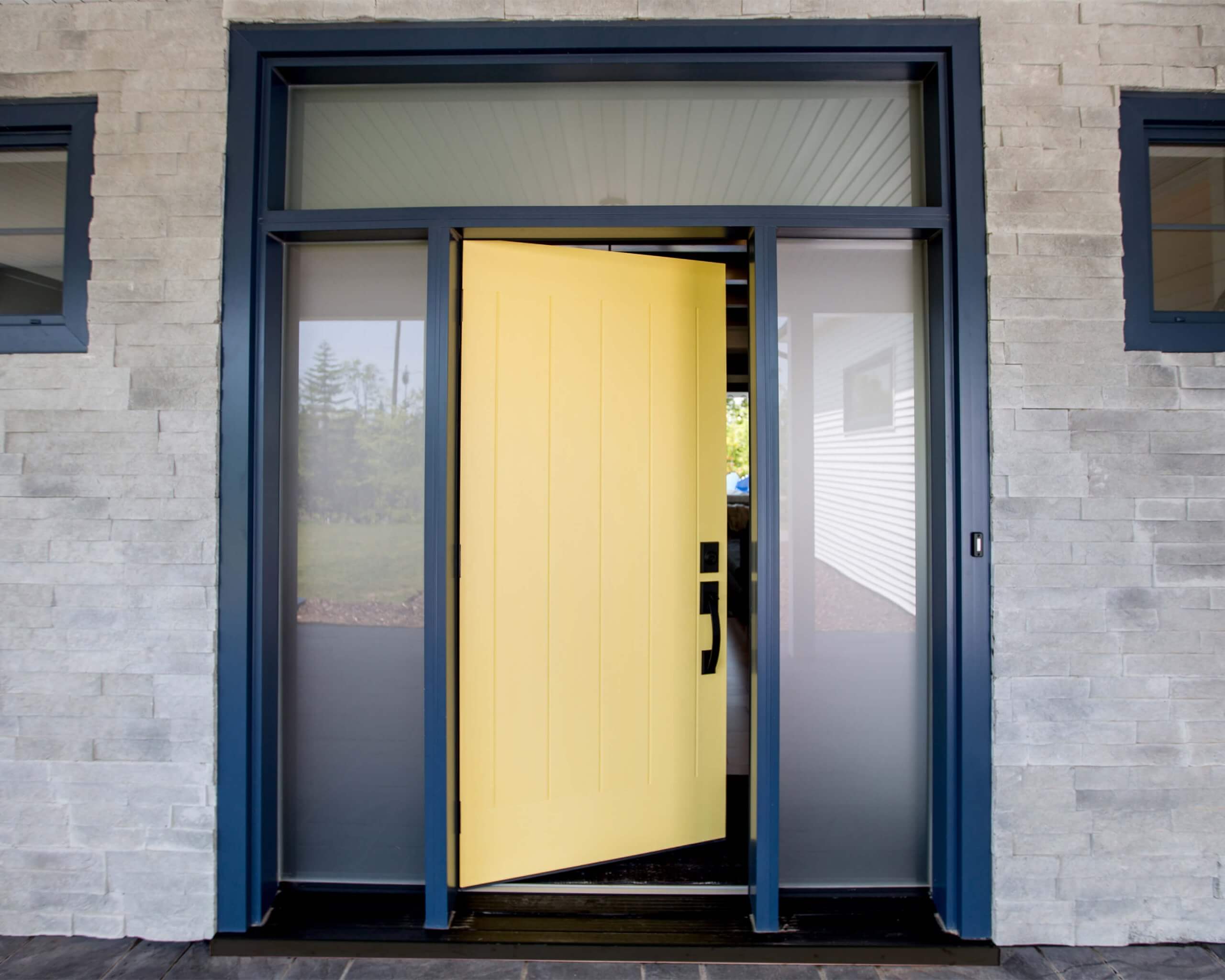 Photo courtesy of Kohltech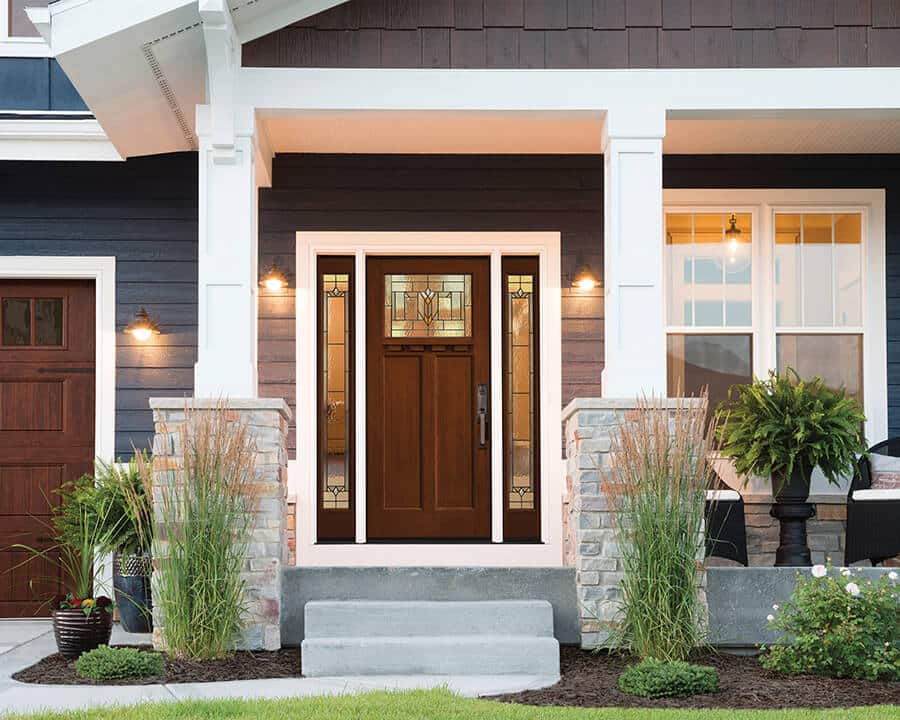 Photo courtesy of Ostaco Windows & Doors
With the popularity of the modern farmhouse trend, Commisso says that natural wood tones and reclaimed finishes are on the rise, "and look especially new with the addition of matte black hardware." To be on trend, he adds, "Large window panels in clear glass are most important, with frosted glass as an option for added privacy. Blond woods are important for a Scandinavian look and a more contemporary aesthetic."
Patios and performance
As with entry doors over the past years, where 8' has become a trend, there is a desire from homeowners for patio doors to become larger as well. "The real door activity is at the back of the house," Arsenault says. "We're seeing extended patio doors, sliding doors, that are not just two-panel but three-panel or four-panel doors; and 12′ or 16′ wide."
"Some are getting calls for folding doors, like those in California. They don't really work well in our climate, but we're seeing (increased interest in) them in the south… In any case (homeowners) want wide panels of glass — walls of glass — at the back of the house. But they all need to perform for the Canadian winter."
The coveted view provided by patio doors isn't just becoming more panoramic in width, but height too, suggests Lagacy. It's all tied to what Lagacy and other industry watchers say is a desire to bring "the outside in" and its being met by both larger patio doors and windows.
Meanwhile, to ensure performance, the National Building Code has adopted the NAFS (the North American Fenestration Standard) which requires both windows and doors to meet requirements around water and air infiltration, and the ability to withstand wind loads, based on specific location, height from the ground and terrain (open or closed off).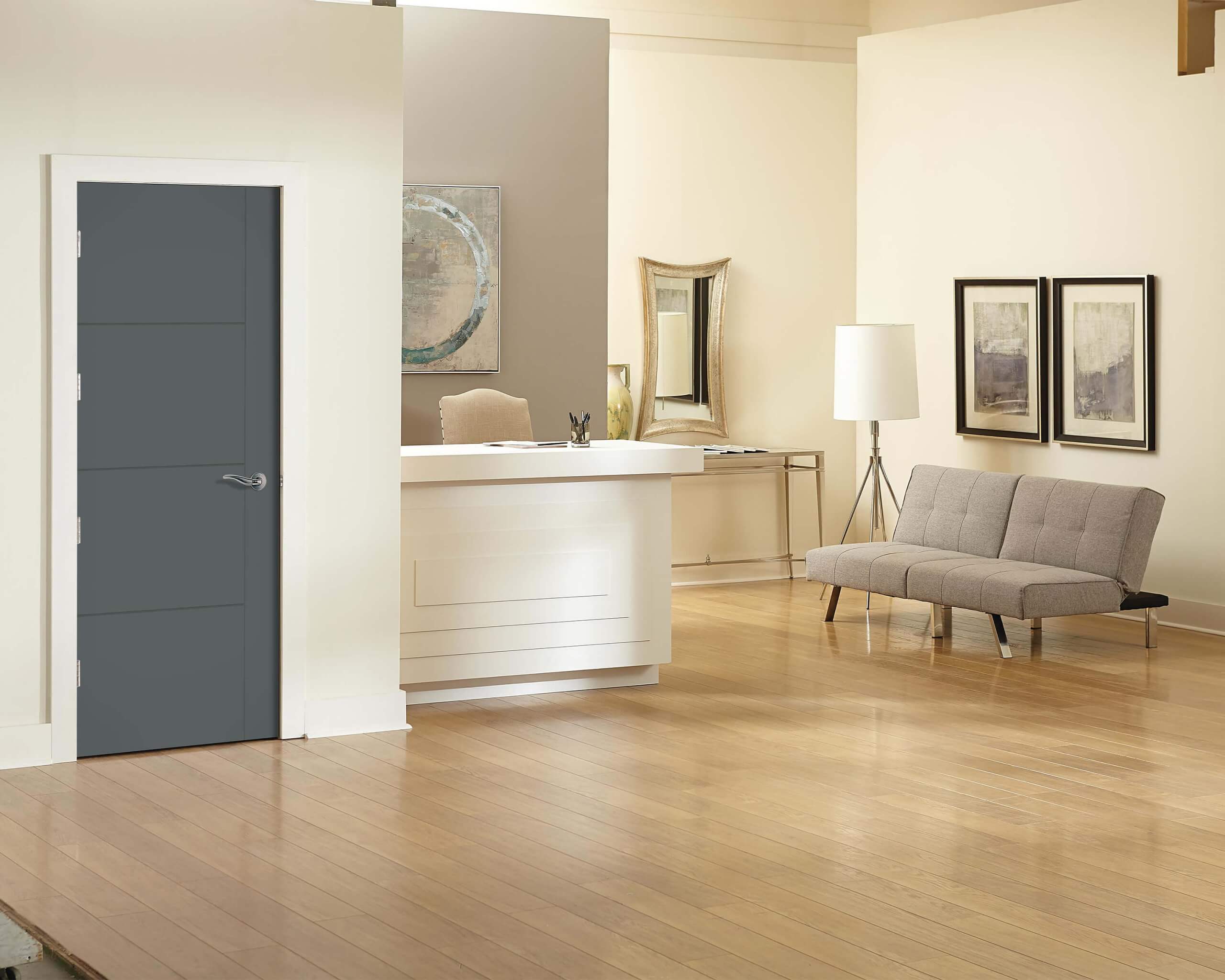 Photo courtesy of JELD-WEN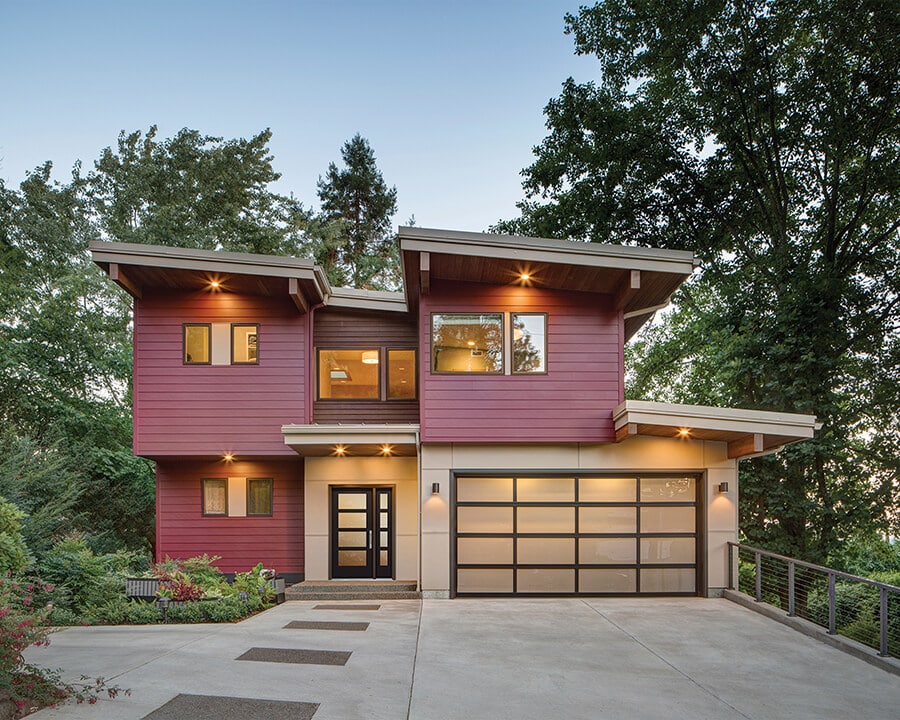 Photo courtesy of Alliance Door Products
 "NAFS for doors is something that all purchasers should be aware of," says Rahn. "This is a building code requirement and contractors should ensure they are installing the appropriate product for the project."
The good news is while NAFS can create challenges for contractors and homeowners in finding product that meets the specific requirements of an installation, manufacturers are stepping up to those challenges.
"NAFS performance requirements can limit the size and application of the product, specific to geographic areas," Lagacy says. "But manufacturers are finding ways to develop products that perform to a higher level. It's good for consumers and it's good for the industry, as a whole, not to be putting product out that isn't performing the way it's expected to." —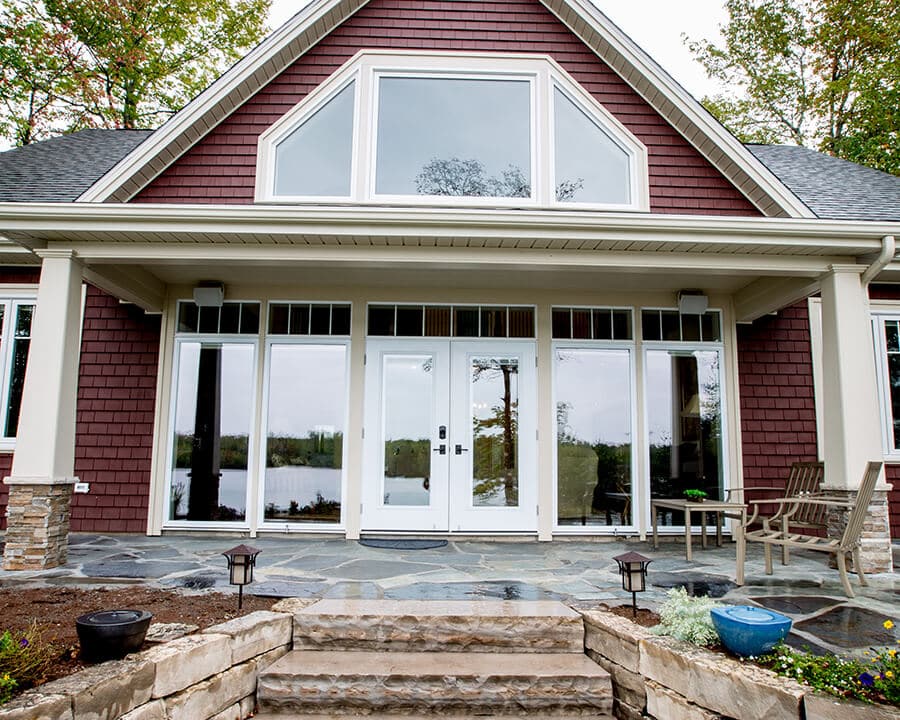 Photo courtesy of Kohltech