According to the 1861 census, 84 per cent of Canadians lived in a rural area. By 2011, the tables had almost completely turned, with about 81 per cent of Canadians living in urban centres.
With more and more people preferring to live and work in cities, Canada's small towns are shrinking. As people migrate to urban areas and populations swell, there are a number of inherent challenges. One of the biggest is housing.
As the demand for urban housing skyrockets, developers are responding with vertical construction options, including condos, as well as smaller building lots for single-family homes.
What does this mean? Quite simply, we're all living closer together in Canadian cities – it's just a fact of modern life. But, it's also a fact that just because we have to live closer to our neighbour, we really don't want to hear them!
That message has been received loud and clear by gypsum and insulation manufacturers, and they're responding with a variety of sound attenuation products designed to help homeowners and their neighbours keep the peace.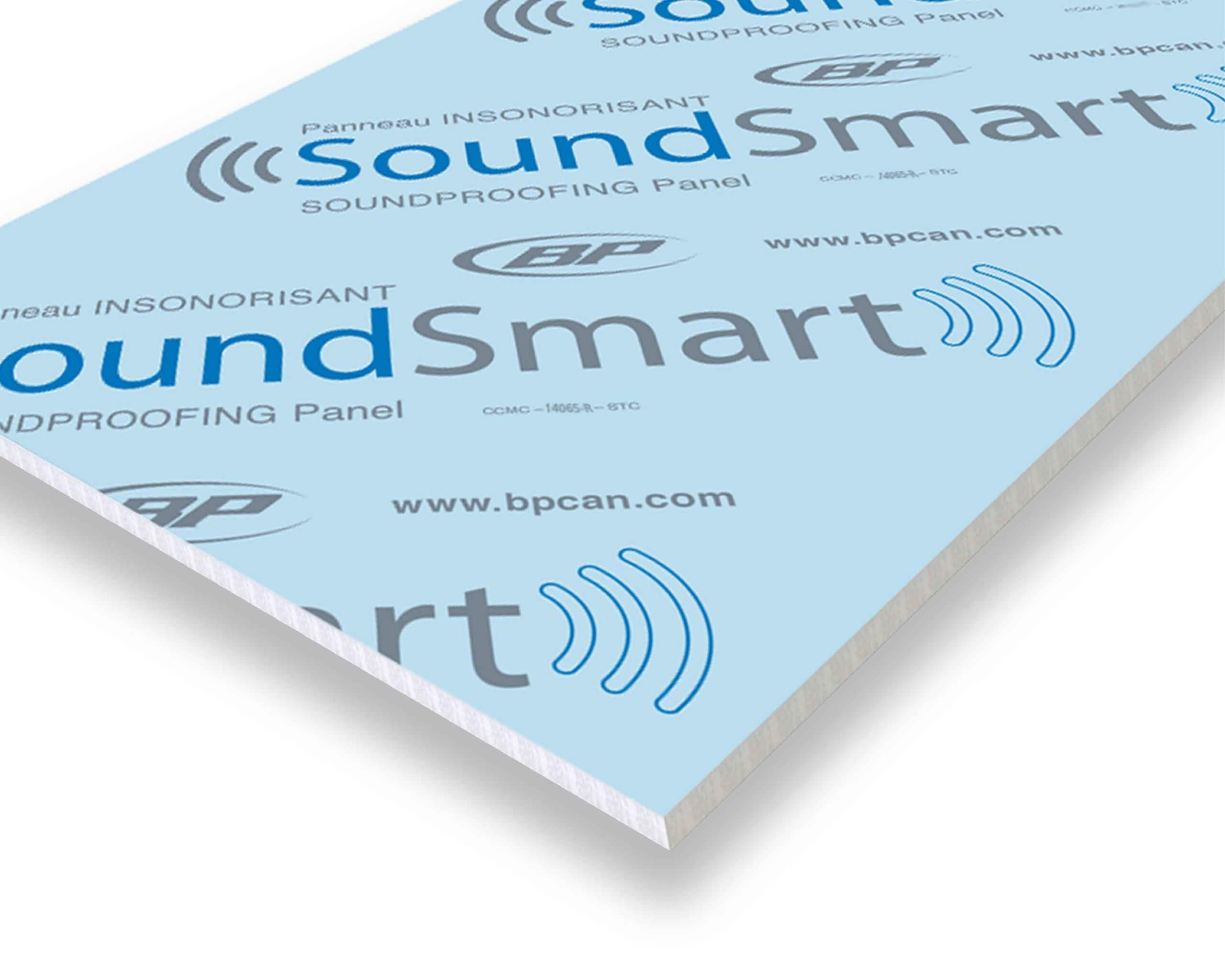 Photo courtesy of Building Products of Canada Corp.
"In the last year and a half, with everyone working from home, there has been a huge demand for sound attenuation products for smaller projects," said Matthieu Danis, product manager, Wood Fibre at Building Products of Canada Corp. (BP Canada). "But in the bigger scheme, we are seeing much higher demand for sound attenuation because of the density of housing developments. It will absolutely increase moving into the future."
That demand is extending well past Canada's traditional urban centres – Vancouver, Toronto and Montreal. Danis pointed to cities in Alberta and the Maritimes, where population density is ratcheting up. "Higher density requires more privacy," he said.
BP Canada's Quebec City plant manufactures wood fibre products, including insulating panels and acoustic suspended ceiling tiles.
"The products we manufacture address airborne noise," explained Danis. "This is transmission from one room to the next, from above or next door. Our SoundSmart acoustic panels have been professionally designed and tested in walls or ceilings. They can be used in a multi-family dwelling in the partition walls between units, or in a single-family home. They can also be used to isolate a room, such as a home theatre or office."
SoundSmart panels are 5/8" thick and made from post-consumer and post-industrial recycled wood fibres. A laminated foil facer on the panel allows it to double as a vapour barrier, as long as the perimeter and joints are sealed. Additionally, Danis said SoundSmart panels are a greener choice since they are constructed without synthetic binders and do not emit VOCs.
"It's a lot cleaner when you cut it, thanks to the laminate facer," he explained. "It also makes it less brittle. It's a soft panel, fairly light and easy to manipulate. We've tried to facilitate sound control for both the average DIY-er and professionals."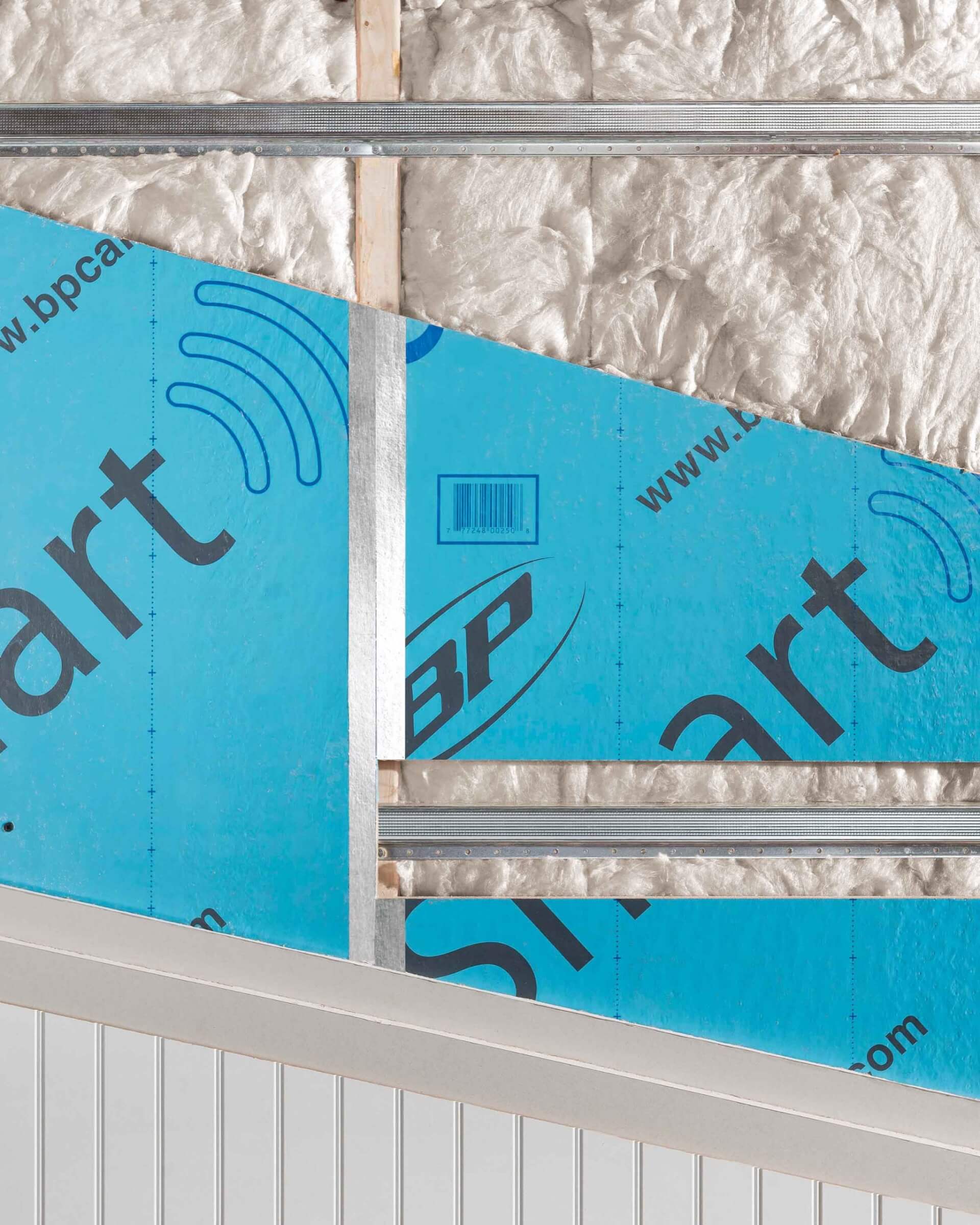 Photo courtesy of Building Products of Canada Corp.
BP Canada worked with acoustic engineers to develop four SoundSmart wall installation combinations, or prescribed assemblies, that have been certified by the National Research Council of Canada (NRC). Each has been assigned an STC rating – or Sound Transmission Class – which is an indication of how well an interior/exterior wall, ceiling, floor, door or window attenuates airborne sound. The higher the STC rating, the greater the sound control. For example, the National Building Code of Canada mandates STC 50 wall assemblies between multi-family units.
The four assemblies from BP Canada provide STC ratings of 55, 57, 59 and 71, depending on the selected wood or steel studs, sound attenuation batts or regular fibreglass insulation, resilient channels, SoundSmart panels and gypsum panels.
"It's really the fact that we have certified the performance of these four wall assembly recipes that makes them unique," said Danis. "There are other products that provide sound proofing in a similar fashion, but they're not proposed in a detailed wall assembly that has been performance tested and certified, ensuring that the work and dollars invested in soundproofing your home are optimized."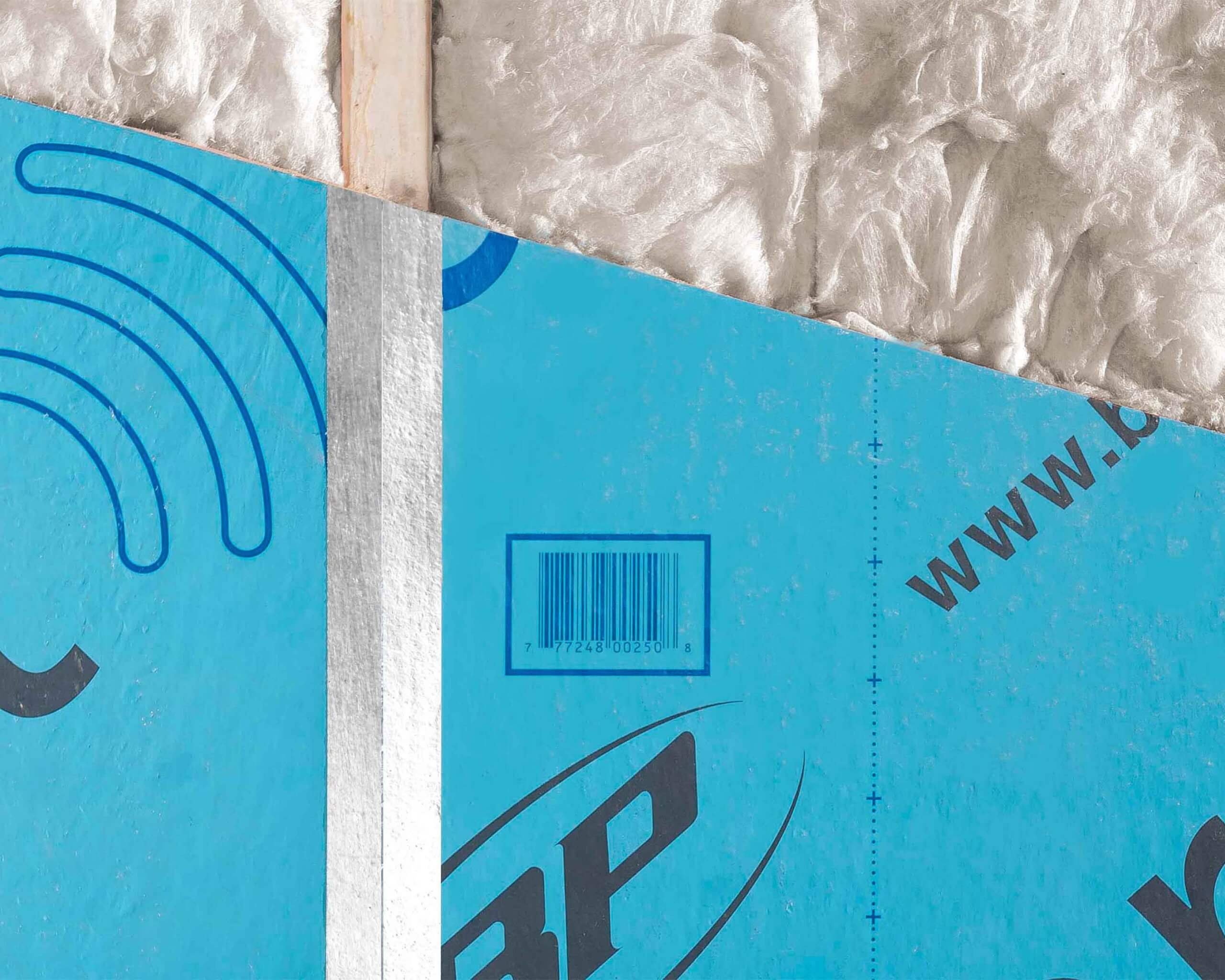 Photo courtesy of Building Products of Canada Corp.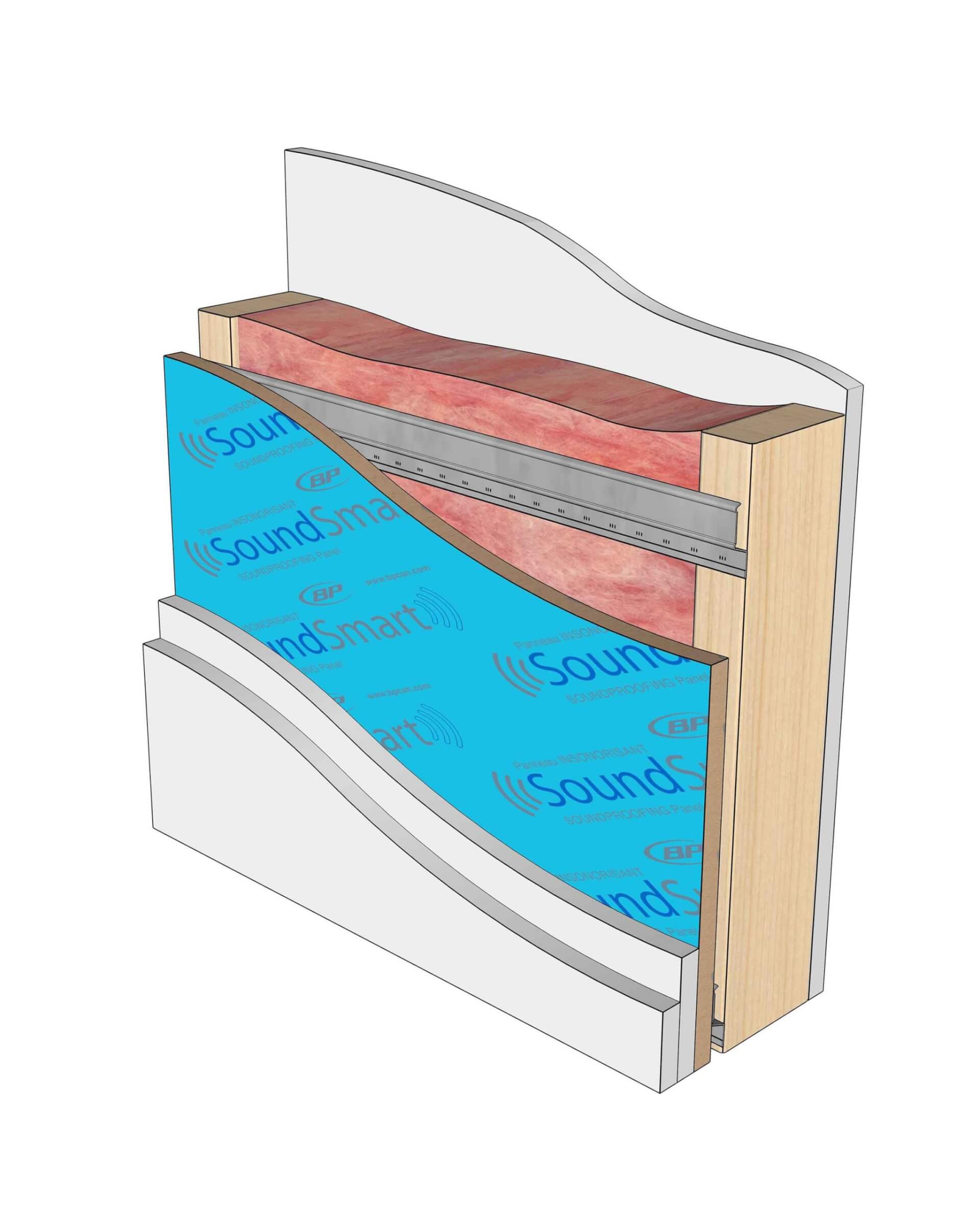 Photo courtesy of Building Products of Canada Corp.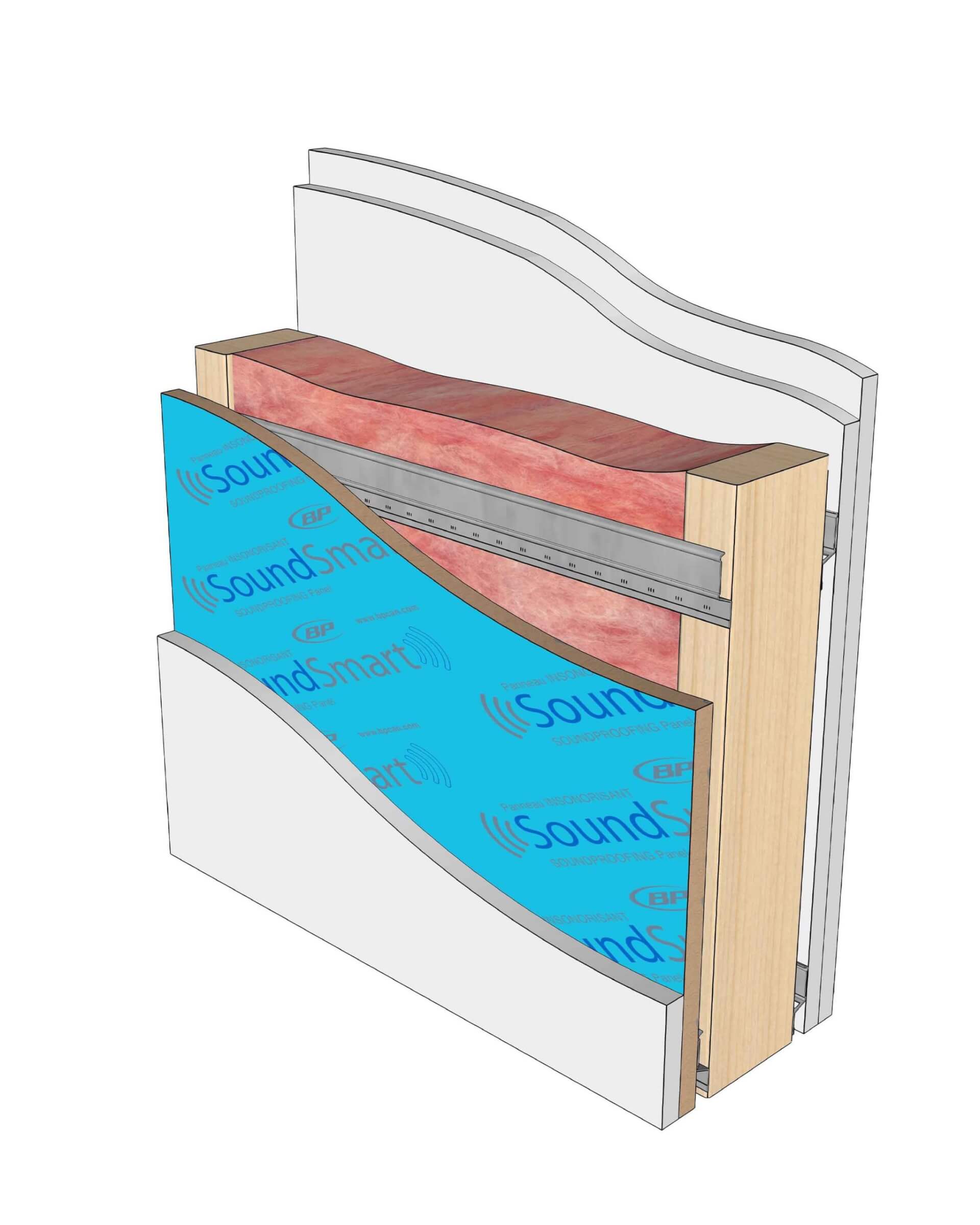 Photo courtesy of Building Products of Canada Corp.
BP Canada also makes natural fibre wood panels that are 7/16" and ½" thick, without the laminate facer, that offer "fairly decent" sound attenuation. As well, the company's ½" Enermax panels offer both sound attenuation and insulating properties. Neither of these last two products have official acoustic certifications, however.
Danis said BP Canada is also watching European developments, where the wood fibre panel industry is more advanced. Consequently, it is investigating the development of a thicker wood fibre exterior sheathing panel that would offer higher sound attenuation and insulating properties.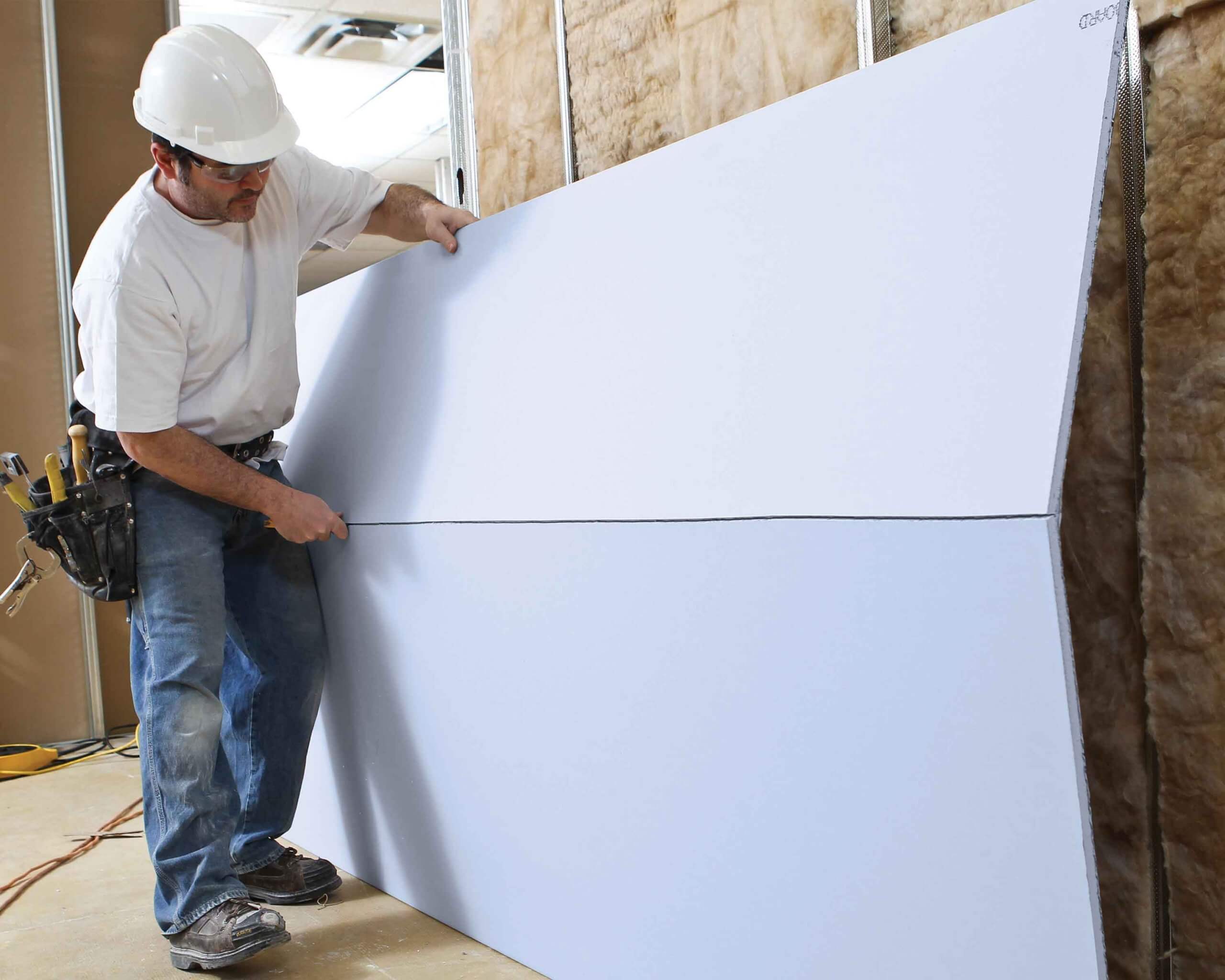 Photo courtesy of CertainTeed
Systems to combat sound
Some sound attenuation materials act like a cushion to absorb airborne noise. The softer the material, the better the absorption. Harder materials may provide sound attenuation by blocking or reverberating sound waves.
CertainTeed, a division of global manufacturer Saint-Gobain, offers a variety of sound attenuation products for residential applications. According to Brent Bélanger, the company's senior architectural technical solutions manager, residential construction offers the biggest challenges when it comes to controlling noise.
"We're living in more confined spaces on top of each other," he said. "That's why we've tested a number of systems as opposed to just individual products."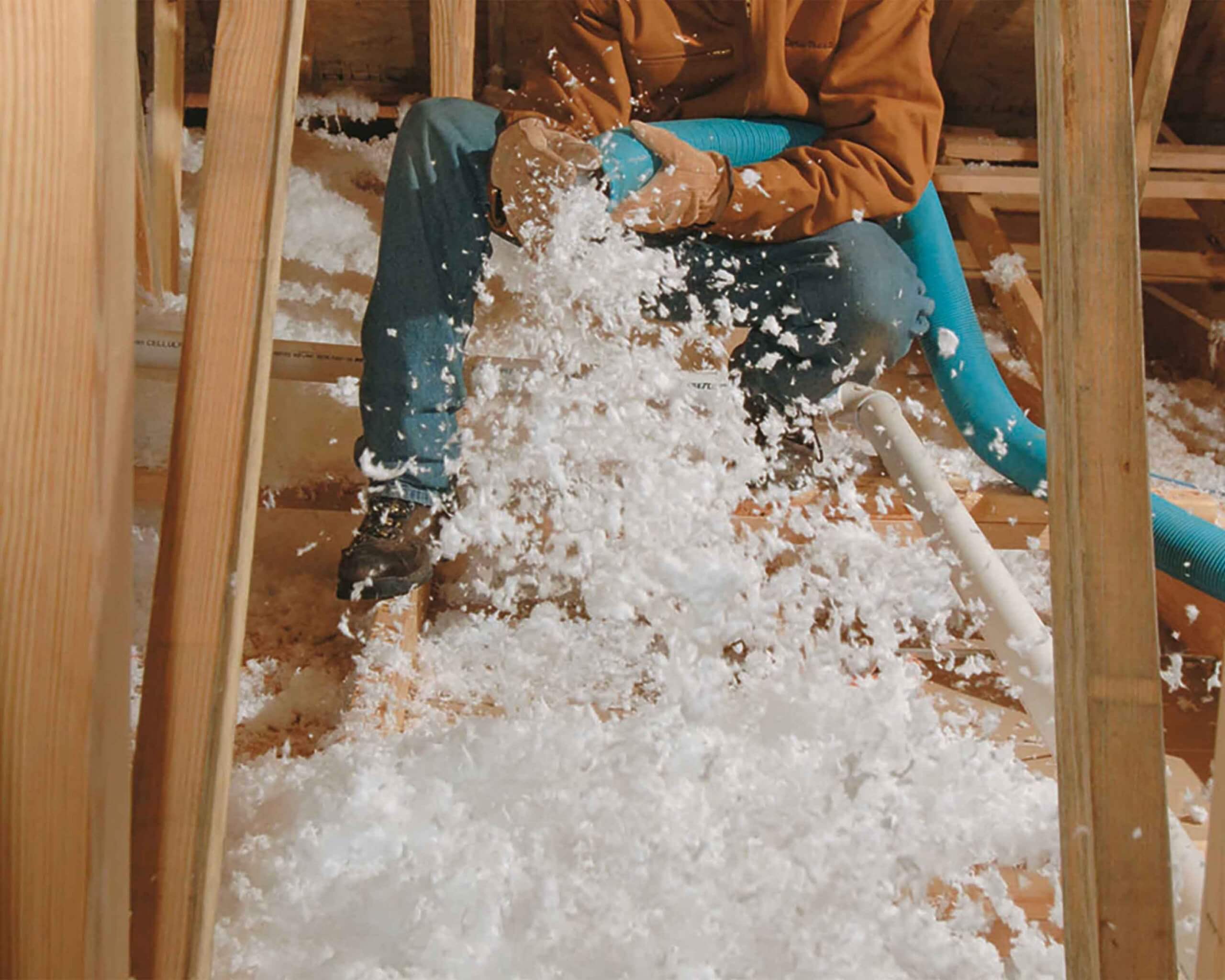 Photo courtesy of CertainTeed
CertainTeed's SilentFX® QuickCut noise-reducing drywall is one component of those wall systems. Offered in ½" (13mm) and 5/8"( 15.9mm) thicknesses, with the latter being fire-rated, SilentFX is an enhanced gypsum board with a viscoelastic polymer inserted between two dense gypsum cores.
"It's like a peanut butter sandwich, where that polymer in the middle helps to break down the sound going through the wall sandwich," said Bélanger. "It's more efficient than adding resilient channels or extra layers of gypsum board. With people living closer together the last thing they want is reduced space – but they don't want the noise, either."
SilentFX is easy to install. It goes up just like traditional gypsum wallboard, with no special tools or training required. For sound attenuation purposes, it works best when combined with CertainTeed's NoiseReducer™ sound control batt insulation inside the wall cavity. This insulation is made from inorganic fibrous glass and manufactured with a formaldehyde-free binding agent.
Bélanger said CertainTeed tests wall systems that incorporate its gypsum products and its wall insulations with third-party accredited acoustical labs across North America.
"Also, if you want to look at it from a sustainability point of view, NoiseReducer insulation has a high recycled content," said Bélanger. "Silent FX is mould resistant and can be used in fire-rated assemblies. Plus, you will have a very high-performing acoustical wall if you use Silent FX and Noise Reducer together."
He added that these products are typically used where privacy is more important: bedrooms, home theatres, basements, machine shops, garages and home offices.
CertainTeed offers another noise-reducing solution for home renovations. The company's Green Glue is a viscoelastic noise proofing compound that is applied between two layers of drywall. It can be used in walls, ceilings and floors to dampen sound vibrations and provides an economical solution to remedy older construction that did not meet acoustical standards. The company also makes Green Glue sealant, clips and joist tape to deliver additional noise proofing.
In the future, Bélanger sees increased demand for sound attenuation as building codes become more stringent.
"There is talk of future codes prescribing impact sound ratings, which is a whole other realm," he concluded. "Building codes are evolving to address those needs."
Sounding out the details
When Gino Allegro was creating his new office in the finished basement of his home, he wanted it to be as quiet as possible. As the Canadian Sales Manager for building materials manufacturer Johns Manville, he was well versed in sound attenuation and familiar with the current products on the market.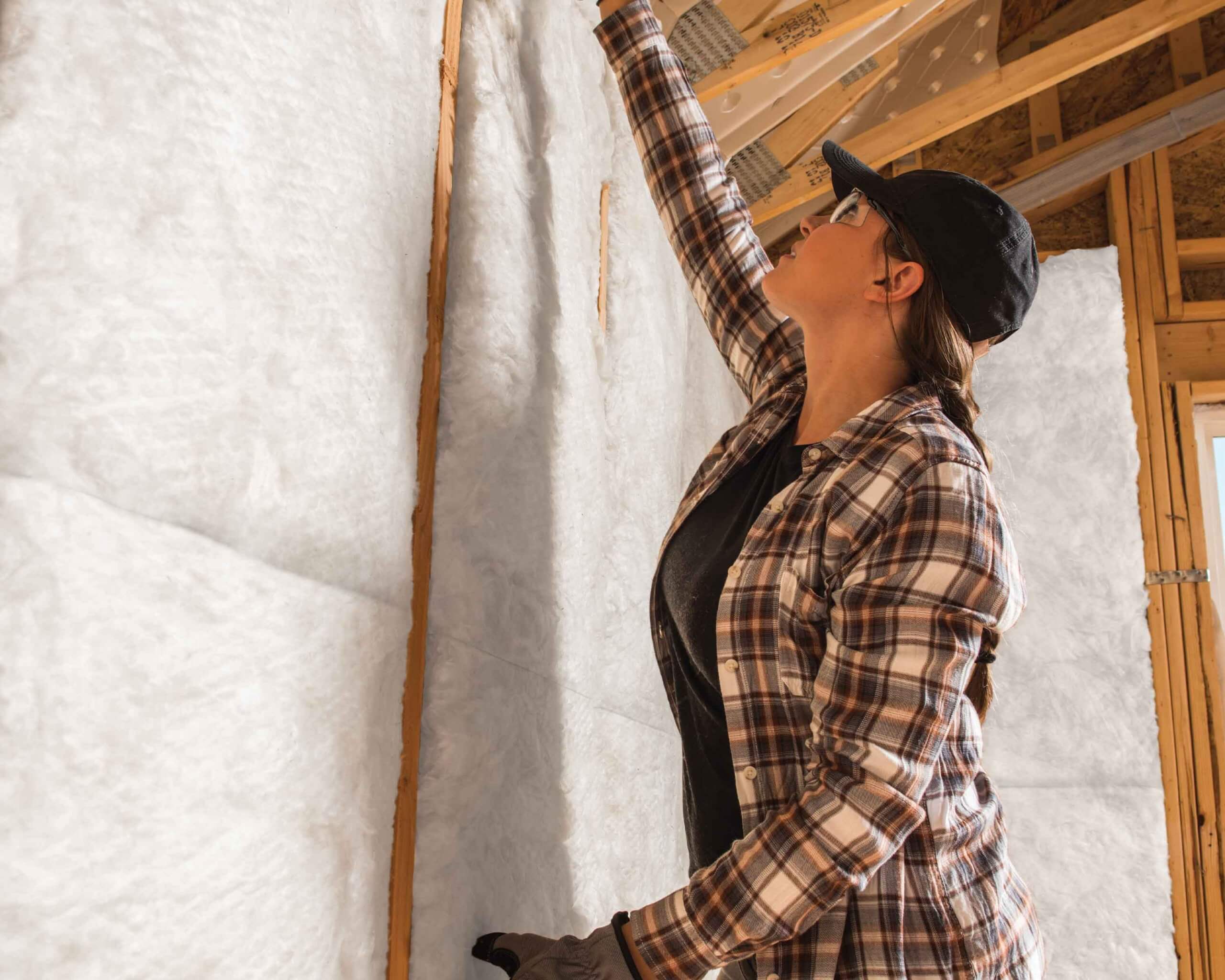 Photo courtesy of Johns Manville Canada
"As the pandemic progressed and became more indefinite, you heard of a lot of renos being done," said Allegro. "The whole concept was to get settled in a proper office environment. We had the home office cocooning effect happening."
For his own project, Allegro selected Johns Manville's Sound-Shield fibreglass insulation, a formaldehyde-free product that can be used to reduce sound transmission through walls, floors and ceilings. Fire resistant, non-combustible and non-corrosive, Sound-Shield can increase STC ratings by up to 10 points when used with joint caulking and resilient channels attached to drywall.
"Depending on what is in the ceiling, you can use various decorative acoustical suspended ceilings or even put insulation on top of the suspended tiles to allow for greater sound deadening," said Allegro. "But if you do want to drywall it, you can insulate within the joists and allow for a one-inch air space for soundproofing purposes."
When it comes to sound attenuation, he said it's all about the details. Allegro chose a solid door rather than a hollow-core option, and went with 5/8" drywall to deaden sound. The whole project was so effective that his wife must now text him from upstairs, because her voice cannot be heard when the office door is closed.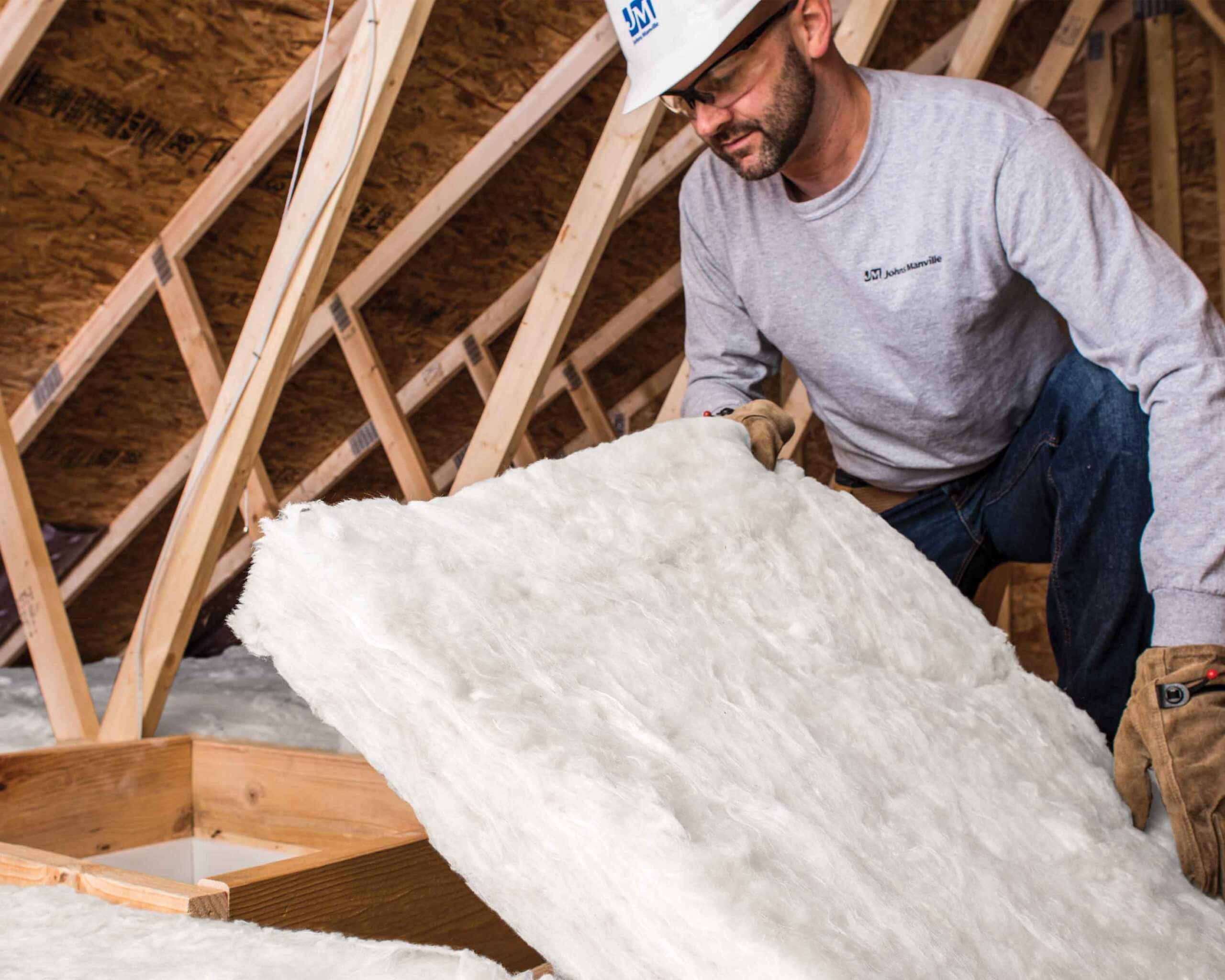 Photo courtesy of Johns Manville Canada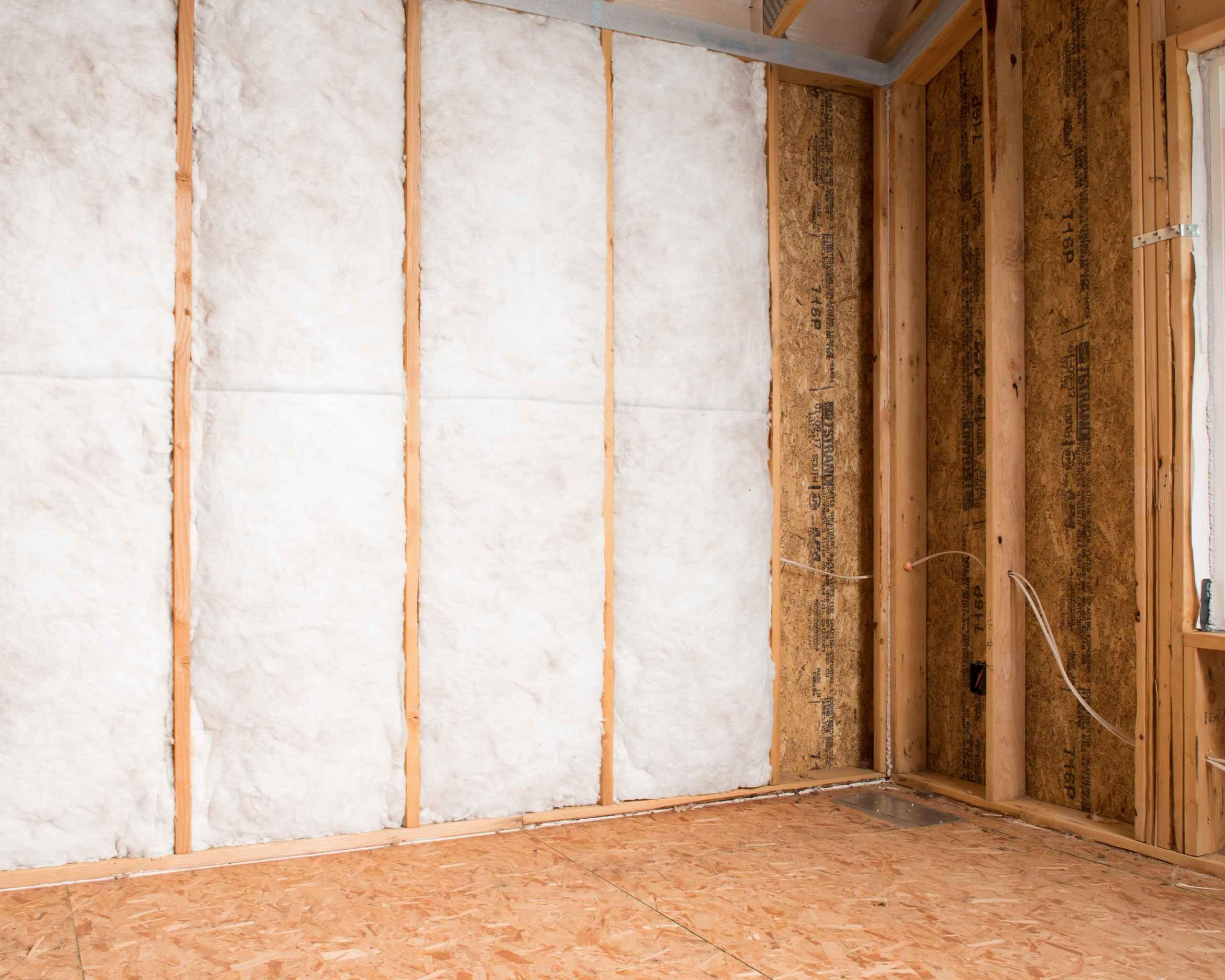 Photo courtesy of Johns Manville Canada
Johns Manville also offers AP Foil-Faced Polyiso Continuous Insulation, a lightweight exterior sheathing product made at the company's plant in Cornwall, Ont. Along with excellent insulating properties, the polyiso sheathing provides an STC rating between 34 and 55, depending on the type of gypsum wallboard, cavity insulation, AP Foil thickness, exterior cladding and optional resilient channels used in the installation.
Allegro said that with people negotiating hybrid work arrangements, there will still be a demand for setting up proper home offices.
"The pandemic has really been a game changer in a lot of ways," he concluded. "I think acoustical demand will continue… I think builders have already introduced sound attenuation to many potential homeowners. If you're building new, I think it makes sense to seriously consider soundproofing things like master bedrooms, entertainment rooms, laundry rooms and home offices. The raw construction stage is the time to do it and you're not looking at a high cost at the inception stage of construction, either." 
A flexible fit
As more people look to create quiet home workspaces, international manufacturer ROCKWOOL Group takes care to educate homeowners about residential acoustic solutions. As the world's leading manufacturer of stone wool insulation, the company promotes whole wall systems for maximum sound attenuation.
ROCKWOOL's Safe'n'Sound stone wool insulation is a top performer in those wall systems, for both sound dampening and fire resistance. Designed for interior partitions, including walls and ceilings with both wood and steel stud construction, the product is sold in batts that are flexible and easy to install.
"Safe'n'Sound is a product made from stone, a 100 per cent renewable resource," said Brendan Van Gool, product marketing manager at ROCKWOOL. "Our product is inherently renewable and sustainable. The main ingredient is basalt rock, mixed with recycled slag from the steel industry. We melt those down under high temperatures and push them through a machine that spins them into fibres like cotton candy. We add oil and a binder to make it water repellent and then it gets rolled down the line and compressed to the correct density."
ROCKWOOL's channel marketing manager for North America, Carol McQuaide, said one big advantage of the Safe'n'Sound product is its ease of use, making it an attractive choice for the DIY segment as well as professional contractors.
"It's so easy to work with and has a unique, flexible fit," she said. "The insulation is easy to cut, no special equipment required, and generates minimal debris. The fit is flexible, and it stays where you put it. Also, there are certain insulation materials that have properties that may degrade over time, but that doesn't happen with ROCKWOOL insulation. It retains its properties through its life span of 50-plus years."
She explained that ROCKWOOL has tested several different acoustic wall assembly options using Safe'n'Sound, which is available in a variety of thicknesses for wall, floor/ceiling and I-joist applications. The company publishes an Acoustics Wall Assembly Catalog that outlines the sound reduction performance of its stone wool insulation when used in conjunction with various other materials.
"Our product is an acoustic product, tested for noise reduction as part of the entire wall system. Insulation absorbs sound and adds mass to the partition. The STC ratings we've achieved vary depending on what other materials are used, but they range from 45 to 52." McQuaide said it's important for homeowners to define their goals for any given space.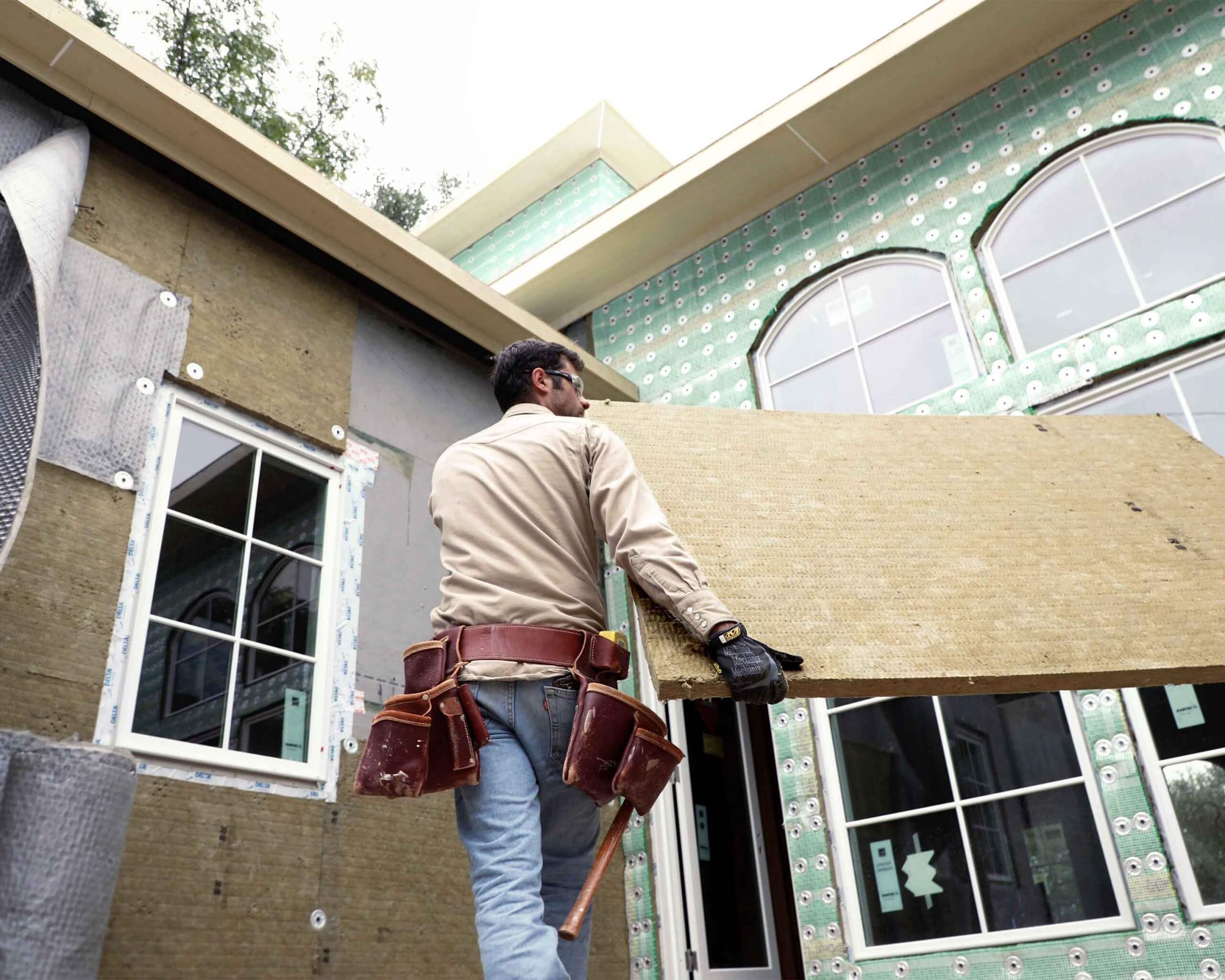 Photo courtesy of ROCKWOOL Group
"The amount of sound attenuation you need will vary from room to room. Bedrooms off a great room, for example, that's an important space to soundproof. Home offices are huge. Media rooms are huge. Take the time to think about your house and how your family lives in the space and how close your neighbours are. There is a need to control sound in all spaces, to some degree."
As the demand for urban housing continues to grow, sound attenuation will become even more important. ROCKWOOL foresees increased demand for its Safe'n'Sound product.
"As far as acoustics in general, we are heavily investing in educating our customers about how sound travels through different wall assemblies," concluded McQuaide. "Our ROCKWOOL Building Science Team and Technical Support work directly with architects and builders, making sure they understand how our insulation works with other building materials. The information component is something we're heavily investing in, because we don't think we'll see this trend changing at all, and we want to meet the performance goals of the end users."
It's safe to say that gypsum and insulation manufacturers have recognized homeowners' needs, and they're doing all they can to ensure all's quiet on the home front. —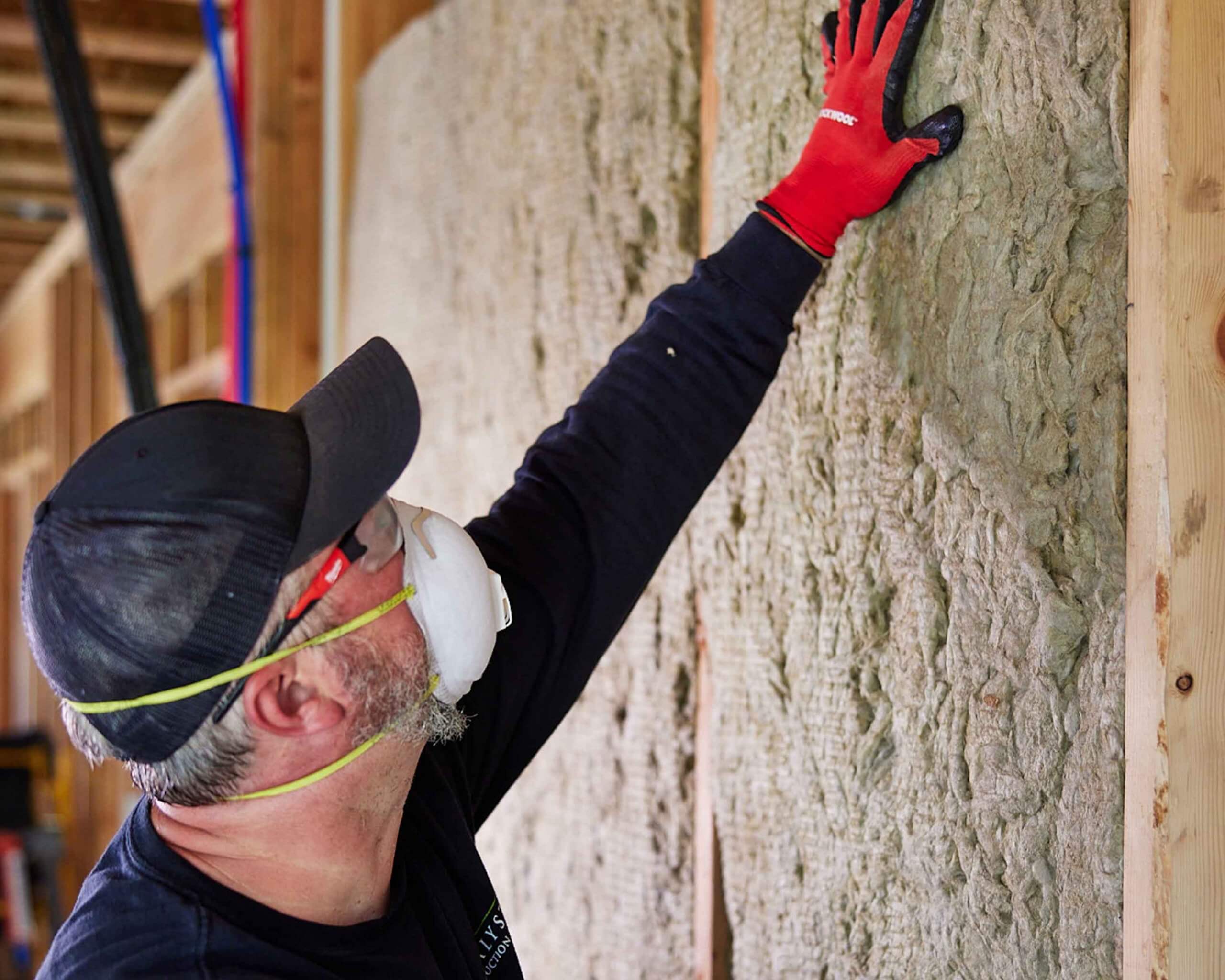 Photo courtesy of ROCKWOOL Group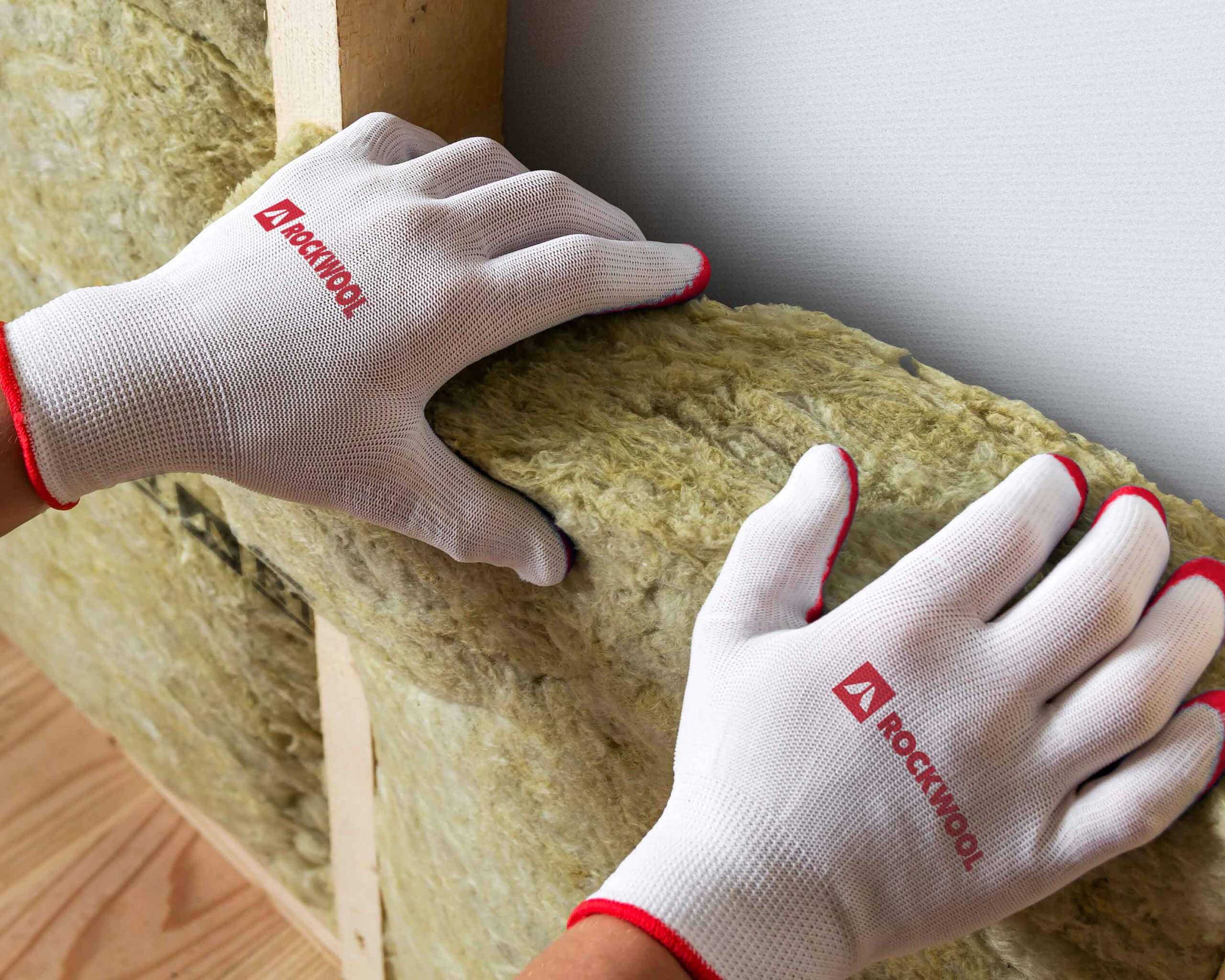 Photo courtesy of ROCKWOOL Group