What's the definition of a cool tool? Ask any two people and you'll get a wide range of different answers.
Is it the use of new technologies to offer applications or advantages not previously available? Upgraded existing tools that let contractors work faster, easier or for longer than in the past? Perhaps it's the mobility and convenience that cordless solutions bring to the job site.
Contractor Advantage recently reached out to leading vendors to get their opinions on what they thought was their coolest or most innovative tool this year.
EAB Carbide Multi Wheel
The coolest tool to be offered by EAB (Exchange-A-Blade) this year is its 4½" and 5" Carbide Multi Wheel, says Dave Cameron, product manager at EAB Tool Co. Inc. He says the carbide-tipped wheel converts the contractor's grinder into a universal cutting tool. It can be used to cut copper, wood (including wood with nails), fiberglass, PVC, plastics like ABS (acrylonitrile butadiene styrene) and CPVC (chlorinated polyvinyl chloride) and more.
"There's never really been a safe blade that can fit onto an angle grinder that can cut wood," he notes. "Blades of that size do exist, but they aren't designed to spin that fast."
Cameron says that the wheel blade from Switzerland ticks off a lot of boxes for contractors, simplifying their jobs and as with all EAB products is exchangeable for credit when being replaced.
DeWalt Laser Technology
Louise Young, product commercialization manager at Stanley Black & Decker, points to innovation in laser technology as among the coolest things to come out of the company's DeWalt brand.
"Lasers are such a focus for our company," she says. "More and more users are adopting laser technology on the job site because it's helping them be more productive and precise."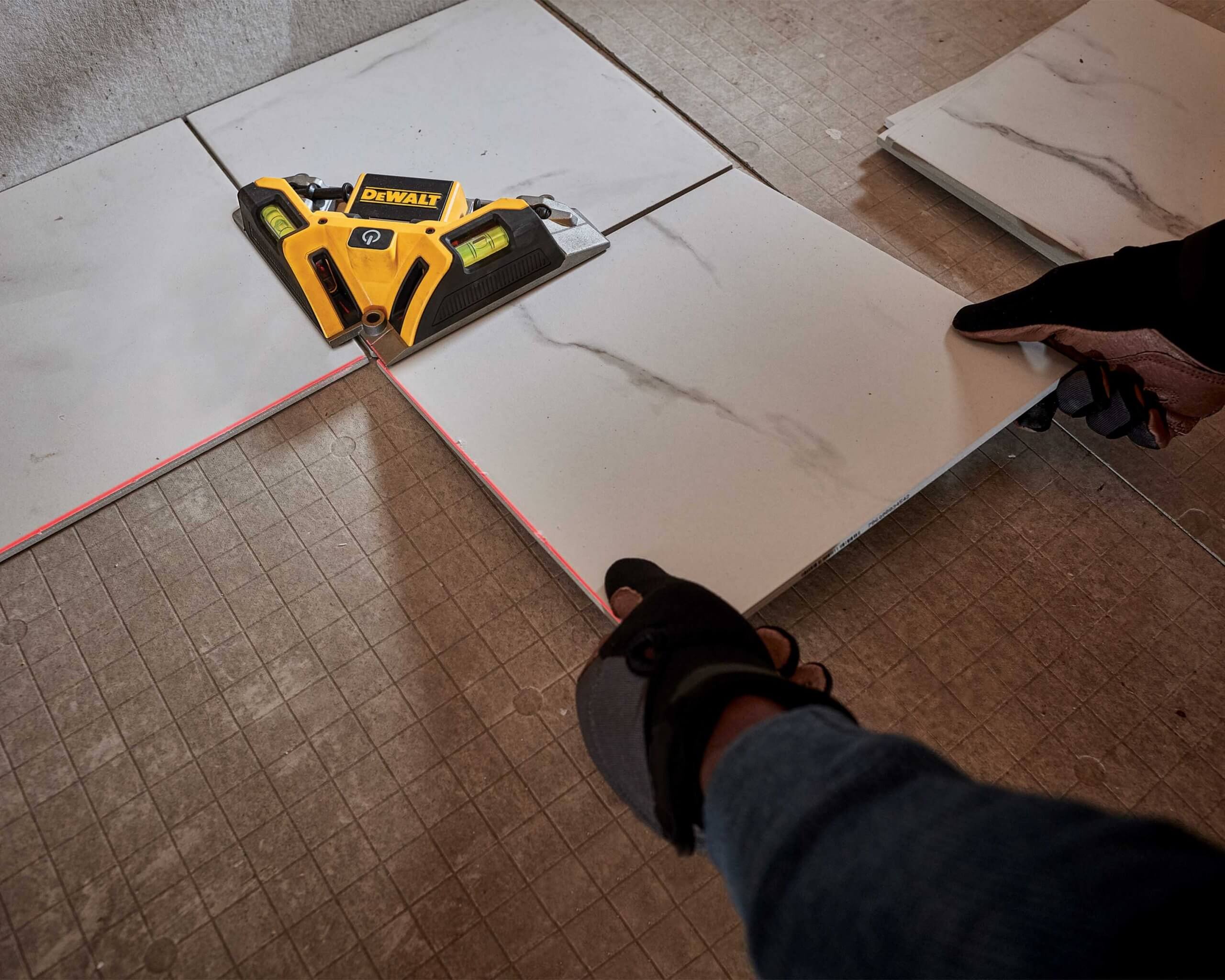 Photo courtesy of Stanley Black & Decker Inc.
She uses the company's recent 33' Laser Square and 20V MAX Tool Connect Red Tough Rotary Laser Level as examples. The new laser square is aimed at helping tiling and flooring contractors, projecting two 90° red beams with visibility up to 33' feet, making it ideal for residential applications.
The new rotary laser level boasts durability and water resilience up to 1 meter to handle rain or dust on the job site. Able to be controlled and tracked using DeWalt's Tool Connect mobile app, the 2 lb. tool comes in red beam and green beam versions — the human eye being more drawn to the latter.
Task Quick Support Rod System
With social distancing being in full effect in many regions, a lot of eyes in 2020 have been on Task's Quick Support Rods (QSR), says Tara Coen, director of product & marketing at Task Tools.
"The long and short of it, not to use a pun, is the quick support rod actually has hundreds of uses," she says. The rods, available in three telescoping lengths, were originally developed to create temporary dust barriers for drywall and paint contractors. But because the support rods were designed to carry weight competitor products could not — 60 kg at 90° angles and 20 kg at 65° — new applications quickly cropped up.
She notes QSRs are commonly used for installing drywall, crown mouldings, cabinets, trim, undermounted sinks, but also for non-construction uses such as temporary closet rods, grab bars for bathrooms or even holding up VR sensors for video game systems.
Of course, this year one of those non-construction applications has been to support plexiglass and create temporary barriers to fight the spread of the coronavirus (COVID-19).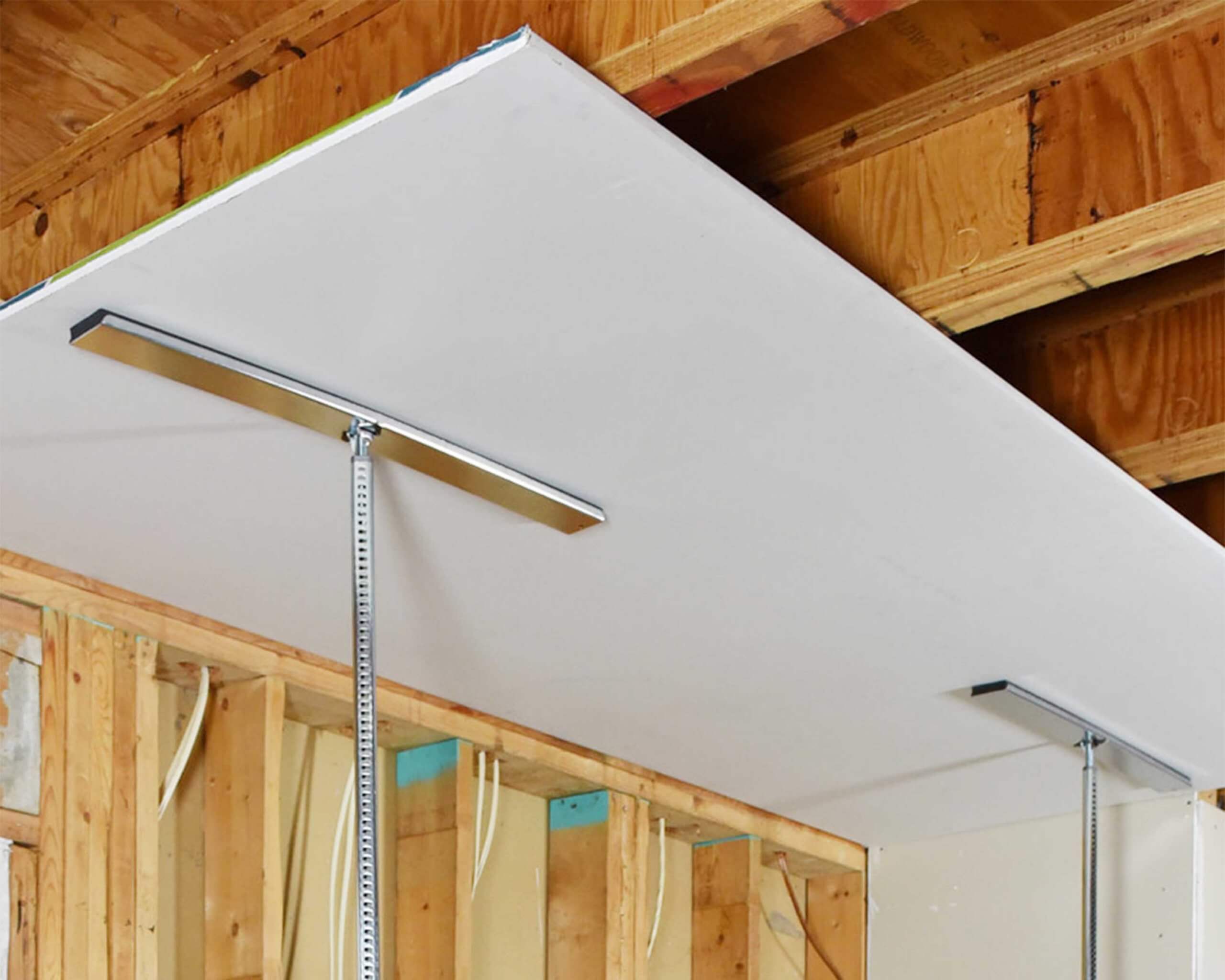 Photo courtesy of Task Tools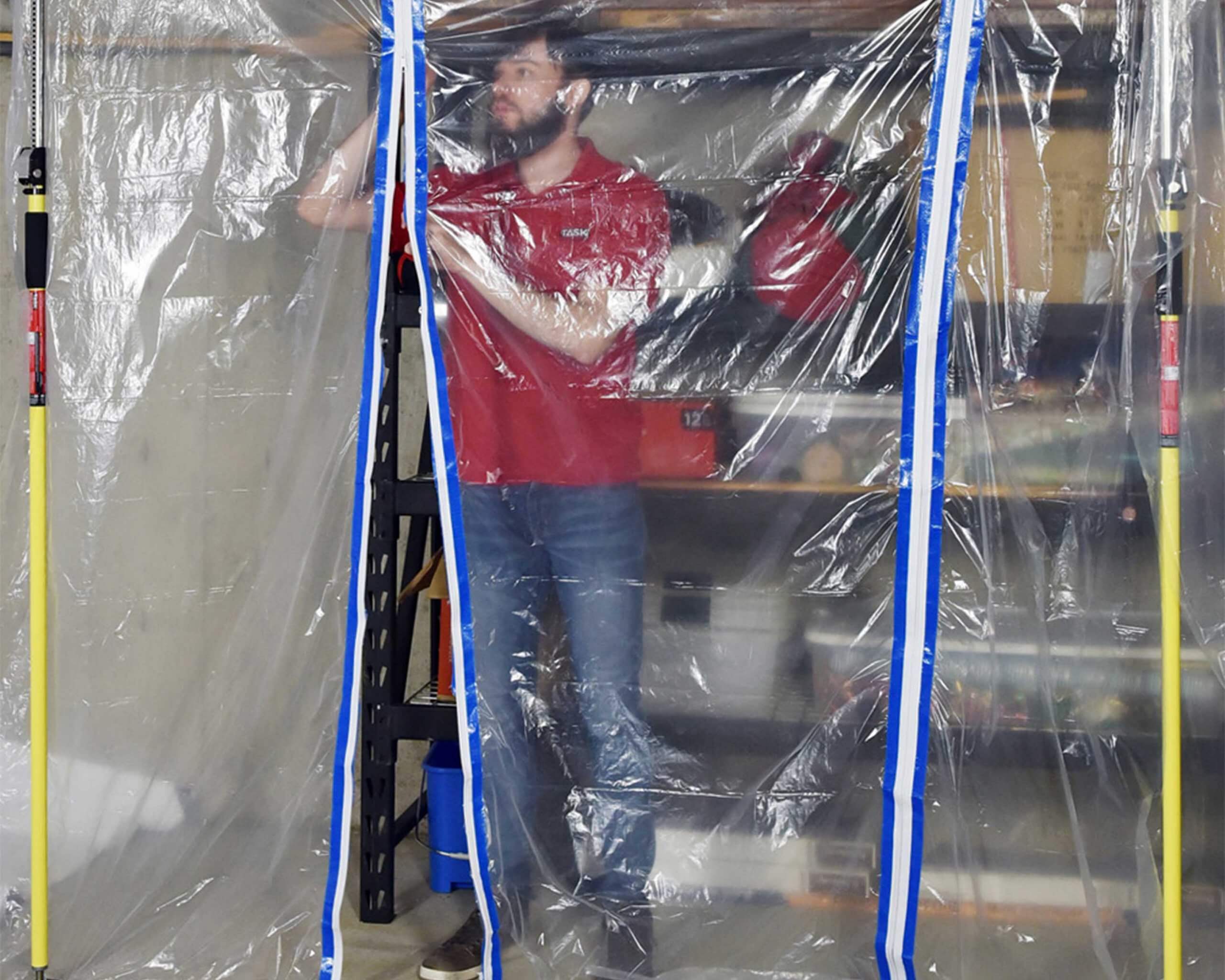 Photo courtesy of Task Tools
Makita 3:1 Cordless Blower, Mulcher and Vacuum
The trend of going cordless has continued this year, says Shawn Ottewell, senior vice-president of service, sales and marketing at Makita Canada Inc. As a great example he points to his company's recently launched 18Vx2 (36V) LXT Lithium-Ion Brushles Cordless Blower Vacuum (Model DUB363ZV).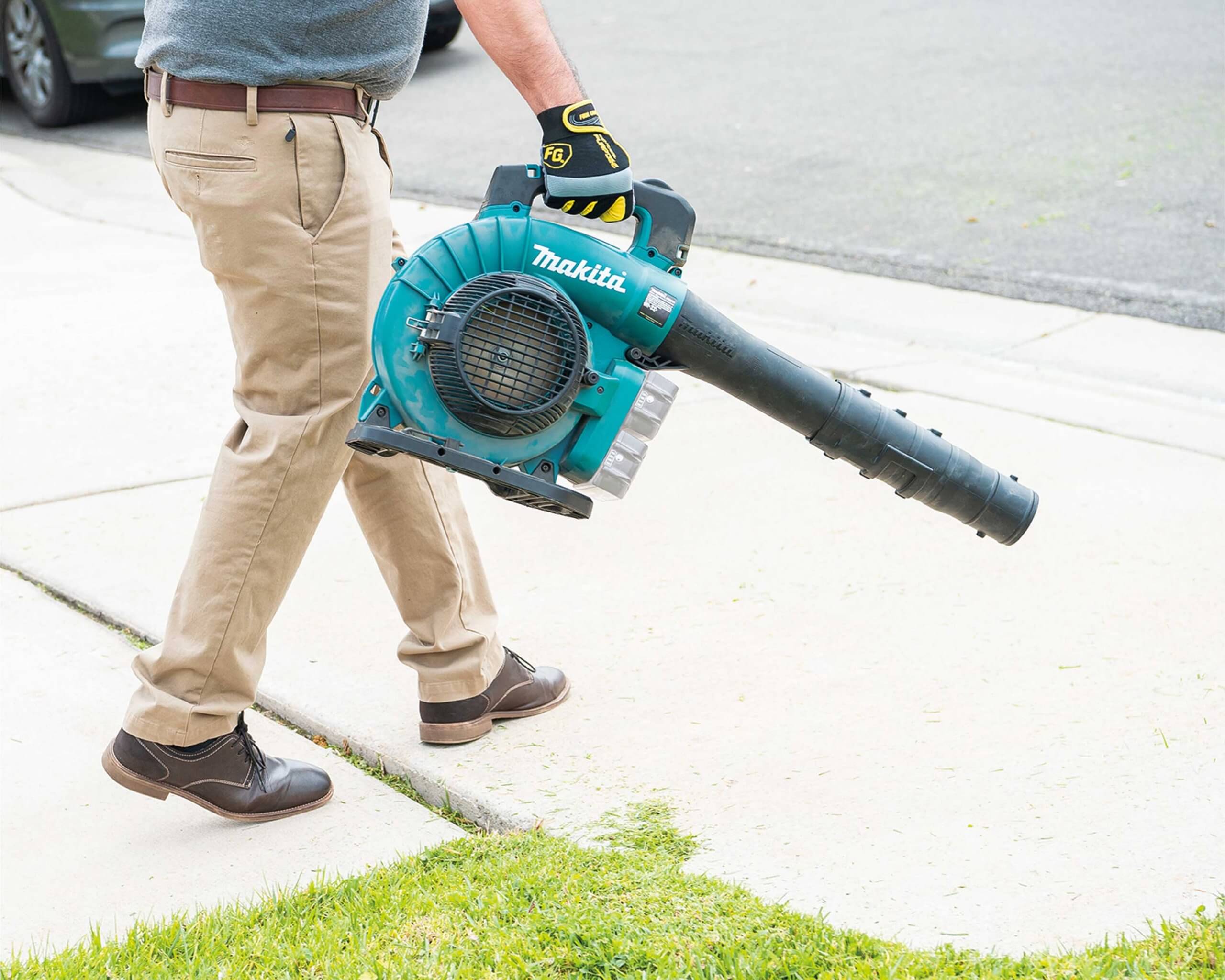 Photo courtesy of Makita Canada Inc.
Part of a family of more than 320 solutions using Makita's 18V battery system, this new addition offers performance traditionally only available in a gas-powered equivalent.
"It's a cool tool to me, because — there have been attempts in the past, but they've been in the DIY space — this is the first time that they've been able to engineer a true (cordless) mulcher-vacuum. Something you could use on the job site."
To that end, the tool has exceptional precision control and, thanks to continual improvements in the battery space, run time and power needed for commercial or heavy-duty applications. It features a "cruise control" lever with variable speeds for power and run-time management and Makita's XPT (extreme protection technology) for increased dust and water resistance in harsh job site conditions.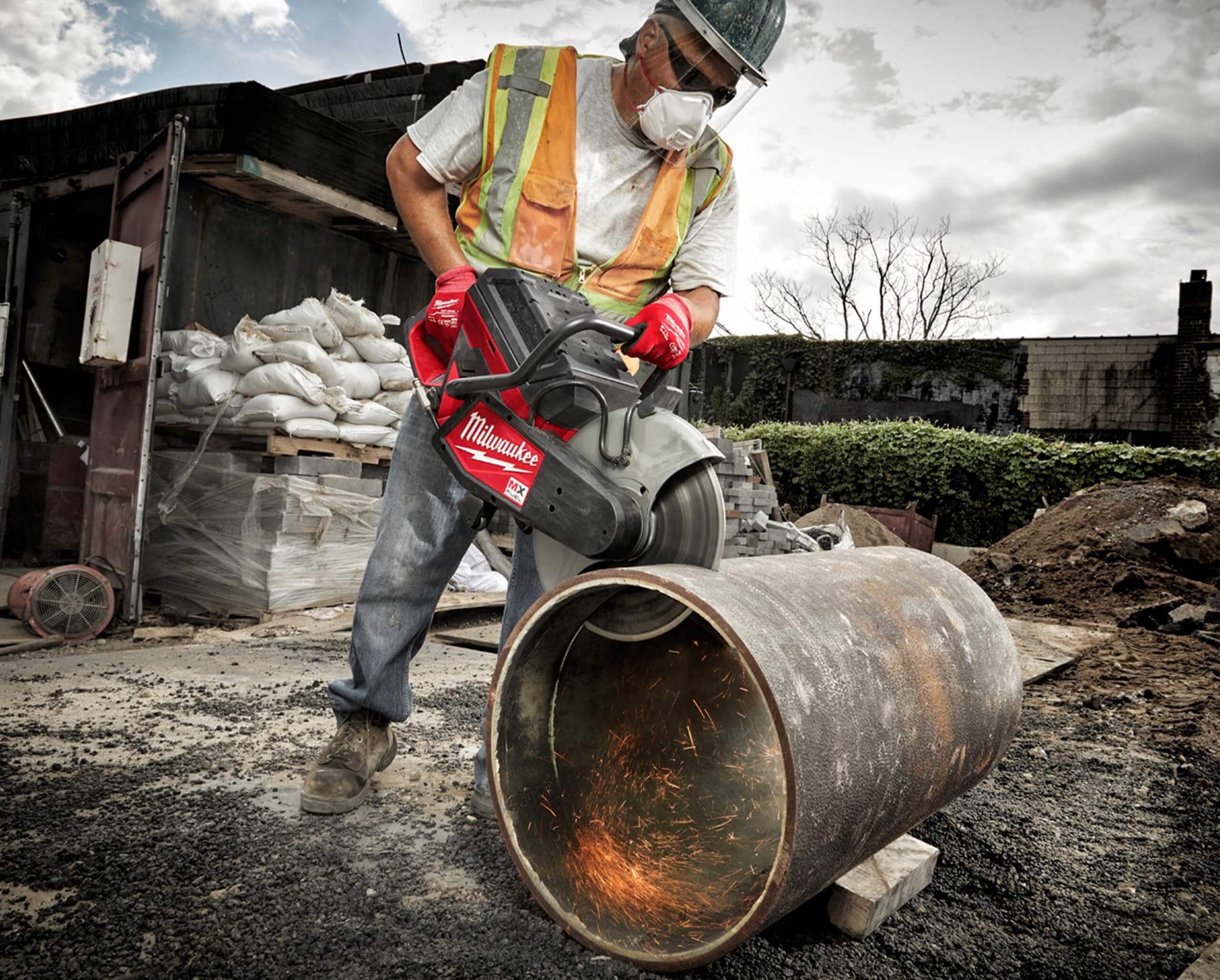 Photo courtesy of Makita Canada Inc.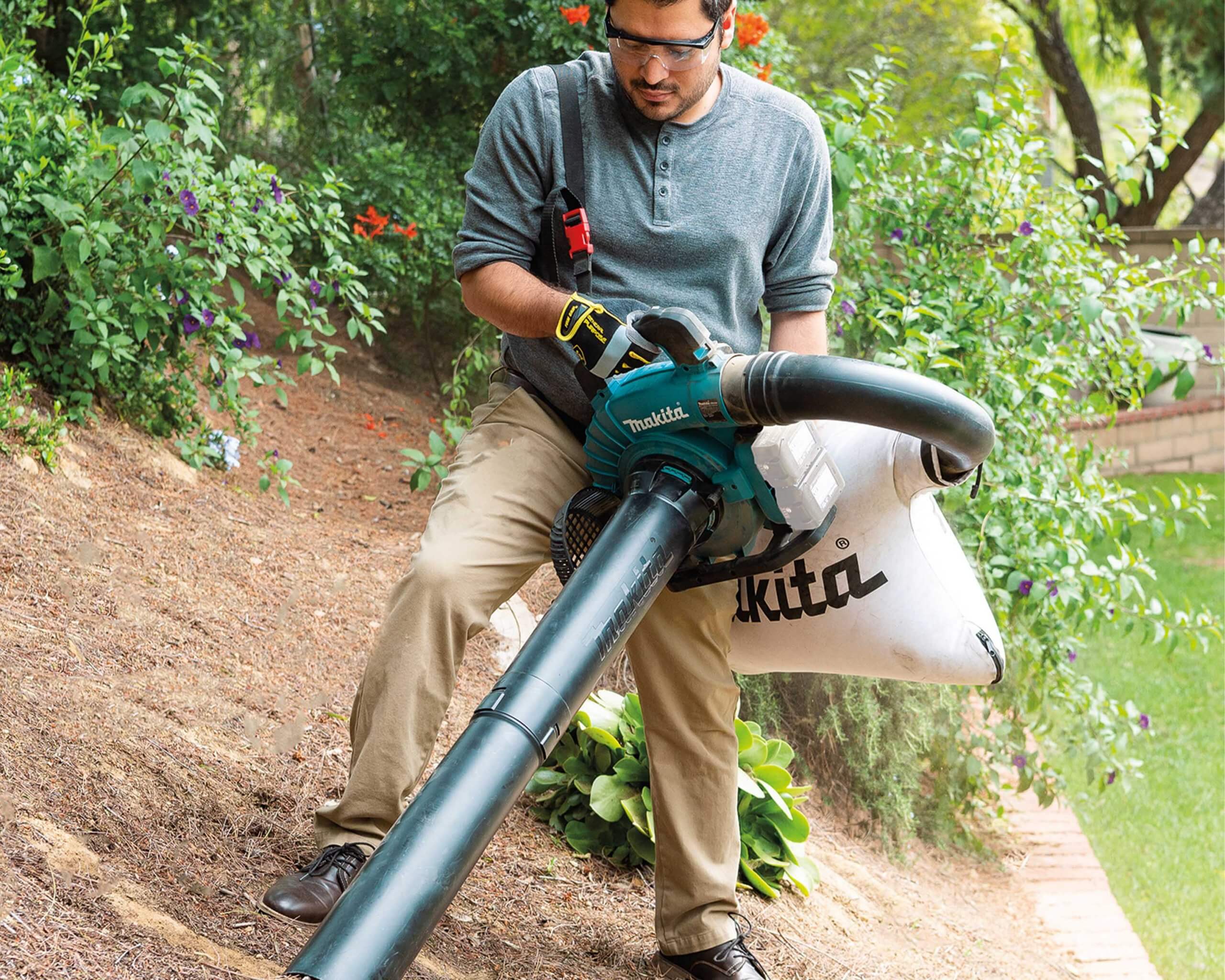 Photo courtesy of Milwaukee Tool
Milwaukee MX Fuel
The move from gas-powered heavy-duty equipment to cordless ones was one echoed by Amanda March, strategic account manager for hardware at Milwaukee Tool.
The company in late 2019 announced its new MX Fuel Equipment System to cordlessly deliver the performance, run-time and durability tradespeople expect from gas-powered tools without the emissions, noise and vibration.
"With our M18 battery platform, we've always said that we've cut cords, being able to eliminate 15-amp motor products. Now with MX Fuel, we're able to unlock that next phase of the job site — gas-powered products."
For example, she highlights the company's MX Fuel 14" Cut-Off Saw that can cut 6 ft of concrete or 72 cuts in #5 rebar per charge with instant starts and zero emissions. Among its many features is Makita's Redlink Plus Intelligence, patented technology that communicates between the battery and the motor to provide overload protection and protect the battery and tool during heavy use. "Because our batteries are also chipped, they know what the application is to provide the right amount of power to the product at the time."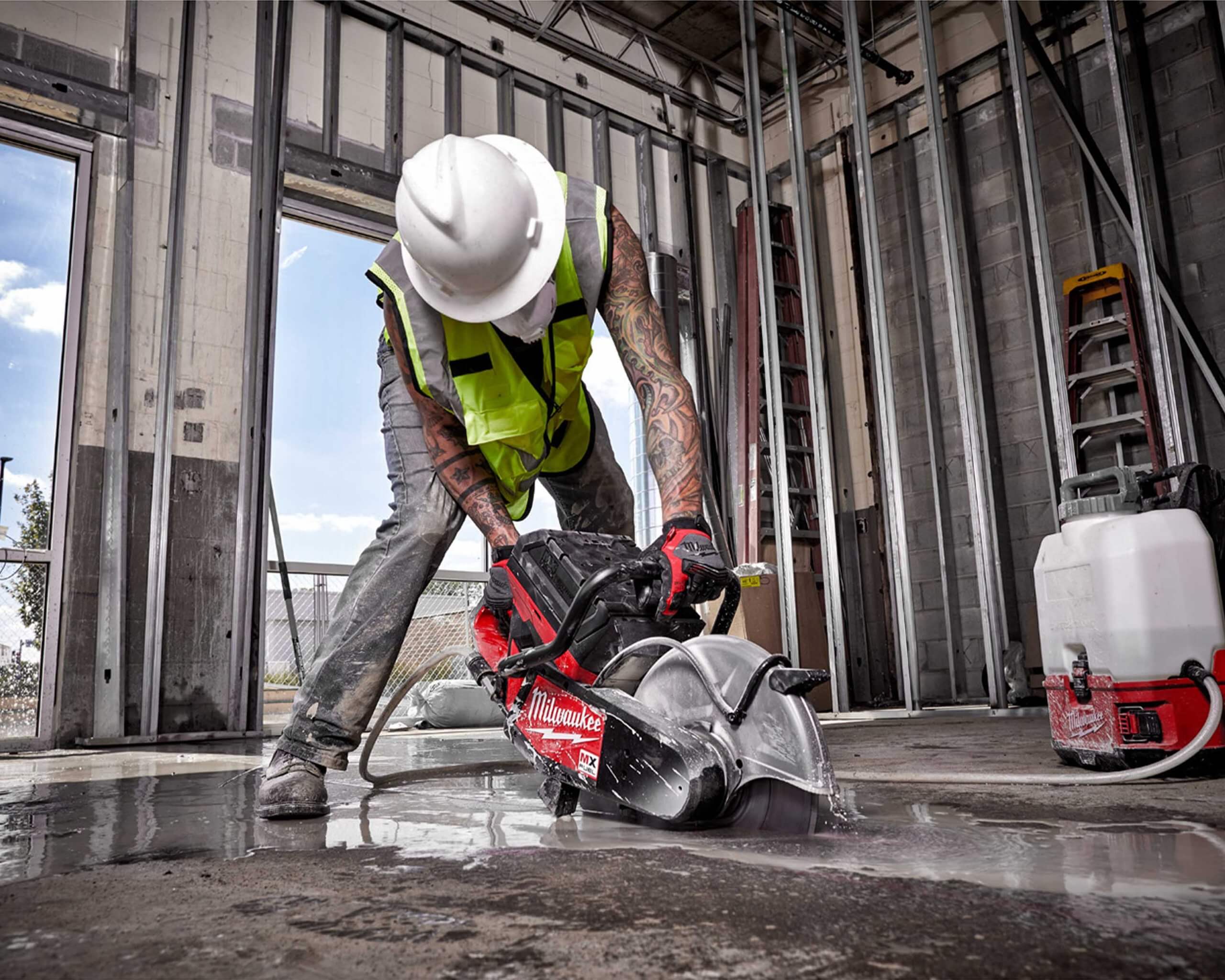 Photo courtesy of Milwaukee Tool 
Irwin Speedbor Spade Bits
Shawn Brown, product commercialization manager at Stanley Black & Decker Inc., says improvements to his company's Irwin line of spade bits are cool because of dramatically improved speed and longevity.
"What we've done is drive performance and take it to the next level by tweaking the cutting edges," he says. "On our previous version we basically had pronged outside cutting edges, but our new version has chamfered cutting edges, which drives added performance in terms of life and speed."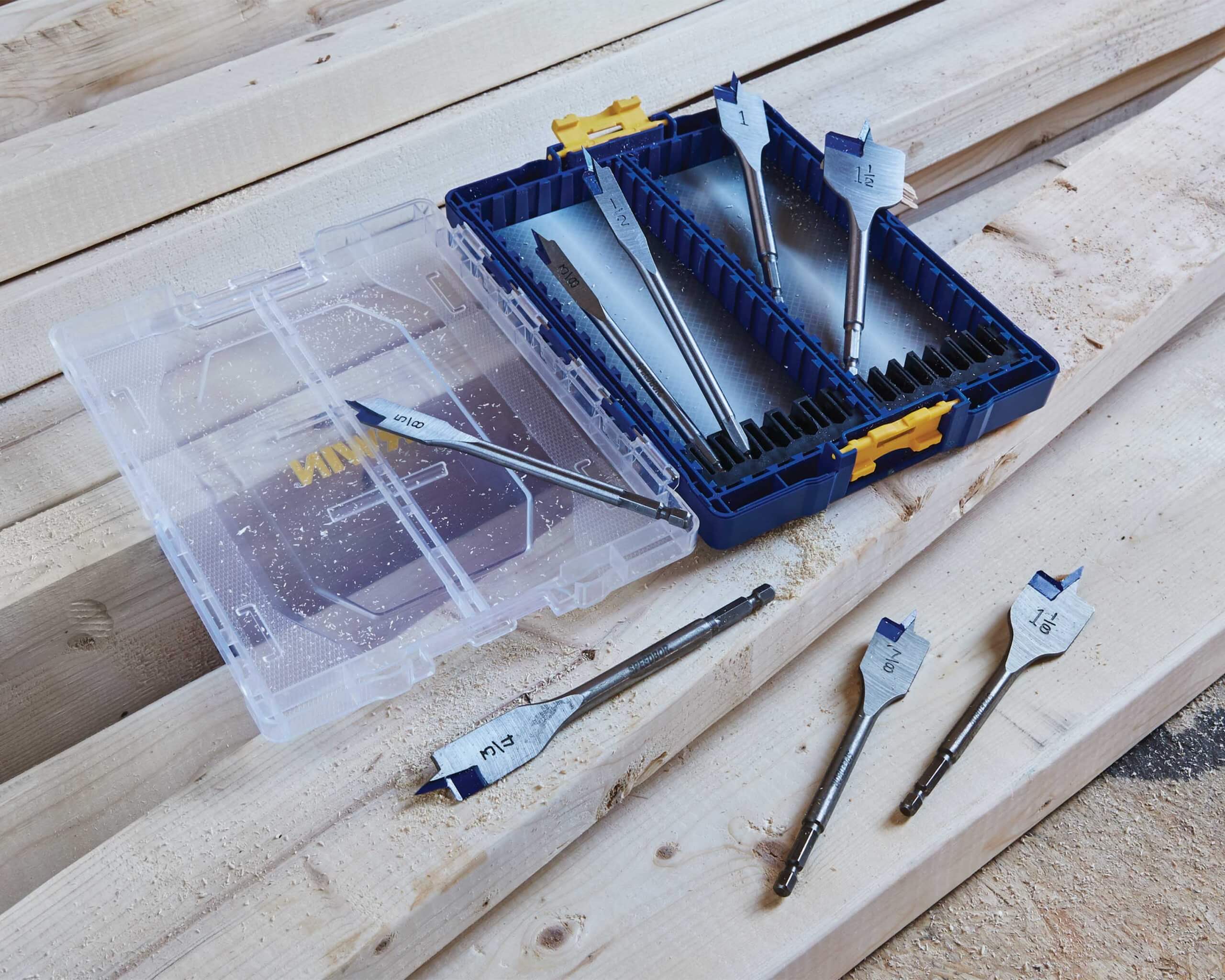 Photo courtesy of Stanley Black & Decker Inc.
The products boast double the life expectancy and twice the cutting speed compared to past bits thanks to the chamfered design and the company's patented Blue Groove parabolic scoop that provides faster chip removal.
"The combination definitely saves money on bits and change-over of bits, and helps contractors get the job done more quickly." —