Options and innovations for adding warmth to your abode this fall and winter.
The multi-hued beauty of falling leaves, crisp autumn air, the harvest moon, pumpkin pie; fall brings with it a lot to love. It also heralds the chilly temperatures soon to come, making it a perfect time to take a fresh look at how to keep your home comfortable and warm.
While each region of Canada has its own favoured method to heat the cool months — from natural gas furnaces in Ontario, or electric central heating in hydro-cheap Manitoba, to the electric space heaters more popular in Quebec — many options exist to supplement or replace existing heating system to improve comfort or reduce the ever-growing energy costs. Not only are choices becoming more energy efficient, but solutions are increasingly becoming attractive additions to home décor. Let's look at a few:
High-Efficiency Wood and Pellet Stoves
Solid-fuel heating is nothing new for many homeowners, but where wood and pellet-burning stoves differ from a traditional masonry fireplace is in the efficiency — turning fuel into clean heat. "If you have a fireplace in your home, for the most part you're continuously feeding the fire, because most of the heat is going straight up the flue. Whereas if you've got a high-efficiency wood-burning stove or an insert (basically a wood-burning stove designed to fit into a masonry fireplace), the unit will radiate heat much more than a traditional fireplace," says Neill Gibson, sales director at Saint-Augustin-de-Desmaures, Que. based Stove Builder International (SBI), which designs, builds and markets residential heating products for use around the globe.
Gibson says the number one motivation for products like his company's DIY solid-fuel burning stoves— branded Drolet and Century — is independence from the grid. "Anybody who has suffered through any elongated loss of electricity… A lot of people in Southern Quebec remember back to the 1998 ice storm where households were without electricity for up to two weeks," he reminds. He says demand for wood stoves peeks after weather events, since being able to supply heat without being plugged into the infrastructure provides homeowners with security. SBI has also seen increased interest in cook stoves, so has begun importing and selling its own options for homeowners wanting more than just a secondary heat source. "There's nothing like the smell of fresh bread cooked in a wood stove," Gibson says.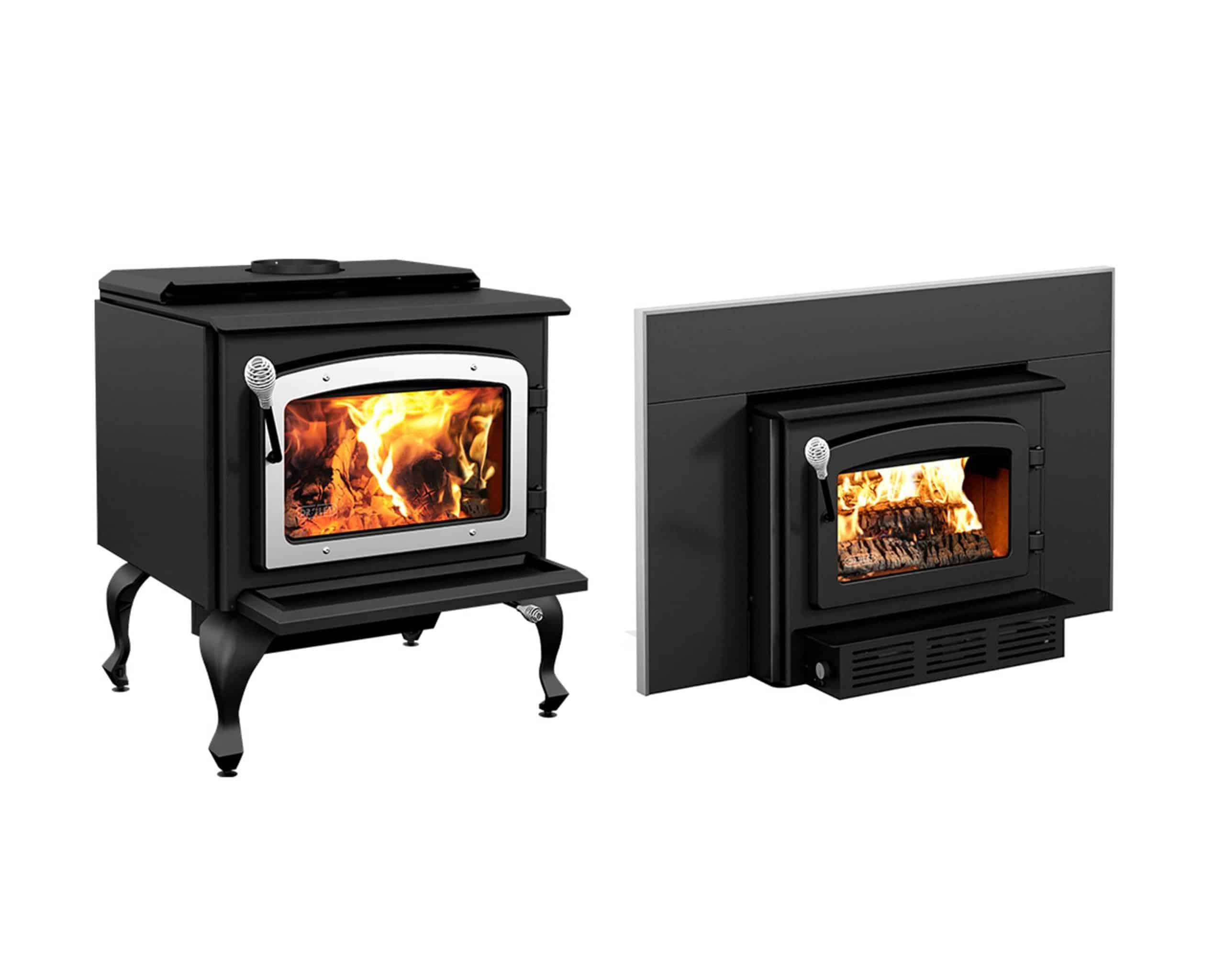 Photo courtesy of SBI International
Innovations to Reduce Particulate Emissions
Wood may be one of the oldest heating sources, but even in the 21st century the stove industry strives to refine our ability to burn solid fuels cleaner. As a by-product of increased efficiency, solid-fuel burning stoves are becoming consistently more environmentally-friendly to meet industry standards. In 2015, the U.S. Environmental Protection Agency set emission standards for wood and pellet stoves limiting them to 4.5 grams of particulate emissions per hour paralleled in Canada by the CSA B415.1-10. Going forward 2.5 grams* is the target in 2020**. Various Canadian municipalities are following suit. Montreal is the first to set a bylaw that wood burning stoves reach this 2020 EPA standard by Oct. 18, 2018. The good news is manufacturers like SBI have been working for the past three years to improve the efficiency with which their stoves burn. Currently SBI has three wood stoves and a fireplace insert within the Drolet line-up alone that meet what will become the new norm, and generally all its pellet-burning stoves — which are by nature more efficient — already do.
"Some of this innovation comes from SBI's desire to maintain solid fuels as an inexpensive means to heat the home, while trying to make wood and pellet heaters attractive to first time home owners. And some is based on the new regulations pushing the industry to be as environmentally friendly and have as little impact as we can," Gibson says.
Note: Because provinces and municipalities abide by their own rules when it comes to emissions, it is critical to take this into consideration when choosing your appliance. In addition, homeowners looking at solid fuel stoves would do well to check with their home insurers as to installation requirements. Many models exist that are easy enough to install for a weekend do-it-yourselfer, but your insurer may require an inspection and WETT certification to honour your policy. (*Tests completed with cord wood / **It is possible that this date will be delayed until 2023.)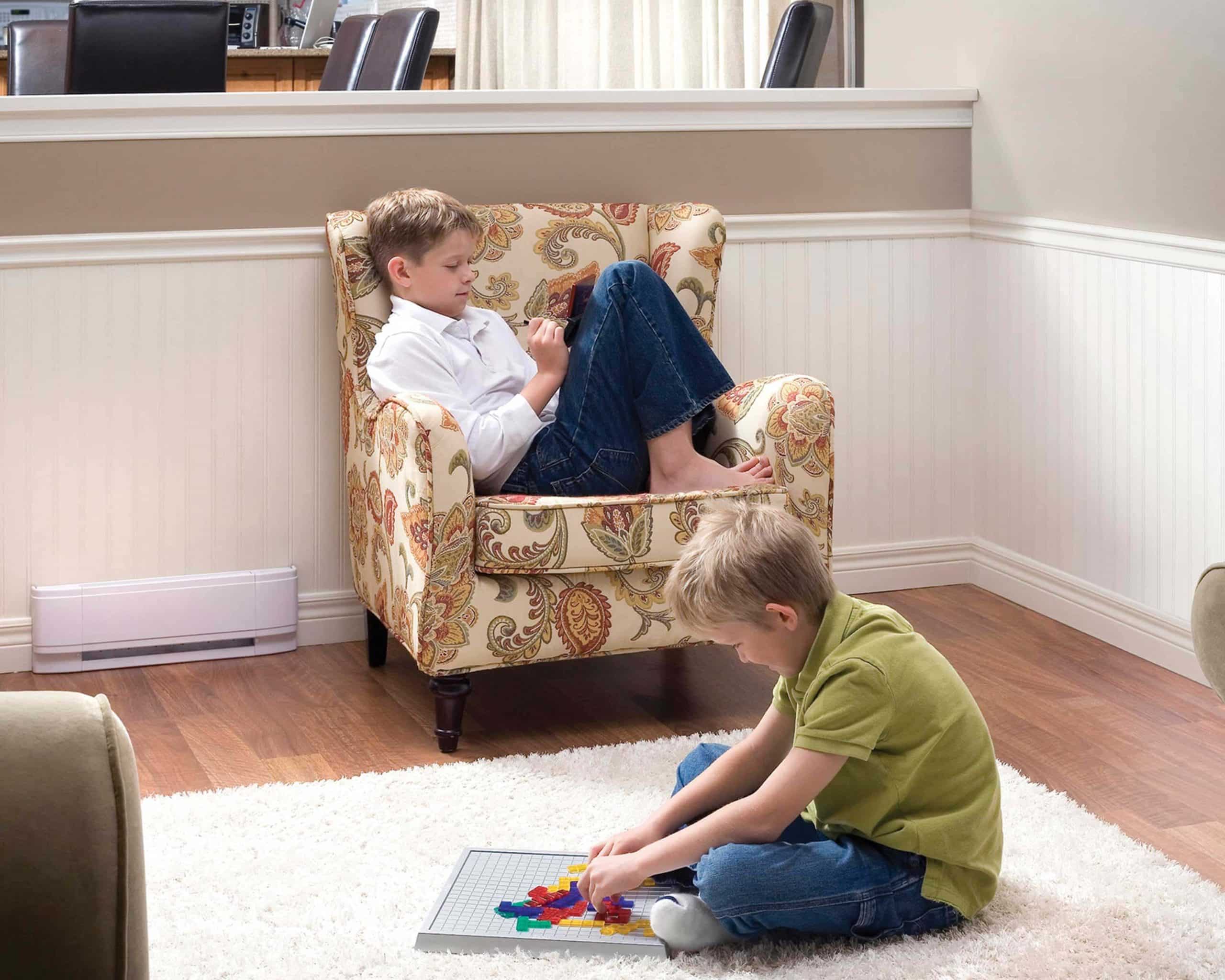 Photos courtesy of Glen Dimplex Americas
Electric Space Heaters
The heating system of choice in Quebec, according to Mario Boivin, National Sales Director for Glen Dimplex Americas, electric space heaters aren't limited to areas where there are pre-existing preferences.
"They are good in my neck of the woods," Boivin notes from his Montreal, Que. office. But they are also popular in areas with central furnace systems, he adds, "when you have that one room that stays too cool, so you need to heat it (separately). The garage is another place, since central heating rarely reaches it."
Once you've made the decision you need a heater in the room, Boivin says to look at four key factors:
Room size, which will affect the wattage needed. A good rule of thumb is 10 watts per sq. foot; however, cathedral ceilings, efficiency (or R-value) of windows and other elements can change this guideline.
The heater technology. There are two main options in electric heaters: convection or fan-forced. Convection heaters have no moving parts, making them quieter and "practically unkillable," Boivin says. Their silent operation makes them great for bedrooms, for example. Fan-forced blow air through the heating element, heat- ing rooms more quickly making them ideal for areas like entryways or bathrooms.
The space or room you plan to install it. A traditional baseboard heater can be as long as 9' for a 2500-watt heater. Without such room, you may need short-board, wall panel convector, or a kick space heater (fits under kitchen cabinets).
What's controlling the heater. Electric space heaters can be controlled either with an integrated thermostat or a wall thermostat. Whatever your preference, Boivin strongly suggests choosing an electronic version over a mechanical one, which will make a significant difference on your heating bill!
As controls go, the smart home trend is one that's improving homeowners' comfort and power of control. Dimplex recently developed the CONNEX system, a solution that consists of smart heaters, WiFi-enabled controllers and more recently, a smart thermostat to convert existing heaters to smart ones. With it, homeowners can control their heating from anywhere using a mobile app.
"Our future version will incorporate geo-location, so I have my cell phone in my pocket and when I get within 5 km of my home the unit just turns on. You won't even have to think of it."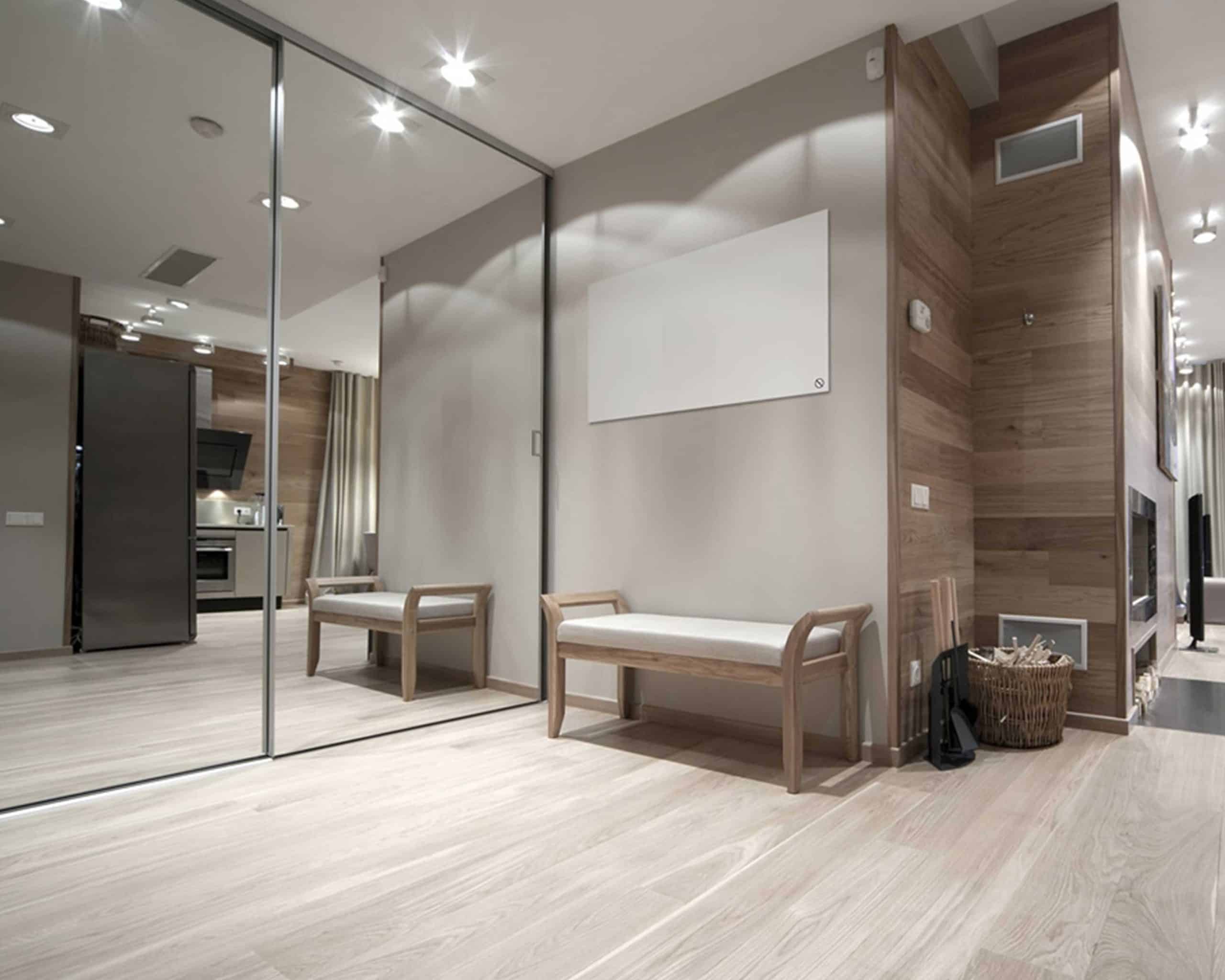 Photo courtesy of Spacio Innovations
Infrared Wall Panel Heaters
A new technology twist has come to electric space heating: infrared panel heaters. According to J. Marc Hofman, Sales Director at Winnipeg-based Spacio Innovations Inc., the WEXSTAR Wall Panel Heaters provide impressive heat but with less electricity consumption. Popular in Europe for years, Hofman says his company is bringing this technology to America.
"While most heaters on the market are 1500 watts, our heaters are 400, 600 and 800 watts," Hofman says. Developed in Austria, these wall panel heaters generate infrared rays that provide comforting heat using the same principle as the sun. The Infrared heat is distributed uniformly around the room and absorbed by objects and walls that release the warmth back to the room creating an overall feeling of warmth, rather than heating the air around them. This, Hoffman says, creates a more comfortable feeling of heat, as well as not drying out the air in the room.
Eco-friendly, Hoffman says that a high percentage of the energy consumed is converted to warmth. Each model has a larger range of surfaces it covers: the 400-watt unit is for 120 sq. ft.; the 600-watt can handle 200 sq. ft., while the 800-watt unit warms up 250 sq. ft. The panels are easy to install, can be wall-, ceiling- or leg-mounted based on the needs of your rooms décor, and are simple to relocate. Can you mount drywall screws? Then you can hang these wall panel heaters, Hofman suggests. To further ease installation, the units plug into a standard 120V electrical outlet. While the placement of a convection heater is crucial to its operation (to create a convection channel of heated air), the same principle is not applicable for these infrared units. This versatility allows them to be placed almost anywhere. The heaters use no fan which means 100% quiet and no stirred-up dust, ideal for people suffering from asthma or allergies.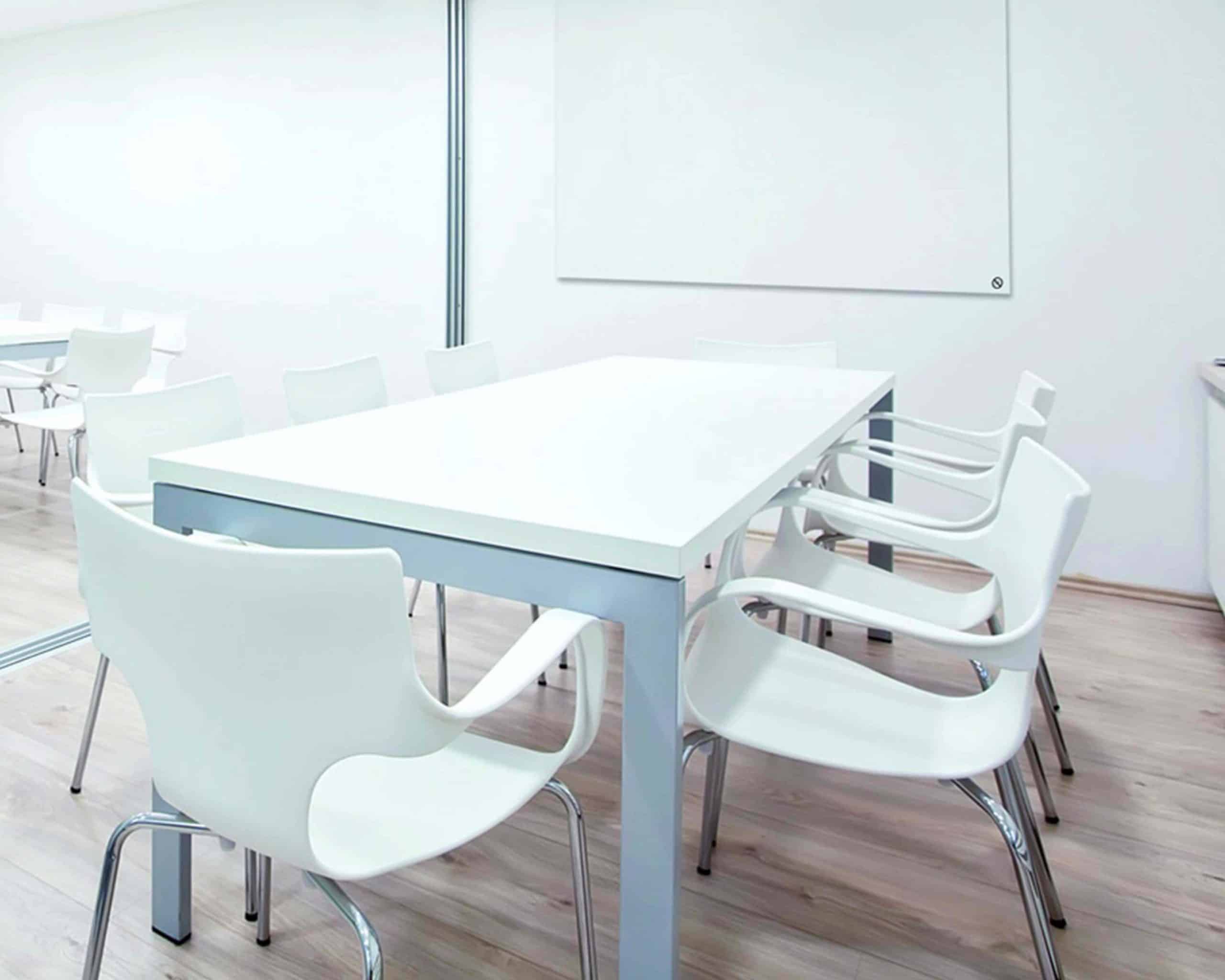 Photo courtesy of Spacio Innovations
Hoffman says he expects this new technology option to become increasingly popular over the coming years, based on its price point and the energy savings it can provide. "There are so many options. You can use them for general heat, or for more targeted applications, say an office or basement; even commercial ones," he says. "It's a flexible system that just has so many uses."
These are just a few considerations to keep you and your family comfortable over the coming months. Whatever you choose to warm your hearth and home, you can be confident an ideal option is out there, so that neither rising energy costs nor power outages will force you to suffer winters chills. Stay cozy.