Flooring has been seeing major price increases in the past year, primarily due to supply chain and logistics, according to industry watchers, but homeowners are still seeing great value from floor upgrades. Meanwhile, innovations and improvements around vinyl, laminate and tile flooring are bringing them into greater homeowner focus.
"Lumber prices have definitely been on the rise over the last 18 months, and have literally gone into unprecedented pricing models," says Sven Johnson, director of flooring and wall division at Taiga Building Products Ltd. "Flooring in general, and specifically hard surface flooring has followed the rise in costs as well."
Johnson says in his four decades in the business, he hasn't seen cost increases like he's currently seeing; however, he suggests that even amidst new pricing pressures, the cost of flooring is more affordable than a decade ago.
"The good news in flooring is that today there is more value to it than in years past," he adds.
Luxury vinyl trending
While luxury vinyl is not new to the market, Johnson says it is "now being called out for" by homeowners. "Luxury vinyl has gone through a huge innovation period and consumption of it is high," he says. "Innovation and technology have allowed the product to be produced with a larger scale, so there's a lot of supply available."
Those innovations, he says, in products such as his company's Stonewear SPC Vinyl planks are allowing the flooring alternative to exceed consumer expectations.
"You can't get better than the real thing," he says. "Hardwood is still in its own class and every product tries to emulate this," he says. But, at the same time, current SPC (stone plastic composite) can offer hardwood-like aesthetics with other benefits, especially that of water resistance.
According to Jeff Morrison, vice president of national accounts at Goodfellow, it is not the price delta between wood and vinyl flooring — which has held relatively stable — but the advantages and aesthetics of SPC that are driving what he calls "the SPC revolution."
Demand remains high for both flooring options. "As much as the price of wood flooring has gone up, we aren't selling any less of it," Morrison says. "We're selling more hardwood through the pandemic than before it."
Still, SPC continues to make gains, he adds. "We're seeing more and more demand for it as an alternative to all floor coverings, whether hardwood, laminate, ceramic tile or linoleum."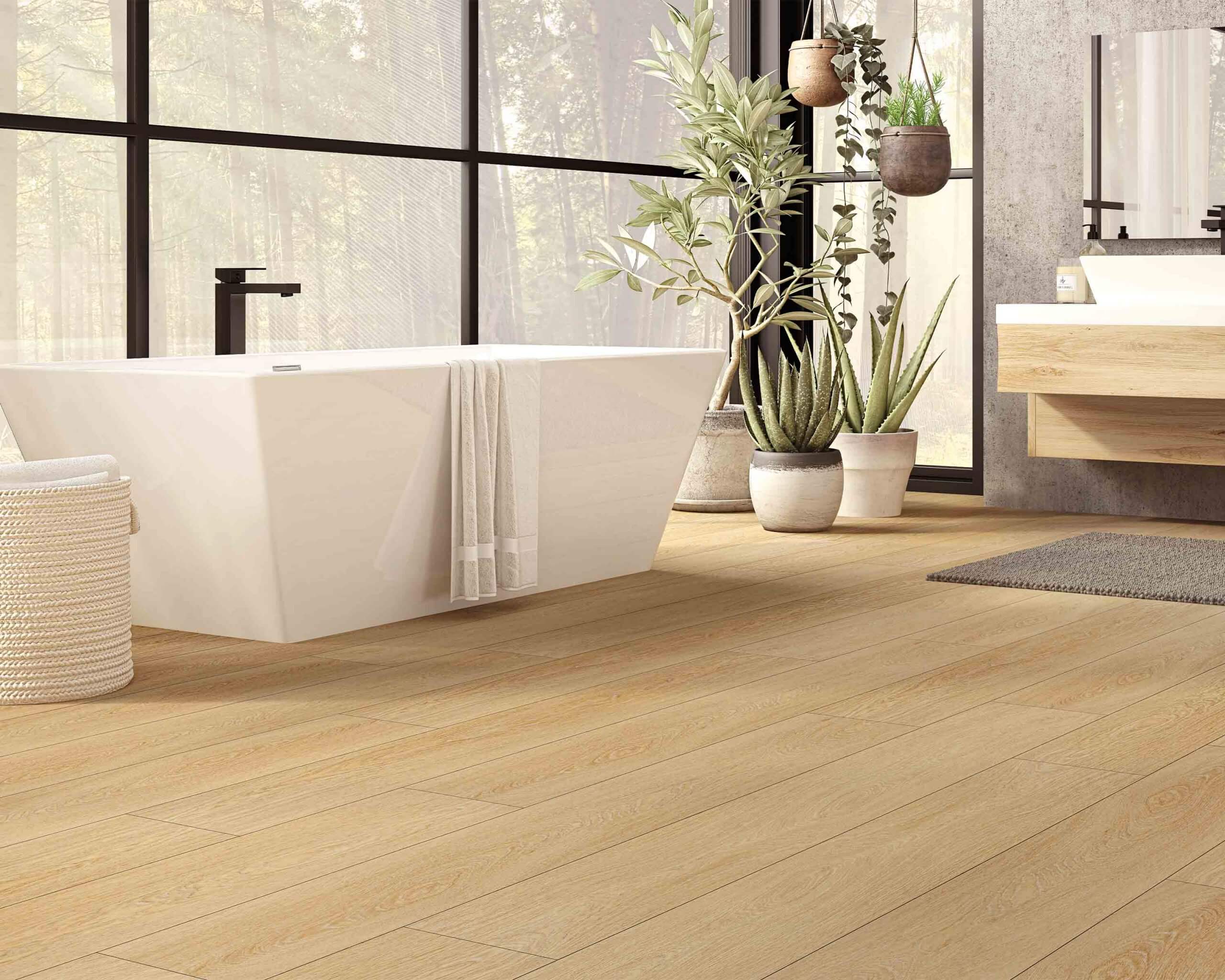 Photo courtesy of Goodfellow
The reasons, he says: the incredible strides in recent years around overall aesthetics, look, quality, performance and ease of installation.
SPC is starting to mirror all the major trends popular in hardwood flooring, he suggests: "We're hitting on all the trends; we have low-gloss, wire-brushed, wide-planked, long-length," he said. "We're offering thicker profiles, up to 8mm thick, with wide-plank, wire-brushed look, painted bevel and the resolution of the print on SPC in some cases makes it very difficult to tell it isn't 'the real thing'."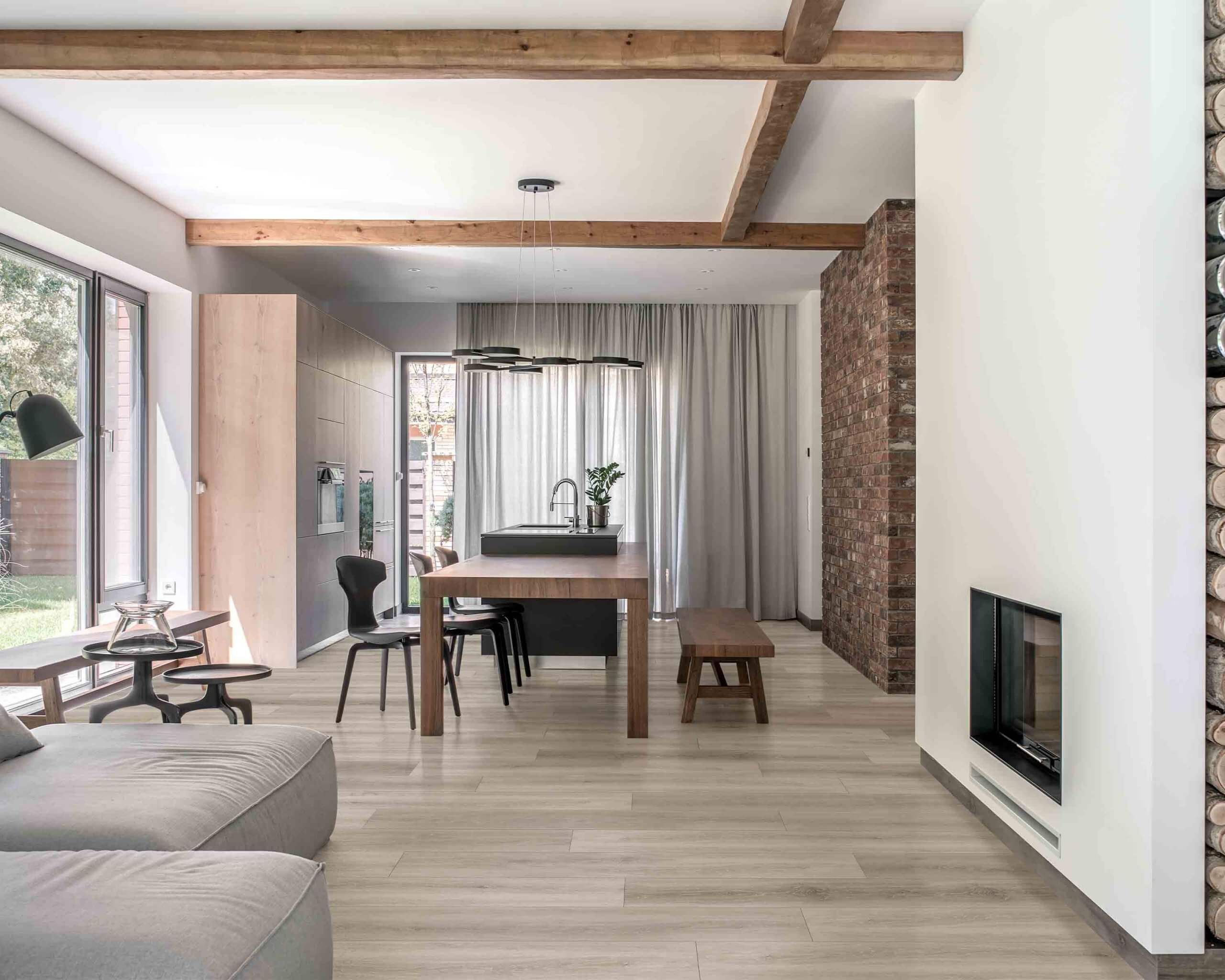 Photo courtesy of SHNIER
Morrison points to Goodfellow's recently launched Avalanche and Northern Expressions lines of SPC, which capture those higher-end aesthetics trends some homeowners are seeking. He says the company has SPC from more entry-level to more premium fashioned-focused choices, "We're trying to bridge all tastes and price points with offerings."
Laminate's resurgence
A once-popular floor covering option is having something of a comeback. Laminate, which has been seeing declining interest over the past five years, is now seeing a "resurgence" in interest, says Greg Vrantsis, national accounts sales manager at SHNIER.
He attributes this to innovation. "There's new technology that has advanced the core, that makes it water-resistant or in some cases waterproof." He says in addition to water resistance, the ease of installation is what drives homeowner interest in both laminate floor coverings and vinyl planks or tiles.
"There's minimum preparation needed on the front end, a lot of these click-floating products can actually be installed on an existing subfloor," he adds. "If you have linoleum, ceramic or hardwood, you can actually lay the flooring right on top with minimal skill set."
That DIY-friendliness translates to faster installs, reducing costs for homeowners, ease for contractors and ultimately an ability to take on more jobs during what is proving to be a busy year.
Of course, core stability is essential whether engineered wood, vinyl — such as SHNIER's popular CoreStone Plank line — or laminate — as in the case of its H2O Guard water-resistant laminate flooring. "Because it's such a strong trend, having seamless, transition-less boards," he says. "Across the gamut, we're trying to achieve that with all flooring categories."
Tile opens the door to creativity
Tile has always had its place in the home, but high-resolution digital printing has given homeowners so many options to think outside the box, suggests Linda Cellucci, showroom administrator for Centura Tile.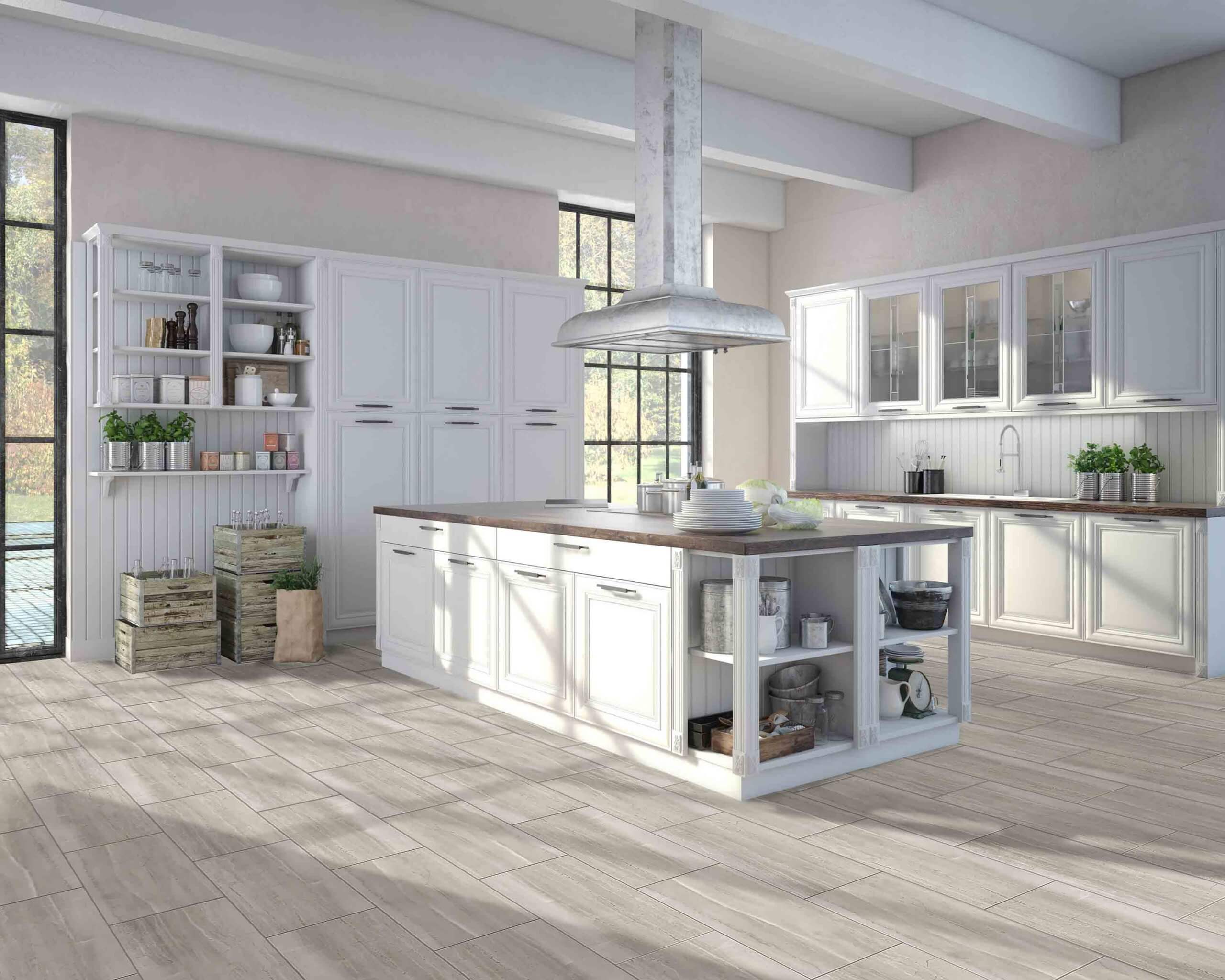 Photo courtesy of SHNIER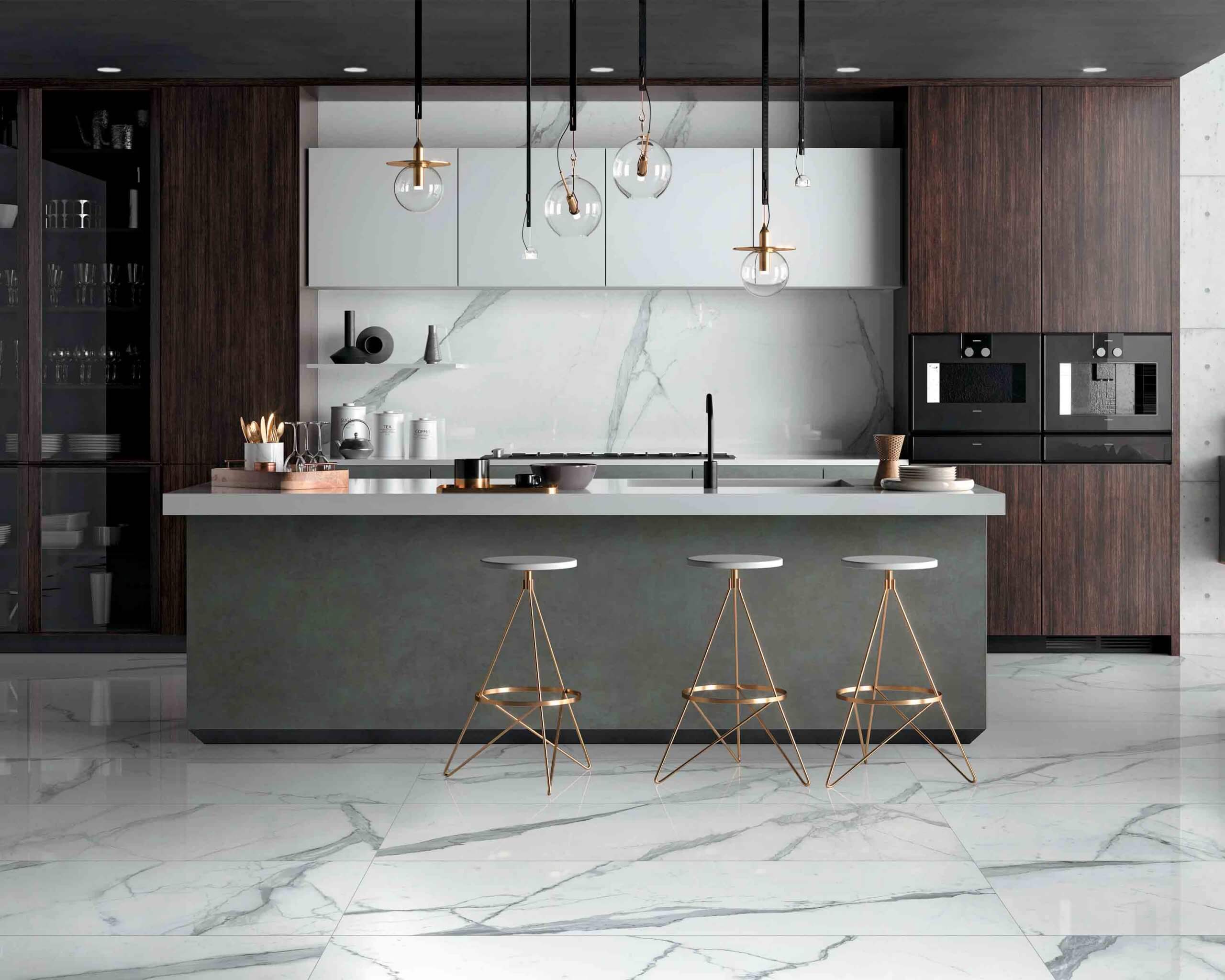 Photo courtesy of Centura Tile
"Most tile now is digitally printed, so it looks like the real thing, but with just a better performance," Cellucci says. "And the beauty of it now is that you can heat it with a heated floor underlayment. So, some people go 'oh, it's so cold,' but it doesn't have to be."
With its realistic ability to mimic the appearance of other materials from wood to stone to metals, while being 100% waterproof, tiles afford homeowners a lot of room for creativity, while reducing maintenance.
"There are just so many more aesthetic options," she says of today's high-resolution digitally printed tiles. "I have a line of wood-like tile called Cottage, which is digital and there's a texture. When installed it looks like the real thing. It's beautiful, with variation so you don't get the same plank over and over."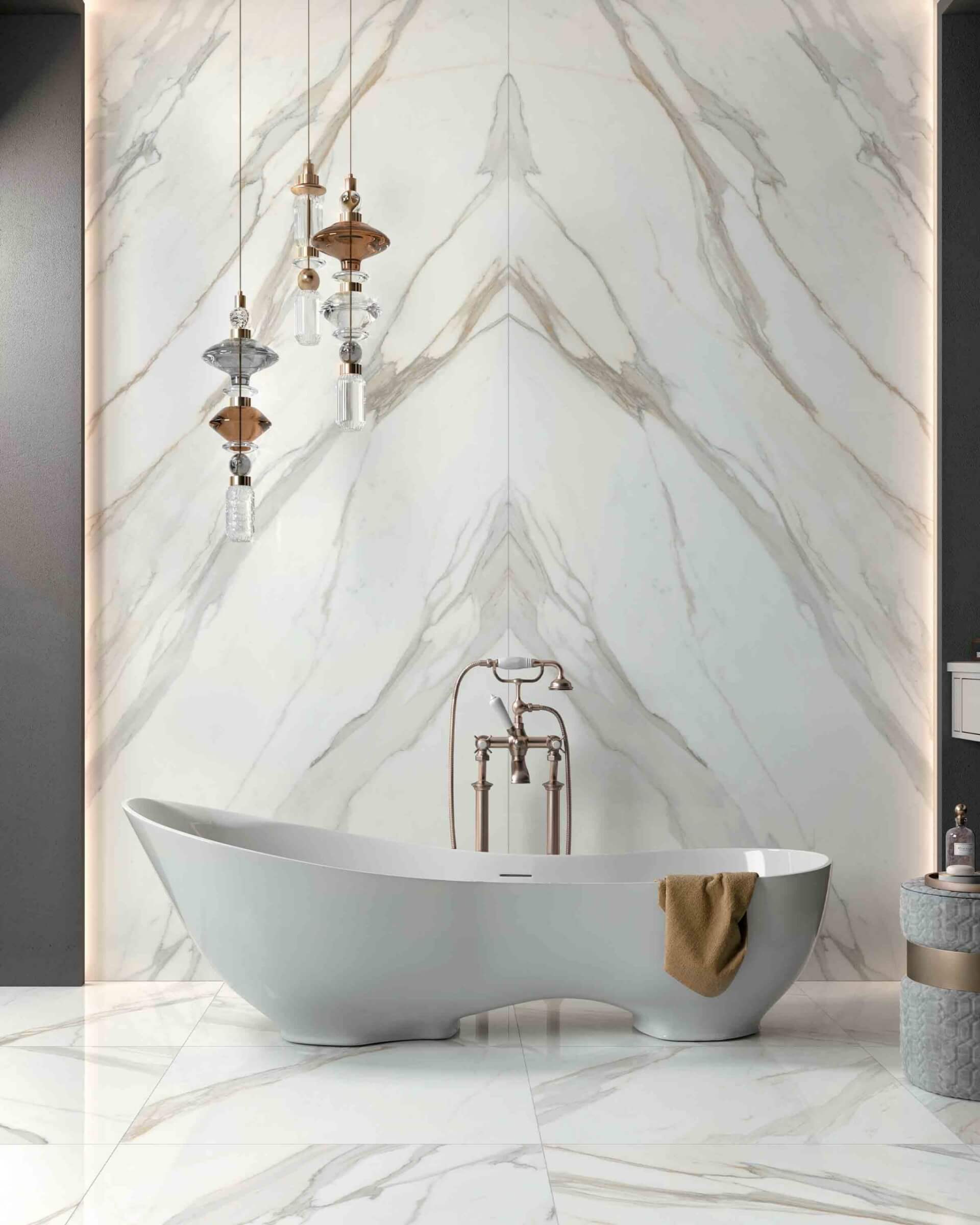 Photo courtesy of Centura Tile
"Then I have another wood-like line called Colorart, and it is crazy. It looks like someone has taken boards off a barn that has been painted six or seven times, and it is spectacular. Two very different looks."
"So, depending on what you want to do and where you want to apply it, the world is your oyster."
Ceramic and porcelain tile flooring allow for an easy approach to creating a mixed-material design, as well as use on walls as well as the floor. With its range of textures, designs and finishes, "tile will take you as far as your imagination and budget allow," Cellucci says.
Installation is always crucial
Even with easier-to-install options, proper installation is crucial, reminds Geoff Keats, vice president of allied products at AFA Forest Products.
He echoes that alternative flooring options like SPC and laminate are economical than wood flooring but are of primary interest due to the range of offerings in terms of colours, widths and size.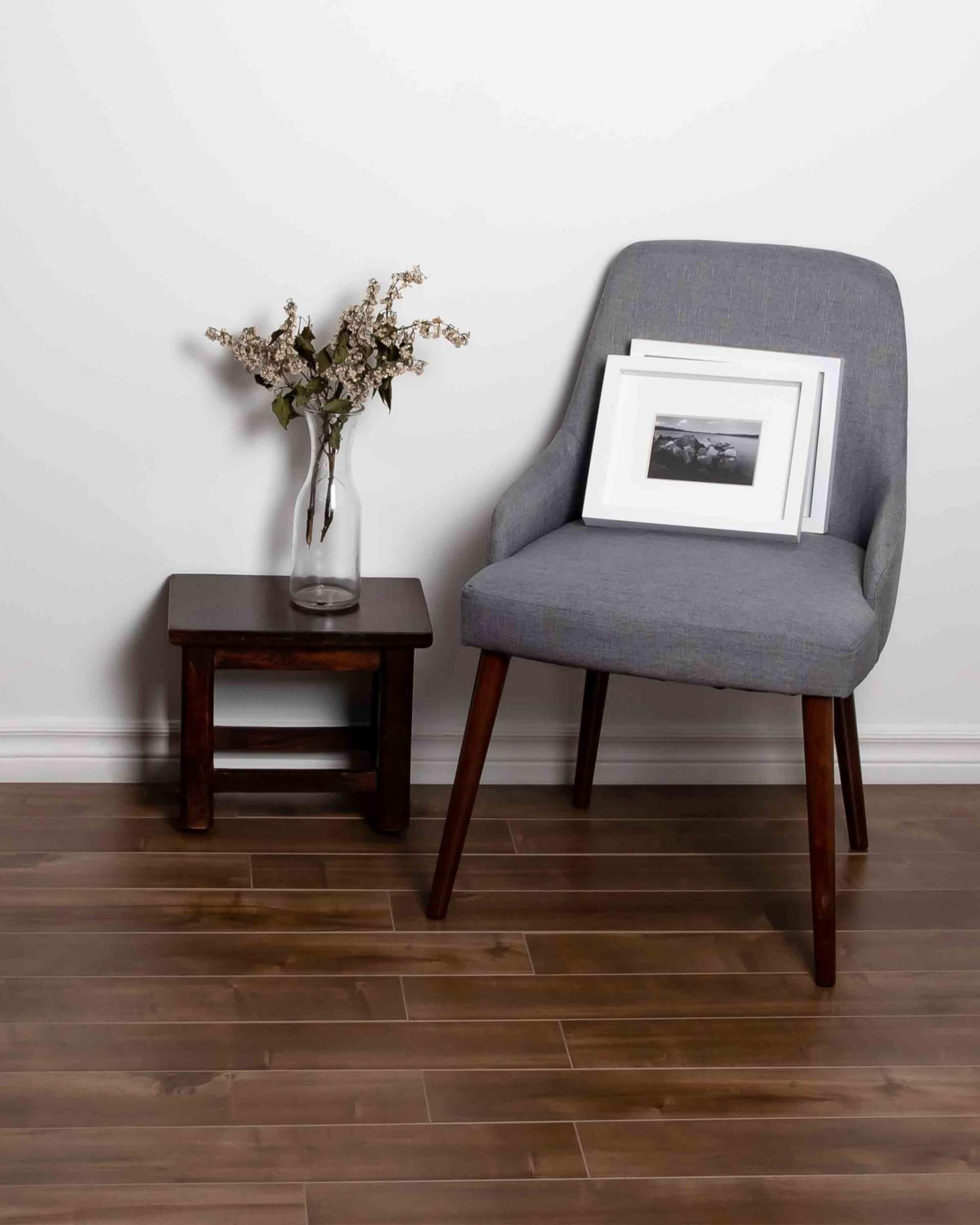 Photo courtesy of AFA Forest Products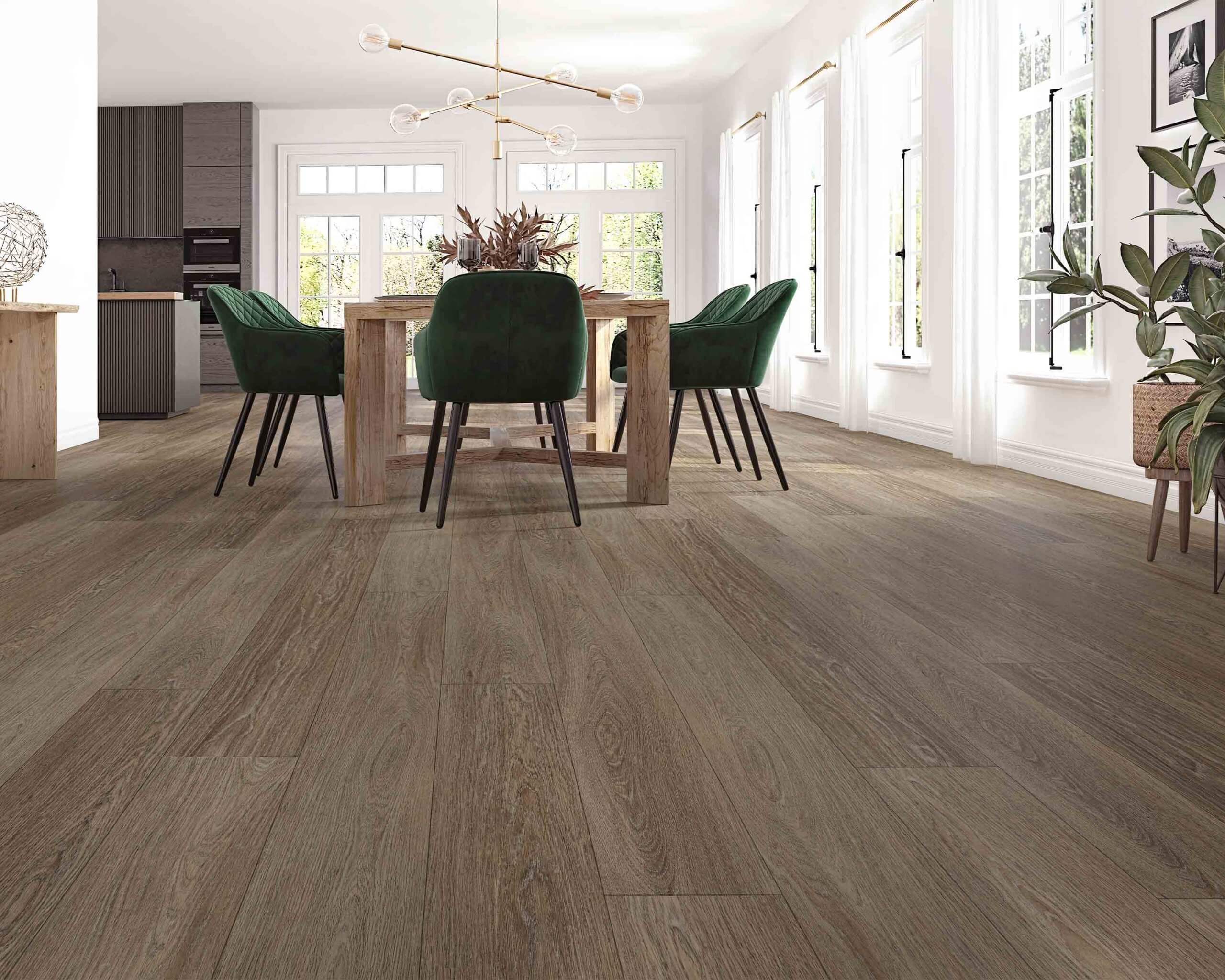 Photo courtesy of Goodfellow
Earth tones and neutral colours are the big current trend, experts say. It's a trend that's seen in AFA's lines, whether laminate — such as its Renaissance collection — or SPC — like its Volcano line.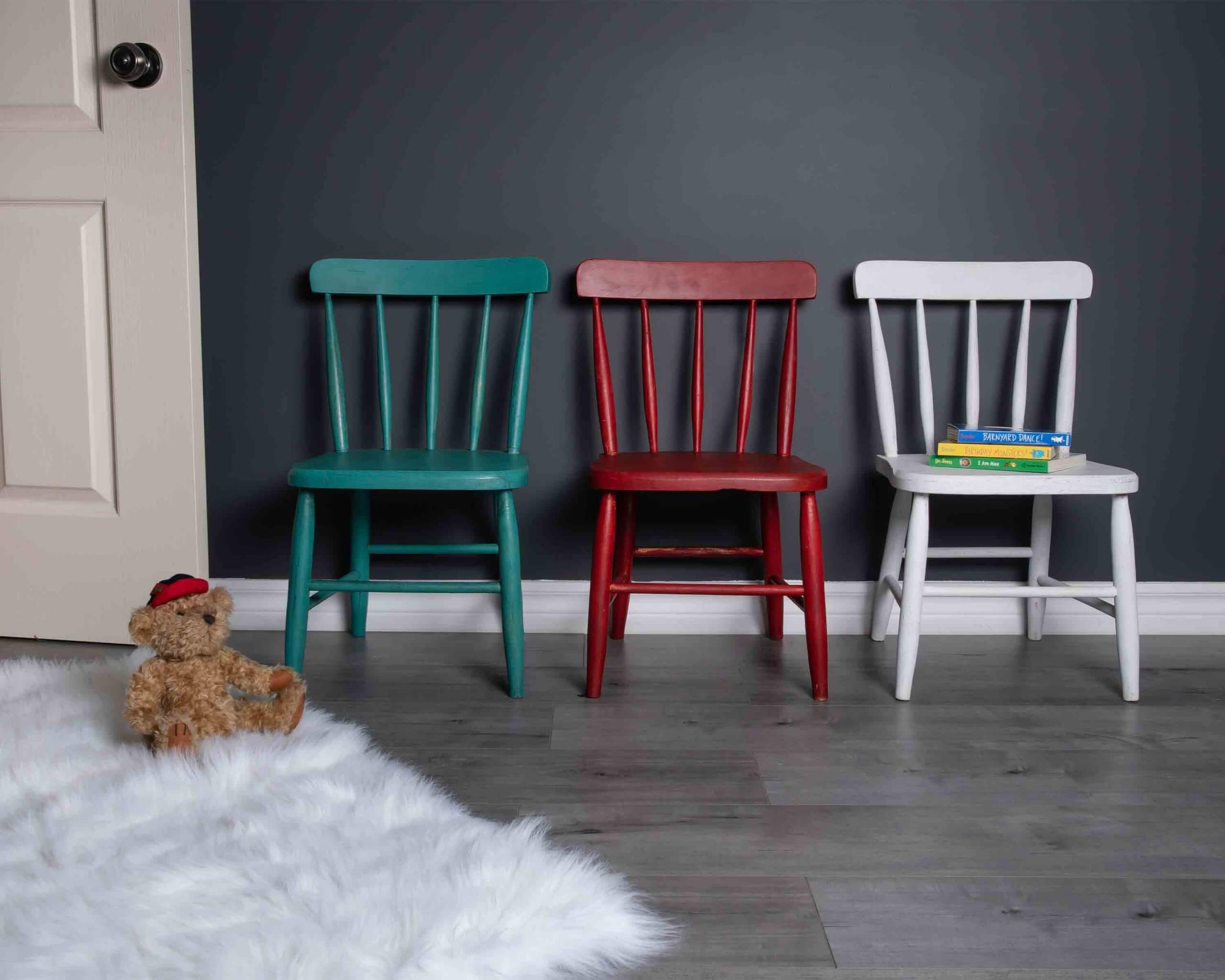 Photo courtesy of AFA Forest Products
While performance improves across floor covering categories, he says contractors need to pay particularly close attention to installation and best practices.
"Contractors need to be aware that as technology changes, so do installation techniques," he says. This need for contractor education is a significant focus for AFA, working closely with the National Floor Covering Association.
To keep up with best practices, especially in a new product category, he recommends turning to the experts, many of whom can be found on the Internet. "The big one is the industry association, the NFCA, and then ensure that your flooring dealer is working closely with its suppliers."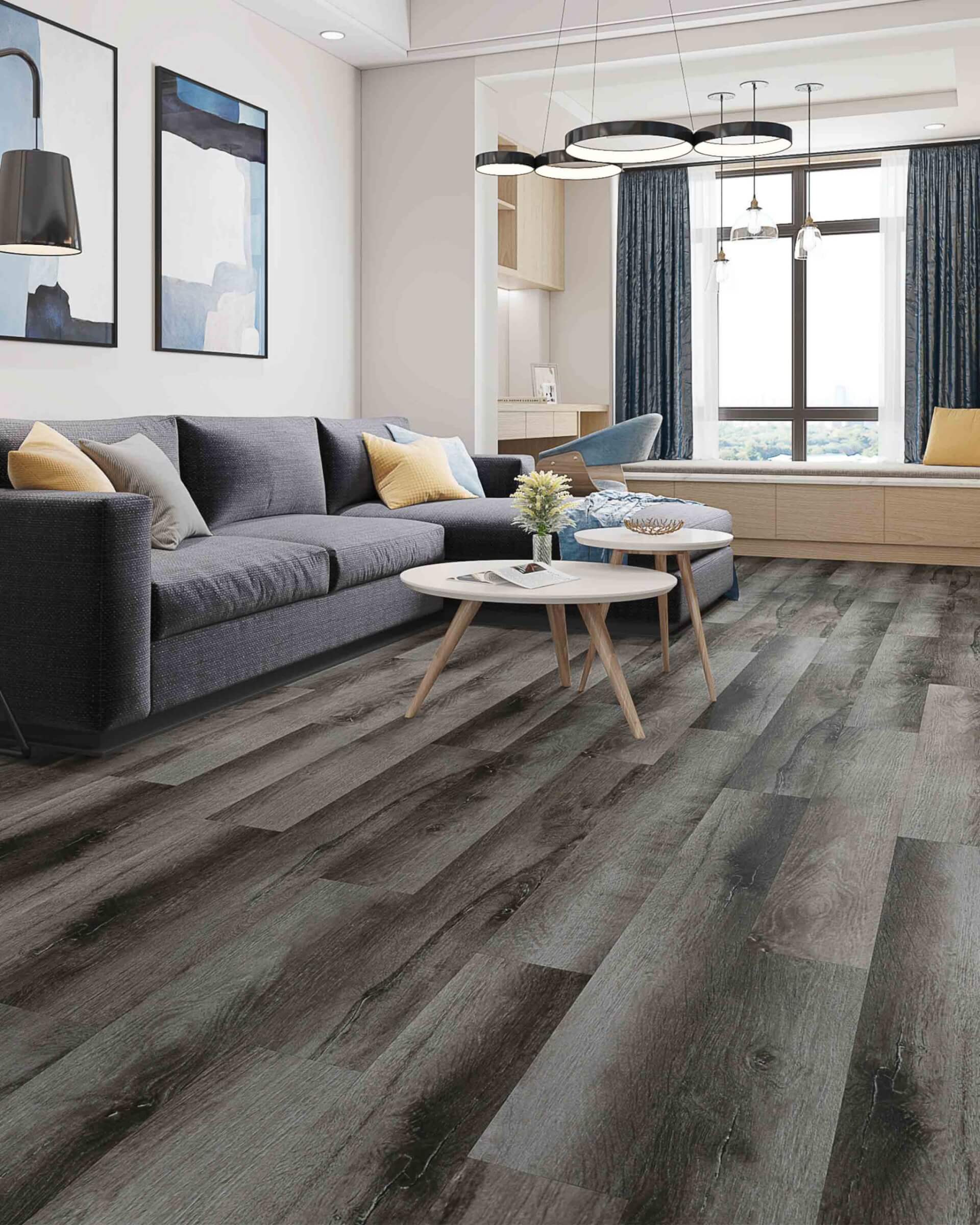 Photo courtesy of Taiga Building Products
"Laminate is not going to be installed the same as hardwood; vinyl is not installed the same way laminate is. SPC is not installed the same as laminate. Work with your local flooring suppliers and look to the Internet. A lot of flooring suppliers have good links to installation methods, but I'd start with national associations." —