Extending the comforts of home to the backyard or patio is hardly a new concept, but the trend is evolving from simple outdoor dining areas to more elaborate gazebos, welcoming firepits and al fresco kitchens complete with grilling islands.
While natural accents and greenery are always in style, hardscape products are coming into their own. The good news here is that those without a green thumb can still create a welcoming backyard oasis with products such as porcelain paving stones, attractive concrete retaining walls, and textured and woodgrain looks that mimic the finishes found inside the home.
Hardscape vendors have been noticing these trends develop over the last few years. "Unlike other product categories in home improvement, these take a little longer to flourish," said John Moroz, director of marketing at Expocrete Concrete Products in Edmonton, Alta. Founded in 1979, Expocrete designs and manufactures a wide selection of hardscape concrete paving stones, walkway slabs, retaining walls and garden accents.
"This year and for the past couple of summers, we've seen a move to larger slab-like pavers. People are trying to take that feel of a kitchen, for example, to their backyard."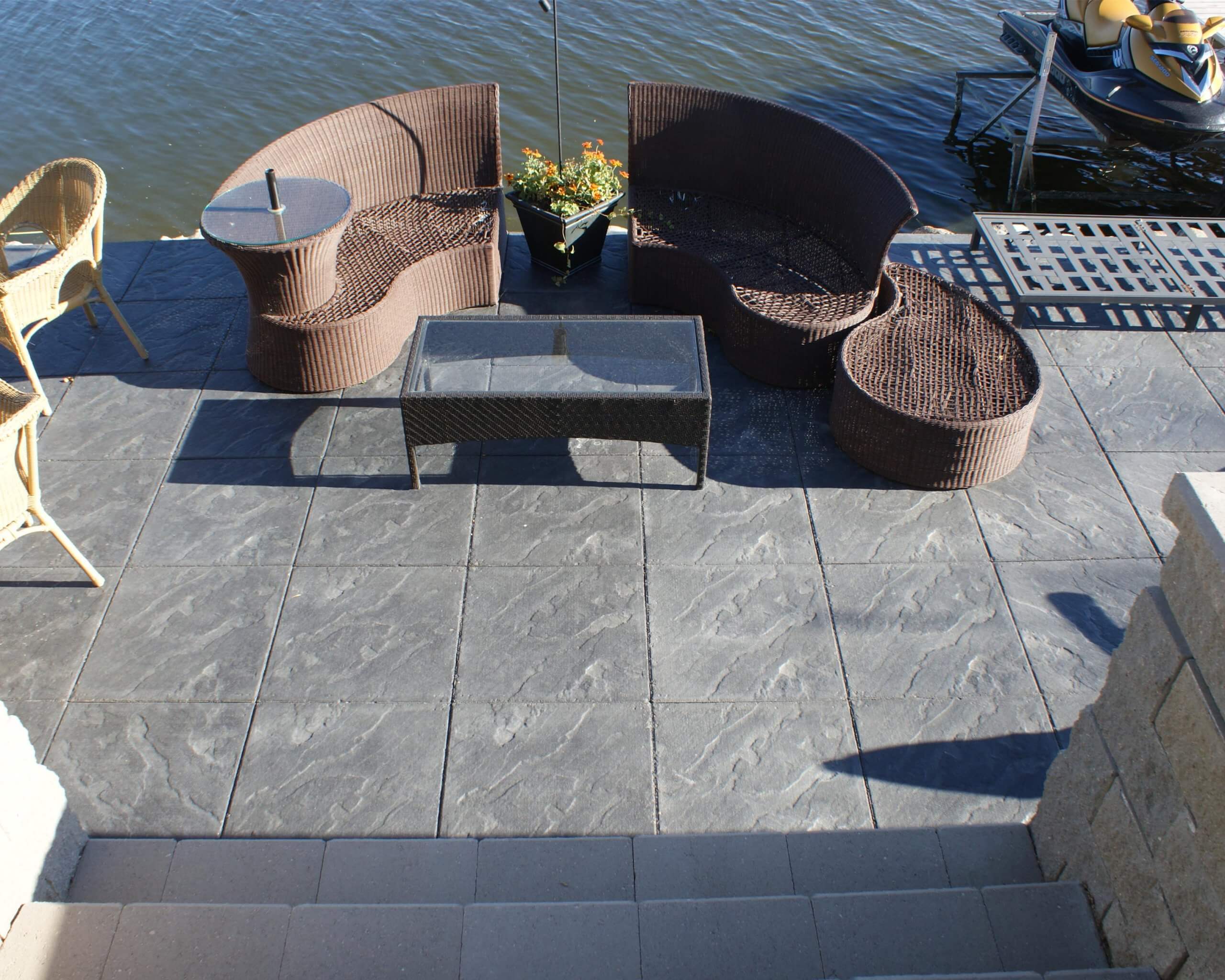 Photo courtesy of Cindercrete Products Ltd.
A richer colour palette is combining with those larger slabs, with paving stones and other hardscape features now available in rich greys and browns that are popular in Western Canada, while lighter whites and greys are more prominent in the East.
"That has to do with the natural aggregates that are in the Earth," explained Moroz. "In the West, we can never get to a really light white; versus out East, where the soil composition is different. They can go darker, but we'll never be able to go light."
The monochromatic look is popular and Moroz said black inlays and accent points are in demand, although "it's tough for us to get a true black when we're mixing our aggregates."
The trend toward larger-sized pavers has been noticed in Saskatchewan, too. Russ Lebell, director of sales for Regina-based Cindercrete Products Ltd., said.
Established in 1930, Cindercrete manufactures all the hardscape products it sells, from various sizes and shapes of concrete paving stones, small and large retaining wall systems, lawn edgers, firepit kits and a large selection of patio slabs.
"There does seem to be a bit of a trend to larger retaining wall systems as well as larger pavers and patio slabs," said Lebell. "We will be introducing a new larger paver and a large wall system later this summer."
Textures and Shapes
Cindercrete's customers are interested in textured products like woodgrain and plank-type styles, reported Lebell. He says many of these options will be included in the new product line releasing later this summer.
"Plank-style is interesting," agreed Moroz. "We've seen it with woodgrain pavers. Our Bonneville Plank Paver and Caribou Slab have wood grain textures with a rustic natural look in a concrete form. We're seeing the planks as a newer trend and we're seeing it in pockets. For us, our seasons are shorter, but we are seeing some adoption of the plank-style format."
He said homeowners who already have hardwood or laminate floors instantly recognize the plank pattern, so it helps them envision the finished look.
"Another new trend is porcelain pavers," he continued, adding that Expocrete imports these from Italy. "Imagine taking a porcelain tile you'd see in a kitchen or bathroom; you're seeing that now in the backyard." Moroz said some porcelain tiles have a slight texture or pebbling effect, with some even emulating granite. Others are smooth, but all are durable, even during long Edmonton winters.
"I have smooth (porcelain tiles) in my backyard," he said. "It's never been an issue shovelling during the winter. It's a durable surface but you do have to be careful on it."
Vertically-oriented
Hardscape accents aren't always found underfoot. Vertical retaining walls have long been popular backyard features, with roughened surfaces reigning supreme. Lately, though, Moroz said customers are gravitating toward flat, smooth surfaces.
"We started seeing snippets of this three years ago, so we're reducing our traditional split base stock and moving toward having more products available in the smooth lines." Hardscape accents represent a significant investment for homeowners, and Moroz said decisions are never made overnight. "People save up for it and it can take two to three years for a trend to mature."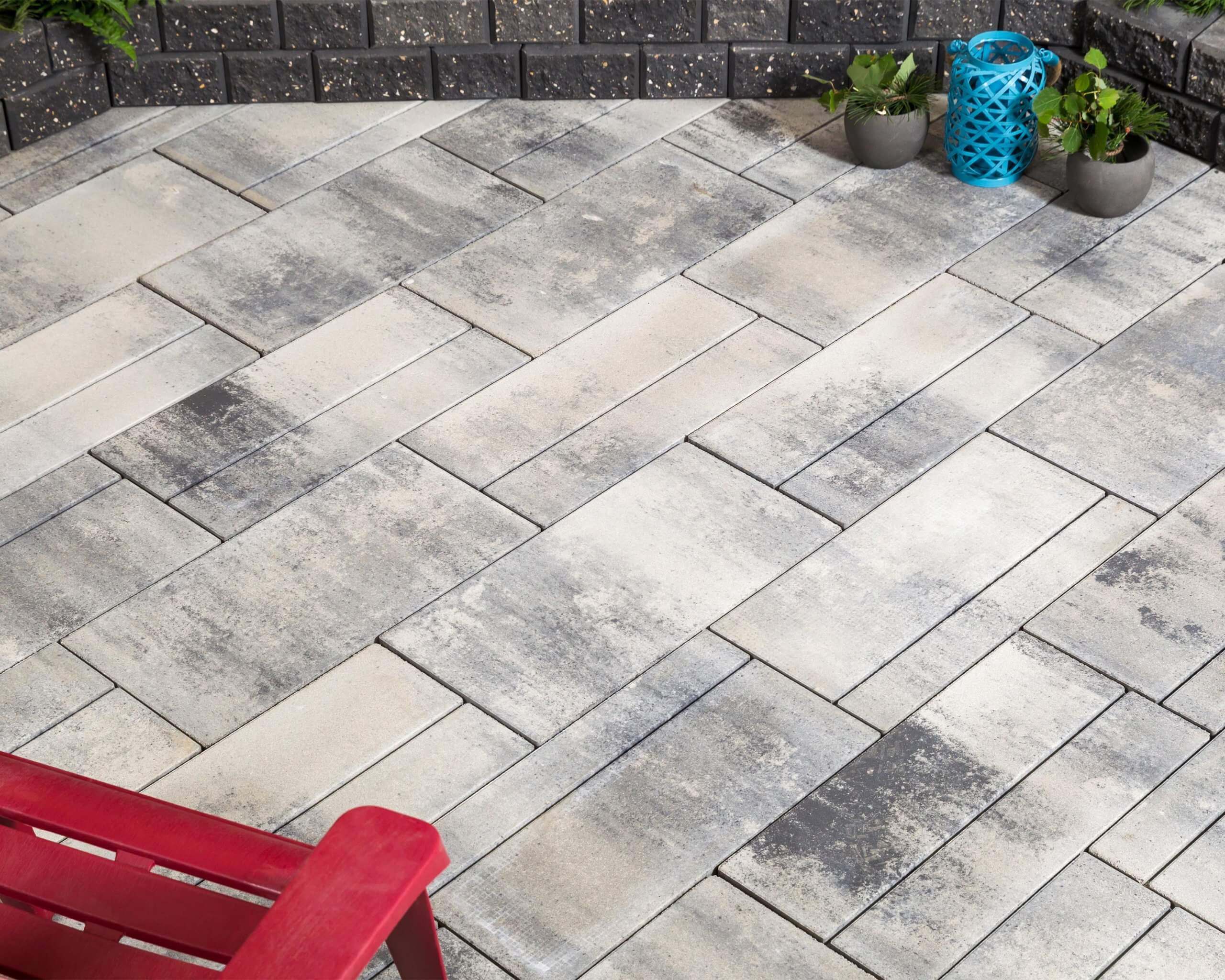 Photo courtesy of Expocrete Concrete Products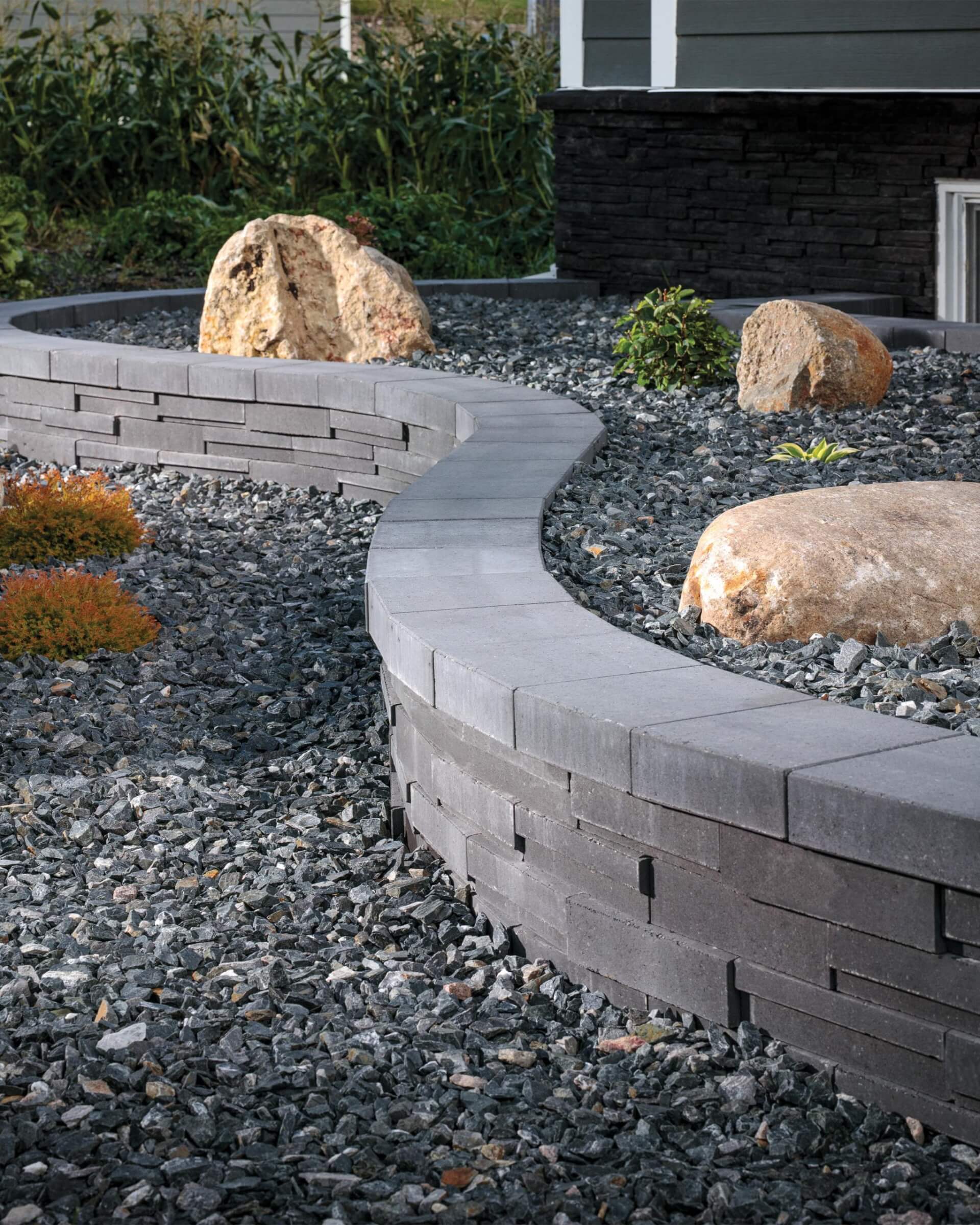 Photo courtesy of Erth Coverings
Stone is one trend that never seems to go out of style. Since 2002, Erth Coverings in Woodbridge, Ont., has been offering natural stone veneers for exterior and interior walls.
President Ivan Rapa said COVID-19 has had a tremendous impact on customers, who now want to create safe, private sanctuaries. Erth Coverings is a proponent of biophilic design, which connects occupants to the calming effects of nature through the use of natural home design materials.
Stone is an excellent example, offering impressive durability and versatility – not to mention choice. Erth Coverings products come in limestone, quartzite, marble and a wide variety of hues and textures.
Building the Base
Concrete landscape products have been available in North America for decades and are known for performance and durability at a reasonable price point.
"In most cases, concrete landscape products are the most economical landscape solution when compared to stone, tile, etc., and they are virtually maintenance free," said Cindercrete's Lebell. But he noted that contractors and DIY homeowners must always take the time to prepare a good foundation for their concrete hardscape project.
"Base preparation is the most important part. Because of our variable weather, most concrete products need to be installed on a properly prepared granular base material, which is critical to providing long-term performance."
While both concrete and porcelain are very low maintenance once installed, Expocrete's Moroz said the price point varies depending on the size and colour of the materials – and, like many products, you can choose the good, better or best options.
Also, while homeowners seem to be leaning towards the larger paving slabs, contractors are finding them harder to manipulate during installation, with some slabs as big as 24×48 inches. Since time is money for professional installers, it's worth investing in the right tools to get the job done correctly with a minimum of backbreaking labour.
"That's a really important point," noted Moroz. "The tools contractors use have really progressed over the last few years, whether it's a clamp made to lift up a heavy slab that can be attached to manual lift or a Bobcat.
"Also, dustless saws eliminate 90 per cent of the dust in the air, and that is so critical for the health of your employees and for efficiencies' sake. So if these tools extend the productivity of your team, that cannot be overlooked. The tools to make the job go quicker and easier cannot be understated." He said contractors who can help customers "see the picture" with tools like 3D rendering will stand out in a competitive market. "It's also critical to understand the products, demonstrate best practices and have a good foundation of knowledge on how they should be installed."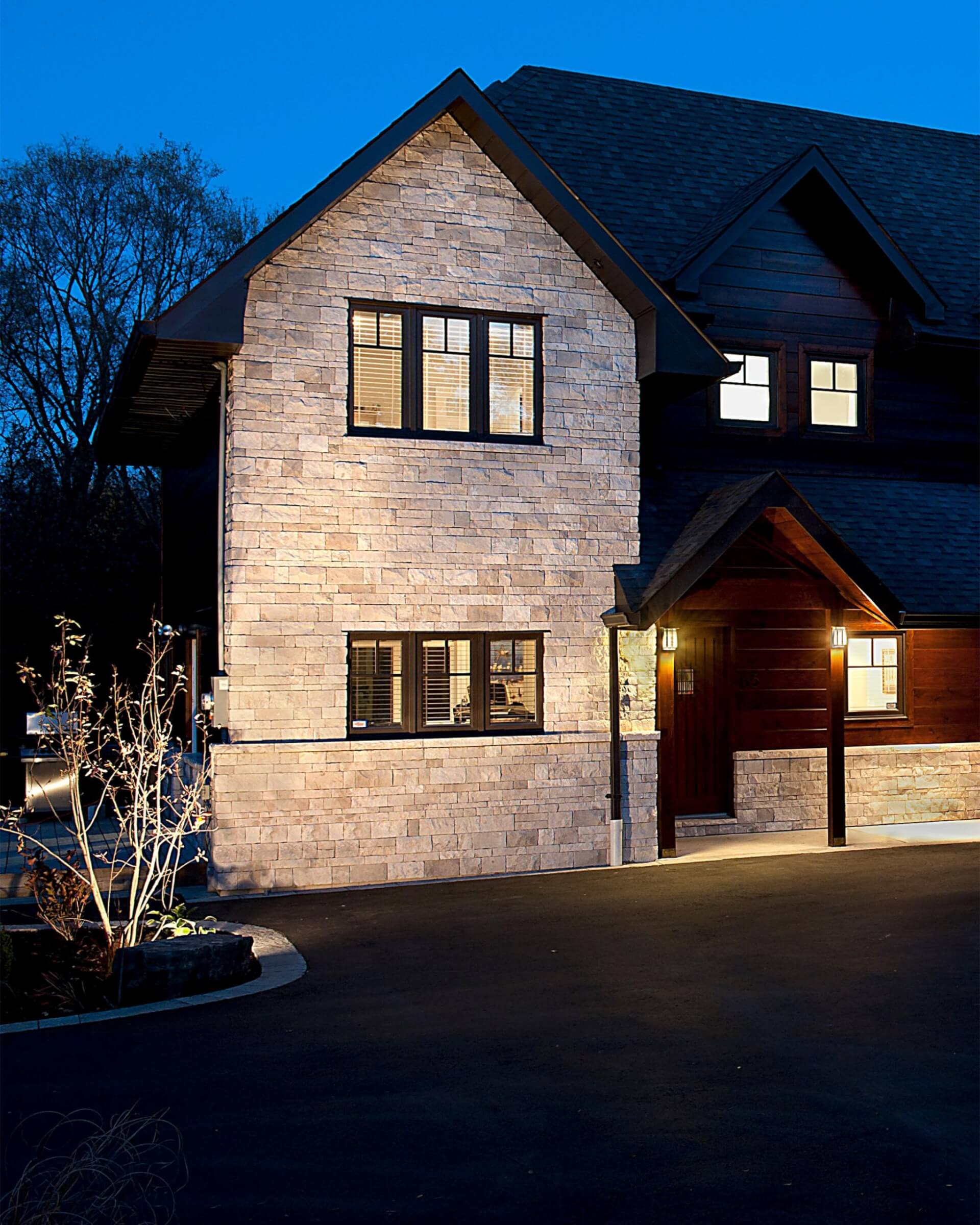 Photo courtesy of Erth Coverings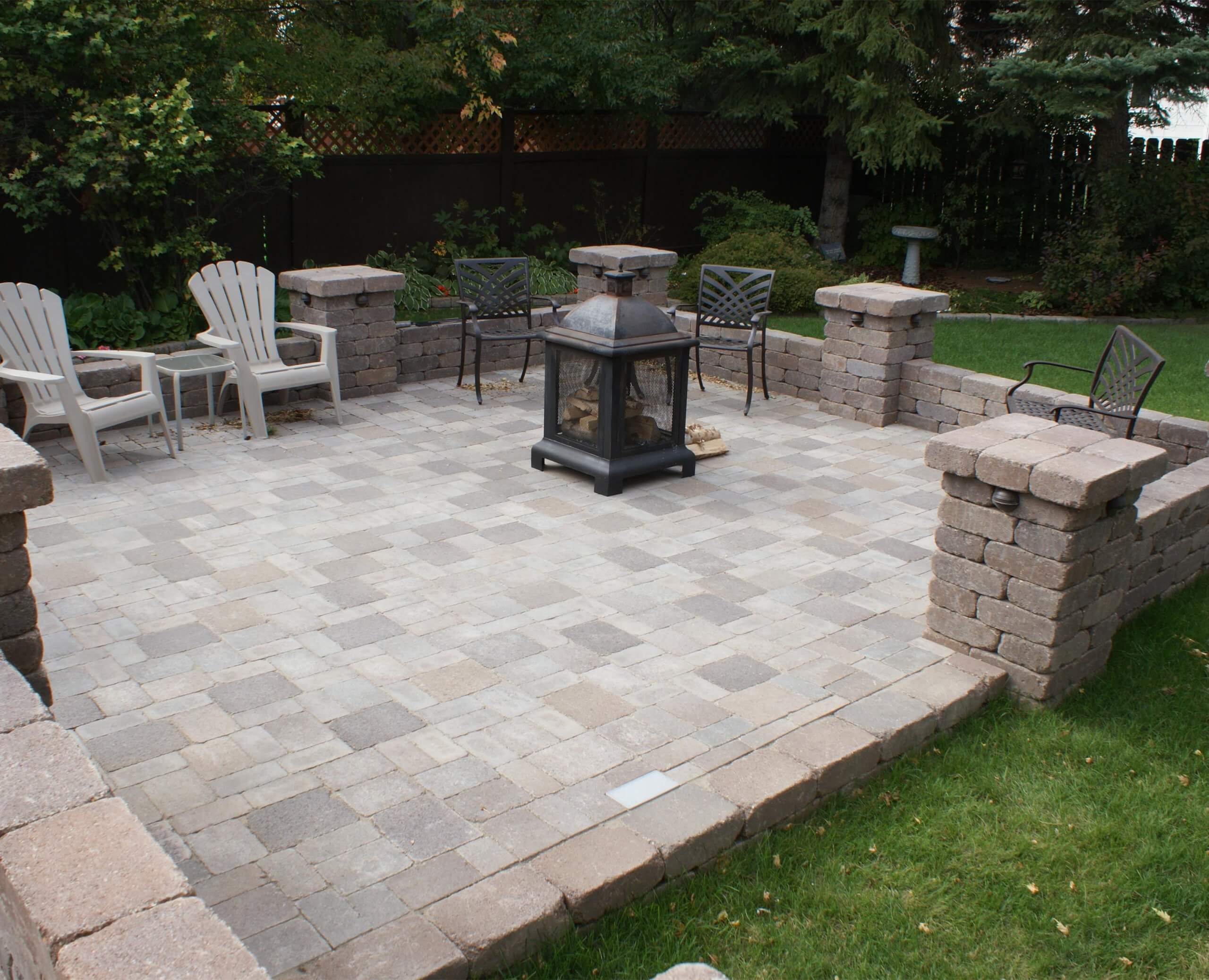 Photo courtesy of Cindercrete Products Ltd.
Once the COVID-19 pandemic is history, families and friends will start gathering together once again, and outdoor living spaces will help them make up for lost time by extending the summer season as long as possible.
"The ability for people to entertain and use that outdoor patio is really critical," noted Moroz. "Adding a grill island or pizza oven, for example, is an easy win for a contractor. Even something as simple as adding a fire pit – even with COVID-19, households still want to congregate. Those elements are less about the products than creating the experience.
"It's no different than a mattress company," he concluded. "They don't sell you on the springs and the foam, they sell you with the promise of the experience, the better night's sleep." —