With savvy homeowners demanding ever-healthier and higher-performing homes, innovations in gypsum drywall, tile backerboard and related products may be playing a larger part in your next home renovation job. While not always the first area that homeowners look to in home improvements, experienced contractors know that the bones of the house and what is covering them, play a major role in the abode's healthiness, durability and its owner's comfort. Fortunately, there has been a great deal of innovation and product improvement going on in the gypsum industry, according to Tom Prokop, Innovation & Product Marketing Manager for CertainTeed Gypsum at Saint-Gobain. His company, for example, has made several advancements in the realm of acoustics, air quality and durability.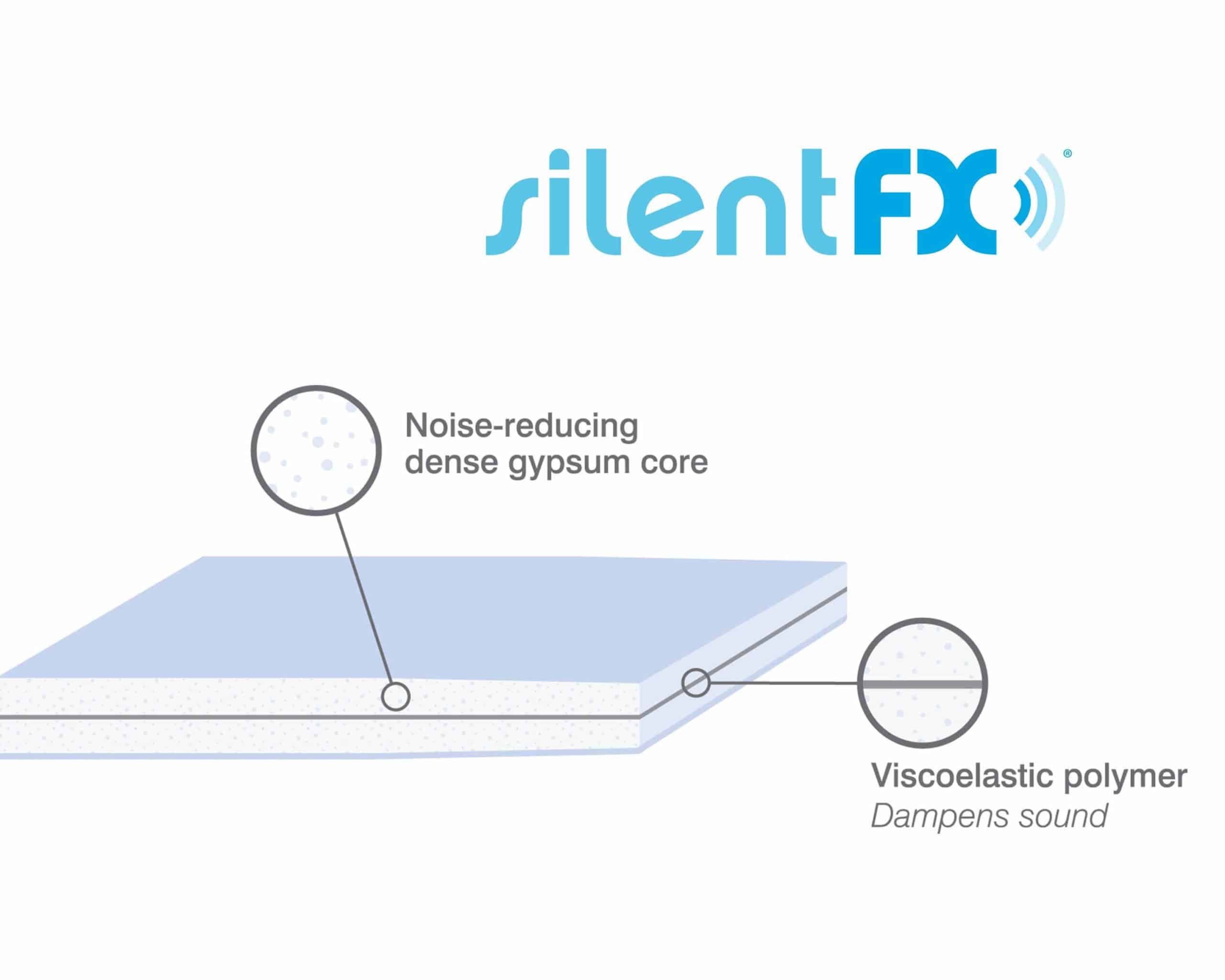 Photos courtesy of CertainTeed
Silence is Golden
As housing density increases and use of multi-dwelling units increase, sound is quickly becoming a precious commodity. Prokop notes that better acoustical performance is obviously an area of greater importance to second-time home buyers or renovators who can draw on past noisy experiences with neighbours (and family.)
In addition, though, changes in the building code are destined to make acoustic performance a more front-and-centre issue. Traditionally, pro-ducts like drywall had their acoustical performance measured in STC (Sound Transmission Class); however, the National Building Code of Canada 2015 sets measurement based on ASTC (Apparent Sound Transmission Class). This incorporates the sound travelling through the product, just as STC did, but also the sound travelling around it, diagonally though it or through cut-out elements such as an outlet box. In a bid to help contractors better meet these increasing requirements, CertainTeed launched SilentFX QuickCut Gypsum Board. This noise-reducing gypsum board is specifically designed to reduce airborne sound transmission between two adjoining spaces when used in wall or floor-ceiling assemblies. It uses a viscoelastic polymer that dampens sound energy between two specially formulated dense gypsum cores. The company says the result is a combination that significantly improves sound attenuation and is ideal for systems requiring high performance with fewer layers of gypsum. In addition to providing acoustic performance, the company says the board is engineered to score and snap for faster installation. It finishes like standard gypsum.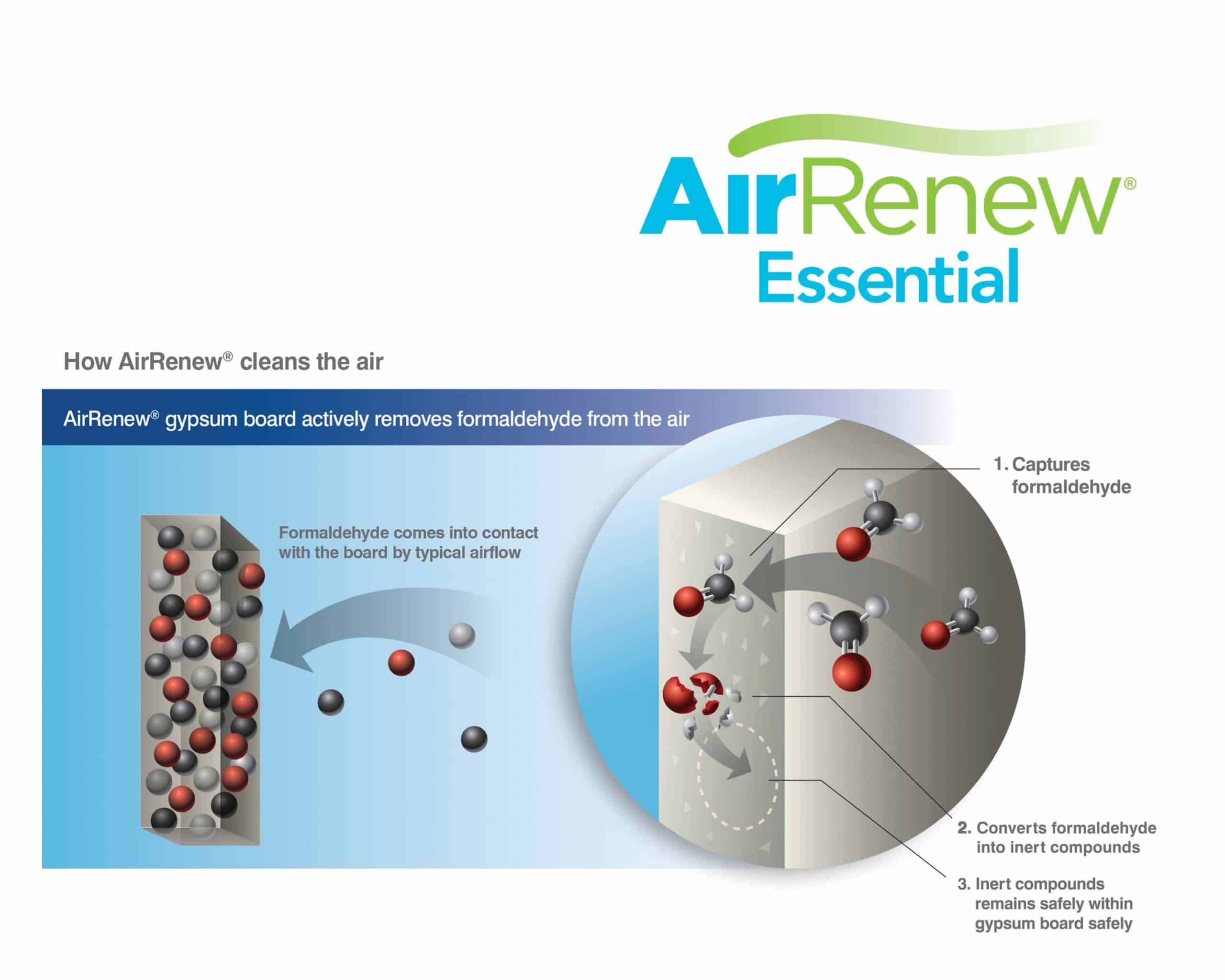 Photos courtesy of CertainTeed
A Breath of Fresh Air
From mold to air-quality and beyond, home health has become an occupation with HGTV and Internet-wise householders. Contractors aren't limited to selecting the right paints, primers and low-VOC (volatile organic compounds) flooring options to meet this growing need. CertainTeed's AirRenew Essential Gypsum Board, for example, isn't just a low-VOC option but works to suck toxins from the air. Using a patented technology, the board draws formaldehyde and VOCs out of the air and converts them into safe inert compounds, even after being finished or painted with water-based acrylics, water-based textures or breathable wallpaper and using conventional application techniques. It handles like standard gypsum board, is non-harmful to humans and animals and can be recycled or brought to landfill just like any board in geographies where permitted.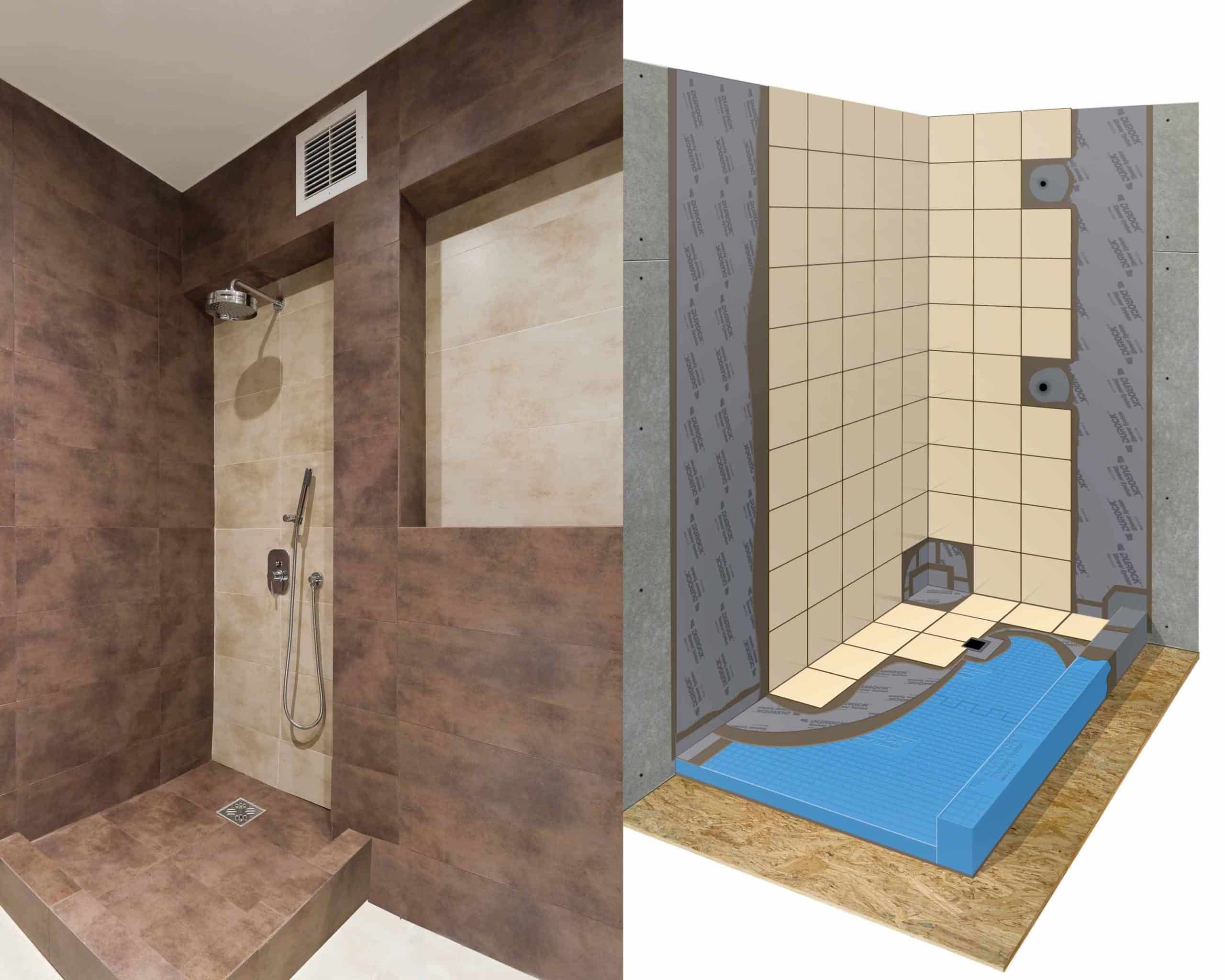 Photo courtesy of CGC Inc.
Rocking Moisture Protection
Reducing water damage and mold are top of mind with today's homeowners. Recognizing that, gypsum manufacturer and distributor CGC Inc. recently expanded on its solutions with the launch of its Durock Shower System in Canada.
This fully-bonded waterproofing system includes an innovative waterproofing membrane that can be applied to existing tile backerboard. While part of the Durock shower system, its ideal for floors, walls or countertops, anywhere that water is an issue, notes Brian Milbury, Product Manager at CGC.
"Anywhere moisture is a concern," he says. "A few years ago, actually, CBC did a big show on residential mold and concerns around it and I think it raised more awareness. Also, people are savvier today and they go on the Internet and they look at what is important and what they should be concerned about."
To that end, the membrane can give contractors working on bathroom renovations, and their homeowner clients, peace of mind. It features an oriented HDPE (High-density polyethylene), cross-laminated core that gives it strength and tear resistance at a thinner mil thickness (12 mil, or 0.012"). This makes it more pliable and easier to use, with less build-up at seams, according to the company.
"It exceeds Canadian Code permeability requirements by 15 times, but it's only 12 mil thick, so we have one membrane that can be used for all applications, whether it's showers and wet areas or continuous-use residential or commercial steam showers." If a full replacement is in order, which Milbury says occurs on average every seven years, the Durock shower system also features a drain assembly, high-density pre-sloped shower tray. It can be purchased as a kit or separately. As an alternative to gypsum backerboards, CGC's Durock Ultralight Foam Tile Backerboard combines traditional backerboard and waterproofing into one product for reduced labour, is lightweight, waterproof and vapor retardant. It uses a solid high-density extruded foam with a closed cell to maintain impermeability even in the case of a cut membrane unlike hollow-core options, Milbury notes.
CertainTeed's offering for interior wet areas such as bathrooms, laundries, utility rooms and kitchens is its Diamonback Tile Backer. This high-performance gypsum board uses proprietary Embedded Glass Reinforced Gypsum (EGRG) technology. The company says tile can be applied without the use of sealants, skim adhesive coats or waterproofing membranes and is suitable for countertops, residential and light commercial flooring. The board scores and snaps like standard gypsum, is mold resistant, 50% lighter than cement backer boards and 20% lighter than other gypsum backerboards. Whether it's quieter, healthier (or drier, mold-free) living, thanks to the range of new products and ongoing research and development, gypsum manufactures have homeowner demands (and walls) covered.