Gypsum may not get the attention of many other building products, but manufacturers are always looking for ways to evolve their boards and related products.
While not always the top focus of homeowners during a reno or new build, builders and contractors know the crucial role gypsum plays, and manufacturers continue to innovate with an eye on safety, convenience and performance.
"The big thing, especially from our company because it's one of our core values, is safety," says Kevin Baker, product manager for wall board at CGC Inc. It is with safety in mind, he says, that CGC has been developing new and improved lightweight products for its portfolio, as well as its focus on fire-resistance and sound attenuation.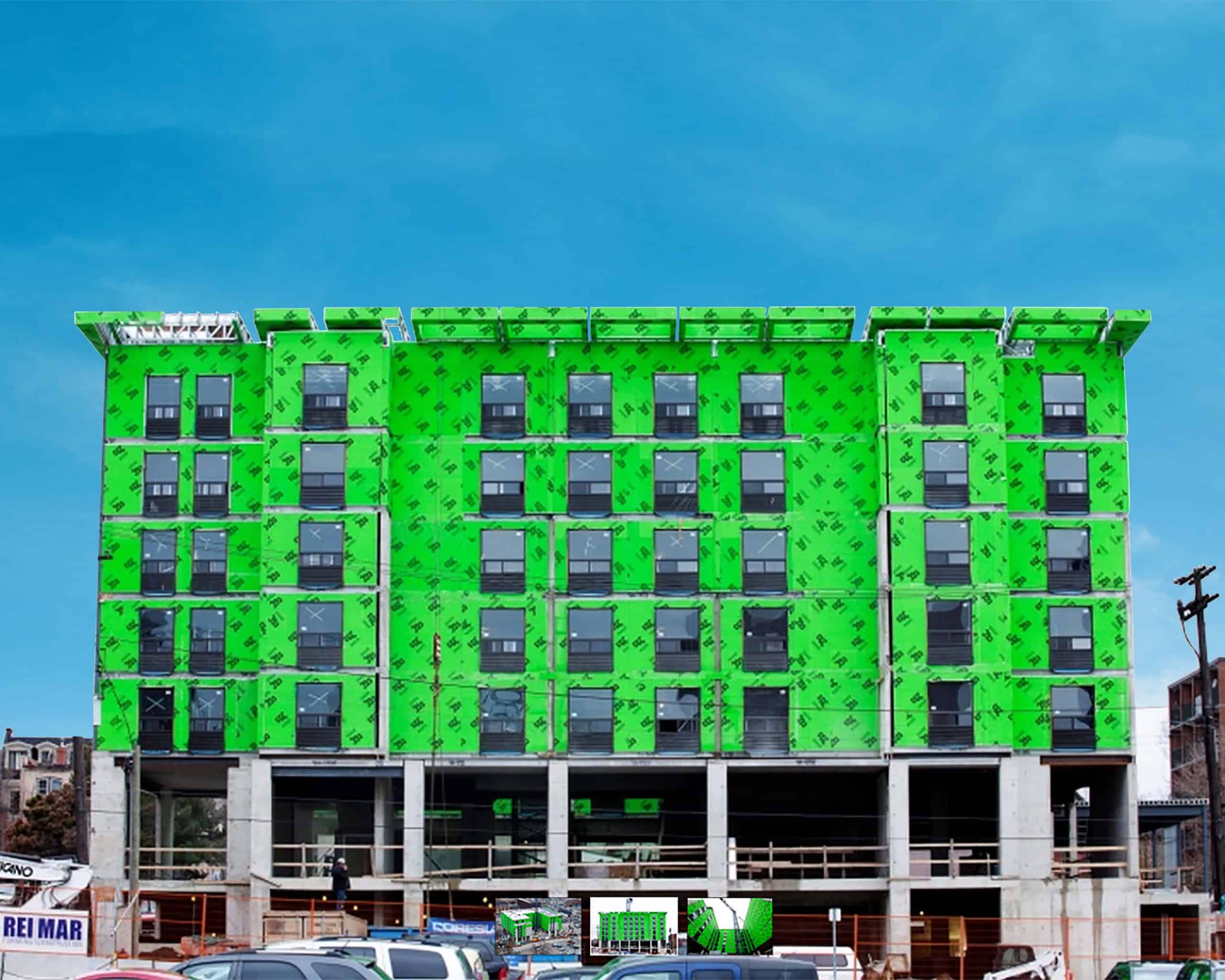 Photo courtesy of CGC Inc.
"The benefits are for a contractor carrying, lifting and installing (panels) all day. They have reduced weight but still achieve high performance, so it's easier on them."
HEAVY FOCUS ON LIGHT WEIGHT
Baker points to three recent products under the Sheetrock brand that demonstrate the company's lightweight developments: its ½"UltraLight panels; ½" Ultralight Mold Tough panels; and, 5/8″ UltraLight Firecode X panels.
The company's Sheetrock Brand UltraLight Panels can be used for interior wall and ceiling applications. The ½" (12.7 mm) gypsum panels are re-engineered to be lightweight using a patented, composite design to make them easier to lift, carry and install for quick installation and decoration.
Sheetrock Brand UltraLight Panels Mold Tough are similarly lightweight ½" panels with a high strength-to-weight ratio composite design. They feature a noncombustible, moisture-resistant core that is encased in 100% recycled moisture and mold-resistant green face and brown back papers. They meet ASTM standards for ½" water-resistant gypsum wallboard and ½" exterior gypsum soffit board.
Sheetrock Brand UltraLight Panels Firecode X is formulated to achieve all of the strength and performance characteristics as standard 5/8″ (15.9 mm) gypsum panels, but at a significantly reduced weight. The panels have a re-engineered core encased in 100% recycled face and back papers that form a high strength-to-weight ratio composite design. It's intended for commercial or residential applications where 5/8″ Type X panels are required.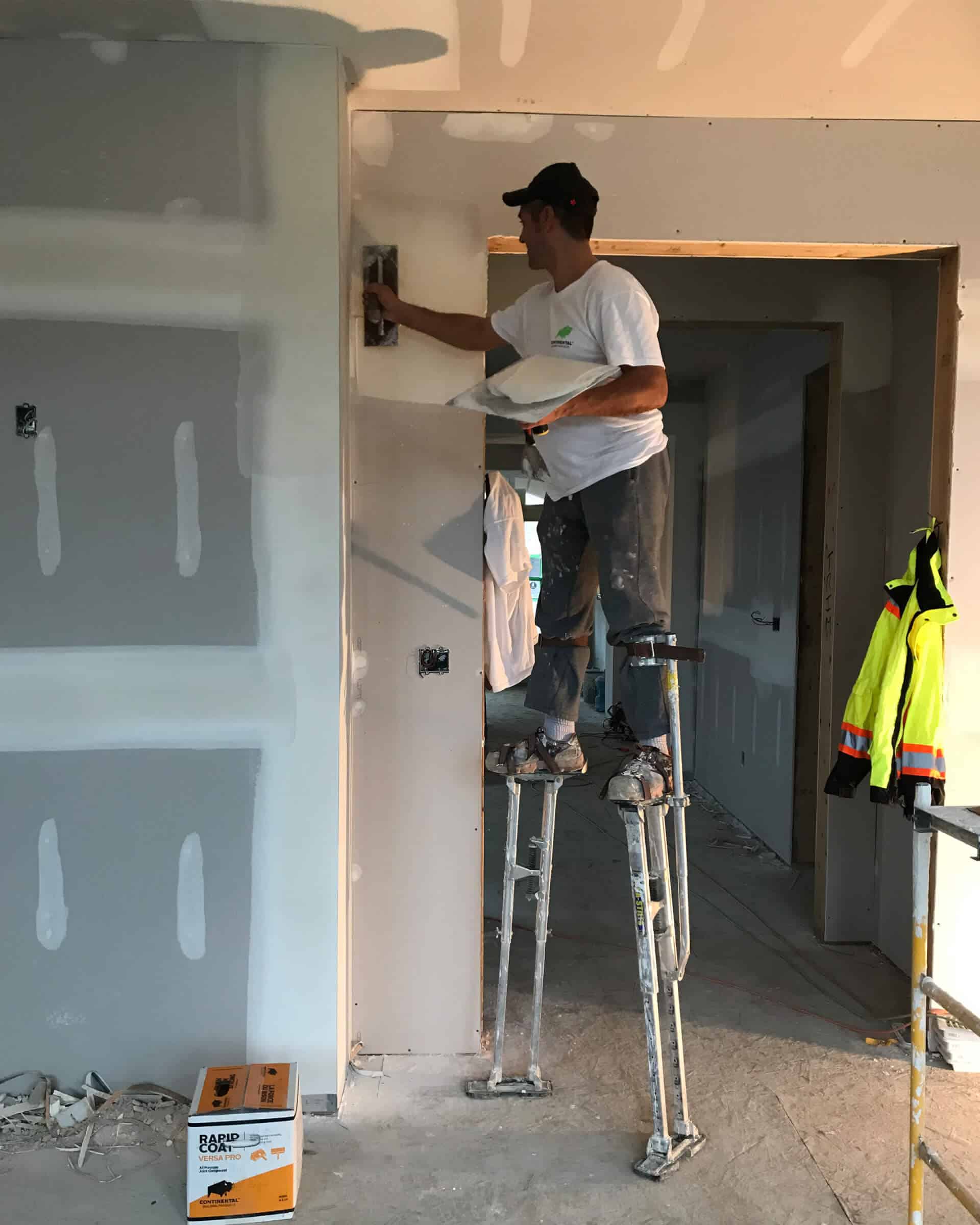 Photo courtesy of Continental Building Products
FINISHED BEFORE YOU START
Some custom homes and commercial applications need a high-end finish. To ensure a top-grade finish and, again, make life easier, Mahadeo says his company has developed the Rapid Deco Level 5 System. Using the company's skim-coated Bison Board drywall and complementary joint compound, the system can produce consistently smooth walls and ceilings.
Typically, Level 5 finish, which creates the most uniformity on the wall surface, requires a final skim-coat phase (which includes sanding) to minimize the appearance of joints, fasteners and any inconsistences. By skipping the skim-coat phase, he says, the system achieves a Level 5 finish, but at the same speed and ease as Level 4.
The Rapid Deco Level 5 System also requires fewer materials and supplies to reach that top aesthetic, takes less time on the job, and doesn't require the highly skilled labour for hand- or spray-applying the skim coat.
It is available in five types to address specific needs. Rapid Deco Level 5, general purpose skim-coated drywall; Rapid Deco Level 5 with Mold Defense, which is specially formulated to inhibit mold and mildew growth; Rapid Deco Level 5 Type X, for maximum fire protection; Rapid Deco Level 5 with Mold Defense Type X, engineered for fire-, mold- and mildew-resistance; and, Rapid Deco Level 5 Type X with Mold Defense and Protecta Abuse Resistance, to resist fire, abuse, mold and mildew.
SILENCE IS GOLDEN
Controlling sound transfer between rooms and units is becoming ever more important, experts attest. And with that, has come innovation around controlling the acoustical properties of gypsum.
"As families become smaller and consumer finances change, there's been an increase in multifamily dwellings, such as condos and townhomes. More often, people live and work in closer quarters, so protecting inside rooms from ambient noise is increasingly important," says Brent Bélanger, architectural services manager at CertainTeed. "In addition, acoustical requirements for buildings have become stricter in recent years, particularly in hotels, restaurants, hospitals, schools and other public facilities."
To meet this demand, CertainTeed has developed its SilentFX QuickCut drywall, a high-performing, sound-dampening gypsum board that is composed of two layers of ultra-dense drywall and a visoelastic polymer centre to greatly reduce sound transfer.
"Its composition helps reduce the layers of board required to achieve a high STC (sound transmission class) rating, and its design makes it score and snap easily, reducing labour and construction time," Bélanger says.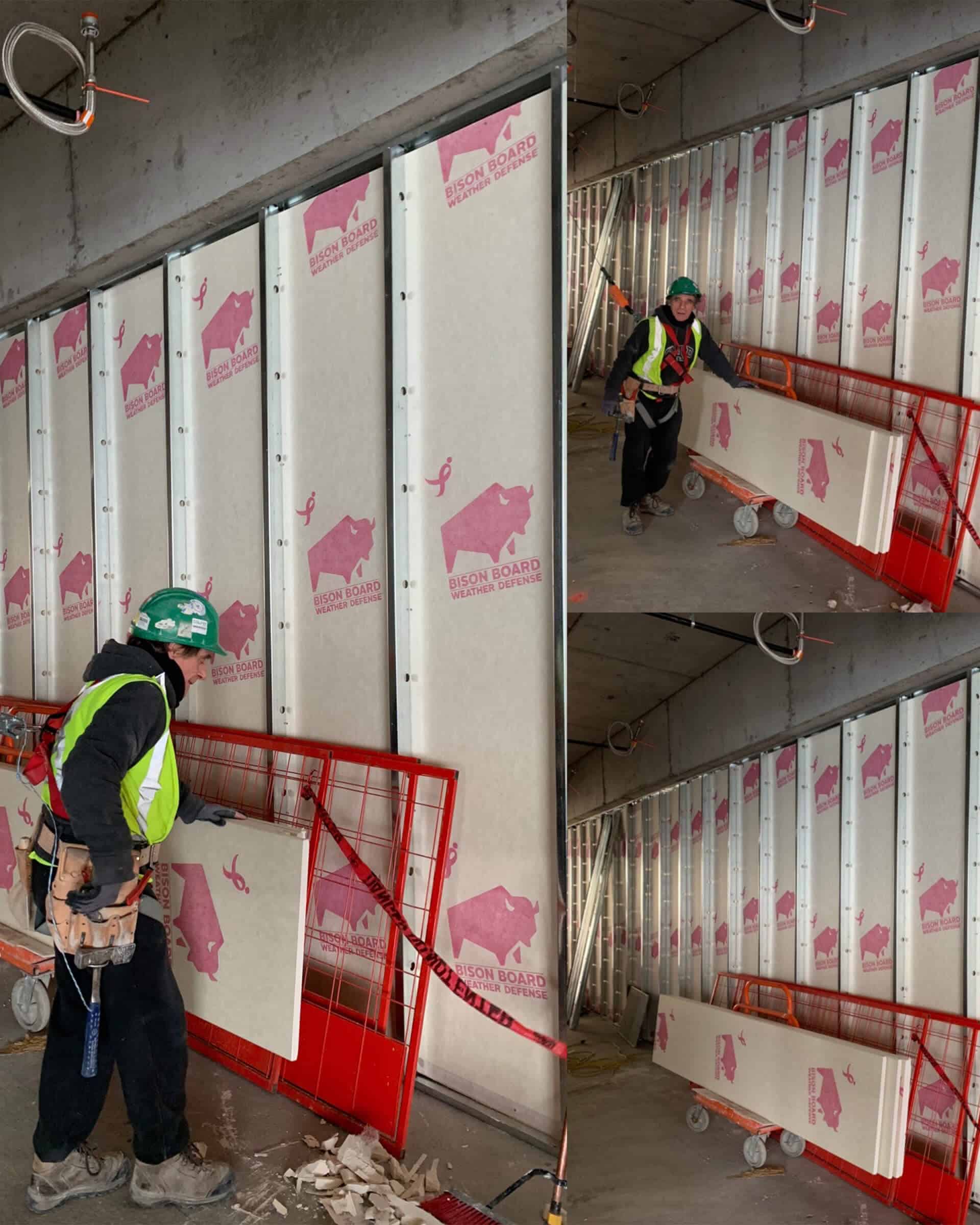 Photo courtesy of CertainTeed
OUTSIDE IMPROVEMENTS
Nisha Brown, director of marketing at Georgia-Pacific Building Products, says her company has been innovating around its exterior gypsum board, especially for commercial, light commercial and multi-family dwellings.
The company's DensElement Barrier System integrates three products, and their installation steps, into one. It uses technology dubbed AquaKor to transform gypsum sheathing into a water-resistant barrier and air barrier by integrating a fibreglass matt and gypsum core into a single surface that blocks bulk water but allows vapor to pass through.
"It's no secret that there is a major skilled labour shortage and everyone is feeling it. A lot of what was going through our minds a few years back was, 'How do we make things easier? How do we help people skip certain steps? Can we handle (this step) essentially within the factory?'," she says. The result was the DensElement Barrier System, which she says provides the efficiency to get the job done faster and easier.
"I'd like to say it's a smarter sheathing. It does more work than traditional sheathing does, because it has the water-resistant barrier and air quality (attributes) integrated within that board." Brown notes the company has also taken its approach of integrating water and air barriers into its OSB panels.
"On a high level we're talking about resiliency and part of that is the reduction of waste and these integrated approaches serve just that. When you have multiple products and one going on top (of the other), not only do you have more materials, but you have more waste on the job site." She says integrating products reduces materials and allows for fewer workers on the job site given one can handle multiple applications.
"Products like DensElement Barrier System gets the wall built faster and dry-in quicker and gets heads in beds faster."
WASTE NOT, ESPECIALLY TIME
Waste of materials and time is, of course, a top-of-mind issue as we enter a new decade with new challenges. At the same time, contractors can't compromise on quality work.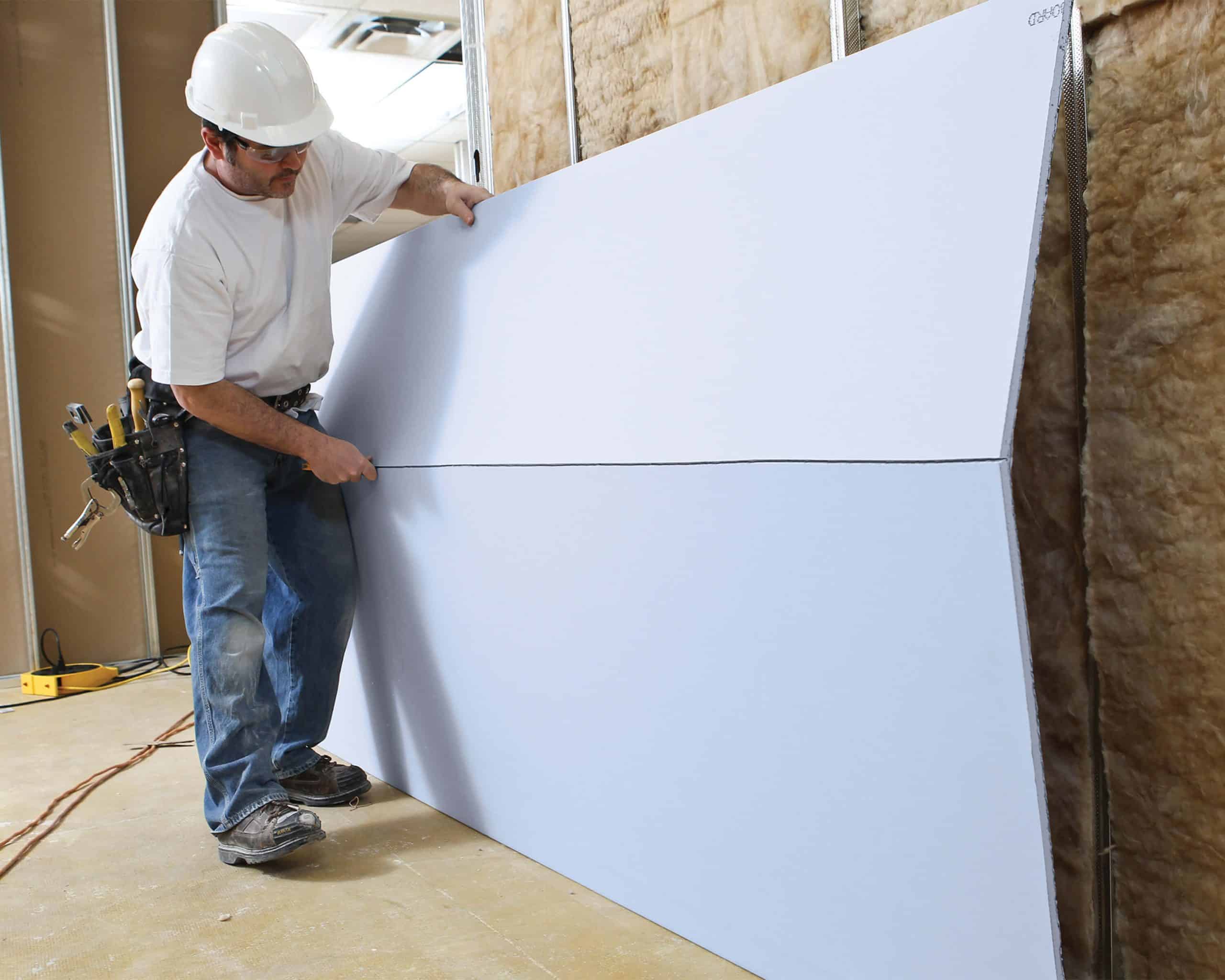 Photo courtesy of Georgia-Pacific Building Products
"Construction waste in the form of both time and materials is a major challenge facing contractors, which is compounded by the fact that contractors will likely continue to face labour shortages in 2020," Bélanger says.
One way that he suggests CertainTeed helps to tackle the challenge of labour and time is by handling one of the trickier aspects of drywall installation: corners. It's NO-COAT Structural Laminate (SLAM) drywall corners have a tapered, high-strength, copolymer core that requires less mud, resists impact and eliminates rust. It also comes with built-in joint tape for better adhesion and formulated surface paper to prevent cracking, chipping and blistering. The company's NO-COAT PRO automated corner system improves speed and efficiency for the application of drywall corners.
"From the side of contractors, gypsum installers face the same labour shortages and shorter project timelines impacting many of the building trades," Bélanger says. "They want products that can be installed quickly, reliably and with fewer hands in order to ensure project quality and reduce potential call backs." —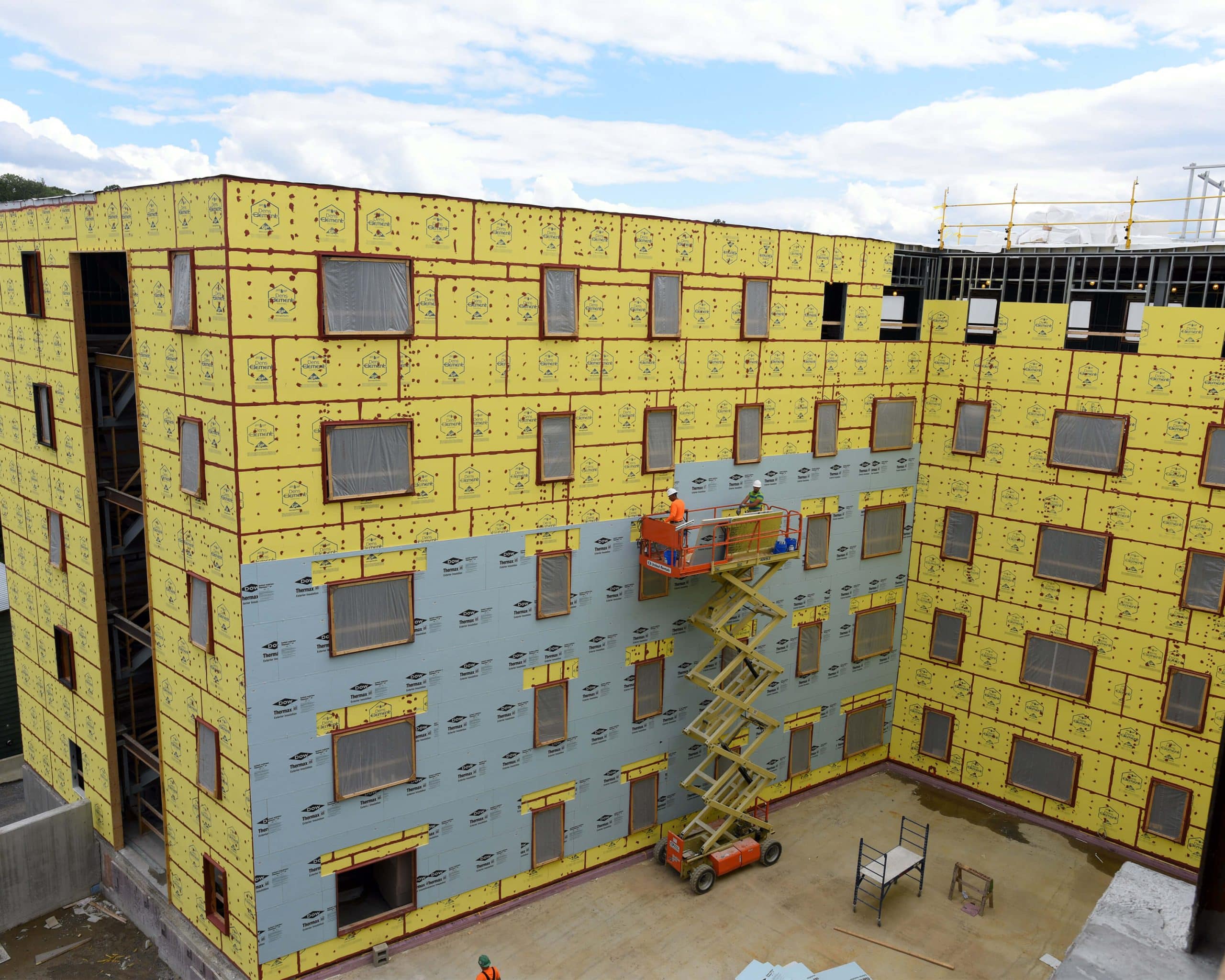 Photo courtesy of CertainTeed