While garage door selections may have been an after-thought in the past, today's options propel homeowners to think twice about the type of curb appeal they want to create for their home.
For starters, when considering the aesthetics of a garage door, consumers nowadays have an abundance of choice. "There are about 12 standard colours now, and 15 different designs," explains Mark Rennison, sales manager-distribution of Stewart Overhead Door. "The garage door is becoming more of a showpiece." This in part is due to architectural changes of homes. Daryl Laprade, director of sales and business development at Creative Door ServicesTM explains that, "in the past, garage doors were placed in the alley, but now they are a large percentage of the frontage of a home."
With so much emphasis being placed on the garage door, it's no wonder that designs are being incorporated into the overall aesthetic of the home. "There is a growing trend for custom colour which we offer as well," says Rennison, "so we often will match the garage door to the front door." As such, garage doors are taking on aesthetic trends often found on the front door of a home. Laprade confirms this, as he states that "one of the most popular designs for residential garage doors is a steel door that looks like wood grain, similar to the wood grain design found on fibre-glass front doors."
Furthermore, homeowners are stepping it up a notch and selecting unique window design placement and materials for their doors. Laprade agrees, "windows are being placed vertically instead of at the top of the door.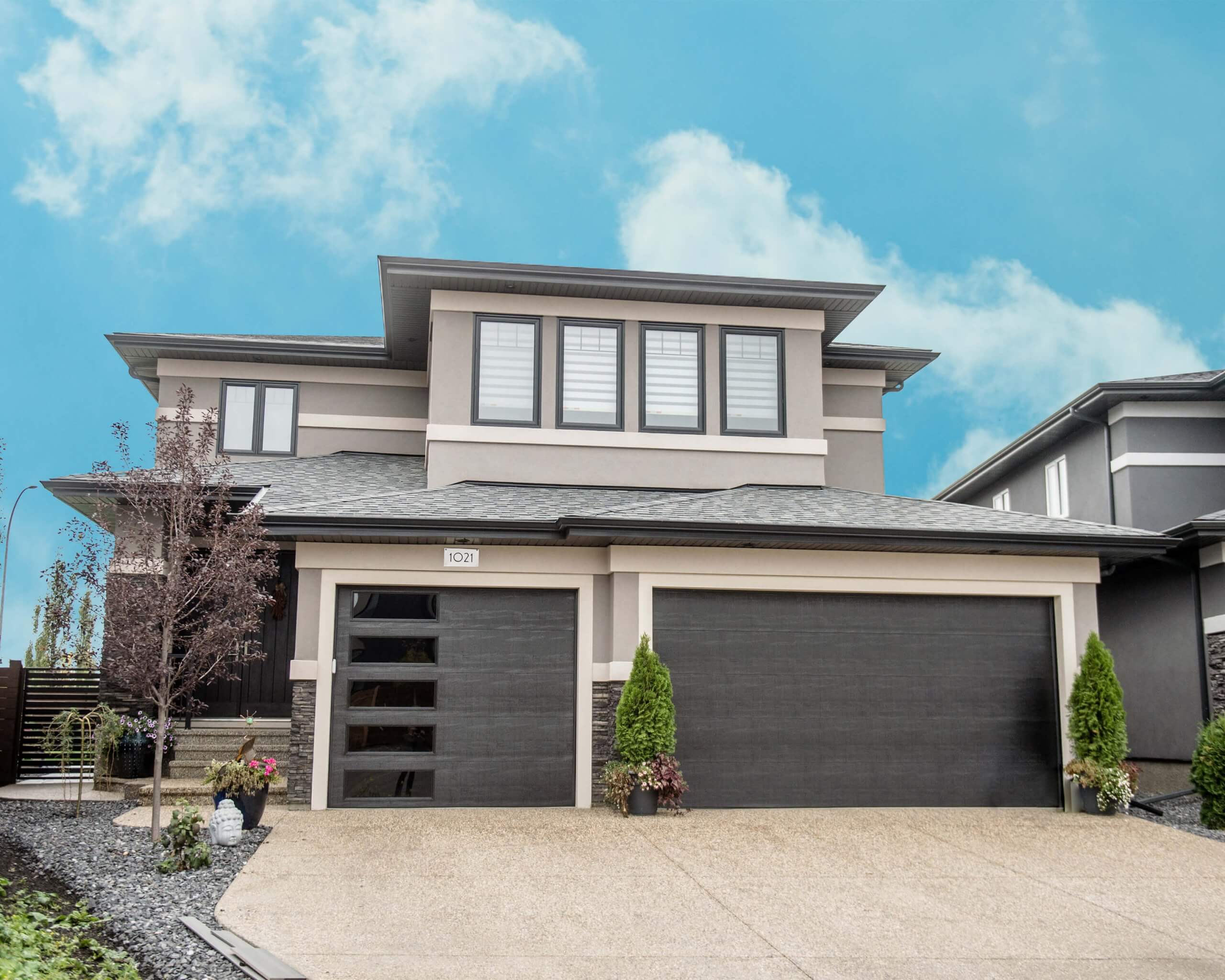 Photo courtesy of Steel-Craft Door Products Ltd
Furthermore, we are often seeing different finishes on the glass such as that of a brushed look." As for the materials used for the doors, Travis Reynolds, national marketing manager of Steel-Craft Door Products Ltd., discusses a unique option on the rise: "one trend gaining in popularity is that of glass doors being used in a residential application." While glass doors have traditionally been reserved for commercial applications such as car washes, homeowners are beginning to enjoy this trend with options such as smoked glass, as well as a mirrored look.
With all of these aesthetic changes, one must consider the hardware changes required as well. As Reynolds explains, "a garage door is a big footprint in your home, so there should be a lot of thought that goes into it. While aesthetics should of course be considered, it's what's inside that counts; in other words, one must consider all the moving parts of the door and ensure that they are made well. At Steel-Craft Door Products Ltd. we believe that a garage door needs to be engineered all together, and that's what we do – we manufacture them all together, in house, with Canadian steel and Canadian products."
When considering the makeup of the door, it is important to look at the R-value which determines the insulation of the door. Doors with a higher R-value will offer more insulation, which is something that not only helps the wallet but also the environment. As Laprade explains, "homeowners nowadays are really focusing on energy consumption. The garage door is the largest moving appliance in one's home. With a traditional opening of 16 feet wide, there is a lot of air moving in and out and it can be difficult to get that air recovery; hence why we try to match the insulation of the door to the environment of the home. For instance, if our clients tell us their garage is heated, then we want to keep as much of that heat in as possible and so we will recommend a higher R-value door."
While these aspects are important to homeowners, they are equally, if not more, important to business owners who need to be respectful of energy efficiency as required by code. Aside from the insulation of the door, commercial applications often request high performance doors which move quickly, thus also reducing air recovery.
Another aspect to consider when looking at energy efficiency is the electrical operator system used for a door. As Laprade explains, "today's newer operators are using DC power instead of AC power.  DC power now draws power immediately like AC, instead its a gradual build up.  Basically, it's a soft start and a soft finish, so it slowly builds up to open and slows downs when it closes, which equates to less wear and tear on the hardware. The next level of innovation will be direct drive operators that eliminate the need for springs thereby reducing the maintenance required for a door. This already exists in the commercial space and will soon be available in the residential market. According to Rennison, "one DC power opener that's on the rise is the jackshaft opener – it runs quieter, uses less electricity and cleans up the look." The "clean" look is due to the machine being mounted to either the left or right side of the garage door opener instead of the traditional overhead position with a track and rail system.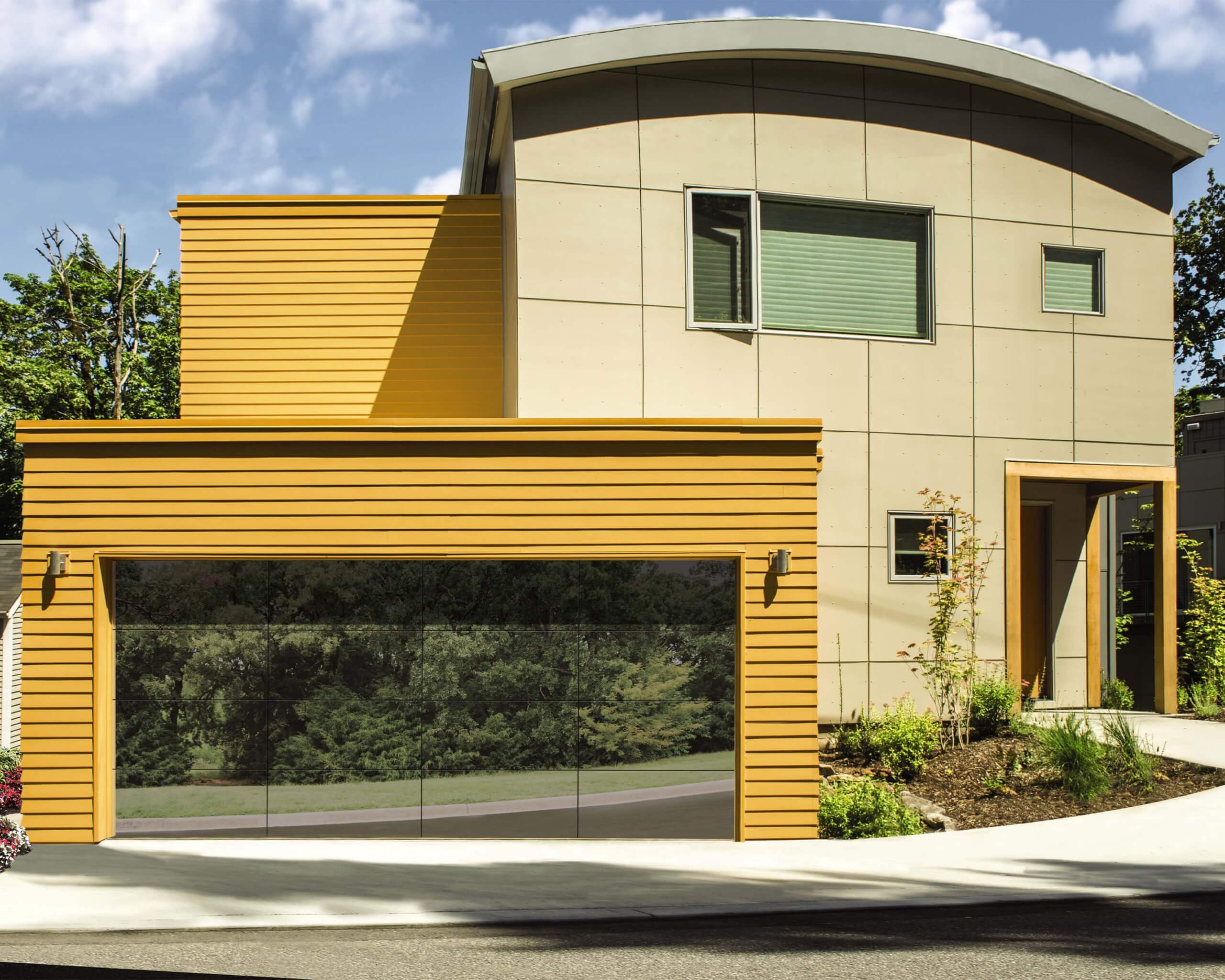 Photo courtesy of Creative Door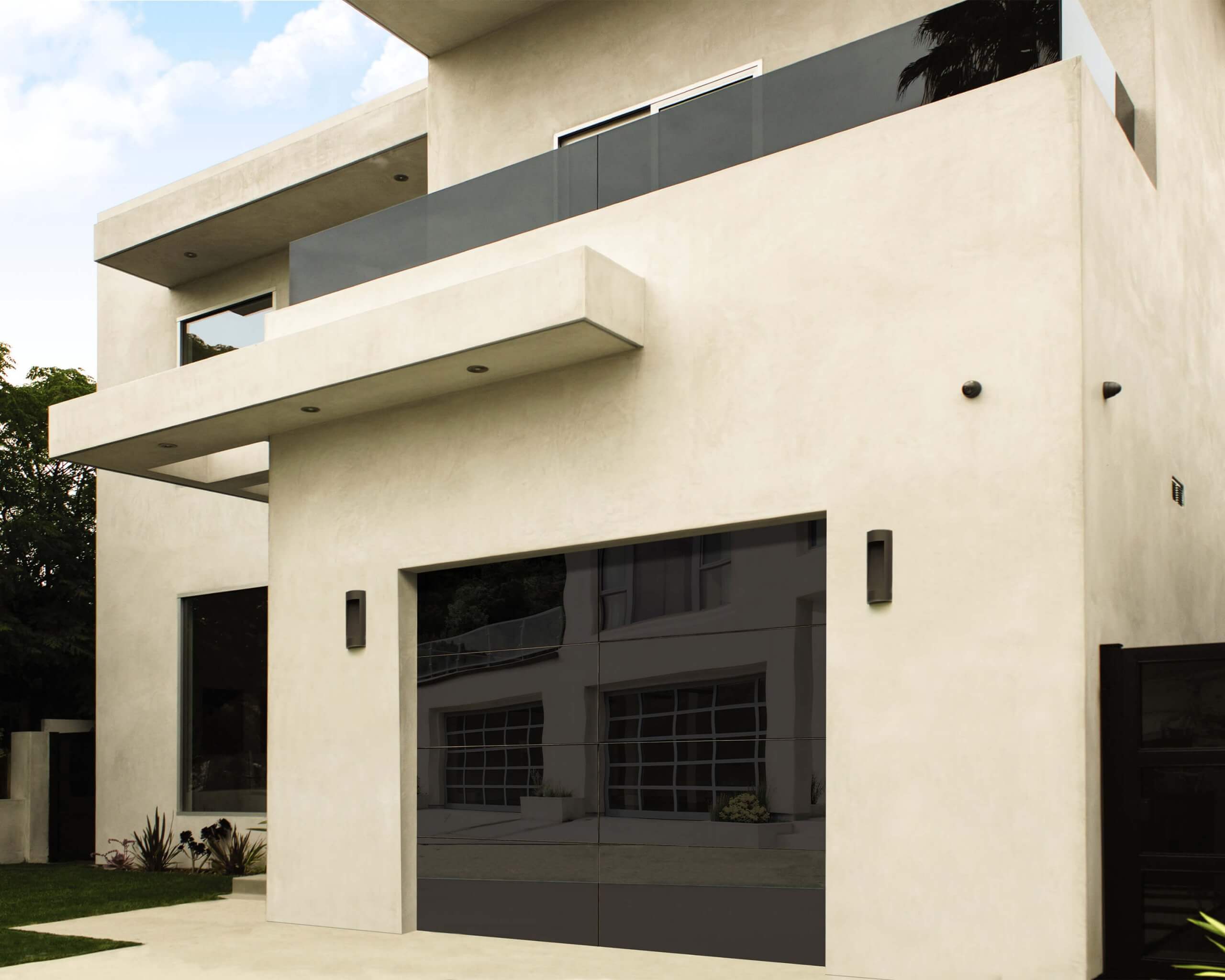 Photo courtesy of Creative Door
Some other interesting trends regarding operators include the integration of digital innovations, "the next wave is all about connectivity," Laprade says. With the rise of online shopping, companies must address issues such as theft and weather conditions. Therefore, brands such as LiftMaster's myQ and Aladdin Connect by Genie are offering software compatible for smart phones, that allow for consumers to control their garage door from the palm of their hand regardless of where they are. Depending upon the type of opener chosen, consumers can have access to options such as audio and video to see and hear what is going on in their garage, real-time alerts when their garage door is being opened or closed, and temporary access codes for friends, family or service workers.
Similarly, Rennison explains another digital innovation that is specifically helping businesses with preventative maintenance of their doors: "the new openers are able to record how many cycles the door goes through, so how many times the door goes up and down. They then send reports to the overhead business or to the owner, so that they can track when its time to do maintenance. This is cost efficient, as you don't have to wait until something goes wrong, which can often lead to larger maintenance costs."
When it comes to garage doors in 2020, there are many bells and whistles one can choose from. While cost differences definitely apply, one thing to consider is that sometimes paying a little more upfront can save in the long run. As Reynolds explains, "sometimes customers may save $50 out of the gate, only to come back five years later having to replace hardware or finding that the door is not insulating properly. It is important for customers to be mindful of the longevity of doors; a good door should last for 15-20 years." —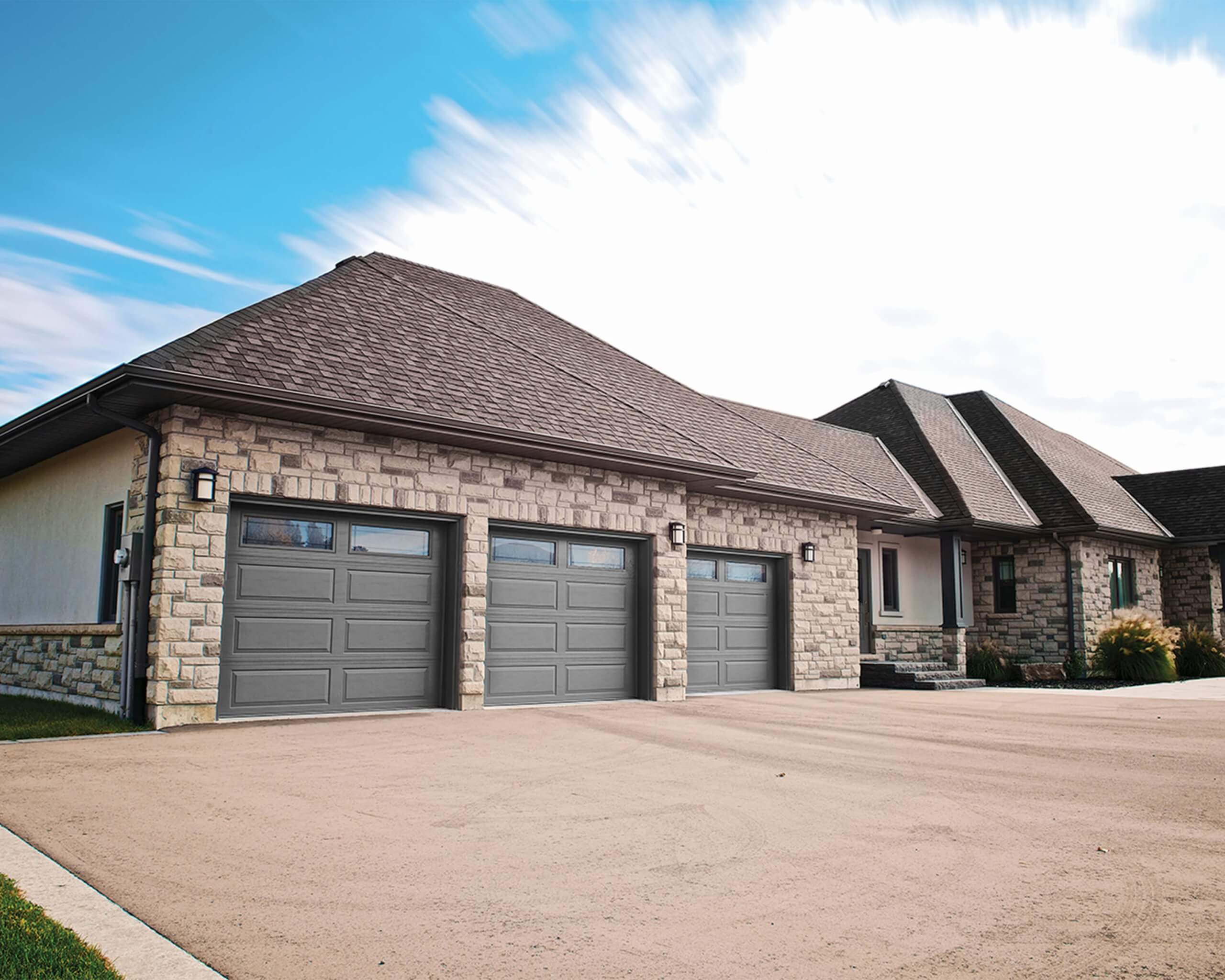 Photo courtesy of Stewart Overhead Door