With no slow down in sight in renovations and new builds, the demand for new garage doors and their installation, like many building products, shows no signs of abating.
The dilemma is, with supply chain challenges around everything from steel to circuitry, can manufacturers, distributors and contractors meet the demand.
"The volatility in the supply chain has affected all aspects of the door industry. There is a large shortage of steel to make spring wire which has dramatically increased lead times," says Tony Hedley, national manager for retail building centers and Alberta regional manager at Steel-Craft Door Products.
Combined with labour shortages, the current supply chain crisis poses serious lead-time challenges that contractors need to factor into any job, garage door installs included. "Demand is up over 30 to 40 percent, and lead times are the biggest challenge," suggests Mark Rennison, distribution sales manager at Stewart Overhead Door. "The biggest thing contractors can do is to plan ahead."
Lana Winterfield, regional manager for Canadian marketing and communications at Creative Door Services, concurs. "Budget is less of a factor now due to the supply chain crisis, so the major consideration homeowners (and contractors) need to be aware of is to plan well in advance."
"Order as early as possible as lead times are quite long and consistent across the industry," she adds.
In fact, some savvy contractors are now placing orders with even 10 weeks to four months of lead time, Rennison says.
Shortages have affected some consumer trends in the space, suggests industry experts, with some leaning towards what they can get now rather than custom designs.
"Due to the global supply chain crisis, customers are looking to see what is in stock instead of looking at designing a custom door that would require wait time," Winterfield notes.
Still, of course, she says a few trends have become the norm, such as smart door systems, which she adds that builders almost always include in their home specs these days. Hedley says smart door systems are increasing in popularity as the technology improves.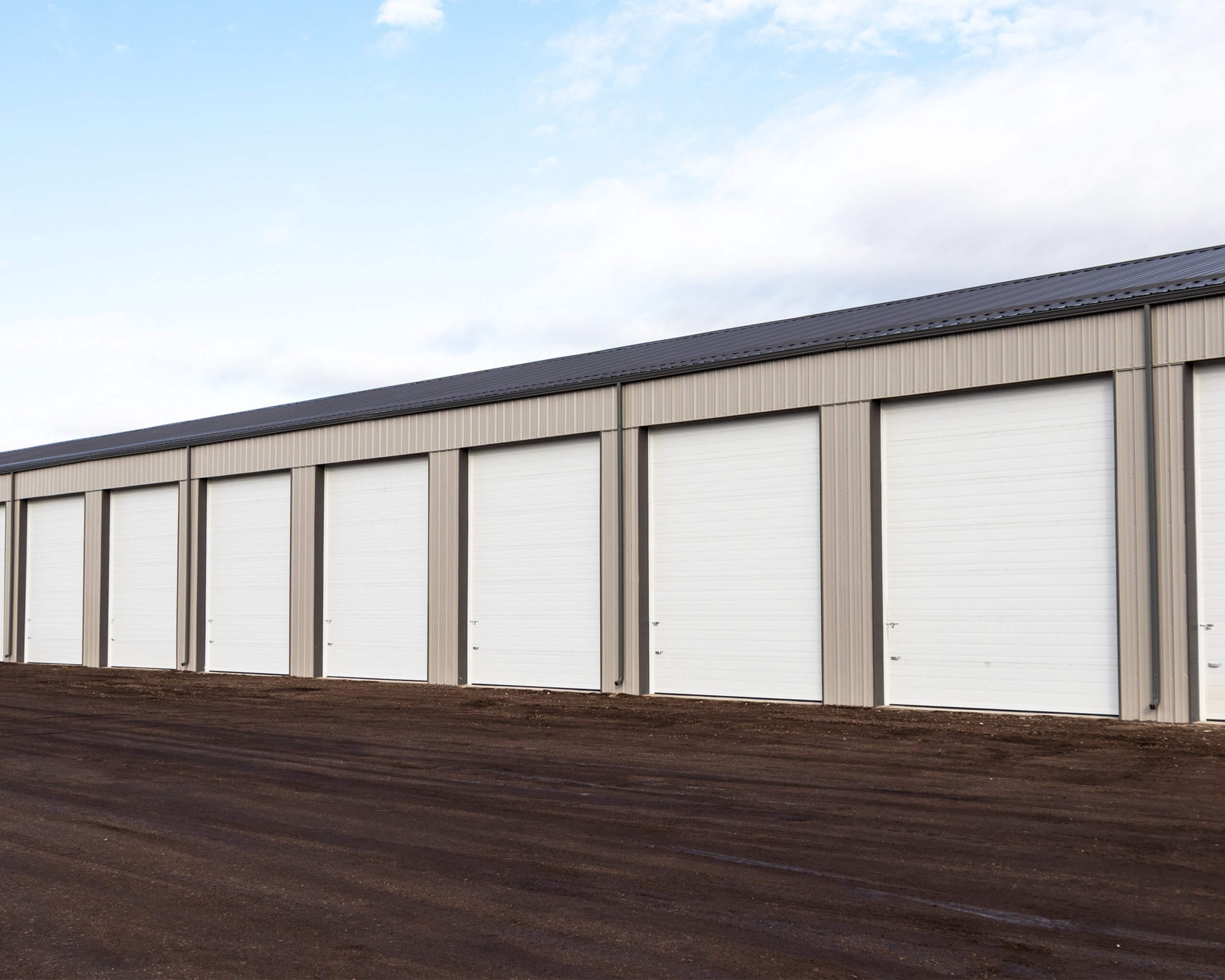 Photo courtesy of Steel-Craft Door Products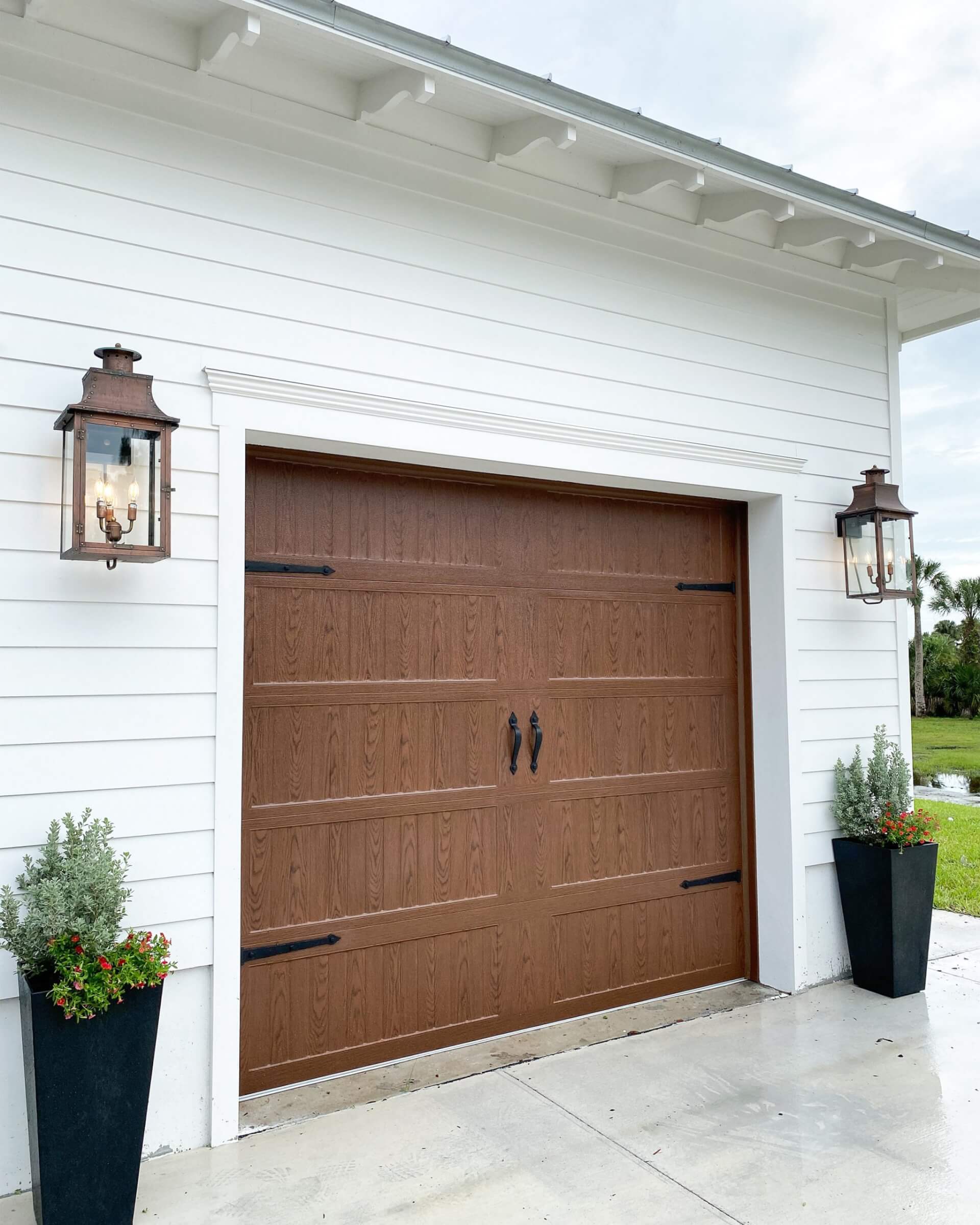 Photo courtesy of Stewart Overhead Door
 Rennison suggests that in the challenge to meet demand, many manufacturers have de-emphasized focus on new designs and styles to focus on production and delivery.
Even so, he and others point to several trends that remain popular with homeowners.
DARK COLOURS AND MODERN DESIGNS
Black and darker colours remain in vogue, as well as a more simple, contemporary design style.
"We introduced the mid-century modern collection which has a 6" horizontal plank-look rather than traditional embossed panel door," says Hedley of his company's offerings toward those trends. "Our modern-look, longer windows accent this door really well."
"We've also seen a spike in popularity with our charcoal-coloured door, he says, adding that, "New technology has allowed darker colours without the worry of warping in hot weather."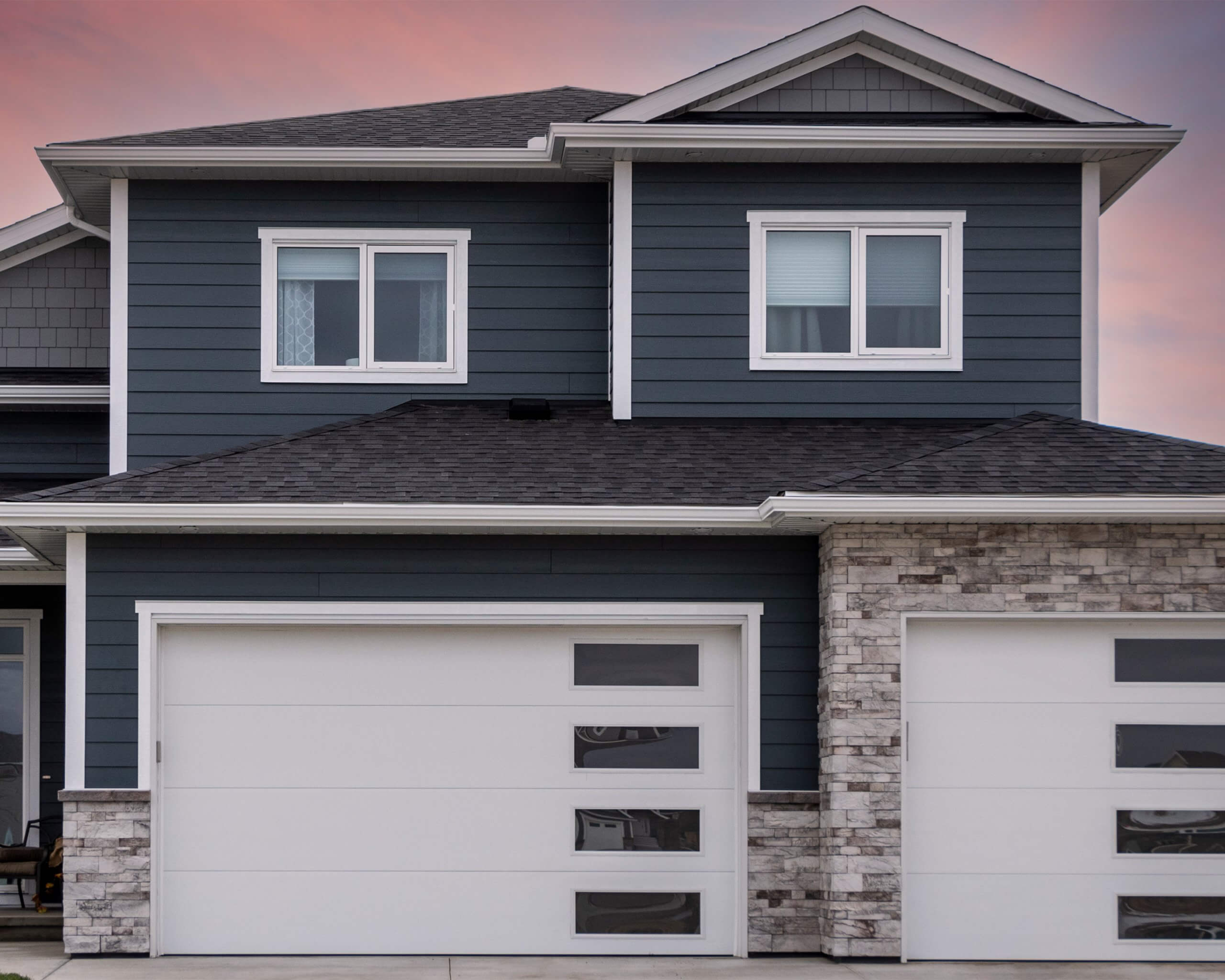 Photo courtesy of Steel-Craft Door Products
 Increased use of glass remains popular, notes Rennison. "It's still a rolling trend, but windows; the contemporary look where it runs (vertically) down one side, or just bigger windows." It's a trend he was seeing last year, but one that continues to grow, as well as flush panels and a wood-like appearance.
Winterfield is seeing the same trends in demand from her company's doors, although she says the wood look is becoming of less interest: "Black with vertical placement windows is still very popular, as well as flush doors with ranch windows, or any flush door with or without windows."
COMFORT AND FUNCTIONALITY
Of course, aesthetics is just part of the equation homeowners need to make when considering a garage door. Contractors have an important role in helping supply householders with the information they need to make smart decisions.
While it's not the largest renovation, a garage door also isn't exactly a small ticket item, and it should be approached with due diligence. Garage door replacements, Hedley says, are rated number one for return on investment.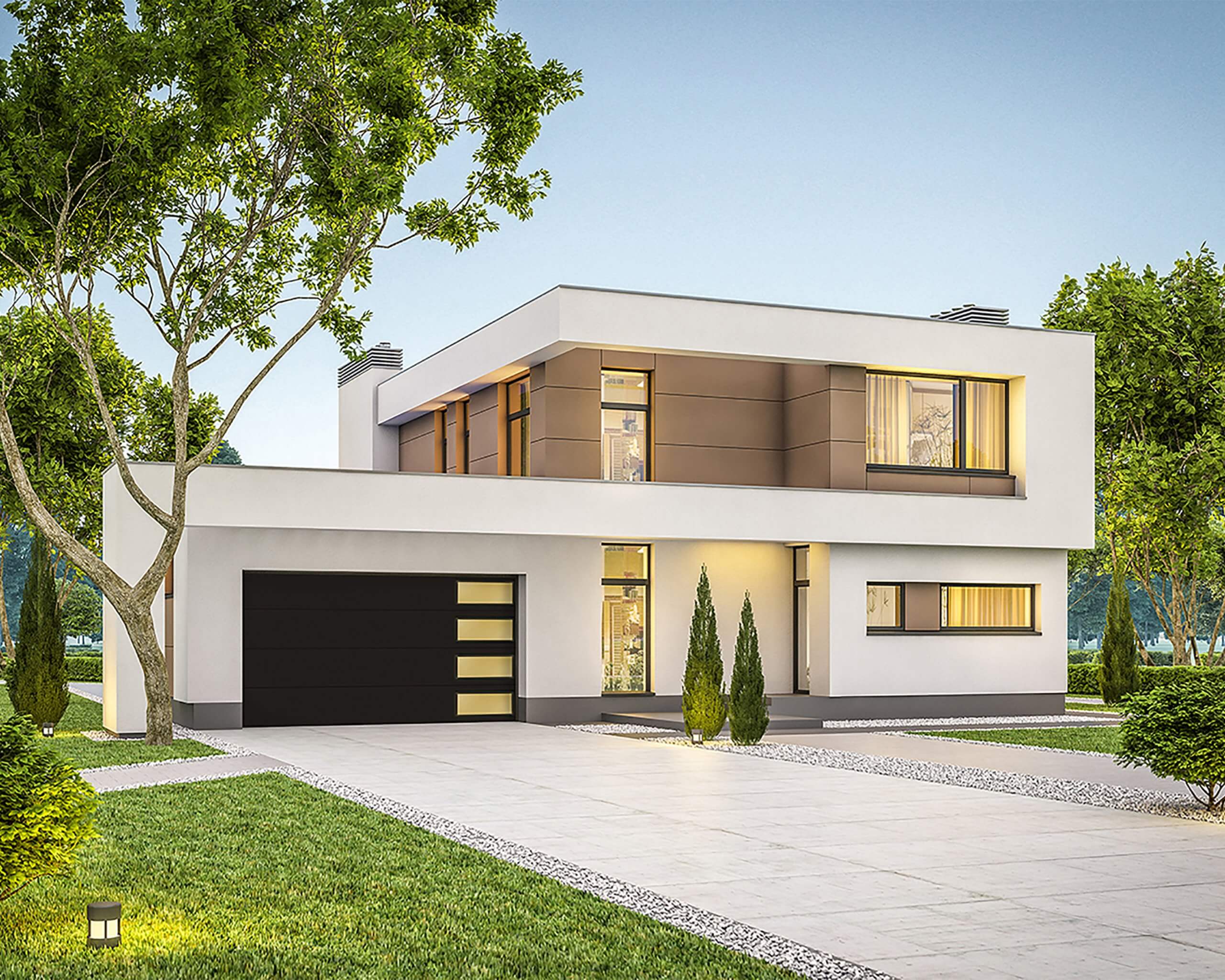 Photo courtesy of Stewart Overhead Door
"Customers want a low-maintenance door," Hedley says. "Wood doors are all but obsolete and
a steel door with a woodgrain look has replaced them in popularity." He says his company's 25-year warranty on door finish eases customer worries, and his company has also seen an increase in sales of its side mount jackshaft operator, because it leaves more ceiling space.
Everyone points to the value of having better R-values in the Canadian climate and amidst ever-climbing energy costs. Hedley points to Steel-Craft's R-16 doors, available in various colours and designs.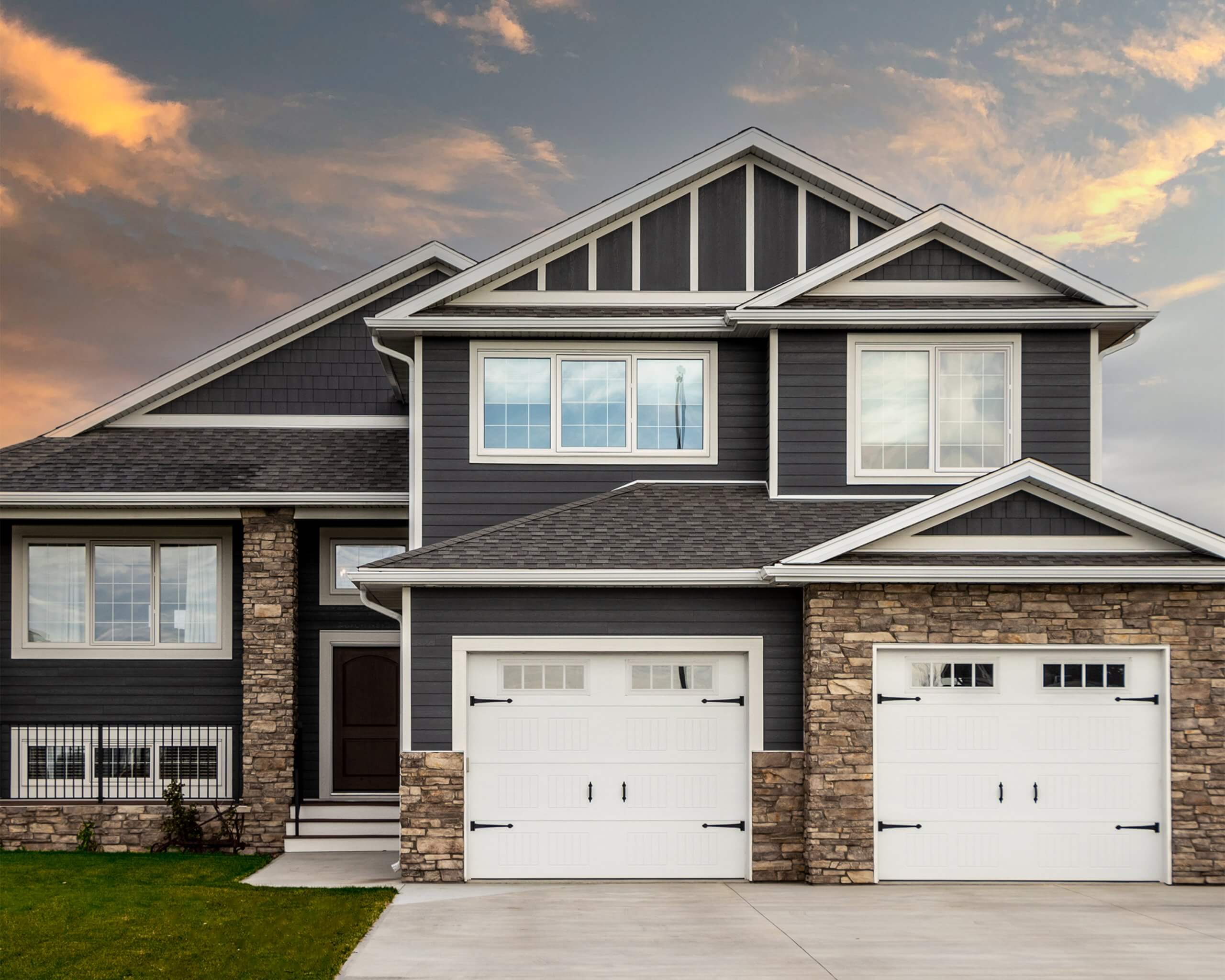 Photo courtesy of Steel-Craft Door Products
Rennison echoes the statement. He says demand for higher R-value doors (like his company's R18 XL and R18 Northland doors) continues to increase, as homeowners want more comfortable spaces, but also, he notes the cost difference between insulated and non-insulated doors is so minor, most builders and homeowners prefer an insulated door even where comfort isn't a concern — for its rigidity and durability.
Hedley suggests it's important to consider quality and customer comfort. In the end, this is a win-win-win for homeowner, contractors, and suppliers, as happy homeowners lead to more projects and more sales.
"We want contractors to understand that installing a high-quality door with a high insulation value makes for a happier customer," he says. "We don't necessarily want to sell more doors; we want to sell more of the right door." —