According to The New York Times, today's ubiquitous modern farmhouse style was born about a decade ago on the hit HGTV show "Fixer Upper."
Characterized by a clean look and a neutral colour palette, modern farmhouse exteriors typically feature vertical white siding, chunky wood and stone accents, metal roofs and black-framed windows. As the hottest style of the day, the modern farmhouse has proven it's not just a flash in the pan – it's a trend with staying power and a strong influence that extends inside the home, too.
In fact, the modern farmhouse style continues to drive the design of interior furnishings, fixtures and finishes – including bathroom and kitchen faucets and all manner of accessories.
"Lots of people were hesitant about the strength of this style and its accompanying matte black finishes, but we've seen no sign that it's abating," confirmed Peter Thomson, VP of National Accounts at Taymor Industries Ltd. Founded in 1947, Taymor is a
privately-held Canadian company that makes the second-largest brand of bathroom hardware in the country, available through coast-to-coast distributors.
"Modern farmhouse is just as it sounds – a modern twist on the farmhouse style," continued Thomson. "The most common finishes in this style are matte black and white. Currently, this is the most prevalent style for single-family homes."
Not long ago, Taymor surveyed 500 Canadians who had recently renovated their bathrooms. It turns out that consumers rank product design, quality and value as their top three most important factors, in that order.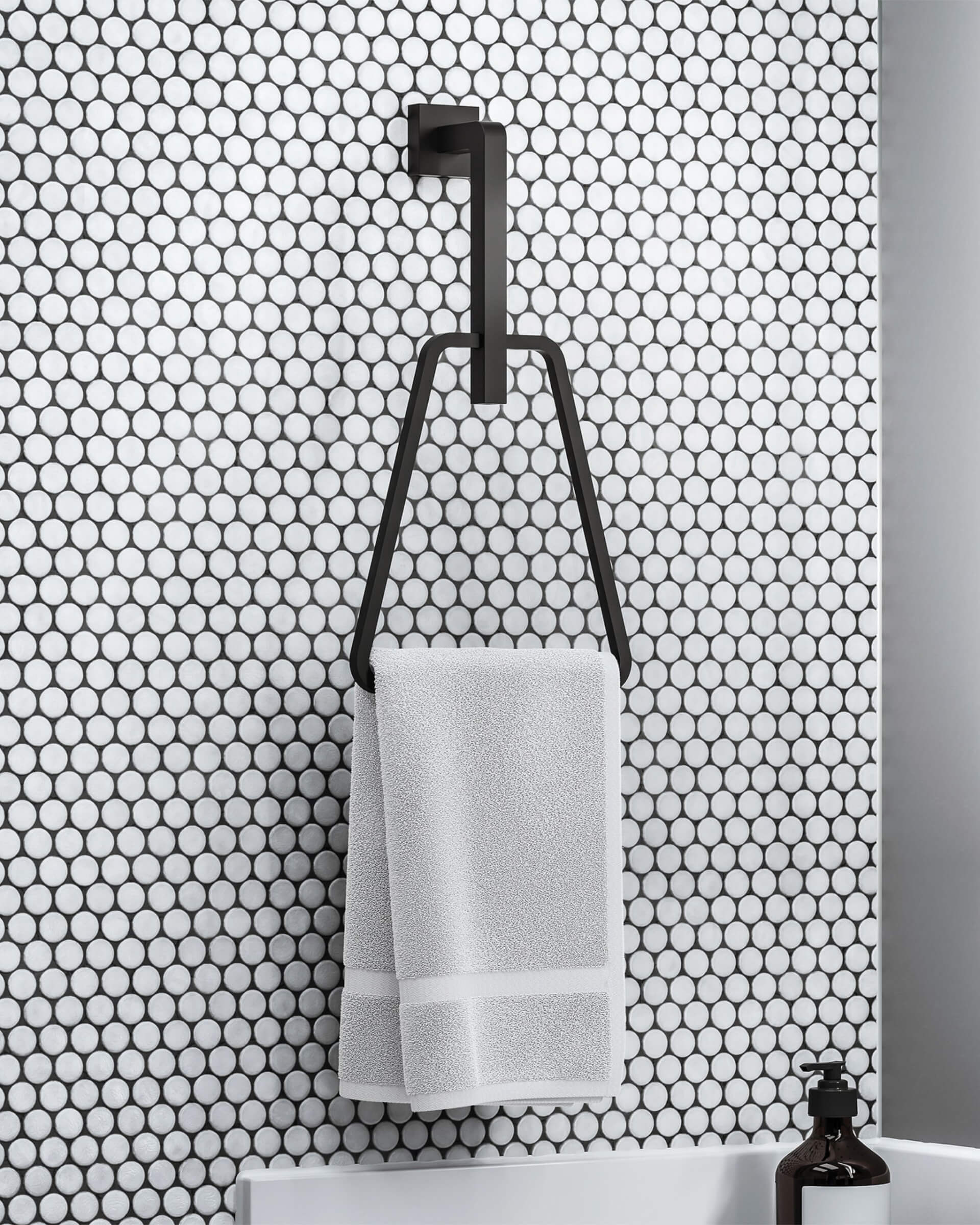 Photo courtesy of Taymor Industries Ltd.
"The matte black finish is the No. 1 trend in bathroom hardware, with square and rectangular shapes," said Thomson. "Beyond that, chrome and satin nickel continue to be strong. Styles are sophisticated but not ornamental – the heritage style has gone out of favour, as have the aged bronze finishes."
Today, fixtures boast the "soft modern" look – essentially characterized by rectangular or square shapes with rounded or softened edges.
Thomson said space is often at a premium in bathrooms, so consumers are putting the emphasis on functional fixtures – using robe hooks instead of towel bars, for instance.
Taymor's survey also revealed that many homeowners shop in-store first and check online retailers second. The reason? They want to feel the product to gauge its quality. Also, if they're considering something a little bit different – the emerging matte gold finish, for instance – they want to see it with their own eyes.
Looking ahead, Taymor is planning to expand its finishes to include options like matte or velvet white and satin brass.
"Satin gold or satin brass has the most variety as a finish," said Thomson. "There is a huge range of colours and textures, so matching between them can be very challenging. Gold seems to be prevalent in lighting, but I would say there's not as much penetration in the real world versus television. The reality is that gold is almost never used in condos and it's still quite limited in
single-family homes. Gold is used mostly for accent pieces. The three biggest are lights, cabinet knobs and statement faucets in the kitchen."
Despite these trends, the modern farmhouse still welcomes vintage-inspired fixtures and accessories.
"There is a place for signature pieces that have an antique patina with a simple design," concluded Thomson.
MODERN TREND
Unlike our neighbours south of the border, Canadian consumers appear to be more receptive to modern designs.
"The U.S. is very traditional," said Jesse Calay, Channel Marketing Manager with Pfister, a manufacturer of bathroom and kitchen faucets as well as bathroom hardware. "They prefer a more traditional design, and their market is more focused on brushed nickel.
"In Canada, we're seeing a trend now toward modern bathroom faucets. The matte black finish is getting a lot of traction, and we've seen a lot of interest in brushed gold. That's a tricky finish to pull off – some of them look yellow or brassy, but ours is a true, elegant gold."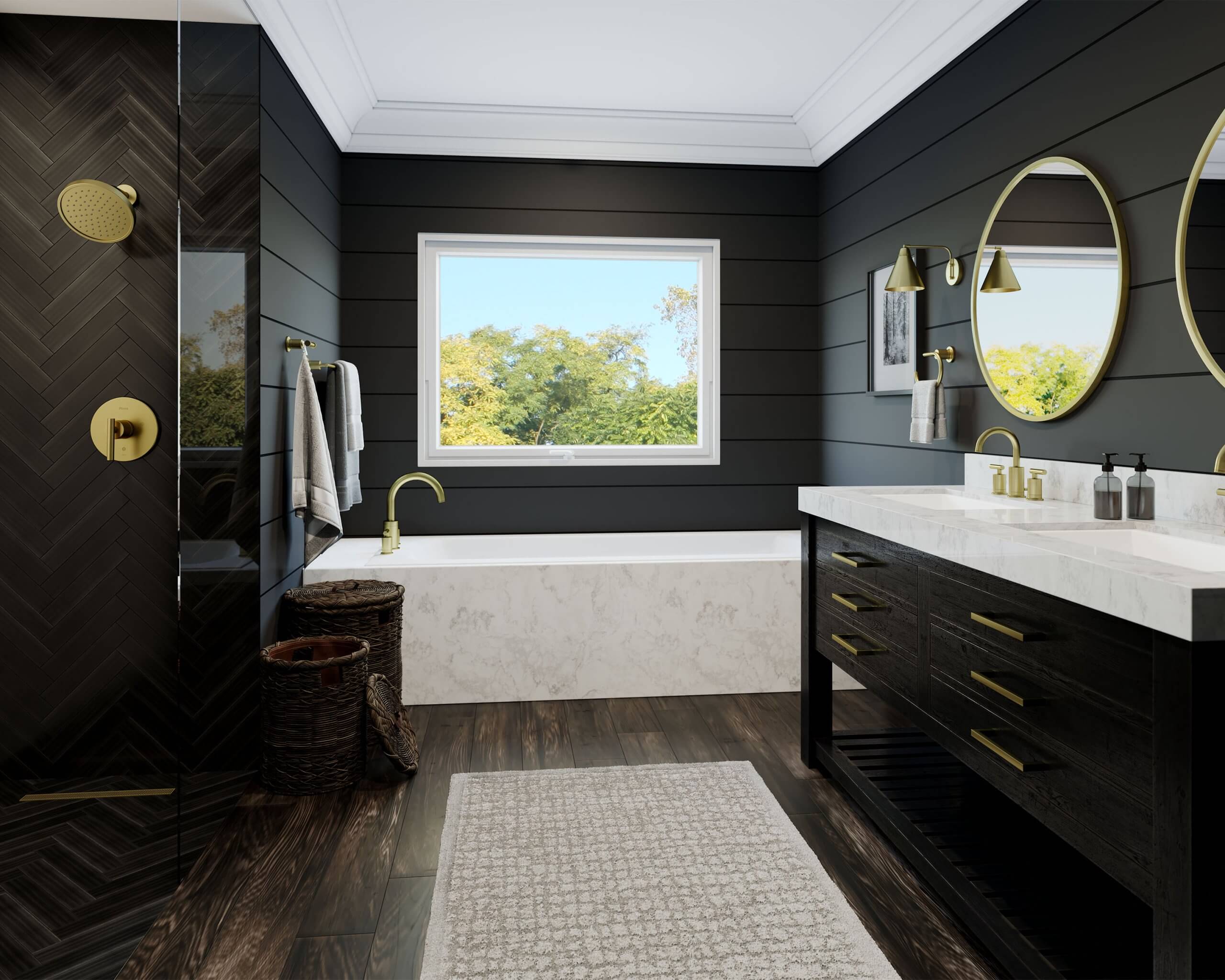 Photo courtesy of Pfister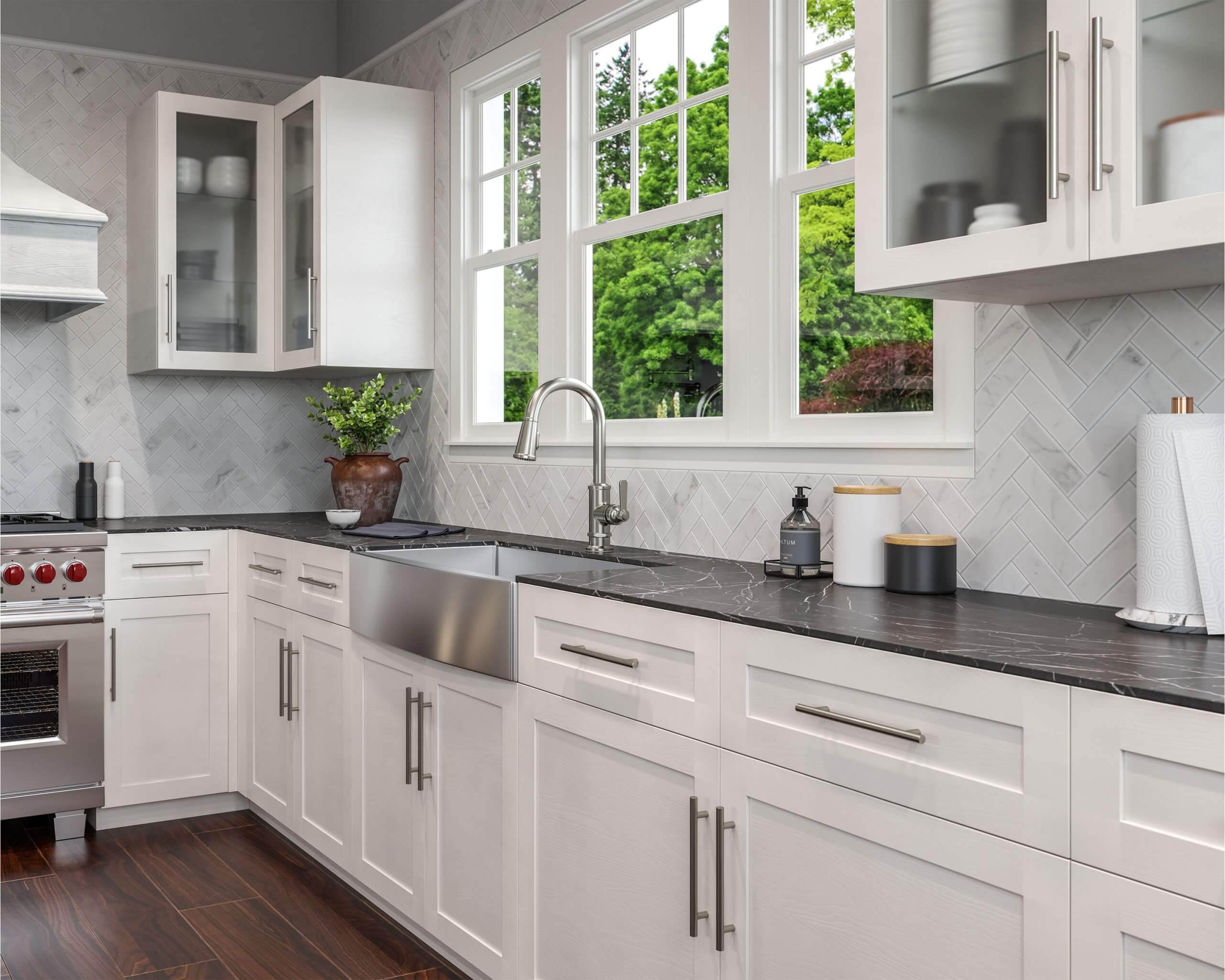 Photo courtesy of Pfister
Calay also pointed out that edges are rounder and "soft modern" is everywhere. "It's characterized by soft, square edges with a subtle curvature. We're seeing that soft transitional look carrying over to seamless design."
Pfister is expanding its product line to include a range of new finishes and options.
In 2024, its popular Fullerton four-inch centre set faucet will be available in matte black in addition to the original chrome. Pfister has also launched two new product families: Barulli and Rancho, available in all finishes.
Calay said the company is also excited to release its upgraded finish, Spot Defense, for all matte black faucet families.
"It will be applied to all products moving forward to prevent soap scum, fingerprints and watermarks," he explained. "It will be available sometime in 2024. It doesn't look any different – it's just easier to keep clean."
In keeping with the modern farmhouse style, Pfister is also seeing demand for vintage-inspired styles with a modern twist. The company recently adapted its Rhen faucet by changing its flared, fluted base to a smooth but curvy silhouette.
"In the kitchen, some consumers want a showroom faucet," said Calay. "They want to take it and turn it into something lively."
Rick Pitre, National Account Manager for the Hardware and Home Improvement Group at Pfister's parent company, ASSA ABLOY, added that one trend he's noticed is mixed finishes in both the bathroom and the kitchen.
"For instance, cabinet hardware may be brushed gold and the faucet matte black," he said. "It looks sharp."
Calay said Pfister offers a wide range of innovative products in terms of finish, selection, style and price point. Plus, Pfister faucets are very easy to install, making them attractive to both contractors and handy homeowners.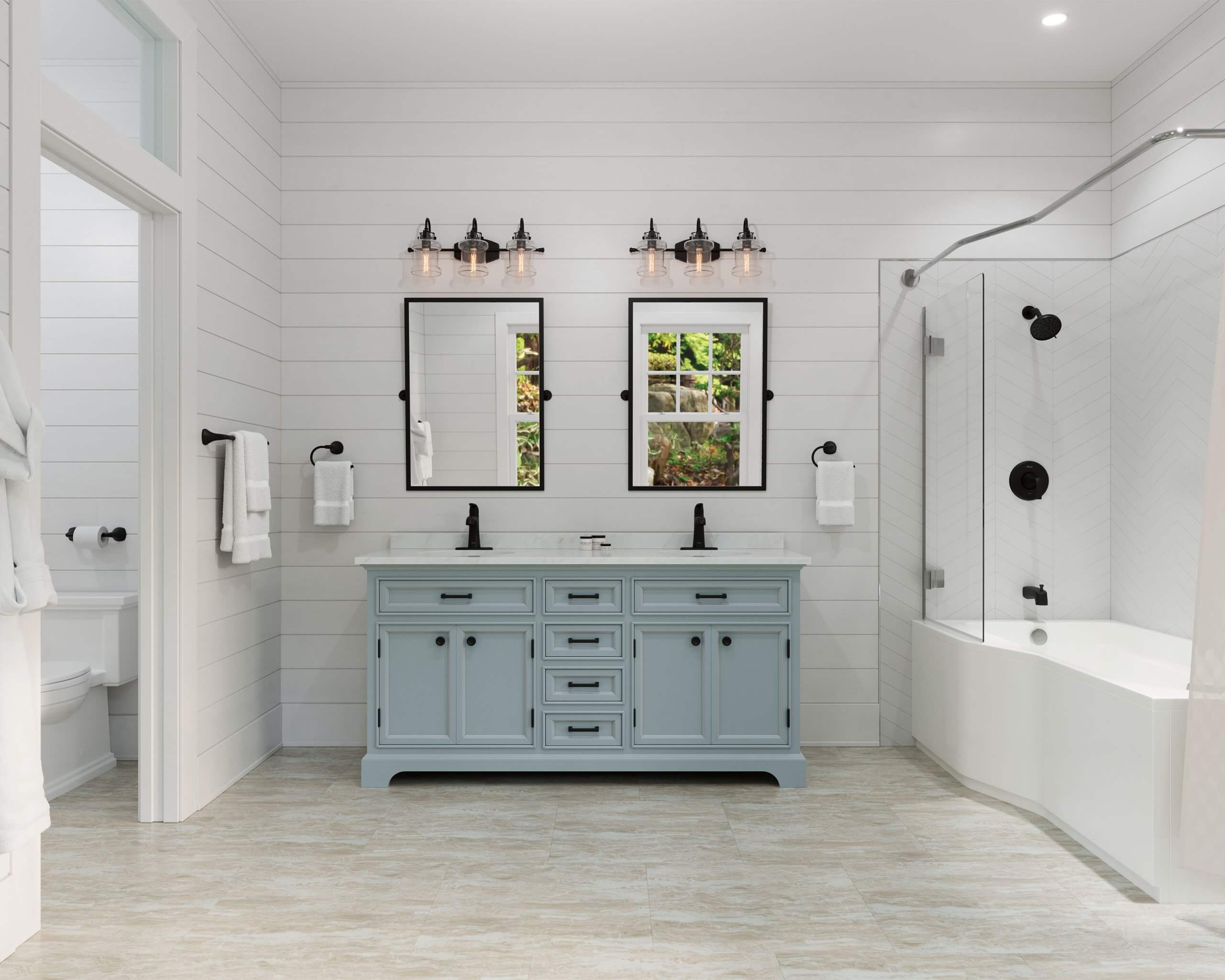 Photo courtesy of Kaycan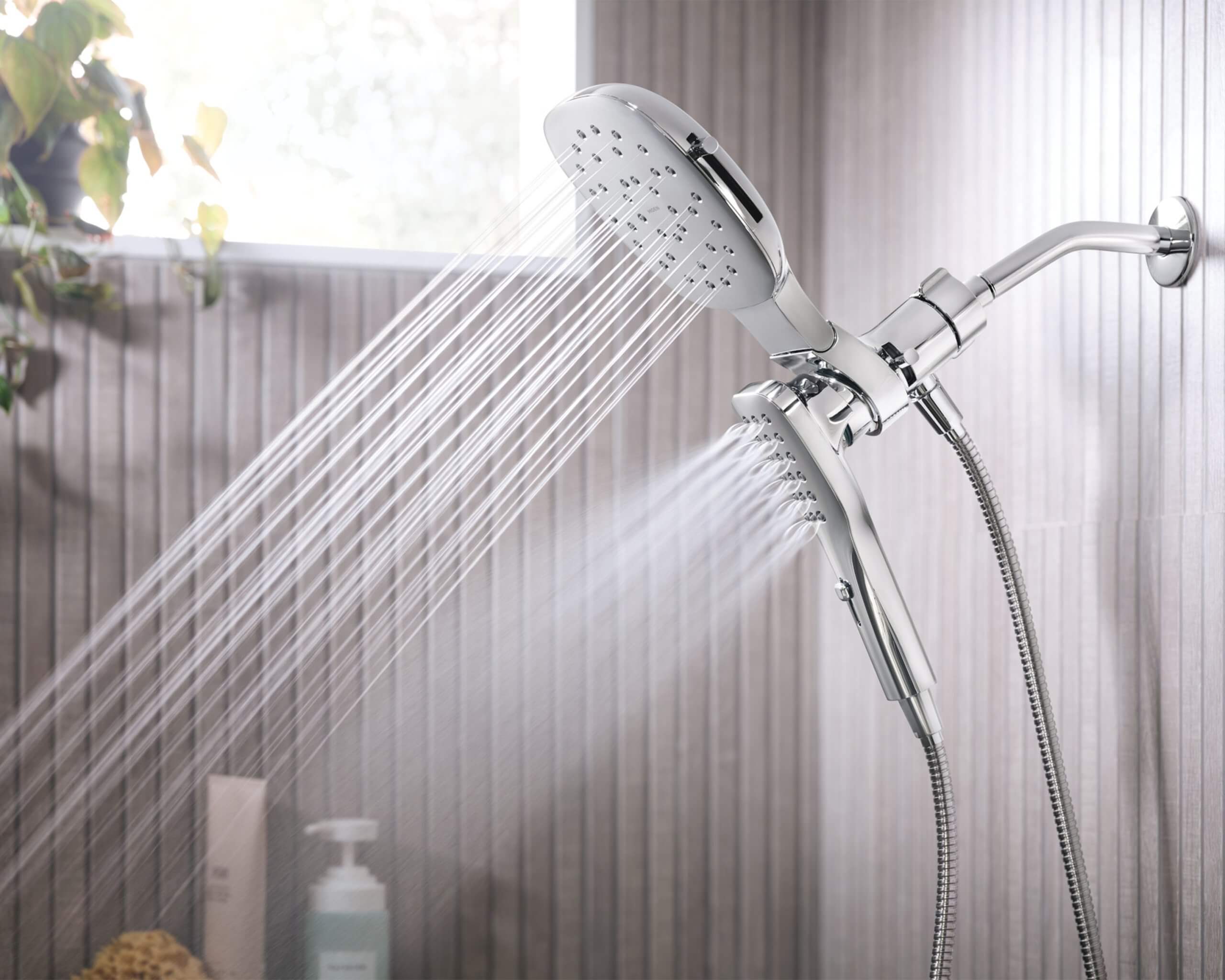 Photo courtesy of Kaycan
SUSTAINABILITY AND THE CHANGING ENVIRONMENT
Peloquin points to sustainability as another major trend influencing siding decisions in the year ahead.
"People are more aware of the environment, and they want products that are sustainable. They want them to have less impact on the environment," he says. "And research has proven that vinyl siding, in general, has less environmental impact than fibre cement or brick and mortar."
While new siding must be functional and generate curb appeal, homeowners are also looking more closely at the total lifecycle impact of the products they put on their homes — from sourcing to manufacturing, to use and finally disposal. "It's got to fit all those criteria," Peloquin says.
Climate change resulted in Canada seeing more than its fair share of extreme weather last year, with Western Canada hit particularly hard. While this may be prompting Canadians to consider environmental impact more heavily, it also means siding (like roofing) must be prepared to handle what is — sometimes literally — thrown at it.
A hailstorm that hit Calgary and Southern Alberta last June caused a reported $1.2 billion in insured damages, and environmentalists suggest the Prairies could see more similar large hail events but fewer days with hail altogether in the future. "What we do is we only provide high-gauge products in Western Canada," says O'Reilly.
He's not alone in seeing the impact of recent weather on the siding industry. "Weather-related events, such as hurricanes, hailstorms and floods can have a significant impact on siding and the contractors who work with it," Kasweka says.
"The high winds and flying debris during weather-related events can cause major damage to the siding and require repairs or replacements. Also, flooding can cause moisture damage to siding, leading to rot and mold issues."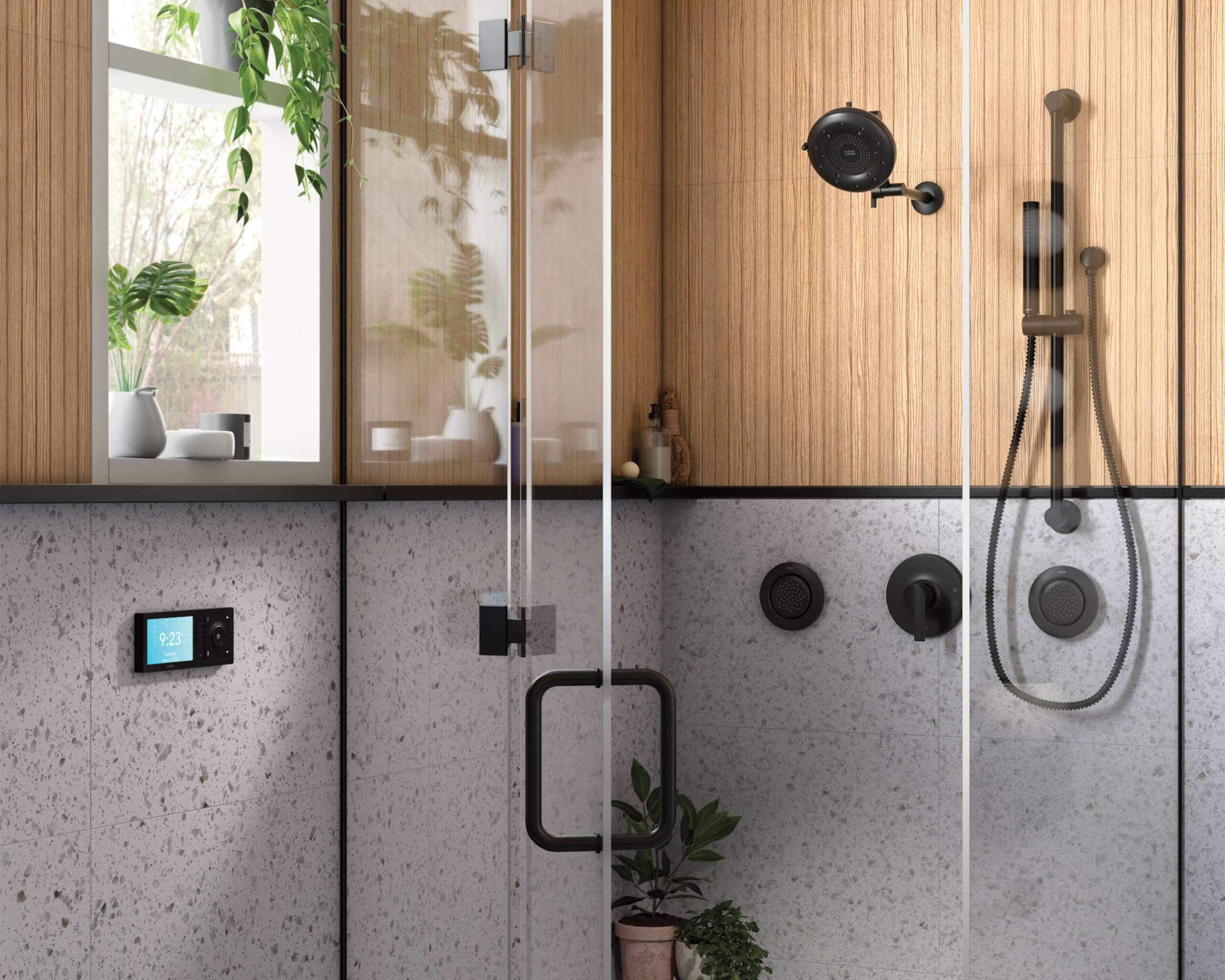 Photo courtesy of Pfister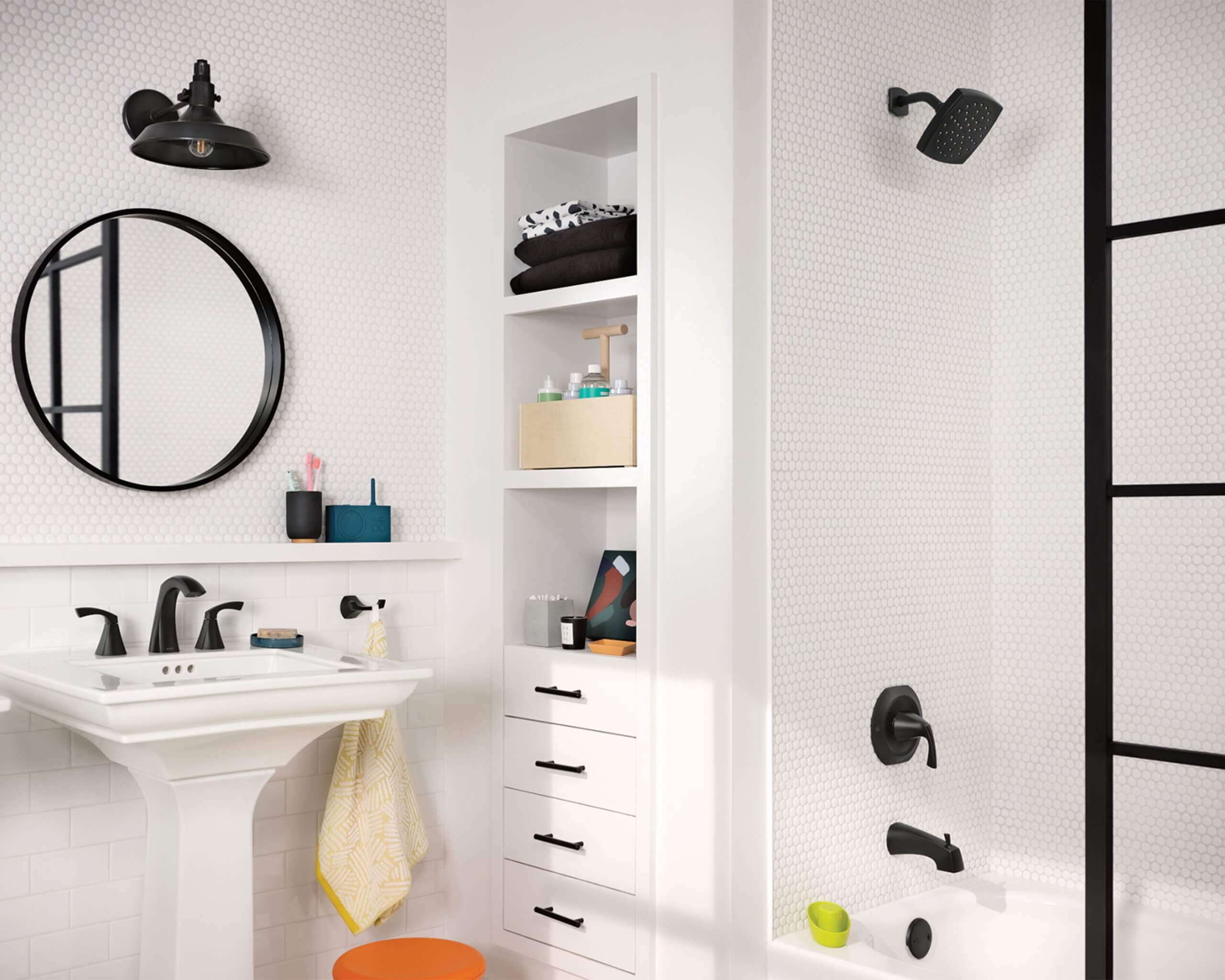 Photo courtesy of Moen
Clean Lines
Founded in 1947, Moen has seen many faucet and fixture trends come and go. However, Carrie Ann Pereira, Senior Channel Marketing Manager at Moen Canada, said minimalistic modern styles with clean lines are showing no signs of disappearing. A perfect example is the company's Nori Matte Black One-Handle High Arc kitchen faucet.
"Consumers are also welcoming soft modern styles as they provide a great mix of both modern and transitional designs for spaces where décor is eclectic," she added. "Moen's Mikah bathroom collection was inspired by this push for modern fixtures and is made up of smooth, fluid curves that offer a soft modern style."
Matte black is hot at Moen, too, climbing in popularity over the last few years. Pereira said this is because the finish is versatile and can be used to make a bold statement or serve as a calming neutral for more contemporary looks. Chrome, too, remains at the top of consumer wish lists for both kitchen and bath applications.
Moen continues to evolve its product lines, introducing new finishes such as bronzed gold and matte black to several key collections.
"Uniformity throughout kitchen and bath spaces is still important for homeowners, which is why we continue to expand full collections," said Pereira. "Moen's new Mikah and Lindor bathroom collections feature a full line of perfectly matching faucets, showering, bath and accessory options, and are now available in matte black and brushed gold."
Many of Moen's most popular products have catered to traditional design with an emphasis on updated function. Kitchen faucets with touchless sensors offer a streamlined look and hands-free functionality. The manufacturer also offers a collection of smart products, including voice-activated kitchen faucets and customizable showers with voice and remote activation and a warm-up/pause feature. Moen's Smart Water Security suite helps protect a home from water damage, with water monitors and shutoffs that guard against potential water risks and leaks.
"Personal expression is a trend we are more commonly seeing, with an emphasis on both aesthetic and functional expression," noted Pereira. "We are offering products that feature customization capabilities, like the latest Verso™ showerheads featuring Infiniti™ Dial technology so you can blend settings."
In addition, Moen is tracking what it calls "biophilic" design trends, which are simply grounded in humans' desire to connect with nature.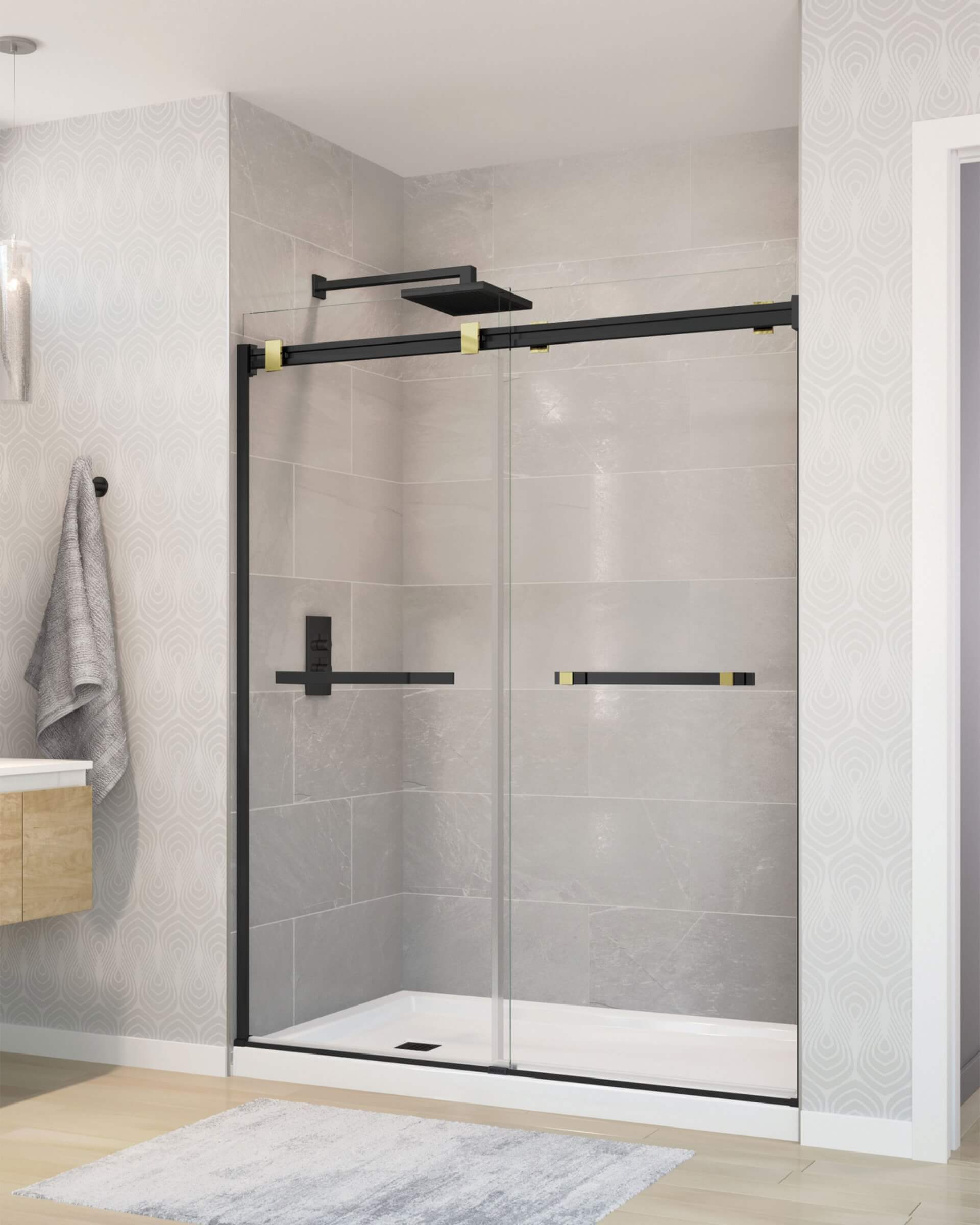 Photo courtesy of Moen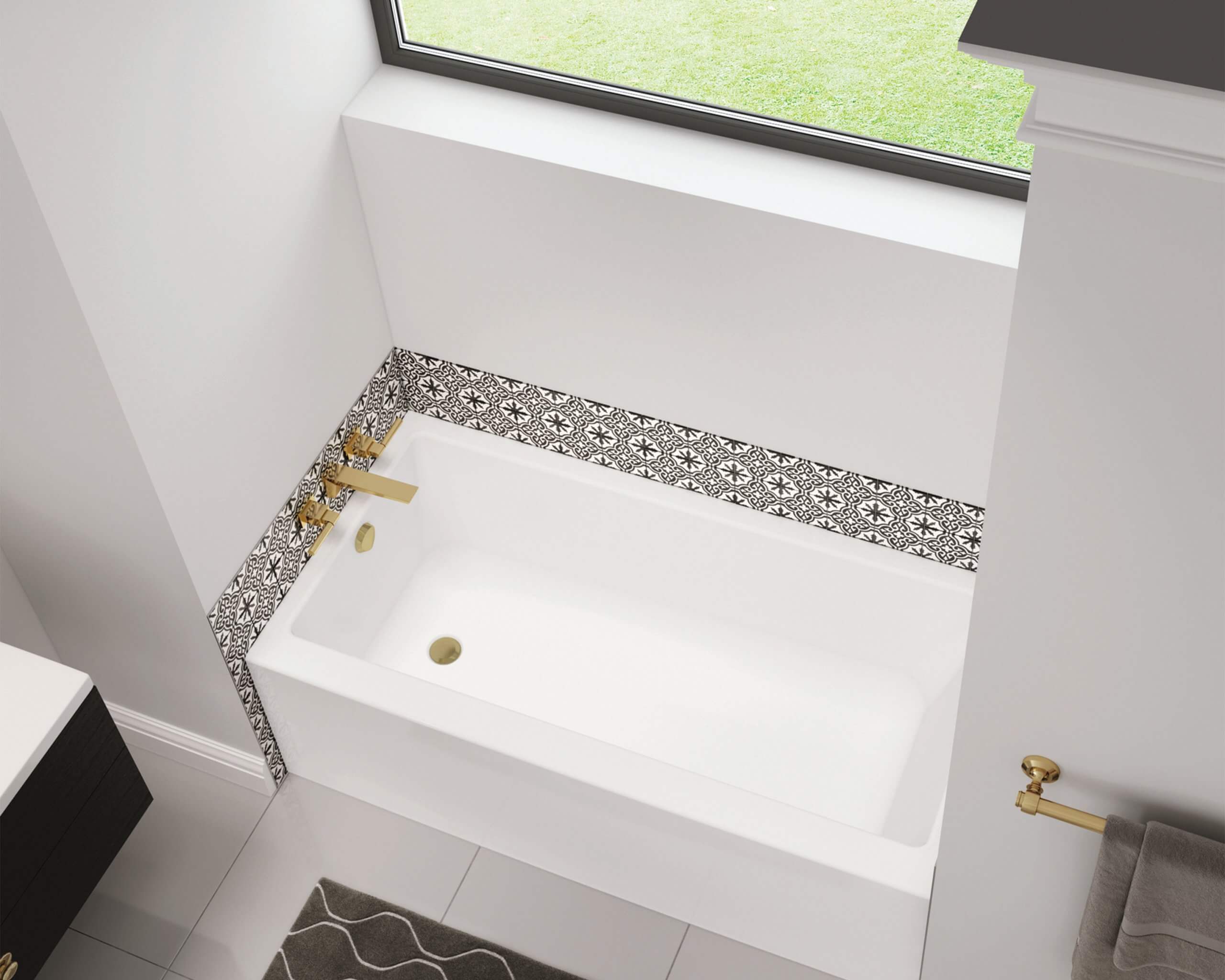 Photo courtesy of Moen 
"By incorporating more authentic natural materials, textures and finishes into the kitchen and bathroom, we can create environments that help support this desire to commune with nature."
Pereira concluded by adding that consumers also care about sustainable solutions for conserving energy and water, without compromising user experience. In 2020, the company launched Mission Moen, an internal program that aims to conserve water and repurpose ocean plastics through packaging innovations.
INNOVATIVE DESIGN
Customized bathroom fixtures are part of the MAAX Bath lineup, too.
A division of American Bath Group (ABG), MAAX Bath has four Canadian production facilities, including its headquarters in Lachine, Que. The company produces bathtubs, showers, shower doors, shower wall panels, shower bases, all-in-one shower kits and even accessories.
"What we're seeing specifically in shower doors is more clear glass and less privacy or frosted glass," said Daniel Raschella, Key Account Manager at MAAX Bath.
"Shower hardware is following the same trends we're seeing in the faucet industry. Gold is coming back strong, mostly matte gold, as an accent. There is a lot of matte black and we're seeing a demand for mixed finishes – like matte black with gold accents, for instance."
He added that round edges and fixtures will always be in style, although there has been a shift to squared edges.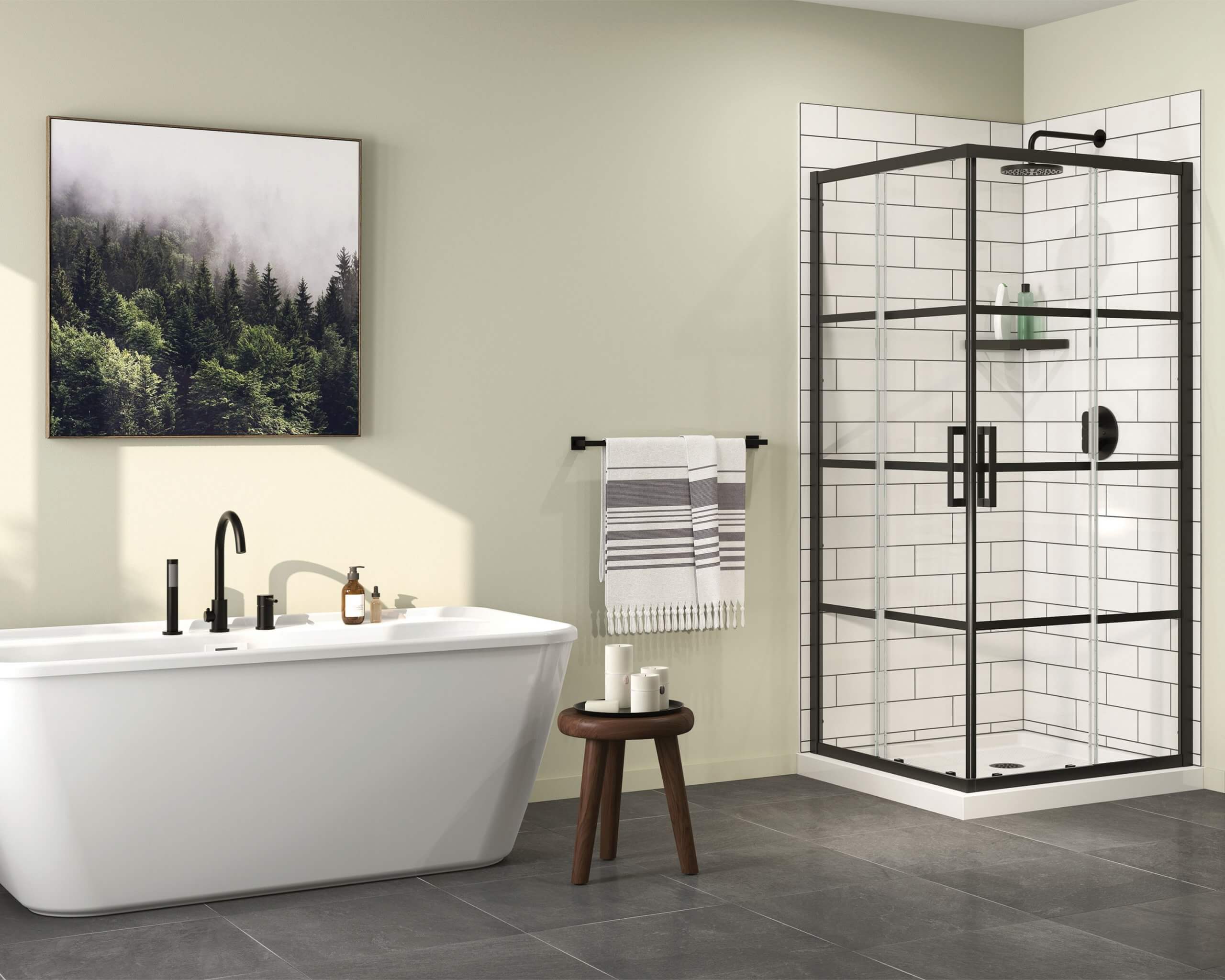 Photo courtesy of MAAX Bath
"We're coming out of a trend with soft lines and curves in bathtubs, contoured to the body with armrests integrated into the tub," said Raschella. "We're seeing a lot of deck-mount faucets on the tub – some tubs have a wider edge on one side, called the deck, that allows a faucet to be installed there. The other option is a tub with a thin edge all around and a free-standing faucet, which requires plumbing to come up through the floor. I'd say we're at about 50/50 now between the two tub styles."
There is a limited niche market for specialty products like tubs with matte black exteriors and acrylic white interiors. Smooth finishes are still big in the shower industry, although some textures are gaining ground. A good example is MAAX Baths' Utile shower wall panels, available in several styles and colours, which offer a quick direct-to-stud installation and have the appearance of tile, but without grout or seams. Raschella said Utile is especially appealing to DIY homeowners because it is so easy to install.
"Utile is made in our own plant and our acrylic tubs and showers are made here in Quebec," he said. MAAX Bath products are known for their innovative design, wide selection of styles and 25-year warranty on acrylic products.
"We're always looking to innovate and add to our lineup; we're always looking to create an adjacent product to complete the MAAX experience, like our recently launched line of accessories."
Coming soon, MAAX Bath is set to launch a companion product to its Utile shower wall panels line. The Manhattan Tiles will be sold in smaller 15×30-inch individual tiles that can be cut and trimmed to perfectly fit a space.
With textured designs and colours, low maintenance and easy cleaning, these tiles are installed with adhesive silicone.
"Manhattan Tile can be used anywhere you'd put tile," said Raschella. "Other than in the shower, they could be used as a bathroom backsplash or kitchen backsplash. You just need to attach them to a clean, flat surface."
Taking their cues from the popular modern farmhouse style, bathroom and kitchen faucets and fixtures are emphasizing a softer, contemporary look in a range of eye-catching finishes. While matte black continues to reign, gold is making inroads – especially when used in mixed-metal applications.
Consumers are keyed in on design, but they're also demanding quality and value from their faucet and fixture choices. Looks are important, but these pieces have to deliver functionality in spades. Hands-free operation, more accessible faucet placement, smudge-proof finishes and water conservation are qualities that score points with today's discerning consumers. It doesn't hurt if it's easy to install, either.
There seems to be little doubt that bathroom and kitchen faucets and fixtures will continue to ride the massive modern farmhouse wave – a phenomenon that appears to be a lasting trend, not just a passing fad. —