The adoption of composite and other alternative decking materials continues to grow every year, and the fierce contender in the decking category is making inroads into new territory in Canada. Still, for more than a few homeowners and builders, wood represents a familiar, tried-and-true material that can't be easily beaten.
Experts suggest consumer, builder and contractor education is key to composite adoption. As issues of cost and maintenance become better understood, they say, composite decking becomes a clearer choice.
"Composite decking is a growing segment of the decking market. Making up just under 1⁄4 of the category, it is gain- ing market share each year," says Mike Kostesku, manager of national accounts for CanWel Building Materials Division, distributor of MoistureShield Composite Decking.
"As the public's education on composite decking grows, so do the sales."
Another boon to composite sales, Kostesku suggests, is the ability for manufacturers to overcome some of its biggest complaints such as, in the case of MoistureShield, heat absorption. "CoolDeck Technology keeps boards up to 30% cooler than any other deck board of a similar color. This allows you to stand barefoot on the deck on the hottest day of the summer."
LEAVING THE BIG CITY
Pointing to the increased education around the benefits of man-made decking materials, George McCart, eastern regional sales manager at AFA Forest Products Inc. says alternative decking is spreading across the country. AFA distributes AZEK cellular PVC-based products in Canada.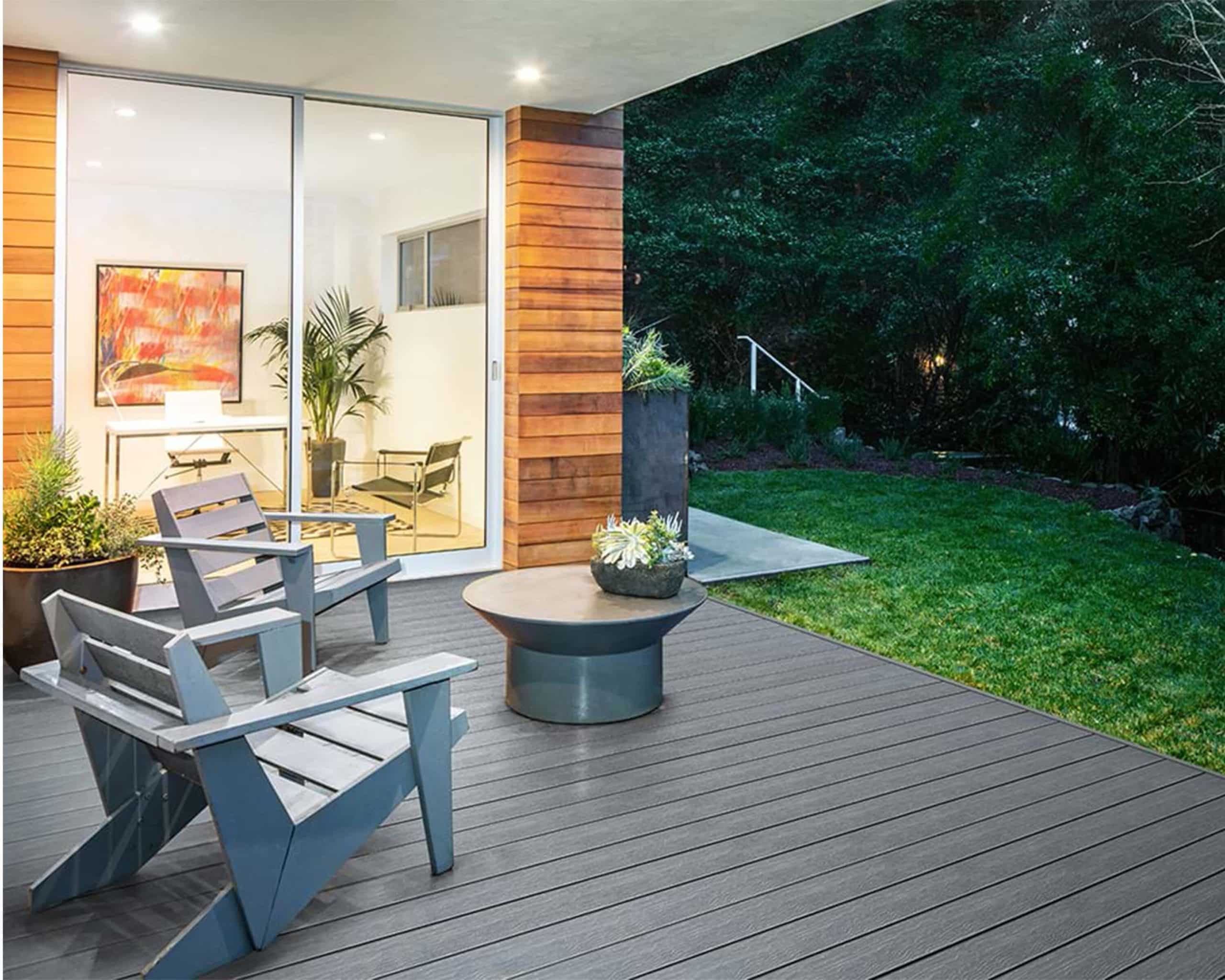 Photo courtesy of CanWel Building Materials Division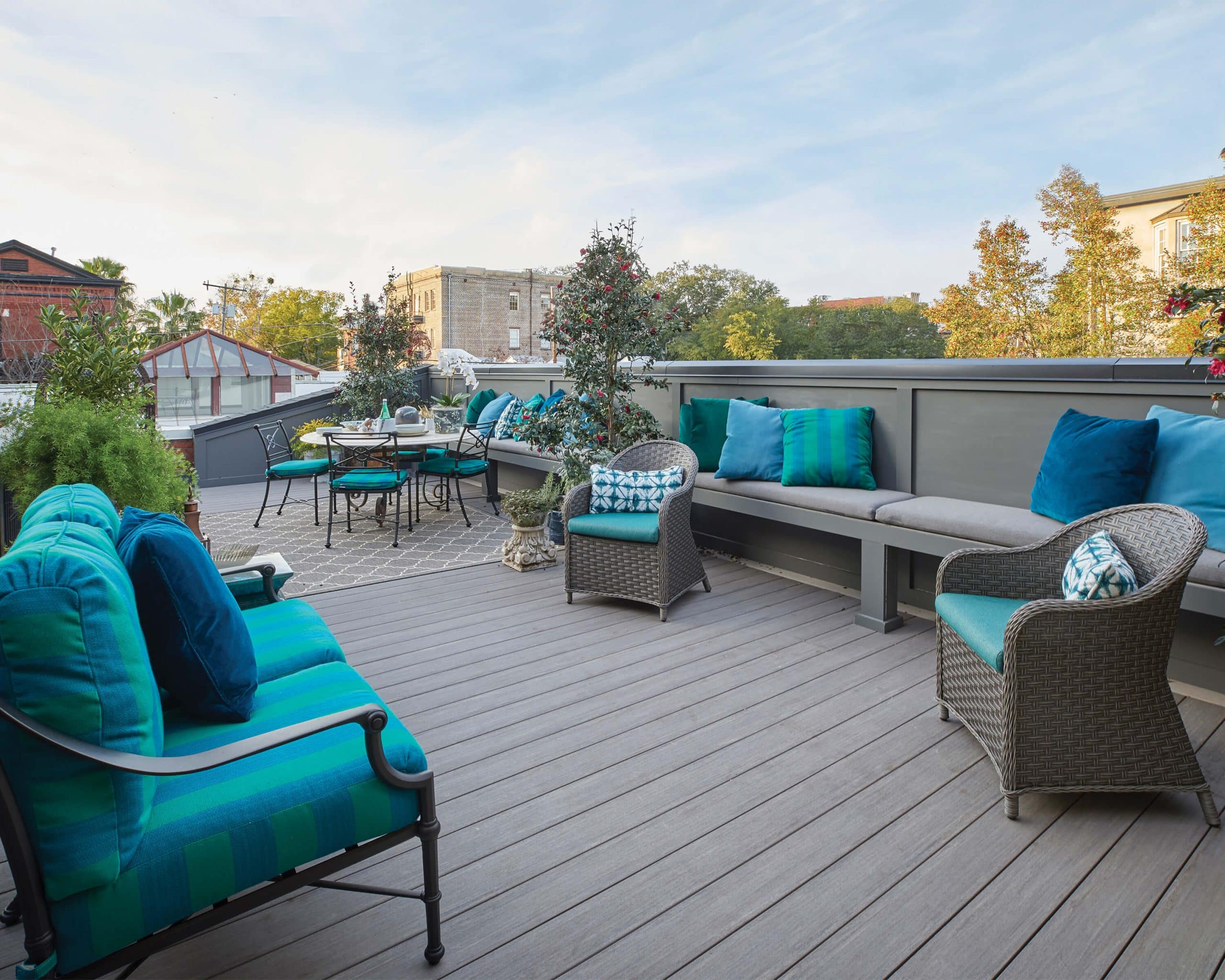 Photo courtesy of AFA Forest Products Inc.
"Alternative decking started in the major centres but continues to gain momentum in rural markets. As manufacturers and distributors educate dealers and contractors, they soon realize that by converting homeowners to alternative to wood decking (PVC or Composite) it reduces the common issues inherent with wood that generated unnecessary callbacks."
He continued, "The quality of the exterior wraps and finish- es on composites along with the extended fade and stain warranties of the PVC decking being manufactured in North American has been a key driver to the growth we are seeing."
MANY BENEFITS TO MAN-MADE MATERIALS
Building product manufacturers and distributors point to
several major benefits that are driving consumers to choose composite and other decking alternatives.
Premium products can be backed by manufacturer warranties greater than 30 years, says Matt Lipskey, national product manager at Gillfor Distribution Inc., distributors of TimberTech, "Whereas wood offers no warranty."
But many consumers choose it primarily due to its time-freeing low maintenance and longevity, aesthetics (design, colour and texture) and quality. It is part of the growing outdoor living trend of bringing the inside out, Kostesku says. He adds that consumer's free time is becoming too valuable to be wasted with staining, painting or sealing wood decks.
Jeff Morrison, vice president of Goodfellow Inc., which offers both composites (Fiberon) and treated wood (Terra), echoes the statement, saying that decking colour and design is being viewed through the lens of how it ties with the overall home and garden.
"Composite is a higher quality and upgrade over wood," he adds. "Kind of like the decision to install hardwood floor- ing instead of laminate or buying a Mercedes over a Kia. Some people want quality and luxury." Still, "2019 has seen the addition of much lower priced composite products that ultimately allow many homeowners to make the jump up into composite," Morrison says.
WOOD HAS ITS PROPONENTS
Wood is not down for the count in terms of decking supremacy. In fact, Morrison points out that treated wood remains the number one choice.
Cost is definitely the top reason for consumers choosing wood, distributors say. Pressure treated wood can be 2.5 to 6 or 7 times less expensive per lineal foot than its man-made alternatives, according to McCart.
But cost alone doesn't drive consumers to wood. Dave McNeil, vice president at Taiga Building Products, points to initial cost as a major factor, but adds that wood provides a comfort level for some, who have "familiarity and confidence in working with wood as a building material."
In addition, he notes that it is turned to in order to "match and mate with an existing wood structure."
Even amidst wood-like textures, tones and appearances, there are also those who just prefer the age-old authenticity of wood. Morrison says some select wood because they " just need a deck, not a showpiece", but also contends, "Some people prefer good old-fashioned treated wood and see no need to upgrade."
In terms of quality, where Morrison gives composite a win, he does note, "Exotic wood decking like Ipe that is very expensive, remains a growing category as well."
TOTAL COST CONSIDERATIONS
While cost is a major factor for choosing wood, composite decking has its own cost story to tell and that is one cost of the lifetime of the deck.
"Although the long-term cost of ownership is still greater, the upfront cost of wood is more attractive for budget-conscious consumers," Lipskey says of the decision between wood's much lower initial cost versus composite's negligible maintenance needs.
As housing prices become a barrier in homeowners buying new properties and so investing more greatly in their existing ones, backyard redesigns are experiencing the attention typically reserved for kitchens and baths, he says. He suggests this is only further adding to composite decking's appeal.
"Composite decking has become a fashionable product that compliments the style of the home and provides enhanced pride of ownership." —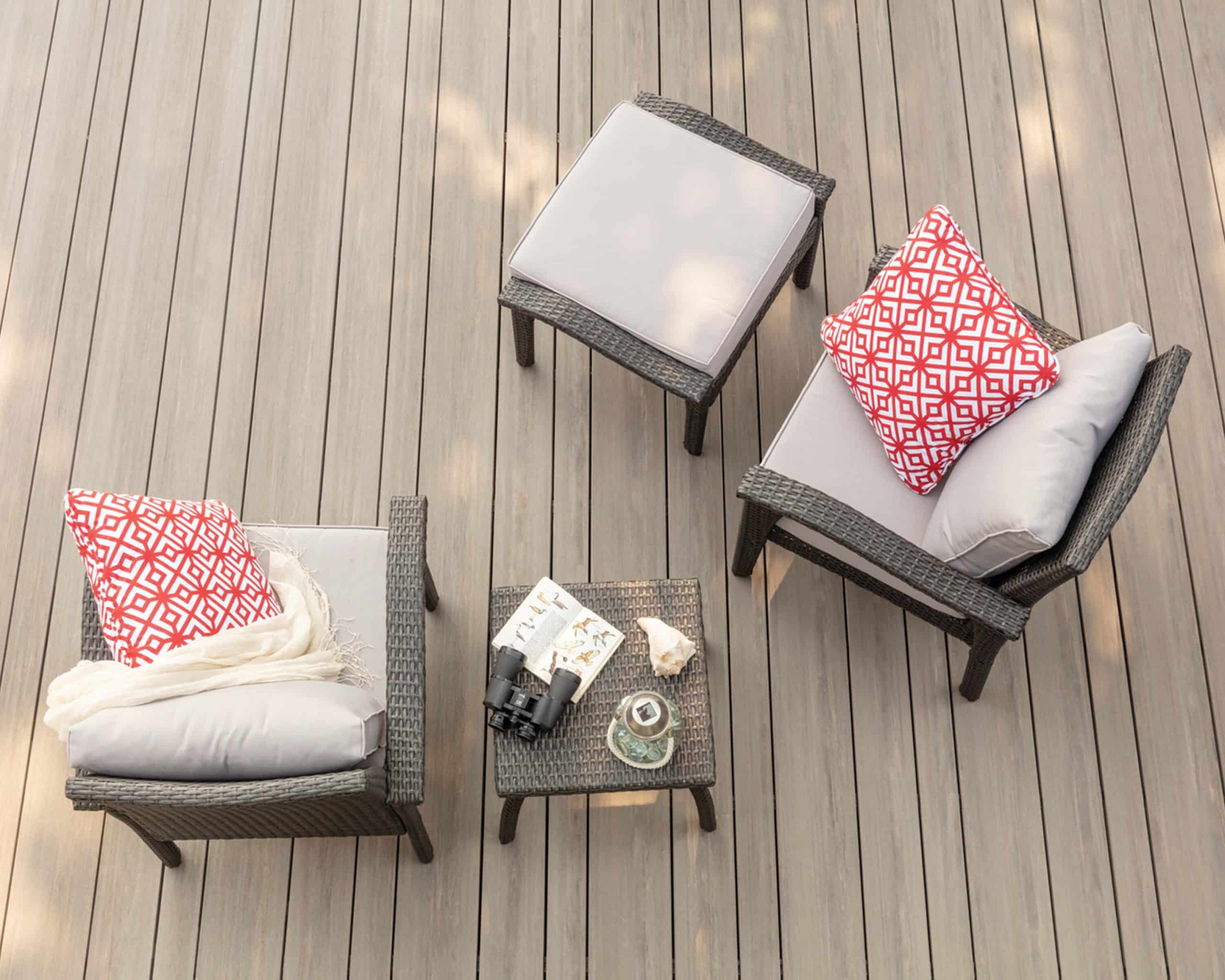 Photo courtesy of Gillfor Distribution Inc.