As Benjamin Franklin once famously said, "The best investment is in the tools of one's own trade." While talking about investing in one's career, the maxim speaks to the benefits of innovation, efficiency, and continuous improvement.
In the past couple of centuries, manufacturers have consistently improved and innovated the tools of the trade, producing better, more durable, ergonomic, environmentally friendly, and effective tools to increase productivity and ease work. Contractor Advantage recently reached out to seven major Canadian tool vendors to find out what new products and innovations have them most excited this year.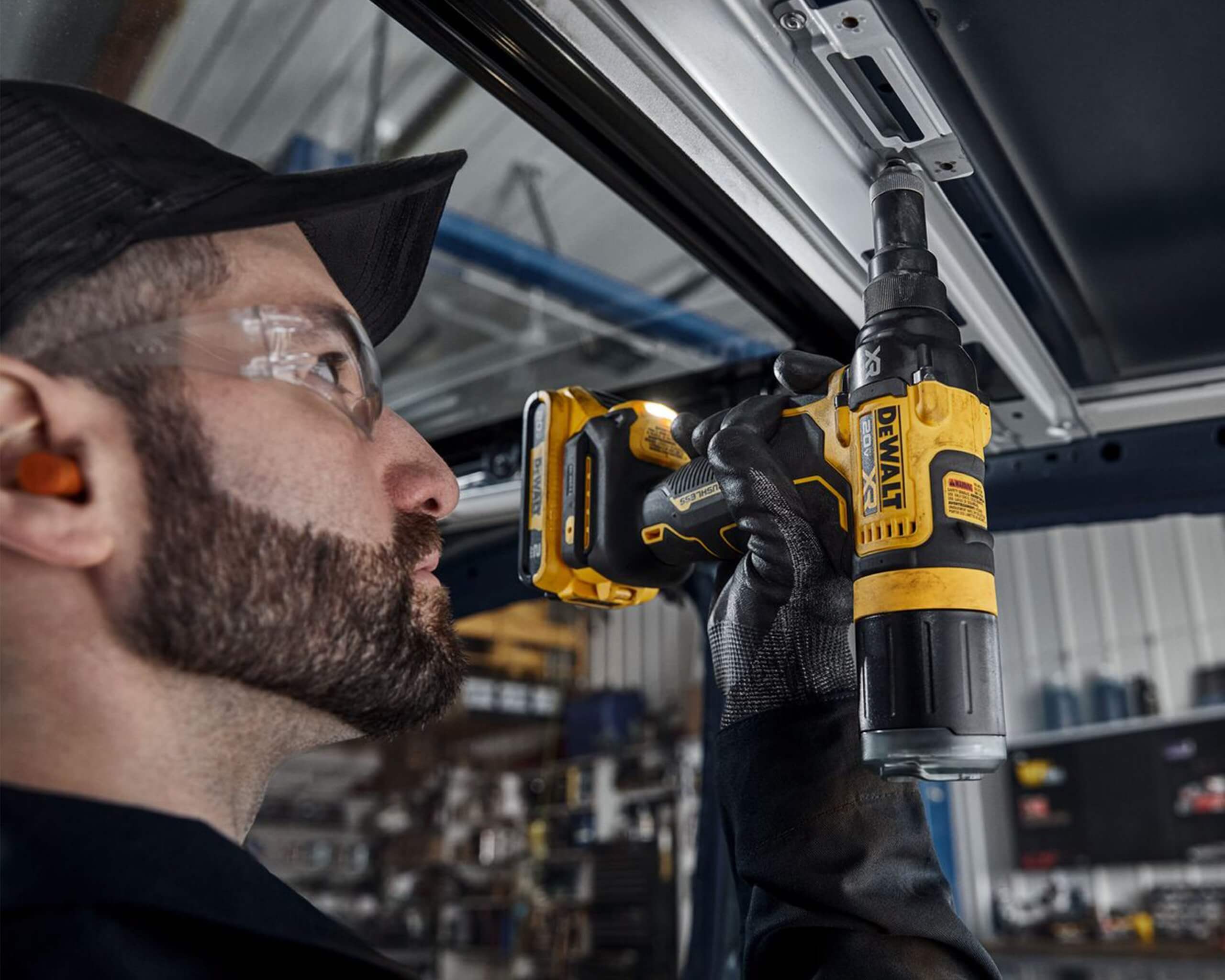 Photo courtesy of Stanley Black & Decker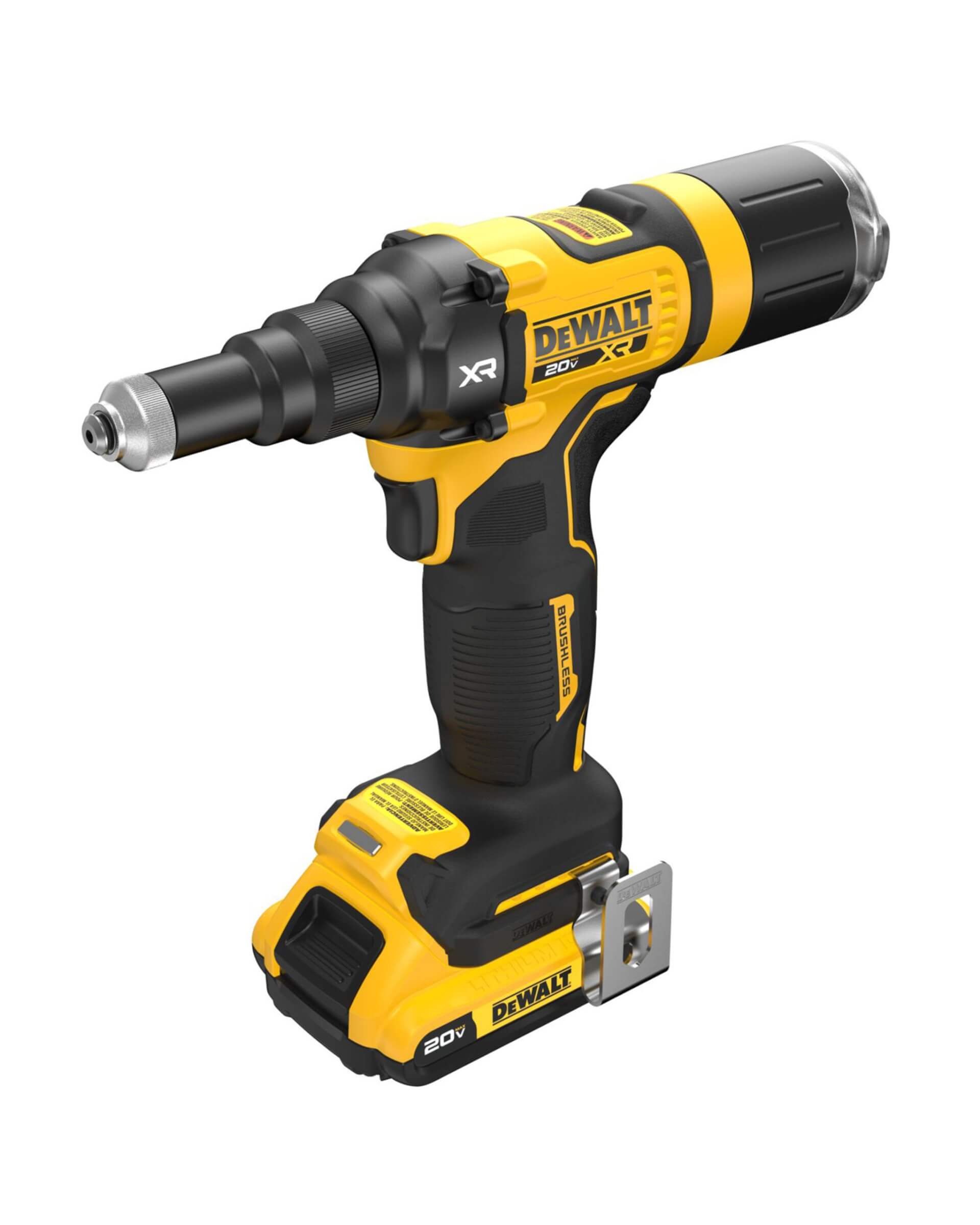 Photo courtesy of Stanley Black & Decker 
MAXIMIZING PRODUCTIVITY
Steve Whidden, marketing manager for Power Tools at Stanley Black & Decker GCX Canada, points to his company's new line of DEWALT 20V MAX* XR Brushless Cordless Rivet Tools as one tool he thinks fits the bill.
The rivet tools come in two models and are designed to maximize productivity. "The DCF403 is a 3/16" Rivet Tool that delivers 2100 lbf of pulling force and is compatible with multiple rivet sizes ranging from 3/32", 1/8", 5/32", and 3/16"," Whidden says. "You can pull up to 800 rivets on a single charge with a DCB203 battery and install aluminium, steel, and stainless steel blind rivets up to 3/16"."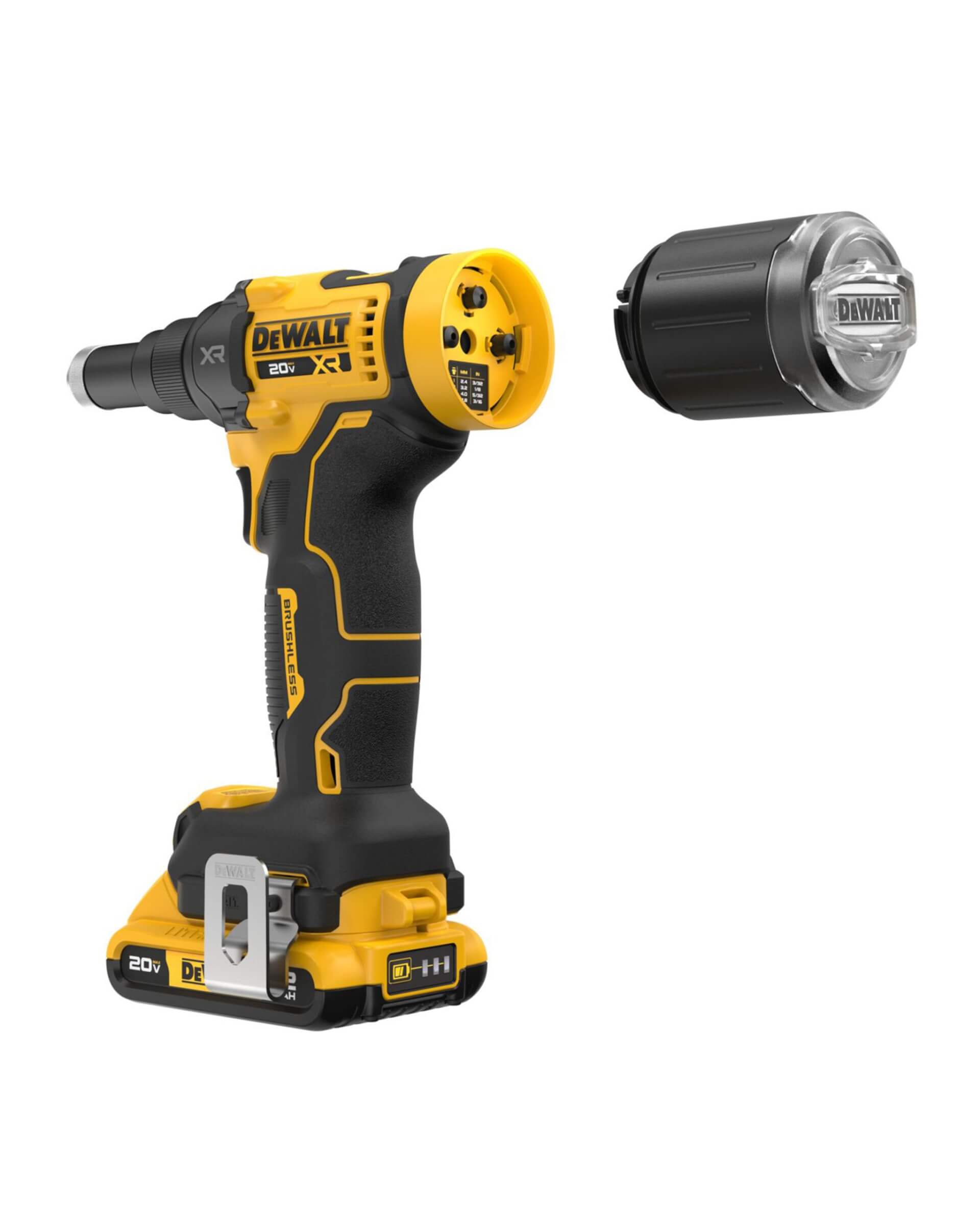 Photo courtesy of Stanley Black & Decker
He adds that the 1/4" version offers 4500 lbf of pulling force, can pull 300 rivets at a charge, and works with 3/16", 15/64", and 1/4" rivet sizes. "The 1.18" stroke length lets you fasten aluminium, steel, and stainless steel blind rivets in one stroke."
It's all about helping contractors be more productive. Whidden notes that both tools, while powerful, are lightweight and feature tool-free nose changes for ease of use, onboard nose piece storage, a mandrel collector to keep the workspace clean and safe, and LED work lights.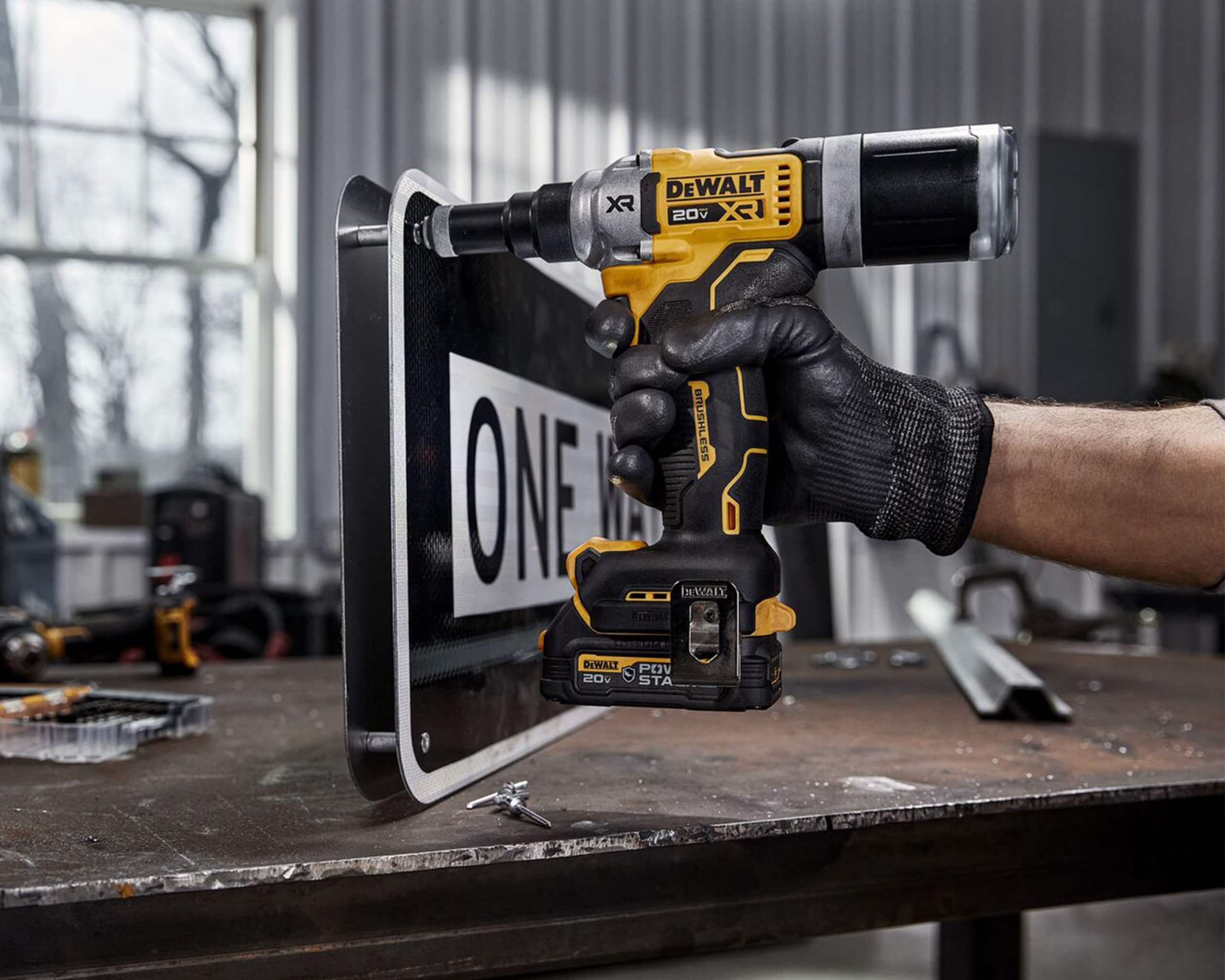 Photo courtesy of Stanley Black & Decker 
SPEED AND PRECISION
Two new IRWIN brand hybrid clamps are designed for speed and precision, says Evan Joseph, Director of Product Marketing for hand tools at Stanley Black & Decker Canada.
"Our Medium Duty Hybrid Clamps are equipped with a rapid switch between clamp and spreader," he says. He adds that contractors can combine two Hybrid Clamps together with provided fasteners at two threaded locations on-bar for additional length, but that they must use both provided fasteners when coupling clamps.
Both clamps, 12" Medium Duty Hybrid (IRHT83500) and 24" Medium Duty Hybrid (IRHT83501), share a variety of useful features, including: a larger, more ergonomic soft-grip handle to allow high clamping pressure with less effort; an I-beam bar that reduces flexing and bowing; and larger clutch plates that allow for easier release while increasing durability and reliability. Non-marring pads featured on both, protect the workpiece.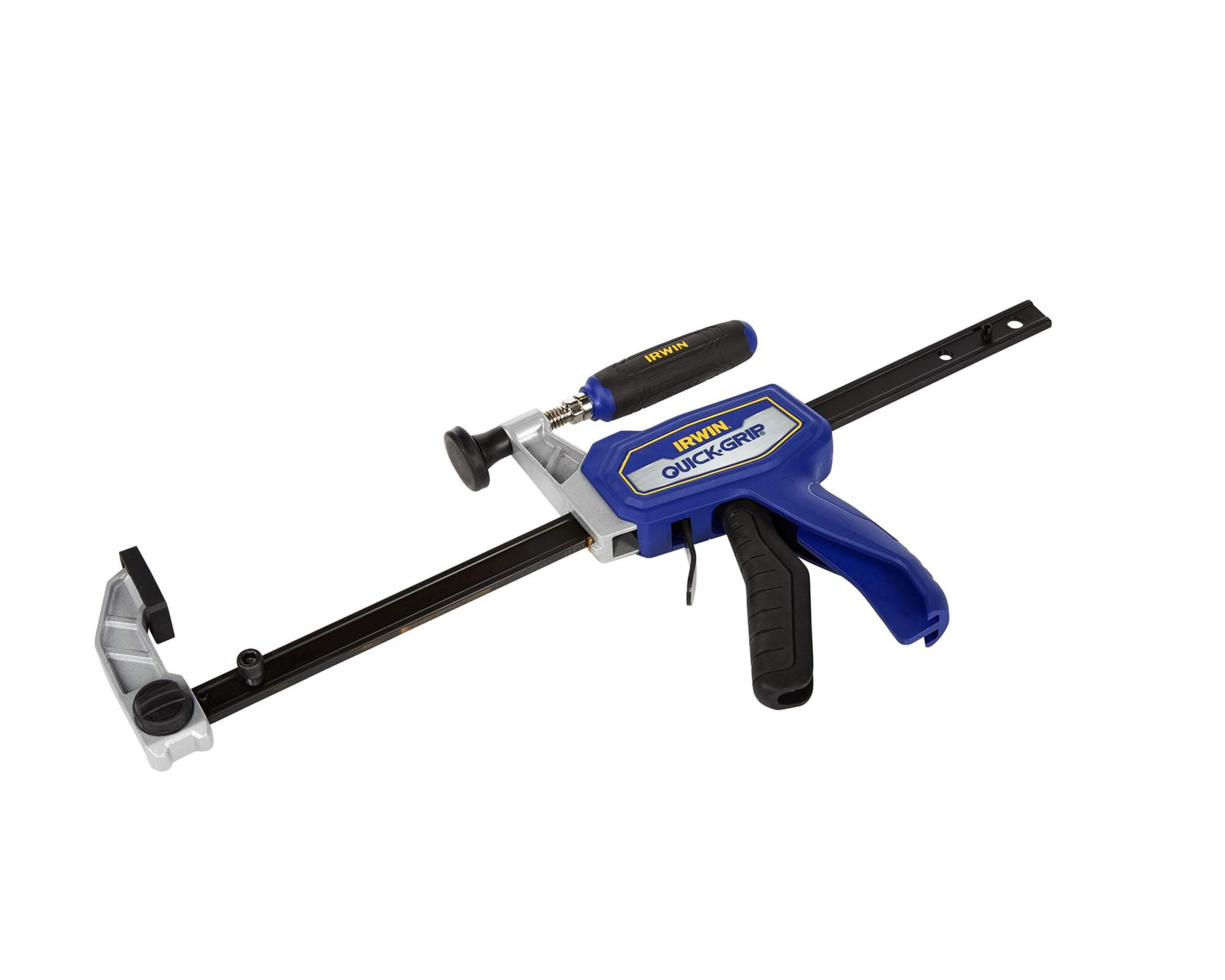 Photo courtesy of Stanley Black & Decker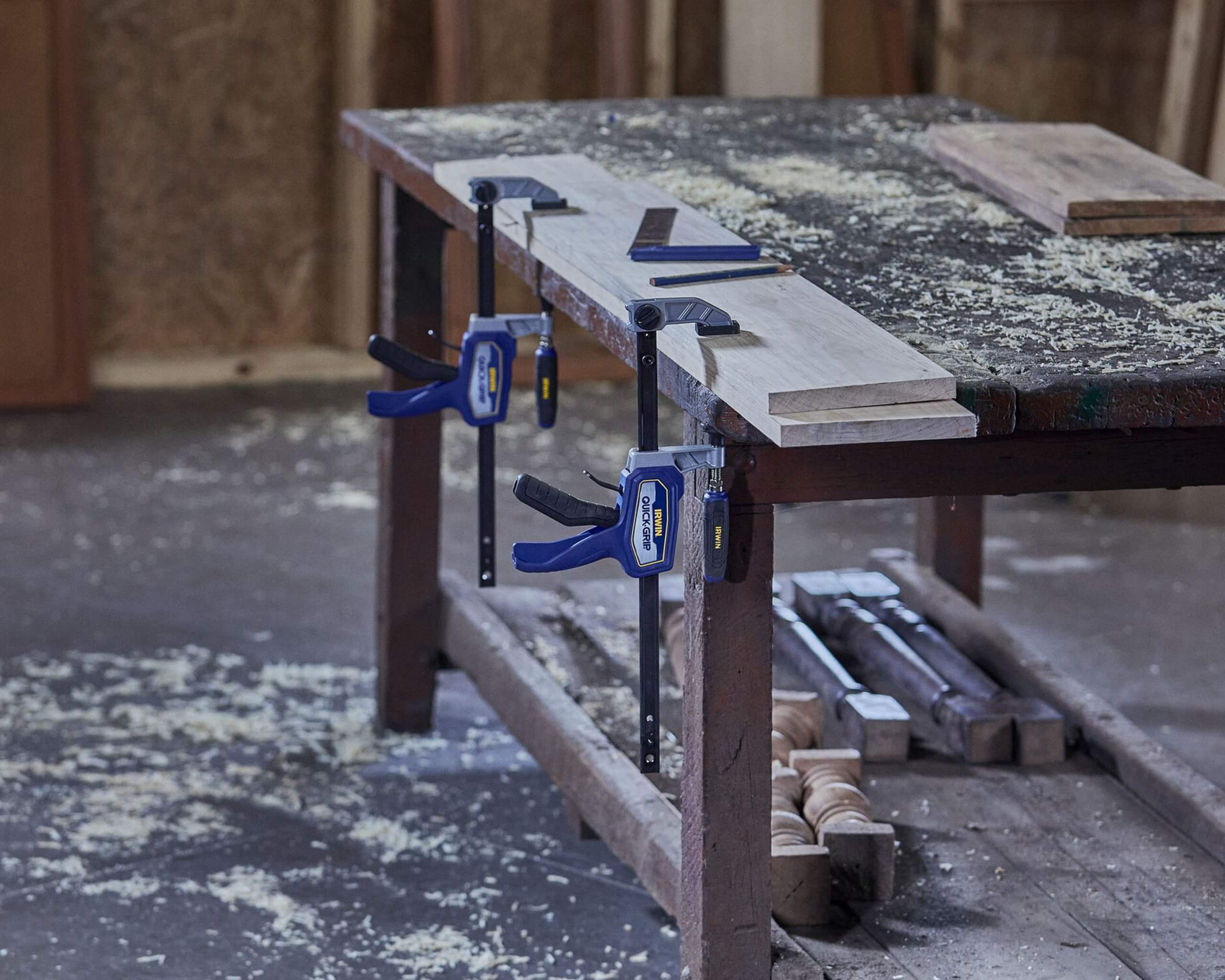 Photo courtesy of Stanley Black & Decker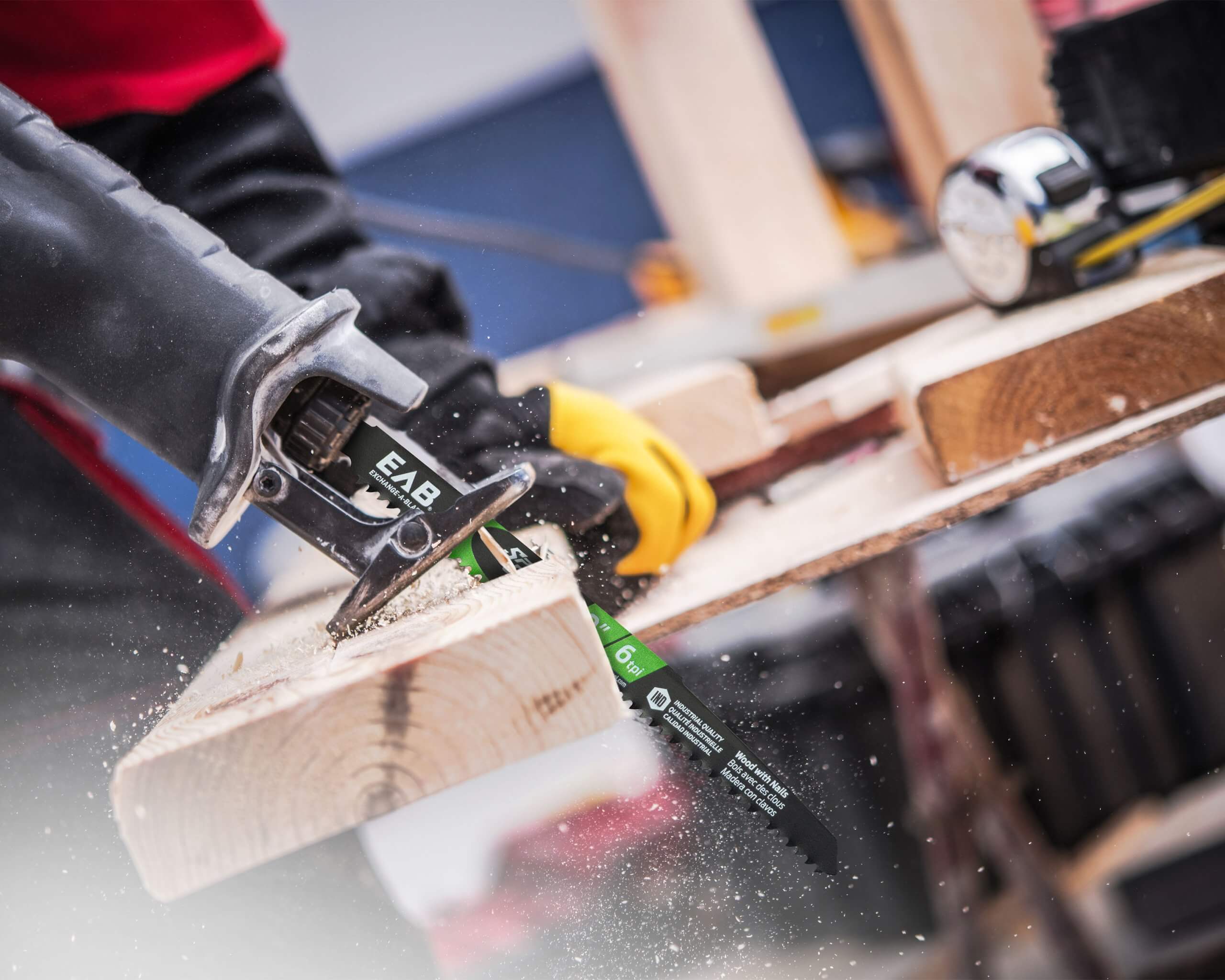 Photo courtesy of EAB Tool 
AHEAD OF THE CURVE
A new line of curved reciprocating saw blades from EAB (Exchange-A-Blade) promises impressive speed, saving time and money, says Dave Cameron, Product Manager at EAB Tool Co.
"It's got an aggressive curve, so it cuts approximately 25% faster than a standard straight reciprocating saw blade," he notes. That speed boost makes a difference.
"If you've ever cut through a 6"x6" post with a recip blade, it takes some time. Now you can cut 10 or 12 at the same time it would take you to normally cut eight."
Called the Speed Curve, this industrial heavy-duty reciprocating saw blade features hardened M42 bi-metal teeth to keep it sharper longer, extending the blade life in tough jobs like wood with nails or other demolition applications.
The blades come in 6", 9", and 12" with a 6 teeth per inch configuration, and like all EAB products, they can be exchanged once dull for a credit towards the purchase of a similar blade. Saving time and money while helping the environment, since the B.C.-based company either recycles or remanufactures returns.
"We hope it becomes second nature for the people who buy our products to take them back to where they bought them," Cameron says.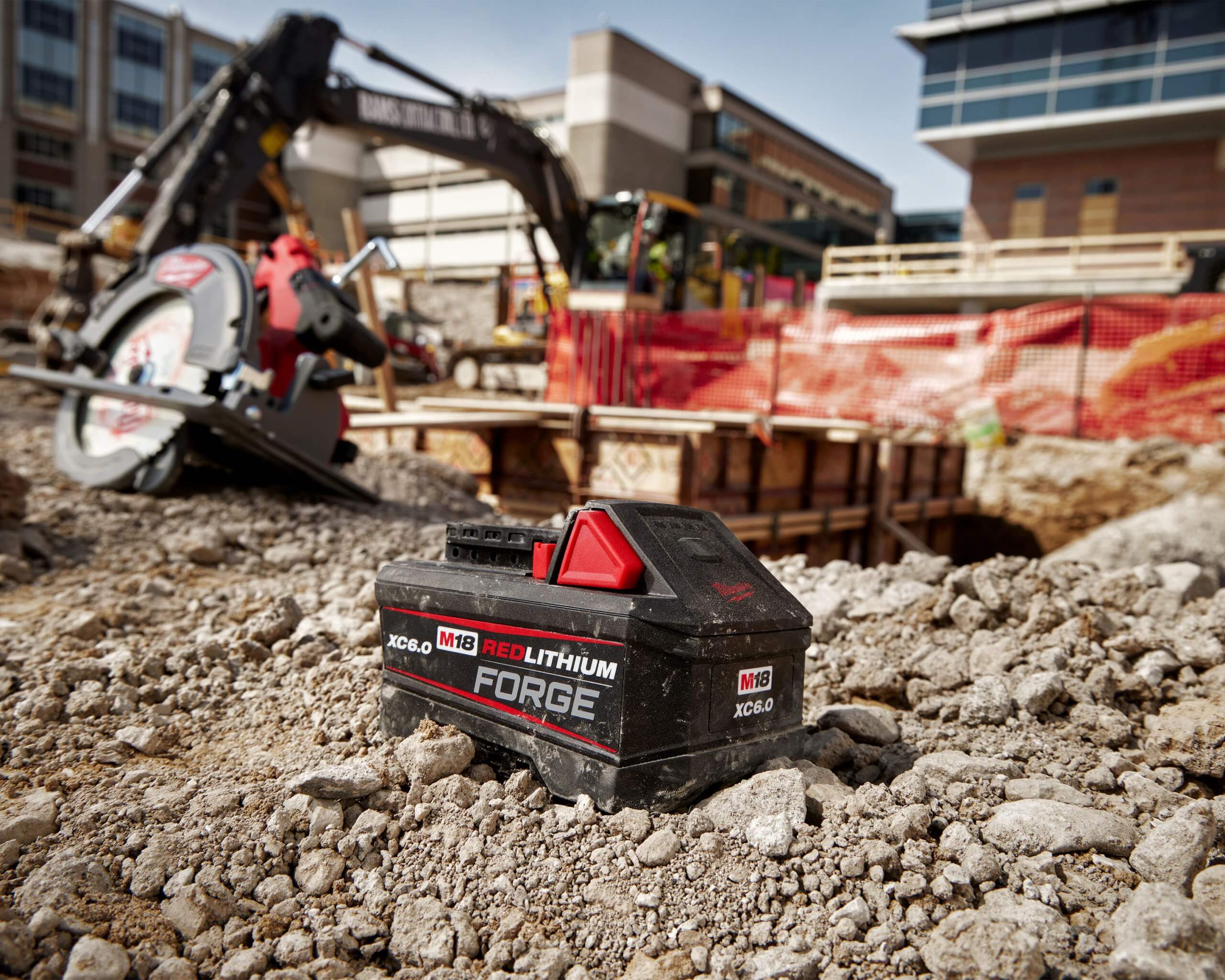 Photo courtesy of Milwaukee Tools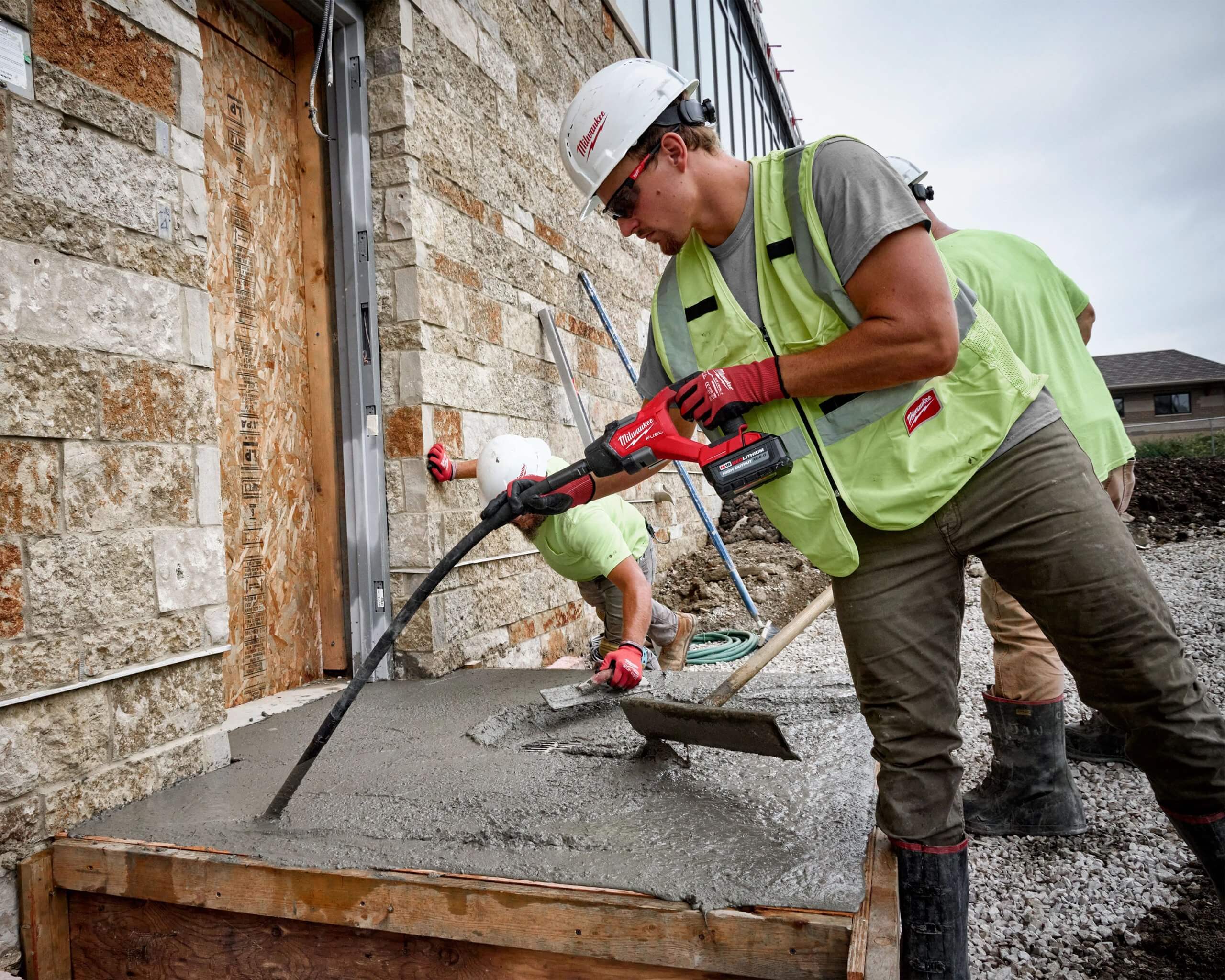 Photo courtesy of Milwaukee Tools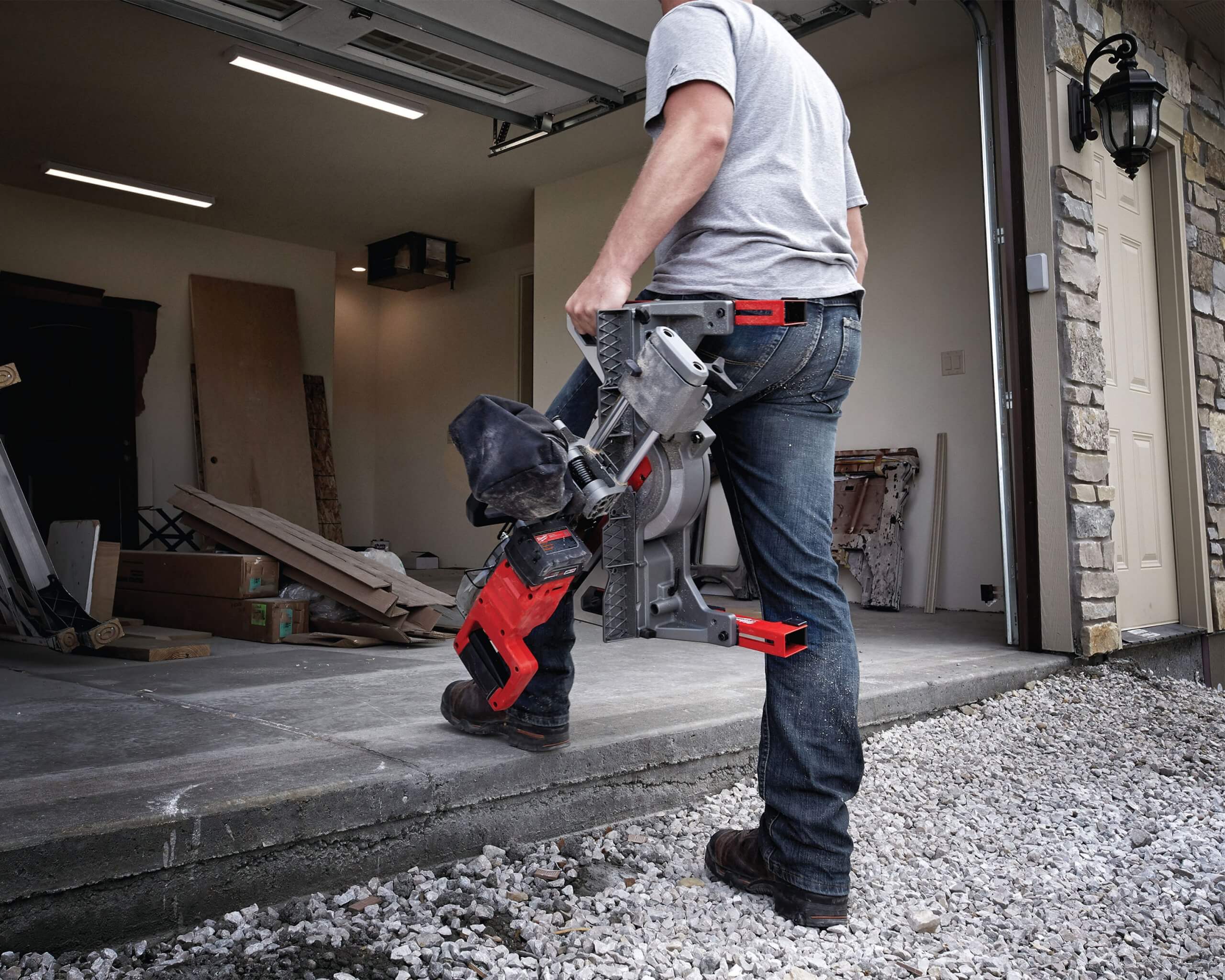 Photo courtesy of Milwaukee Tools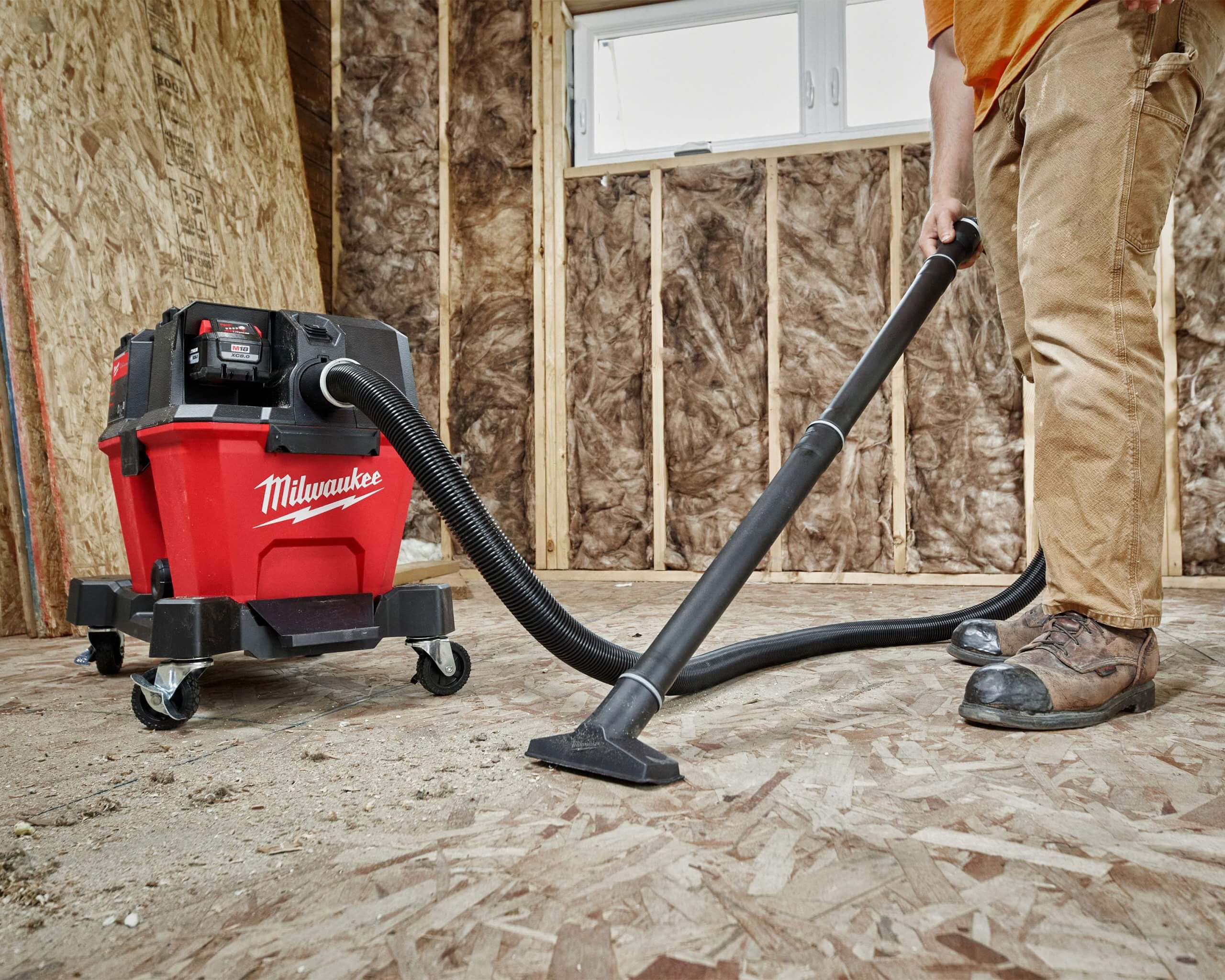 Photo courtesy of Milwaukee Tools 
"HOT" NEW TOOLS
Three new tools launched in the back half of 2023 are "definitely cool," says Sarah Margach, Strategic Account Manager for Hardware at Milwaukee Tool.
In late September, the company released a new battery and charger for its M18 system: the M18 Redlithium Forge XC 6.0 battery and the M18 Dual Bay Simultaneous Super Charger. The battery, she says, "delivers high output HD12.0 power in a small size" and has a 15-minute supercharge to 80% when paired with the charger.
"Both of these solutions deliver massive benefits to the M18™ system on their own and when paired together," she says.
Margach is also excited about a product Milwaukee launched earlier this year, the M18 70,000 BTU Forced Air Propane Heater. Designed for all trades, with performance rated from 30,000 to 70,000 BTU, the heater has a fast setup with 
top-of-the-unit controls for easy access and onboard hose storage to house its hose and regulator. "Powered by a brushless motor, our M18 Propane Heater will deliver all-day run time on an M18 XC 5.0 battery. With AC/DC functionality and ergonomic design, it can easily be transported and used in various well-ventilated environments."
RELIABLE FASTENERS WITH A RANGE
Seven new premium structural screw products from Reliable Fasteners cover a wide range of professional needs.
Dubbed Power Drive, all screws have ICC ES certification with the Building Code for both structural performance and corrosion resistance, but then options start to differ dramatically. While the Power Drive CST is designed to be a quick alternative to existing structural construction screws, the line's six other products provide unique benefits and performance advantages for specific applications.
"The STR (Dimensional Lumber Structural Screws) with its unique thread is the ideal assembly screw for deck beams or posts, and the LVL (LVL Beam Structural Screws) is specially designed to assemble the finicky 1-3/4" thick Laminated Veneer Lumber," says Alain Bourassa, Product Manager at Richelieu Hardware, Reliable Fastener's parent company.
"The FIT (Dual-Action Premium Trim Head Screws), geared towards mitre assemblies, has to be the most innovative screw on the fastener market to be launched in the past 15 years."
Also part of the line are: LOG structural screws for timber and log construction; PVH finish headboard and trim screws; and EVO dual-action premium construction screws. Bourassa directs contractors to the Reliable website, which features QR codes to open videos illustrating each fastener's differentiators.
SMOOTH, CONTROLLED CUTS
Ted Fuller, Vice President of King Canada, has a new power tool that he says will be welcome news for woodworkers, carpenters, and DIY enthusiasts alike.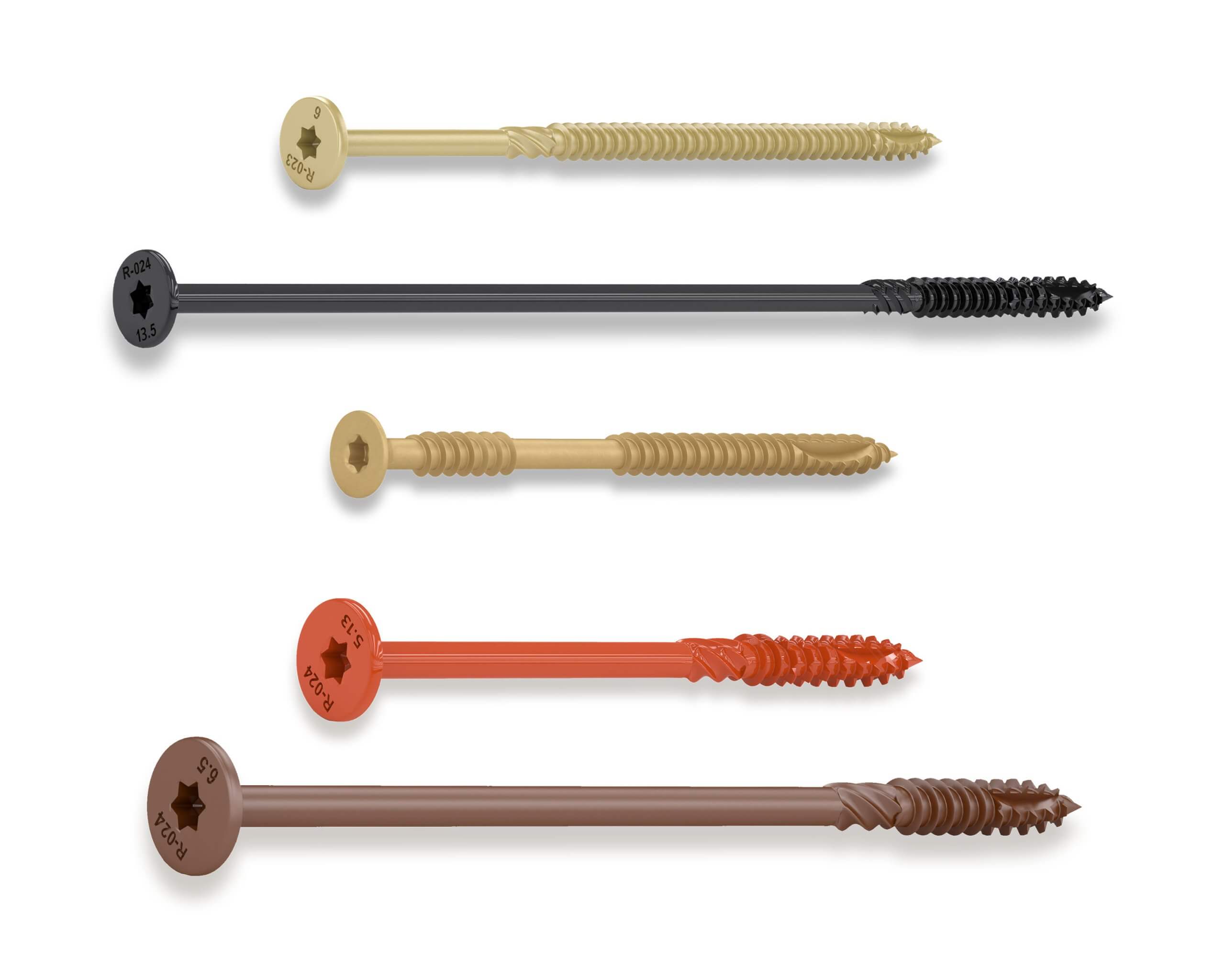 Photo courtesy of Richelieu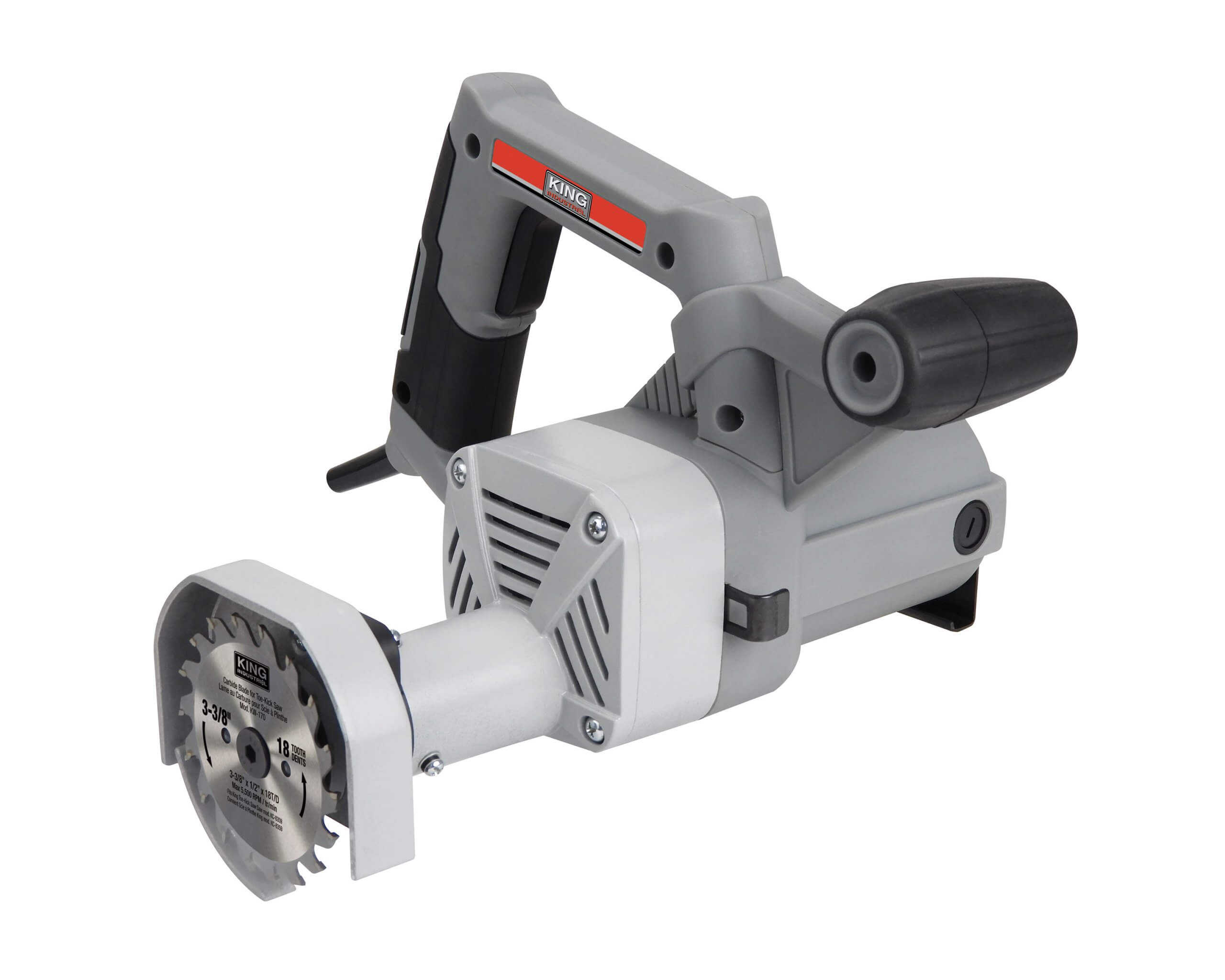 Photo courtesy of King Canada
His company's new 6-1/2'' Variable Speed Plunge Cut Track Saw (KC-8365) is designed to be ideal for smooth cutting of solid wood and plywood, especially when combined with King's 50" track model (KW-300).
"The Track Saw provides a unique blend of portability, accuracy, and versatility, making it a valuable tool for those who prioritize and value precision cutting and want a more portable alternative to traditional table saws or have access to a panel saw," Fuller says. "This is especially valuable when cutting sheet goods on site or for letting in the trim boards of composite decking."
He lists controlled straight cuts, controlled depth of cut, reduced tear-out, and accuracy as the tool's key advantages. "Add its portability and safety, and you have a great tool for the contractor."
A compelling aspect of the King industrial saw is its compatibility with and the rich range of features found in other name manufacturers—but at half the cost, according to Fuller. "I hate to make this a cost argument, but the price-value equation is very good."
CONTROLLED CUTS AND NO EMISSIONS
Makita Canada is excited about its new 40V max XGT Brushless Cordless 14" Rear Handle Chainsaw that has the power equivalent of a 42cc gas chainsaw.
"I've been working with a lot of professional arborists that have independent businesses, as well as municipalities across Canada; we've gone 
head-to-head with 42cc gas chainsaws and met or outperformed all brands," says David Stewart, Business Development Manager for OPE (outdoor power equipment) at Makita Canada.
He says three main things set the chainsaw apart: instant power, zero maintenance and emissions, and zero gas and oil exhaust fumes.
The chainsaw features a brushless DC motor with a high power-to-weight ratio to generate less heat buildup, ideal for prolonged cutting, a noise level of only 104 dB, which combined with its lack of exhaust fumes increase operator comfort, and a toolless bar mounting and chain tension adjustment for quick and easy setup and adjustment on the job site.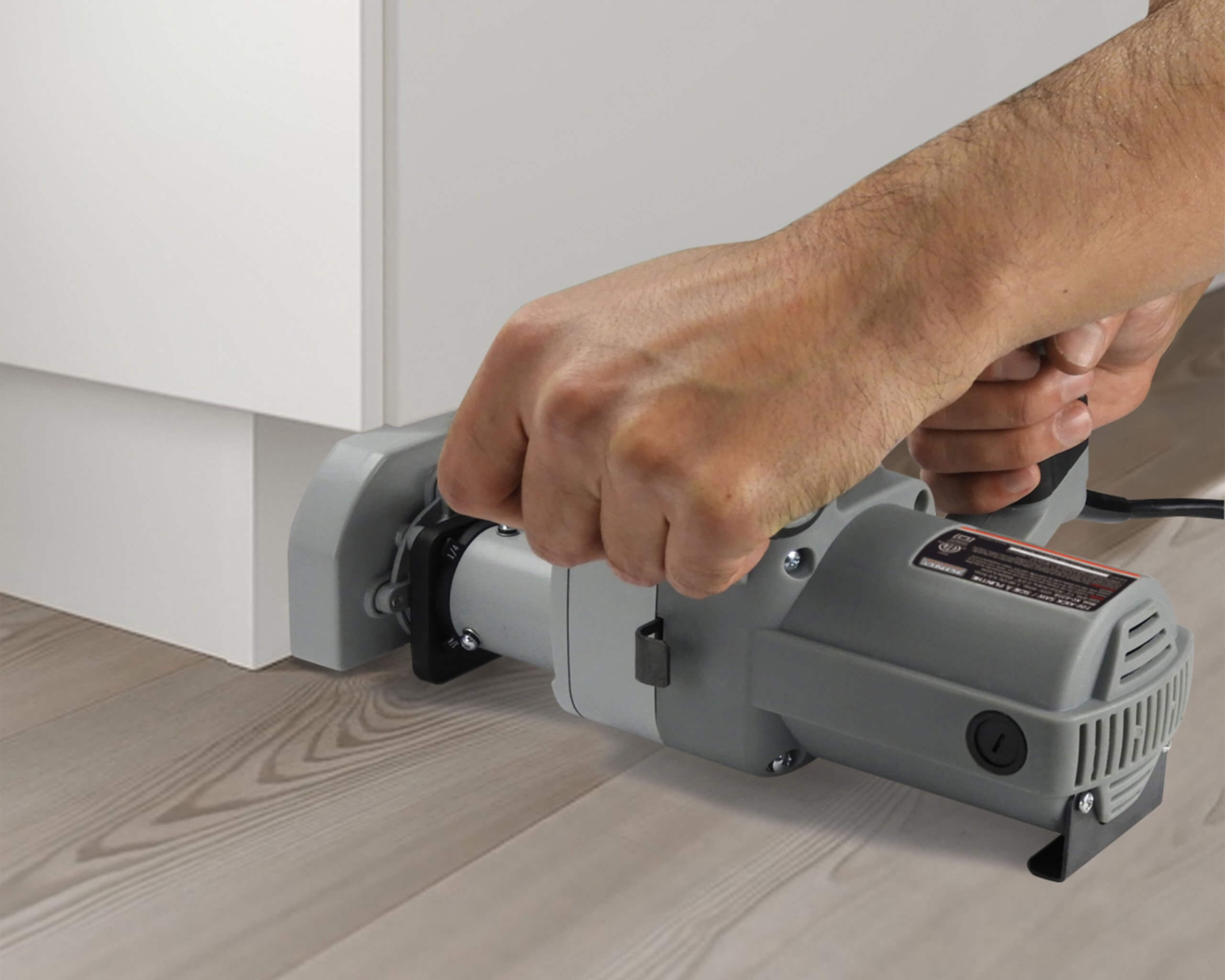 Photo courtesy of King Canada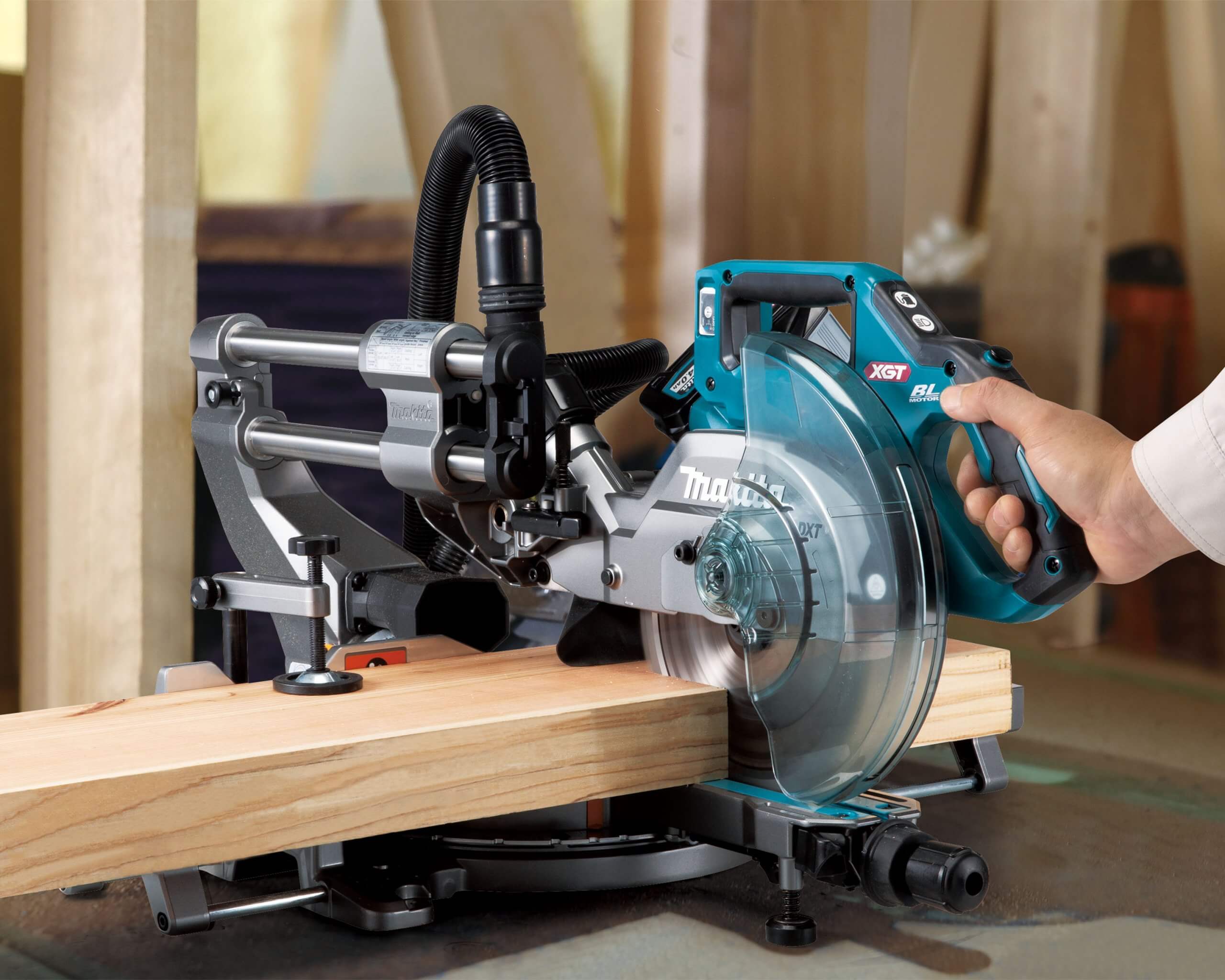 Photo courtesy of Makita 
"Log cabin builders particularly love our saws with the variable speed trigger as they can achieve intricate cutting while having complete control of the chain speed. You can easily add an Oregan 18" bar and chain to these saws, and it will still obtain the exact same results as the 16" versions of the XGT chainsaw."
Stewart is proud to say users tell him the company should be marketing the tool as comparable to a 50-cc chainsaw, but Makita prefers to "let the tools do the talking." —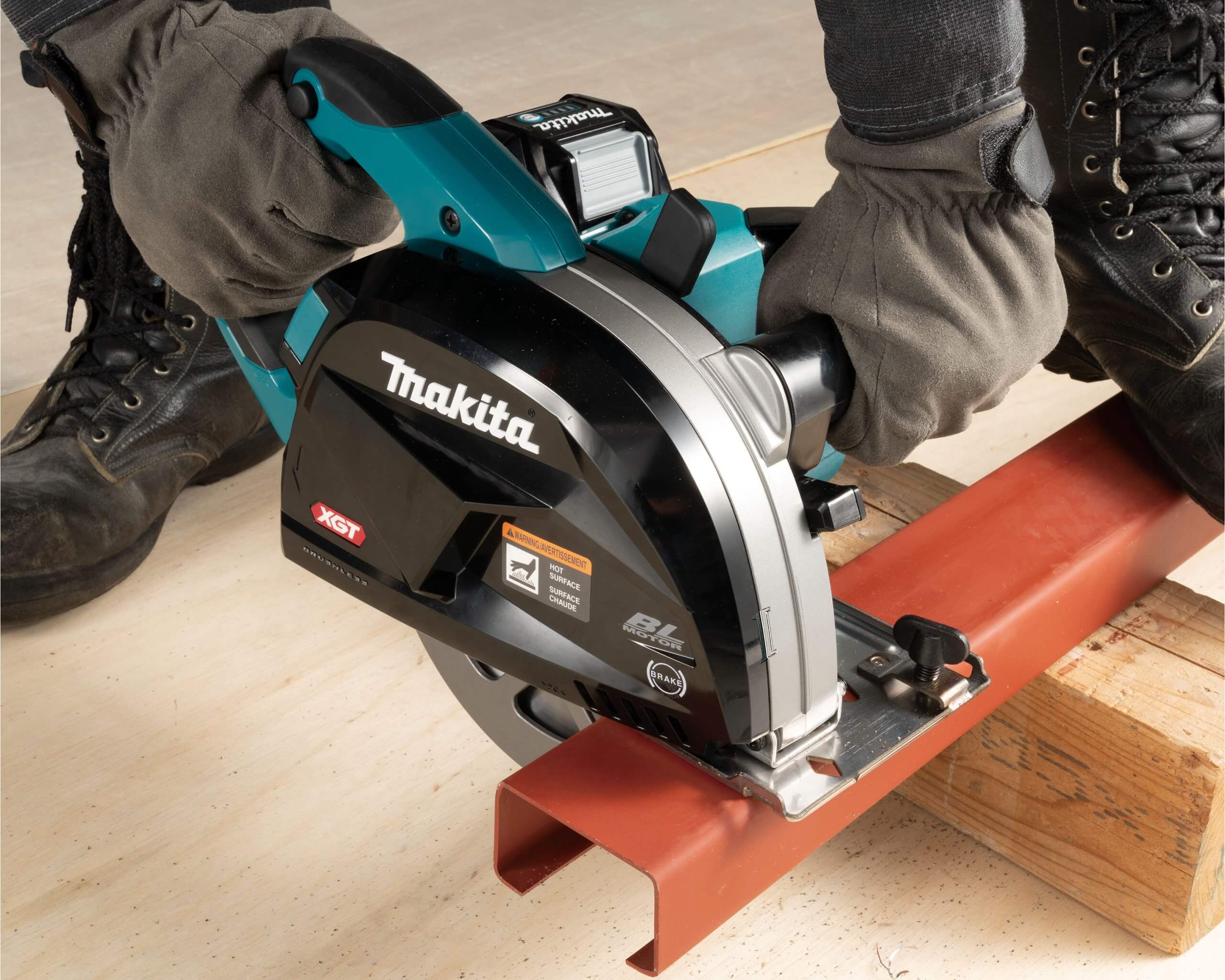 Photo courtesy of Makita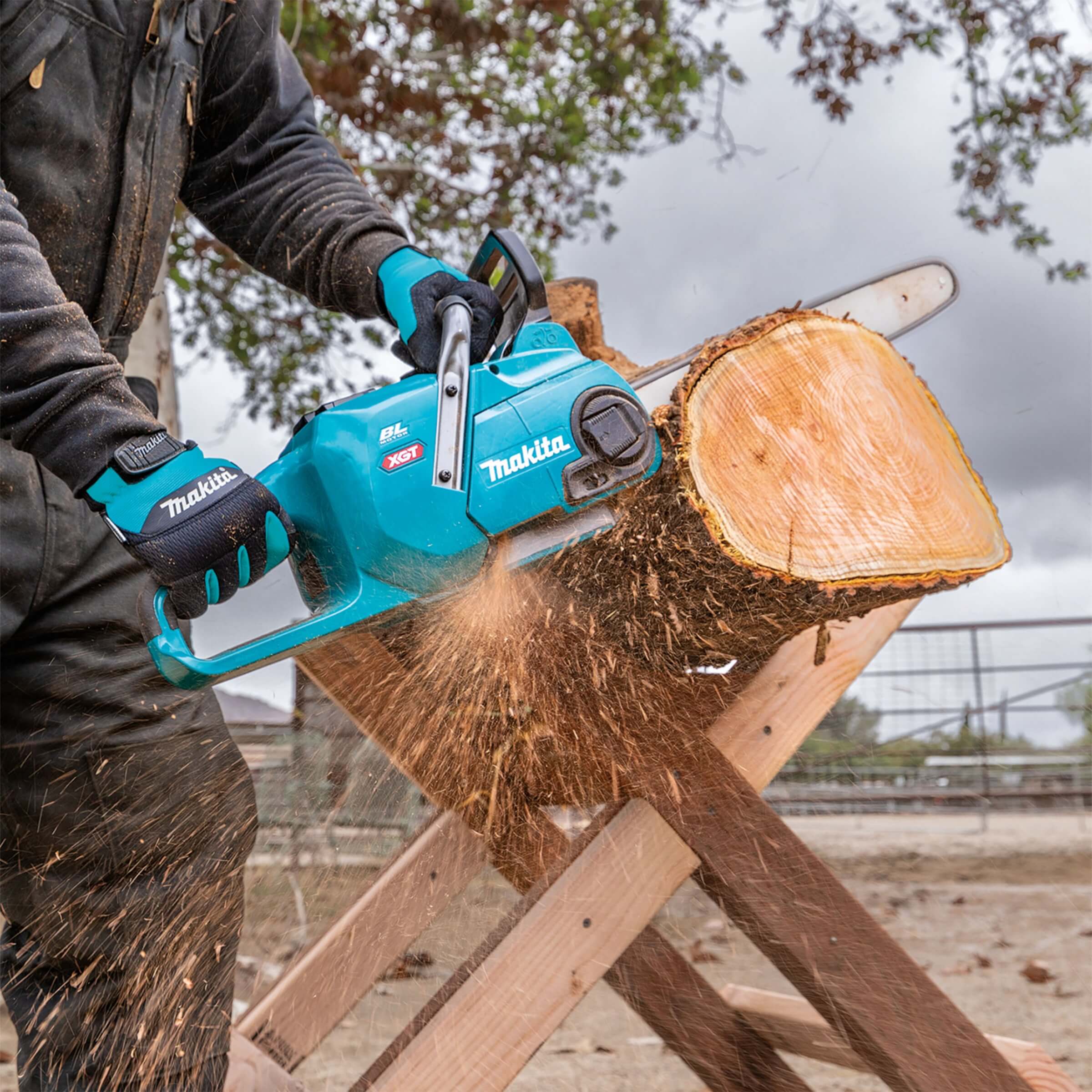 Photo courtesy of Makita