Many tools that grace a contractor's kit have been in use for decades, but that doesn't mean tool manufacturers aren't in a constant state of upgrading and improving what goes into the truck or onto their toolbelts.
A few recent product releases from major manufacturers illustrate just how innovations around performance, durability and features are helping contractors to 'work smarter not harder' and safely get more done in less time.
UNTETHERED AT THE SITE
It's a time that has manufacturers excited, said Stephen Blain, Commercialization Manager for Professional Power Tools at Stanley Black & Decker Canada.
"Right now, in the power tool industry, everything is exciting," he says. "Because there are so many big things happening." Big things in battery technology and tool strength, he adds. The power tool industry, he suggests, has been given a boost from another innovative one: the automotive industry. "Because of electronic vehicles pushing the limits on batteries, that has rolled over to help the power tool industry with better cells that are able to deliver more power to applications."
He points to how these battery innovations have been used in his company's DEWALT brand power tools for the FLEXVOLT system to have longer runtime, faster charge and, ultimately, less jobsite downtime. Last spring the company launched its dual-voltage 20V/60V MAX* FLEXVOLT 12.0Ah Battery, a four-port charging station that supports it and 12V and 20V DEWALT batteries and expanded its tool offerings to make use of it. New tools released include a 60V MAX cut-off-saw, 7-1/4″ worm drive style saw, 4-1/2″ to 6″ brushless grinder and double-bevel compounding miter saw. The new batteries are also backwards compatible with most DEWALT 20V MAX tools.
With improvements in battery power, not only are power tool manufacturers producing tools that have more powerful batteries, but also ones with larger amp-hours — that is larger capacity — basically giving them bigger "gas tanks" before needing to be refueled. Add to them today's brushless motors and manufacturers suggest contractors can get the same or more power out of their cordless tools, in smaller, lighter form factors than their corded equivalents.
"Makita's focus has definitely been on the cordless platform," says Matthew Noel, Senior Product Manager at Makita Canada.
"It's our goal to replace as many cords as you can, and we're finally in a place with battery and motor technology that we can do that, and in most cases, you're getting the same or more power."
"So, you can show up at the jobsite in the morning with a range of tools that was never before available, and you're able to do the same amount of work, only faster, easier and with less battery changes."
CLEAN CUTS TO JOB TIME
Terry Hamer, Product Manager at Task Tools, says his company prides itself in listening to contractors, learning their frustrations and bringing them innovations that make their lives easier. For example, Task's new SDS+ and MAX drill bits are such improvement.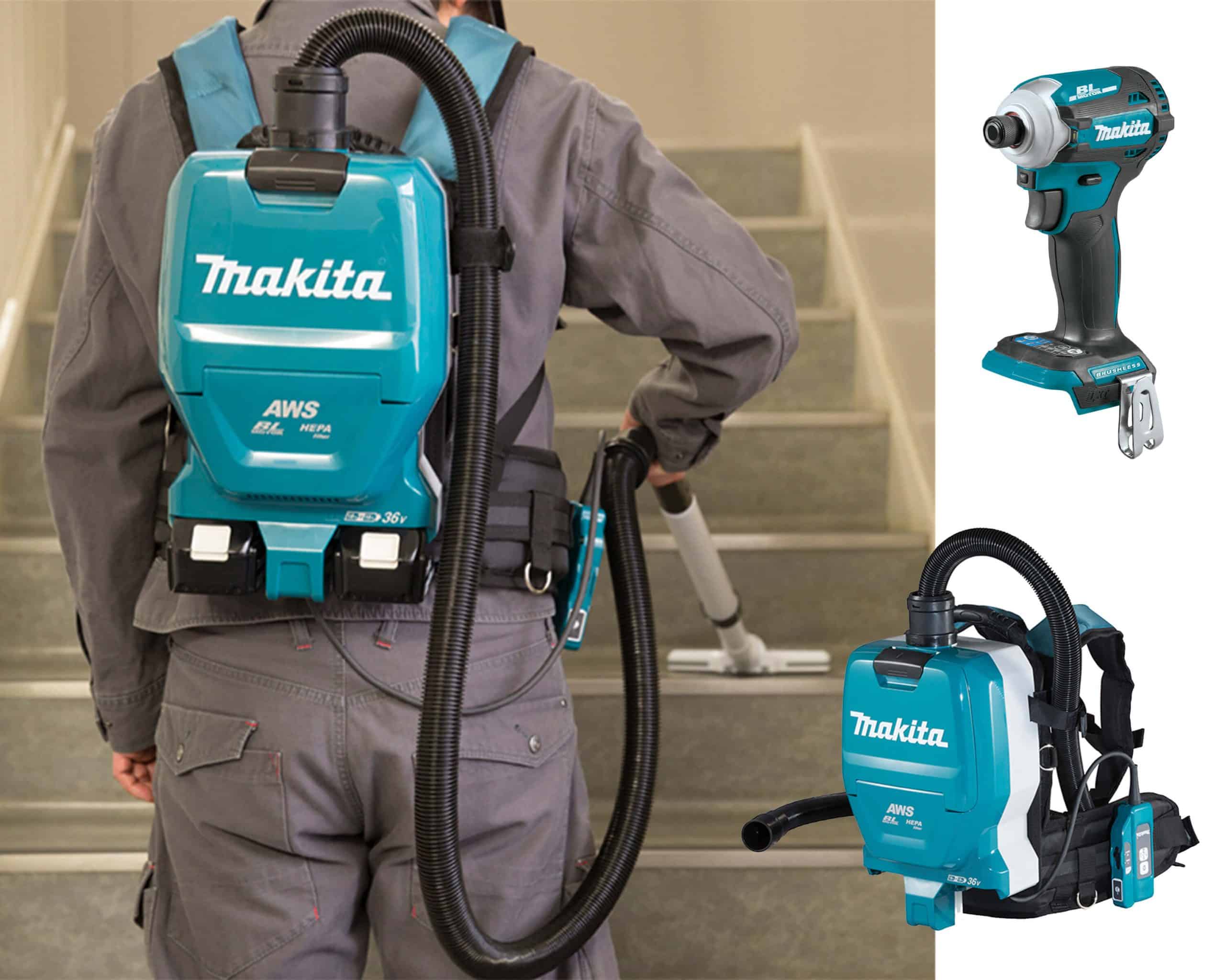 Photos courtesy of Makita
"I'm really excited about our 3-Edge SDS+ drill bits, which are patented technology, able to drill straight holes through rebar," he said. "The reason it works is there isn't ever one edge hitting the rebar at once."
He says the company's 3- and 6-edge SDS drill bits also use a premium French-developed carbine and high-volume flutes to further reduce the possibility of jamming. A special heat treatment of the drill body allows the forces to be concentrated at the tip while absorbing shock waves.
Another such example where Hamer says his company is smoothing the job out for contractors is its recently released Barracuda M42 BiMetal Heavy Duty Hole Saws. Made from steel containing 8% cobalt, he says these saws have double the durability and strength to "cut through (virtually) anything." That durability equates to less time changing saws and more time getting the jobs done.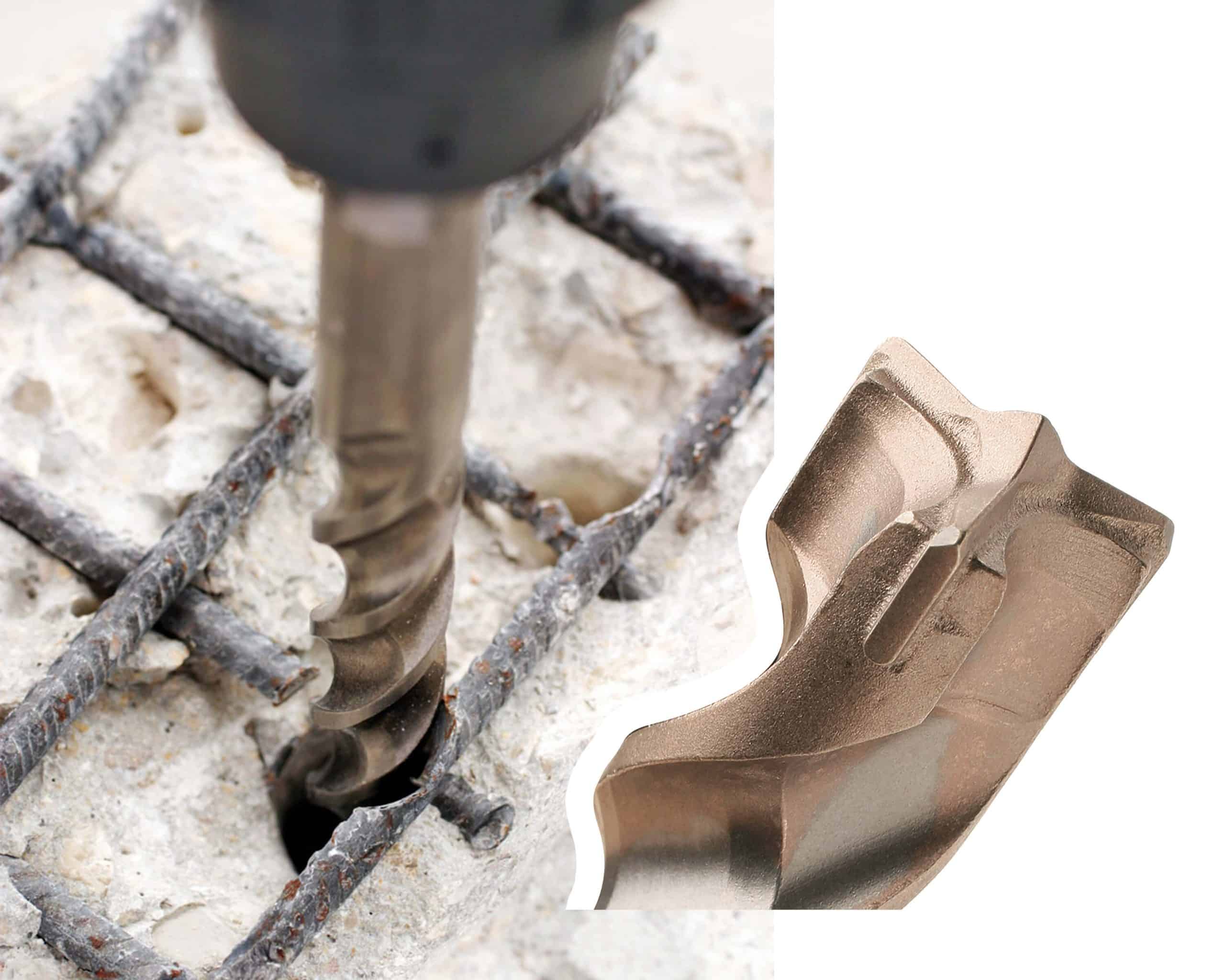 Photos courtesy of Task Tools
Further time-cutting measures can be seen through oscillating power tools that use the patented Starlock or Starlock Plus system, Hamer notes. Made in Switzerland, these accessories are backwards-compatible and afford contractors a 3-second quick change between various plunge blades, segment blades, sanding accessories and more. "They've been using it in Europe for a while now and it's gaining interest, especially with contractors, in Canada" Hamer says.
To similarly make life easy, Noel says Makita's new 18V LXT Lithium-Ion Brushless Cordless Quick-Shift Mode 4-Speed Impact Driver features assist mode and two tighten- ing modes to help eliminate "screw cam-out" and "cross threading." Assist mode, he says, starts off slow then ramps up when torque is required for a "clean, straight drive every time." Auto-stop on reverse stops rotation when the fastener is loosened.
LIGHTEN THE LOAD
Shaun Elliot, the Director of Marketing at Stanley Black & Decker responsible for the commercialization of hand tools, power tool accessories and storage, says one of his company's core goals is to make tool belts lighter.
On that front, he says, they have continued to improve on some tools that are hundreds if not thousands of years old: "Making hammers that are light but just as durable, measuring tapes that are more compact but have all the key features needed, knives that are lighter but can cut deeper." He says the company takes a leap-frog approach, always trying to predict how these tools will be needed five, 10 and 15 years out. For example, his company's DEWALT XP hammer line use grip vibration dampening technology that he says reduces "sting" by 35% and improves grip durability by 25%. His company's new 16′ STANLEY FATMAX Tape Measure (which joins existing 25′, 26′ and 35′ versions) is ergonomically designed with a baseball grip for comfort and sports several advanced durability-enhancing and ease-of-use features. Digital technology has played a part in this as well. For example, the company recently launched a new family of stud finders under its DEWALT brand that uses a novel detection method (dubbed Center Find Technology) to detect the center of studs rather than their edges. It's all about making life simpler, he suggests, adding that these 3⁄4″ and 1-1⁄2″ stud finders also auto-calibrate to further reduce steps.
HEALTH COMES FIRST
One of the more significant trends
in new tools is helping contractors work safer and stay healthy. With OSHA (the U.S. Occupational Safety and Health Administration) regulations rising, and their federal and provincial equivalents here in Canada following suit, health and safety are top of mind.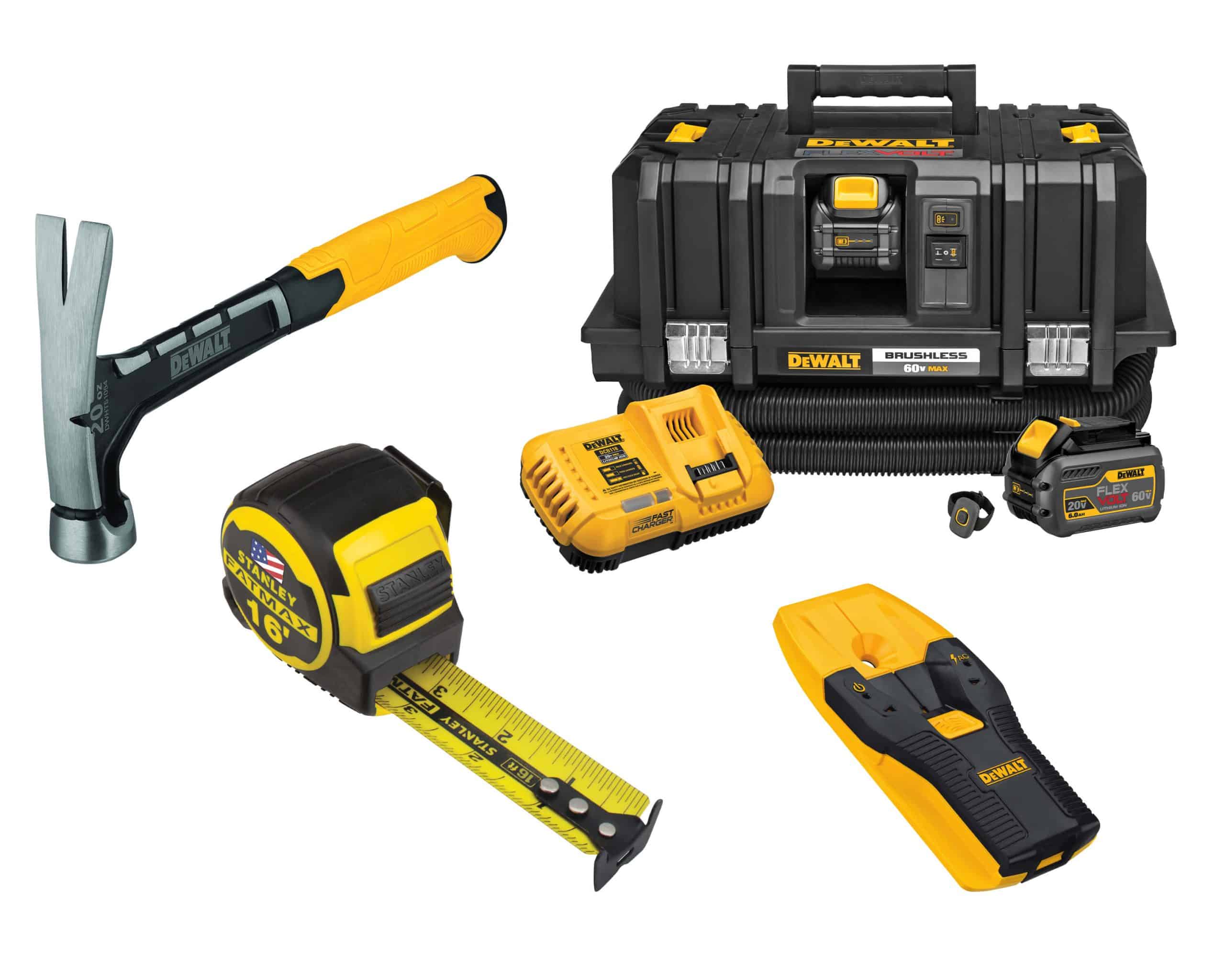 Photos courtesy of DEWALT
"Dust collection in every form is a huge trend," says Ted Fuller, Vice-President at King Canada Tools. "The Health and safety aspects in the work environment are really taking the forefront."
To that end, his company introduced recently an 8- gallon (30L) tool-triggered wet/dry vacuum. Automatically turned on when a contractor uses their power tool, the vacuum automatically starts collecting dust and provides air filtration. The vacuum provides HEPA three-stage dry filtration to capture super-fine dust, but also variable speed, dual suction capabilities (dry or wet) and water-level monitoring with convenient self-stop.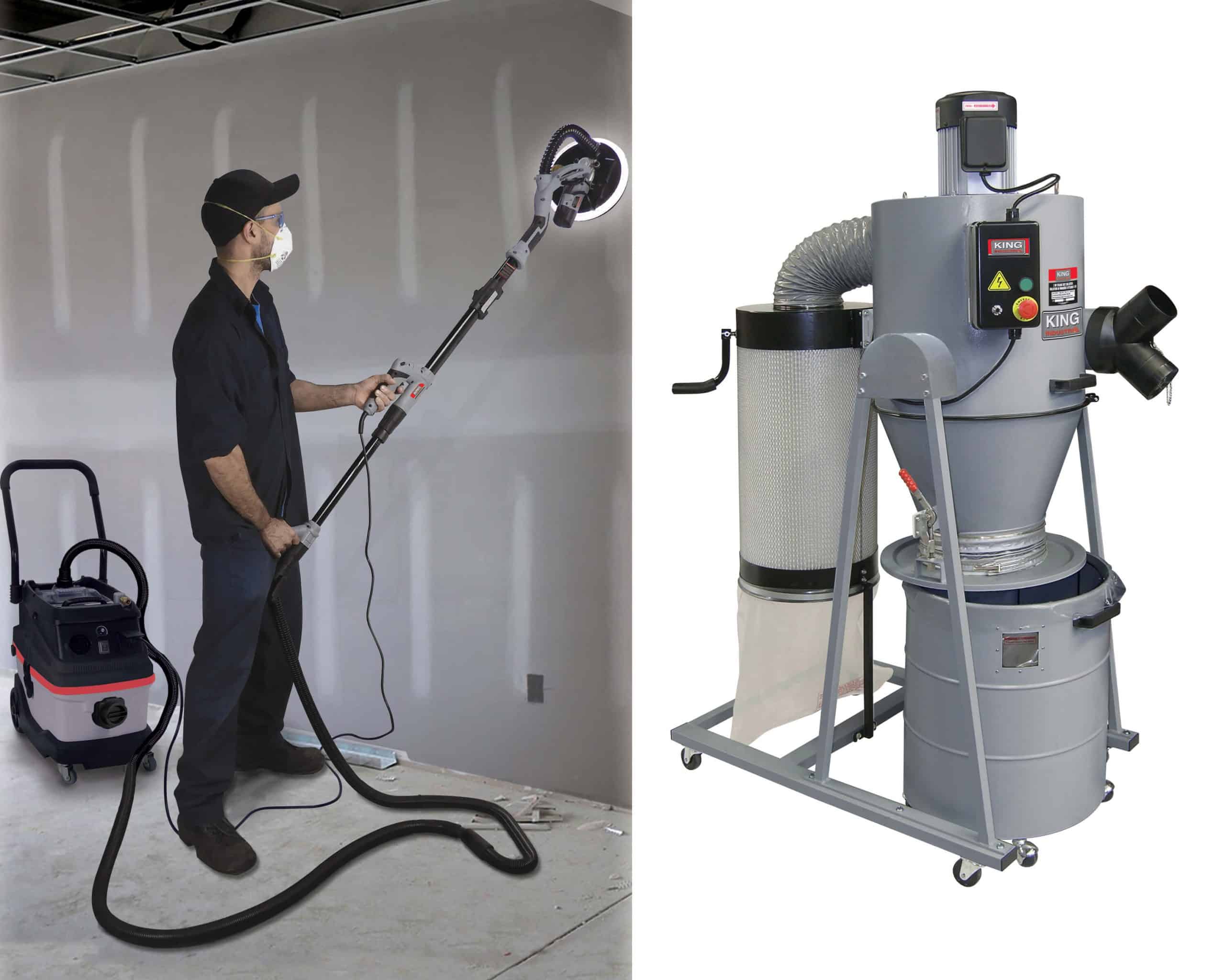 Photos courtesy of King
It's about making staying healthy as foolproof as possible, he says. "The health and safety people want you to be safe, but we all know that if it's complicated people don't do it. If it's natural, easy and convenient, then people will do it."
In part, this focus on occupational health is a sign of increased awareness of the dangers of dust particulates and cancer-causing carcinogens. "When I was a youngster,
isocyanates were barely a thing. No one talked about them. Today, autobody shops — as well as cabinet shops and jobsites — need layer upon layer upon layer of dust and debris collection to remove isocyanates and other harmful chemicals and dust that need to be kept out of lungs."
In the same way, he notes King offers several layers of dust collection tools for carpenters or drywall sanders, given the dust and particular-related health risks they face. For instance, King's variable speed drywall sander that gives a 45″ to 65″ reach, illuminates the work area, and can, of course, be used alone or hooked up to a vacuum for dust prevention.
In keeping with its cordless trend, DEWALT recently released its own FLEXVOLT MAX 60V dust extractor with wireless control for remote activation. As well, Makita recently announced a 18Vx2 LXT Backpack Vacuum Cleaner with AWS (auto-start wireless system) that uses Bluetooth to communicate between tool and vacuum.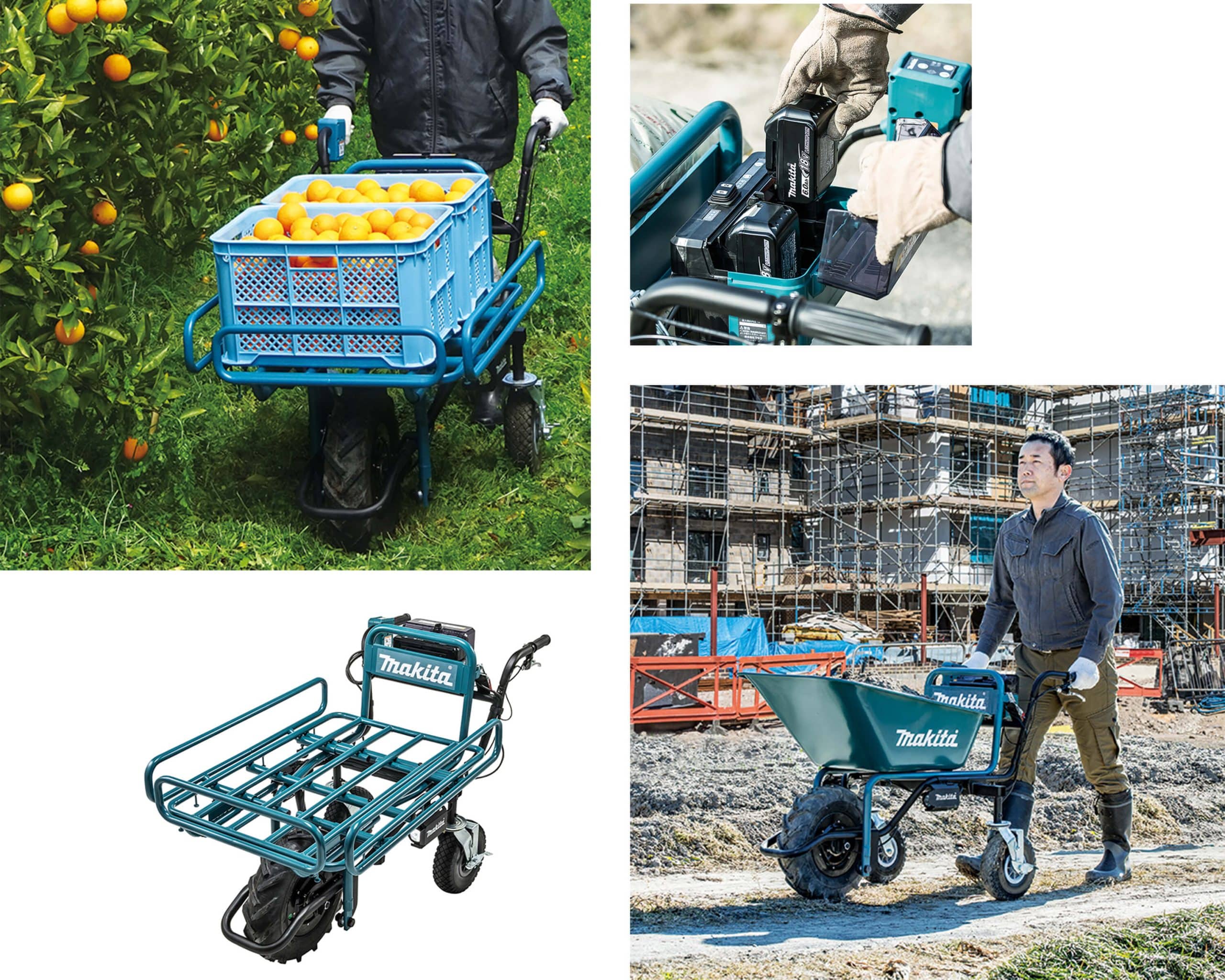 Photos courtesy of Makita
When it comes to workplace health, silence can also be golden. A new line of portable air compressors is rising to that challenge. Fuller says his company's recently launched line of light-weight, portable ultra-quiet oil-free air compressors (in one-, two-, four- and 10-gallon versions). "You can have your coffee break and not shut off the compressor. You have a compressor that will purr away like a kitten. It's protecting people's hearing."
Increasingly, North Americans are recognizing the importance of ergonomics and that bigger is not always better, notes Noel. "Power tools that are smaller and more compact, more ergonomically comfortable and generating less noise — those are good things."
IT NEVER ENDS
Not only does tool innovation never stop, Makita recognizes that a contractor's job as builder rarely ends at the jobsite. That why they've also focused in developing powerful power tools for the home and outdoor living.
"They use our tools through the week to their advantage, and they spend good money on them. There should be no reason they can't do so on the weekend." He says while there's a distinction between area of use and application, it's important to note that the same quality and craftsmanship goes into tools in their " lifestyle category."
His company's new 18V x2 LXT Power-Assisted Brush- less Wheelbarrow with Flatbed Tray walks that line between outdoor work and jobsite convenience. A single 18V battery (it holds two) gives this dust- and water-resistant wheelbarrow an hour of transporting up to 130 kg. "It's a unique use of cordless technology that blurs the lines between so many areas," he says. "It's completely out of our (traditional) wheelhouse."—