Even as homeowners look for a simpler, more contemporary design throughout their home's interiors and exteriors, there is still an opportunity to make a bold statement with their entranceways.
It's also a chance for contractors to take a truly consultative role and introduce them to the options that will meet their needs both in style and substance. Energy code and material choices impact design decisions, and often it's not a simple selection.
"It's a challenge to try to get what they need and what they want. There are certain exceptions, but generally you have the code requirement you have to meet, the door panels, the glass is affected by that," notes Hardy Rahn, Director of Sales for Canada at Alliance Door Products.
"Then there's also the hardware, the security is affected by that. It all does create some challenges, but with all the products available, especially with doors it does make it a little bit easier."
Paul Commisso, Director of Marketing and Product Management at JELD-WEN says homeowners are becoming more exacting as it relates to energy efficiency, in line with regulators.
"Building codes are becoming more demanding," he says. "We also see that consumers are demanding more energy efficient windows and doors, which is steadily driving the development of our high-performance products such as tripane windows, NASF (North American Fenestration Standard)— rated entry doors and improvements to patio door systems."
He says the drive to higher-performance fenestration products is because, "Homeowners today are better educated about energy efficiency. They are receiving real-time data and monthly reporting from their utilities providers and are driven by social norms to reduce the energy they consume and save on energy costs."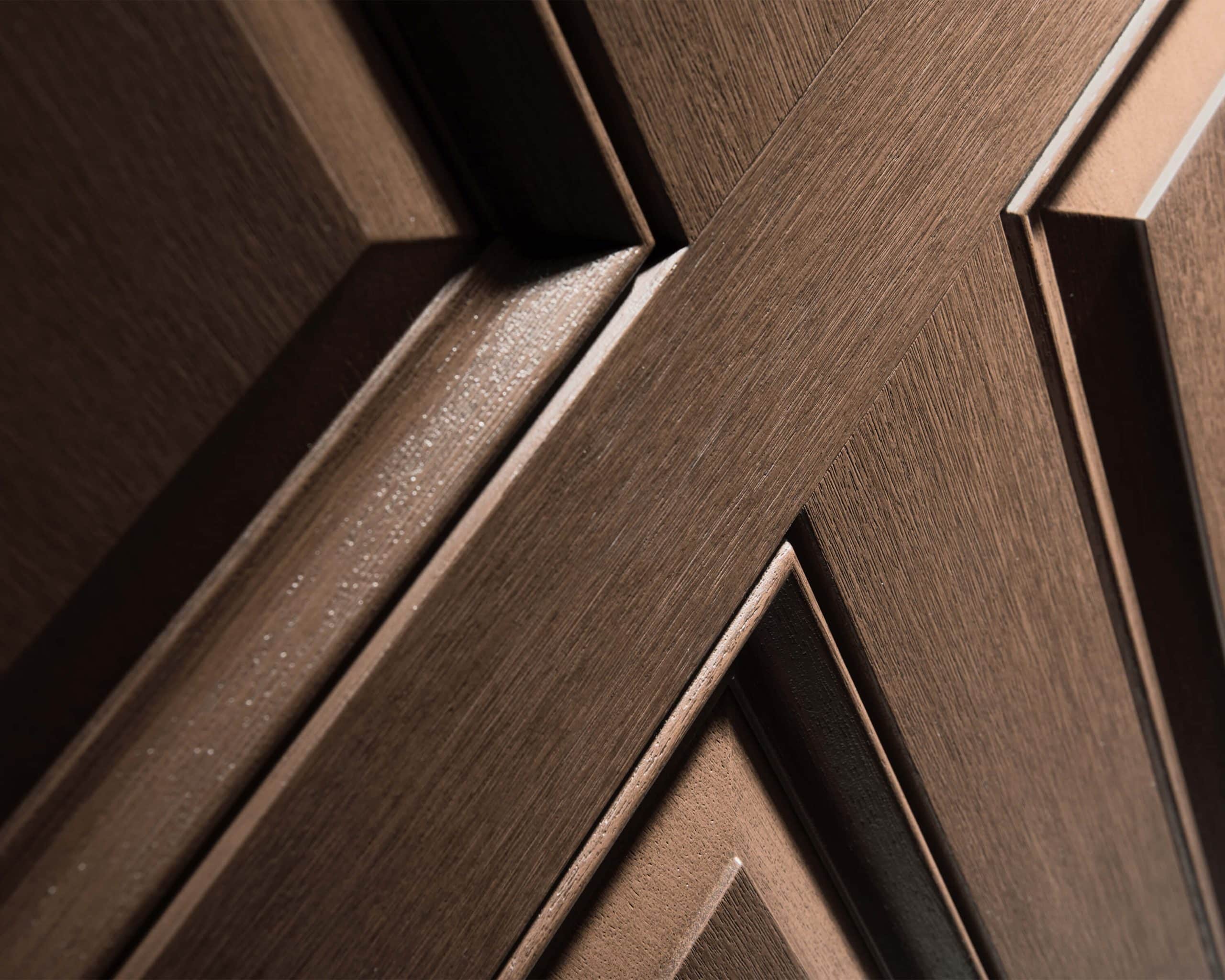 Photo courtesy of Alliance Door Products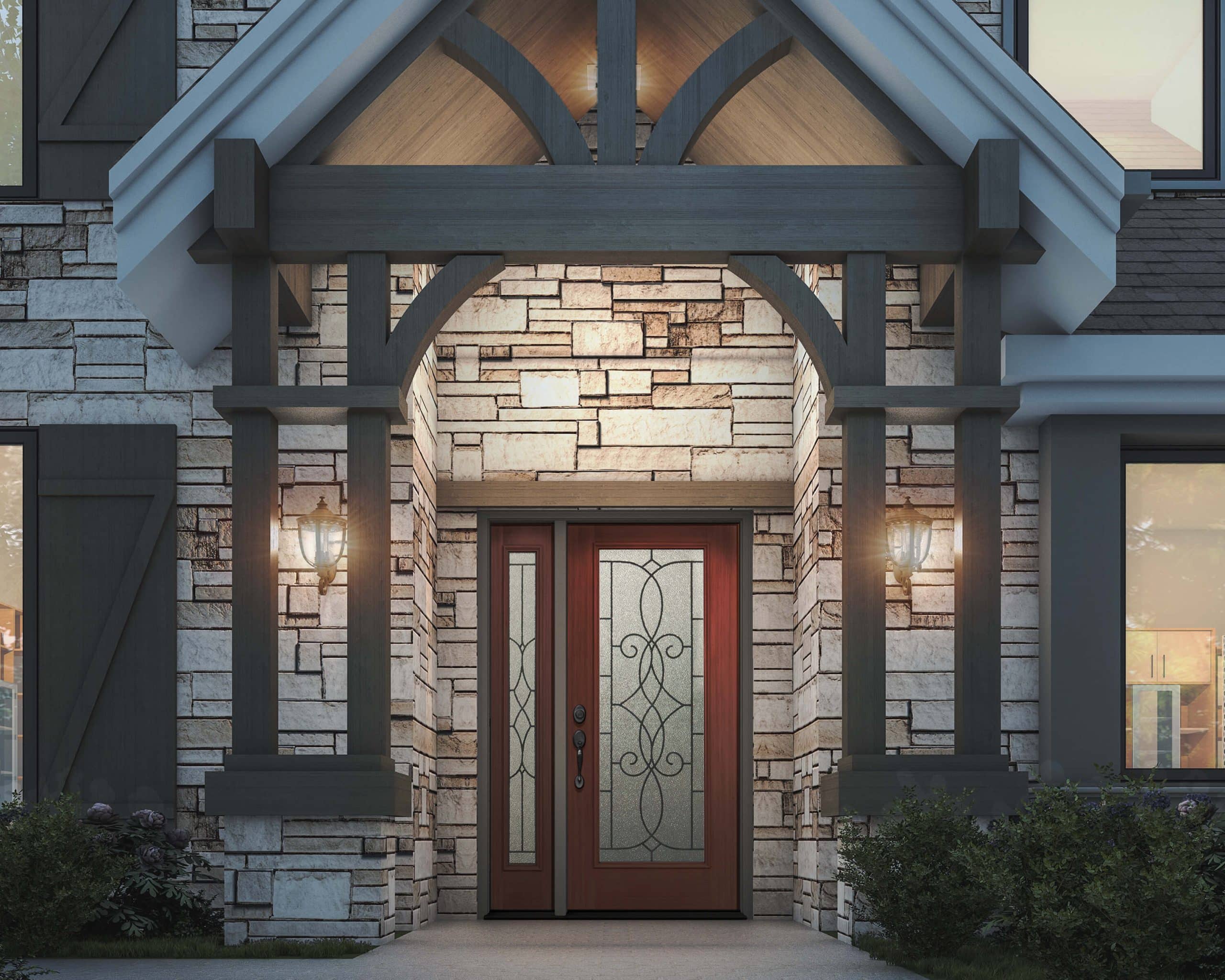 Photo courtesy of JELD-WEN
FLUSH-GLAZED DOOR LITES
Of course, some of those product options are in line with helping consumers create an attractive look while meeting codes. Rahn points to the growing push for flush-glazed door lites, like those with Therma-Tru Enliten flush-glazed designs.
Flush-glazed doors have the glass perimeter mouldings flush with or set down from the face of the surrounding door. The result is a sleek look, that creates a simple profile and allow for larger panes of glass—up to 16 percent larger accord- ing to the company—and more natural light into the home. Therma-Tru Enliten doors have styles to meet both contemporary and classical design aesthetics.
ROOMS WITH A VIEW
The trend towards bigger glass profiles isn't just one for front doors. There has been an increasing shift back to glass patio doors, says John Arsenault, Director of Sales for Atlantic Canada at Kohltech Windows and Entrance Systems.
"There was a time when patio doors were popular, and the market shifted to a garden door—double steel doors with a 15-lite grille," Arsenault recalls. "What we're seeing now is the market has moved back to patio doors, largely because the performance is better. They are a tighter seal. Also, they give you more glass area; there's 20 to 25 percent more visible glass."
The modern twist on the old patio door is, however, that instead of the traditional 6 ft. door, there's a move to 9 and 12 ft., three and four panel patio doors often with transom windows.
CAN YOU TAKE ME HIGHER?
There appears to have been no slow-down in the market's desire for taller doors. Eight-foot options are increasing from all the different manufacturers, Rahn notes, saying the trend is still growing.
He attributes this to materials, and the ability to provide that little bit of extra light. Experts also attribute it the climbing ceilings in many new home builds."As people are making the foyer almost a focus room, (the entrance door) becomes a bigger design feature."
The front door has long been seen as an important part of curb appeal, but Rahn suggests today its impact on the interior is being considered almost as much.
COLOUR ME BOLD
Few things change curb appeal or catch the eye more than bold colours, and front door options have those in abundance.
Since doors are typically painted by the homeowner, they are left to whatever their hearts desire. As option for manufacturer prefinished doors increase it becomes easier to make a bolder statement. Both Alliance and Kohler offer pre-finished options.
"It really helps by giving the ability for homeowners to get something that is professionally prepared and finished in a shop environment where it's clean and you can be confident about the pre- treatment coat, the finish and also whatever gloss is desired," Rahn notes.
Arsenault says homeowners want to make more of a statement with their door colours than windows and other accents.
"With doors it's the rainbow. It's custom colours all the time. Anything that can be imagined, the pinks and blues and greens and blacks and browns…"
Rahn notes some colours are gaining popularity, including a patina green and muted blue, as well as continued strong interest in earth tones. People are still doing the orange door or the red door to set themselves apart from their neighbours but greens and blues are 100 percent on the rise." —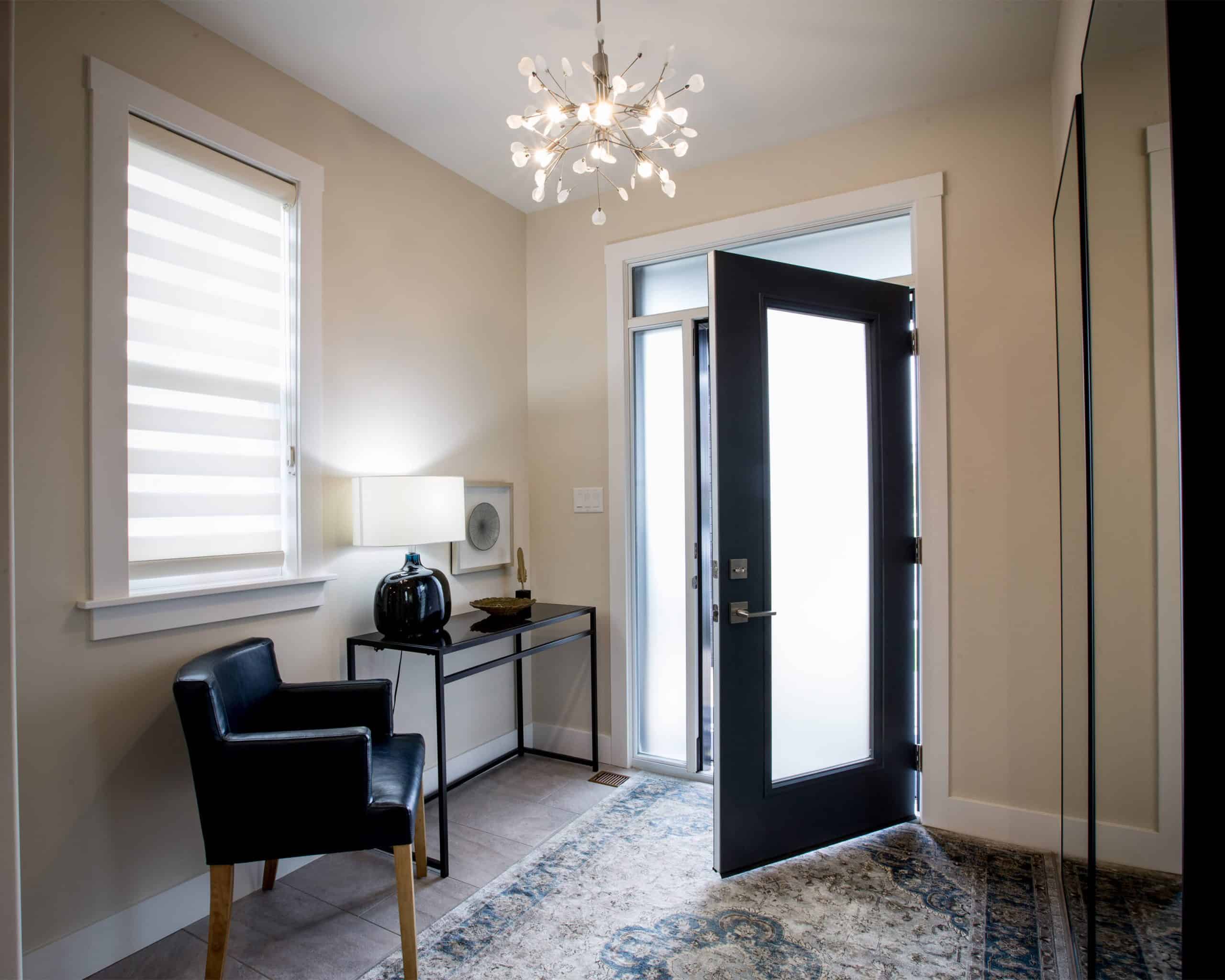 Photo courtesy of Kohltech