Railings, like many building products, are in high demand this year, say manufacturers and distributors, as a population working from home seeks the refuge of their backyards to find work-life balance.
"There's been an incredible increase in demand this year with all outdoor building products and that has created a supply constraint," says Matt Lipskey, national product manager for decking and railing products at Gillfor Distribution.
"I think last year's supply constraint was a lot of reaction to what was unfolding, whereas this year it's really being constrained by extraordinary demand."
He says one unique way Gillfor is helping contractors and homeowners is through the TimberTech Impression Rail Aluminum Railing system it offers. This pre-paneled system is easy for contractors to order and understand.
For most jobs there are only three to four SKUs to order (as opposed to as many as 12 or 13 on a component system), making it easier to find all the components needed, saving time and greatly assisting with online ordering systems which many contractors have had to use during lockdowns.
The supply chain issues being experienced are causing many manufacturers to ramp up their production efforts where they can.
"It's been a bit of a struggle, but we've managed to stay ahead of the curve and have plenty of inventory on the ground," says Ken Scott, general sales manager for Century Aluminum Railings at Century Railing, distributed by CanWel Building Materials Group.
He attributes having a domestic manufacturing facility in Summerland, B.C. as an advantage in being able to better meet demand.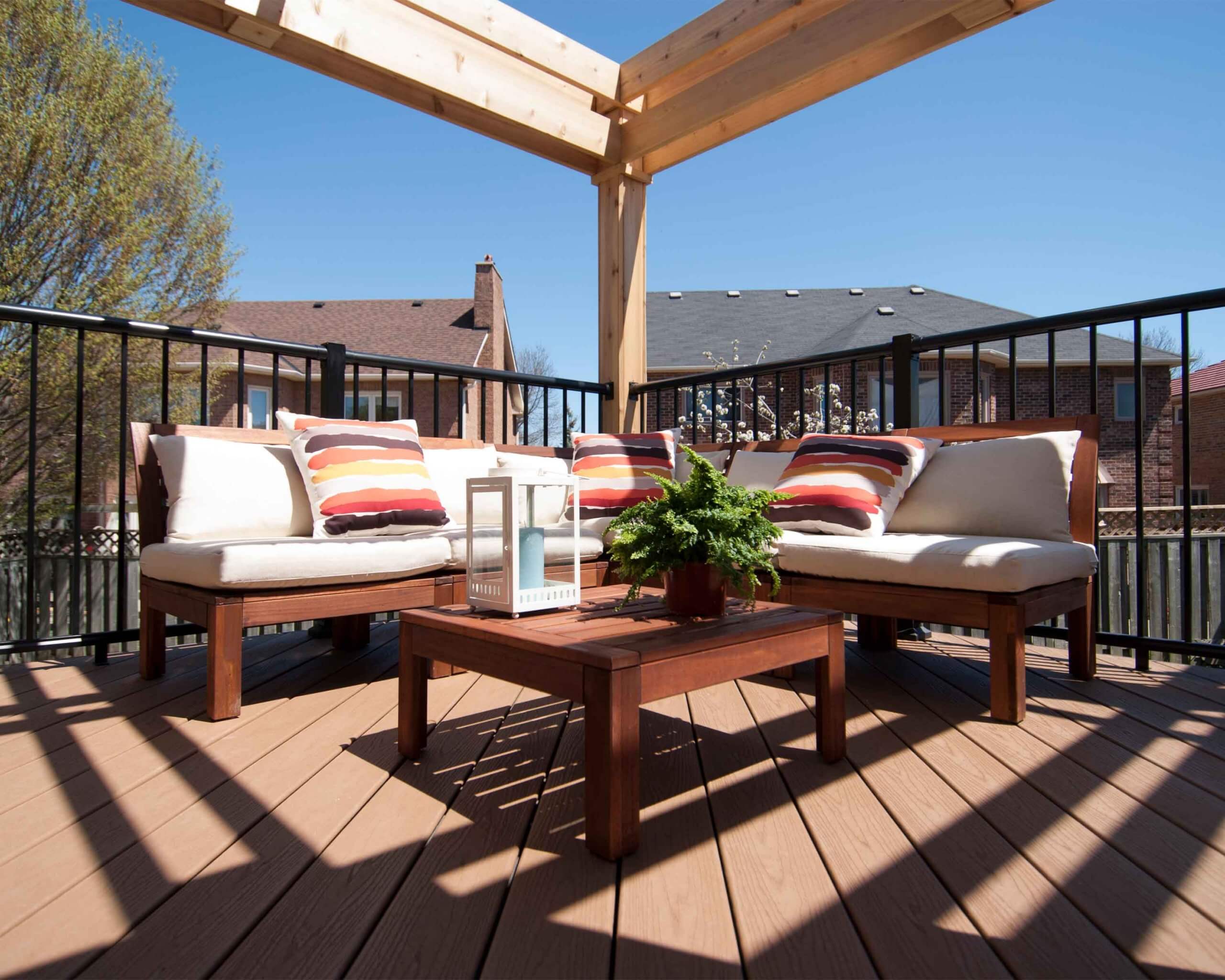 Photo courtesy of Century Aluminum Railings
"Because what we've found is outdoor living has grown, people are staying home and rediscovering their back yards. They are having staycations, and that entails a new deck, a new railing, new pergolas and all that; barbecues and kitchen areas, new patio furniture," Scott says. "We had record sales in 2020, and 2021 is off to a good start."
 Colour and texture trends
"As far as colour trends go, we've found that things are going back into more earthy tones," Scott says. "It seems that the grays and the blues of the last five or six years seem to be trending downwards, and we're getting back to the earth tones of darker browns, black and whites."
"That fits well with our colour choices; we have a white, brown and black."
As far as style of aluminum railings go, textured matte black picket railings are growing in popularity, he says, "It has been a big movement this year, and is about 60% of our sales."
Black remains the most popular choice of railing colours, says Shawn Pilon, marketing manager at Nicholson and Cates, distributor of Trex decking and railings. The reason for this mainstay colour is also based not on what you see but what you don't, namely dirt.
Composite or aluminum
Composite railings are gaining a boost from many of the same factors attracting homeowners to composite decking but a lot of the market leans towards aluminum, says Shawn Pilon, marketing manager at Nicholson and Cates, distributor of Trex decking and railings.
Trex offers top-end railing systems in both composite and aluminum in its Transcend and Signature lines, respectively. Both are in what Pilon would categorize as "best" level products.
"With aluminum rails you're getting a more slim-line look. They are smaller in terms of profiles, so you get to see more of what you want to see, which is your backyard," he says. "Railings are a necessity, so if you can have it be smaller and take less away from your overall backyard it's an advantage."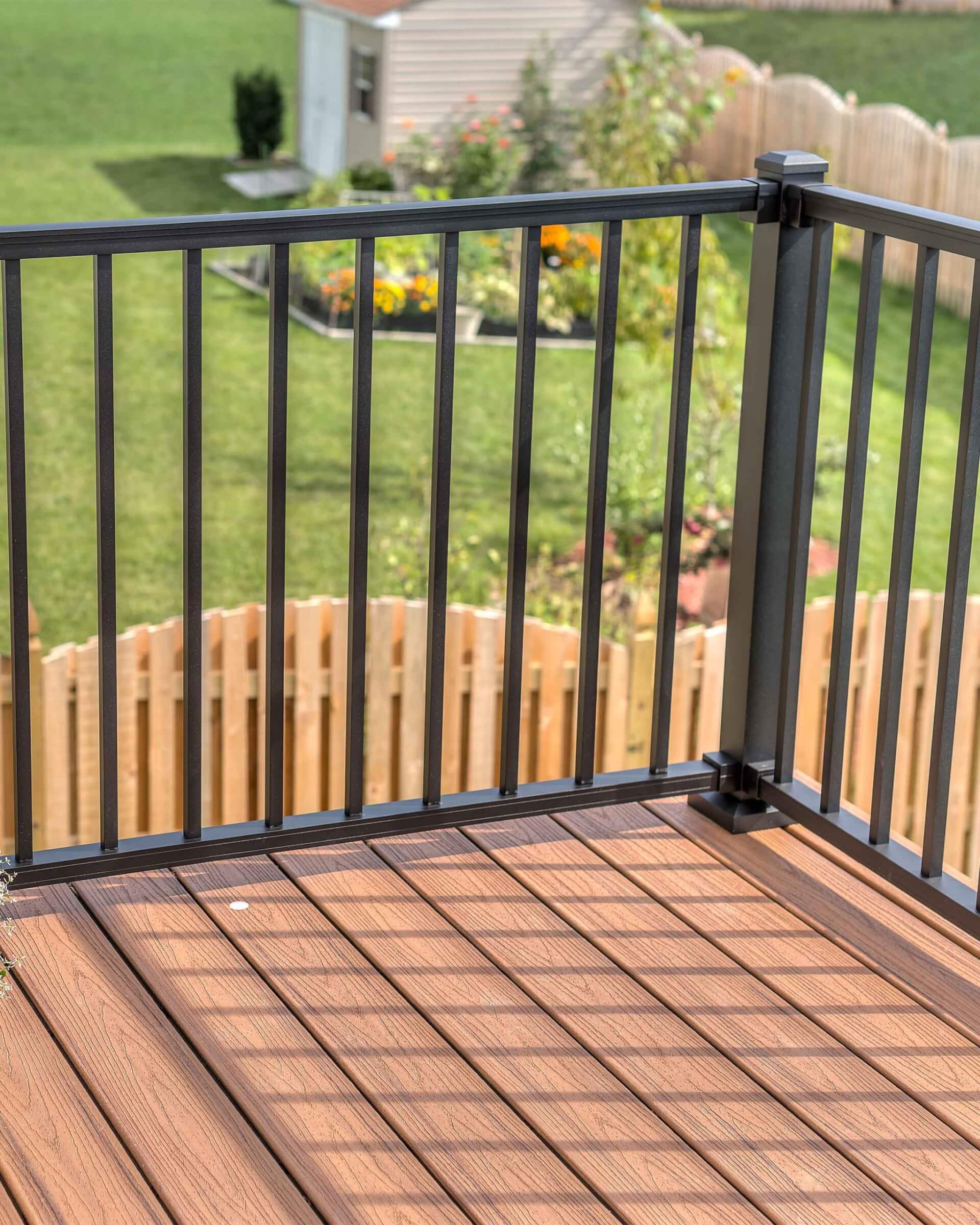 Photo courtesy of Nicholson and Cates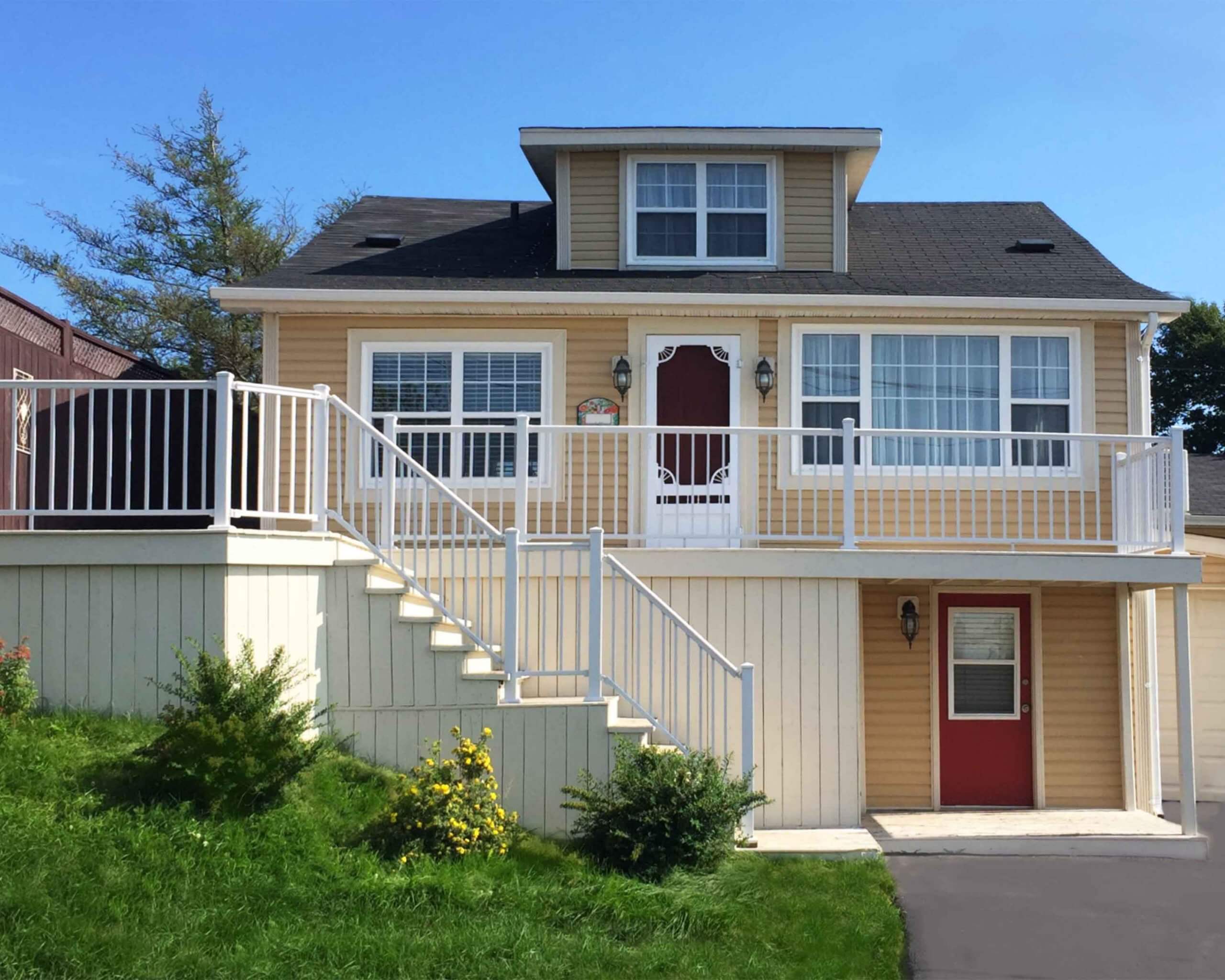 Photo courtesy of Nuvo Iron
He says that while a ¾" baluster on an aluminum system might not seem like a lot compared with a 1" baluster on a composite system, but when extended out across an entire railing "it tends to blend in more and you see it less."
Easy for homeowners and contractors
Some railing systems are starting to combine both composite and aluminum, as well as wood and other materials, says Carlos Pacheco, president of Nuvo Iron. This is partly for aesthetics, but also based around the availability of materials, he suggests. It's not the only trend that availability at least partly plays a role.
The trend of pre-assembled railings systems has been growing in the U.S. and is migrating to Canada, Pacheco says. "A lot of DIYers want it simpler," he says, noting that simplicity and availability are more of a priority than price.
For contractors, easier-to-install products have multiple benefits, Pacheco says. With skilled labour in short supply and demand for jobs growing, easy-to-install and pre-assembled railing systems open up the pool of talent they can work with. Other trades—landscapers, for instance—can install the railing system rather than wait for a subcontractor. It can also overcome some availability and ordering challenges.
On that front, Nuvo Iron has developed an aluminum railing system that Pacheco says is e-commerce friendly and "ready to travel and be deployed at any time." With only one post (no corner or mid-post), the system minimizes the inventory retailers need to carry, it's less complex for the contractor and consumer and there is less chance of a component being out of stock.
Glass and lighting
Glass railing, like Regal Ideas Crystal Rail system, are seeing a "huge spike" in growth, according to the company. This is especially true of its frameless system, which uses 10mm tempered glass panels that are 98% free of iron to provide an unobstructed view.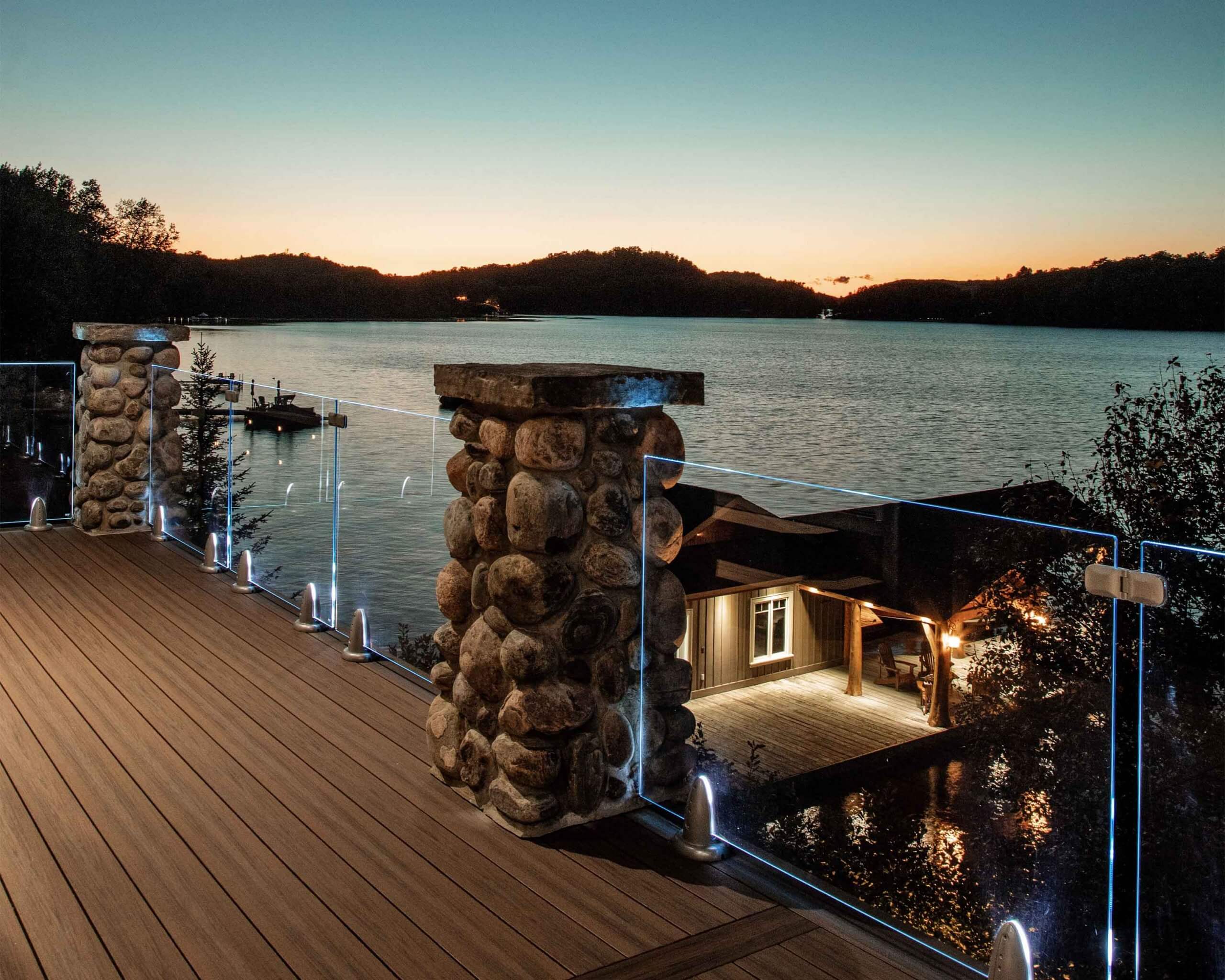 Photo courtesy of Regal Ideas
Railings are about safety first so they invest heavily in innovation to make sure its glass railings provide functionality and safety while removing barriers for homeowners.
Among that functionality is railing lighting, which the company is also seeing a significant uptake this year. Here Crystal Rail has an advantage; a component-based approach, so lights don't need to be added during the railing system installation but can be later upgraded to include it.
It's all about making the outdoor space more livable, according to Regal.
Inside out and outside in
Glass railings aren't just going outside, says Rick Churchill, sales specialist for Liv Building Products. He says his company's InvisiRail glass railing systems had a banner year in 2020, and sales are up significantly over that in 2021.
The trend for several years has been to bring more of the comforts of inside out to deck—with outdoor kitchens and entertainment on the rise. But part of InvisiRail's growth, Churchill says, has been the migration of glass railings into the home, where they are being used to create a beautiful modern décor and support an open-concept design.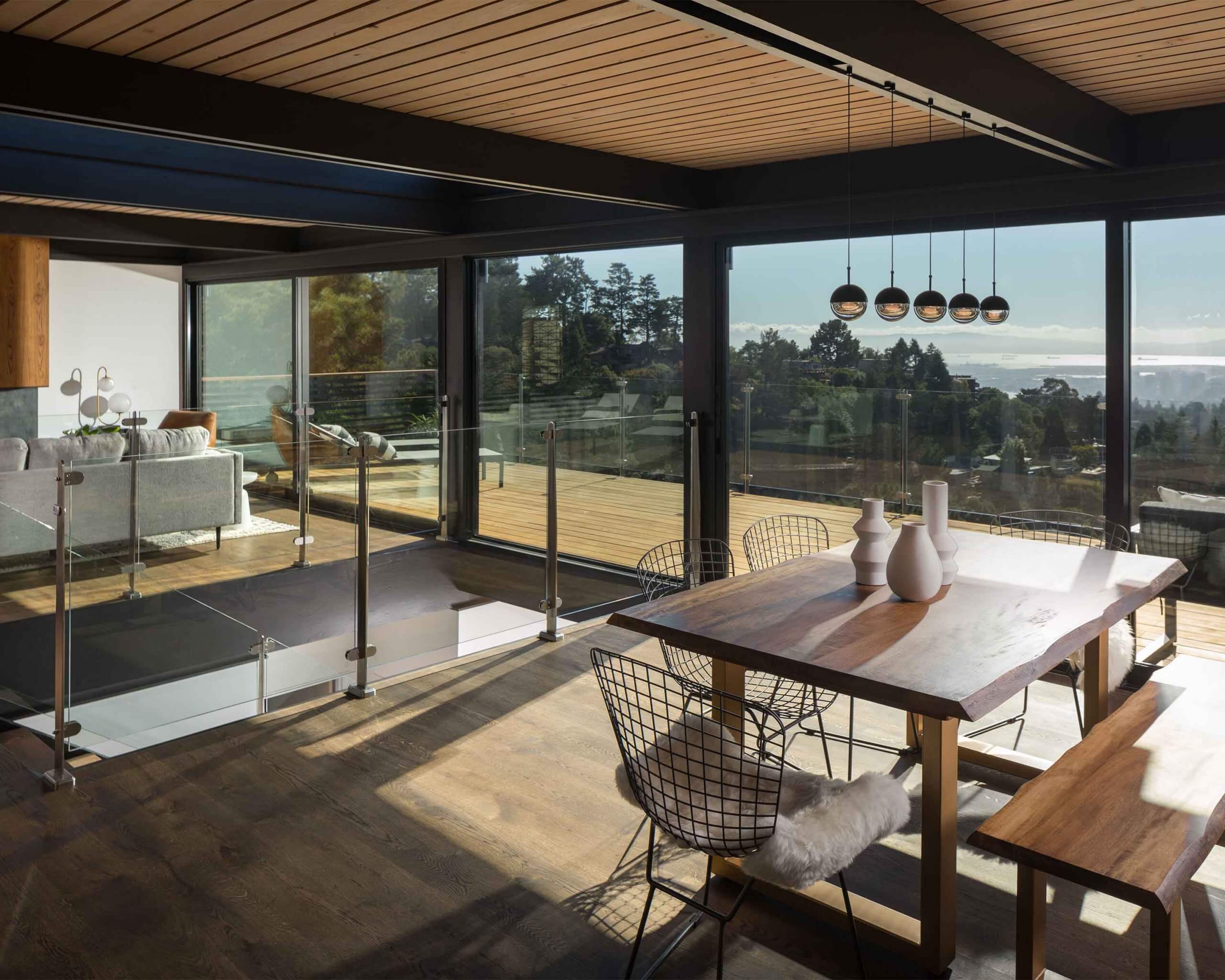 Photo courtesy of Liv Building Products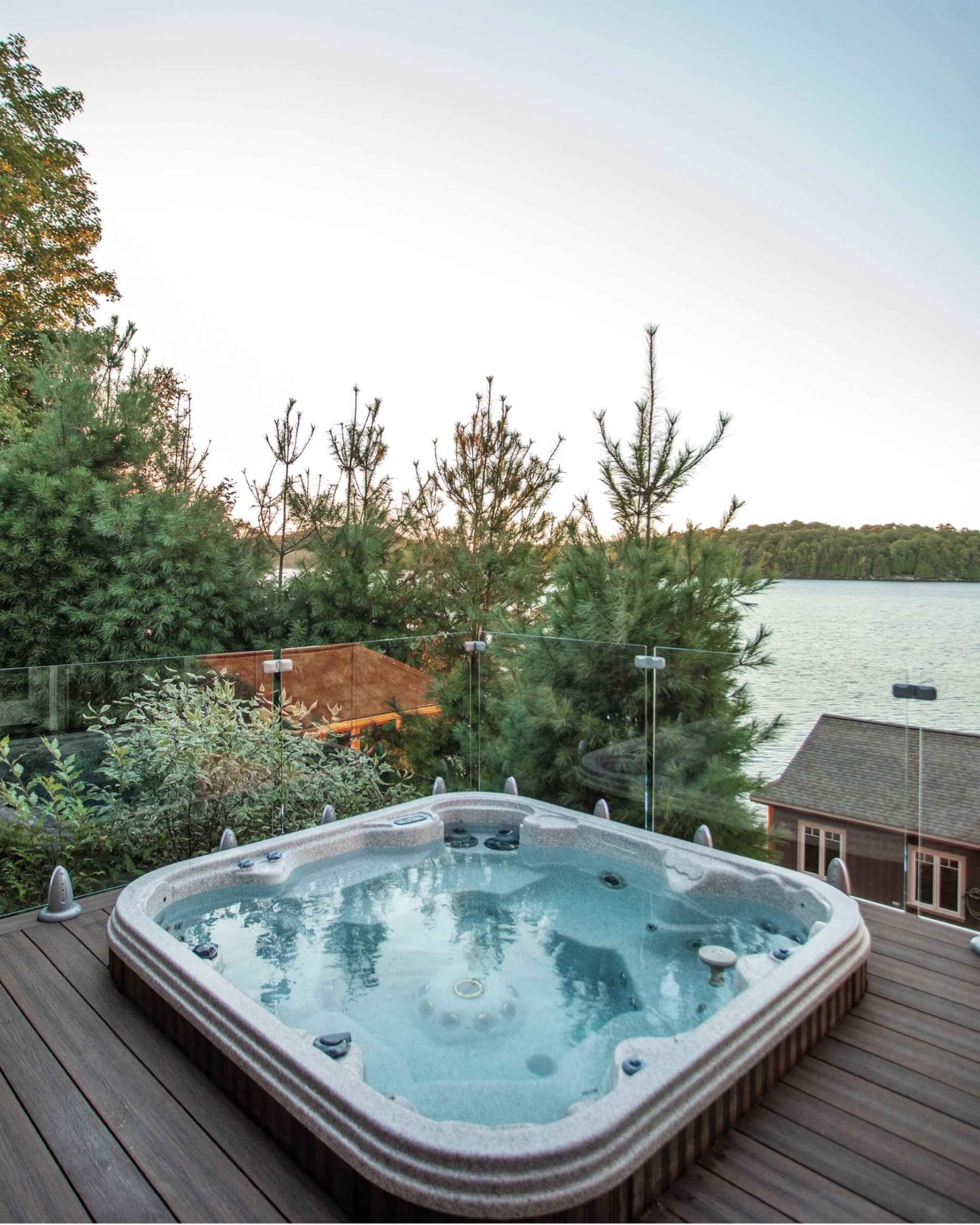 Photo courtesy of Regal Ideas
"I just saw a great big home that was a rebuild on Lake Huron, and the owner there had InvisiRail glass rails down his staircase. Upstairs was a walkout onto a great big deck and a mezzanine. The railing went all around the mezzanine and then extended outside and continued around the deck."
These aren't the only unique applications. Churchill points to recent use he's seen in urban condo settings, creating secure railings for rooftop patios and gardens while giving an unobstructed view. "There's a whole community of people spending time on these condo rooftops."
In a dense urban center, sometimes outdoor living is where you make it. –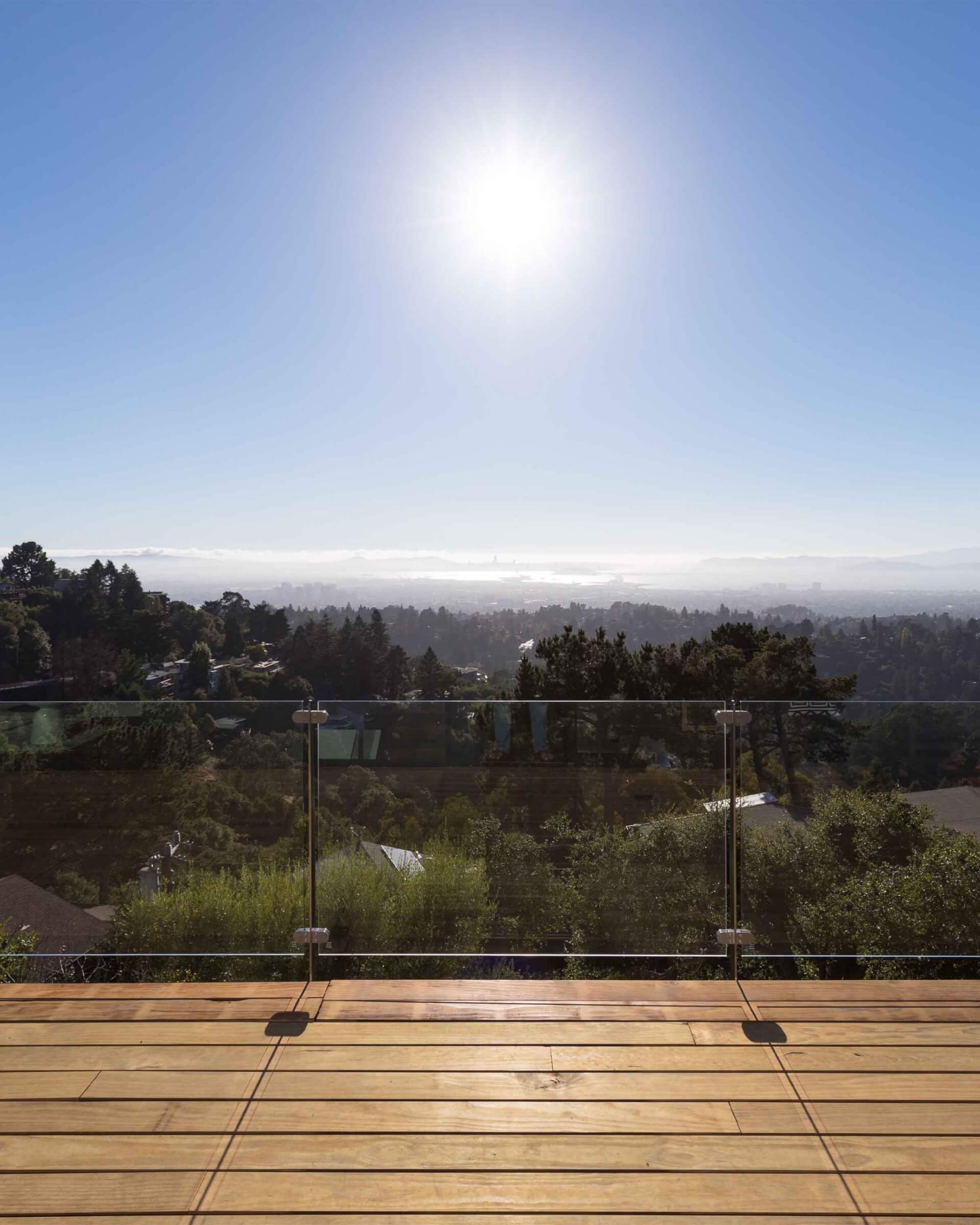 Photo courtesy of Liv Building Products