If a home is meant to protect its occupants, then insulation is the armour to help make that happen. With new technologies, increasing code requirements and changing homeowner demands, that protection is evolving over time. Contractor Advantage talked to industry experts to uncover some of the biggest changes in the past few years.
Energy Efficiency is Top Priority
"Energy efficiency continues to be at the forefront of changes in the industry," says David Kelly, National Accounts Manager with Dow.
"More and more, builders are constructing highly energy efficient homes to provide additional comfort and energy savings to potential homebuyers," says Christine Sampson, Marketing Leader with Owens Corning. She points out with Canada's commitment to Net Zero homes as of 2030, builders are beginning to chart a path to that goal, right now. "This means that homes will use zero energy and in some instances will be giving back to the grid," says Sampson. "So codes across the country have been adjusting to meet this target, requiring more and more energy efficiency."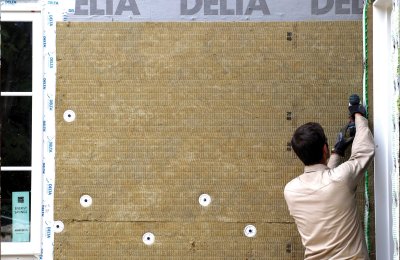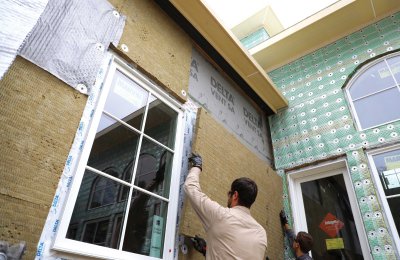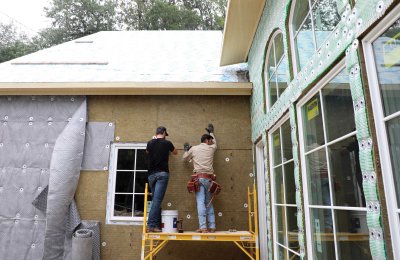 Photos courtesy of Roxul Inc.
Exterior & Continuous Insulation
To achieve better efficiency, builders are being asked to evolve how they insulate. "We're seeing the advent of a lot of requirements for exterior sheathing and exterior insulation across Canada," says Marlon Thompson, Marketing Product Manager, CertainTeed.
Wood and steel studs conduct heat and cold and aren't typically covered by insulation with internal insulating methods. Wherever there's a break in insulation, these thermal bridges mean hot air escapes in winter and cool air escapes in summer. Using insulation without a break—continuous insulation—helps negate that thermal bridge and increase a building's efficiency.
"Some codes promote the use of exterior continuous insulation on the wall," says Tom Lee, National Sales Manager with Roxul. "So what you're now seeing in residential applications is more insulation going to the outside of the wall than on the inside of the wall." As codes in-crease over time, there's a limit to how much insulation you can put on the inside of a building. "From a building science point of view, the logical thing is to put insulation on the outside of a building," says Lee.
Lee adds, "In our case, we have a product called ComfortBoard 80 which has an R-value of R4 per inch so when you add that to the outside of the wall on the exterior of the structural sheeting, you're improving the overall performance of the wall."
Rigid insulation (formed or extruded sheets of varying sizes, made from polystyrene or polyurethane) fits this type of job well. "Rigid insulation sales are 
strong with enhanced building codes now asking for continuous insulation," agrees Kelly. It's a trend he sees only growing. "I believe there will be a better acceptance of continuous insulation with rigid insulations in the residential market."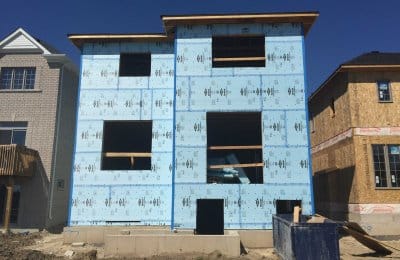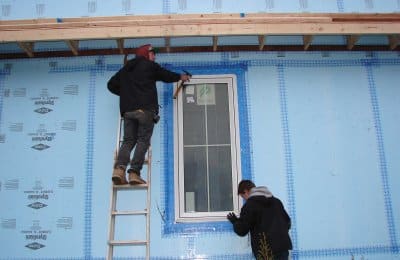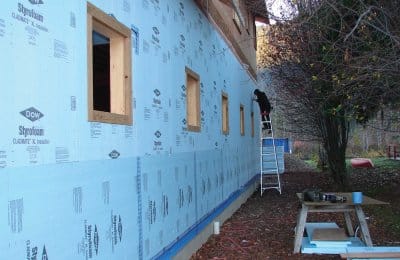 Photos courtesy of Dow
Systems for Achieving Efficiency
Provincial and regional requirements for builders are becoming more sophisticated in how they measure energy efficiency. "Building codes are requiring effective R-values as opposed to nominal R-values, so there's a growing recognition of the wall as a system rather than a prescriptive formula of measuring of what you need to put in a wall," says Lee. Professionals are taking into account the combined effectiveness of many components of the wall including sheeting and membranes, and factoring in such things as thermal bridging.
Insulation companies are responding to this changing need. "You'll be seeing more and more 'system sales' where companies like Dow will sell not only the rigid insulation but the accessory products like tapes, flashings and air sealing foams to make an air barrier system," says Kelly.
Making life easier for builders and going the extra mile to anticipate their needs is becoming everyday business for many manufacturers. "For example,in the future you can expect to see products that do more than one thing," says Kelly, pointing to collaboration between Dow and BPCO to create a continuous insulation that also adds structural integrity to the wall. "This is the BPCO R-5 XP, a composite panel made from Dow Styrofoam brand extruded polystyrene, laminated on a wood fibre panel, and coated with asphalt for greater weather resistance," says Kelly.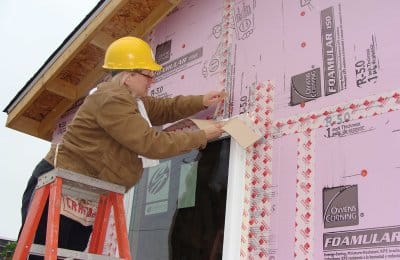 Photo courtesy of Owens Corning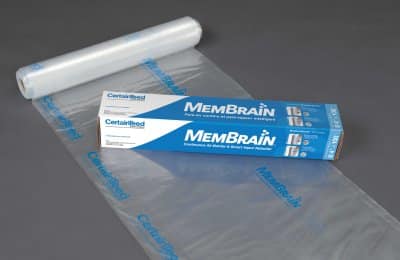 Photo courtesy of CertainTeed
Moisture Management
Along with energy efficiency, there's an increasing priority on using insulation to prevent moisture and mold. "That's becoming a bigger trend, and it's not just mold prevention driving it, but also energy efficiency," says Thompson. "If you have a tighter house, you have an opportunity to have more air tight- ness and a reduced possibility of moisture which leads to mold."
Companies are responding with products to meet this need. Owens Corning, for example, recently introduced a complete building enclose system (called ComfortSHIELD) that provides moisture management, as well as heat and air management, for high-performance building envelopes.
CertainTeed has a product called Membrane—a continuous air barrier and vapour retarder. "It stays tight in the winter when the humidity is low to prevent moisture from entering, and then in the summer it expands and increases it's permeability to let moisture escape, keeping the wall dry," says Thompson. "That way you never have a build up of moisture so there's no potential for mold there."
Soundproofing
Another trend in the past several years is a focus on soundproofing.
"With people setting up home offices and creating media rooms, there's a lot more interest in soundproofing," says Gino Allegro, Canadian Sales Manager with Johns Manville . "Acoustics are playing a more important role, and a lot of that is achieved with wall assembly, but insulation is certainly a big part."
Buyers paying top dollar for condominiums, too, mean they have higher expectations about soundproofing between floors. "We have a 2-lb polyurethane spray foam that's used for rim joists and any areas that are tougher to insulate," says Allegro. He adds, "It's not just the walls where you have the SDC values, but also between the floors. Now you can have hardwood floors and you don't have to hear someone walking in high heels if you're on the floor below them."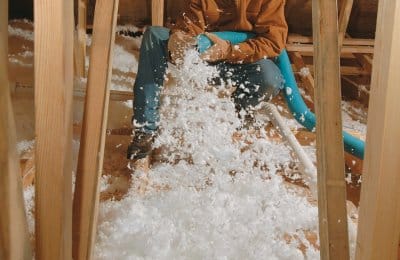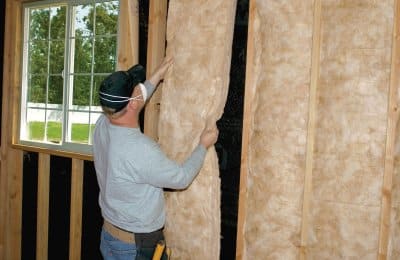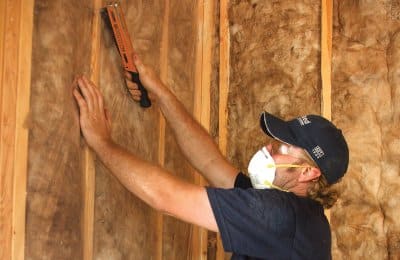 Photos courtesy of CertainTeed
Rethinking Attics for Energy Efficiency
Insulation designed to protect hard-to-get-at spaces might help meet a growing need in the marketplace and with consumers, too. "There are more than 7 million under-insulated attics in Canada," says Sampson. "With codes changing upward, this number continues to grow, so it's a great business opportunity and it also helps make a difference for future generations."
Many companies have products ideally designed to serve this market. "We have a product called Spider which is blown into the cavity and fills every nook and cranny," says Allegro. "The beauty of that product is that once you've sprayed into the cavity you use scrubbers just to even out the insulation and it makes a really flat finish."
Looking ahead, energy efficiency—in attics, and throughout the entirety of homes and offices—is likely to stay a top priority for builders and homeowners in the coming years. Helping them reach those goals, with insulation products and technologies evolving to enhance comfort and efficiency, is a move that's not only good for the earth, it's good for business, too.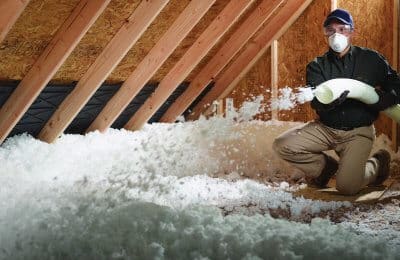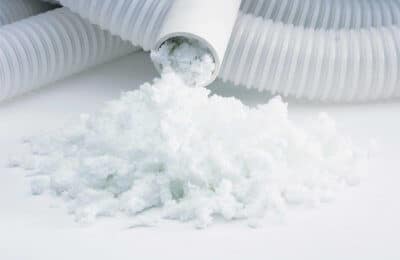 Photos courtesy of Johns Manville